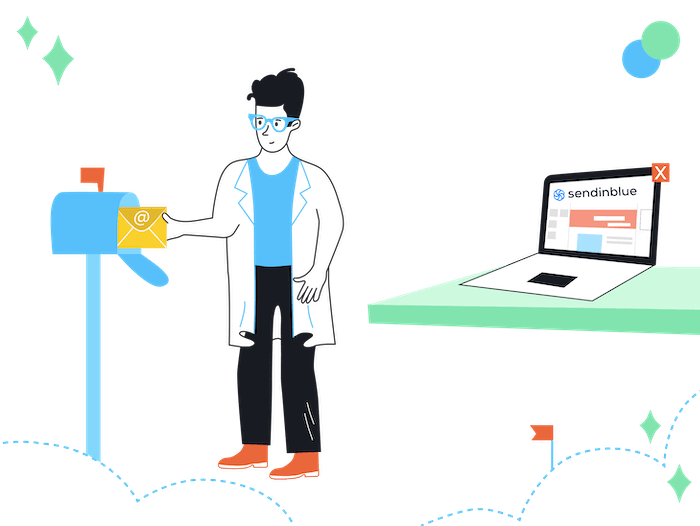 There's a lot to love about the Sendinblue email platform. Its free plan is one, as is its range of multichannel marketing features.
That said, the platform is far from perfect. Perhaps you aren't impressed by its ecommerce capabilities, range of email templates, or something else. In this case, you might need to explore Sendinblue alternatives — and you have no shortage of options here!
Drawing on our in-depth knowledge and experience in testing email platforms, we've shortlisted 10 of the best email marketing solutions available — including free ones — if Sendinblue isn't your cup of tea. Let's check them out.
Sendinblue Pros
Sendinblue Cons

Good free plan
Solid range of email automation features
Multichannel marketing features available (e.g. SMS, WhatsApp, web push notifications)

Small range of email templates
Limited ecommerce features
No ecommerce reports
Cannot sell digital products
Daily sending limit on free plan
Poor deliverability in recent tests
An Overview of The Top Sendinblue Competitors
Email Marketing Service
Ease of Use
Price
Features

Sendinblue

User-friendly drag-and-drop builder and simple menu navigation.
Free version available

Paid plans start at $25 per month

Good free plan and range of multichannel marketing features. Not the best for ecommerce.

MailerLite

Intuitive navigation and the interface loads fast.
Free version available

Paid plans start at $10 per month

Fantastic deliverability, but newsletter and landing page templates are a paid feature. These features are free in Sendinblue.

Moosend

Not the easiest to use.
Paid plans start at $9 per month
Moosend allows for multi-user access, whereas Sendinblue reserves this for its higher-tier plan.. But unlike Sendinblue, Moosend has no SMS marketing, chat, or CRM features.

Omnisend

Fairly easy to use, although some users have reported experiencing difficulties.
Free version available

Paid plans start at $16 per month

Niche ecommerce features such as product recommendations. Unlike Sendinblue, blocklisting is not available.

GetResponse

Clean and intuitive interface that's generally easy to navigate.
Free version available

Marketing plans start at $19 per month

Pre-built templates for creating entire conversion funnels. Plans are not as affordable as Sendinblue's.

Mailchimp

Easy to use as a whole, though setting up opt-ins may present an initial learning curve.
Free version available

Paid plans start at $13 per month

Nice range of email marketing, social media management, and digital ad tools. Sendinblue's list management features are more user-friendly, however.

ActiveCampaign

User-friendly design and easy-to-navigate menus. Beginners may need some time to familiarize themselves with the sheer number of features.
Paid Marketing plans start at $39 per month
Powerful email marketing automation features. But unlike Sendinblue, there is no free plan.

Constant Contact

Generally easy to navigate, though some features have become more buried over time.
Paid plans start at $9.99 per month
Apart from the usual email marketing features, you can create social media posts and post them to multiple social platforms at once. Sendinblue has more flexible automations, though.

AWeber

Easy to navigate, but experienced email marketers may be confused by the platform's unconventional terminology and list management.
Free version available

Paid plans start at $19.99 per month

Phone and chat support is available for free users. Sendinblue doesn't count unsubscribed contacts against your monthly quota like AWeber does.

Mailjet

Relatively easy to navigate as you set up email marketing campaigns.
Free version available

Paid plans start at $15 per month

Multiple users can collaborate on a single email at the same time. But Mailjet's free plan isn't as generous as Sendinblue's.

Benchmark Email

The minimalist interface that's easy to use.
Free version available

Paid plans start at $9.99 per month

Auto-generate email content using AI. Deliverability is much poorer than Sendinblue's.
The Best Sendinblue Alternatives
Based on our extensive tests, we've found the following email service providers (ESPs) to be the best alternatives to Sendinblue out there. Keep reading to learn more about them!
MailerLite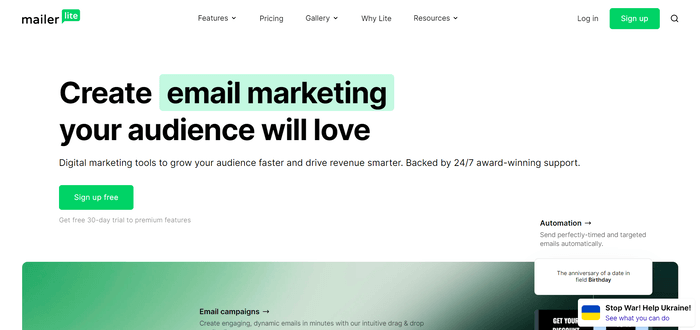 MailerLite is a joy to use. Its interface is clean and intuitive and makes creating emails fuss-free. We've been so wowed by MailerLite's user-friendliness that we've awarded it our Best Email Marketing Tool For Ease of Use badge for 2023!
This newer email marketing platform may also be of interest to creators and digital product sellers. Integrate MailerLite with Stripe, and you'll be able to fulfill and take payment for digital product sales from within the MailerLite platform.
Where MailerLite beats Sendinblue:
Of all the email platforms we've tested, MailerLite comes in tops for email deliverability. Sendinblue's deliverability score has suffered lately, and is still significantly lower than MailerLite's.
Unlike Sendinblue, you can also sell digital products — including subscriptions — from within the MailerLite platform.
Where Sendinblue wins:
From our research, most email platforms — Sendinblue included — provide access to newsletter and landing page templates even on their free plan. So it's surprising to see that MailerLite has made these templates a paid feature.
MailerLite also isn't the best option if you need transactional emails, SMS marketing, or sales CRM features. Unlike Sendinblue, it doesn't offer these features out of the box.
Moosend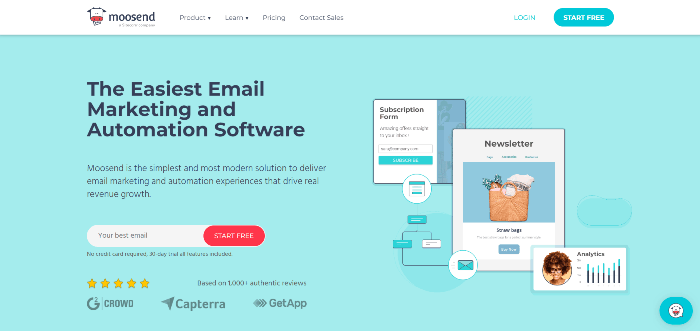 Moosend's cutesy logo may raise your eyebrows, but don't underestimate this email marketing software.
This modern email platform provides a drag-and-drop email builder, landing pages, and marketing automation features at an affordable price point. The interface is also clean and easy to use. Advanced email marketers will like Moosend's extensive range of reports that help you understand where your subscribers are located, which parts of your emails are getting the most clicks, and more.
Where Moosend beats Sendinblue:
Moosend has some neat features you won't find in Sendinblue. For example, you can add countdown timers to your emails, as well as AI-powered product recommendations. You'd need to install third-party integrations to do the same in Sendinblue.
Moosend also beats Sendinblue in terms of price. Moosend's paid features start at $9 per month under its Pro plan, which is much cheaper than Sendinblue's $25 per month and up for its Starter plan. Find out more about its pricing and more in our Moosend review.
Where Sendinblue wins:
Being a dedicated email marketing platform, Moosend doesn't offer SMS marketing and WhatsApp campaign features like Sendinblue does. Neither does Moosend have chat or sales CRM features.
Apart from that, business owners on a budget may like how Sendinblue has a "forever free" plan. Moosend does provide free access to its features, but only on a 30-day free-trial basis.
Omnisend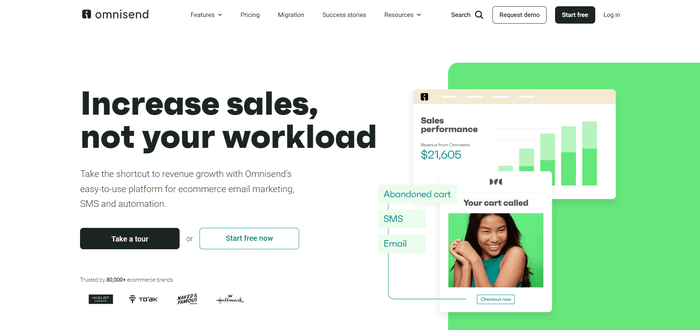 Recognizing the specialized email marketing needs of ecommerce stores, a handful of email platforms have niched down into serving the ecommerce market. Omnisend is one of them, offering email and SMS automations for online stores.
The result is a marketing platform aimed at helping online stores grow, nurture, and convert their customer base. If you run an online store on Shopify, BigCommerce, or some other leading ecommerce platform, Omnisend is a strong Sendinblue alternative to consider.
Where Omnisend beats Sendinblue:
Built with online store owners in mind, Omnisend sports a few ecommerce features not available in Sendinblue out of the box. These include discount code generation and product recommendation. We've actually named it the best email marketing tool for Shopify.
Omnisend's free plan is also especially generous, giving you access to almost all the platform's features (except for advanced reporting). You generally need to upgrade only if you've exceeded either the monthly email send limit or the recipient quota for each email.
Find out more about Omnisend's pricing.
Where Sendinblue wins:
Users have reported having difficulty setting up and navigating the Omnisend platform. In contrast, users generally find the Sendinblue platform easy to use.
Blocklisting is also available in Sendinblue, but not Omnisend. (This feature lets you prevent certain contacts from receiving your emails.)
GetResponse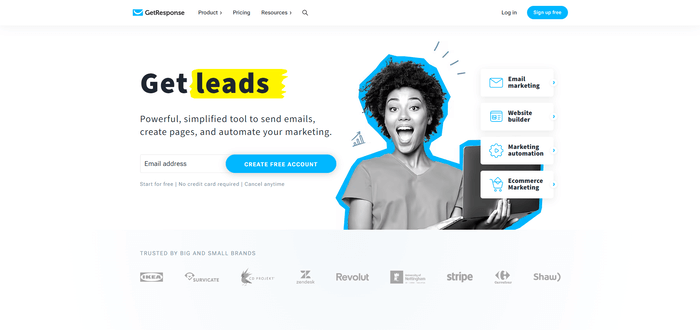 Over the years, many email marketing tools have diversified into all-in-one marketing platforms with landing page builders, social media post creation tools, and other features. But very few have managed to have such a comprehensive suite of marketing offerings as GetResponse.
Yes, you can send emails in an easy-to-use interface, but you can also host webinars, take out social media ads, set up web push notifications, and even build a full sales funnel! If you find all this interesting, GetResponse is definitely worth a closer look.
Where ActiveCampaign beats Sendinblue:
ActiveCampaign's powerful marketing automation features simply dominate. Unlike Sendinblue's marketing automations, you can filter contacts going through ActiveCampaign's marketing automations using more detailed conditions and create more personalized user journeys.
Separately, ActiveCampaign also has a much wider range of responsive email templates than Sendinblue.
Where Sendinblue wins:
Sendinblue offers a free plan, which is a good option for small businesses on a budget. The free plan is pretty generous too, containing features such as SMS marketing, transactional email sending, and marketing automation. However, ActiveCampaign doesn't have a free plan.
Beginners and/or business owners who just need a simple email marketing solution may also find Sendinblue's leaner set of features easier to work with.
Constant Contact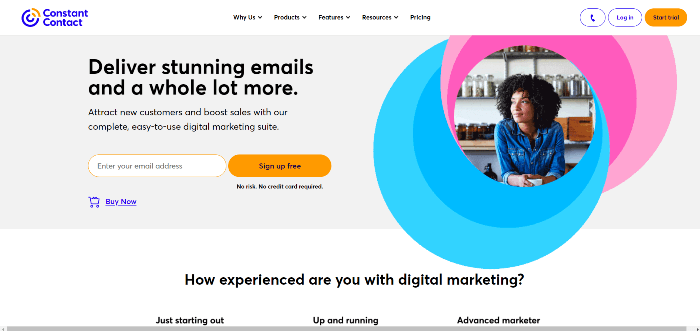 If there's one email marketing solution that's constantly been around since the 1990s, it's none other than Constant Contact. (Sorry, couldn't resist the pun.)
Constant Contact offers all the standard email marketing features, including a drag-and-drop email editor and hundreds of email templates. However, its pricing may be an off-putter, especially considering how you can get similar — and maybe even better — email features at lower prices elsewhere.
Where Constant Contact beats Sendinblue:
Unlike Sendinblue, Constant Contact comes with social media features such as social media post creation and simultaneous posting to multiple social platforms. You may find these useful if you want a one-stop shop for managing your email and social media marketing.
We also find Sendinblue's range of email templates to be much smaller than Constant Contact's.
Where Sendinblue wins:
From our experience, Constant Contact's automation features are more limited than Sendinblue's. You can create simple automated email funnels that send an email after a fixed time period with no issues. But if you want to set up more complex automations that involve conditional paths and A/B splits, you'll have to use Sendinblue instead.
Sendinblue's plans also allow for unlimited contacts — you pay more only if you need more premium features and/or a higher monthly email send limit. The price increases are also quite reasonable.
In contrast, Constant Contact's plans cap the number of contacts you can have, and you'll have to pay significantly more if you exceed this cap. For example, exceeding the first 500-contact limit will see your email bill dramatically increase from $9.99 per month to $45 per month!
If you have a large contact list, you may find it more economical to use Sendinblue instead of Constant Contact. See our top tips on how to build a bigger contact list!
AWeber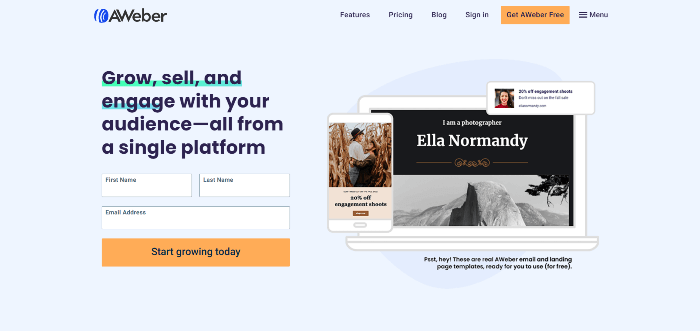 AWeber has been around since 1998 — it's practically a dinosaur in email marketing years. It also suffered a partial system outage while we were writing this section, so it didn't exactly make a good first impression.
Nevertheless, the email service provider has been making an effort to keep up with the times. There are some plus points that make AWeber a potential Sendinblue alternative, as you'll read about below.
Where AWeber beats Sendinblue:
AWeber lets you sell products and services, and take payments for them, directly within its platform. From our experience, not many other email platforms offer this feature. And particularly not Sendinblue, for the purposes of this guide.
If you prefer getting help via chat or phone support, you'll like how AWeber makes both support options available to free users. Sendinblue users can obtain phone and chat support only if they're on the platform's more expensive Business and Enterprise plans.
Where Sendinblue wins:
Love to optimize email campaigns to perfection? You may find Sendinblue's send time optimization feature up your alley. It uses machine learning algorithms to predict the best email send times for the highest engagement rates. AWeber doesn't provide this feature.
Also, the way AWeber counts subscribers for billing purposes can be a bit unfair. That's because users who subscribe to multiple email lists belonging to the same AWeber account will be double-counted as separate subscribers. You'll even be charged for unsubscribed contacts. In this regard, Sendinblue's pricing is much fairer as the platform counts each subscriber only once. Find out more about AWeber's pricing.
Mailjet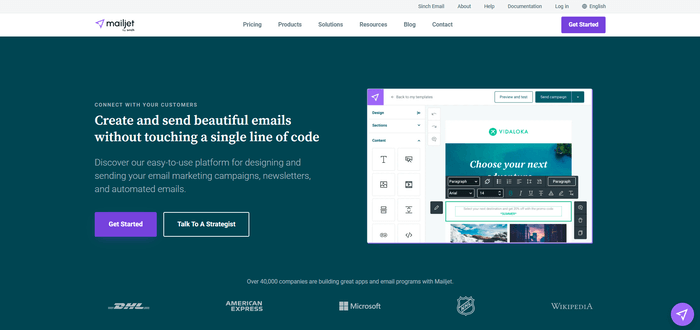 All the standard email marketing features can be found in Mailjet's platform: a drag-and-drop email editor, mobile-responsive email templates, and autoresponder emails, among others. But team collaboration is where Mailjet really excels.
Its email editor can accommodate simultaneous edits to a single email marketing campaign from multiple users (think Google Docs, but for emails). This will prove handy if you have a team managing your email campaigns.
Where Mailjet beats Sendinblue:
As mentioned, Mailjet's real-time email collaboration feature lets different team members work on the same email at the same time. Based on our research, neither Sendinblue nor many other email marketing platforms have this feature.
In Mailjet, you'll also be able to A/B-test up to 10 different versions of your email at once for identifying which converts the best. Sendinblue's own A/B-testing feature is limited to two different email versions.
Where Sendinblue wins:
Sendinblue's free plan is more generous than Mailjet's. With it, you can send up to 300 emails per day, compared to Mailjet's daily limit of 200. You also get access to contact segmentation, dynamic content, and marketing automations. These features are available only on Mailjet's paid Essential and Premium plans.
Sendinblue is also the better platform for consolidating your multichannel marketing efforts — it has built-in features for creating landing pages, sending push notifications, and managing sales in a CRM tool. These features are missing in Mailjet, which focuses on email marketing services.
Benchmark Email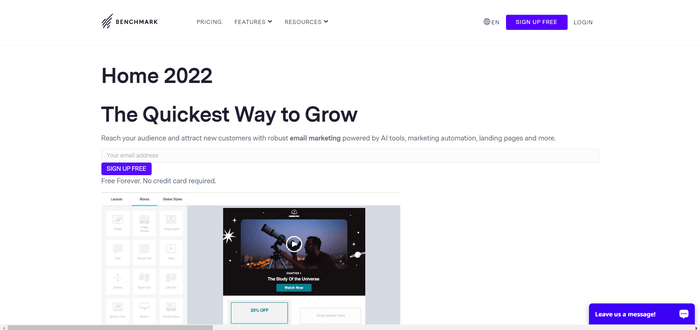 AI writing tools are hot these days, and Benchmark is quick to ride on this trend. One of its latest features, Smart Content, helps you generate original email content using AI in a matter of seconds. Say goodbye to writing emails from scratch!
The Smart Content feature is directly accessible from Benchmark's email editor too, so you don't have to repeatedly switch browser tabs to add AI-generated content to your emails.
That said, emails — even those written with the help of AI — are helpful only if they reach their recipients. So on that note, you might find Benchmark's poor deliverability to be a deal-breaker.
Where Benchmark Email beats Sendinblue:
Benchmark has useful built-in features for sending feedback surveys to customers or polling them on their interests. On the other hand, you'll need a third-party integration to add such survey and poll features to the Sendinblue platform.
Also of note is Benchmark's Smart Content AI copywriting tool, which helps generate — or even rewrite — email content based on prompts you provide. Sendinblue doesn't offer such an AI content tool at this time. (Neither do many other platforms actually, based on our research.)
Where Sendinblue wins:
Sendinblue's deliverability score is much, much better than Benchmark's. To give you an idea of the situation, Benchmark came in 15th — and dead last — in pretty much all our email deliverability tests. Ouch.
You'll also have an easier time segmenting subscribers in Sendinblue over Benchmark. Sendinblue's segmentation setup is simpler to navigate and more flexible, while Benchmark's isn't as intuitive. For example, you can't set up "or" logic to create a segment of contacts with either ABC criteria or XYZ criteria.
Free Sendinblue Alternatives
Sendinblue has one of the best free plans we've seen on the market. But if Sendinblue isn't for you and funds are limited, consider these free plans from other email platforms.
MailerLite
MailerLite's free plan is an attractive alternative to Sendinblue's. You can send email campaigns to up to 1,000 subscribers, subject to a generous monthly send limit of 12,000 emails. Features-wise, we like how you can build automations and landing pages for free. You'll also be able to get basic email support on weekdays if you find yourself needing help.
Omnisend
New ecommerce store owners who are on a budget will appreciate Omnisend's free plan. On it, you can enjoy pretty much Omnisend's full suite of features, including email and SMS automations, web push notifications, product recommendations, and contact segmentation.
The main downsides of Omnisend's free plan are that you're restricted to basic reporting features and can send only 500 emails per month. And while you can store an unlimited number of contacts, you can email only 250 of them at any one time.
Mailchimp
Mailchimp's free plan is another popular option. It lets you send up to 2,500 emails per month to a maximum of 500 contacts. Landing page and social media post creation features are also available. And while some other platforms we've reviewed put their automation features behind a paywall, you can build simple automations on Mailchimp's free plan.
That said, free users can't schedule emails, which is a bummer. Mailchimp also provides free users with email support for only the first 30 days of account creation. After that, you're left to read the platform's guides and figure things out on your own.
Our guide to free email marketing services covers these platforms' free plans in more detail if you need more info to make a decision.
Why Use Sendinblue?
Of all the email marketing platforms available out there, you might find Sendinblue to be the best email marketing platform in these situations:
You're on a tight budget
With generous features such as unlimited contacts, email templates, marketing automation, and contact segmentation, Sendinblue's free plan is a good choice if you don't need to send more than 300 emails per day.
You need multichannel marketing features
Sendinblue is one of the few platforms that offer not just email marketing features, but also features for engaging contacts via SMS, WhatsApp, transactional emails, and web push notifications! If you plan on marketing via these channels, you may find Sendinblue a compelling all-in-one marketing platform for your business.
Who Should Look For Sendinblue Alternatives?
If you aren't sure whether our recommended 10 alternatives to Sendinblue are more appropriate for your needs compared to Sendinblue, it might be helpful to check if you fall within any of these categories of users:
You want more powerful automation features
Sendinblue's automations are solid, but there are certain limitations. For example, there is only so much filtering you can do to ensure that the right contacts go through your automations. If you can afford them, other more advanced marketing automation solutions may be better choices.
Alternative email platforms for automations: ActiveCampaign, GetResponse, and Omnisend
You are an ecommerce seller
While Sendinblue integrates with all the major ecommerce platforms and has useful SMS marketing features, you may find it insufficient for meeting your ecommerce marketing needs. Common ecommerce features, such as product recommendations and discount code creation, are available only as third-party integrations (which you may have to pay for separately).
Alternative email platforms for ecommerce: Omnisend, GetResponse, and Mailchimp
You want to sell digital products
Various email platforms are muscling into the digital product fulfillment space, and turning their email forms into simple checkout forms that help creators sell digital products. (Sorry, Gumroad!)
At this time, however, Sendinblue isn't one of these platforms. Unless it is building similar digital product fulfillment and payment features, Sendinblue may find itself getting left behind as the creator economy grows.
Alternative email platforms for selling digital products: MailerLite and AWeber
You want to manage your email and social media campaigns in one place
We've mentioned how Sendinblue is great for multichannel marketing, but social media post creation curiously isn't within its suite of features. (Only Facebook ad creation is, if you're on Sendinblue's more expensive plans.) If you value such convenience, other email platforms stand ready to fill this gap.
Alternative email platforms for social media campaign management: Mailchimp and Constant Contact
You're focused on generating and converting leads
You can generate leads with Sendinblue's email forms and improve your conversion rate with its send time optimization and A/B-testing features. If you're new to marketing, though, you may struggle to tie all of Sendinblue's features together and build a high-converting email funnel.
And in this regard, we like GetResponse. It offers pre-built templates that guide you in creating a complete conversion funnel within its platform, from start to finish. Other helpful marketing features, such as webinars and order fulfillment, only pad out your funnel for greater effectiveness.
Alternative email platform for social media campaign management: GetResponse
You run an email marketing team
Multi-user access is available in Sendinblue only on its more expensive plans, which you may not need at this time otherwise. Various other email platforms allow for the creation of multiple user accounts on lower-tiered plans. Mailjet also goes one step further here, allowing different team members to collaborate on the same email in real-time.
Alternative email platforms for team collaboration: Mailjet, Moosend, MailerLite, and Mailchimp
You want to leverage AI for your email content
Sendinblue uses machine learning for its send time optimization feature. But some of its rivals go one step further, with AI features that help users generate their emails' text and product recommendations. Whether Sendinblue will include similar AI-powered content generation features in the future remains to be seen.
Alternative email platforms for AI features: Benchmark Email and Moosend
What's Right for You: Sendinblue or Something Else?
Sendinblue may claim a 500,000-strong global user base, but that doesn't necessarily mean blue is the right color for your own email marketing strategy. Depending on your specific needs, you may find one of the Sendinblue alternatives we've covered here to be the better choice.
For example, we'd strongly recommend ActiveCampaign if you're in the market for powerful automation features. Ecommerce store owners may also prefer to invest in a good email marketing platform tailored to their needs, such as Omnisend.
And if you think a free email service is good enough for the time being, MailerLite's generous free plan is a clear contender.
If you've got a question on whether Sendinblue or an alternative platform is right for you, leave us a comment! We'd love to help.