The 8 Best Calendly Alternatives
Taking appointments and scheduling is an integral part of many small and large businesses.
In the past, you'd call up and enquire about available times, perhaps someone would answer, perhaps you'd have to try again later. Once you got the appointment, you'd make a note on the calendar on your wall or in your diary, which was always going walkabouts.
Now, I don't know about you, but I've often had to move around my appointments due to unforeseeable circumstances. This always involved another phone call or an email, which you feared they might not see.
My diary was a mess. I even missed a couple of appointments because I forgot I'd made them.
Fast forward to 2020 and everyone is booking through their smartphones.
Everything from hairdresser's appointments to meeting rooms to life coaching sessions are being booked through the use of appointment scheduling software, and Calendly's a name that keeps coming up.
Calendly first came onto the market in 2013 in Atlanta and has since become a pretty popular scheduling app around the world, boasting 5,000,000 monthly users. It caters to everyone from freelancers to educational institutions, but is it all it's cracked up to be and are there any better Calendly alternatives?
Try them out here: Setmore, SimplyBook.me
Let's take a look at all the pros and cons of using Calendly over other popular booking apps.
What Calendly Does Well
Unlimited appointments
Some booking apps set a limit on how many appointments you can take per month. Not Calendly. This is a great advantage as you can simply get on with taking appointments without worrying about reaching your limit, even if you're on the free plan. Hopefully, your only worry will be if you'll have enough slots for all your clients!
Ease of use
In general, booking apps are fairly easy to use, though you can still run into UX issues due to a bad design decision. Calendly has a well designed interface, which makes setting up your schedule and booking in appointments a breeze.
Workflow templates
These templates help you to automate your workflow, for example, if someone books an appointment with you, you can set it up so that it sends them a confirmation email, a reminder on the day and then a feedback survey request post meeting (though bear in mind that this feature is only available to Pro plan users). There are a number of free survey tools you can use if you'd rather not pay for this feature.
Integrations
As well as integrating with all popular calendars, including Outlook, Office 365, iCloud and Google, Calendly has a whole host of native integrations, which range from website builders to CRM tools.
Calendly's Biggest Drawbacks
Paying per user is costly for big teams
With Calendly, you're charged $10/user per month. If your company has many users, you'll be looking at increased costs with this app. Other scheduling apps charge a set price for multiple users, which would make more sense for businesses with really large teams.
SetMore's paid plan costs $25/month for up to 20 users, which works out at $1.25/user.
SimplyBook.me's paid plan costs $9.99/month for 15 users, which works out at $0.66/user.
Squarespace Scheduling's Growing plan is also better value for money – $23/month gives you 6 calendars for multiple users/contributors.
You can't take payments on the free plan
Though you can take payments via Stripe or PayPal, this feature is not available unless you pay for it. Both SetMore, SimplyBook.me offer decent free plans that allow you to take online payments.
No desktop software available
Though most will find the web and mobile app sufficient, some might prefer to have their booking system on their desktop. If this is your preference then you might like to take a look at SetMore.
Lacking customization options within the dashboard
Some might find Calendly to limit them when it comes to organizing internal scheduling such as social media and content management. A better tool for this is Monday.com.
So, as you can see, there are a few interesting alternatives to Calendly out there. Let me introduce you to what I consider to be the best scheduling software.
Calendly Alternatives Side-by-Side Comparison
Calendly
Setmore
Book Like A Boss
SimplyBook.me
Trafft
Squarespace Scheduling
Wix Bookings
TimeSync
Monday.com
Calendar syncing
Outlook

Office 365

iCloud

Google

Google

Office 365

Outlook

Office 365

iCloud

Google

Google

Outlook

Google

Outlook

Outlook

Office 365

iCloud

Google

Google
Google

Calendar

Outlook

Only on higher-tier plan
Payment processing
Stripe (paid plan)

PayPal (paid plan)

Square (free)

Stripe (paid plan)

Stripe (paid plan)

PayPal (paid plan)

Square (paid plan)

Over 40, including PayPal Square Stripe
Stripe

PayPal

Authorize.net

Stripe

PayPal

Square

Wix Payments

PayPal

Stripe

More available

PayPal

Stripe

No
Pricing

Free
Paid plans from$10/mo

Solopreneur plan from $9/mo

Free
Paid plans from $9.90/mo

From $23/month (including a website)

Try for free
Sign up
Sign up
Sign up
Sign up
Sign up
Add Wix Bookings
Sign up
Sign up
A Detailed Look at The Best Calendly Alternatives
1. Setmore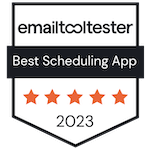 We awarded Setmore our Best Scheduling App badge for 2023!
Setmore is my top choice when it comes to choosing a scheduling app, mostly because it's just so easy to use and it offers a really generous free plan.
It'll only take you a few minutes to get set-up, even those who have little technical knowledge will find it very simple. In fact, its set-up wizard means that it's impossible to miss a step.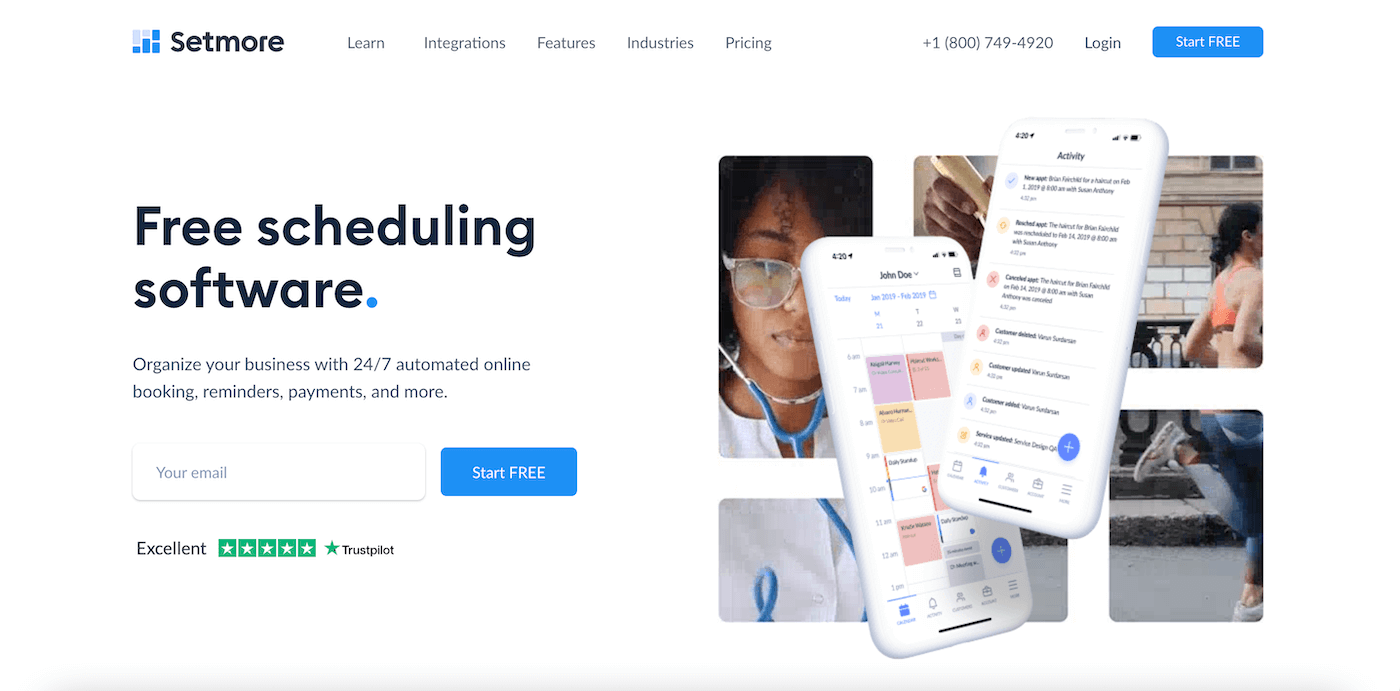 Where Setmore beats Calendly:
Aside from being a very easy-to-use tool, Setmore has some unique features that Calendly lacks. The fact that you can download Setmore onto your desktop might be pretty appealing to some as it means you can use it offline.
Price is a big reason why I like Setmore so much. The free plan comes with 4 user accounts, or for $12/user/month, you'll be able to sync your calendars and send SMS reminders. If you have more than 3 users, the cost per user decreases to $9/month. When you consider that Calendly charges $10/month per user, Setmore is a slightly more economical option for larger teams.
In fact, Setmore's free plan is pretty generous all round, offering unlimited appointments, automated emails and payment processing via Square.
Where Calendly wins:
Calendly does offer a slightly broader range of calendars (Setmore is missing iCloud and Outlook), though you can always use Zapier.
Recommended for:
I'd recommend Setmore to anyone looking for a generous free plan, or to those who would benefit from the desktop software. You'll definitely get more for your money with Setmore if you're in need of more than 3 user accounts.
2. Book Like A Boss
Next up on the list of the best Calendly alternatives is Book Like A Boss. This online scheduling app has a lot to offer solopreneurs and teams of all sizes. What's more, it's really easy to use. But what exactly does it have that Calendly doesn't? Let's find out!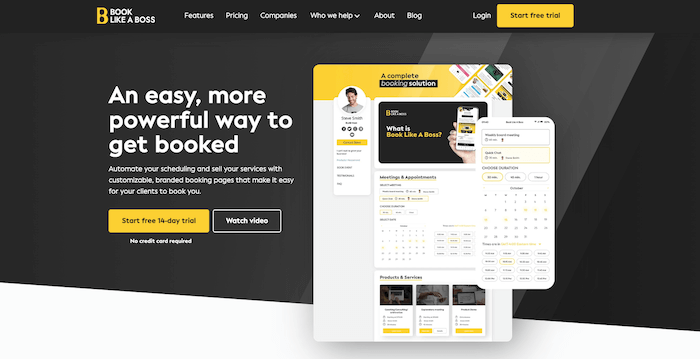 Where Book Like A Boss beats Calendly:
Priority support is offered 365 days a year across all plans. SMS and group bookings are also included on the lowest-tier plan.
The 'Make me look busy' feature is an interesting one. You can reduce the available slots by adjusting the % indicated. You can also add testimonials and videos to your booking pages. Calendly doesn't offer either of these options, and not many of the other tools we've tested, for that matter.
BLAB starts at $9/month for one user, and offers 20% off when users sign up during their 14-day free trial, making it slightly cheaper than Calendly.
Where Calendly wins:
Book Like A Boss is slightly more expensive on the Company plan, charging $35/month for 3 users. It also doesn't offer a freemium plan.
Calendly has far more integrations than Book Like A Boss, which only offers 16.
Recommended for:
Solopreneurs looking for an easy to use, affordable yet powerful booking tool.
3. SimplyBook.me
Founded in 2008, SimplyBook.me is a few years older than Calendly. It also has a nice range of features and design options, which is why I think it makes a great Calendly alternative.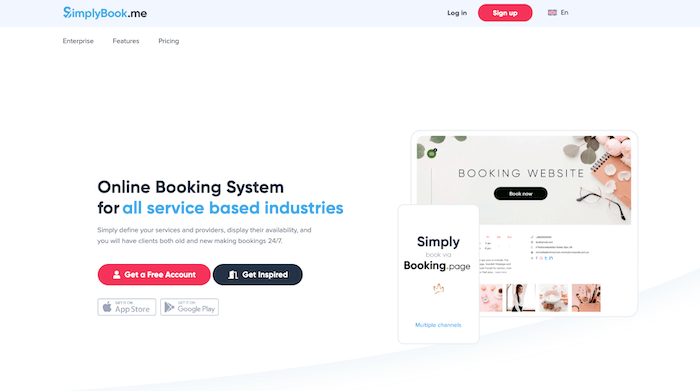 Where SimplyBook.me beats Calendly:
SimplyBook.me is unique in that it offers a range of really good-looking, responsive website templates. This is great for those who are looking for both a booking app and a simple landing page in one. I have to say that for very little effort, you can get a very professional-looking site, albeit a basic one.
The membership feature is also quite unique. This allows you to offer both discounts and treats to your members, for example, lower recurring payments. Having the ability to offer these types of incentives can only help boost sales and retain clients.
Offering over 40 payment processors (including PayPal, Square and Stripe), Simplybook.me definitely beats Calendly's two (PayPal and Stripe). It also beats Calendly when it comes to languages, offering a total of 15.
Where Calendly wins:
Calendly does offer more in the way of calendar integrations, as SimplyBook.me only offers 2.
Recommended for:
The simple website builder will come in handy for solo-preneurs and small businesses looking for an uncomplicated solution. Having a host of payment processors to choose from will appeal to those wishing to offer more options to their clients.
4. Trafft
Trafft markets itself as a 'premium scheduling and booking software', which can increase your conversions by 30%.
It's recommended for salons, healthcare providers, education and consulting services, amongst other industries.
So on paper, it all sounds pretty good. But how easy is the software to use, and is it better than Calendly?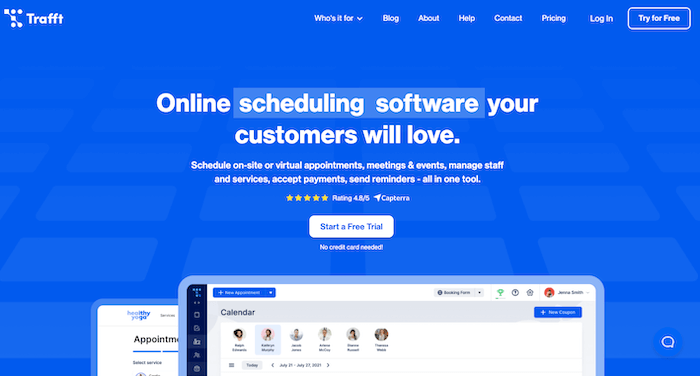 Where Trafft beats Calendly:
Trafft's Basic monthly package comes with 20 users for $12, whereas Calendly charges $10 per user.
You can take payments online via Stripe, PayPal and Authorize.net on the free version, and also set up automatic email and SMS notifications.
The booking website is simple but effective; it's easily customizable, and you can embed it on your existing site, if you have one.
Where Calendly wins:
Calendly's list of native integrations is much longer and more varied than Trafft's. Trafft only includes a handful of tools and is missing some key integrations like iCloud calendar and integrations with CRM platforms.
Recommended for:
As it states on its website, this scheduling app is a good choice for a number of industries, including healthcare and professional services. It offers a good amount of functionality for small-to-medium-sized businesses and is a great alternative to Calendly for those with many users.
5. Squarespace Scheduling
You might be surprised to learn that you don't actually need a Squarespace website to use Squarespace Scheduling. In fact, Squarespace Scheduling is powered by appointment booking software Acuity, which they acquired in 2019.
Squarespace Scheduling lets customers book both one-on-one appointments (e.g. coaching sessions, personal training) and group classes (e.g. yoga, seminars). "Schedulers" can be embedded on your site or shared as a link, and payments for bookings can be accepted via Stripe, Square or PayPal. You can also sync with all the main calendar apps (Google, iCloud, Outlook, etc). Plus, there are direct integrations with tools such as ClassPass, Zoom, MailChimp and Zapier.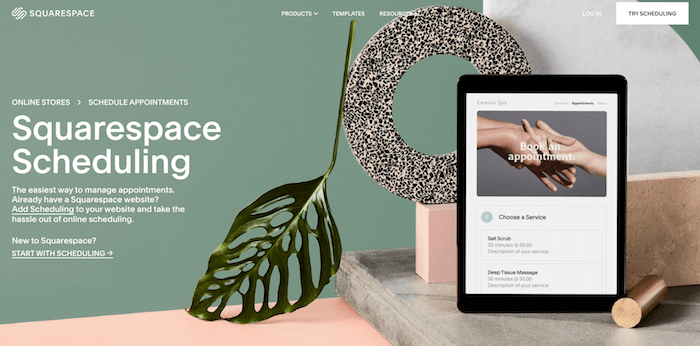 Where Squarespace Scheduling beats Calendly:
If you're already using Squarespace, Squarespace Scheduling is a no-brainer. It's built into your main dashboard and allows you to switch between editing your site and accessing your appointments seamlessly.
Then, there's also the pricing. While the Emerging plan only allows for 1 calendar and is slightly more expensive than Calendly's Team plan ($14/month), the Growing plan allows for up to 6 calendars and is just $23/month. This is useful if you need calendars for multiple employees (which you can add as contributors), or locations. The Powerhouse plan, at $45/month, gives you even more – up to 36 calendars, plus API access.
Squarespace Scheduling is designed to be a more customer-facing booking tool, and we feel it does a better job of helping you sell your services. The higher-tier plans let you offer gift certificates, memberships and subscriptions. You can also sell add-on services, e.g. an optional blow dry when a customer books a haircut.
Where Calendly wins:
For internal/team meetings, Calendly comes out on top – features like the Round Robin and Collective event types, which allow you to automatically schedule meetings with multiple team members, are not available in Squarespace Scheduling.
Also, Squarespace Scheduling doesn't offer any type of free plan, so if you're not looking to collect any payments then Calendly is the better option.
Recommended for:
Anyone who has a website and needs a professional-looking booking tool to take appointments – especially if it's hosted on Squarespace.
> Try Squarespace Scheduling for free
6. Wix Bookings
If you have a Wix site, Wix Bookings, an app from the Wix marketplace, is a great scheduling solution. With this tool, you can take one-to-one or group bookings and accept payments directly on your site, as well as sync it with your Google calendar.

Where Wix beats Calendly:
This is a great app for existing Wix users as it means that everything is managed from your Wix site or the Wix mobile app (iOS and Android) as there's no need to rely on multiple services.
You can also enable several staff accounts to manage the bookings and sell membership subscriptions online.
Where Calendly wins:
Unfortunately, the Bookings app can only be used on Wix websites, and by those on one of its Business Premium Plans.
A couple of other disadvantages is that the booking feature can only be added to one page and multilingual setup isn't possible.
Those who need to add variations to the durations of their sessions will find this isn't possible. Instead, you'll have to duplicate your services.
Recommended for:
Wix site owners who are looking for an easy-to-use app that can take online payments and integrate with Google Calendar.
7. TimeSync by Novocall
Novocall is a little different from the other software providers on this list. It's a call solution for inbound and outbound calls, but also helps you schedule video and phone meetings via the  TimeSync feature.
It integrates with Zoom and GoogleMeet for video conferencing, as well as integrating with popular CRMs, Google Analytics and Facebook Pixel.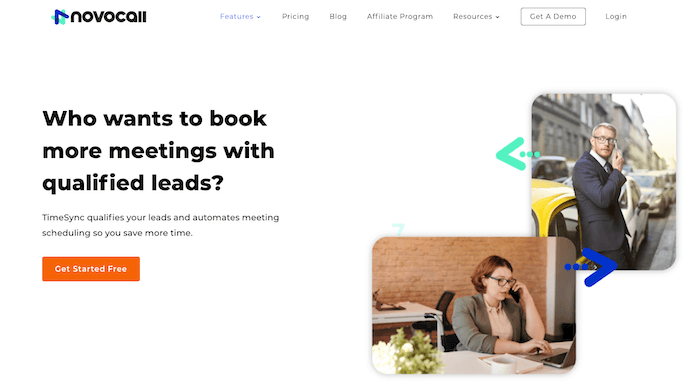 Where TimeSync beats Calendly:
A nice feature of TimeSync is it qualifies your leads prior to booking a meeting with you by asking them a series of questions. This can help save you time and mean you're better prepared when it comes to actually meeting prospective clients.
If your primary focus is to schedule and hold video calls via Zoom then you'll be happy to hear that this integration is possible on TimeSync's free plan. Calendly reserves this feature for paid users only.
Where Calendly wins:
TimeSync offers direct integrations only with Google Calendar or Outlook Calendar whereas Calendly integrates with all popular calendars.
Though you can send notifications and reminders with TimeSync, you're not able to automate entire workflows like you can with Calendly.
At $25/month/user, Timesync isn't cheap. Calendly, Setmore or Simplebook.me offer a better deal.
Recommended for:
I'd recommend TimeSync to businesses who primarily conduct their meetings online via video call. Its qualifying feature also makes it an interesting solution for larger businesses with lots of new leads coming in.
8. Monday.com
Monday.com, a productivity tool, first officially came onto the market in 2014, after it was launched in Tel Aviv. A few years later the mobile app was launched, which led them to be named one of the top 15 fastest growing companies of 2018. In 2020 it surpassed 100,000 teams using the platform.
It's not exactly an apples to apples comparison, but I thought it interesting to include Monday as this handles internal scheduling matters better than Calendly.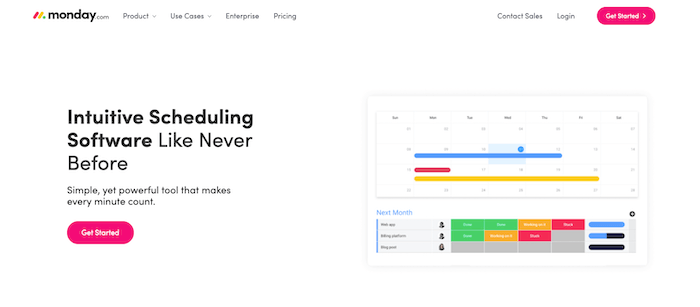 Where Monday beats Calendly:
Monday.com's offering is much broader than Calendly's due to its wide range of features. For example, you can have various 'workspaces' and multiple dashboards within these. This can be a great way to separate projects or manage the tasks of different teams.
Monday has tons of templates, meaning that you can use it for so much more than simply scheduling. Because it's an all-round productivity tool, you'll find templates such as blog planning, social media scheduling, sprint planning (for developers), and much more.
It's also available in 12 languages, which is much more than Calendly's 5. A free plan is available for up to 2 users.
Where Calendly wins:
With Monday.com, you have to purchase a minimum of 3 users, which means that its cheapest paid plan comes out at $30/month. If you need between 1-2 users, this won't be the right option for you. Calendly, on the other hand, offers a free plan with 1 user account.
Due to Monday's extensive options, you might be slightly overwhelmed at first. If you'd rather a more simplified tool then Calendly beats Monday in terms of ease of use.
Though Monday has plenty of use cases, it isn't really for booking appointments with clients. For example, if you're a hair salon looking for booking software, you'd be better off with Setmore or Simplybook.me.
Recommended for:
This is a great project management tool with plenty of features. If you're looking for a tool that can help you keep on top of everything from sales and marketing to customer service and product development then Monday.com is worth checking out.
Calendly Alternatives: What's the Verdict?
We've seen that there are some excellent Calendly alternatives out there, but which one is right for you? Well, that totally depends on what your needs are.
The scheduling tools we've looked at are unique in their own way, and there will be scenarios where one would make more sense to use than another. Let's take a look:
I need a booking app that can take payments online
Best Calendly alternative: Setmore, Squarespace Scheduling, Wix Bookings, Simplybook.me, Trafft
I need a simple website to take bookings on
Best Calendly alternative: Simplybook.me, Wix, Squarespace Scheduling, Trafft, Book Like A Boss
I need a tool to help with project management
Best Calendly alternative: Monday.com
I need a scheduling app that can help me qualify leads
Best Calendly alternative: Novocall's TimeSync
I need an affordable solution for a large team
Best Calendly alternative: Setmore, Trafft
I need a booking app with multilingual options
Best Calendly alternative: Squarespace Scheduling, Simplybook.me, Trafft, Book Like A Boss
If you have any questions about the tools or would like to share your experience using them, leave me a comment below!
We keep our content up to date
26 Apr 2023 - Added Book Like A Boss
15 Feb 2023 - Added award badge
15 Feb 2022 - Added Trafft
17 Jan 2022 - Added video review 
23 Nov 2021 - Updated Setmore's pricing 
07 Oct 2021 - Squarespace Scheduling added
02 Sept 2021 - Simplybook.me now available in multiple languages
14 Jul 2021 - Added table and updated prices 
Our Methodology
This article has been written and researched following our EmailTooltester methodology.
Our Methodology