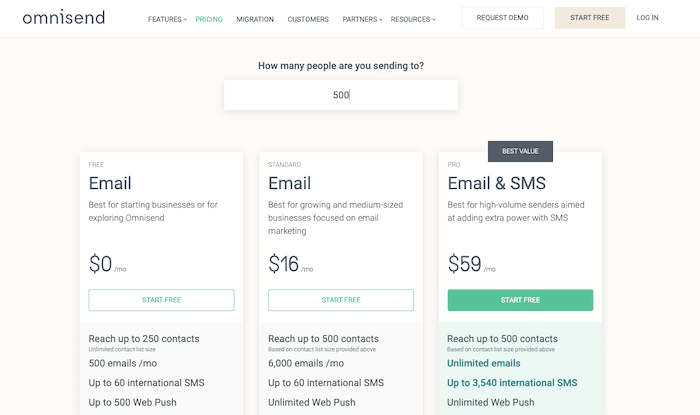 Focused on email marketing for ecommerce, Omnisend has become one of the most popular email marketing tools for Shopify. With its affordable prices and unique features such as wheel of fortune and product recommender, we wanted to delve further into Omnisend's pricing and see what all the fuss was about. We also decided to compare it to popular email marketing giant, Mailchimp – more on that below!
How Much Does Omnisend Cost?
Omnisend is an all-in-one marketing automation platform built for ecommerce brands. It lets you automate your marketing processes with growth as a goal.
Since businesses will have different needs at each stage, Omnisend offers several pricing plans: Free, Standard and Pro.
The three tiers offer virtually the same set of features, what changes are how many emails and SMS you can send and to how many people.
Let's take a look.
Omnisend Pricing And Plans Side-by-Side
Free
Standard
Pro
Features
Omnisend Branding
Yes
No
No
SMS
60 international SMS
60 international SMS
3,540 international SMS
Sign-up forms & landing pages
Unlimited
Unlimited
Unlimited
Mobile-friendly email templates
Yes
Yes
Yes
Segmentation
5
20
200
Sales, campaign and retention reports
Yes
Yes
Yes
Website tracking
Yes (1 month of historical data)
Yes (6 months)
Yes (18 months)
Click map
Yes
Yes
Yes
Automation Workflows (welcome emails, birthdays, abandoned carts, and custom workflows)
Yes
Yes
Yes
Automation reports
Yes
Yes
Yes
A/B test campaigns
Yes
Yes
Yes
Product Picker and Product Recommender
Yes
Yes
Yes
Wheel of Fortune
Yes
Yes
Yes
Multiple users for your account
Unlimited
Unlimited
Unlimited
24/7 email & live chat support
Email
Yes
Yes
3rd party app integrations (Shopify, Woocommerce, BigCommerce, Zapier, etc.)
Yes
Yes
Yes
Google Ads Customer Match
Yes
Yes
Yes
Push Notifications
Yes
Yes
Yes
Custom domain signature (SPF/DKIM) 
No
No
Yes
Dedicated account manager
No
From 60K contacts
From 27K contacts
Omnisend pricing based on list size
250 contacts
$0 unlimited contacts, but can only reach 250. 500 emails
–
–
500 contacts
$0
$16/mo for 6,000 emails
$59/mo for unlimited emails
2,500 contacts
$0
$35/mo for 30,000 emails
$59/mo for unlimited emails
5,000 contacts
$0
$65/mo for 60,000 emails
$90/mo for unlimited emails
10,000 contacts
$0
$115/mo for 120,000 emails
$150/mo for unlimited emails
25,000 contacts
$0
$245/mo for 300,000 emails
$370/mo for unlimited emails
50,000 contacts
$0
$330/mo for 600,000 emails
$650/mo for unlimited emails
What is the difference between the Standard and Pro plan?
The Pro plan comes with everything that Standard does, plus unlimited emails and a higher SMS allowance. In terms of features, the only thing that really changes is that the Pro plan allows you to add a custom domain signature, which could help improve your deliverability
So when might you opt for the Pro plan over Standard? If you send a lot of SMSs, then you'd be better off with the Pro plan. For $59/month, you'll be able to send up to 3,540 international SMS.
SMS and MMS pricing
The number of messages you can send depends on the country you're sending to. For example, in the United States, a single SMS message costs $0.15 and one MMS message costs $0.45 (as of Sept 2021).
All plans include credits in the cost of the plan, but you can always purchase more at a fairly reasonable price:
| | 100 | 1,000 | 5,000 |
| --- | --- | --- | --- |
| SMS credits | $1.50 | $15 | $75 |
| MMS credits | $4.50 | $45 | $225 |
Is Omnisend Free to Use?
The Free plan comes with unlimited contacts and 500 emails/month, though you'll only be able to reach a total of 250 contacts.
A free plan might work for you if your brand is just starting out. After all, all features are included, even custom workflows, segmentation and unlimited landing pages. The fact it comes with unlimited contacts is particularly appealing, but you're likely to outgrow the sending limit fairly quickly.
Omnisend vs Mailchimp
While Mailchimp is one of the most popular email marketing tools out there, the company's decision to stop native integration with Shopify was a deal-breaker for many ecommerce brands, and many turned to Omnisend as an alternative. We've broken down the features and pricing, so you can decide which tool is better for your business.
| | OMNISEND | MAILCHIMP |
| --- | --- | --- |
| Responsive email templates | Yes | Yes |
| A/B Testing | Yes | Yes |
| Savable content blocks | Yes | No |
| Product recommendations | Yes | No |
| Discount Codes | Yes | Yes |
| Gamification | Yes | No |
| Landing Pages | Yes | Yes |
| Custom tags | Yes | Yes |
| Facebook Audiences | Yes | Yes |
| Google Retargeting Ads | Yes | Yes |
| Visual Automation Flow | Yes | No |
| Cart/Browse Abandonment | Yes | Yes |
| Conditional Splits | Yes | No |
Automation is where Omnisend really shines. While Mailchimp lets you automate some parts of the flow (like abandonment), Omnisend's advanced features are truly built for ecommerce. It lets you set up conditionals, SMS, Facebook Messenger and push notifications right in the same visual flow. The fact that Omnisend offers gamification is also an advantage.
Omnisend vs Mailchimp Pricing
| | Omnisend Standard Plan | Mailchimp Essentials Plan |
| --- | --- | --- |
| Free plan | 500 emails and unlimited contacts (though you can only reach 250) | 10,000 emails to 2,000 contacts |
| 2,500 contacts | $35 | $30.99 |
| 5,000 contacts | $65 | $52.99 |
| 10,000 contacts | $115 | $78.99 |
| 20,000 contacts | $230 | $170 |
Mailchimp's plans have more limitations in terms of features, but it might be fine if your brand is just starting out. Omnisend includes all features on its free plan, so it's worth giving it a shot if you send few targeted emails and would benefit from advanced ecommerce focused automations, for example. It's made for growth and offers plans that grow with you and your business.
Once you move onto an Omnisend paid plan (because you want to send higher email volumes, for example), you'll see that there isn't much difference between Omnisend and Mailchimp's prices.
Conclusion
While there are plenty of email automation services out there, Omnisend is a key one that's made for ecommerce and focused on growth. With its easy-to-use platform, advanced options, and flexible pricing tiers, it's a good choice for those focused on growing their ecommerce brand.
Omnisend's paid options are great for personalizing campaigns and targeting customers with the products that interest them. If you're not ready for a paid option, its free plan is generous enough for small businesses, so you really have nothing to lose by trying it out.
Have you tried Omnisend? Let us know what you think in the comments below.
Updates: 
16 Sept 2021 - Plans and pricing updated to reflect changes
FAQ
Is Omnisend free to use?
Omnisend offers a free plan, which comes with 500 emails and unlimited contacts (though you can only reach 250 of them).

How do I use Omnisend with Shopify?
Integrating Omnisend with your Shopify store is pretty simple. Set up an account with both platforms. Add the Omnisend app in the Shopify app store and register your Omnisend account from Shopify admin.

Is Omnisend better than Mailchimp?
That depends on what you're looking for. If you're looking for an email marketing tool for ecommerce, Omnisend is really worth considering due to its ecommerce specific automations. See how the two compare in the Omnisend vs Mailchimp section above.

YOUR QUESTIONS AND FEEDBACK