There's no denying it. We live in an ever-more digital world.
Back during the lockdowns, perhaps you took an online yoga class with your instructor or had a consultation with a health practitioner? Now that lockdowns have been removed, small and large businesses are having to rethink how they do business.
The use of digital marketing tools is helping them to adapt. For example, many barbershops, which might have previously relied on customers simply coming in off the street, are now making appointments mandatory for their customers.
A key part of this evolution is and continues to be, scheduling apps. So if you don't have an online appointment booking system in place, then now is the time to get set up with one.
If you've made it here then you've already put the wheels in motion. So, let me take you through the pros and cons of using each of the top scheduling apps on the market and when to use them.
I assure you that by the end of this post you'll have the perfect solution for your business, thus making it more resilient and successful in the digital age.
Try them out here: Setmore, Simplybook.me and Calendly
I've dissected each of the booking tools in detail below. Jump to the reviews by clicking here.
What Makes a Great Appointment Scheduling App?
The great thing about appointment scheduling software is that it takes care of tedious tasks like canceling and rescheduling appointments for clients. Not only will it mean more appointments scheduled, it'll also mean more time for you and your staff to focus on more hands-on tasks.
But, of course, you'll need to make sure the scheduling app you choose has all the necessary features.
Here are some things to look out for:
Customization: The app should be flexible in that it allows you to customize the booking experience depending on your needs. For example, a personal trainer's scheduling app won't look the same as that of a freelance photographer, sales agent, or restaurant booking system.
Aside from selecting the time and place, your customers might need to specify the reason for their appointment or answer a quick survey in the case of first-time customers. A good scheduling app should allow you to do all of this and more.
Payment Processing: Having the ability to take payments online ahead of time is crucial for many businesses – especially since many customers are trying to avoid cash in times of Coronavirus. It can also mean you don't lose out on revenue from last-minute cancellations.
Calendar Syncing: This is key. No one wants to have to put in information twice. You should be able to sync the software up your Google, iCloud or Outlook calendar so that public holidays, days off, store closures and appointment clashes are visible on both ends.
Compatibility: You'll also want to make sure that your clients can schedule appointments from a variety of points. For example, on your Facebook page, website or via a link. The app should therefore come with a multitude of options.
Device: Depending on how you work, you might be more comfortable or find it more convenient to use a particular device. Whether you prefer using a mobile app, desktop computer or iPad, make sure that the appointment scheduling software you choose supports the devices you need.

What's the Best Scheduling App?
1- Setmore – Free plan without limitations
2- SimplyBook.me – Modern design options
3- Calendly – Unlimited appointments
4- MeetFox – Generous free plan and in-built video software
5- Zoho Bookings – Group bookings and recurring appointments
6- Appointy – Accept payments on free plan
7- Cogsworth – Affordable paid plan
8- Square Appointments – No limit to what you can do
9- Squarespace Scheduling – Language features
10- Appointlet – Create more than 1 booking page
11- 10to8 – All major calendars but not that intuitive
12- SavvyCal – Simple but effective
Best Scheduling App: Feature Breakdown
Available on
Calendar Syncing
Payment Processing
Access Points
Price

Web

Mac/Windows

iOS/Android

Google

Office 365

Square (free)

Stripe (paid plan)

Instagram

Facebook

Booking widget

CRM

CMS

Email

Free

Premium from $12/user/mo

SIMPLYBOOK.ME
Web

iOS/Android

Google

Outlook

Over 40 including PayPal Square Stripe
Facebook Instagram

Website

Google

Email

Free

Paid plans from$9.90/mo

CALENDLY
Web

iOS/Android

Outlook

Office 365

iCloud

Google

Stripe (paid plan)

PayPal (paid plan)

Website

Google

Email

Free

Paid plans from$10/mo

MEETFOX
Web

Outlook

Office 365

Google

Stripe (5% transaction fee on free plan)

Website (WordPress plugin available)

Social media

Free

Paid plans from$15/mo

ZOHO BOOKINGS
Web

iOS/Android

Zoho

Outlook

Office 365

Google

Stripe

PayPal

Authorize.Net

and many more

Website

Email

Free

Paid plans from $8/mo

APPOINTY
Web

iOS/Android

Outlook

Office 365

Google

iCloud

(paid plans only)

Square (free plan)

Stripe PayPal

Authorize.net

Website

Facebook

Free

Paid plans from $29.99/mo

COGSWORTH
Web
Outlook

iCloud

Google

Stripe

PayPal

Website

Email

Facebook

Paid plans from $9/mo
SQUARE
Web

iOS/Android

Google
Square
Instagram

Google

Facebook

Email

Free

Paid plans from $50/ mo

SQUARESPACE SCHEDULING
Web

iOS/Android

Outlook

Office 365

iCloud

Google

PayPal

Square

Stripe

Facebook

Website

Email

Paid plans from $15/mo
APPOINTLET
Web
Google

Office 365

Stripe (paid plan)
Facebook

Website

Email

Free

Paid plans from $10/mo

10TO8
Web

iOS/Android

Google

iCal

Office 365

Outlook

PayPal Stripe

Sage Pay

Facebook

Slack

Website

Email

Free

Paid plans from $12/mo

SavvyCal
Web
Google

Outlook

iCloud Calendar

Processing with Stripe coming soon

Website

Email

Paid plans from $12/user/mo
Best Appointment Scheduling Software in Detail

1. Setmore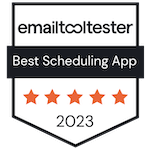 We awarded Setmore our Best Scheduling App badge for 2023!
The great thing about Setmore's scheduling software is that you don't need to have any technical experience whatsoever, you can get set up in no time. However, that's not to mean it's not powerful, just the opposite.
What's more, it's free for up to 4 staff logins and unlimited bookings! You can even take online payments.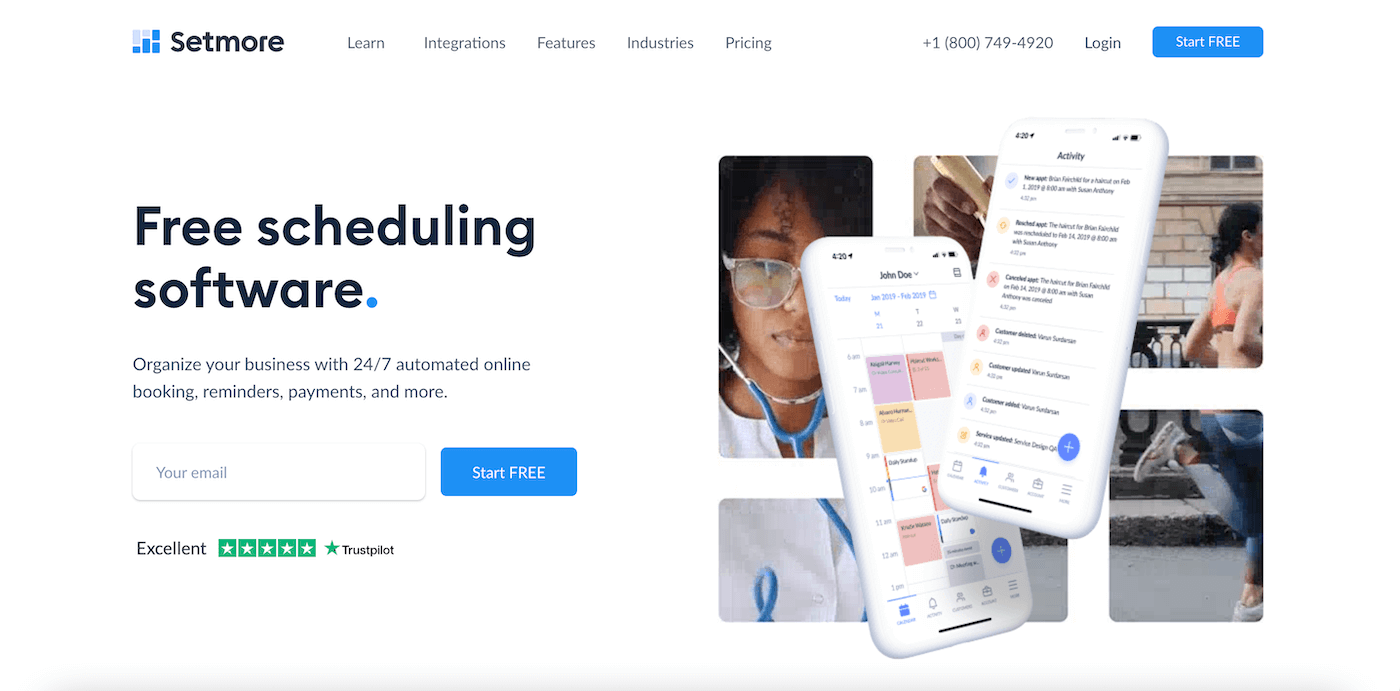 Pros to using Setmore
This software is really easy to use. Its set-up wizard makes sure you don't miss a step and its clean interface makes it easy to navigate.
A unique feature of this tool is the desktop app, which lets you see your appointments even if you're offline. None of the other providers offer this feature.
Thanks to its many integrations with website builders, CRMs, and newsletter tools (Mailchimp and Constant Contact) it's easy to display your booking service, manage your contacts and incorporate them into your email marketing strategy.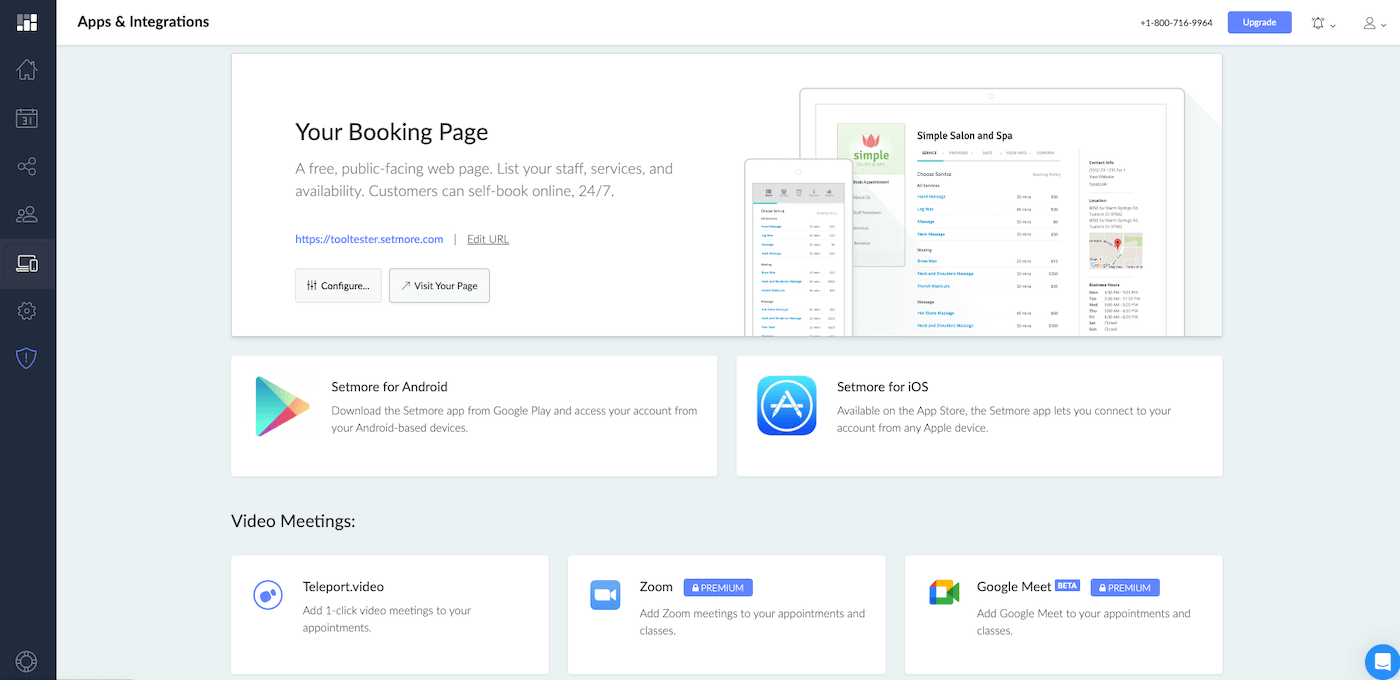 Cons
SMS reminders aren't included in the free plan, but hopefully email notifications are enough for you.
Though you have a range of customization options in terms of booking details, the booking landing page (hosted on Setmore) doesn't have any design customization options.
When to use Setmore
If you're looking for a free but generous provider then Setmore is an excellent choice. You'll find you can do practically everything you need in this booking app, plus the fact that you can access it on your desktop offline might be appealing for some.
Setmore Pricing
Free for 1-4 staff logins and calendars, automated emails, unlimited bookings and you can accept payments with Square, PayPal and Stripe.
Paid plans start at $12/month for 2 user accounts, SMS reminders for your clients, and 2-way calendar syncing
2. SimplyBook.me
Founded in 2008, SimplyBook.me has been around for some time. Its extensive list of features, like membership options and a website builder, secured it a place on this list of the best scheduling apps.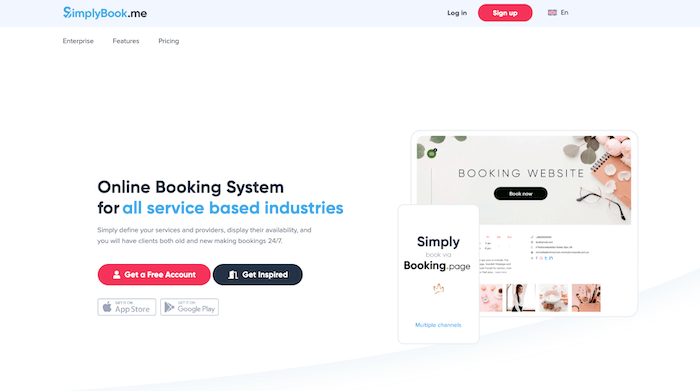 Pros to using SimplyBook.me
Its plans are generous and very affordable. Even the Free plan comes with a range of really nice-looking, fully responsive booking website templates. It's super simple to set up, and there are plenty of design options!
SimplyBook.me's membership feature allows you to offer both discounts and treats to your members, as well as lower recurring payments if they become members (recurring membership payments work with Stripe everywhere except within the EU).
Use the SMTP email custom feature to integrate with transactional services such as Mailjet or Sendgrid.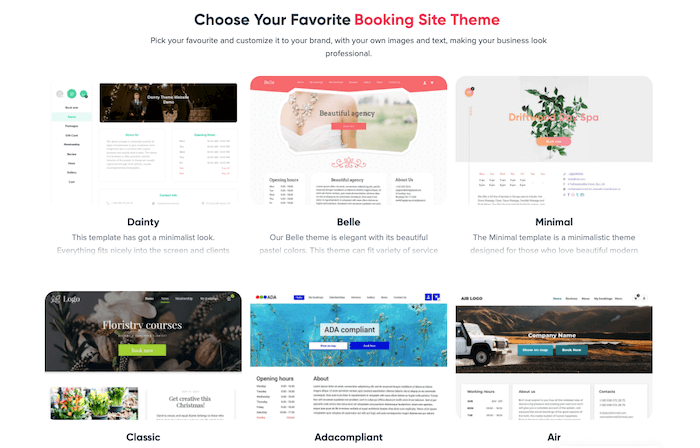 Cons
If you don't care about all the bells and whistles, you might find the interface slightly overwhelming. I imagine most of you will go for the free or Basic plan, in which case you'll need to bear in mind that you'll only be able to enable 1 or 3 custom features, respectively.
When to use SimplyBook.me
If you need a simple booking website you can customize then SimplyBook.me is a good choice. It's also very affordable.
SimplyBook.me Pricing
Free for 50 appointments per month, automated reminders and 1 custom feature (e.g. payment processing)
Paid plans from $9.90/month for 100 appointments, 3 custom features and POS system.
3. Calendly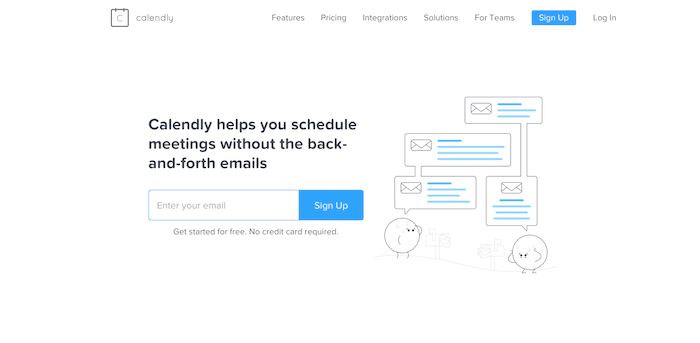 Calendly, which is based in Atlanta, is a popular scheduling app, especially among startup companies. It allows for unlimited appointments and has a well-designed interface that's really easy-to-use.
Pros to using Calendly
You can use it with Google, Outlook, Office 365 or iCloud and allow your customers to schedule directly from your website. Automated event notifications are included even on the free plan, making no-shows less likely.
The automated workflows are really helpful as you'll no doubt save a ton of time having these set up! You can also create your own workflow if it doesn't appear in the templates provided.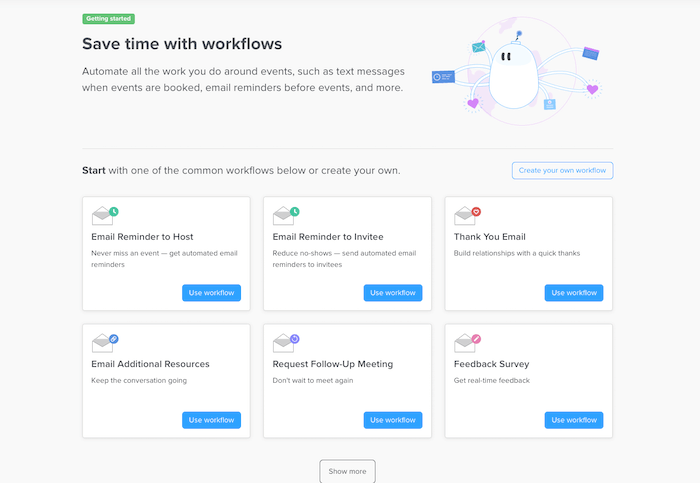 Cons
SMS notifications and direct integrations with email marketing and payment processing tools are only available on the more expensive Pro plan ($15). This means that you won't be able to take payments through the free app – if you're looking for a service that does allow this, check out Setmore. I'd also recommend checking out these Calendly alternatives if you have multiple users and want to avoid paying extra.
When to use Calendly
If you're looking for a reasonably priced solution with unlimited appointments.
Calendly Pricing
Basic: Free for 1 user. 1 calendar. Calendly branding
Premium: $10/month per user/month. 2 calendars/user
Pro: $15/month per user/month. 6 calendars/user
4. MeetFox
MeetFox claims to have over 20,000 happy customers. It has recently joined forces with Brevo Meetings to bring you an all-in-one solution for managing your client interactions. So let's see what makes this a great scheduling app and whether it's right for you.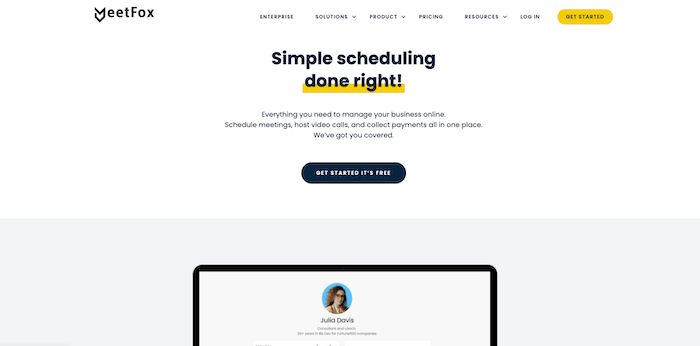 Pros to using MeetFox
MeetFox's free plan comes with unlimited meetings and payment processing, which is more than most. You'll only need to start paying if you want to send SMS reminders (as opposed to email), conduct video calls using its in-built software or add your own logo.
You can embed a nice-looking custom booking page into any part of your website, or you can go for a pop-up widget or button. Those who use WordPress will be pleased to hear that MeetFox offers a WordPress plugin to facilitate this.
Ease of use is a big plus with this tool; the interface is really well-designed, and you are guided through the steps in an intuitive way – there's no chance of you feeling overwhelmed or confused. Also, the fact that the app generates invoices automatically (if you wish to do so) could be very helpful for freelancers.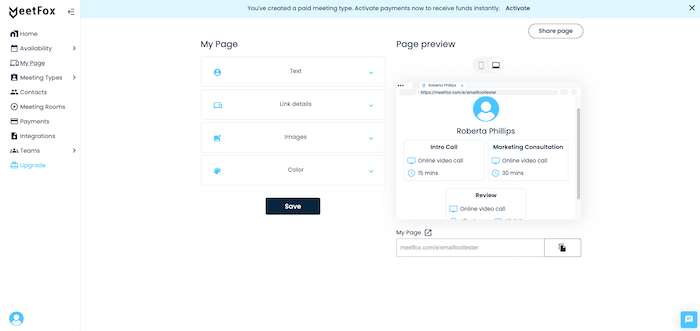 Cons
Be aware that the free plan will charge you a 5% transaction fee on payments processed through the app (paid plans won't charge you anything extra).
Unfortunately, MeetFox doesn't have a mobile app or desktop version.
When to use MeetFox
MeetFox is a great scheduling app for all business sizes. With such a generous free plan and excellent user experience, I'd recommend this tool to anyone looking for a simple solution for booking appointments.
MeetFox Pricing
Free with unlimited meetings, email reminders and payment processing.
$15/user/month for a Pro account with SMS reminders, integrated video calling and customization options.
$42/user/month for a Premium account with domain customization, group calling & recording and multi-party bookings.
5. Zoho Bookings
You may know Zoho due to its array of sales and marketing apps, after all, there are over 50 of them! Plus, the company has been around for such a long time – 25 years, in fact. But how good is the booking app, and is it right for you?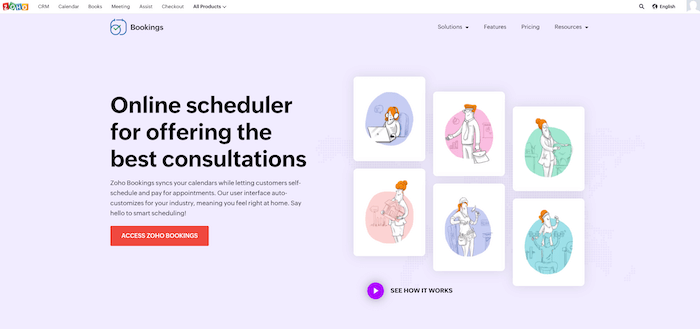 Pros to using Zoho Bookings
Setting up your services and booking page is really simple to do with Zoho Bookings. It's possible to offer group bookings and recurring appointments.
There are a number of payment processing options you can add, though you'll need to be on the Premium plan to take online payments ($12/user/month).
I like that there is also a freemium plan available, which comes with email notifications and a booking page.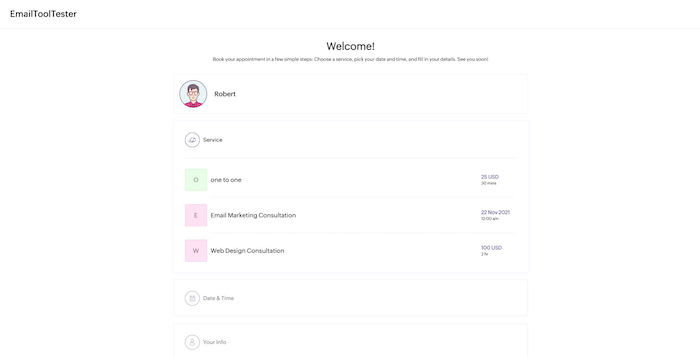 Cons
Though you have four layouts to choose from, and a number of color combinations, you can't add your own colors. There's a knowledge base and ticketing system, but no live chat support. If you want to send SMS reminders, you'll need to integrate with another provider, as this feature isn't included.
When to use Zoho Bookings
If you already use Zoho CRM, it probably makes sense to use Zoho Bookings, as you can sync contacts automatically. If you don't need the CRM, the free plan may be enough, as you get a booking page and email notifications. You can also use the free survey tool.
Zoho Bookings Pricing
Free for 1 user, email notifications, 2-way calendar sync, mobile responsive booking page
$8/user/month for a Basic plan. Includes customization options, reports, custom fields and round robin allocation
$12/user/month for a Premium plan. Includes online payments, Zoho CRM sync, 3 workspaces, custom booking page on your domain, removes Zoho branding, and more.
6. Appointy
Appointy, a scheduling app launched in 2014 in the US, is next up on our list.
This app caught my attention for its straightforward design and attractive free plan. The tool in itself is really easy to navigate, making setting up your services a breeze.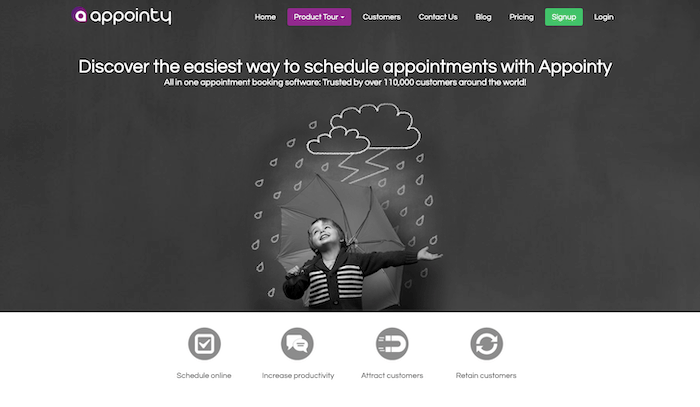 Pros to using Appointy
The free plan allows you to accept payments through Square and send automated email reminders. It also provides you with a free subdomain that you can use to create your own booking page – this is really handy for those who don't have their own website.
I also liked how complete the contact view is; you can see all their appointments, gift cards, reviews, notes, etc. all in one place. Appointy, therefore, doubles up as a simple CRM.

Cons
In order to connect with your calendar, you need to be on a paid plan. However, the free plan does include Google bookings, and you can use Zapier to connect with over 1000 apps.
Appointy's paid plans start from $29.99/month when paid monthly ($19.99 when paid yearly), which is on the more expensive side compared to other tools on this list. Plus, you'll need to pay an extra $5/month for any additional staff members, as just 1 is included in this plan. What's more, you're only able to remove the Appointy branding on the Enterprise plan.
When to use Appointy
Those looking for an easy-to-use scheduling app with helpful CRM features and a custom subdomain will be happy with Appointy's offering. However, if you think you're going to go over the 100 appointments/month limit you'll need to set aside a fair bit of your budget as this is one of the more expensive tools on the list.
Appointy pricing
Free for 1 staff login, 5 services and 100 appointments/month
Paid plans start from $29.99/month.
7. Cogsworth
Cogsworth is another scheduling app to consider for your business. Users seem to be very happy with this service due to the look and feel and the time it saves them. Though there's no free plan, $9/month is pretty reasonable, so let's take a look at all it has to offer!

Pros to using Cogsworth
Setting up your account and services is made simple with the set-up wizard. I have to say that the booking experience it gives users is really nice; it's clean, quick and feels very natural.
A cool feature is that you can build an email signature with your booking button to add to all your correspondence, making it even easier for people to book time with you. Cogsworth also supports 25 languages.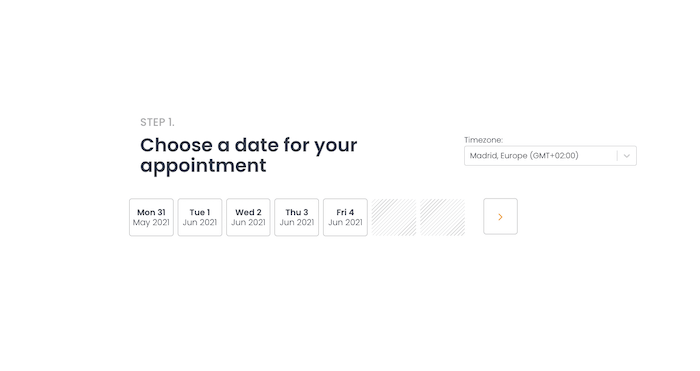 Cons
There is no free plan, and the price of the most affordable plan quickly rises if you need to purchase SMS credits, additional user accounts or want to take online payments.
If you want to test out the software, you'll need to pay $2 – we very rarely see providers charging for a trial account.
When to use Cogsworth
Cogsworth is a good option for those who want to show their booking page in other languages. If you don't need any of the paid add-ons, it is a pretty affordable solution for small businesses.
Cogsworth Pricing
Plans start from $9/month and allow for unlimited bookings
You can also offer as many services as you like
You'll need to pay extra if you want to send SMS notifications, add more users, use a custom URL or take online payments, all of which will push your monthly subscription up quite a bit
8. Square Appointments
If you have an online store then you'll no doubt have heard of Square, which allows you to accept payments securely on your site, as well as in your brick and mortar store. Square Appointments uses this same technology to facilitate paid bookings (and free ones too, of course).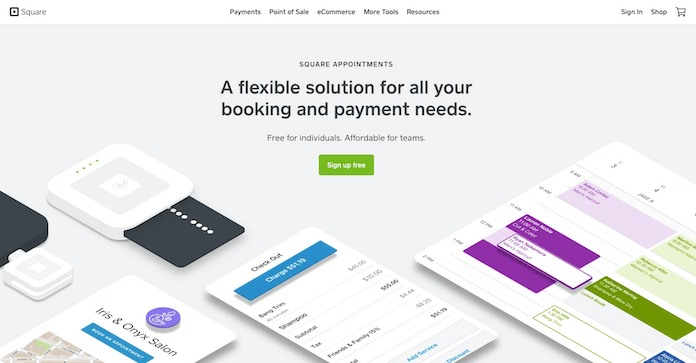 Pros to using Square
With Square Appointments, you can set up an entire customer booking website for free. It's really easy to do so due to an easy-to-navigate interface and step-by-step checklist.
The software really helps you to automate the whole process; you can activate automated text and email reminders, set the times you're available, charge cancellation fees for no-shows, and accept payments all on the same platform.
Its widget can be added to your site and social media profiles, making it super simple for customers to schedule an appointment with you.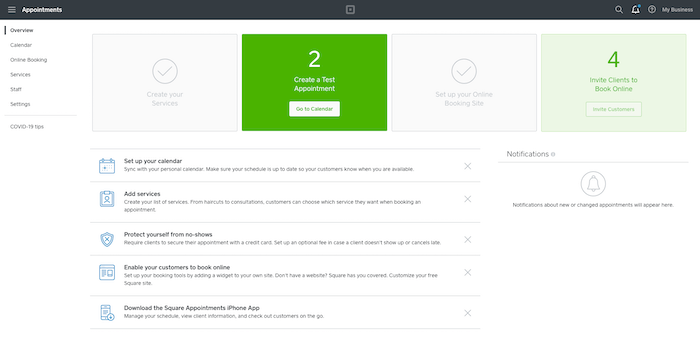 Cons
Funds are sometimes frozen while they investigate potential fraud. This could leave you in a sticky situation if you're relying on that money for immediate use. It's also not the cheapest option.
When to use Square
Because Square has so many solutions – employee payment processing, apps for restaurants and retail, the ability to send and receive invoice payments – it's a very attractive option for small to medium-sized businesses who want to thrive in the twenty-first century.
In terms of industry, it isn't limited to just one. So whatever your business, you'll find that Square can accommodate your needs.
Square Pricing
Free for individuals
$50 per month for 2-5 users or $90 / month for 6-10 users.
Find out about Square's fees for all services here.
Try Square Appointments for free
9. Squarespace Scheduling
Squarespace Scheduling supports over 50,000 businesses and major corporations worldwide. A unique feature is the "Make me look busy" option, which automatically hides some available times so you appear in high demand.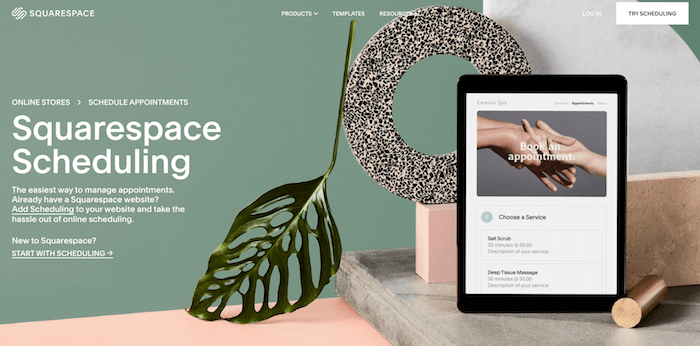 Pros to using Squarespace Scheduling
The paid plans allow you to sync with all the main calendars: Outlook.com, Exchange, Office 365, iCloud and Google Calendar.
Squarespace Scheduling can translate your scheduling page to French, German, Brazilian Portuguese or Spanish. Or you can translate it yourself using its handy tool. It's also very easy to set up intake forms for new clients.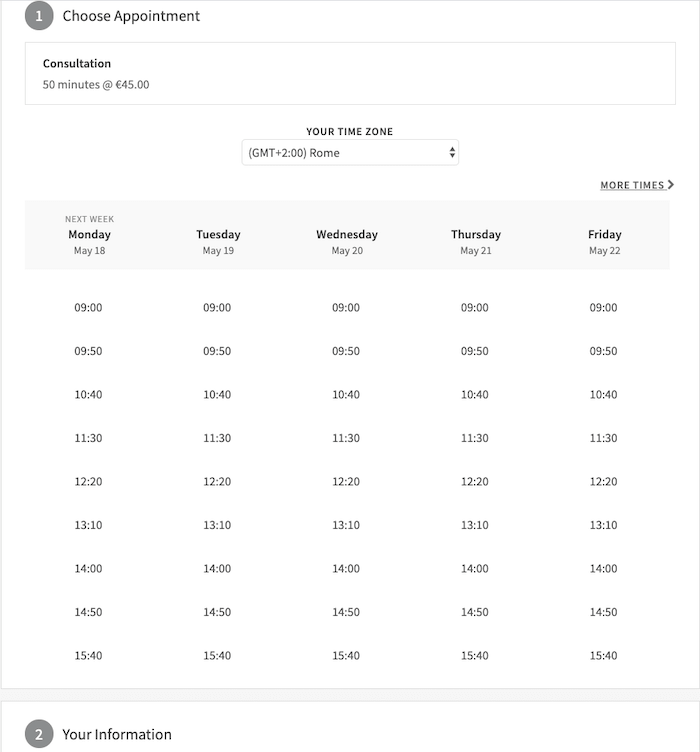 Cons
Unfortunately, Squarespace doesn't offer a free plan. If you're looking to start for free, you'd be better off with Setmore.
When to use Squarespace Scheduling
Squarespace Scheduling is a very decent scheduling app with a multitude of features. It's especially useful if you already have a website with Squarespace (in fact, we named Squarespace one of the best website builders for a service business.) If you have customers in different countries then you find its translation feature useful. The only time I wouldn't recommend it is if you're in need of a free plan.
Squarespace Scheduling Pricing
Plans from $15/month with calendar syncing and email marketing integrations.
Try Squarespace Scheduling for free

10. Appointlet
Using Appointlet is a simple affair due to its clean interface. It has enough customization options to satisfy even the most complicated of workplaces, for example, it comes in several languages and comes with unlimited form fields.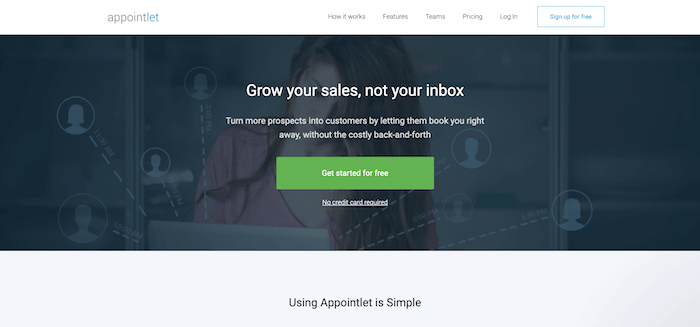 Pros to using Appointlet
Its forever free plan includes unlimited bookings, meeting types, and form fields, making it one of the most generous free appointment scheduling software. If you need booking reminders and want to remove the Appointlet branding, the paid plan is very affordable at $10/month per user.
Appointlet lets you create more than one booking page, where you can customize all the details such as location, price, etc. This is really useful if you have a number of very different services. In terms of integrations, you can connect Appointlet to Zapier, which supports pretty much any newsletter service or CRM.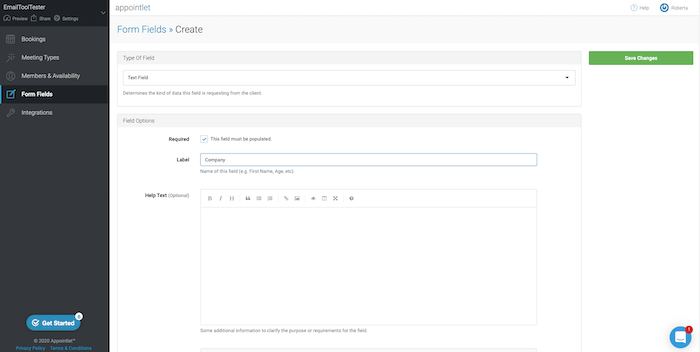 Cons
Appointlet sadly doesn't currently have a mobile app available, which some users will miss.
You are required to sync with either Google Calendar or Office 365 calendar, so if you're not currently using either of these calendars and don't want to switch over then this isn't the tool for you.
You're also not able to take payments online on the free plan.
When to use Appointlet
If you have a lot of appointments coming in but can do without automated reminders and online payment processing then the Free plan is really worth checking out!
Appointlet Pricing
Free with unlimited bookings
$10/month per user for automated and customizable booking reminders, Zoom and Stripe integrations.
11. 10to8
10to8 is a UK company that has been around since 2014. It serves businesses of all kinds, including private surgeons, financial consultants, complementary health therapists, beauty therapists, tutors and music teachers.
Pros to using 10to8
10to8 makes it possible to two-way sync with Google, iCal, Office 365 and OutlookExchange – a wider variety than most of the other solutions on this list.
Color coding for different appointment types makes it easy to get an idea of your schedule at a glance.
The Free plan boasts a native Zoom integration. If you want to integrate with your email service provider you can do so via Zapier.
Cons
The Free and Basic plan ($12/month) both limit you to 100 appointments so if you'll be generating more than that a month then you'll be looking at paying $25/month for 300 appointments.
The interface isn't quite as clean as Setmore or Square, for example.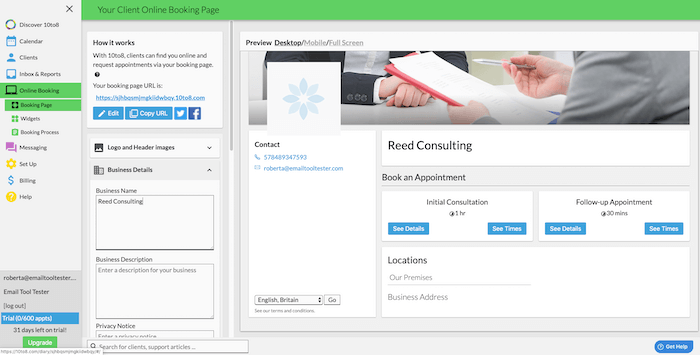 When to use 10to8
10to8 is perfect for coaches, counselors, massage therapists, etc. who have fewer than 100 appointments a month as they won't have to pay anything. 10to8's Bigger Business plan ($50/month) complies with HIPAA Privacy regulations, making it a good solution for healthcare institutions.
10to8 Pricing
Free for 2 staff logins and 100 appointments
Paid plans start from $12/month.
12. SavvyCal
After finding out that SavvyCal was set up by the co-founder of the successful email marketing software, Drip, we were keen to test it out for this article. See how it did below!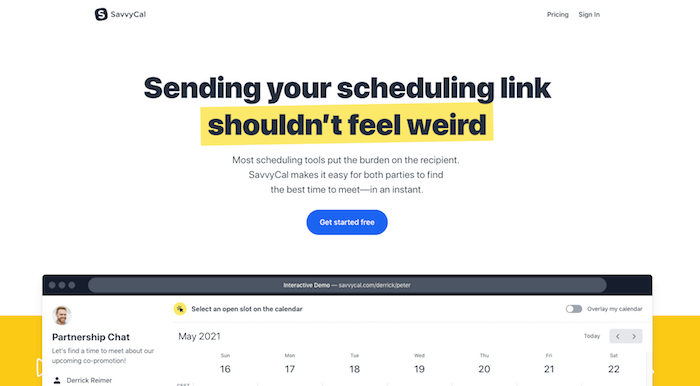 Pros to using SavvyCal
The setup process is pain-free and fast; you're given the opportunity to integrate with your Google, Outlook, or iCloud calendar, as well as Zoom, the video conferencing software.
You can offer your schedulers various options when it comes to meeting (phone, Zoom, in person, etc.), so you can find the best way to meet for everyone involved.
The dashboard is simple and in no way overwhelming, so great for those looking for a simple solution. You can embed your scheduling links on your website as a lightbox or a chat widget, and you'll get unlimited everything on the Basic plan.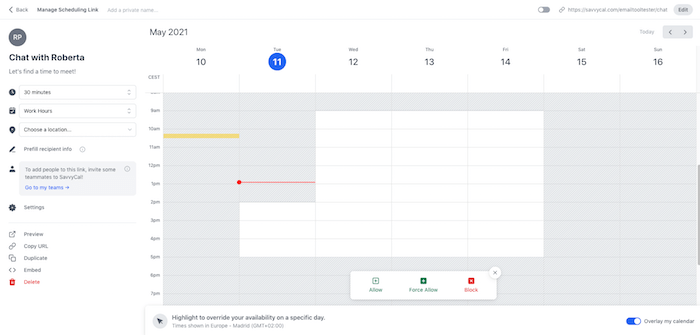 Cons
A big disadvantage is that you're not able to take online payments with SavvyCal, which may well be a dealbreaker for many (though they are working on adding Stripe payment processing soon). The Basic plan features SavvyCal's branding, and in general, I found the knowledge base to be a little thin.
When to use
Considering there's no free plan, it's a bit difficult to recommend SavvyCal over the competition. However, if you're looking for a simple, well-designed scheduling app, and don't require payment processing, then you might like to try it out for free for 7 days.
SavvyCal Pricing
Basic plan costs $12/user/month and comes with unlimited scheduling links, unlimited calendars, unlimited events
Premium will cost you $20/user/month, with the added benefit of removing SavvyCal branding from your links.
If you pay annually, you'll get 2 months free. Students or nonprofits get 25% off.
Get the first month of a paid plan completely free with the link below!
Online Scheduling Apps: Digitalization & Business Growth
Though each industry is not equal in terms of the rate of digital transformation, generally speaking, any small to medium-sized business will need to have (minimum) a website and a listing on Google Maps (Google My Business).
It's also likely that your competition has at least those two things as well. So, in order to stay ahead of your competitors, you'll need to find new ways to reach potential clients whilst also streamlining your customer's journey.
An app for scheduling appointments will help you to:
Save costs and time (fewer phone calls, emails and text messages)
Reach more customers (even globally)
Encourage your customers to interact with you easily
Lead to higher conversion rates
Encourages on the spot payments
Keep up with/stay ahead of your competitors
Best Appointment Scheduling Software: Scenarios
Best Free Scheduling Software
Scheduling app free software is available with almost all of the scheduling apps mentioned, but as you've seen, some freemium plans are more generous than others.
Setmore is by far the best one to go for if you don't want to spend a penny or miss out on features. For absolutely nothing, you'll get up to 4 staff logins, automated emails, unlimited bookings and you can accept payments with Square! MeetFox also offers a very generous free plan, complete with unlimited meetings, email reminders and payment processing.
Best Scheduling Software For Small Businesses
As a small business, I'm sure you're interested in keeping costs low, which is why you should take a look at Zoho Bookings ($8/user/month) or SimplyBook.me ($9.90/month). You can set up a simple but attractive website with the latter, accept payments from a wide range of payment processors, and book up to 100 appointments.
If you're looking for a fully-featured scheduling app and don't mind paying a little extra then either the Setmore Premium plan or Squarespace Scheduling's Growing plan are good options. Calendly's paid plan is also worth considering for the automation workflows and payment processing.
Best Salon Scheduling App
To be honest, any of the apps for scheduling appointments listed in this article would work well for salons. Though I imagine you wouldn't want to limit yourself to under 100 appointments a month and you'd want to take online payments ahead of time to avoid losses. I'd recommend you take a look at Setmore, its Free plan is the best deal for sure.
Online Scheduling App
All of the services mentioned are cloud-based, meaning you won't need to download any software to your computer. Some also come with a mobile app.
Conclusion: The Best Scheduling App is…
So, there you have it, the best appointment scheduling software for your business. As you've probably already worked out, Setmore's Free plan is my top choice! But that isn't to say that the other apps on this list don't deserve a look in. In fact, I found all of the tools really easy to use, which is a breath of fresh air, and great news for non-techy small business owners.
I hope that you've found this article helpful. Let me know how you get on using your chosen app!
We keep our content up to date
26 Oct 2023 - Updated Setmore pricing
13 Dec 2022 - Added award badge
10 May 2022 - Added Appointy
17 Jan 2022 - Added video review 
02 Dec 2021 - Updated SavvyCal
25 Nov 2021 - Updated SimplyBook.me's cons
23 Nov 2021 - Updated Setmore's prices
22 Nov 2021 - Added Zoho Bookings
18 Oct 2021 - Added MeetFox
31 May 2021 - Added Cogsworth
27 May 2021 - Acuity Scheduling changed to Squarespace Scheduling 
12 May 2021 - Added SavvyCal
04 May 2021 - Updated table design
07 Sept 2020 - Added Calendly 
Our Methodology
This article has been written and researched following our EmailTooltester methodology.
Our Methodology