ActiveCampaign CRM Review
Everything You Need to Know
We awarded ActiveCampaign our Best Email Marketing Tool badge for 2023! It also took the #1 spot in our latest deliverability tests.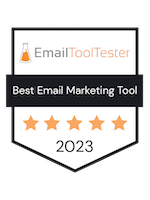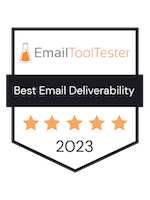 A powerful email marketing service and CRM, conveniently packaged together in one tool? (Now they provide the option to purchase their Sales and Marketing plans separately or together as a Bundle)
That's been one of ActiveCampaign's key selling points, ever since the marketing automation provider launched its CRM feature in 2014.
But how is it different to any other all-in-one email marketing and CRM tool in the market, and does its status as one of the best marketing automation tools mean it has what it takes to manage your deals and customer relationships?
Most CRM providers have tacked on email marketing to the main offering. And as you can imagine, they don't always give the same amount of love to their email marketing product as they do to their CRM.
With ActiveCampaign, this is not the case.
ActiveCampaign CRM Summary
ActiveCampaign's main focus is email marketing – something it does impressively well. Its
CRM
was designed to complement this.
ActiveCampaign wanted to offer a simple way to automate the back-and-forth between marketing and sales when managing opportunities. And, when compared to some better-known CRM giants, its pricing makes it a very attractive CRM software for small businesses.
Want to know if it could work for your business? To help you find out, we tested and explored ActiveCampaign's CRM and its functionalities. (Please note: access to their CRM is now only available on their Sales or Bundle plans)
Read on to find out the key things we learned about ActiveCampaign and its CRM, to help you make the right decision.
ActiveCampaign CRM Screenshots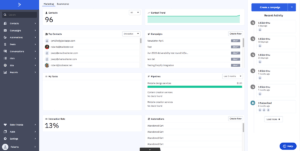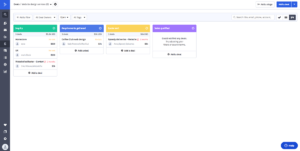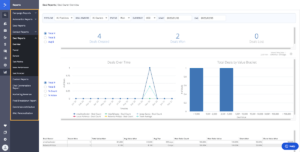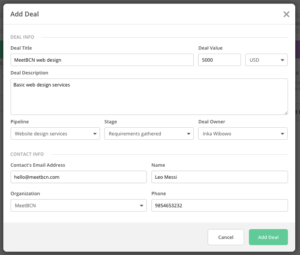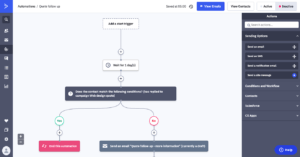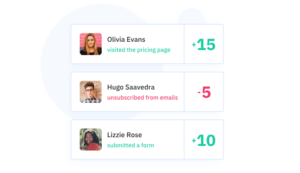 ActiveCampaign CRM Pricing
$ 23
Sales Plus Plan
Sales plus plan. Discounts available for yearly contracts.
$ 46
Sales Plus Plan
Sales plus plan with 2 user seats.
$ 59
Sales Professional Plan
Sales professional plan. Discounts available for yearly contracts.
$ 118
Sales Professional Plan
Sales Professional Plan with 2 user seats
$ TBC
Sales Enterprise Plan
Sales Enterprise plan. Contact for pricing.
Find out more about ActiveCampaign's prices and features in our pricing guide.
Pros and Cons
Pros
Seamless sales and marketing automation

Thanks to their bundle plan, your automations can go both ways – from marketing to sales, and back from sales to marketing. E.g. say you want to set up an automation for when a contact has reached the 'Quote sent' stage, as part of your sales funnel. The process assumes that the quote has already been sent by email (via another ActiveCampaign automation). Set the automation to check whether the contact has responded after 1 day. If they haven't, the automation will send a follow-up email, asking if they need more information.

Deal and contact management

ActiveCampaign CRM is a tool that really simplifies the process of deal and contact management. In fact, the whole CRM is organized around the concept of being able to create, edit and progress deals – which is probably why they refer to it as the 'Deals CRM'.

Tons of free tools

ActiveCampaign has developed tons of free tools, including CRM, content and social media calendar templates, a subject line generator and much more. The great thing is, these are available to everyone, not just customers.
Is ActiveCampaign CRM the right CRM software for you?
Recommended if:
Not recommended if:
You need more than just a CRM

Aside from offering customers a robust CRM through any of their Sales plans, ActiveCampaign also allows users to combine their sales and marketing efforts with their Bundle plans. By selecting any of these bundle plans, you'll be able to send newsletters and other automated campaigns, set up landing pages, send SMS to website visitors, and more. The mobile app (available for both iOS and Android) allows for mobile call logging, too.

You need advanced sales and marketing automation

With any of ActiveCampaign's bundle plans, it's possible to set up any automation imaginable. Think triggered campaigns, sales follow-ups, automated segmentation, dynamic email content, and much more. It's a great Mailchimp alternative, for that reason.

You need detailed ecommerce insights

ActiveCampaign offers an excellent ecommerce dashboard. Aside from the performance metrics, it also gives you recommendations to help grow your online store and outlines contact engagement across the customer journey.
Conclusion
ActiveCampaign is an email marketing tool first, and a CRM second. But does that mean it's right for you?
My answer would be yes – but only if:
Your deals are mainly driven through web inquiries, your email marketing strategy, and automated campaigns (or you plan on generating most of your business through these channels)
Being able to automate tasks and communications is important to you
You have a relatively small marketing and sales team that are committed to following the required processes
You don't need deep, fully customizable reports
While it might not be as advanced as some of the other specialized (and more well-known) CRMs in terms of reporting, it has a few really strong points: slick automations, seamless integration of sales and marketing tasks and unmatched email deliverability. So if that's something that you think could really benefit your business, it's definitely worth a try.
If you're still not convinced, check out our ActiveCampaign review, where we talk in more detail about the email marketing features and deliverability. You can also see how ActiveCampaign's landing pages perform in our complete guide.
FAQ
ActiveCampaign is used for creating both simple and complex marketing & sales automations. You can do anything from run your email marketing campaigns to automate how your leads move through your deal pipeline.
Every sales process has a defined set of stages – this is called a pipeline. With ActiveCampaign, you can create an unlimited number of pipelines.
We rate both tools pretty highly for different reasons. In fact it's a very close call on which the better CRM service – it totally depends on yor¡ur needs. Find out how each tool did, in a variety of categories, in our ActiveCampaign vs HubSpot review.
Yes, ActiveCampaign's mobile app is available for iOS and Android. You can manage and create deals, track and assign tasks, view campaign and email automation details, schedule and send campaigns, and more.
ActiveCampaign CRM Alternatives
HubSpot is the most well-known, offering a very generous free CRM plan. What's not so attractive is the price jump when you move onto a paid plan.
Two other CRM tools to check out are Freshworks and Pipedrive CRM. The former offers an interesting mix of sales and marketing features, and the latter is more focused on sales.
This guide covers the top ActiveCampaign alternatives for all things related to email marketing. You can also check out other top-rated CRMs with automation.
We keep our content up to date
24 May 2023 – General update
21 Feb 2023 – Plans and pricing updates
18 Jan 2023 – Awards added
29 Nov 2022 – New ActiveCampaign video added
05 Oct 2022 – Changes to plans and pricing
26 Jan 2022 – Some smaller features added
16 Dec 2021 – General update
16 Nov 2021 – General update
15 Jul 2021 – Added FAQ
22 Jul 2021 – Added Deal Task Overview Report
Our Methodology
This review has been written and researched following our EmailToolTester methodology.
Our Methodology