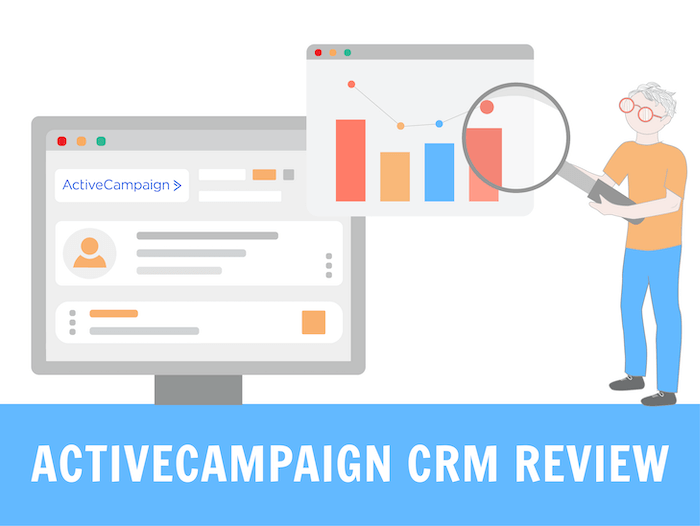 A powerful email marketing service and CRM, conveniently packaged together in the one tool?
That's been one of ActiveCampaign's key selling points, ever since the marketing automation provider launched its CRM feature in 2014.
But how is it different to any other all-in-one email marketing and CRM tool in the market?
Well, for one thing, most of these tools are a CRM first, with email marketing tacked on to the main offering.
And as you can imagine, they don't always give the same amount of love to their email marketing product as they do to their CRM.
ActiveCampaign CRM Summary
ActiveCampaign's main focus is email marketing – something it does impressively well. Its CRM was designed to complement this. ActiveCampaign wanted to offer a simple way to automate the back-and-forth between marketing and sales when managing opportunities. And, when compared to some better-known CRM giants, its pricing makes it a very attractive option for small-to-medium-sized businesses.
Want to know if it could work for your business? To help you find out, we tested ActiveCampaign's Plus plan (ActiveCampaign CRM is available on all plans except its Lite plan).
Read on to find out the key things we learned about ActiveCampaign CRM, to help you make the right decision.
ActiveCampaign CRM screenshots
ActiveCampaign CRM Pricing
1,000 contacts
$70/MO
Plus plan. Discounts available for yearly contracts.
2,500 contacts
$125/MO
Plus plan. Discounts available for yearly contracts.
5,000 contacts
$169/MO
Plus plan. Discounts available for yearly contracts.
10,000 contacts
$249/MO
Plus plan. Discounts available for yearly contracts.
25,000 contacts
$399/MO
Plus plan. Discounts available for yearly contracts.
Find out more about ActiveCampaign's prices and features in our pricing guide.
Pros and Cons
Deal management:
ActiveCampaign CRM is a tool that really simplifies the process of deal management. In fact, the whole CRM is organized around the concept of being able to create, edit and progress deals – which is probably why they refer to it as the 'Deals CRM'.
Seamless sales and marketing automation:
The automations go both ways – from marketing to sales, and back from sales to marketing. E.g. say you want to set up a marketing automation for when a contact has reached the 'Quote sent' stage. The process assumes that the quote has already been sent by email (via another ActiveCampaign automation). Set the automation to check whether the contact has responded after 1 day. If they haven't, the automation will send a follow-up email, asking if they need more information.
Reports:
The reports dashboard is missing the level of customization or granularity that you'd get with CRMs like Salesforce or Microsoft Dynamics. So, if having easy access to these kinds of reports is important, you might find ActiveCampaign a little limiting. It's also not possible to export your list of deals from the tool, either (you'd need to set up an API call for that).
No distinction between leads and account:
The concept of leads and accounts doesn't really exist within the tool. Everyone is a contact, and anything to do with a deal/opportunity – whether it's the deal itself, or the contact(s) associated with that deal – is all managed from the one place.
Email address used as unique identifier:
As ActiveCampaign is first an email marketing provider, then a CRM service, email is used as the unique identifier, which means that a contact/lead can't have multiple email addresses, e.g. a business and personal email.
Is ActiveCampaign CRM the right crm software for you?
Recommended if:
You need more than just a CRM:
Aside from offering customers a robust CRM, ActiveCampaign also allows you to send newsletters and other automated campaigns, set up landing pages, send SMS and personalized 'Conversations' to website visitors (similar to live chat).
You need advanced sales and marketing automation:
With ActiveCampaign, it's possible to set up any automation imaginable. Think triggered campaigns, sales follow-ups, automated segmentation, dynamic email content and much more.
You need detailed ecommerce insight:
ActiveCampaign offers an excellent ecommerce dashboard. Aside from the performance metrics, it also gives you recommendations to help grow your online store and outlines contact engagement across the customer journey.
Not recommended if:
You need deep, fully customizable reports:
As well as not being able to go deep enough, the reporting dashboard could use a revamp. This might be a dealbreaker for you. If it is, I'd recommend HubSpot or Zoho.
You need a free plan:
Unfortunately, ActiveCampaign doesn't offer a free plan, just a 14-day free trial. CRM providers with free plans include HubSpot, Zoho and Freshworks.
Rating details
criterion
rating
comments

Ease of Use

ActiveCampaign CRM uses card-based drag and drop technology, where deals can be easily moved from stage to stage. Set up is made easy with the useful 'Getting Started' slider.

Pipeline Management

Stages are fully customizable, so you can create as many as you'd like to match your existing sales process. If you have multiple sales processes (e.g. for each product or service you sell), you can also create a pipeline for each of these.

Contact/Deal Management

Deals are easy to create and associate with pipelines and stages, with your standard fields for description, value, stage, contact details, and assigned deal owner.

The concept of leads and accounts doesn't really exist within the tool, which could be frustrating for some.

Email Features

You can connect existing email accounts (Gmail, Outlook, etc.) to ActiveCampaign and send one-to-one sales emails via your own inbox. Excellent email marketing features such as newsletters, autoresponder and automations.

Automation

ActiveCampaign's sales and marketing automations are some of the most advanced out there for the SMB market. There are also tons of templates available for you to use. Integrated engagement lets you combine all your channels and set up automated sales funnels.

Reporting

ActiveCampaign CRM offers a handful of useful reports and dashboard views. However, the customization options could be much greater. A cool feature added recently is the Deal Task Overview Report, which gives you access to metrics on CRM-related tasks and outcomes. You can also measure the tasks of your sales managers or agents, and get detailed insights and recommendations based on your ecommerce data.

Lead Scoring

Lead/contact scoring is included. These can be set up via rules or automations, and let you assign scores to contacts based on their demographic, or actions they take (e.g. page views, email opens, email clicks).

Live Chat

Live chat is available. You can also set up chatbot automations.

Web Tracking

Site and event tracking is possible, even on lowest tier plan.

Security

GDPR, SOC 2, and HIPAA-compliant. Multi-factor authentication available. User permissions are available on Plus, Professional and Enterprise plans.

Languages

The website is available in 6 widely spoken languages. You can change your user profile to one of more than 15 languages (including Spanish, French, German, Italian, Russian etc.). Support is available in English and a few other languages.

Integrations & Apps

ActiveCampaign allows you to sync calendar tasks from Google Calendar, Outlook and Apple Calendar, so that they also show up within your CRM. It also integrates with Salesforce and tons of other tools.

Support

Support is fast and friendly, via all mediums. The knowledge base is particularly useful and easily searchable. Video tutorials and webinars are also available, and one-on-one training is offered on the 'Plus' plan.

Overall Rating

4.5/5

With first-rate automation and an easy-to-use interface, ActiveCampaign has a lot to offer small to medium-sized businesses. Larger enterprises who need very granular reporting might need to look elsewhere, though.
Conclusion
ActiveCampaign is an email marketing tool first, and a CRM second. But does that mean it's right for you?
My answer would be yes – but only if:
Your deals are mainly driven through web enquiries, email marketing and automated campaigns (or you plan on generating most of your business through these channels)
Being able to automate tasks and communications is important to you
You have a relatively small marketing and sales team that are committed to following the required processes
You don't need deep, fully customizable reports
While it might not be as advanced as some of the other specialized (and more well-known) CRMs in terms of reporting, it has a few really strong points: slick automations, seamless integration of sales and marketing tasks and unmatched email deliverability. So if that's something that you think could really benefit your business, it's definitely worth a try.
Try ActiveCampaign for free for 14 days
Updates: 
16 Nov 2021 – General update
15 Jul 2021 – Added FAQ
22 Jul 2021 – Added Deal Task Overview Report
ActiveCampaign CRM Alternatives

HubSpot CRM
Read Review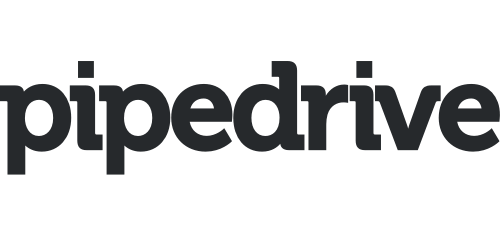 Pipedrive CRM
Read Review
HubSpot is the most well-known, offering a very generous free CRM plan. What's not so attractive is the price jump when you move onto a paid plan.
Two other CRM tools to check out are Freshworks and Pipedrive CRM. The former offers an interesting mix of sales and marketing features, and the latter is more focused on sales.
FAQ
What is ActiveCampaign used for?
ActiveCampaign is used for creating both simple and complex marketing & sales automations. You can do anything from run your email marketing campaigns to automate how your leads move through your deal pipeline.

What is a pipeline?
Every sales process has a defined set of stages – this is called a pipeline. With ActiveCampaign, you can create an unlimited number of pipelines.

Is HubSpot better than ActiveCampaign?
We rate both tools pretty highly for different reasons. In fact it's a very close call on which the better CRM service – it totally depends on yor¡ur needs. Find out how each tool did, in a variety of categories, in our ActiveCampaign vs HubSpot review.

Does ActiveCampaign have a mobile app?
Yes, ActiveCampaign's mobile app is available for iOS and Android. You can manage and create deals, track and assign tasks, view campaign and email automation details, and more.

About Roberta Phillips
YOUR QUESTIONS AND FEEDBACK