Whether you're a solopreneur or a small business, the likelihood is you have to manage a number of clients and all that relates to them (invoices, emails, orders, contracts, etc.). This can get messy quickly, especially if you have to share this information with other members of your team.
Don't get me wrong, I love the old pen and post-it combo, but there comes a time when one needs a little more organization in one's life! And that is exactly what a good customer relationship management (CRM) software can offer you.
It might not sound very exciting, but you'll be surprised just how dynamic these tools can be, with colorful drag and drop pipelines and notifications of 'hot' leads. In fact, the days of boring gray databases are buried in the past (together with Nokia phones, Windows Vista and dial-up modems). And what's more, you can now get access to this extremely profitable software for free!
What is CRM Software, And Why do I Need it?
CRM stands for customer relationship management, and it refers to the approach of managing potential and existing customers. It enables businesses to better organize and access customer data, digitally and in one place.
Nowadays, you can find a host of easy-to-use CRM tools and templates that even complete beginners can get a lot out of. However, it wasn't always like this. Due to the complexity of the systems and the very high prices, CRM software was generally only accessible to enterprises with enormous budgets. With many tools now operating in the cloud, this has helped to bring prices down and has led software developers to build much more user-friendly CRM systems.
CRM software has continued to evolve since then, as standardized CRM solutions were replaced with industry-specific ones, making them customizable enough to meet the needs of every business and help them manage their customer relationships.
So what are the benefits of using a CRM tool?
It will help you organize various processes within your organization (not only your sales process!)
Access to real-time data
You can monitor how your sales agents are performing
Get a holistic view of your business
Advanced reporting and insights
Automate routine tasks
Store files and documents such as contracts and invoices
Email open and click tracking
2-way synchronization with your email client and calendars (e.g. Gmail or Outlook)
Mobile app
And much more!
Sounds pretty good, right? Let me introduce you to the best free CRM tools, tried and tested by us.
Best Free CRM Software: Top 10
HubSpot CRM – Best all-rounder
EngageBay – 15 users for free
Bitrix24 – Excellent functionality
Flowlu – Another great all-in-one service
Freshsales – Very easy-to-use
Zoho CRM – 50 applications in-suite
Brevo – Marketing automation included
Agile CRM – Multiple interesting features
Streak – For Gmail
Apptivo – Very limited
Best Free CRM Software Reviewed in Detail
HubSpot Free CRM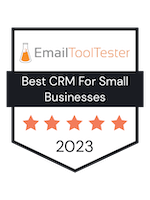 We awarded HubSpot our Best CRM Tool For Small Businesses badge for 2023! 
HubSpot is one of the most widely used CRM systems. In fact, it owns a whopping 29% of the marketing automation industry market share, and with good reason. HubSpot CRM is a very easy-to-use tool, whose free version comes with a breadth of features and a generous amount of contacts – 1M to be precise!
What does HubSpot's free CRM software include?
Apart from an inexhaustible number of contacts, you'll have access to a bit of everything from its Marketing Hub, Sales Hub and Service Hub, making it an excellent choice for small businesses with no budget. Features include web forms, email marketing, ticketing, live chat, tracking and landing pages – plenty of marketing tools to get you started. Find out more about its email marketing and CRM features.
Another great thing about this free CRM tool is that the number of users it allows for is unlimited. Many free CRM platforms limit you to just one or two, so this is definitely a point in HubSpot's favor.
Its range of sales and marketing features makes it a good sales funnel software, too.
What it's lacking
Note that the email tracking is limited to 200 emails. The CRM platform lacks the ability to add multiple email addresses to a single contact record or merge various subdomains of the same company. Also, the reporting features on the free version could be a little more detailed.
Finally, it's important to note that scaling your business with HubSpot CRM can get pricey pretty quickly, as the cheapest paid plan comes in at $50/month. What's more, your user and contact limit actually goes right down when you upgrade, so this is something to be aware of.
Who's it for?
HubSpot CRM shows that contact and deal management doesn't need to cause you a headache. I'd recommend it to those who have a lot of contacts and need multiple user accounts and a breadth of features. It'll suit those who want to manage their customer relationships with ease.
EngageBay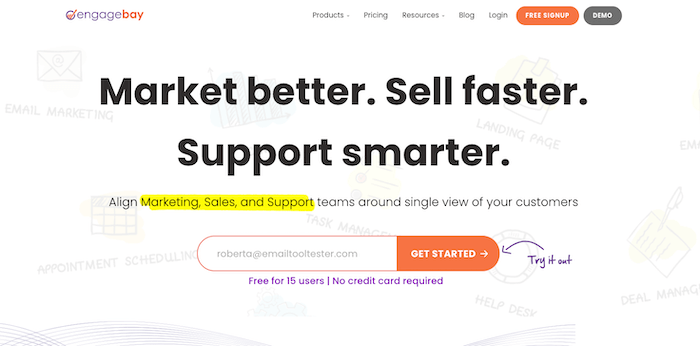 We particularly like this tool for its range of sales and marketing tools and excellent user experience. Functionality is top-notch, whilst still being an easy-to-use tool for beginners.
What does EngageBay's free plan include?
EngageBay's free CRM software offers tons of features. These include 1,000 branded emails, segmentation, predictive lead scoring, webs forms and popups, autoresponders, live chat and landing pages. The free plan also comes with an exceptionally high number of users: 15 to be specific!
What it's lacking
You'll only have 500 MB of storage, which might not be enough for some. You're also limited to just 2 email sequences, and there's no workflow automation included.
Who's it for?
Sales and marketing teams who need a bit of everything.
Bitrix24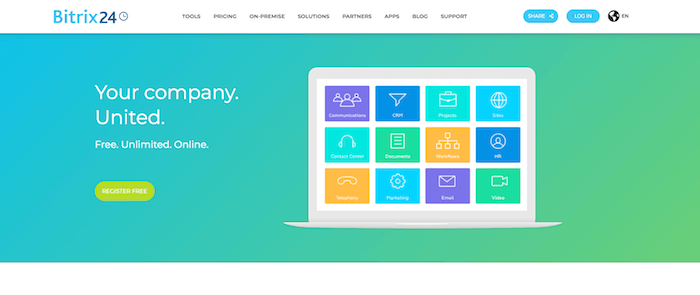 Bitrix24, which has been around since 2012, is another popular free CRM tool. In fact, it states on its website that 9,000,000+ organizations have chosen to use Bitrix24! So it must be worth checking out, right?
What does Bitrix24's free CRM software include?
Managing customer relationships is a breeze with unlimited deals, contacts, companies and users. You can also send up to 1,000 emails to CRM contacts per month, and you'll have 5 GB of storage.
In terms of usability, this CRM software does feel a little more overwhelming than others with so many items in the menu. It's totally subjective, but I found the pipeline background image quite distracting, and I couldn't work out how to change it.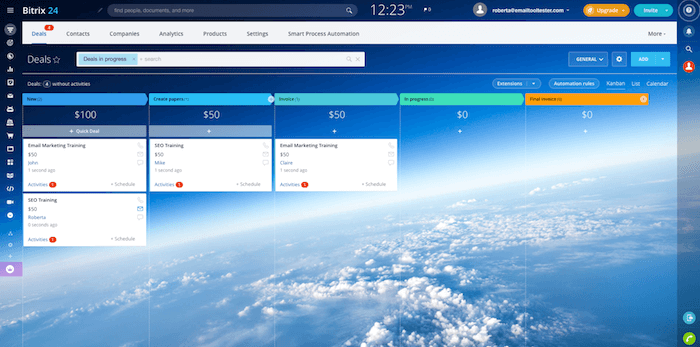 What it's lacking
Unfortunately, the free account only comes with 1 pipeline, which could be an issue for businesses with various processes they want to manage and track. Email marketing is also not included, though you could use one of these free services for that.
Who's it for?
Not only does it cater to international teams, with support in 12 languages, it's also suitable for small and large organizations due to the functionality it offers. You might need to spend a bit of time getting to know the software, but it will reward you.
Flowlu

Flowlu claims to help over 25,000 companies in more than 120 countries – it's not at HubSpot and Bitrix24's level, but it's not bad.
What does Flowlu's free CRM software include?
The number of users included in Flowlu's free version is 2. You'll be allowed unlimited contacts and projects, 1 GB of storage, CRM automation and invoicing and online payments. You can also 2-way sync with your Google calendar and add 5 products and services.
There's quite an extensive onboarding list to help get you started. It's pretty helpful having everything laid out like this, especially for those who are new to CRM software.
In fact, the functionality Flowlu offers is first-rate, facilitating contact management, deal and project management and online payments.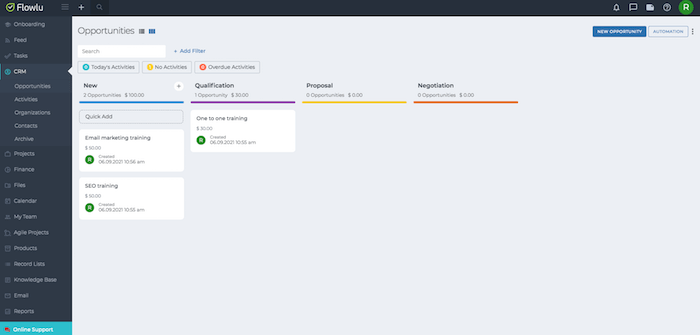 What it's lacking
In-built email marketing is not available, and you can't even integrate with another service. You also won't be able to add any custom data fields, which could be an issue for many businesses.
Who's it for?
Small to large businesses looking for a powerful CRM software that don't have an email marketing strategy.
Freshsales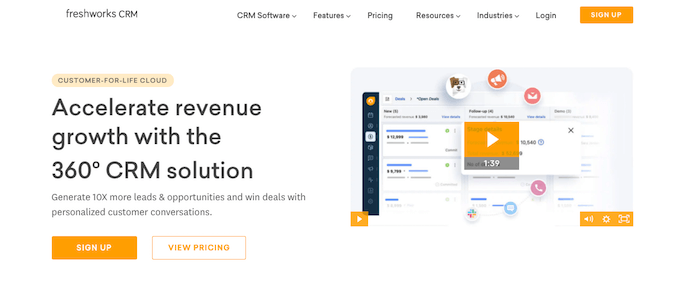 Freshsales CRM is part of a multi-product suite by Freshworks, which includes ticketing, chatbot and caller software. The company was launched in 2011 in India, and Freshsales CRM came on the market 5 years later. But how does the software perform and what's included?
What does Freshsales' free CRM software include?
Freshsales' free version comes with unlimited users and phone, email, and chat support. It also allows you to create marketing journeys, install chatbots on your website and make calls from within the CRM platform.
Another thing to note is that you can restrict CRM system access based on the hierarchy of your employees if you need.
It also has a 21-day free trial available to test out its more advanced features.
What it's lacking
You can only have 100 'active' contacts at any given time. These are counted as contacts that have been part of marketing activities (email campaign, email series, transactional email) in the last 30 days.
Who's it for?
Those looking for a clean, easy-to-use interface with plenty of functionality.
Zoho CRM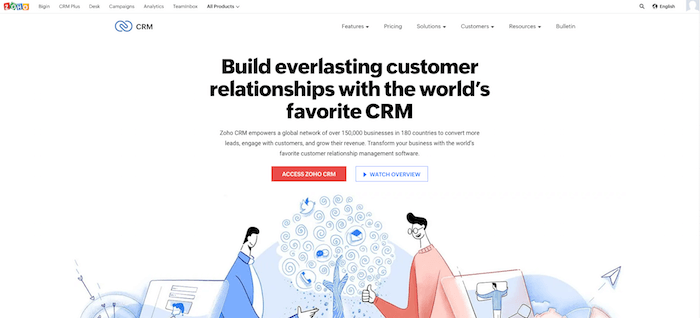 Having been around since 1996, Zoho Corporation is well-known in the sales and marketing world. In early 2020, it reached more than 50 million customers worldwide, offering over 50 applications as part of its suite.
With services ranging from email hosting to website creation to surveys and forms, this CRM software is one to be aware of, especially since it offers a free plan.
What does Zoho's free CRM software include?
First and foremost, Zoho CRM allows for up to 3 users for free. It includes leads, deals, accounts, tasks, events, call log, and notes. You can set up workflow rules, and you'll have 10 email templates to use for marketing automation.
In terms of email marketing, the free account comes with a limit of 1,200 emails and 2,000 subscribers. Sign-up forms, A/B testing and newsletter templates are all included.
If you're not sure about anything, you'll surely be able to find the information you need in Zoho CRM's extensive knowledge base.
What it's lacking
The interface isn't particularly modern compared to other CRM systems, which makes it slightly confusing at times. What's more, if you're using its other services like Zoho Forms or Campaigns, it can sometimes be a bit confusing, as this means changing dashboards.
You'll only have access to the standard reporting dashboard, and you're not able to synchronize with Google Calendar.
Sales forecasting and email insights are also reserved for paid plans (which start at $18/user/month).
Who's it for?
Those wanting to take advantage of their workflow rules for automation and A/B testing.
Brevo

Brevo is an email marketing service equipped with CRM features. What's great about Brevo is that all plans come with unlimited contacts (even the free plan), which means it's a great option for contact management on a large scale.
What does Brevo's free CRM software include?
Brevo's free version comes with unlimited contacts and 300 emails/day. You can easily segment your contacts, and marketing automation is also available, which is great as the feature is usually reserved for paying customers. You'll get phone and email support for the first 60 days, and you can even install live chat on your site. Another nice surprise is that website visitor tracking is included on all plans, as is SMS marketing.
What it's lacking
Reports are very limited on the free plan, and landing pages aren't included.
Moving contacts over to your CRM contacts from email marketing contacts is a bit laborious. And the CRM system can be a bit slow.
Who's it for?
Brevo is for those looking for a robust all-in-one marketing service that doesn't set a cap on contacts.
Agile CRM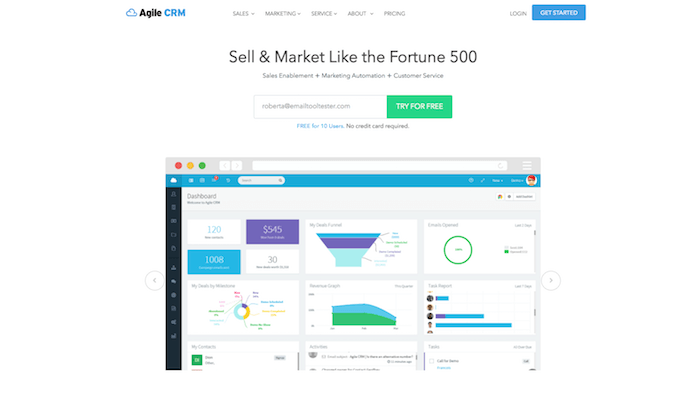 It has a good name and a generous free plan, but is it really all that agile when put to the test? Let's find out!
What does Agile's free CRM software include?
Agile CRM is free for 10 users, 1,000 contacts, and comes with a number of features, such as a landing page builder, email campaigns (5,000 emails with Agile CRM branding), email tracking, lead scoring and appointment scheduling – so not bad at all.
What it's lacking
Neither marketing automation nor 2-way email integration is included on the free plan.
In terms of usability, the system feels a bit buggy and slow at times. Also, the text is all quite small, which could be an issue for some people. So, in answer to the question I posed in the introduction, I'd say no, Agile CRM is not as agile as it should be.
Who's it for?
It's difficult to recommend Agile CRM over the other free CRMs on this list, as there's nothing that makes it really stand out. That said, the fact that its paid plans are very affordable could position it as a good option for those who are growing fast.
Streak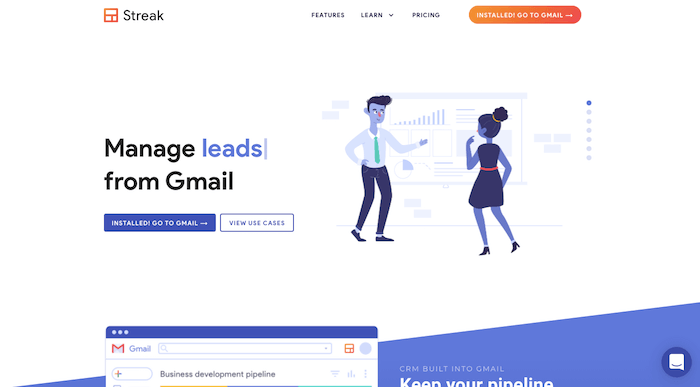 You'll either love this option or you'll hate it. But at least Streak has pinpointed its target user. It's different because, instead of providing users with a fully-fledged dashboard, it integrates seamlessly with your Gmail, meaning you won't need to leave your inbox to manage your contacts, deals or other pipelines.
What does Streak's free CRM software include?
The free plan comes with 500 contacts and rows of data, 50 emails/day, email tracking and private pipelines.
The tagging definitely adds some color to your inbox, which again, you might love or hate, and the CRM system features can be visualized and used on mobile.
What it's lacking
Personally, I found myself missing a dashboard where I could get a holistic view of my activity. Organizing your pipeline is a little cumbersome without the use of drag and drop technology. You're also missing a reporting dashboard on the free plan.
Who's it for?
Streak shows that contact and deal management doesn't need to be complex. It's for those looking for a simple solution without all the bells and whistles to merge with their Gmail.
Apptivo

Apptivo launched in 2009, and now helps over 200,000 businesses in 194 countries. But could it be the solution you're looking for?
What does Apptivo's free CRM software include?
Unfortunately, not a lot. Unlike the other tools on this list, which offer pretty generous free plans, Apptivo just gives you the bare minimum – probably because it wants to push you to sign up to its $10/user/month plan (Lite).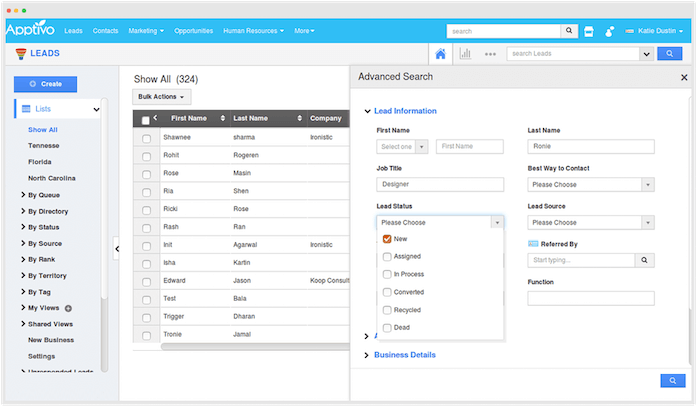 What it's lacking
The free plan comes with just 1 user and only allows you to set up a single pipeline. No email marketing or automation features are included, and you won't be able to integrate it with any other apps. What's more, you only get 500 MB of storage.
Who's it for?
When compared against all the other free CRM solutions on this list, I'm afraid Apptivo's free plan just doesn't cut it. With very affordable paid plans, it might be a software you consider once you've exhausted the limits set by other free services. If you'd still like to try it out for yourself, you can do so here.
Best Free CRM Use Cases
Some CRMs are better than others in certain scenarios. For example, if you have your own hair salon, you probably won't require the same features as someone who works as a freelance photographer.
I'd recommend making a list of all the features and functionality you know you'll need and checking it against the free CRM plans listed above.
You also might find these particular use cases helpful:
Best Free CRM for Small Business
Overall, I think most small businesses would be happy with the top 3 services listed (HubSpot CRM, EngageBay and Bitrix24) due to their excellent functionality and generous allowances. You should be able to benefit from the free plan of any of these providers for a good amount of time before you outgrow the package.
As a small business with multiple sales and marketing agents, you might be more tempted by HubSpot or Bitrix24 and the offering of unlimited users.
Best Free CRM for Startups
Startups will love the fact that many CRM tools come with extra features such as landing pages, automations, project management tools and payment processing.
The most feature-rich tools are probably HubSpot and EngageBay, though it will depend on the exact features you need.
Best Free CRM for Gmail
If you're looking for something simple, and would rather work out of your Gmail inbox, then Streak is for you. You won't have to worry about creating an account, instead, all the information (including your pipelines) will be right there in your inbox.
Conclusion: What is the Best Free CRM System?
So there you have it, a pretty detailed look at the best free CRM systems on the market.
As you've seen, some are more generous with what they include in their free plans, and it might be worth testing out a couple of free CRMs before you make your ultimate decision. Here are the links for each of the tools once again:
Bitrix24 free CRM plan
Apptivo free CRM plan
One last piece of advice I'd give you is to look at how much the lower-tier paid plan is for the software you go for, so you know you won't get any nasty surprises when the time comes to scale up. You can find out more about what these tools have to offer on their paid plans in this article on the best CRM software for small businesses.
I hope you've found this article helpful. If you have any questions, please feel free to drop them in the comments section below.
We keep our content up to date
24 Apr 2023 - Added video review of HubSpot
15 Dec 2022 - Added badge
09 Feb 2022 - Updated Freshworks to Freshsales
24 Jan 2022 - General update
20 Jul 2021 - Added EngageBay
Our Methodology
This article has been written and researched following our EmailTooltester methodology.
Our Methodology