There was once a time when Mailchimp was the first name that came to mind when you thought about ESPs (email service providers). The marketing platform was a breath of fresh air within the email marketing industry, with its affordable pricing model and ease of use a big hit with small-to-medium businesses, bloggers, online store owners, and other smaller-scale users.
But with the recent changes to their pricing model and freemium plan, more and more users are seeking Mailchimp alternatives.
So if you're one of those users, or would simply like to understand what other comparable tools are out there, read on to find out which Mailchimp alternative is right for you.
Try out: MailerLite, Brevo, Omnisend,
---
Smart Quiz: Find the Best Mailchimp Alternative in 1 Minute
---
Mailchimp Pros
Excellent reports
Fast, easy-to-use email editor
Freemium plan
Mailchimp Cons
Expensive paid plans
Missing advanced automation features
Poor list management
Basic landing pages
Basic CRM features
Daily sending limit on free plan
An Overview of The Top Mailchimp Competitors
Email Marketing Service
Ease of use
Price
Features

Mailchimp

Very easy. The email builder is perfect for beginners and the paid email templates look good.
Paid plans start at $13 per month
Great for reports and amazing for ecommerce integration. Not so good for list segmentation, and paid plans get pricey quickly.

MailerLite

Excellent email builder – fast and logical. Good support too.
Free plan available

Paid plans start at $17 per month

They offer email marketing automation, a landing page builder and reporting – not as powerful as other solutions, but available for free and/or much cheaper.

Brevo (Sendinblue)

Easy to navigate software that guides you through the production flow.
Free version available

Paid plans start at $25 per month

Pretty good marketing automation and contact management. Very affordable prices. Reporting and analytics aren't as good as Mailchimp's.

Omnisend

Their interface is simple, and they have a fresh and speedy email builder that's similar to MailChimp's.
Free version available

Paid plans start at $16 per month

Marketing automations specific to ecommerce – web tracking, abandoned cart, order confirmations, etc. Plus, some cool interactive features like scratch cards and gift boxes for maximizing conversions.

GetResponse

Very easy to use. Their knowledge base is a bit confusing though.
Free version available

Paid plans start at $19 per month

Powerful marketing automation workflows and list management. Interesting extras such as a mobile app, landing page builder and webinar creator. Not so good for analytics and reports.

Moosend

Fairly straightforward to use. Live chat support available within the drag and drop email builder.
Paid plans start at $9 per month
Very affordable email marketing service with unlimited emails. Freemium plan was removed. Email deliverability isn't as good as Mailchimp's.

ActiveCampaign

Fairly easy. Even if it seems more overwhelming, the support and wizards are very good.
From $39 per month
Very powerful sales and marketing automation. A/B tests, timed automations, CRM, landing page editor and much more. Good contact management. The reporting is good, but not as powerful as Mailchimp's.
EngageBay
The interface is well-designed, making it a very easy-to-use tool.
Free version available

Paid plans start from $12.99/month

Generous free plan and affordable paid plans. Excellent email marketing software and CRM features.

Zoho

Pretty easy to use. Live chat support available within the email builder.
Free version available

Paid plans start at $5 per month

Generous free plan. Advanced email marketing automation and segmentation.

Hubspot

Very easy to navigate. Users can create content such as landing pages, emails, and forms with a drag-and-drop builder.
Free version available

Paid plans start from $50

They offer free email marketing and CRM software with unlimited users. Customer support is available. Access to omnichannel marketing once upgraded. Basic templates on offer.

Mailjet

Setting up email newsletters and contact lists is easy to do!
Free version available

Paid plans start at $15 per month

Affordable prices and excellent email deliverability. Good choice for transactional emails. Basic marketing automation.

ConvertKit

Automations are easier to use than average. Other features, like creating forms, can be overcomplicated.
Free version available

Paid plans start at $15 per month

Good automations and list segmentation functionalities. Newsletter and landing page design and reporting should be improved.

Benchmark

Very good email builder and outstanding support.
Free version available

Paid plans start at $9.99 per month

Good for multi-languages. Not great for marketing automation, and the file storage charges are an extra worry. Poor deliverability.

AWeber

Some sections are a little hidden, and you'll need to make sure you're in the right email list at all times. Their terminology could be confusing for experienced users.
Free version available

Paid plans start at $19.99 per month

Very good support and list and subscriber management features. Sales tracking available for your site.
The Best Mailchimp Alternatives
After all our tests we believe that the following are the best Mailchimp competitors. Keep scrolling for a detailed breakdown.
MailerLite
Another excellent alternative to Mailchimp is MailerLite. This relatively young Lithuanian email marketing service prides itself on its modern and sleek aesthetic – and it shows. They also offer good multilingual options as well as a decent "Free Forever" plan. If you're looking for awesome email and landing page designs, MailerLite really shines in this area (templates not available on free plan).
Where MailerLite beats Mailchimp:
The free plan, which comes with 1,000 subscribers and 12,000 emails, is much more generous than Mailchimp's freemium plan. It also includes a number of features, including a landing page editor that, in our opinion, is better than Mailchimp's. MailerLite's paid plans are also significantly cheaper, making them a great choice for small businesses on a tight marketing budget. If you want to work in your native tongue, they offer 5 languages. They also have an app for iOS, and a website builder. It is a great free Mailchimp competitor.
> See how the marketing tools compare in our MailerLite vs Mailchimp guide. 
Where Mailchimp wins:
MailerLite falls short when it comes to its reporting and tracking tools (no social tracking), which makes it less than ideal for optimizing your campaigns. Mailchimp does a better job in this area.
Brevo (formerly Sendinblue)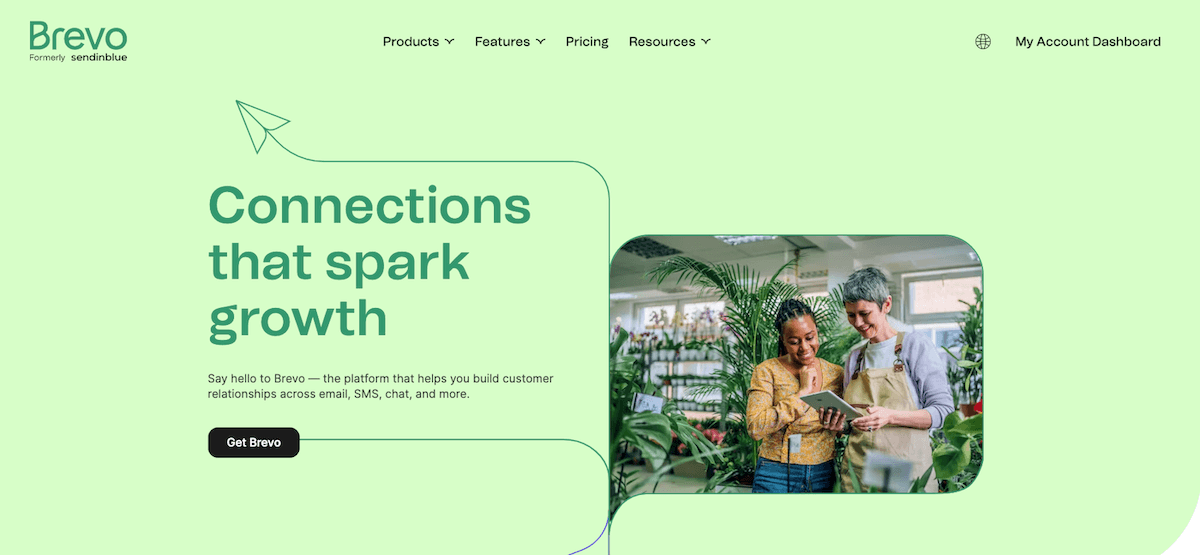 Those looking for a Mailchimp alternative would be wise to check out the newsletter service that was previously known as Sendinblue. Brevo is a Paris-based company who has decided to make waves by offering some of the cheapest plans available. And they're also surprisingly good when it comes to marketing automation workflows and list management, plus they can be used to send transactional emails and SMS marketing. Check out our detailed Brevo vs MailChimp comparison to find out more about why Brevo is a great MailChimp alternative.
Where Brevo beats Mailchimp:
Brevo is cheaper than MailChimp. Their automation workflows system is a little more advanced, allowing you to A/B test a number of components. EU-based customers will love the fact that their servers are located in France. You can also send SMS at a very reasonable price. Mailchimp requires you to set up an online store with them in order to send SMS. Brevo has performed consistently well in our bi-annual email deliverability tests.
> See how the email marketing tools compare in our Brevo vs Mailchimp guide.
Where Mailchimp wins:
Mailchimp is still more intuitive and easier to use for beginners, and the Brevo system can be a little slow. Mailchimp's email builder also beats Brevo's, and not many companies can beat their social media tracking for accurate reports.
Omnisend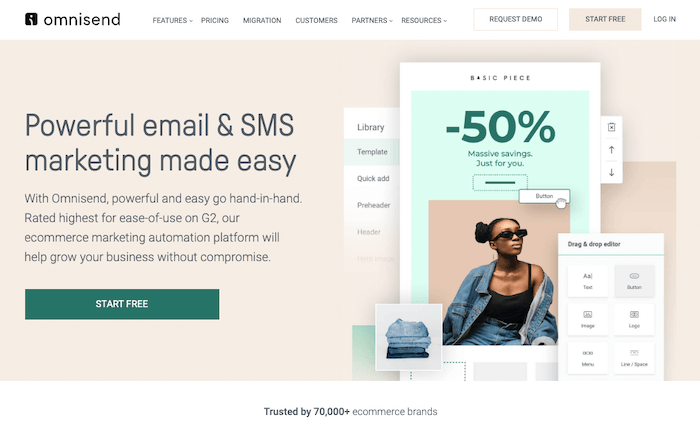 Another great Mailchimp alternative is Omnisend. This is an email and SMS platform with a strong slant toward ecommerce – something that shines through in their conversion-focused automation and segmentation options. And while MailChimp does a decent job of ecommerce, there are some clever little extras that we think give Omnisend the one up here.
Omnisend integrates really well with Shopify. You can also use it with the following ecommerce platforms: BigCommerce, WooCommerce, Volusion, PrestaShop and Magento.
Where Omnisend beats Mailchimp:
Like MailChimp, Omnisend offers stacks of automations for online stores, including browse abandonment and cart recovery (these are editable through visual workflows). But it goes a step further with unique features like 'wheel of fortune' incentives for sign-ups, interactive gift boxes, automated product recommendations, and even 'live view' website tracking – all of which are designed to boost conversions. You can also segment your email lists based on very granular data, including customers who purchased a specific product or used a discount code. Another point in Omnisend's favor: it also includes some very modern landing page templates, and SMS marketing is included for free.
> See how the email marketing tools compare in our Omnisend vs Mailchimp guide.
Where Mailchimp wins:
Outside of ecommerce, MailChimp is probably the more versatile tool, offering more options for email templates and automation. MailChimp also includes a higher sending allowance on its free plan.
GetResponse
Also a very good solution when it comes to marketing automation, GetResponse offers a wide range of unique pro features such as a landing page creator and a webinar tool. They also claim to be one of the easiest email newsletter tools available and give you loads of extra tidbits like access to free iStock photo images and an iOS and Android app to send your campaigns on the go. But would we say they're better than Mailchimp?
Where GetResponse beats Mailchimp:
What makes Getresponse a worthy alternative to Mailchimp? Email marketing automation is very powerful, letting you trigger sale conditions, A/B tests and removal conditions, amongst other things. You can easily move subscribers between lists. If you're an international team, you will appreciate the 25 languages available in the interface. If you want the ability to create webinars, you'll find it hard to do it with many platforms other than GetResponse. The Conversion funnel feature is unique to GetResponse, which facilitates setting up sales funnels. Find out more about their sales funnel software here. Their multimedia center, which lets you access stock photos and generate QR codes, amongst others, is also a nice extra.
> See how the marketing tools compare in our GetResponse vs Mailchimp guide.
Where Mailchimp wins:
GetResponse's analytics isn't as powerful as Mailchimp's, as it lacks heatmaps. Features such as contact tagging and abandoned cart emails are reserved for the more expensive Plus plan, whereas Mailchimp offers these features on their free plan. In addition to this, GetResponse limits the number of files (e.g. images) that you can store in their media center to 1 GB, while Mailchimp doesn't. Check out our GetResponse vs Mailchimp guide for more information.
Moosend
Another Mailchimp alternative is Moosend. They caught our eye for their affordable prices and good selection of responsive email templates and advanced segmentation. What's more, they have excellent marketing automation features.
Where Moosend beats Mailchimp:
All emails are add-free and you'll find their paid plans to be pretty affordable – at $64/month for 10,000 subscribers they are significantly cheaper than Mailchimp. Advanced segmentation, landing pages and a well-designed visual automation builder are all included.
Where Mailchimp wins:
Moosend's deliverability could do with some improvement, and we would recommend keeping a close eye on campaign performance rates. When it comes to native integrations, Mailchimp offers a bit more than Moosend.
ActiveCampaign
This self-described "all-in-one marketing platform" is focused on letting you reach your email marketing goals with fewer emails. To that end, ActiveCampaign offer one of the best marketing automation features we've ever tested, making them a great alternative to Mailchimp. You can easily create very complex sequences of emails and add a huge number of parameters such as "wait x number of days before sending", "split test between two messages" and much more. The fact that all plans come with unlimited emails is pretty attractive, too. But would we say they're better than Mailchimp? Read on to find out.

Where ActiveCampaign beats Mailchimp:
In terms of email sequences automation, ActiveCampaign is unbeatable. Whether you want to tag users based on behavior, run A/B tests or create complex timed automations, they have you covered. Their CRM system is robust, and they are often launching interesting features such as live chat for your website, and "site messages", which lets you create personalized content on your website/landing pages when users arrive there from your emails. List management, which Mailchimp isn't great at, is also a strong suit, as you can set up complex segmentation automations. Finally, they also end up cheaper than Mailchimp, and the customer support is excellent. Find out more about ActiveCampaign's landing pages here.
> See how the email marketing tools compare in our ActiveCampaign vs Mailchimp guide. 
> You might also want to check out our ActiveCampaign vs GetResponse guide. 
Where Mailchimp wins:
ActiveCampaign doesn't offer a free plan. Mailchimp's ecommerce tracking is more robust (ActiveCampaign offers purchase tracking only for Shopify, BigCommerce and WooCommerce). Note that ActiveCampaign's integration with WooCommerce is only available to users on the Plus plan (from $70) and above, whereas Mailchimp offer this integration for free. Discover other great alternatives to ActiveCampaign here.
EngageBay
Although a relatively new product in the marketing automation niche, EngageBay has quickly grown in popularity as one of the most affordable all-in-one CRM software.
EngageBay is a great Mailchimp alternative due to the myriad of tools for email marketing, email and workflow automation, customer service management and social media management. To our surprise, EngageBay's free plan is loaded with features that other platforms offer only with paid plans, which gives us good reason to see just how it compares against Mailchimp.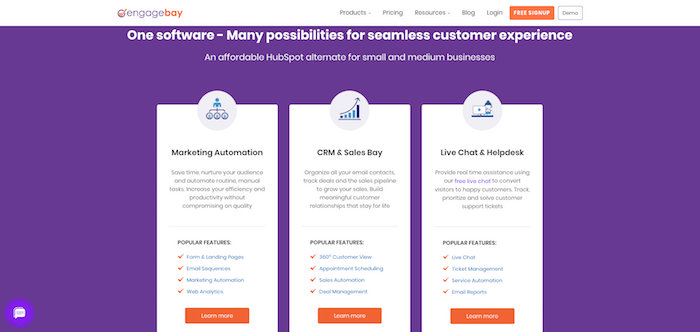 Where EngageBay beats Mailchimp:
Mailchimp gets pretty expensive fast.
Their sliding scale pricing structure can look affordable at first. But as your contacts start growing, so will the price you pay.
For example, EngageBay's Marketing Bay offers 30,000 contacts at $49.99.
To get the same number of contacts on Mailchimp, you have to pay a crazy $219! If you want all the pro features, you have to purchase the Premium plan. The cost? A whopping $499 a month!
What's more, Mailchimp doesn't even reward its loyal customers by applying a discount to yearly plans, whereas EngageBay offers a 20% discount on annual subscriptions and a 40% discount on biennial subscriptions. This brings the already affordable costs even further down.
Plus, EngageBay's free plan comes with email and chat support, which a lack of is a real disadvantage to using Mailchimp.
In terms of the CRM features, you'll have a separate dashboard for marketing, sales and service, which keeps everything manageable. You'll also have an area for 'deals', which is great for small businesses who want to keep everything under one roof. Mailchimp doesn't offer pipeline management or much in the way of CRM features.
If you need a robust and affordable all-in-one marketing tool, then we'd recommend EngageBay.
Where Mailchimp wins:
Mailchimp has a dedicated desktop application for both Windows and Mac. It offers search marketing (SEO and PPC with Facebook, Google and Instagram), which EngageBay doesn't.
You can also set up single-step automations with Mailchimp's free plan, whereas EngageBay reserves marketing automation workflows for those who sign up to the Growth plan (which starts at $24.99/month).
Zoho Campaigns
Zoho offers an impressive suite of services, which of course includes email marketing. Considering how much ground they cover and the fact that they offer a free plan makes them a great Mailchimp alternative.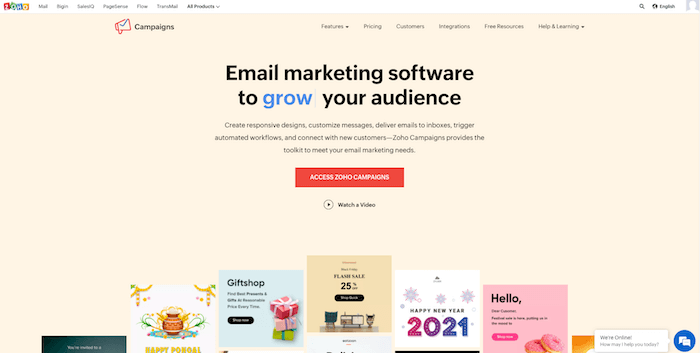 Where Zoho beats Mailchimp:
A cool feature from Zoho is that you can upload images from Unsplash directly in the email builder. We also liked their range of email and form templates.
Zoho excels in the area of automation; they offer workflows for nurturing, ecommerce, re-engagement, etc. What's more, because Zoho comes with powerful CRM software, you can set up workflows to help you move leads through your sales funnel.
List segmentation is a simple affair, with plenty of segmentation options.
Where Mailchimp wins:
Though Zoho has a fair amount, Mailchimp still beats them when it comes to native integrations. Mailchimp is still a slightly more intuitive marketing platform for beginners.
HubSpot
Branded as an all-in-one CRM platform, HubSpot is a powerful alternative to Mailchimp for both sales and marketing teams. With such an extensive number of features spread across 5 'hubs', HubSpot helps businesses grow with their crafted marketing, sales, and customer service solutions. The 5 hubs are available through the paid version; offering 5 stand-alone products; Marketing Hub, Sales Hub, Service Hub, Operations Hub, and CMS Hub.
Alternatively, HubSpot offers a selection of free tools, which are "lite" versions of their paid products. From contact management, live chat, SEO, and sales playbooks to help desk tools, it's safe to say HubSpot offers a full-service digital marketing and email platform for the modern-day marketer.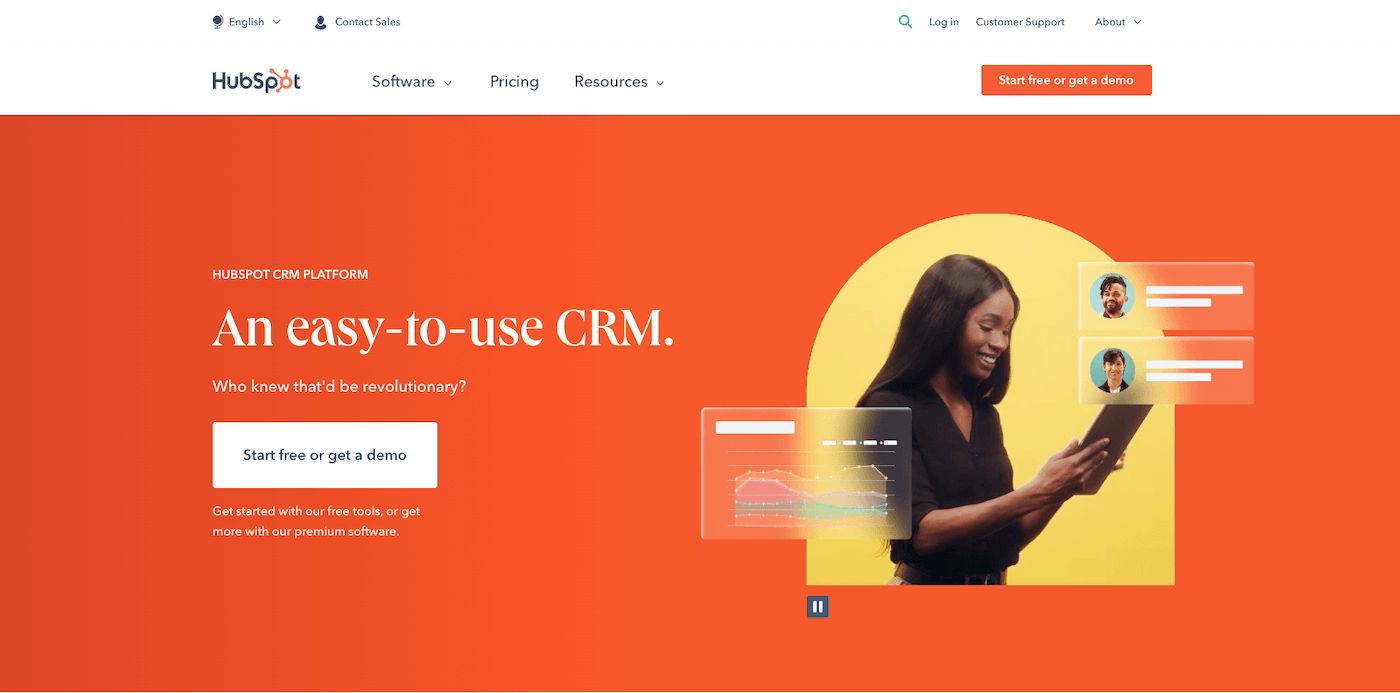 Where HubSpot beats Mailchimp:
On the whole, HubSpot and Mailchimp both offer similar capabilities through their tools and features, however, HubSpot offers them on a much more comprehensive level. In terms of email automation, reports and analytics, HubSpot gives users access to a wider variety of automation features and a much more robust built-in CRM. If you're looking for a solution to manage your email marketing, deals and contacts under one roof, HubSpot is our top choice.
Where Mailchimp wins:
Generally speaking, Mailchimp is cheaper than HubSpot, although it shares many of the same features and functionalities (see HubSpot's pricing). If you are a smaller company, searching for an easy and reasonably-priced email marketing platform, Mailchimp is for you. Mailchimp provides a variety of features designed for small business owners to help grow your business in its early stages.
Mailjet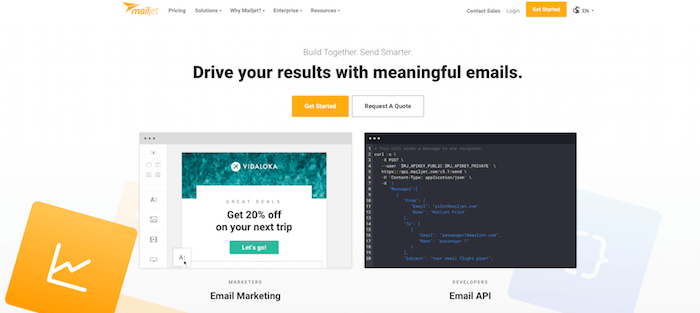 Mailjet, a French email service provider, is one of the more affordable email marketing tool on the market, making it a great Mailchimp alternative!
A neat feature is that the drag and drop email editor allows you to collaborate with other team members in real-time. This can make the design process much more agile and hopefully leads to a better campaign (so long as it doesn't become a too many cooks situation).
Where Mailjet beats Mailchimp:
Making sure your emails are delivered to your subscribers is crucial, and Mailjet definitely has an edge over Mailchimp in this area. Our recent deliverability tests show that Mailjet takes this very seriously, keeping their scores up in the mid-nineties. This also makes them a great choice for sending transactional emails.
Another big plus for Mailjet is the price. Aside from offering a free plan with up to 200 emails per day and no contact limit, their paid plans are also some of the most affordable on the market. Mailjet's Premium plan ($25/month) allows you to send up to 15,000 emails/month to unlimited contacts and benefit from all features, whereas Mailchimp's Essentials plan (which has more or less the same features) will give you a limit of 1,500 contacts for roughly the same price ($23). See how Mailchimp and Mailjet compare in this side-by-side table.
Where Mailchimp wins:
It's not necessarily where Mailchimp wins, but more where Mailjet slightly disappoints: the automations. These are limited to date-based and contact field conditions and are missing more behavioral triggers such as 'has opened X email' or 'has clicked X link'. Mailchimp does a better job at automations. Of course, if you're serious about marketing automation then I'd recommend ActiveCampaign or GetResponse.
ConvertKit
Designed with digital marketers in mind, they are the (relatively) new kid on the block. ConvertKit claims to be all about transparency and they even make their financial situation available to everyone online. Since they first started in 2013, they've managed to get more than 35,000 subscribers. Which is not bad. Generally speaking, Mailchimp is a more mature and developed tool, but let's check this in more detail to see if they make a good Mailchimp alternative.
Where ConvertKit beats Mailchimp:
Managing lists and contacts is more flexible, allowing you to create better targeted email marketing campaigns. You can use a custom domain name for landing pages even on the free plan, which is a big plus. They also have responsive support, which can be an issue with Mailchimp.
> See how the tools compare in our ConvertKit vs Mailchimp guide.
Where Mailchimp wins:
ConvertKit only recently started offering a free plan but the features included are pretty limited. Mailchimp's offer more advanced features such as third-party integrations, deep reporting, and more. Mailchimp's email and landing page editors are also really flexible – ConvertKit's don't even compare. With Mailchimp, you can create users for several team members, unfortunately, this is not available with ConvertKit. Reporting is also something Mailchimp does very well and ConvertKit not so well.
Benchmark
Is Benchmark a good Mailchimp alternative? Focusing on international markets with a presence in 15 countries around the world, Benchmark's paying plans place them in the middle-to-high end compared to other email marketing software. Unfortunately, their advanced features aren't as impressive as others, but they are worth considering for their free and low price plans.
Where Benchmark beats Mailchimp:
They are a much better choice for multilingual teams. They also offer good support.
> See how Benchmark stacks up against Mailchimp in this side-by-side comparison.
Where Mailchimp wins:
As soon as you look at advanced features like reporting and automation, Benchmark ranks lower on our list. They also give you very limited amounts of image data storage – which is unlimited with Mailchimp. With a limit of only 250 emails/month, Benchmark's free plan doesn't compare to Mailchimp's, which is far more generous.
AWeber
AWeber has been on the email marketing scene for over 20 years, just a few years more than Mailchimp. However, it was only recently that AWeber updated its service, which now includes a freemium plan.
The free plan, though it includes the same features as the paid plan, limits you to just 500 subscribers, which isn't many at all, though you'll be able to send them up to 3,000 emails/month – that's 6 emails per subscriber per month.
Features include A/B testing, email analytics and conversion tracking. They also have various mobile apps, so you can send emails on-the-go.
Where AWeber beats Mailchimp:
AWeber's list segmentation features help you keep your contacts organized. You can use their automations to automatically manage subscribers via the rules you create. They also have decent support and educational tools.
> See how the tools compare in our Aweber vs Mailchimp guide.
Where Mailchimp wins:
Mailchimp has a lot more to offer than AWeber, in terms of selection and functionality. You can even run your Facebook ad campaigns directly from your Mailchimp account. Find out how AWeber compares to Mailchimp in this side-by-side comparison. Of all the alternatives to Mailchimp, AWeber might not be your no. 1 choice.
Why we don't recommend Constant Contact
Constant Contact is, seemingly, Mailchimp's biggest competitor. It's been around for almost three decades and owns the second-largest share of the email marketing market (5.08%) after Mailchimp (72.69%). However, with no free plan, high prices and a lack of advanced features, we really struggle to recommend Constant Contact against the competition.
You will find that the email marketing services listed above will provide much more value for money. And if you'd like to explore why further, you can check out our Constant Contact alternatives post.
We also have a detailed comparison of Mailchimp & Constant Contact that you may want to check out.
Free Mailchimp Alternatives
Most of the email marketing tools on the list offer a free version but of course, some are better than others.
MailerLite has the most generous free email marketing plans, including 1,000 subscribers and 12,000 and unlimited emails respectively. What's great is that you'll have access to marketing automation and landing pages.
Brevo also offers a free version, but you're limited to 300 emails/day, which isn't ideal.
The best free email marketing service for ecommerce is Omnisend, which includes all pro features on the free version.
Though there are others, these are the best free Mailchimp alternatives, in our opinion.
Find out more about all the free email marketing services here.
Mailchimp Alternatives for Nonprofits
A number of the best Mailchimp alternatives offer discounts for non-profits. Here are my recommendations:
MailerLite: 30% off – Its plans are much cheaper than Mailchimp's and many other providers. It's very easy to use for beginners. Good deliverability.
GetResponse: 50% off – Very generous discount for NGOs. Cheaper than Mailchimp, with better marketing automation features.
ActiveCampaign: 20% off – This is one of the most expensive email marketing providers, and for those who are really serious about marketing automation.
If you're looking for an easy to use tool with good-looking templates and simple automation features then MailerLite would be my recommendation. It also offers a free plan for those with fewer than 1,000 subscribers.
Why Use Mailchimp?
Is there any reason that you should stick with Mailchimp? Despite its recent less-than-ideal changes, moving away from Mailchimp might not be the best move if:
You need detailed reporting:
Mailchimp has one of the most detailed reporting systems for tracking your newsletters' performance, offering robust options such as Google Analytics integration, Geotracking, Social media and click maps.
You have a very small email list (and I mean really small!):
Mailchimp's pricing model imposes new limits on their free plan. Now, you are limited to only 500 contacts. If you know your total contact count will be less than this, then Mailchimp's free plan has a pretty good selection of features available.
You want to easily design good-looking emails:
Their drag and drop email builder is fast, simple and drag and drop. It's very easy to create stunning emails that will stand out from the rest and engage your audience. They also have plenty of modern, well-designed email templates (though be aware that the templates available for free are very limited and not very modern-looking).
>> Find out which big brands use Mailchimp as their email marketing service in our ecommerce email marketing statistics study.
Who Should Look For Mailchimp Alternatives?
If you're looking for a Mailchimp alternative, make a list of the reasons why, as these won't be the same for everyone. We've analyzed the areas in which Mailchimp doesn't do so well and listed a number of Mailchimp alternatives below.
You are on a tight budget:
As soon as you leave the freemium plan, things quickly start to add up at MailChimp, especially now that they charge based on total number of contacts, rather than just subscribed contacts. Working out how much your email newsletter service will cost is not always straightforward. For instance, some will make you pay depending on the number of emails you send, others on your amount of subscribers. Luckily, we've created a handy cost calculator to help you get a clearer idea.
Cheaper Mailchimp alternatives: MailerLite, Brevo, Moosend, EngageBay or Mailjet
You need complex email marketing automation:
If you are really aiming to get the most from your email marketing campaigns, Mailchimp will appear slightly limited in terms of email marketing automation features. Their autoresponders are ok, but for campaigns based on user behavior (e.g. on your website), split tests and advanced workflows, you might want to look elsewhere.
Mailchimp alternatives for automations: ActiveCampaign, GetResponse
You want to manage multiple mailing lists:
Because Mailchimp keeps every contact list isolated from each other, it limits the amount of flexibility, creativity and precision you can have for your complex email marketing campaigns. For example, if user X belongs to 2 of your mailing lists, they will appear as subscribers twice. There is no good way to merge lists or create interdependencies between them.
Mailchimp alternatives for multiple lists: ActiveCampaign, Brevo, Omnisend
You want to set up dynamic landing pages and A/B test them:
Some email marketers do like to create special pages to send users once they click a certain link. These pages can offer tailored content and act as a powerful sales funnel or segmentation tool. Mailchimp's landing pages are a bit basic, not offering A/B testing or personalized dynamic content.
Mailchimp alternatives for landing pages: GetResponse, ActiveCampaign, MailerLite, Omnisend
You need a robust yet affordable CRM software:
Collecting subscribers is one thing, but managing clients, companies and deals is quite another. As you probably know, things can get messy quickly if you don't have a good sales and marketing tool to help you manage these processes, and keeping all your marketing and sales contacts in one place will save you a ton of time. Though Mailchimp claims to offer CRM features, these just scratch the surface, and no pipeline management features are included.
Mailchimp alternatives for CRM software: EngageBay, ActiveCampaign, Brevo, Zoho
You need strong data privacy:
Mailchimp isn't the most data protection-conscious company. For example, a short while back they suddenly announced that they are about to deactivate the double opt-in feature for all customers. After an outcry from (mainly) EU-based customers, they retracted the change. Customers from Europe also usually prefer to have their data stored inside an EU country, which Mailchimp doesn't offer.
Mailchimp alternatives: Brevo, MailerLite
Note: In September 2021, MailChimp was bought by financial software company Intuit for the sum of $12 billion. Since then, Mailchimp's pricing plans have gone through some changes – find out more in our Mailchimp pricing guide.
Mailchimp Alternatives Conclusion
While Mailchimp was once the #1 choice when it came to a cost-effective email marketing service, a few recent pricing changes have made it a lot less affordable than it once was. There are alternatives to Mailchimp (even free ones) that will work perfectly well for you, it's just a case of establishing what you need in your email marketing strategy.
For users with small subscriber numbers who just want a simple and free solution, Mailchimp are one of the better platforms. However, now that you're no longer able to schedule emails on the free plan, and the email templates begin to look very outdated, a free Mailchimp alternative may be a better choice.
If you want quality features with a smaller price tag, it's worth investigating other companies such as MailerLite, Brevo or Moosend. They are all really good value-for-money email marketing platforms.
However, if you're a power user, you should really look to ActiveCampaign or GetResponse if you want to create complex automations that react to the way your subscribers behave.
If you're using Shopify, make sure to check out these Shopify email marketing tools.
Finally, if you also need a CRM, ActiveCampaign and Zoho are good options.
Hopefully, this overview has helped you save time in choosing your next solution! And don't forget to add comments or questions if you need any more information.
Check out this guide if you need some ideas on how to build an email list.
P.S. You might also find our small business email marketing guide helpful, as well as our Constant Contact alternatives article. 
We keep our content up to date
02 Marc 2023 - Added section "Mailchimp Alternatives for Nonprofits"
18 Jan 2023 - ActiveCampaign & Benchmark Pricing update
11 Jan 2023 - Added new video
12 Dec 2022 - Added Moosend review video
01 Dec 2022 - Omnisend video added
09 Nov 2022 - Moved Omnisend up
01 Aug 2022 - Mailchimp changed plans and pricing
01 Aug 2022 - Moosend removed free plan, moved down
21 Jul 2022 - Added HubSpot
20 Jun 2022 - Moved Omnisend up
11 May 2022 - Updated GetResponse video review
13 Apr 2022 - Added Mailchimp video review
05 Apr 2022 - Added Free Mailchimp Alternatives section
10 Feb 2022 - Moved Activecampaign down and Moosend up
11 Jan 2022 - Added Constant Contact section
15 Nov 2021 - Updated ConvertKit profile
08 Nov 2021 - Updated GetResponse profile
22 Sept 2021 - Added note about Intuit's purchase of MailChimp
26 Aug 2021 - Added pros & cons table
20 Jul 2021 - General update & moved Omnisend up
21 Jun 2021 - Added EngageBay
20 May 2021 - General update
11 May 2021 - Table edited
4 May 2021 - General update
15 Feb 2021 - Added Zoho
14 Nov 2020 - Added AWeber
8 Sept 2020 - Added Mailjet and removed Newsletter2Go
28 Apr 2020 - Added updated MailerLite video
22 Apr 2020 - Changes to Benchmark's free plan & pricing
9 Mar 2020 - Added Smart finder
17 Feb 2020 - Moved Brevo up in light of excellent deliverability
27 Nov 2019 - Added Mailchimp alternatives video
23 Oct 2019 - Added Moosend to list
21 May 2019 - Updated information about Mailchimp's new pricing structure
15 May 2019 - Update about Mailchimp's Shopify integration
20 Sep 2018 - Added Omnisend to list
Our Methodology
This article has been written and researched following our EmailTooltester methodology.
Our Methodology