You've been doing some research for a newsletter service and noticed that MailChimp and GetResponse keep popping up? Well, that's because they're both quite good!
They rank pretty well in our list, just under ActiveCampaign.
We're going to dive in and look at the differences between each service, in a number of categories, to help you better decide which one is right for your email marketing strategy!
So, who are these guys?
Good question, although I expect you might already have a pretty good idea of the basics if you're reading this post.

GetResponse is a Polish-based, internationally successful newsletter service, offering many pro features for pretty competitive prices. Their focus is on ease-of-use, while also offering some niche features such as a landing page editor and conversion funnel. You can read a full review of them here.

MailChimp is probably a service you've heard of. Even though they are an email marketing heavyweight, they still have a useful freemium plan you can sign up to when first starting out. This is a great way to try out most of their features and templates with no risk. You can read a full review of them here.
Now let's set them against each other, head-to-head, across several categories to see who comes out on top.
Round 1: Ease of Use
Ooh, a close one to begin with! Both GetResponse and MailChimp do a decent job with their usability. Easy navigation, due to clean design and menu structures, and only a few small gripes that wouldn't affect the majority of users. Both sport a simple drag & drop editor, with minimal complications.
Winner: If we were really pressed to choose one, though, I'd probably say that MailChimp is slightly easier to use. GetResponse's editor can be a little fiddly when performing certain tasks.
Round 2: Template Design and Flexibility
GetResponse have a lot of choices when it comes to templates. They are all responsive and really nicely designed. Since they updated their email editor, it's very easy to edit templates and get your newsletter looking exactly how you want it.
MailChimp's email templates don't offer quite as much choice. The free and Essentials plans only come with basic templates, which look very outdated now. GetResponse's are available to all users, which is a plus, and they've added some nice designs.
Winner: In our eyes, GetResponse is the winner of this round.
Round 3: Automation
Both newsletter services offer marketing automation. Ideally, this allows you to create workflows based on actions, such as email opens and clicks. MailChimp offers a few triggers, for example sending emails after someone subscribes, abandons a cart in your store, or even if someone visits a specific URL on your site.
GetResponse also offers very similar options, with the addition of lead scoring.
Though both are visually easy to use, if you want to build complex automatios based on a variety of triggers, GetResponse is a better choice.
Winner: GetResponse wins this round without a doubt!
Round 4: List Management
Being able to easily move subscribers to, and from, separate lists can be quite important for certain businesses. This is equally true for segmenting lists based on certain characteristics. MailChimp do fine with basic segmentation methods, allowing you to combine several positive or negative conditions (e.g. clicking on email links). An issue they have, though, is that you can't manage subscribers across lists (e.g. adding a subscriber to two other relevant lists), as each one is siloed.
GetResponse, on the other hand, allows for much more complex list management. As the lists are not siloed, you can either copy contacts to another campaign, or move them entirely. Segments are also more customizable as you can add any/all conditions to users, and even groups.
Here is an example of segmentation in GetResponse with our own account:

Winner: Because of these reasons, GetResponse easily wins this round. The score is 3:1 now in case you were wondering!
Round 5: Analytics
Both services offer almost everything you'll need: allowing you to see subscriber details for the following:
who opened or clicked;
email clients used (although GetResponse isn't as clear with this as MailChimp);
ecommerce tracking data;
geo-tracking (where your subscribers are based, or at least where the email was opened).
MailChimp also has social media reporting, which may be a benefit over GetResponse, depending on your needs. So, finally, reports and analytics for both email marketing services are pretty neck and neck.
If we were pressed to pick one, perhaps MailChimp would just come out in front, but it's unlikely your decision will ultimately hang on this feature.
Round 6: Languages
If being accessible in several languages is necessary, then this one is a no-brainer. MailChimp, although it has support available in Spanish, is entirely in English.
Whereas GetResponse's site is available in up to 17 languages…the clear winner in this round. The only complaint: some of the translations could be better, German and Spanish for example.
Round 7: Spam and Design Testing
Some email services allow you to test your campaigns for issues in how they'll display with different email clients. These issues can sometimes lead to your emails being hightailed to the spam folder. MailChimp offer design testing from a third-party service at an extra cost unless you sign up for their higher plan. Unfortunately, they don't offer spam testing at all.
GetResponse score full points in this round, as they offer both within their regular plans. Design/inbox testing is offered, giving you a view of how your email will appear across different clients and browsers. Also, in the last step of your campaign, you receive a spam test score out of 5. The lower, the better.
GetResponse is in the lead with 5:2
Round 8: Registration Forms
You'd be surprised how useful a good registration form setup can be for building your email list. Yet some newsletter services still haven't completely got it yet.
Both MailChimp and GetResponse offer a pretty good variety of options, though, just in slightly different formats. MailChimp have a nice, clean section that allows you to create embedded or pop-up forms. It can be a bit tricky to find where the registration forms are hiding to begin with, though.
GetResponse have a useful wizard for their forms, with a heap of templates to choose from, and it's a lot easier to find. But you'll have to look at the list builder 'apps' to find novel styles of forms, such as exit pop-ups. HTML is also available on both systems, and you can integrate them within your services and websites in a number of ways.
Winner: Due to the high number of templates, and extra app options (e.g. scroll forms or shake boxes), GetResponse wins this round.
Round 9: Support
When it comes to support, both have thorough knowledge bases. They also both offer email and live chat, although chat is only available on paid MailChimp plans. And, even then, their service can sometimes be a bit on the slow side when compared to other newsletter tools.
Winner: GetResponse, though, offered fast and friendly support on both mediums, and this makes them our winner for this round. 7:2 – Mailchimp better score some points now!
Round 10: Extras
MailChimp do have a large number of integrations, apparently over 800 (not that I've counted them all). And while GetResponse also offer integrations, they can't match the number offered by MailChimp.
GetResponse do hit back hard and fast with their extras, though. They both offer a (responsive) landing page editor, allowing you to create landing pages for event registrations or even simple product info pages. However, only GetResponse allows you to create A/B tests with your landing pages. As a final nail in the coffin for MailChimp in this round, GetResponse also offer webinar hosting features. Depending on your business, this could be a great add-on.
For these reasons, GetResponse win this round by a mile.
Round 11: Deliverability
Quite an important one! Do your newsletters actually make it to your readers' inboxes? Although this is not easy to test and is subject to frequent changes, our continuous testing, made up of thousands of emails sent, helps to give an idea of the tools' average deliverability rates. The full results are available here.
Here are the average figures of how they performed in our last 3 rounds of bi-annual deliverability tests:
| | GETRESPONSE | MAILCHIMP |
| --- | --- | --- |
| Overall Deliverability Rate | 87.22% | 91.39% |
It's a close one, but MailChimp tends to fare slightly better in this area.
Meaning Mailchimp takes this round: 8:3.
Round 12: Pricing
Pricing differs between the two providers at the lower end quite a bit. Though both offer a forever-free plan, the allowances differ quite a bit. Mailchimp limits you to 500 subscribers and 2,500 emails per month, whereas GetResponse also gives you 500 subscribers but sets no cap on emails. Neither tool includes advanced features (e.g. multistep marketing automation). Though these free plans are a good way to try their services out before you commit, other free email marketing services offer more generous allowances.
In terms of paid plans, GetResponse charges $19 per month for only 1,000 subscribers, and even then, you'll need to get the higher tier packages to take advantage of the pro features, such as webinars and extra marketing automation features. Mailchimp's paid plans start at $[mc-en-500) for 500 contacts, but once you get into higher subscriber numbers, MailChimp's prices surpass GetResponse's, and so the latter becomes a better deal.
GETRESPONSE

(Email Marketing Plan)

Mailchimp

(Essentials Plan)

500 subscribers
Free with unlimited emails
Free with 2,500 emails
2,500 subscribers
$29
$39.50
5,000 subscribers
$54
$69
10,000 subscribers
$79
$100
50,000 subscribers
$299
$350
100,000 subscribers
$539
$700
Winner: GetResponse wins this round by a small margin. The fact that the free plan comes with unlimited emails is appealing, plus their paid plans are very slightly more affordable. To check out the pricing in more depth, head over to our newsletter price comparison tool.
GetResponse vs Mailchimp: Features in Detail
Ease of Use
Editor
Personalization
Email types
Choice and Flexibility of Template Designs
Email Marketing Automation
List Management
Registration Forms/ Opt-in & Opt-out- Process
Deliverability
Reports and Analysis
Languages
Spam- and Design-Testing
Bounce Management
Blocklist
Storage available for data and images
1 Gigabyte
unlimited
Authentication
Own Domain
Different levels of account access
Integrations
Landing Page Builder
Customer Support
Prices

Up to 500: $0/mo

Up to 1,000: $19/mo

Up to 2,500: $29/mo

Up to 5,000: $54/mo

Up to 10,000: $79/mo

Up to 25,000: $174/mo

Up to 500: $0/mo

Up to 2,500: $39.50/mo

Up to 10,000: $100/mo

Up to 20,000: $220/mo

Up to 30,000: $295/mo

Up to 40,000: $330/mo

Up to 50,000: $350/mo

Overall rating
GetResponse vs Mailchimp: The Final Call
GetResponse dominates MailChimp for most of the rounds here. By our standards, it is the clear winner. They are offering a good variety of features for a pretty good price – particularly when it gets up to the higher subscriber numbers. If you are after a free, easy-to-use service, though, you can always give MailChimp a try too.
Oh, and don't forget, aside from GetResponse, there are plenty of other Mailchimp alternatives to check out. You can see how other popular email marketing platforms compare to Mailchimp in the following comparisons:
See how GetResponse compares to other email marketing platforms:
Do you think we missed something important? Disagree with one of our rounds? Please leave a comment below and let us know!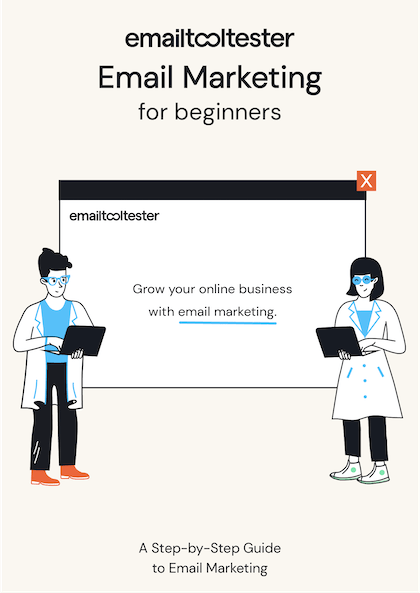 Email Marketing Crash Course: Step-by-Step Guide
Our email marketing course for beginners: ideal for small and medium-sized businesses, online stores and bloggers. It shows you all the steps you need to send your first email campaign. Best of all, it's free!
Sign up to receive your copy immediately!
We keep our content up to date
13 Jul 2022 - Updated deliverability averages
15 Sept 2022 - Changes to Mailchimp's free plan
27 Apr 2022 - Updated deliverability averages
19 Oct 2021 - Full update
01 June 2021 - Updated automation section
15 Mar, 2021 - Deliverability scores updated in light of the latest round of test results. Overall score updated.
26 Nov, 2020 - Added other comparison articles
02 Sept, 2020 - Deliverability averages updated in light of the latest round of test results
30 July, 2019 - Deliverability averages updated in light of the latest round of test results
10 Feb, 2020 - Deliverability averages updated in light of the latest round of test results
Our Methodology
This article has been written and researched following our EmailTooltester methodology.
Our Methodology