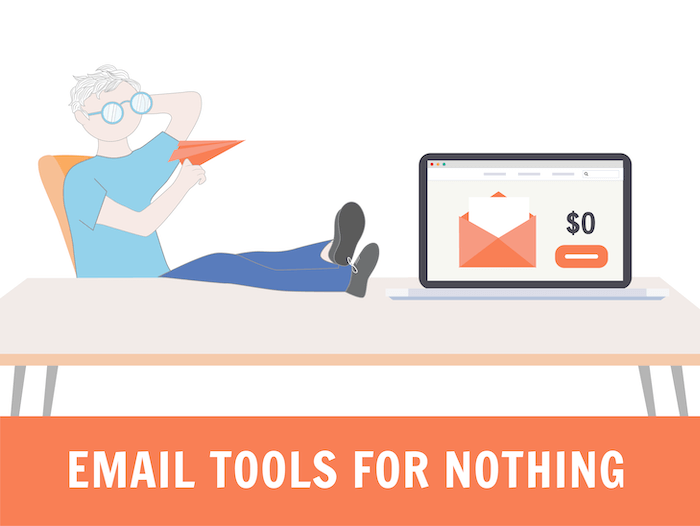 So you've decided to start focusing more effort on your 'small' business, and perhaps you're still working out of your bedroom, but your customers don't need to know that.
You've been sending out emails to your list of around 50-200 recipients that you've built up over the last few months, but Outlook isn't quite cutting it anymore. Sometimes your emails get lost in the void that is spam folders, and then there was that one time you accidentally CC'd instead of BCCing! That sadly caused a few unsubscribes, which, of course, had to be removed manually.
There must be a better way, right?
It might be time to try out a more professional email tool. But wait, before you cry out 'professional = expensive', there are actually a bunch of free email marketing services that can do the job well. No more spam surprises and no more embarrassing personal data breaches.
Video: Free Email Marketing Services Review
Check out our video review of the top 3 free email marketing services: MailerLite, Mailchimp, Omnisend
---
Smart Finder: Find the Best Option in 1 Minute
---
What can I expect from free email marketing software?
You'll be pleasantly surprised at just how much you can get for absolutely nothing! Some don't even set a cap on the number of subscribers you can have or the number of emails you can send a month.
You'll also see that other features such as landing pages, transactional email and automation are sometimes included, so look out for these nice extras.
The specific features that appeal to you will depend on the needs of your business. However, there are a few things to look out for when selecting an email marketing service:
Are email templates included for free? And are the designs attractive?
Does the free plan include landing pages and what are the designs like? (These can be very useful if you don't have a website yet)
Is email automation included? And can I segment my contacts into different lists?
Will the reports offered give me the data I need?
Is there a limit to the number of forms I can create?
Are transactional emails included (if that's something you need)
Most often, the provider will include its own logo in your email, you might want to see what this actually looks like as some are more subtle than others
What other tools does it integrate with? (Especially worth considering if you have an ecommerce site)
What kind of support do you get? Mailchimp, for example, is notoriously difficult to get in contact with on the free plan
We've arranged all this information in the table below to give you a better idea of where each tool shines.
So who are these free email marketing services you speak of?
Good question. I've put them into a handy table for you below!
Provider
What's included for free?
Comments
MailerLite

1,000 subscribers
12,000 emails p/m
Automations, landing pages and reports

MailerLite offer a decent amount of features on its free plan. This includes autoresponders, sophisticated webforms, (limited) reporting and email support. There are only basic structural templates included, however. (Read our full review)
MailChimp

2,000 subscribers
10,000 emails p/m
Reporting
List management
Mobile features

Similar to MailerLite, you have restricted features available on the free account (e.g. no advanced segmentation and delivery by time-zone). But you still have a more generous subscriber amount, and it's just as user-friendly. And most importantly, you can't use their email or chat support. There's also a small ad banner in each email you send. (Read our full review)
Sender

2,500 subscribers
15,000 emails p/m
Autoresponders + transactional emails
Push notifications
Forms

This simple and easy-to-use email marketing tool includes a sizeable sending allowance and some handy extras like automations and push notifications.
Moosend

1,000 subscribers
Unlimited emails
All features included
No Moosend branding in emails

In terms of extras, this is probably one of the more generous free plans we've seen, with access to nearly all areas of the tool (landing pages and team accounts not included). It's also the only tool we've tested that doesn't include its own branding in your emails. (Read our full review)
Sendinblue

Unlimited subscribers
9,000 emails p/m
Marketing automation
CRM
Basic reporting

Sendinblue's free plan is a little more restricted in terms of emails. You can have up to 9,000 p/m, but there is also a daily limit of 300. You also have their branding present in all emails. (Read our full review)
Zoho

6,000 emails p/m
2,000 contacts
Social media posting
Reports

With decent email and subscriber allowances, Zoho's Forever Free plan is worth checking out. Though automation and campaign scheduling are reserved for its paying customers, it does allow you to use its CRM features and offers a wide range of modern email templates. (Read our full review)
Omnisend

500 emails p/m to 250 contacts
Unlimited subscribers
Landing pages
60 international SMS
Segmentation & automation
Website tracking

Though the sending allowance is small, Omnisend's free plan comes with all advanced features, including landing pages, website tracking and marketing automation. (Read our full review)
GetResponse

500 subscribers
Unlimited emails
Website/landing page builder, plenty of email templates

GetResponse slightly lets itself down by only allowing for 500 subscribers, however, their offering of unlimited emails is pretty appealing. Additional features include a well-designed website builder, but no marketing automation. (Read our full review)
SendPulse

500 subscribers
15,000 emails p/m
Web push notifications
Transactional emails
Basic autoresponders

A large sending allowance and some unique messaging features make SendPulse's free plan a top option for multichannel marketers.
EmailOctopus

2,500 subscribers
10,000 emails
Stats for 30 days only

A refreshingly simple newsletter software with very low prices. Doesn't have a whole load of features but what it does, it does well. You can integrate it with numerous other tools through Zapier.
HubSpot

1million subscribers
2,000 emails p/m
CRM
Webforms

HubSpot's free plan is slightly limited in terms of emails, as you have a monthly sending limit of just 2,000. They are, however, pretty generous with subscribers and CRM features. Their branding is present in all emails. (Read our full review)
Mailjet

Unlimited subscribers
6,000 emails p/m
Reporting

Similar to Sendinblue, Mailjet have a sending limit on their free plan, and a daily limit of only 200 emails. (Read our full review)
Benchmark

Unlimited subscribers
250 emails p/m
Webforms
List management
Basic A/B testing

Thought the free plan includes unlimited subscribers, with an allowance of 250 emails/month, you won't be able to do much. (Read our full review)
MoonMail

2,000 subscribers
300 emails p/m
Basic support
List segmentation

This Amazon-powered email service is disappointingly stingy in their free plan, with a limit of just 300 emails per month and 1 campaign per day.
CleverReach

250 subscribers
1,000 emails p/m
Reporting
Webforms

CleverReach's free allowance is pretty limited when you compare it to other newsletter services. There is also a small ad in your outgoing emails that can't be removed. (Read our full review)
YMLP

Unlimited subscribers
1,000 email p/m

YMLP (Your Mailinglist Provider) is threadbare in both form and function. The design looks as if it's a relic from the 90s, and you'll need to be versed in HTML, or have a designer handy, to get something useful from the editor.

> For in-depth reviews, please also check out our ranking table.
With the above table, you can see that it's perfectly possible to use a free newsletter creator for your small business needs, at least up to a certain point, depending on how big your dreams (a.k.a. contact lists) become.
---
Free Email Marketing Services in Detail
Now that you've got an idea of what each of the tools offer, let's take a closer look at their features and limitations.
MailerLite – ticks most of the boxes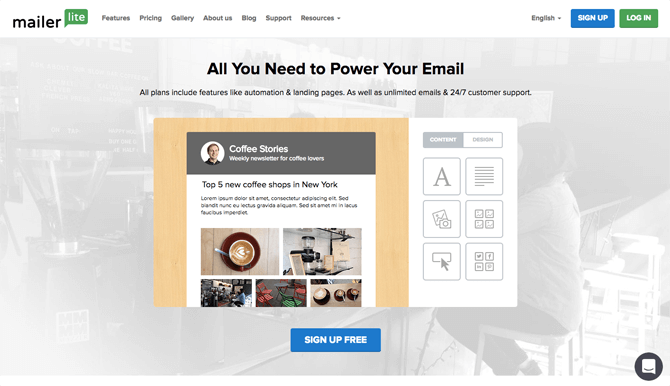 As its name suggests, MailerLite's focus is on delivering a simple, no-frills email marketing service. The result is an easy-to-use newsletter tool with some surprisingly useful features (think landing pages, forms, and marketing automation). And their 'Free Forever' plan gives you access to most – but not all – of their features.
What we liked: Their tool is super intuitive, so even if you're an email marketing novice, you'll have no problem getting campaigns up and running. And as long as you have less than 1,000 subscribers, you can send 12,000 emails a month, and even set up automations and landing pages for free.
Where they should improve: Unfortunately their templates aren't available on the free plan, meaning you'll need to build your own. There's no spam or design testing, and while we like their workflow-based automation editor, it's limited to just a handful of automation functions (sending trigger-based emails, updating contact fields etc).
Who is the free plan suited to? We think MailerLite is one of the best free email marketing services around. But we think it's especially handy for budget-conscious businesses looking for an easy, all-in-one solution for their inbound marketing.
MailerLite Video Review
Free trial: www.mailerlite.com
---
MailChimp – making email marketing fun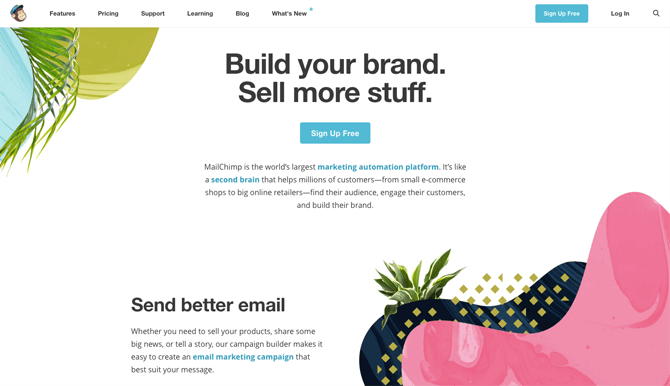 Let's face it – email marketing can be a little dry sometimes. MailChimp is a breath of fresh air, and their fun and quirky branding, paired with some solid, user-friendly features, have helped it quickly become the world's most popular email marketing service.
Their free account gives you 10,000 emails a month for up to 2,000 contacts, with access to landing pages, forms and reporting. However, if you want ad-free emails and access to features like A/B testing, chat/email support, inbox previews, and time zone delivery, you'll need to upgrade to one of their monthly or pay-as-you-go plans.
What we liked: They have a great variety of well-designed and (mostly) mobile-responsive templates, with plenty of flexibility to edit as needed. Their reporting is comprehensive, with stats on conversions, social activity, e-Commerce tracking and email domain performance. You've also got forms that easily integrate with your site, landing pages, and over 800 third-party integration options.
Where they should improve: Although they promote themselves as 'the world's largest marketing automation platform', their automation could be massively improved with a workflow editor and more automations beyond just autoresponders. Emails also have a tendency to end up in Gmail's Promotions tab – fine if your emails are promoting sales and offers, but less than ideal if they're informational or transactional. The interface could also be a bit more user-friendly. Find out more in this Mailchimp alternatives post.
Who is the free plan suited to? Marketers who want to send nice-looking promotional emails to a relatively large number of subscribers, and access to deep-level reporting. Be aware that Mailchimp doesn't have the most competitive prices in their paid plans.
MailChimp Video Review
Free Trial: mailchimp.com
---
Sender – easy does it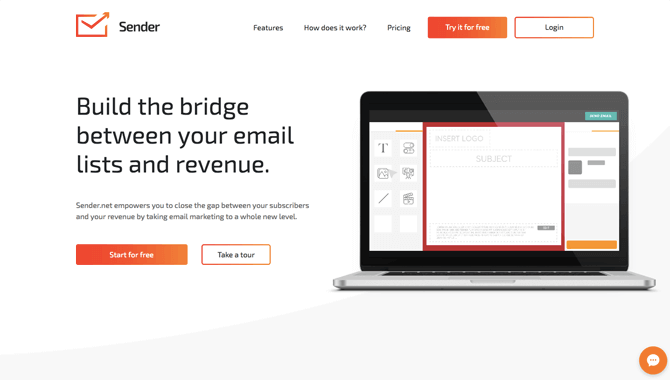 A simple interface and smooth user experience make Sender one of the easiest email marketing tools to use. Its free plan also has a substantial allowance of 2,500 subscribers and up to 15,000 emails per month. You get a nice amount of features included too – automations, transactional emails, push notifications and forms.
What we liked: The automations included on the free plan are surprisingly advanced – you've got options to send abandoned cart campaigns, for example, and to perform actions such as moving subscribers to different lists or updating custom field values. In general, the simplicity of the tool is a nice change from the overcomplexity of other similarly-featured tools.
Where they should improve: While the email template designs aren't bad, it would be nice to have a few more on offer. Integrations are limited to just a handful of third-party applications, including WordPress, WooCommerce and Magento.
Who is the free plan suited to? If you're after an easy-to-use, no-nonsense email marketing service (with a few nice extras thrown in), you'll appreciate Sender's simplicity and utility.
Free Trial: sender.net
---
Moosend – packed with all the extras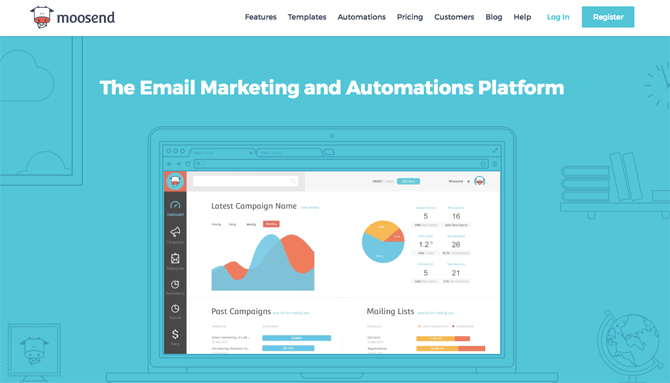 Here's an email marketing platform that really caught our attention. Design-wise, it's probably one of the more eye-pleasing ones out there, with a colorful interface and fun branding. Although the free plan only allows for up to 1,000 subscribers, the rest is actually pretty generous – you get unlimited emails, access to almost all features (landing pages and team accounts excluded), and, amazingly, no Moosend branding in your emails.
What we liked: The drag-and-drop email editor is easy to use and flexible, allowing you to create 3 and 4-column layouts. You've also got a nice selection of around 40 email templates to choose from, plus cool extras such as spam testing, A/B testing and automations.
Where they should improve: Although it works well for the most part, there are a few things that could run smoother, such as the email and automations editor. We also encountered a few issues with deliverability at the beginning, and would recommend keeping a close eye on campaign performance rates.
Who is the free plan suited to? If your list is on the smaller side and you want to take advantage of perks like spam testing and unbranded emails, Moosend could work well for you.
Free Trial: Moosend.com
---
Sendinblue – doing one-on-one right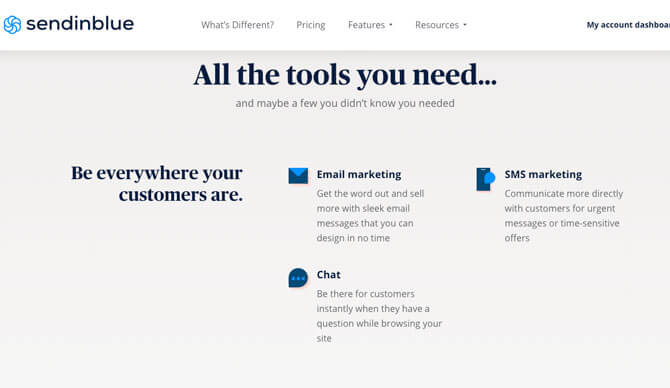 Starting out as a transactional email provider, Sendinblue have successfully expanded into the email marketing service space, offering advanced features such as SMS marketing and email automation.
On their free plan, you can have an unlimited number of subscribers and send up to 9,000 emails a month, although there's a daily cap of 300 emails. A few of the features are also off-limits – you won't get access to email heat maps, details of openers and clickers, or ad-free emails.
What we liked: Marketing automation is a little more sophisticated than other tools', with options to build and even test various campaign workflows (e.g. based on page visits, email engagement, product purchases). Reporting is also pretty good, although it's a little annoying that the free plan doesn't give you details of who opened and clicked. Their paid plans are pretty affordable, starting at only $25 for 40,000 emails.
Where they should improve: While their templates are mobile-responsive, they could do with a wider variety (although you can always find and use your own templates). And they're missing features such as A/B testing, which come as standard in most other tools.
Who is the free plan suited to? If your email marketing is less about newsletters and more about sending trigger-based campaigns (such as welcome emails, abandoned cart emails, or emails based on web visits/email engagement), Sendinblue is a decent option to try.
Sendinblue Video Review
Free Trial: www.sendinblue.com
---
Zoho Campaigns  – the Swiss Army Knife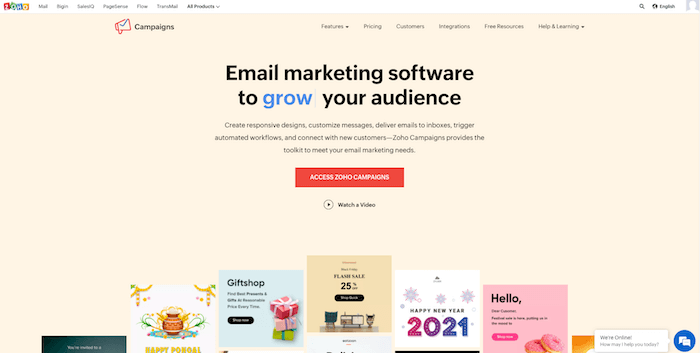 Zoho are kind of a big deal in the sales and marketing world. Their impressive suite of services means that marketers and small business owners can find all that they need under one roof.
Zoho Campaigns is where the email marketing magic happens, and with a great selection of well-designed templates and an easy-to-use editor, it's well worth checking out if you're on a budget.
What we liked: Well-designed interface that is easy to navigate. The editor is fast and offers all the main elements, including columns, video and polls. A cool feature is that you can upload images from Unsplash directly in the editor. Segmentation is also possible. We particularly liked their range of email and form templates.
Where they should improve: It's a bit disappointing that no kind of automations are included in the free plan, though if you want this feature you can get it for as little as $5/month. The form builder could be easier to use with the use of drag and drop technology.
Zoho recently removed the ability to A/B test your campaigns and even schedule them on the free plan. They also halved the email allowance, which makes it quite limited compared to some tools on this list.
Who is the free plan suited to? Zoho Campaign's free plan is for anyone looking for an easy-to-use email marketing service with excellent design templates. If you need basic email marketing automation and don't want to pay, you'd be better off going with MailerLite.
---
Omnisend – a smart tool for ecommerce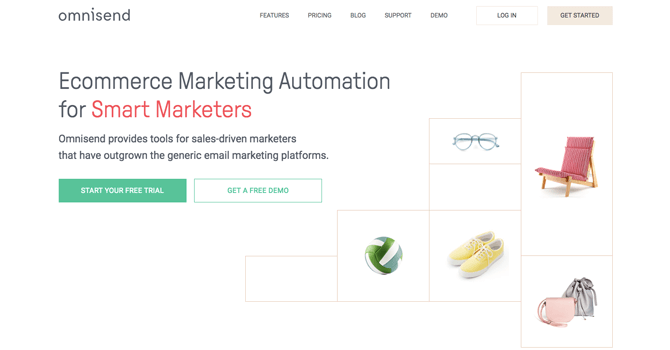 As an email service that's strongly geared to ecommerce, Omnisend has a lot of exceptional features, including automation workflows, the ability to automatically add your store's products to your newsletters, and cool email add-ons like scratch cards and gift boxes. What's more, all of these features are available on the free plan, along with website tracking, 24/7 support, deep reporting, and landing pages. Not bad at all.
Unfortunately, a recent change in Omnisend's pricing means that the number of emails you can send has decreased dramatically. What were 15,000 emails per month (2,000 per day) are now just 500, and you can only contact 250 subscribers. This might work for you if you need an advanced service but have few subscribers, but I imagine you'll quickly outgrow the allowances.
Free Trial: www.omnisend.com
---
GetResponse – a free plan with unlimited emails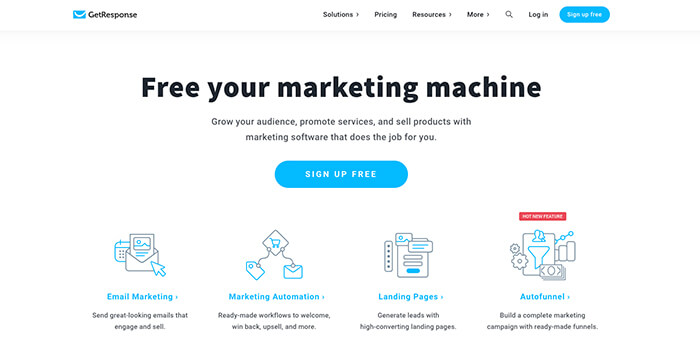 GetResponse has only recently added a free plan to their offering, but we're very happy they have. We've been following GetResponse's product updates for years, and can say that they have some very interesting niche features, though you'll see below that the features included on their free plan are slightly more limited. These pro, paid features include webinars, sales funnels and advanced marketing automation
What we liked: 
What is included are unlimited emails and a website builder with 5 GB of bandwidth. You can also connect your own domain and make use of their SEO-optimization tools.
There are over 500 email templates to choose from, and the editor is flexible and easy-to-use.
Where they should improve: 
Unfortunately, you can only store up to 500 subscribers on the free plan, which isn't many compared to the other tools on the list. You're also limited to just one landing page.
Autoresponders and automations are reserved for higher-tier paid plans, and, of course, you'll have to put up with the GetResponse branding.
Who is the free plan suited to? 
Small businesses with few subscribers looking for a tool to set up both a simple website and manage their email marketing.
Free trial: www.getresponse.com
---
SendPulse – for multichannel messaging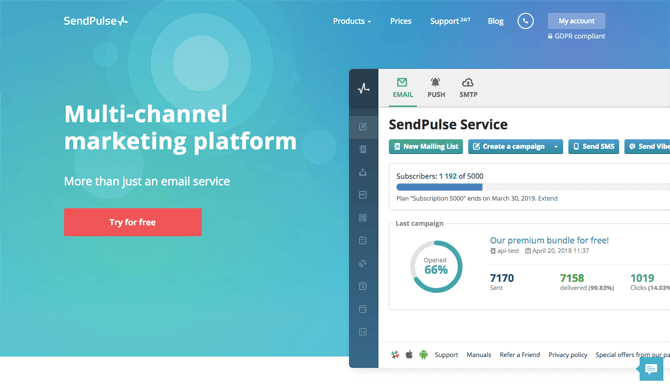 SendPulse offers a multichannel platform for marketers looking to do more than just email marketing. Its wide solution set includes web push notifications, SMS, Viber and even transactional emails via SMTP.
SendPulse's free plan is one of the more generous in terms of sending limits, with a monthly allowance of 15,000 emails, however, you are only allowed up to 500 subscribers.
What we liked: You get access to some very useful features even on the free plan, including autoresponders, A/B testing, and advanced reporting such as click heat maps and opens by location. Web push notifications come included in the free plan, and you can also opt to have a free monthly plan of 12,000 SMTP emails.
Where they should improve: I came across a few issues with their email editor, which was at times buggy and slow. Without a workflow-based editor for basic autoresponders, these can also be a bit cumbersome to manage.
Who is the free plan suited to? A multichannel platform won't appeal to everyone, but if your business uses web push or transactional emails to communicate with customers, SendPulse's free plan could save you a considerable amount of time and money.
Free Trial: sendpulse.com
---
EmailOctopus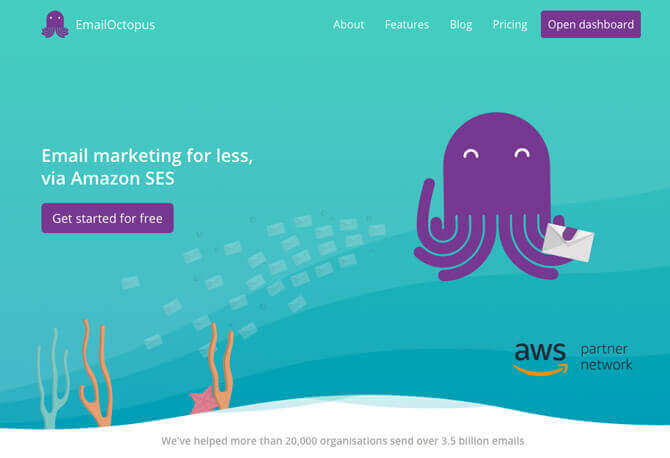 After Mailchimp and Moosend, here's another animal in the email marketing zoo. EmailOctopus is a special breed: it used to be built on top of the Amazon SES service that provides the email infrastructure. The AWS account is optional now, though, meaning that you can use it just like any other newsletter service.
They let you have a generous 2500 subscribers for free, with a sending limit of 10,000 emails per month. If you are using Amazon's servers, you can even use the free quota of currently up to 62,000 emails. "Currently", because this can always change.
What we liked: prices on the paid plans are on the lower end (e.g. 50,000 subscribers for $115 per month) and once set up, the Octopus proved a well-spirited newsletter tool that is extremely easy to use. There's an API available as well as a Zapier integration.
What they should improve: The range of features is a bit limited, though, if you are only looking to send classic newsletters and autoresponders you may have everything you need.
Who is the free plan suited to? I'd recommend EmailOctopus mainly to cost-conscious marketers who maybe already have an Amazon SES. They also seem to be relaxed about senders dealing with cryptocurrency and affiliate marketing. Industries other email providers often reject.
Free plan: www.emailoctopus.com
---
HubSpot – A place to manage your contacts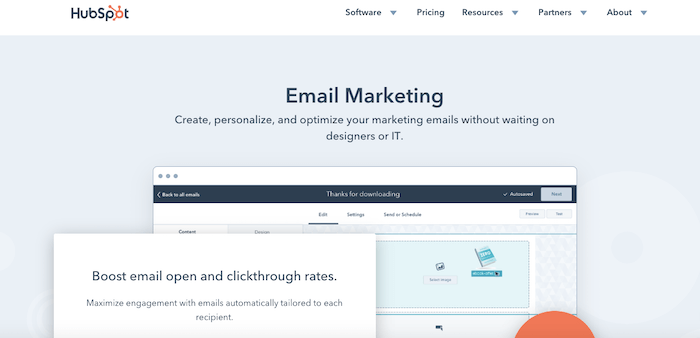 Collect contacts through HubSpot's forms, manage contacts in their advanced CRM and send up to 2,000 emails a month for free. You can also add unlimited users and assign contacts to each of them.
The drag and drop editor is pretty smooth and helpfully points out anything you might have missed. Unfortunately, they do not offer anything special when it comes to email templates – you just have one basic newsletter or promotion template to customize. It's also not possible to unload your own or code it in HTML.
If you want access to templates, automations and landing pages, you'll have to upgrade to their Sales or Marketing Hub.
What we liked: You have access to a robust CRM, form builder, ads and a few other cool features. In terms of ease of use, the software doesn't feel overwhelming at all. Primarily a CRM, they are generous when it comes to contacts, allowing you to store up to 1 million for free!
Where they should improve: Though there is (virtually) no cap on contacts, you might find that 2,000 emails a month isn't enough. You'll also have to put up with the HubSpot branding being present at the end of every email you send. They could also include a few nice templates in the free plan or at least the option to upload your own.
A limitation to HubSpot's free plan is that you're not able to properly authenticate an email sending domain through SPF and DKIM – that said, they didn't score too badly in our deliverability testing.
Who should use the free plan: Small to medium-sized businesses who are in need of a decent CRM – because this is where HubSpot really shines. You'll need to take into account that the monthly sending limit is quite low compared to other tools (though one-to-one sales emails don't count towards this) and neither A/B testing nor automations are included.
---
Mailjet – lots of potential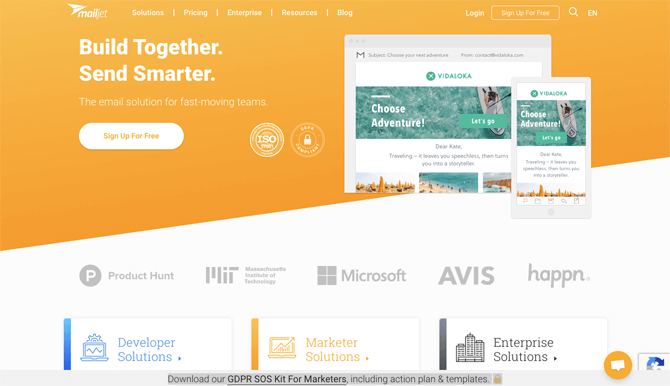 Another newsletter provider traditionally known for sending transactional emails, Mailjet has evolved into a more complete email service, although their features are still relatively basic. Their free plan is generous in terms of capacity (unlimited contacts and up to 6,000 emails a month, with a 200-email daily limit). It's a little less generous in terms of access, however – premium features like automations, segmentation and A/B testing are only available to try out for free for 30 days.
What we liked: The drag-and-drop editor is a breeze to use, and they have a decent range of email templates to choose from.
Where they should improve: Everything still feels a little new and unpolished – there's just a handful of automation workflows available, for example, and lots of features still under development.
Who is the free plan suited to? If volume is important to you, and you don't need sophisticated features, Mailjet's free plan will serve you well.
Free Trial: www.mailjet.com
---
Benchmark – sleek and simple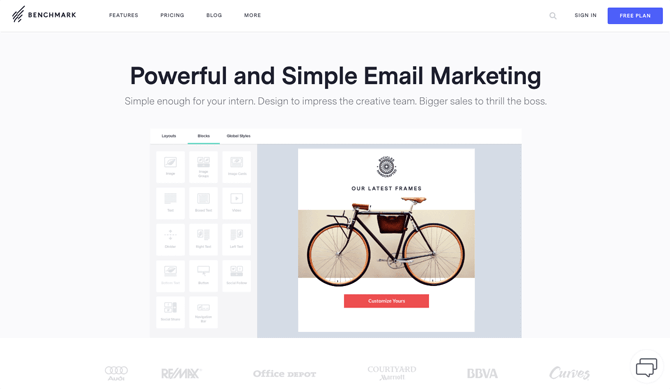 With a clean and minimalist design, Benchmark is one of the most user-friendly newsletter tools we've tried. What's more, their free Starter plan gives you access to all areas – marketing automation, forms, surveys and reporting included – with a few caveats (you won't be able to activate automations or A/B tests, for example, and sign-up forms will only allow you to add 75 subscribers a day). You'll also only have 250 emails/month, which is not many at all.
What we liked: They have a great variety of modern-looking and mobile-friendly templates, and a drag-and-drop editor that's hard to beat in terms of usability. Support, even on the free plan, is fast and responsive. And they offer integration with over 300+ tools, including WordPress, Facebook and Shopify.
Where they should improve: Deliverability rates with Benchmark were disappointingly low (particularly to Outlook and Hotmail inboxes). You're also unlikely to stay on the free plan for very long, as they charge $5/month to upgrade your image storage from 10MB to unlimited and only allow for 250 emails/month.
Who is the free plan suited to? Businesses who tend to send more text-based emails might have a better chance of staying under the file storage limit (and having their emails delivered) – so if you're after a nicely designed and straightforward tool, Benchmark is a good choice.
Benchmark Video Review
Free Trial: www.benchmarkemail.com
---
MoonMail – powerful, but at a price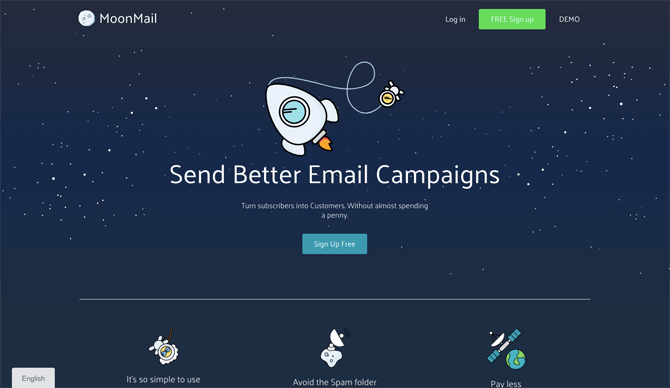 MoonMail leverages Amazon's cloud network to send their email and was built with volume in mind. Their free plan however is one of the most restrictive, with just 300 emails a month, and a daily cap of 1 campaign a day (with only 10 recipients per campaign). You're obligated to use their own domain as the email sender address, and have no access to automations. Support and the ability to edit custom fields is also limited. Plus, we have to say their tool isn't the easiest to use, with a lot of back and forth required to set up campaigns.
Free Trial: moonmail.io
---
CleverReach – professional but limited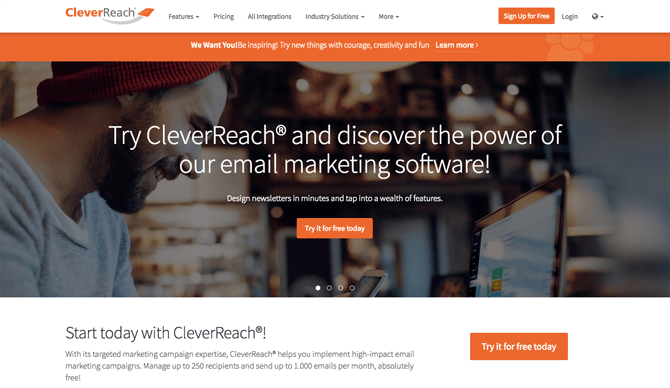 CleverReach offers a complete, enterprise-grade email marketing service, with functions like marketing automation, forms, and reports. Their Lite plan gives you access to most of their features and allows up to 1,000 emails to a maximum of 250 subscribers every month for free.
What we liked: Their editor is easy to use. We also like their workflow-based automation editor, comprehensive reporting, and handy campaign calendar.
Where they should improve: The free plan is very limited in terms of automations, templates and registration forms. And it's a shame that not all their templates are responsive.
Who should use the free plan: If your list is small and EU compliance is a big priority for you, CleverReach is the way to go – double opt-ins come as standard, and data is hosted within Europe.
Free Trial: www.cleverreach.com
---
YMLP – it's a no from us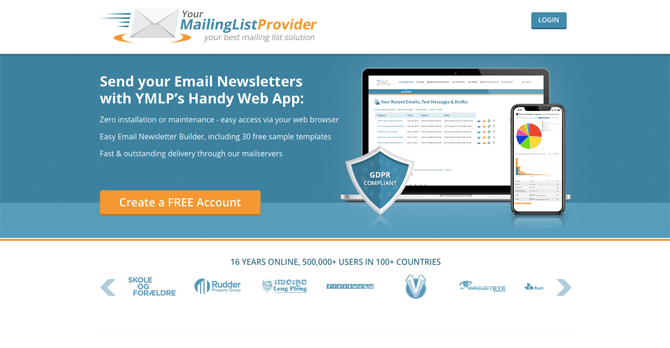 This Belgian newsletter provider do have a free plan for up to 1,000 contacts, with a pretty good level of access to different features, but there's a lot that needs to be improved. For one, both their templates and editor are extremely outdated (ever seen an email that looks like it's been put together in Microsoft Word? Then you get the picture). The reporting on the free plan is also a little scant – you won't get data on opens, clicks, or contact activity. And their navigation is a bit clunky. In general, YMLP feels like a bit of a dinosaur compared to the other more modern-looking and feature-rich tools. It's not one of the free email marketing software we'd recommend.
Free Trial: www.ymlp.com
---
What's with this 'free plan' talk?
If you're like me, whenever you hear the word 'free' for apps or tools you're probably wondering 'so what's the catch?'
Well, it's not a catch so much as a 'freemium model'. This basically means that you may have certain restrictions perhaps based upon the number of subscribers you can have, emails you can send or features available. In most cases, though, if you're a small business these plans will be enough to get you up and running!
And I guess the 'catch' is that once your budget has become a little less lean, you'll be so happy with the service you're using that you'll stick with it and invest in a higher plan. But let's not get ahead of ourselves.
What do I get for (not spending) my hard-earned cash?
Well, to begin with, we've only shown you 'hosted' newsletter services, which basically just means that you don't need your own email server or to install anything on your computer. In other words, they're fully self-contained services. Nice and easy right?
Also, they all have a form of bounce management. This means that the service automatically takes care of emails that don't reach their recipient, after a couple of tries, by removing them from your list. This helps keep your contact lists clean and uncluttered.
Even though your newsletters will most likely be the most useful emails your customers have ever received, there will always be those who aren't as enlightened, and that's where the next service comes in handy. They all offer quick and easy unsubscribe management, which can take place without you needing to do anything.
And finally, another useful feature of these providers is that they can provide you with statistics. Now you'll be able to find out who's actually opening your emails, and which ones are more popular than others…after all, it's basically a popularity contest. May the best newsletter win.
What limitations do free email marketing services have?
Most email blast services restrict either subscriber or email numbers, and sometimes both, so pay attention to these amounts when deciding. All of the providers seem to restrict access to some features, so be aware of what is and isn't included on their free plans. Also, most newsletter tools also put their own branding within your newsletters (usually a small badge in the footer).
A premium feature that you won't find with any of these providers is marketing automation, so it's worth taking that into account. It's often also not possible to access advanced reporting with most of these free accounts either. So if you need this kind of sophistication you may need to open up your wallet. You can get an idea of prices, and compare them between providers, with our newsletter cost calculator.
In regards to recommendations, I'd probably try out MailerLite or MailChimp to begin with, they have relatively good subscriber and email limits, along with an easy-to-use system. MailerLite has some great features, such as landing pages and multiple languages, while still being wallet-friendly, even in their paid plans. MailChimp can get pretty pricey in their paid tiers but has some really great integration options.
Conclusion: What's the best free email service for you?
While there are a number of free services, it's good to not only be aware of the limitations of each but also to go with one that feels best for you. To figure this out, simply TRY them…they're free after all!
In need of CRM software? Check out this detailed list of the best free CRM providers.
Updates:
09 Dec 2021 – Updated Zoho in light of changes to allowances and features
26 Oct 2021 – Moved Sendinblue up
25 Oct 2021 – Added smart finder
19 Oct 2021 – Added GetResponse
20 Sept 2021 – Omnisend's pricing updated and moved down. Moosend moved up
15 Jun 2021 – Small updates for Moosend
3 Feb 2021 – Zoho added
15 Dec 2020 – New video added
25 Nov 2020 – Added 'What can I expect from free email marketing software?' section
28 Apr 2020 – Added updated MailerLite video
22 Apr 2020 – Changes to Benchmark free plan allowance
18 Oct 2019 – CleverReach reduced their free allowance
22 Oct 2019 – HubSpot added to list.
16 Oct 2019 – Updated EmailOctopus.
22 May 2019 – Changes to MailChimp free plan.
11 April 2019 – Drip no longer offers a free plan.
28 Feb 2019 – CleverReach allowance is higher now.
20 Sep 2018 – SendPulse added to list.
4 Dec 2018 – Sender added to list.
25 Feb 2018 – Moosend added to list.
Email Marketing Crash Course: Step-by-Step Guide
Our email marketing course for beginners – ideal for small and medium-sized businesses, online stores and bloggers. It shows you all the steps you need to send your first newsletter. Best of all, it's free! Sign up to receive your copy immediately!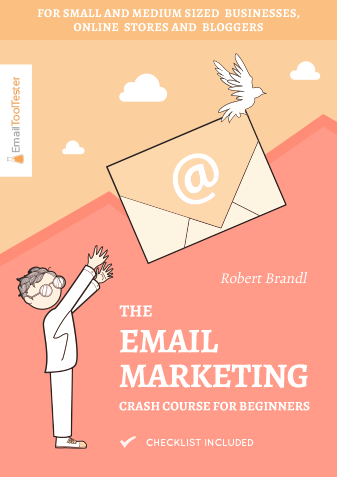 Email Marketing Crash Course: Step-by-Step Guide
Our email marketing course for beginners – ideal for small and medium-sized businesses, online stores and bloggers. It shows you all the steps you need to send your first newsletter. Best of all, it's free! Sign up to receive your copy immediately!
Please note: From time to time we will also send you our newsletter. We will never share your email address with anyone other than our email service provider. And of course, you can unsubscribe at any time.