EmailToolTester is supported by readers like yourself. We may earn an affiliate commission when you purchase through our links. Of course, this won't increase the cost of your subscription.
GetResponse claim to be the easiest newsletter tool available, with a tonne of pro features. This is a big claim, especially as their prices are so competitive. The Polish-based company's global reach extends to 183 countries, claiming a user base of more than 350,000 customers.
You might have checked out the GetResponse reviews offered by individual users online, and whilst they are pretty positive, they may not give you the whole picture. Our review of GetResponse is based on a methodical approach and uses our practical experience and knowledge of dozens of other simple and advanced marketing automation tools.
Feature-wise, GetResponse does boast a lot more than most other email marketing services. From custom landing pages to advanced automation and reporting features, you'll be hard-pushed to find a feature they don't offer.
The landing pages are especially interesting as they are part of Conversion Funnel, a unique feature that takes care of lead generation, which can even serve as an online store where you can process payments. Another feature worth mentioning is GetResponse's marketing automation features. You're able to set up advanced automated campaigns based on triggers/conditions such as sales or even location. Other tools offer automation, but most are not as powerful or user-friendly. You'll also have plenty of detailed templates to help you get started.
On higher-tier plans, you also get access to their webinar feature, as well as an inbuilt CRM - extras you don't commonly see in email marketing platforms. It was certainly enough to capture our interest.
With the acquisition of Recostream, an AI/ML personalized recommendations technology company, GetResponse now offers AI product recommendations. This means that the behavior, preferences, needs, and habits of your website visitors are analyzed and used to make tailored recommendations. Pretty cool!
GetResponse Review: Summary
GetResponse is an all-in-one marketing platform that is particularly suited to ecommerce businesses. In addition to their email marketing tools, they offer their users a simple landing page builder, a built-in CRM, and advanced automation features.
For this reason, we rank them pretty favorably. Their entry plan is reasonably priced, with features such as autoresponders, basic segmentation, and more. Their free forever plan provides users with key marketing features such as a landing page/website builder, signup forms and popups.
So let's take a deeper dive into this GetResponse review.
To try GetResponse for free, click here (incl. 10% discount): https://www.emailtooltester.com/out/getresponse-youtubeYou can read our detailed written GetRes...
GetResponse Review: Is it The Tool For You in 2023?
2022-05-10
https://img.youtube.com/vi/zzuY2U1sfG8/hqdefault.jpg
GetResponse screenshots
GetResponse Pricing
500 SUBSCRIBERS
$0/MO
Free forever plan. Discounts available for 12 and 24-month plans.
1,000 SUBSCRIBERS
$19/MO
Email Marketing plan. Discounts available for 12 and 24-month plans.
2,500 SUBSCRIBERS
$29/MO
Email Marketing plan. Discounts available for 12 and 24-month plans.
5,000 SUBSCRIBERS
$54/MO
Email Marketing plan. Discounts available for 12 and 24-month plans.
10,000 SUBSCRIBERS
$79/MO
Email Marketing plan. Discounts available for 12 and 24-month plans.
25,000 SUBSCRIBERS
$174/MO
Email Marketing plan. Discounts available for 12 and 24-month plans.
GetResponse's pricing consists of four paid plans with different features: Email Marketing, Marketing Automation, Ecommerce Marketing, and MAX. There is also a free email marketing plan available called GetResponse Free. This is for those with fewer than 500 subscribers and has an email send limit of 2,500 newsletters a month. Compared to other email marketing software, its prices are in the mid-range. However, things can get expensive quickly if you want to access features such as marketing automation or ecommerce features.
There are two plans under the MAX category: 'Max' and 'Max2'. These plans are suited for companies that need the most advanced features at the enterprise level. Find further information on the GetResponse pricing page.
Pros and Cons
List automation:
More powerful than most tools, GetResponse's list automation allows you to add a range of conditions to help segment your subscriber list automatically.
Design and spam testing:
Both useful and easy to use, this can often be a feature that either costs a bomb, or just plain doesn't work. GetResponse got it right.
Conversion Funnel and landing page feature:
GetResponse pros are plentiful, but one that really stands out is the Conversion Funnel. This is a lead generation feature that allows you to create sales funnels and landing pages for various areas of your business. This is a great addition for those running ecommerce sites or promoting webinars and other events.
Live chat:
GetResponse recently introduced their live chat feature. This is a great addition, as the incorporation of it on your site means you'll never miss a new lead. The mobile app means you can answer questions on the go.
Google and social media ads feature:
You can create and monitor your Google, Facebook and Instagram ads directly from your GetResponse account.
Strong marketing features on the free plan:
Although the contact and send limits are rather low on the free plan. You do have the ability to build and host one landing page, with a 1000-visitor monthly limit, and access image galleries, popups, and sign-up forms.
Deliverability:
Not scoring brilliantly in our deliverability tests, we feel this is slightly letting GetResponse down.
Email automations only available on higher-tier plans:
The fact that you have to be on the Marketing Automation plan or higher in order to set up marketing automation workflows makes GetResponse a bit pricier than other tools like Sendinblue.
Is GetResponse the right newsletter service for you?
Recommended if:
You want to capture leads:
GetResponse is one of the few newsletter tools we've tested that's truly built for inbound marketing. It offers flexible signup forms, their basic landing page editor, Google Analytics integration, and sophisticated automation for segmentation and emails, allowing you to both capture and nurture new leads. On top of that, it's even possible to host live and on-demand webinars with them.
Their Conversion Funnel feature allows you to do all of this in an organized manner and easily track where's converting best.
You're an ecommerce:
If you're an online store owner, GetResponse offers plenty of features to help you drive more sales – integrations with platforms like Magento and Shopify, abandoned cart campaigns, dynamic email content (e.g. based on purchases), and sales tracking.
It offers AI product recommendations, which are based on an analysis of each website visitor's behavior, preferences, needs, and habits.
You'll benefit from GetResponse's Conversion funnel feature, where you can set up your ecommerce site and start building your sales funnels with landing pages, social media campaigns, webinars, and much more.
You need sophisticated automation:
We were impressed with GetResponse's workflow builder, which enables you to set up automations for a whole range of actions, including sending emails, assigning lead scores, contact tagging, segmentation and data updates (available on higher-tier plans only).
You need detailed reports:
GetResponse allows you to deep dive into your data on everything from contacts to newsletters and automations. The new interface is clean and really well-designed.
Not recommended if:
You need solid deliverability rates:
Deliverability should be an important consideration in any email marketing strategy. GetResponse has some room for improvement based on our deliverability tests. Of course, deliverability rates can always change, so it's good to keep an eye on them.
Rating details
| criterion | rating | comments |
| --- | --- | --- |
| Ease of Use | | Quite easy to navigate. The design is clean and intuitive and there is a handy 'Quick Actions' section within the dashboard that shows the most commonly performed tasks. You can choose which widgets are shown within your dashboard, giving you full control of what you can see as a user. |
| Newsletter Creation | | |
| Editor | | The drag and drop editor is fairly user-friendly, allowing for a wide range of email types. You can also save blocks, which will save you plenty of time. GetResponse has specific content blocks for videos, call-to-action buttons as well as ecommerce products. What's missing is a content personalization feature to send specific content blocks only to recipients with specific interests, for example. |
| Personalization | | You can personalize subject lines and email text using contact field data (and specify fallbacks if this data doesn't exist for a particular contact). You can also specify If/Then/Else rules, but this is more complex to set up. |
| Email types | | Classic newsletters, autoresponders, RSS to newsletter, easy A/B testing, surveys and advanced automations. A good range. |
| Choice and Flexibility of Template Designs | | There is a lot of choice in different categories and all the designs are responsive. It's easy to use and edit the templates. |
| Email Marketing Automation | | With GetResponse's powerful and flexible workflow editor, you can build some pretty complex automated sequences. Unfortunately, you'll need at least the mid-tier Marketing Automation plan to use this feature. Aside from being able to send a series of emails based on specified conditions and triggers, there are also rules to move subscribers from one list to another. Automations for lead scoring, abandoned cart campaigns, and web event tracking are also available. More on email automation. |
| List Management | | GetResponse's list management capabilities are superb. You can use custom filters to save segments of contacts with similar characteristics (e.g. based on contact field data, email engagement, or lead scores). Through automations, you've got the ability to add tags, and even automate list management rules. There's also a section dedicated to list hygiene, allowing you to create rules for deleting duplicates and blocklisting contacts. |
| Registration Forms/ Opt-in & Opt-out- Process | | Fairly easy to use, with many templates available, or the ability to create your own. There are several types of integration available: you can embed forms on your site or host them on GetResponse, now with a reCAPTCHA verification feature to avoid any unwanted bot attacks. Options to edit thank you pages and the backend (e.g. which lists to add subscribers to) are a little hidden, though. |
| Deliverability | | GetResponse's deliverability leaves room for improvement. If you are looking for a solid tool and a better performer, ActiveCampaign would be a better choice. |
| Reports and Analysis | | Thorough reports, with geo-tracking available and desktop vs. mobile. You can also see which clients were used, as well as when people clicked and opened emails in a chart view. You can get all the details of the openers and clickers, as well as Google Analytics integration, and conversion/ecommerce tracking. There's even an option to compare the performance of different campaigns; however, there is no heatmap available. |
| Languages | | Available in up to 27 languages. |
| Further Features | | |
| Spam- and Design-Testing | | Inbox testing is available on the site, allowing you to see the design in many browsers and devices. You can also view the email's spam score, which is a rating from 0-5 of how likely your email will be recognized as spam. |
| Bounce Management | | Located within their 'list hygiene' section. Hard bounces are removed immediately from your lists, while soft bounces are removed after four unsuccessful attempts. Good to know: only active subscribers count towards your quota. |
| Blocklist | | Both a blocklist and suppression lists are available. Manual import, but no export options available. |
| Storage available for data and images | 1 Gigabyte | Apart from being able to add your own files, you also have over 1,000 stock photos available for use. |
| Pro Features | | |
| Authentication | | SPF, DKIM and DMARC are supported. Learn more about email authentication. |
| Own Domain | | Using your own domain for tracking links is only available on the 'MAX' plan. |
| Different levels of account access | | The Free and Email Marketing plans only allow for 1 user, while the Ecommerce Marketing plan allows up to 5. There's no specific access levels, but you can define specific access areas for each user. |
| Integrations | | GetResponse integrates with a wide selection of apps, including all the big tools from ecommerce, CRM, social media and CMS (Shopify, Magento, Salesforce, Facebook, WordPress, etc.). Bear in mind that no integrations are included on the Free plan. |
| Landing Page Builder | | The GetResponse landing page builder is well-designed. There are over 180 landing page and website templates, and A/B testing and responsive designs are also available. Unlimited landing pages are available on all paid plans, and there are a number of different forms you can add. There is also a website builder available. |
| Customer Support | 4/5 | Via email and live chat, support was very quick, friendly and helpful. The knowledge base is thorough and easy to navigate. |
| Overall rating | 4.3/5 | GetResponse is a very powerful, versatile and user-friendly newsletter tool. It's also good value for the amount of features available. Deliverability could be better, though. |
A More Detailed Look at The Best GetResponse Features
As you can see, GetResponse offers a good range of pro features. Let's break those down and see what works and what could be improved:
Ecommerce Tools
GetResponse allows you to easily integrate with leading ecommerce platforms like Magento, Prestashop and Shopify via direct integrations.
It now has a dedicated section related to ecommerce tools, which contains your online stores, orders, transactional emails and promo codes.
Promo Codes
You can use the same promo codes you use on your existing ecommerce platform. These can be added directly to your newsletters or automation messages from the drag and drop email builder.
Segmentation
Advanced segmentation means you can create ultra-targeted marketing campaigns based on customer purchases, order history and behavior on sites.
Conditions are related to geolocation, tags, lead scoring, lead magnets, conversion funnels (more on these below) and events, amongst others. Other email marketing software don't offer half as many options.
Product Recommender
The product recommendations feature allows you to show your recipients the products that are relevant to them, facilitating cross-selling and upselling. We found this feature very easy to use and liked that you can send recommendations based on:
All purchases in my store
Individual customer purchase history
GetResponse Marketing Automation for Ecommerce
Aside from the all-important abandoned cart automation, GetResponse provides users with plenty of ready-made ecommerce automation templates. For example, retarget customer with offers based on their tags, promote a course or products, reward loyal customers based on their engagement level, etc.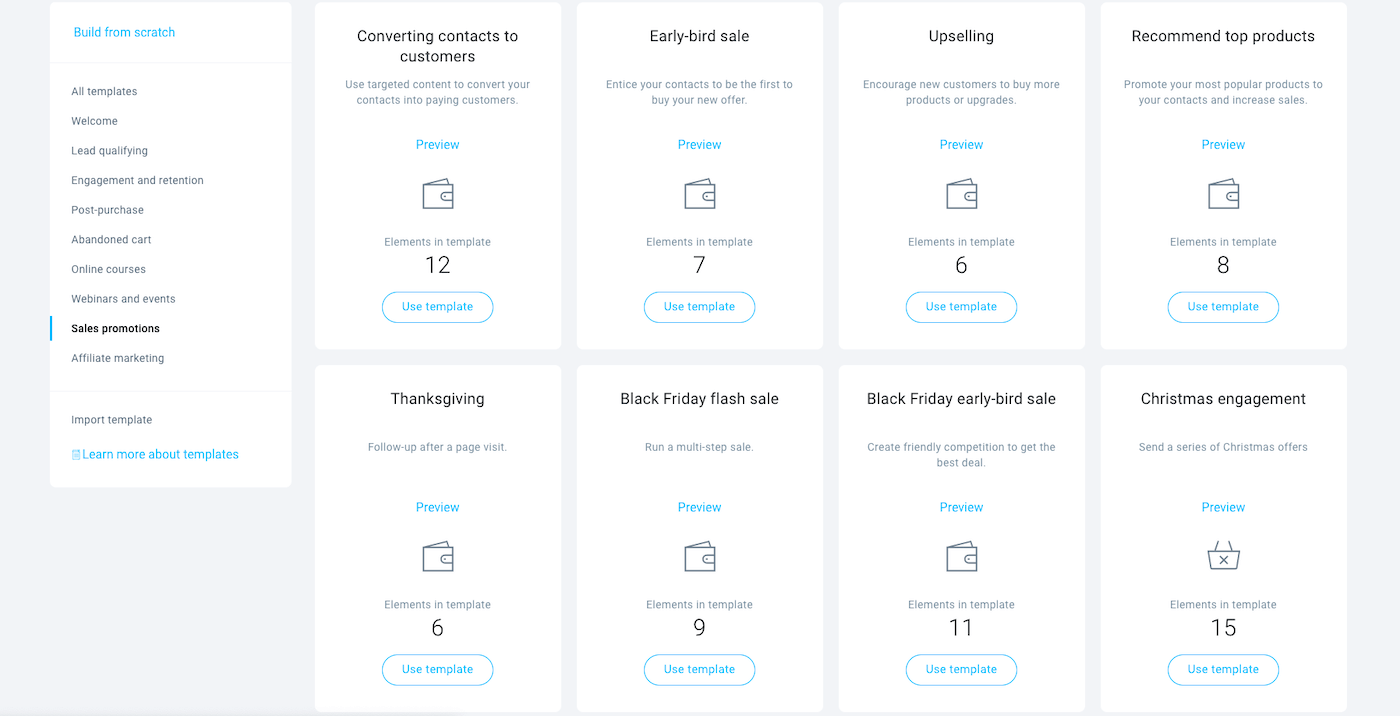 Compared to other email marketing platforms, we found that Getresponse was one of the best tools for marketing automation due to its excellent list management features and extras such as the landing page builder and webinar software.
The downside is that most of the tools related to ecommerce (ecommerce tracking, recommended products, synced promo codes, abandoned cart automation) are only available on the Ecommerce Marketing plan and higher (prices start at $119/month for 1,000 contacts). Many of these ecommerce-specific features are offered by Omnisend at a more reasonable price, or even for free.
Conversion Funnel
Including such an array of features means it's possible to build entire sales funnels with GetResponse. In fact, it has a dedicated area called 'Conversion Funnel'.
Here, you'll have access to over 30 conversion-optimized scenarios to help you sell, build contact lists, showcase your offers, promote your products and events, etc.
Here is an example of a sales funnel used to sell a product: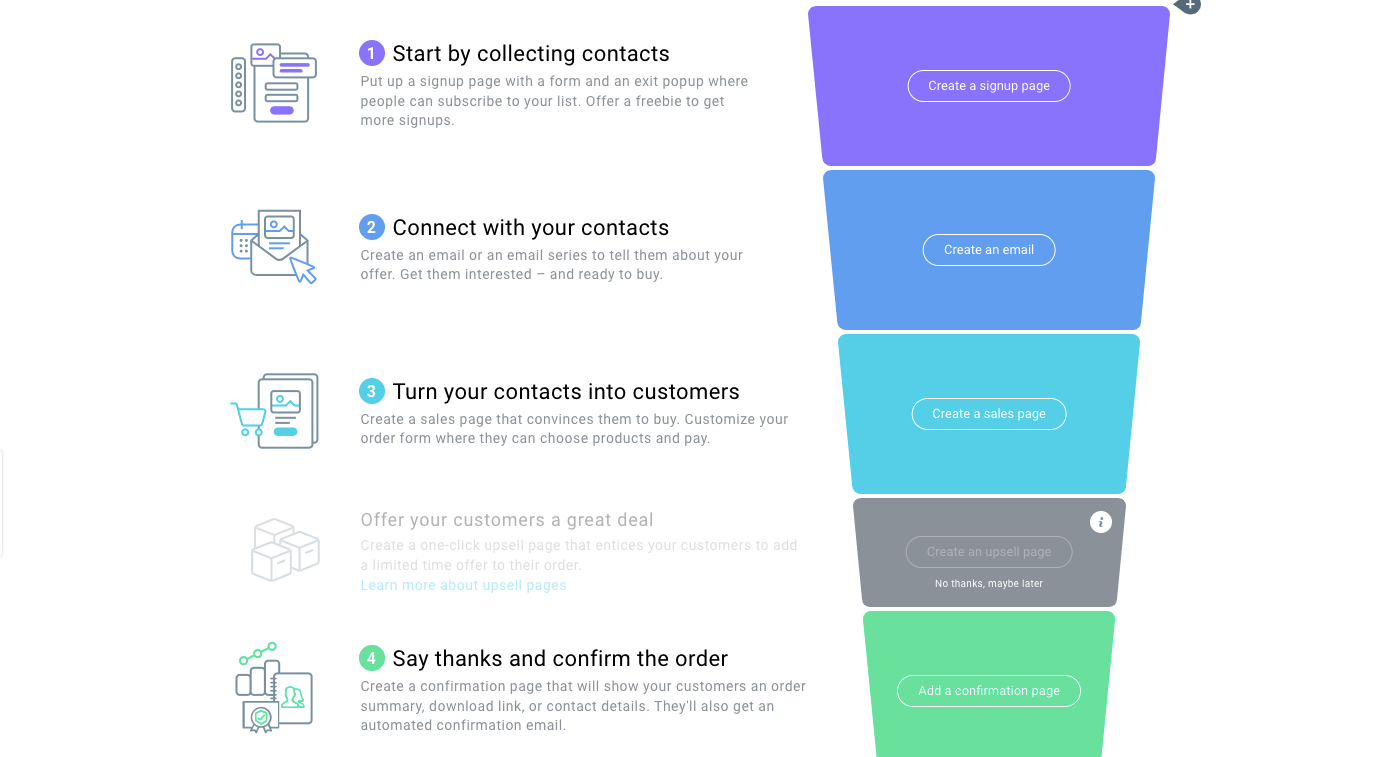 Within the conversion funnel dashboard, you'll have a section called 'Lead Magnets'. These are used to offer a free resource that visitors can download from a signup page. For example, we include a free guide to email marketing for beginners in our blog articles.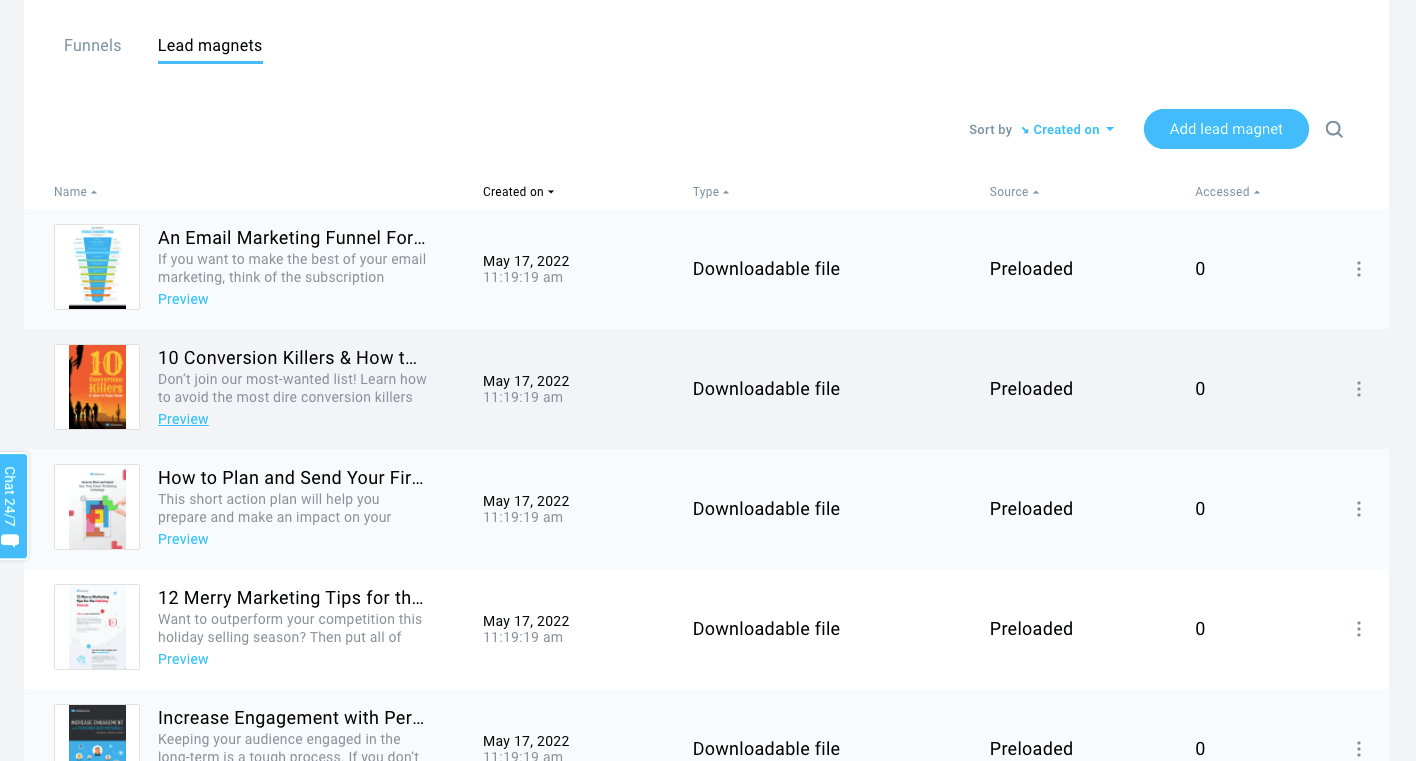 GetResponse actually includes a library of ready-made downloadable assets you can use for your lead magnets, so you won't necessarily need to create any content yourself. However, I would recommend using the content provided as an example and adapting it to your business. What's on offer is centered around digital marketing, which probably isn't the majority's focus.
This is a fairly unique feature to GetResponse, and the great thing is you can access the lead magnets feature on the lower-tier Email Marketing plan. Those who wish to create complete sales funnels will need the Marketing Automation plan or higher.
GetResponse's Autoresponders
GetResponse´s Autoresponder feature is available as part of their Email Marketing plan. This advanced email marketing tool lets you automate your email replies to maximize your user engagement.
You can set Autoresponders for a range of actions, from a simple confirmation email to new subscribers, discounts and product offers and other follow-up marketing emails. These can be action-based responses that are triggered through sign-ups, clicks, sales, birthdays, etc. Or alternatively, you can set up time-based responses, for example, you can send a "Thank You" email on the first day of their subscription, then schedule a special offer or discount code newsletter a few days later and a product newsletter the following week. You can set this up as part of a sequence so that these different emails are sent automatically to each user.
What you can't do is set up event-based or product automations. You also won't be able to split your automations or send abandoned cart emails. All this is reserved for the higher-tier plans.
Abandoned Cart
GetResponse have introduced a new condition called "abandoned carts" to the marketing automation workflow options. This allows you to segment contacts who have abandoned a purchase and send them an automated message. This can feature promotional codes to encourage purchases.
Discount codes can also be included in your welcome email to new contacts and used to reward your loyal customers.
GetResponse Mobile App
The GetResponse email marketing app is extremely easy to use and really useful for email marketers and eCommerce business owners on the go. With their mobile app, you have the ability to monitor the performance of your email campaigns.  It includes basic stats such as open rate, click-through rate, etc.
In terms of the contact management features, you can also keep track of your subscriber list growth, view subscriber locations, edit basic contact info, add new contacts, manage user tags, and more.
Newsletter creation is also possible; you can duplicate an existing message or create a new plain text email. Send these out directly from the app.
In addition to these email marketing tools, you can also manage ecommerce tools and statistics, such as product sales and orders, revenue, and more.
Conclusion
I think this GetResponse review shows that this marketing software really comes through with the goods, managing to provide both the features and ease-of-use that many other newsletter tools fall short of. We also noted the great automation mechanisms for list management, as well as its flexible and intuitive automation workflows.
While the editor can be a little fiddly when performing certain tasks, their templates are responsive and good enough to create something useful. Using GetResponse is made easier by offering an app for iOS and Android that allows you not only to track but also to send newsletters and answer live chats on the go.
With its long list of powerful features like landing pages and webinars, GetResponse is certainly doing quite a few things right. While it would be great to see an uplift in deliverability rates, GetResponse scores extremely well in most other areas.
Getresponse is definitely versatile enough to perform almost everything you'd need related to small business email marketing and could form a useful part of your overall email marketing strategy.
We're also very happy to see that GetResponse has added a free forever plan to their array of options.
Try GetResponse (receive a special 10% lifetime discount through this link)
GetResponse Alternatives

Sendinblue
Read Review

ActiveCampaign
Read Review

MailerLite
Read Review
First up in our selection of GetResponse alternatives, Sendinblue is a budget-friendly email marketing solution. We like their registration forms, which are flexible and have room for personalization. Their automations are also smart, and they should be enough for most users.
ActiveCampaign stands out for being one of the platforms with smarter automation. They are not only very powerful but also straightforward to use. Their deliverability rates are also impressive in comparison to GetResponse. Read the full comparison in our GetResponse vs ActiveCampaign guide. 
Their deliverability rates are also impressive, especially when compared to get responses. Read the full comparison in our GetResponse vs ActiveCampaign guide.
MailerLite is one of the cheaper providers. But don't let their low price fool you – they offer a top-notch tool. For example, they have modern-looking templates, solid automation features and remarkable deliverability rates.
GetResponse is also a great Mailchimp alternative. If you want to see how the tools compare, check out our GetResponse vs Mailchimp guide.
FAQ
Where does GetResponse host their customer's data?

How Is My Data Protected?
GetResponse provides an "Agreement on Data Processing". The form is based on Polish data protection policies; after all, GetResponse is based in Poland.
Due to the EU's unification of rules governing data protection, the Polish rules are likely very similar to the strict ones you may know from other EU countries such as Germany or France. More information on data protection.

What is GetResponse used for?
GetResponse is an all-in-one email marketing platform. You can do everything from create an email newsletter to build sophisticated automations and sales funnels.

Is GetResponse a CRM?

Is GetResponse legit?
GetResponse's email marketing service for small businesses is totally legit. It safely stores your customer data and offers a secure way to manage your subscribers.

Does GetResponse offer a discount to NGO's?
Yes, they offer a generous 50% discount to NGOs.

About Robert Brandl
YOUR QUESTIONS AND FEEDBACK