Omnisend and Klaviyo are top-tier email marketing solutions catered toward ecommerce businesses. Despite both being dynamic and useful tools for ecommerce store owners, they certainly cater to different audiences:
Omnisend
is a more
affordable tool
, ideal for beginner marketers and smaller-scale online stores.
Klaviyo
, on the other hand, is more suitable for experienced marketers or enterprises with larger marketing budgets.
While these two platforms share several common features, Klaviyo offers more advanced features than Omnisend, such as A/B testing and reporting. Omnisend stands out with its free plan and excellent support.
In this Omnisend vs Klaviyo review, we will use our own experience and expert knowledge to provide you with a side-by-side comparison review of Omnisend vs Klaviyo, to help you to determine which one is the best fit for your online business.
Omnisend vs Klaviyo: Video Comparison
If you'd like a quick summary of the main differences between Omnisend vs Klaviyo, check out our video:
Note that if you're an existing Klaviyo customer looking to migrate, Omnisend will take care of the migration for free.
Check out the offer here
. Plus, you'll get 15% off for the first 3 months with this code: EMAILTOOLTESTER
Design and Flexibility:
Omnisend offers a wide range of modern email templates, providing a variety of promotional and seasonal holiday templates, as well as branded templates and the option to upload your own HTML template (for free). They are all very easy on the eye and more importantly, very easy to customize.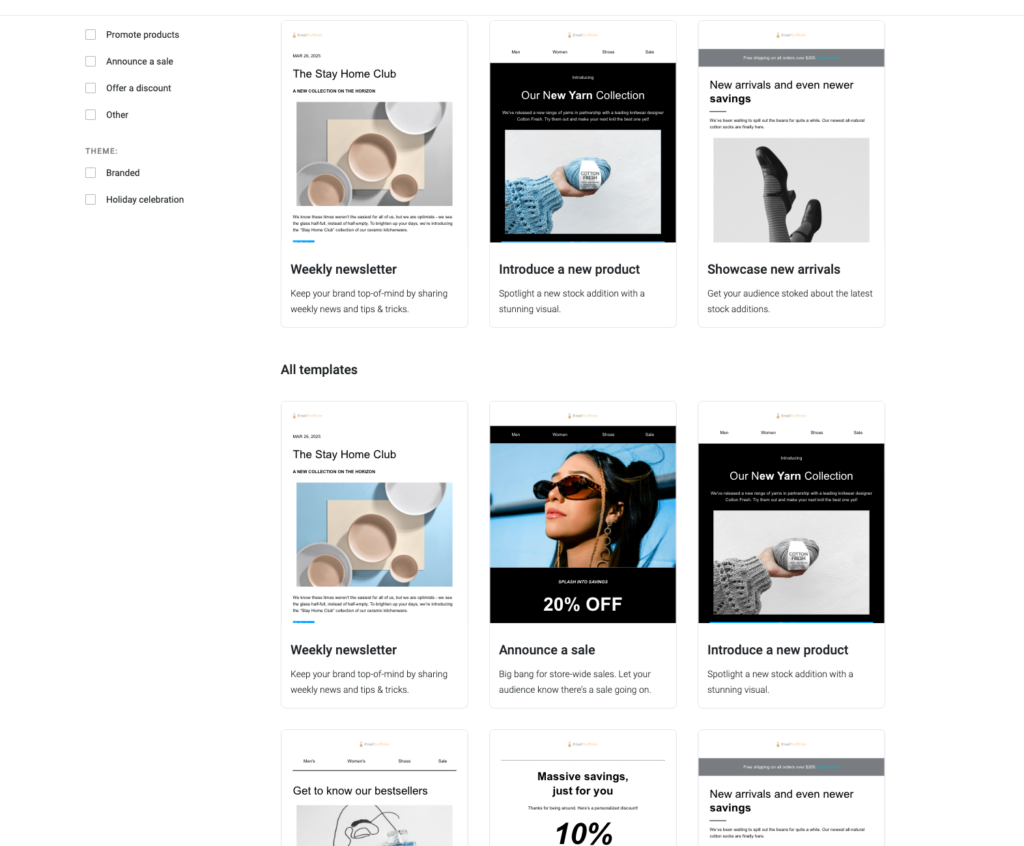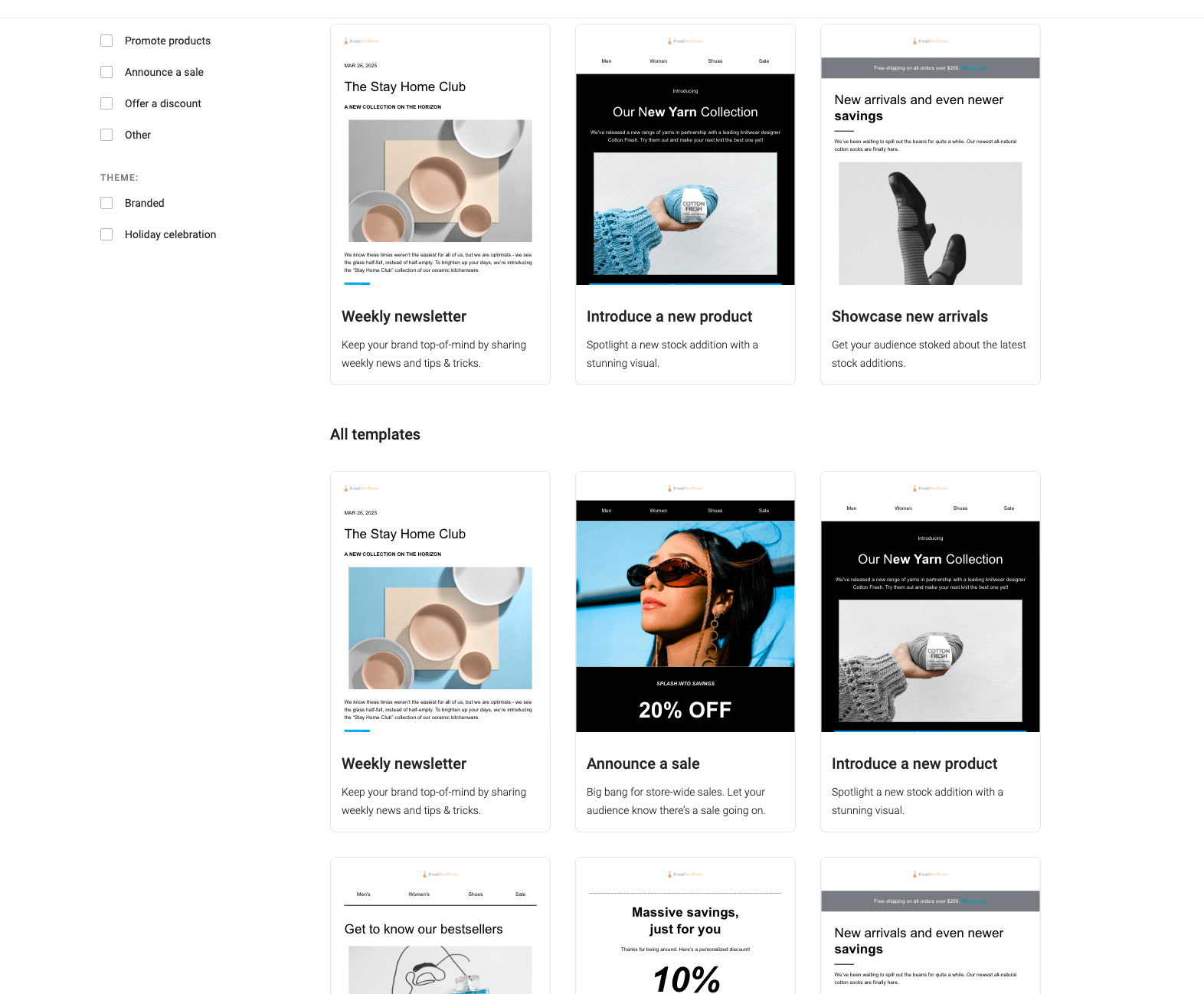 Klaviyo also offers around 100 newsletter templates. It's unlikely that you'll be stuck for inspiration when creating your email newsletter, we found the template names rather comical too, for example "Snack to the Future", "Pink before you send", and more – nice touch from Klaviyo.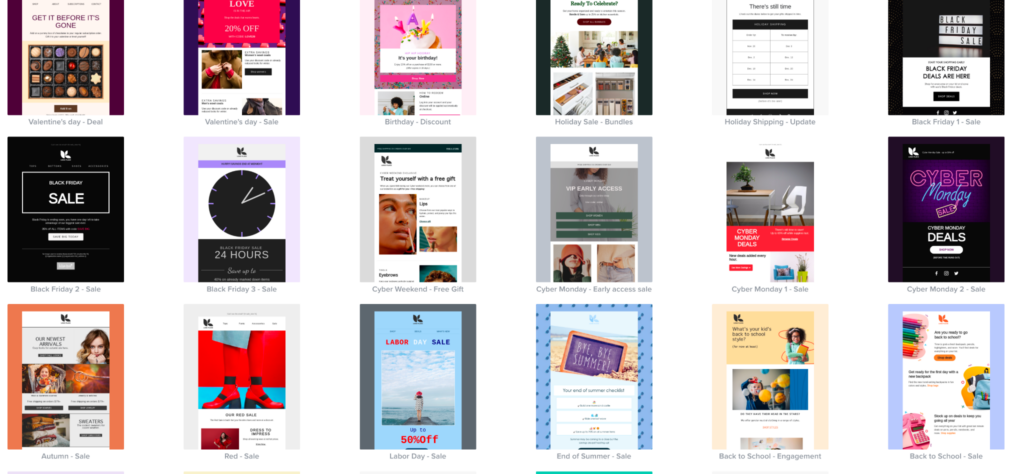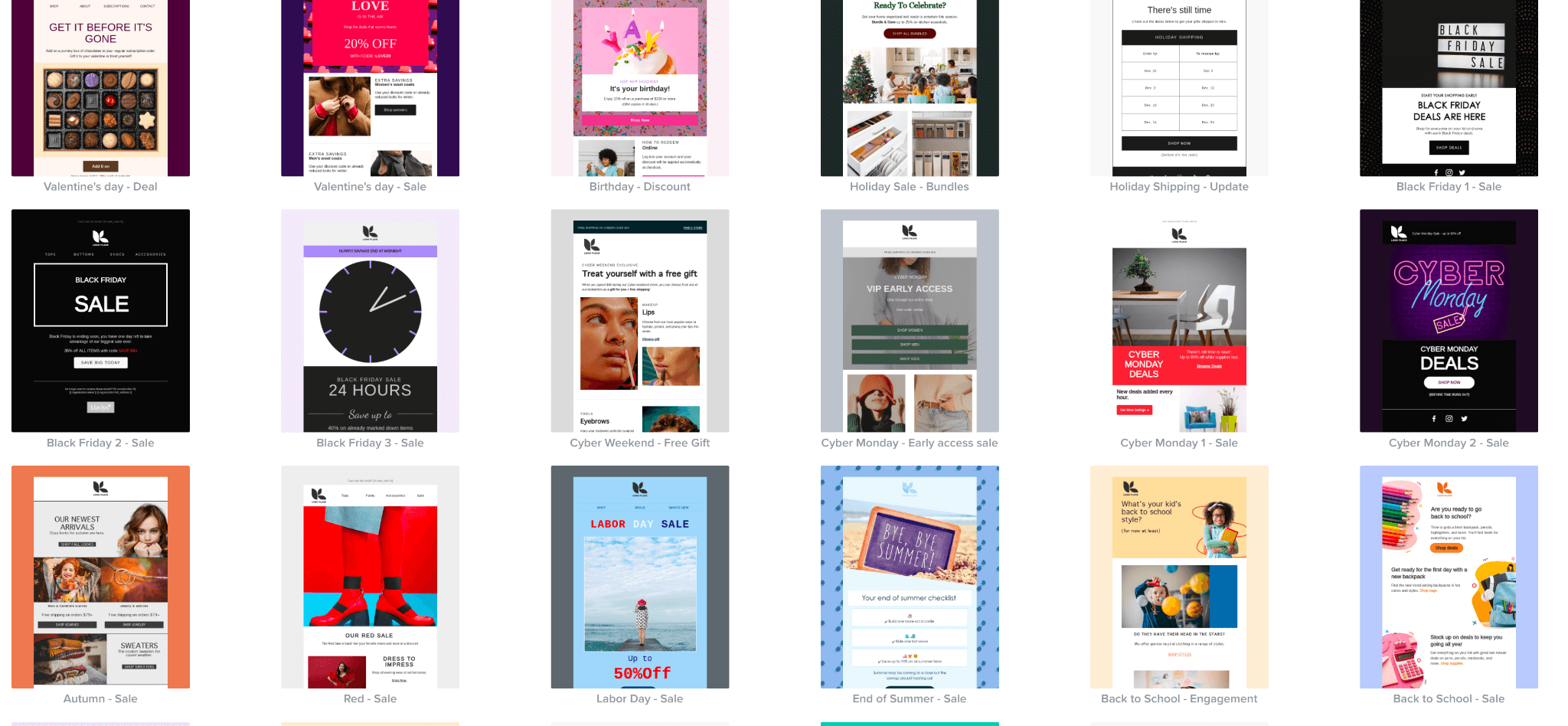 Winner? Omnisend wins with its more flexible templates. With Omnisend you can edit and customize your templates to your heart's content.
Score: Omnisend 1 – Klaviyo 0
Ease of Use & Email Editor
Both creating your email newsletter and Klaviyo have user-friendly interfaces and email builders, both prioritizing usability for their customers so that they can easily create and manage their email campaigns.
With Klaviyo's email builder, you can add basic customizable text, CTAs, images, and more. A very handy ecommerce feature of theirs is the ability to directly add products from your store to your email. This saves store owners considerable amounts of time creating promotional emails. Some email marketing tools we've tested lack this type of feature and leave users to do the manual work.
What's more, you can also add your most popular products to your email through their product feed feature. This dynamically includes your best-selling products from the last 90 days. What's more, you have the ability to edit and create your own specific product feeds. For instance, you may want to create a feed for the most-viewed products or the newest products. You can later easily add these product feeds to your future email campaigns. As easy as pie!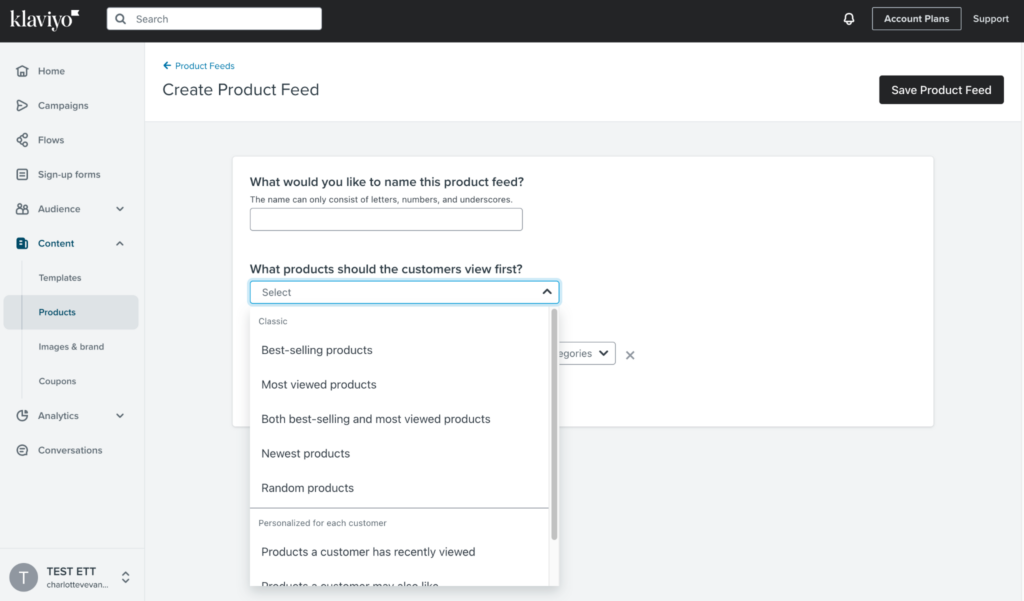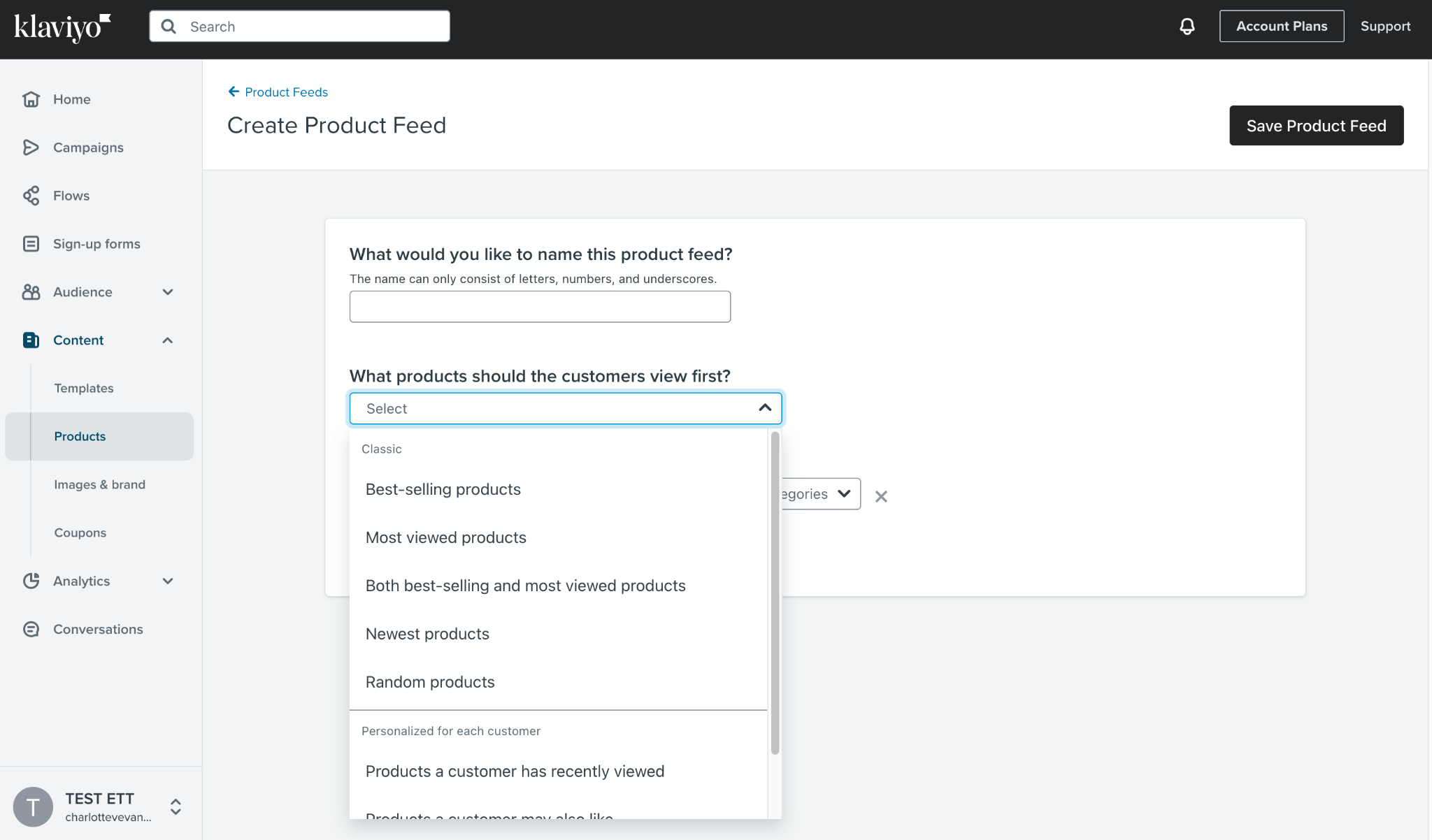 Another pretty impressive feature is the personalization capabilities that Klaviyo offers on each subscriber. You have the option to make the product feed from the following:
Products that a customer has recently viewed
Products that a customer may also like
Products that a customer has added to their cart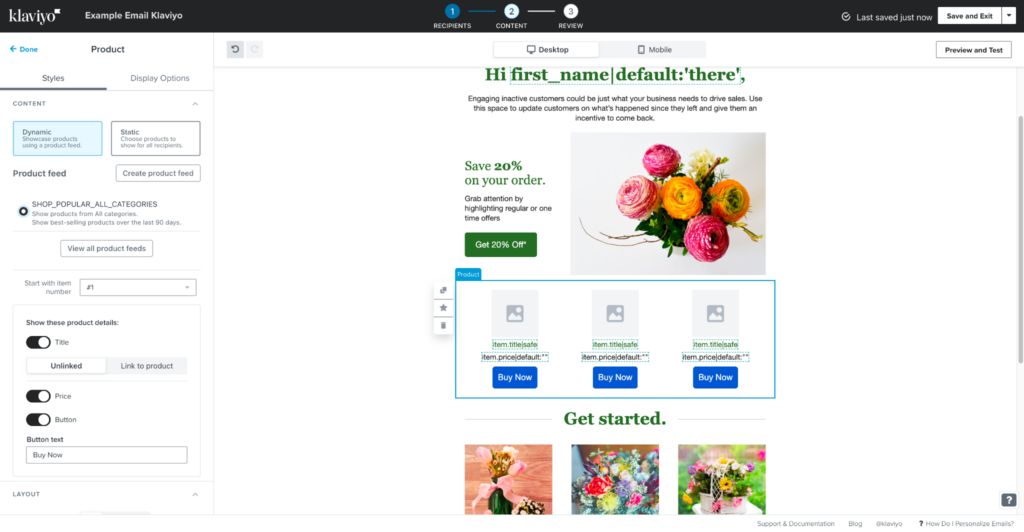 Despite these personalization capabilities, Klaviyo's email editor still feels a little outdated. And they still lack the ability to create unique discount codes – it seems they are a little behind the times on this one.
However, speaking of "the times", Klaviyo just introduced a pretty cool feature, which is their Subject Line Assistant, which uses AI technology to help you find the perfect subject line for your email campaign.
Omnisend's email builder is incredibly user-friendly, and they make the entire process a breeze with their "quick add" section, enabling you to quickly and conveniently add your most used content blocks to your email template.
In addition to this, like Klaviyo, Omnisend has an automated product listing feature (Product Picker), meaning that you can easily drag your products into the email builder. You can add as many as 8 products per email across 4 columns.
As for product details, you simply select or deselect the details you want to include. You can choose all or a selection of the following: image, product title, description, price and old price (for any reduced items), and your CTA button. Simply click on the text boxes and CTA buttons to edit the text or style.
Omnisend also has a "product recommender" tool that automatically fills your newsletter with a selected number of your newest products – which makes life a lot easier. Although it's an excellent feature, Omnisend still has some catching up to do. Klaviyo's product feeds definitely have more personalization capabilities than Omnisend, which is limited to the newest products.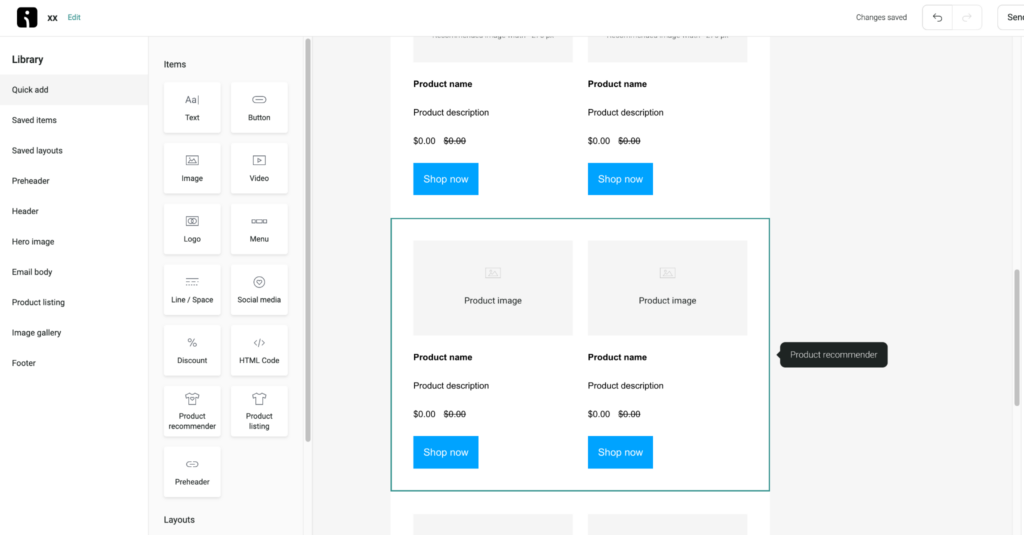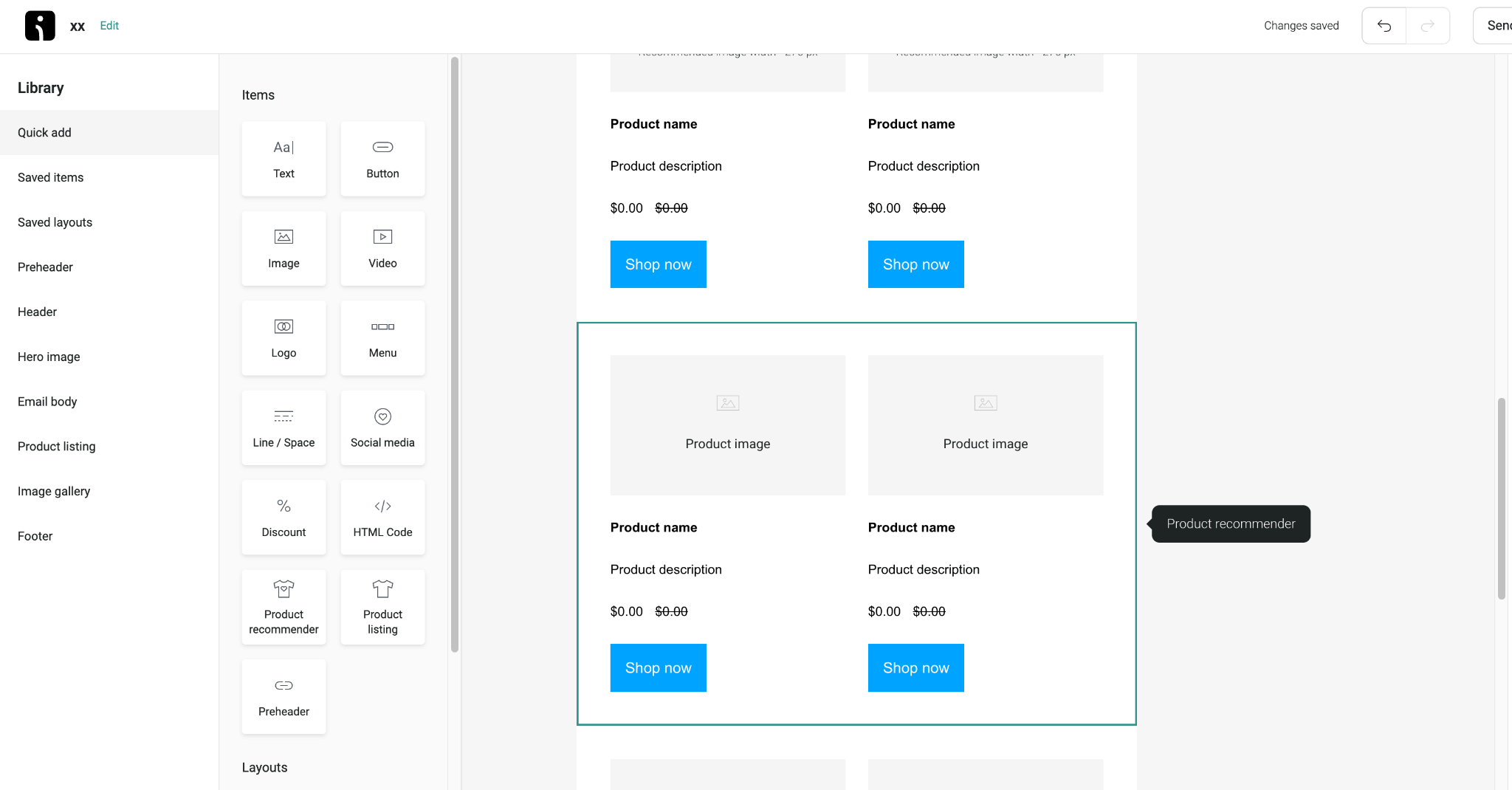 Another thing we really loved about Omnisend is the fact that they have placed helpful instructions around the editor, guiding you through the process of creating your newsletter. The process couldn't be easier – great work, guys!
Winner? Both deserve a point here, both of their editors are honestly a pleasure to use, and they are both continuously adding new features to the mix. Also, the ability to easily add your online store products to your email is an absolute blessing!
Score: Omnisend 2 – Klaviyo 1
Email Automation Features
Omnisend offers a comprehensive set of email marketing features, including automation workflow templates and basic segmentation. Even within their free plan, you gain access to Omnisend's pre-built automation workflows, which are ideal for ecommerce business owners.
You can choose from the following types of automation workflows:
Welcome
Browse Abandonment
Post-Purchase
Special Occasions
Transactional
Once you've chosen the type of automation workflow you want to set up or the ecommerce goal you want to achieve, you can customize the workflows to suit your needs.
Omnisend has just introduced a selection of new automation triggers for Opened Message and Clicked Message events, allowing for a personalized and effective communication strategy based on customer engagement. Additionally, the new "trigger workflow retrospectively" feature is now enabled by default for Customer Reactivation and Order Follow-up automation presets.
Also, for Shopify and API-connected stores, Omnisend has just added six separate event triggers for order events, providing more filtering, splitting, and personalization options throughout the automation process.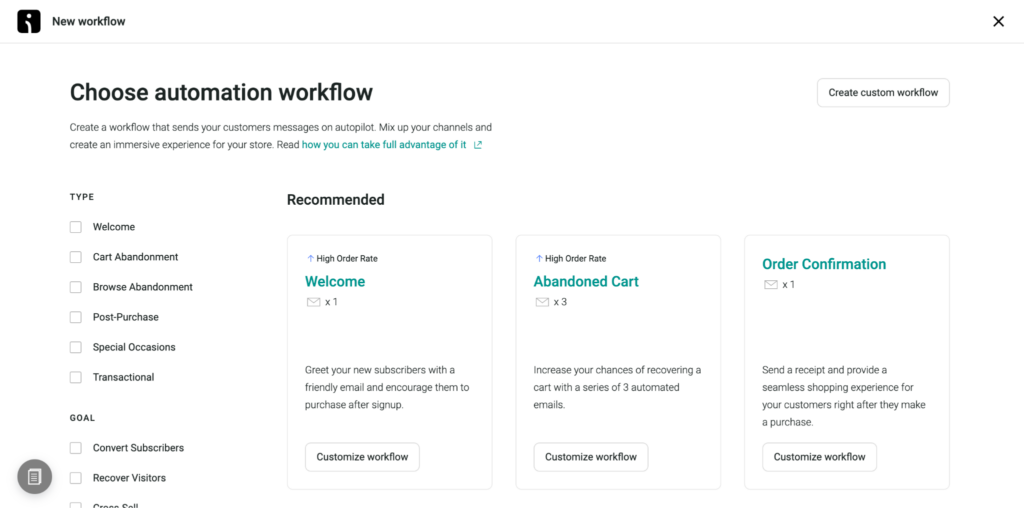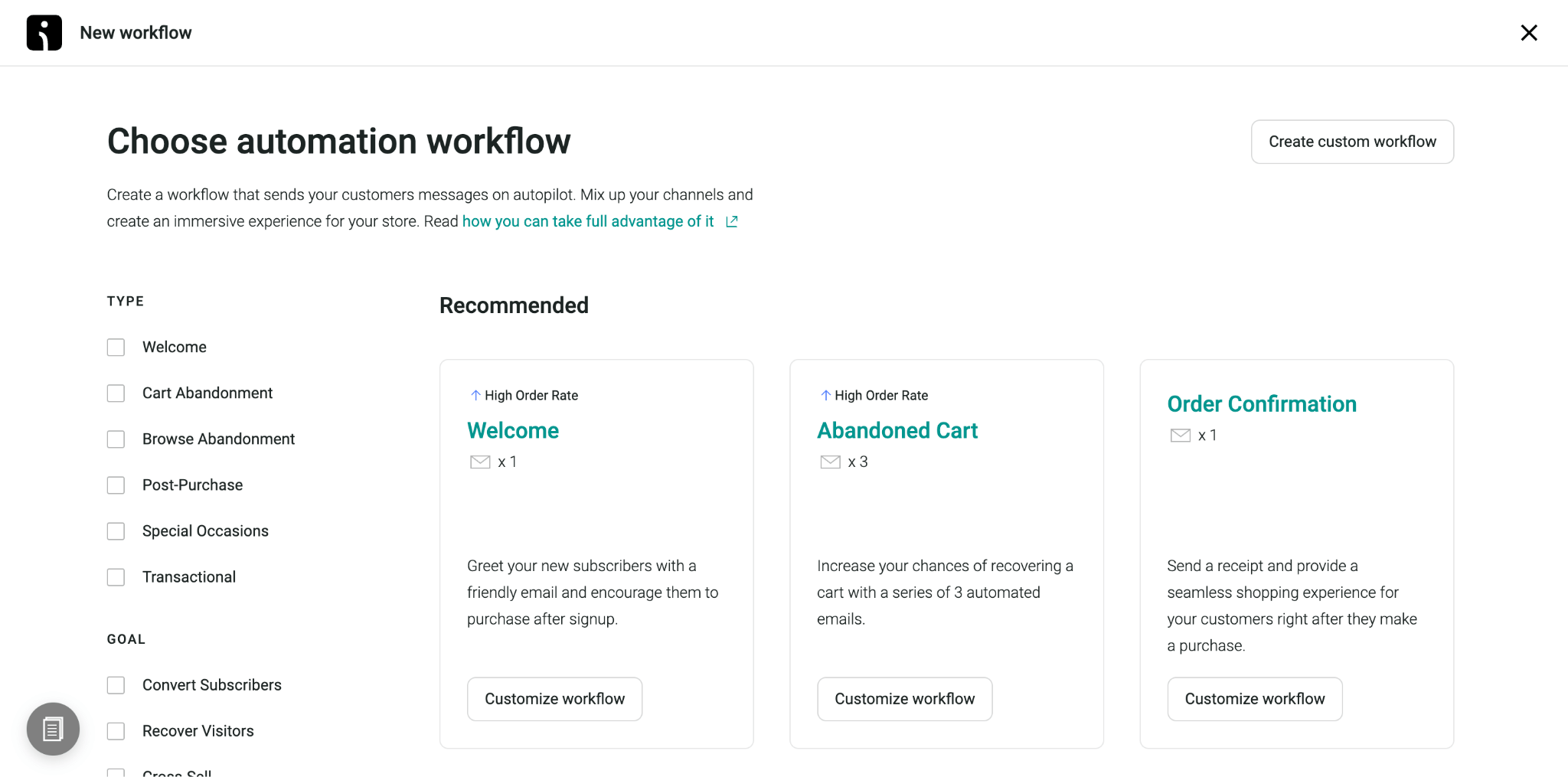 Klaviyo also offers a similar set of automation workflows, but with a slightly stronger emphasis on personalization. Within Klaviyo's "flows" section, you can choose from one of the following automated workflow types:
Welcome Series
Browse Abandonment
Customer Thank You
Product Review / Cross-Sell
Customer Win-back
Klaviyo offers a more far-reaching selection of prebuilt automation workflows. Their powerful segmentation and automation templates allow businesses to send targeted and relevant messages to individual subscribers. Klaviyo enables you to connect with pretty much any customer or segment you want at any stage of the customer experience journey.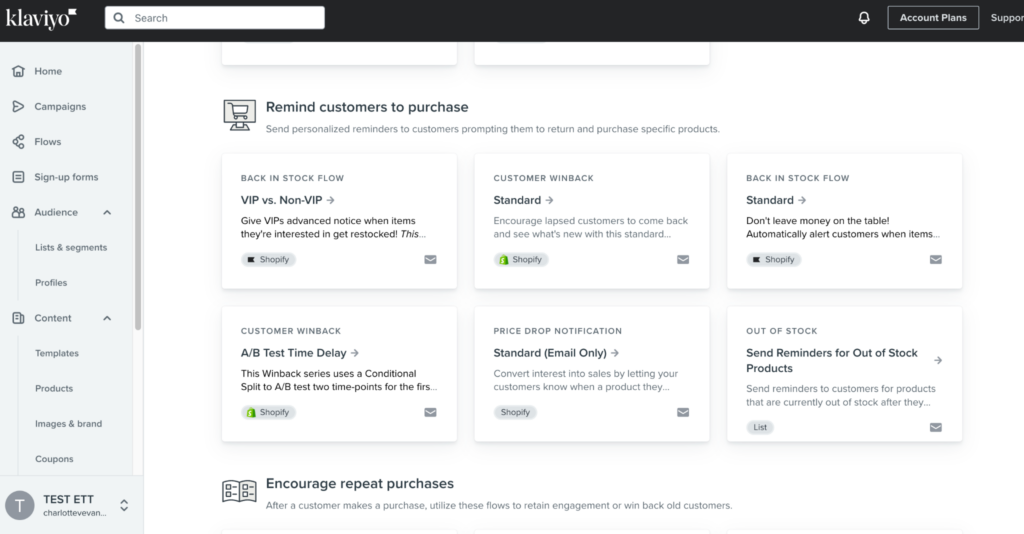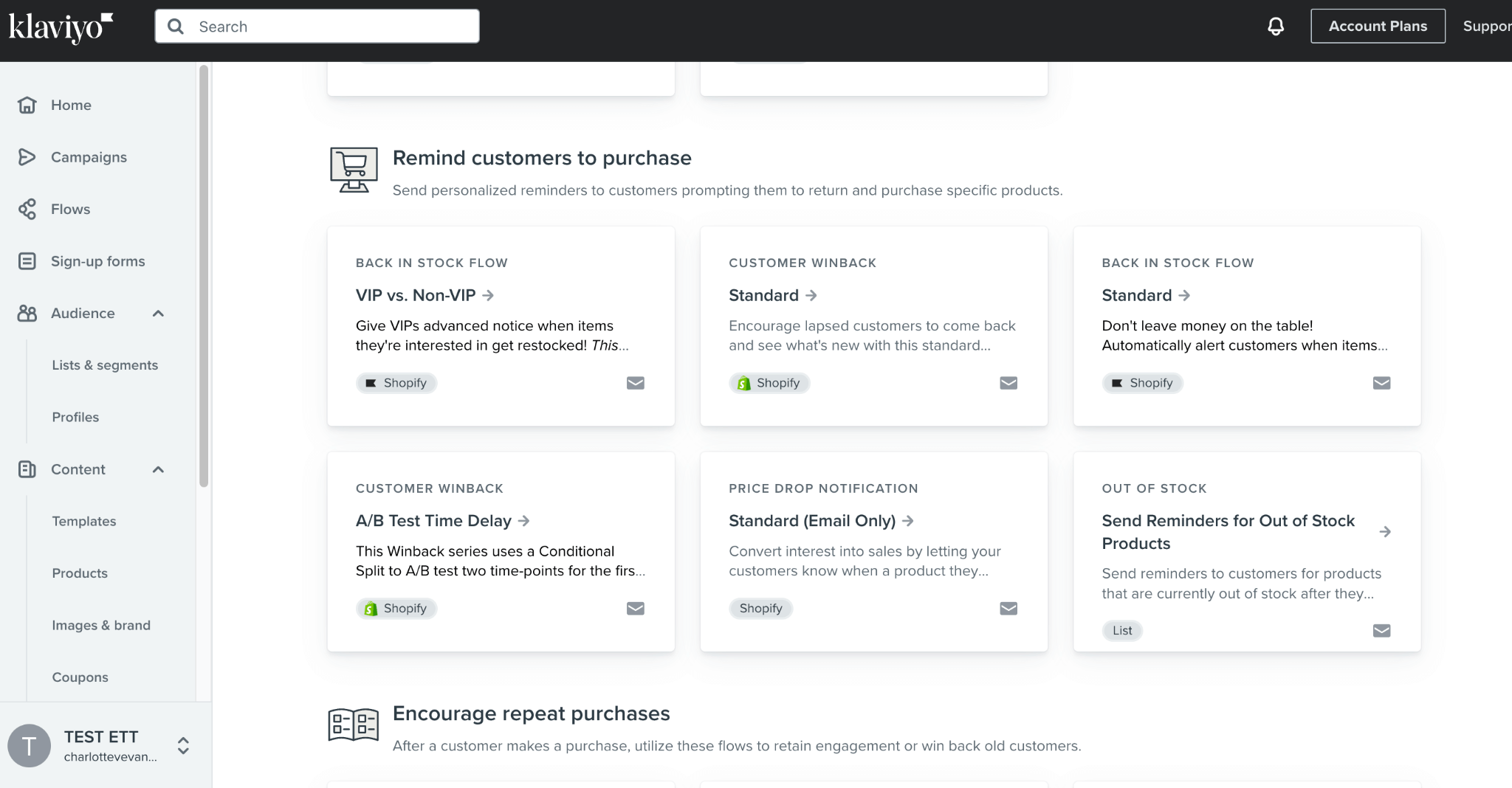 Winner? Although Klaviyo used to be way more advanced than Omisend, in terms of their personalization and ecommerce automation capabilities, it seems like Omnisend is quickly catching up. It's a tie!
Score: Omnisend 3, Klaviyo 1
Third-Party Integrations
Considering both of these email marketing software solutions are targeted at ecommerce businesses, third-party integrations are a very important factor when choosing which email marketing platform to use. Let's see how they compare…
Omnisend users can connect with a variety of other useful apps, such as ecommerce and shipping platforms, CRMs, scheduling apps, online form builders, landing page software, and customer support tools.
An integration that ecommerce users are usually most interested in is Shopify. And with a 4.7/5 rating on the Shopify Store, Omnisend must be doing something right for Shopify users. Ecommerce store owners using Omnisend can also integrate with Bigcommerce, Magento, OpenCart, Prestashop, and more.
Klaviyo also integrates with a variety of ecommerce platforms such as Magento, Mi9, BigCommerce, WooCommerce, and OpenCart, although their biggest focus is undoubtedly their integration with Shopify. This deep integration allows businesses to use customer data such as purchase history in order to create personalized email campaigns with individual product recommendations. Klaviyo also integrates with other useful advertising and social media platforms such as Facebook and Google Ads.


Winner? It's a tie. They both offer pretty impressive ecommerce and marketing integrations, especially if you're looking for an email marketing solution for Shopify.
Score: Omnisend 4 – Klaviyo 2
User segmentation
Both Omnisend and Klaviyo offer user segmentation to help you deliver ultra-targeted, personalized messages to the right subscribers at the right time. However, there are differences between the two platforms.
With Klaviyo, you have the flexibility to create unlimited segments and customize them according to your specific needs. There aren't many restrictions on the criteria or data you can use for user segmentation.
Omnisend also lets you build unlimited segments, and allows user segmentation in three main categories:
Orders & Products: Shopping behavior segmentation is determined by factors such as browsing, adding items to the cart, and making a purchase within the last 30 days.
Engagement: Campaign activity segmentation is based on how customers respond to your campaigns, through click-through rates, open rates, etc.
Contact Properties: Profile data segmentation relies on any personal information you have about your customers i.e. including name, birthdate, location, etc.
Recommended: Omnisend kindly recommends segmentations to their users who may need a bit of support, these include: Opened message, placed orders, subscription status, tag, and view page
You can also layer these segments, for example, with Omnisend you can create the following segment: A female customer in her 30s, who opened your last campaign and added an item to her cart.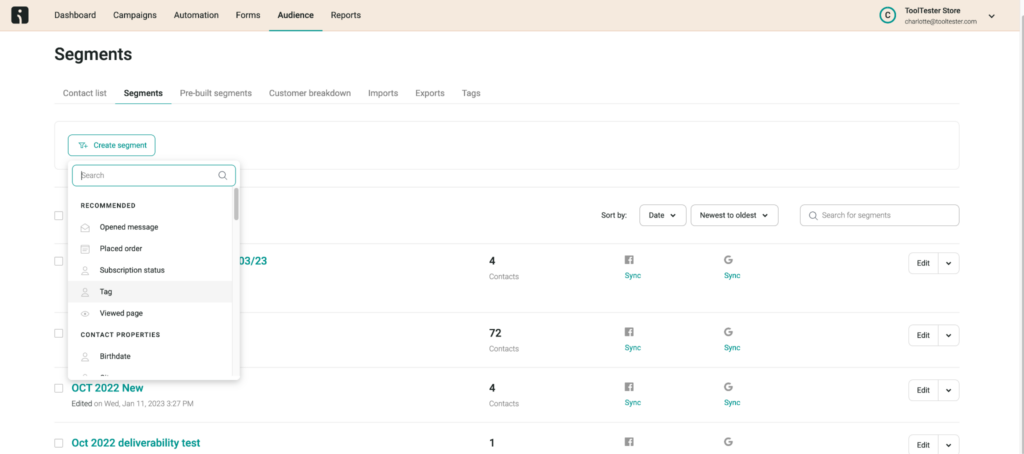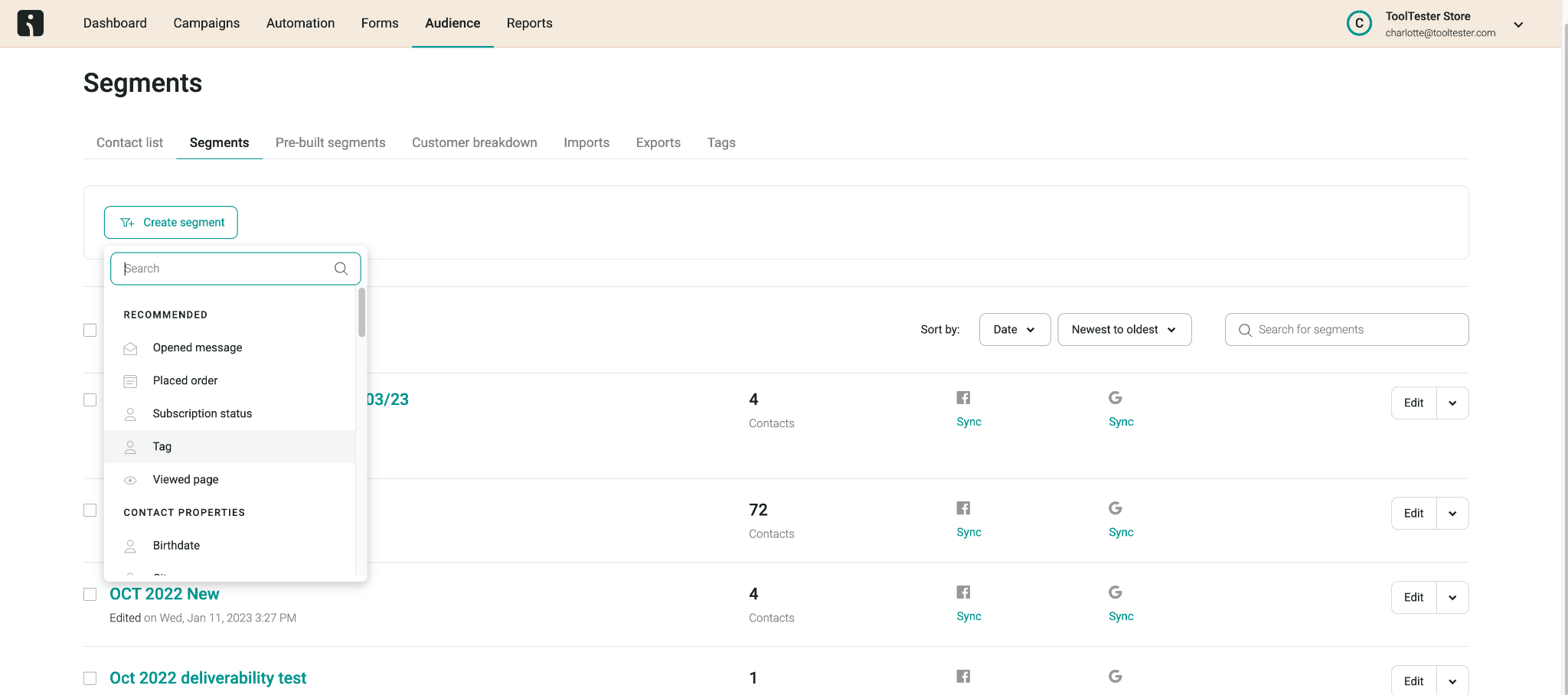 With Klaviyo, you have the following segmentation options:
Based on actions someone has taken (or has not taken)
User properties
If someone is or is not within the EU (GDPR)
Someone's proximity to a location
If someone is in or not in a list
If someone is or is not suppressed for email
Predictive analytics about someone
While these segmentation criteria are useful for ecommerce businesses, Klaviyo provides a wider range of segmentation options that you can tailor to your requirements. Besides, the predictive analytics feature is a very useful tool for ecommerce users. This advanced feature helps users to forecast a customer's next order date, lifetime value, churn risk (likely to cancel subscription), spending potential, predicted demographics, and more.
Winner?: Although Klaviyo offers more diverse possibilities when it comes to segmenting users, Omnisend's straightforward, easy to manage, and less intimidating for beginners. It's another tie.
Score: Omnisend 5 – Klaviyo 3
Omnisend vs Klaviyo Pricing Comparison
Some would say the main difference between both providers is their prices. Let's see how their plans and pricing compare.
Pricing Plan
Klaviyo
Omnisend
500 contacts
Email plan
500 emails/month
$20/mo
Free plan
500 emails/month
Free
1000 contacts
Email Plan
10,000 emails/month
$30/mo
Standard plan
12,000 emails/month
$20/mo
5000 contacts
Email Plan
50,000 emails/month
$100/mo
Standard Plan
60,000 emails/month
$65/mo
10,000+ contacts
Email Plan
105,000 emails/month
$175/mo
Standard plan
126,000 emails/month
$125/mo
Budget-wise, Omnisend is better suited for marketers or companies just starting out on their email marketing journey, as the free plan is a little more generous and the prices gradually rise with your contact list. While Klaviyo is more suited to companies with higher marketing budgets, you can see their pricing gets quite steep quite quickly!
Omnisend offers a free plan with a 250-subscriber limit and an email-sending limit of 500. In terms of paid plans, they have two options available, their Standard plan, starting at $16 per month, and their Pro plan, which starts at $59 per month.
Omnisend's pricing structure is based on contact list size, and pricing increases based on email and SMS sends per month. Feature-wise, their Pro plan includes everything in their Standard plan plus advanced reporting, customer success manager, and 24/7 priority support. New customers can also get 15% off for the first 3 months using discount code EMAILTOOLTESTER.
Klaviyo also offers a free plan, which gives you immediate access to all of its features, and just like Omnisend, you are limited to 500 emails and 250 subscribers. They also offer 2 plan types; the Email plan, which starts at $20 a month for 500 contacts and the Email and SMS plan which starts at $35 a month for 500 contacts. Their pricing plans are also based on the number of subscribers and email sends per month.
Omnisend vs Klaviyo Free Plans
| Features | Klaviyo | Omnisend |
| --- | --- | --- |
| Number of Subscribers | Up to 250 | Unlimited |
| Emails per Month | Up to 500 | Up to 500 |
| Signup Forms | Yes | Yes |
| Popups | Yes | Yes |
| Landing Pages | No | Yes |
| Segmentation | Yes | Yes |
| Reports | Yes | Yes |
Winner? Klaviyo's free plan is only available for up to 250 subscribers, while Omnisend's free plan allows unlimited contact list size with a 250-contact monthly reach. Both free plans allow the same email sends per month but Klaviyo's offers more advanced reporting features. Omnisend's free plan also includes landing pages, which are not available in Klaviyo's free plan. Lets call this one a draw.
Score: Omnisend 6 – Klaviyo 4
Reporting
Omnisend's reports are very easy to read and clear. Everything you need is in the reporting section, including metrics such as a click map, open/click rate, revenue, unsubscribe rate, and any deliverability issues. With Omnisend you can easily track your sales on the following channels: email, SMS, and push notifications.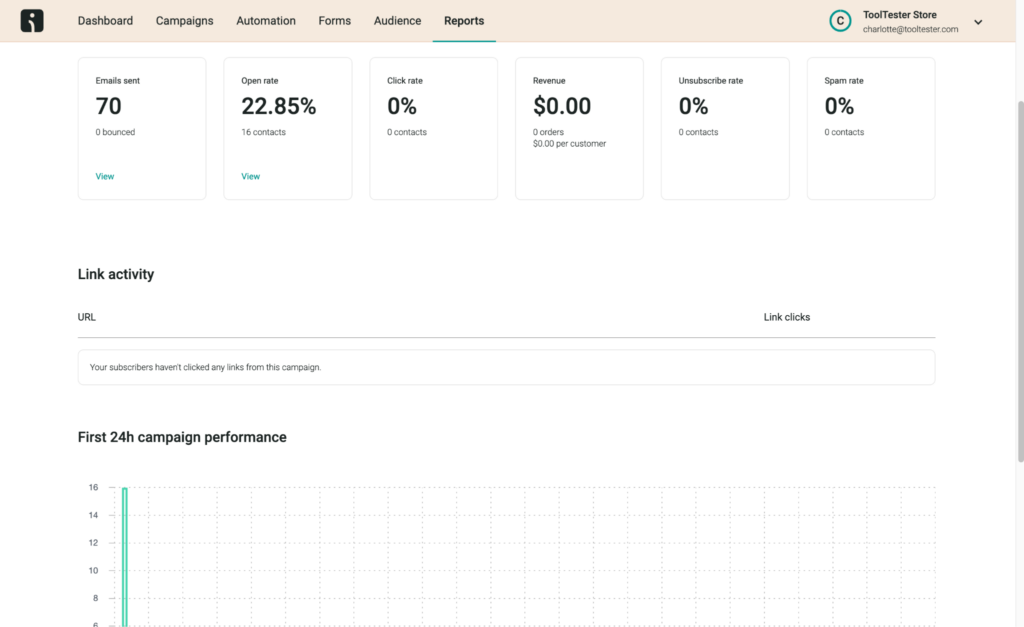 Klaviyo's reporting offers you a full view of your entire business from the day it went live. You can customize the metrics that matter most and the time period you want the analytics for on those metrics. You can even pull in data from other marketing channels such as subscription billing, review, and loyalty program software.
However, this kind of advanced reporting is only available to Omnisend subscribers on the highest subscription tier. Moreover, users only have access to data from the past 18 months, which is pretty limited in comparison to Klaviyo.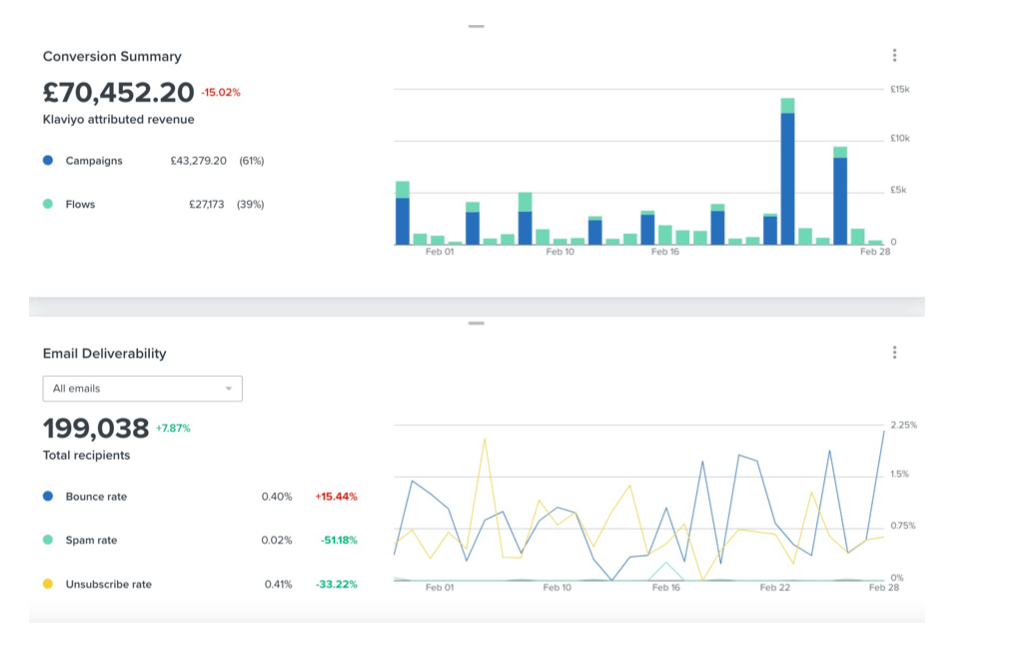 Winner? Klaviyo's reporting capabilities are almost unbeatable for e-commerce store owners who want to keep track of their customer's shopping behavior.
Score: Omnisend 6, Klaviyo 5
Design Testing
With Klaviyo, your A/B testing limits are endless, you can test practically everything, from your sender name and subject line to email send time, email content, and CTA style.
Omnisend is very limited in this area, as you can only test the subject lines and sender names. This means the success of your email campaigns is pretty much left to guesswork. Not ideal!
Winner? Klaviyo is the obvious choice here thanks to their endless testing possibilities. Bravo!
Score: Omnisend 6, Klaviyo 6
Customer Support
Both Omnisend and Klaviyo generously offer tutorials and detailed knowledge bases within their platform to help users find their way around the tools.
Omnisend provides 24/7 email and live chat support on its free plan, which is highly advantageous for its users. On top of this, Omnisend offers users a lot of free learning material within the Omnisend Academy which offers access to an extensive library of recordings from past workshops and events, as well as guides, which are curated to help users expand their marketing skills and knowledge.
Klaviyo, on the other hand, provides email support for the first 60 days, and after that, you are on your own until you upgrade to their paid Email plan. Although it's likely that you'll know your way around Klaviyo before you reach the 60-day limit, it's still frustrating to lose access to this support, especially if any important questions arise at a later date.
A nice touch is that Omnisend asks for their user's opinions throughout the dashboard too, using their existing user's feedback and opinions to improve their tool.


Winner? Omnisend is the winner of this round. Thanks to their generous customer support via various channels and the new workshop and guide material, they support continuous learning and help their users to stay up-to-date with the email marketing world.
Score: Omnisend 7, Klaviyo 6
Web Forms and Landing Pages
Both platforms offer you the ability to organically build your subscriber lists from visitors on your website through their web form builders.
Another key feature of Klaviyo's is their popup forms, which allow you to trigger pop-ups such as discount offers when a customer is about to leave your website (otherwise known as "exit intent popups"), or sign-up forms when they click a particular button.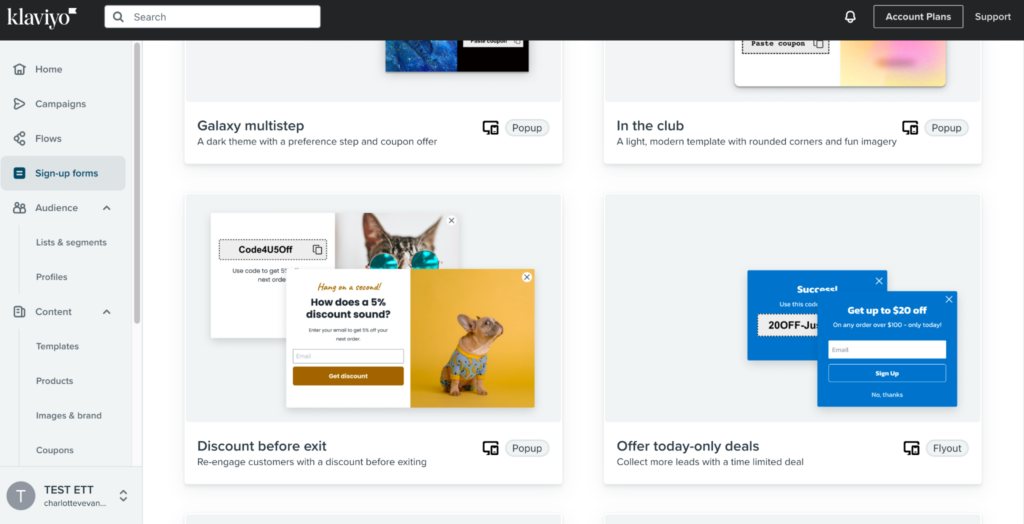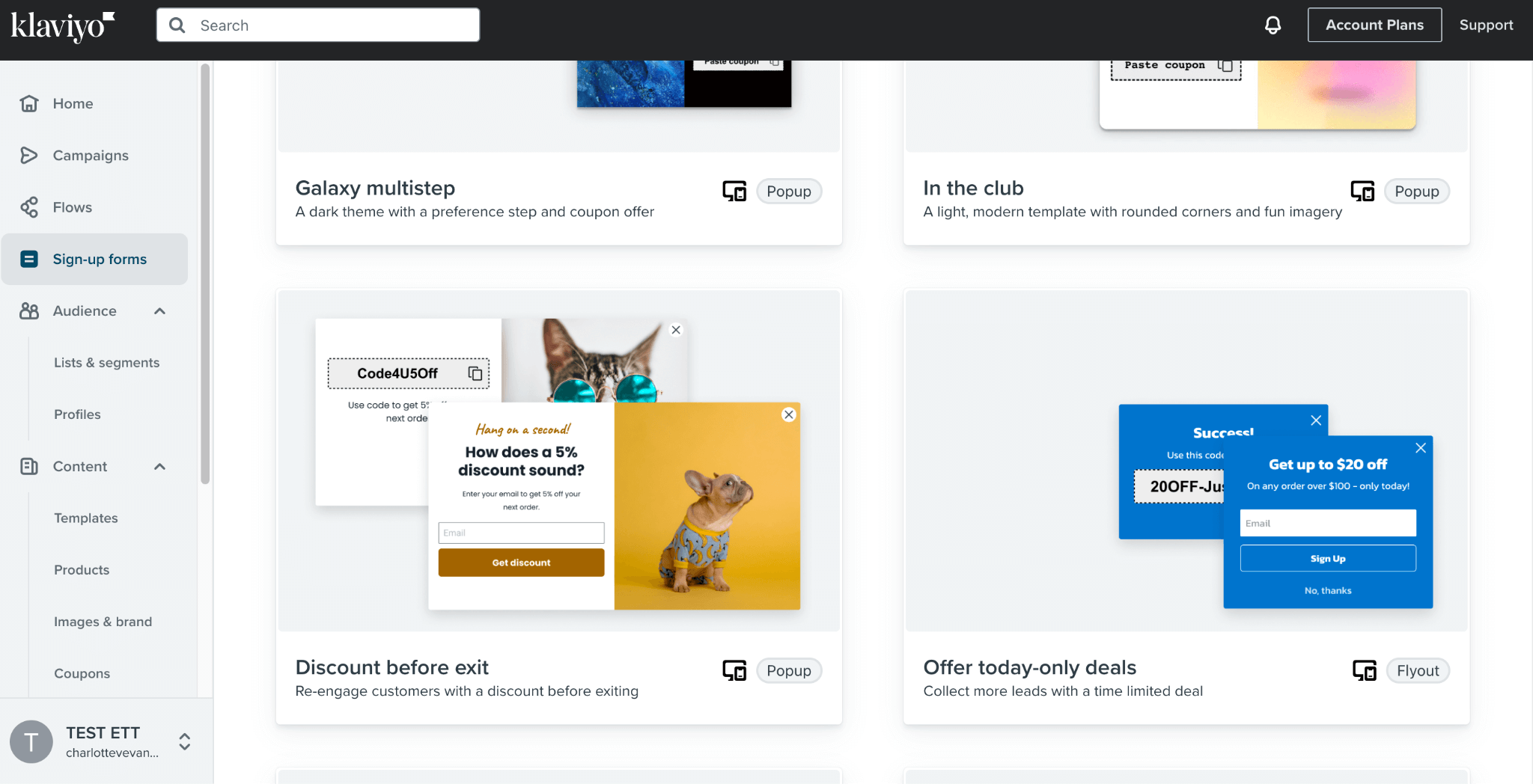 Omnisend also offers predesigned popup form templates, including their unique gamified signup form called the Wheel of Fortune. This interactive form adds a fun, gamification element to the signup process, allowing potential customers to spin and win exciting discounts, free shipping, or other exclusive offers that you can customize – pretty impressive right?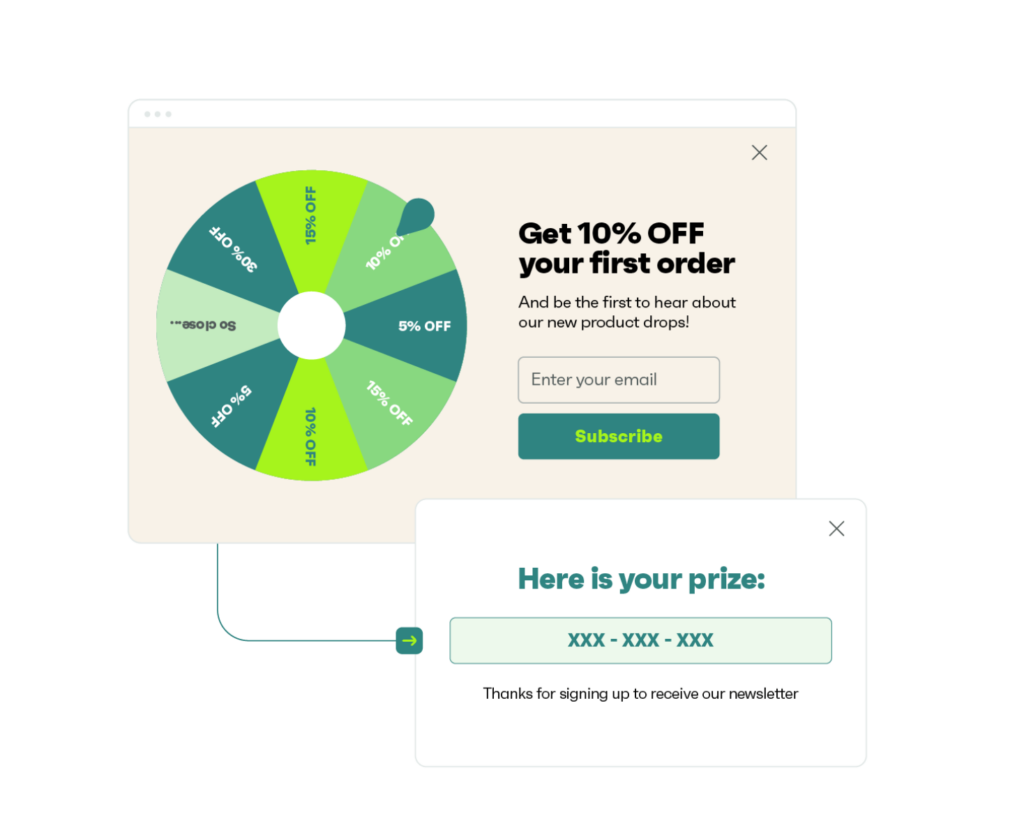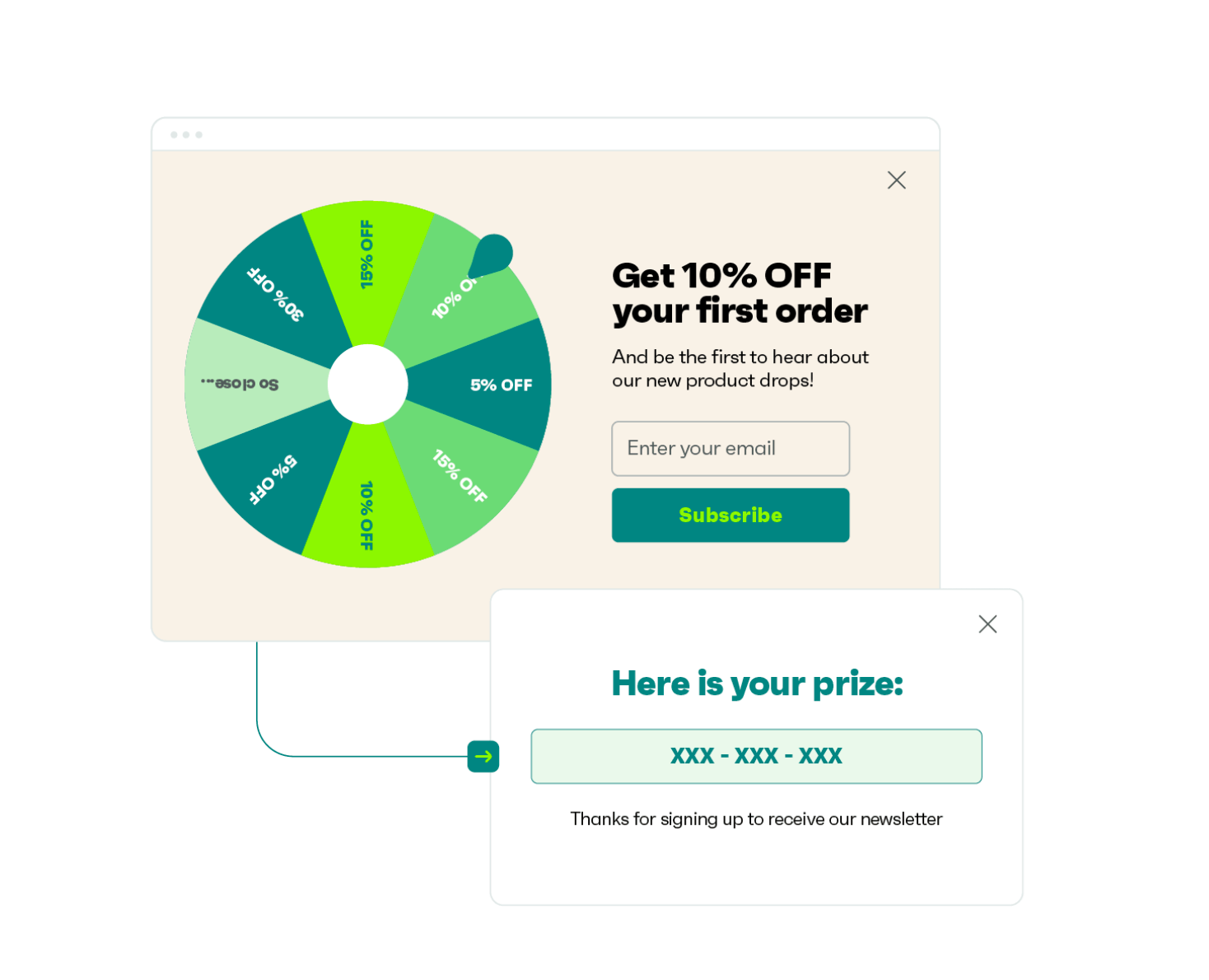 Omnisend has recently given its form wardrobe a refresh by introducing some new form templates, including some pretty handy holiday-themed templates so you can offer seasonal discounts. Also, you now have the ability to add checkboxes to your forms in order to collect more information and improve your user segmenting. Above all, they offer the ability to create and publish high-converting landing pages – for free!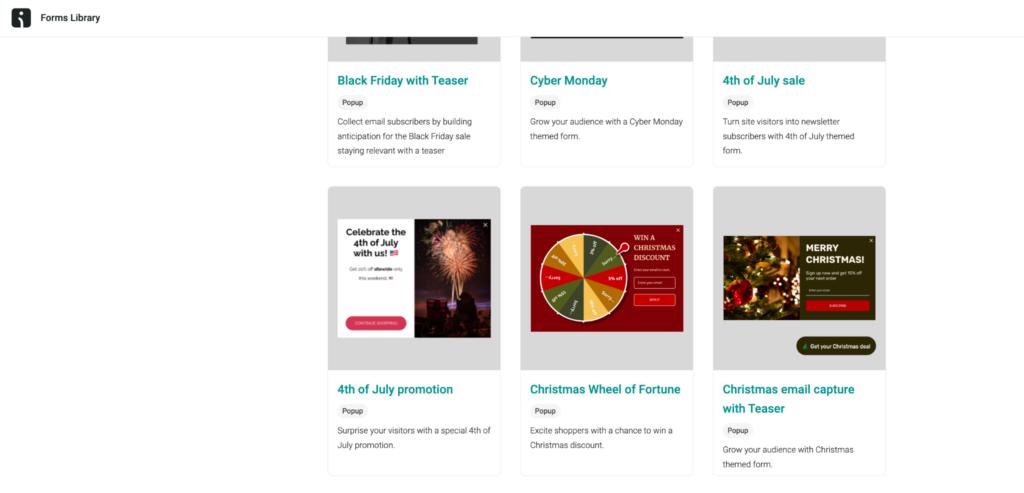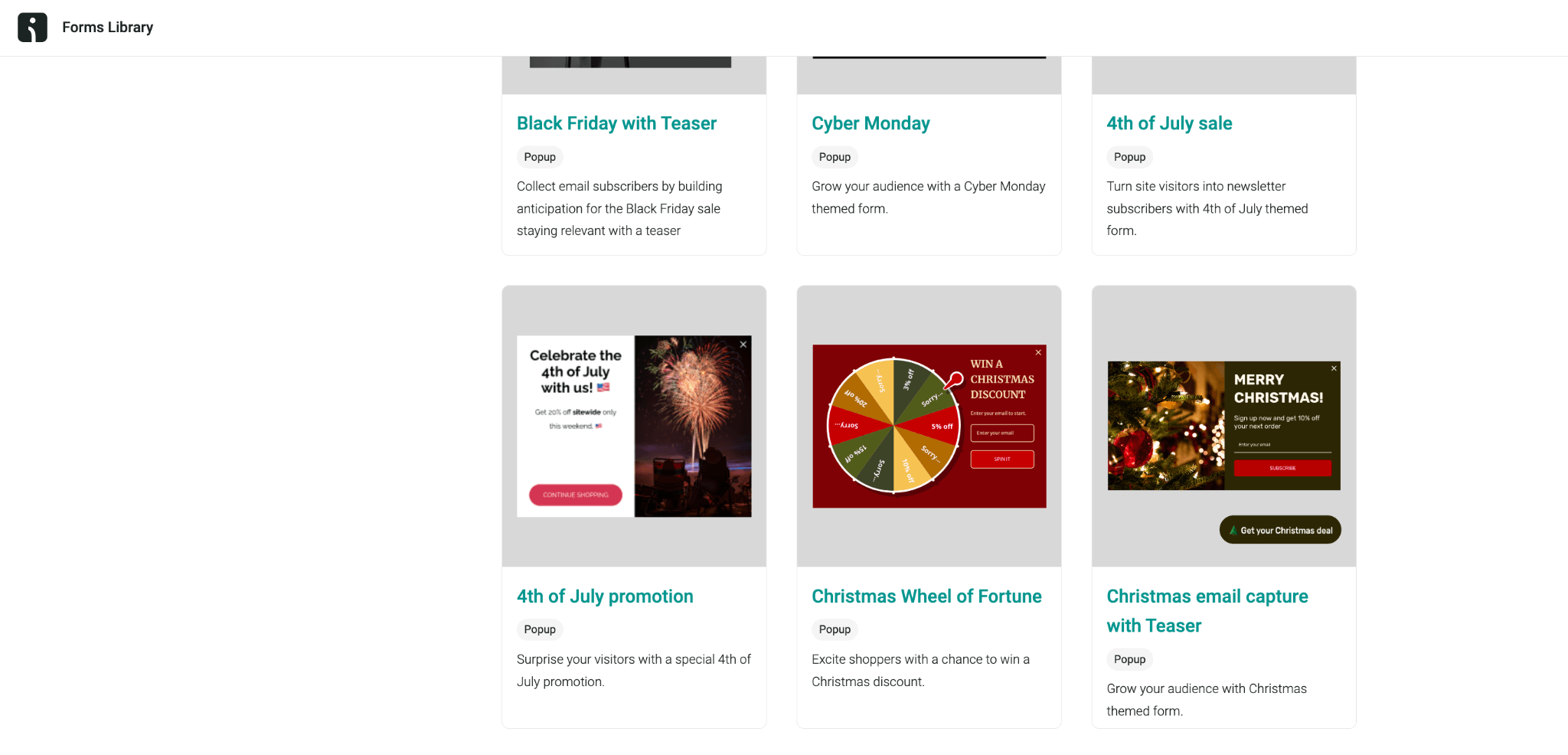 Winner? Omnisend, thanks to their recent template update, gamification options, and free landing page feature – generosity wins in this case.
Score: Omnisend 8, Klaviyo 6
Omnisend vs Klaviyo: Final Thoughts
Feature-for-feature, both Omnisend and Klaviyo offer robust email marketing features and integrations. However, the best tool for your business will depend on your specific needs and requirements.
Who's the winner of the Omnisend vs Klaviyo head-to-head? Omnisend 8, Klaivyo 6.
Not only is Omnisend a lot easier to use than Klaviyo, but its affordable price plans, strong and growing selection of features (even on the free plan), and excellent customer support make Omnisend a very appealing option, especially for smaller businesses expanding their ecommerce email marketing efforts.
Now that you've seen a side-by-side comparison of Omisend vs Klaviyo, you might want to take a closer look at our winner. Check out our full Omnisend review here.
Omnisend Video Review
And as always, we recommend signing up for a free trial of both Klaviyo and Omnisend and taking a look around the tools to determine which one is the best fit for you and your business.
If you have any questions about either of these email marketing providers, let us know in the comments section.
We keep our content up to date
8 Jun 2023 - Comparison video added
28 Apr 2023 - Unlimited segmentation now offered by Omnisend
Our Methodology
This article has been written and researched following our EmailTooltester methodology.
Our Methodology