If you're a marketer, you're probably very familiar with HubSpot (and can go ahead and skip this paragraph!). But for the uninitiated, HubSpot is a leading provider of inbound marketing software and tools. Its CRM, email marketing, and automation platform helps businesses attract customers through relevant content and personalized experiences, rather than interrupting them with traditional marketing methods.
If that weren't enough, HubSpot also offers its very own website builder, CMS Hub, making it an appealing option for businesses looking for an all-in-one website and marketing platform, especially if they rely heavily on inbound leads.
I've spent some time testing out this platform, and in this HubSpot CMS review, I'll be looking at factors such as usability, value for money, and marketing features, to help you determine whether it's the right fit for your business's website.
Let's kick off with a quick summary of what you get with HubSpot CMS Hub.
HubSpot CMS Hub: Summary
HubSpot CMS Hub is built with inbound marketing in mind, offering a suite of tools to create and promote content that can help you speak directly to your target audience. It provides a range of customizable templates and themes for creating web pages, landing pages, blog posts, and other types of content that are optimized for search engines and social media platforms.
Leads captured through HubSpot-built websites are fed directly into HubSpot's CRM, where they can then be followed up, or nurtured through HubSpot email marketing and automation tools. This tight integration sets it apart from other all-in-one website builders and email marketing platforms, which tend to excel in just one area, rather than in both.
However, HubSpot's pricing structure can be confusing, and costs rise rapidly when you start needing more advanced features such as dynamic content, database-driven pages, and development tools.
In this review, I'll be exploring the features of HubSpot's Free and Starter plans, rather than the Professional plan. That's because these are the plans most relevant to small-to-mid-sized businesses. The Professional plan, which starts at $360 per month, probably stretches the budget of most businesses in this group – however, I do explore some of its features in the Personalization section.
Pros and Cons of HubSpot CMS Hub
Pros:
Free plan: You can build a website for free; however, the HubSpot logo will appear on forms and pages. You're also limited to 25 pages. However, you can connect your own domain name for free, which is a huge advantage over other free website builders.
Marketing features: The list of marketing features is exhaustive – you get access to personalized content, email marketing, automation, membership websites, and more.
Landing pages: In addition to webpages, HubSpot lets you create conversion-focused landing pages to capture new leads.
SEO: Get access to a wide range of excellent search engine optimization tools, including content planning suggestions.
Multilingual sites: Available for up to 3 languages. Language variations of the same page are automatically connected to each other, and you can also create SEO-friendly URLs for different languages.
Navigation menus: You can create multiple navigation menus for your site, and it's also possible to add multiple levels of sub-pages.
Integration with other HubSpot tools: This includes HubSpot's CRM, live chat, email marketing, automation, and customer support features. You can create up to 5 dynamically-updated contact lists and 1,000 static lists, and send 2,000 marketing emails per month.
Support: The Starter plan gives you email and live chat support, which I found to be helpful and responsive. The knowledge base is also very comprehensive, if not a little dense.
Integrations: HubSpot's App Marketplace lets you connect to close to 1,400 external apps, including marketing, sales, customer service, productivity and finance tools.
Cons
Not easy to navigate: Due to the sheer amount of features offered by HubSpot, it can be challenging to find things within the dashboard. It feels like there is a different interface or editor for every little thing you want to do, which makes it harder to get familiar with the platform.
Rigid editor: While it does offer a drag-and-drop editor, it's not as flexible as others I've tried. You don't get a whole of control over where content is placed on your page.
Pricing: While the Starter plan is affordable at $23/month, there's a big jump up to the next tier, Professional, which costs $360/month. It can also be difficult to get your head around HubSpot's many different plans and packages.
Reporting: While HubSpot's website reports are comprehensive, you only get advanced analytics and custom reports on the expensive Professional and Enterprise plans. Across the entire HubSpot product suite, the Starter plan only gives you 10 dashboards, and 10 reports per dashboard.
Ecommerce and payments: HubSpot CMS doesn't offer native ecommerce features for selling products. You can receive payments through your site (e.g. donations or simple payments), but only if you're based in the US.
Page limits: On the CMS Hub Starter plan, you can only have a maximum of 50 pages (not including blog pages and dynamic pages).
Missing advanced features on lower-tier plans: For example, to access dynamic content and pages (which let you draw in data from the CRM to create databases and directories), you need to upgrade to the pricey Professional plan.
Too many HubSpot marketing emails: Ironic, I know, but with email marketing, there's a fine line between being useful and being annoying – and HubSpot's daily follow-up emails (which are sent after you sign up to the tool) fall in the latter category. You've been warned!
HubSpot CMS Hub Pricing
To access the HubSpot CMS, you'll need to subscribe to one of their CMS Hub plans:
Free: $0/month
Starter: $23/month (paid yearly)
Professional: $360/month (paid yearly)
Enterprise: $1,200/month (paid yearly)
For most small-to-medium businesses, the Starter plan is probably enough to meet most of your needs. However, if you need features such as advanced personalization, A/B testing, custom reporting, content staging, password-protected pages, and database-driven pages, you'd need to upgrade to the Professional plan. The Enterprise plan adds advanced development features, custom objects, and more.
Now, the slightly confusing part is that other HubSpot packages also include the Hubspot CMS. For instance, the Starter CRM Suite includes all the features of the above Starter plan, plus access to HubSpot's marketing, sales, service and operation tools. This starts at $30/month.
It's also possible to create your own product bundles with HubSpot. You can learn more about the different options in our HubSpot pricing guide.
An In-Depth Review of HubSpot CMS's Website and Marketing Features
Now, let's take a look at how well HubSpot CMS performs across the following categories:
Ease of setup
Usability of editor
Blogging features
Search engine optimization (SEO)
Personalization features
Landing pages and forms
Ease of Setup: 3/5
The initial setup process can be a bit tedious with lots of questions upfront, but much of it is auto-filled for you (based on the email address you provide). You can choose where you want your website hosted (e.g. EU or US), which is great if you need to have your data hosted locally to comply with the GDPR, for example.
Once you've gone through the setup process, HubSpot CMS gives you a step-by-step checklist of actions to take, starting from selecting and customizing your theme, all the way down to connecting your domain. You can click through to complete each step, and there are also demos along the way if you need a bit of extra help.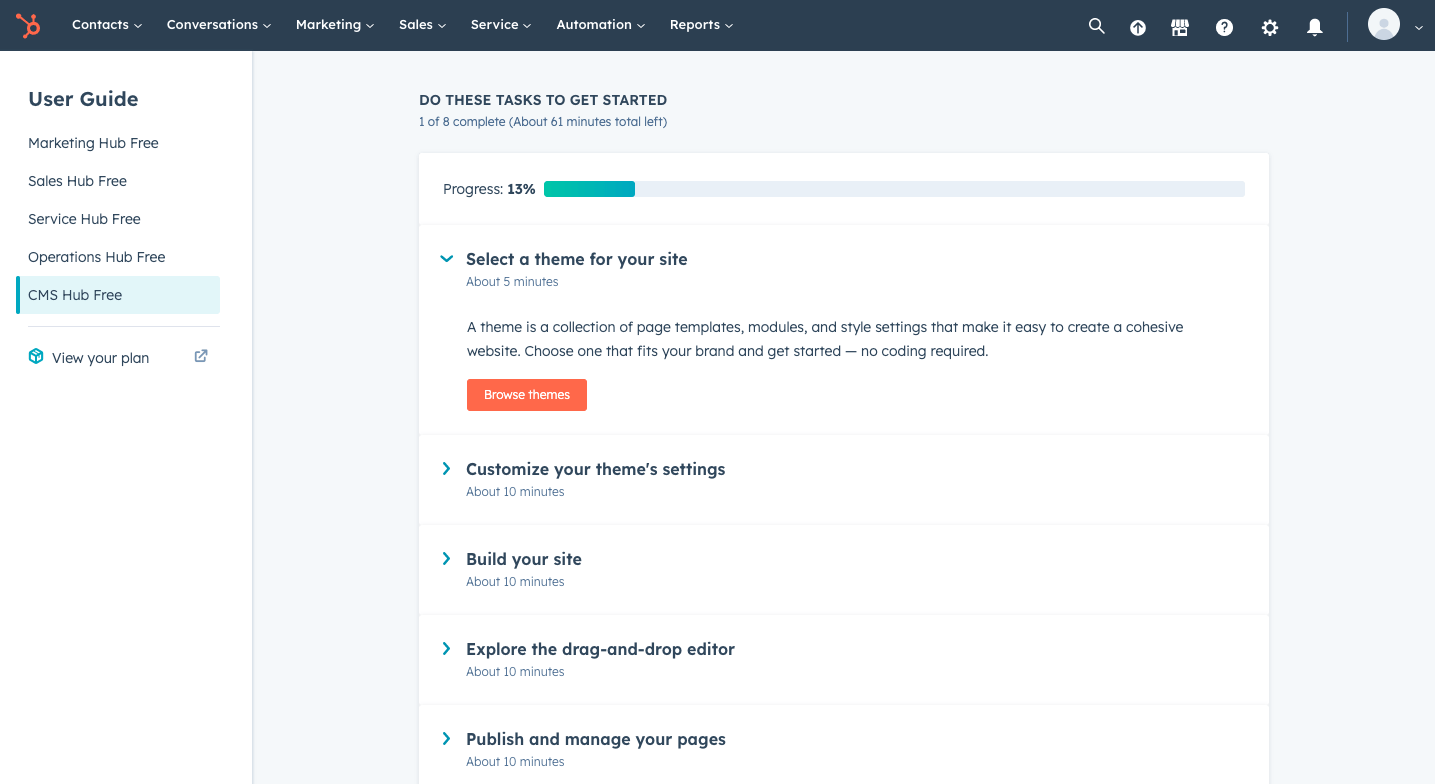 TIP: When you first sign up, you'll automatically be given access to the limited Starter version of CMS Hub. But check your email – it's likely that you would have been sent an invitation to a 14-day trial of the more fully-featured Professional version, which is worth doing if you'd like to get a feel for what else is on offer (and if it's worth splashing out an extra $337 a month!).
While I did find the checklist provided useful, the reality is that performing each one of these tasks is not quite as straightforward as this checklist might suggest. As you'll soon see, actually building a website in HubSpot can get a little messy, due to the way the platform is organized.
Theme Selection: 4.5/5
HubSpot offers 170+ free themes across a huge range of categories, which can be previewed before being installed. It's also possible to install themes purchased from ThemeForest.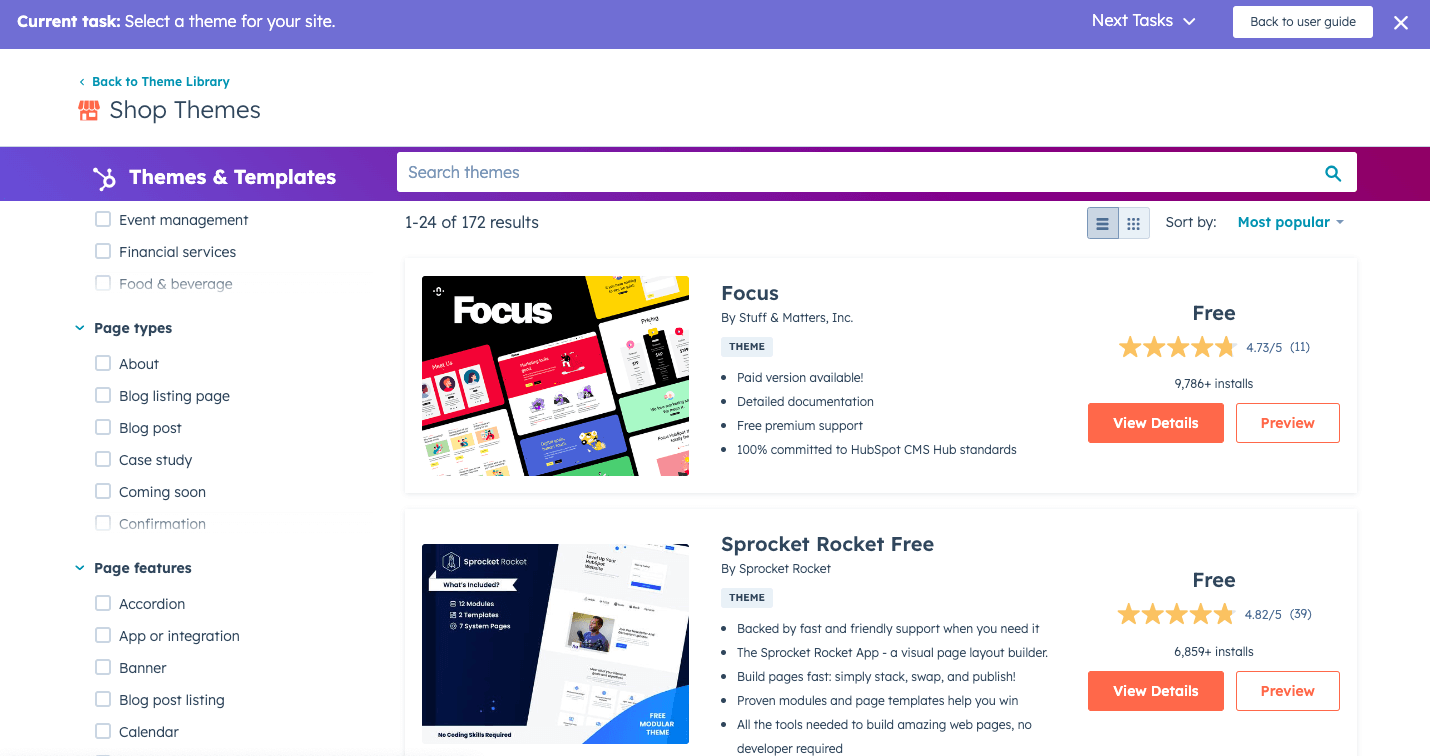 To customize the theme to match your branding (e.g. change colors, fonts, and spacing), you'll just need to access the Theme Editor. Changes will automatically get applied to all pages, so you'll only have to do this once. Of course, if you already like the design of the template or don't have any existing branding, you can just leave it as it is.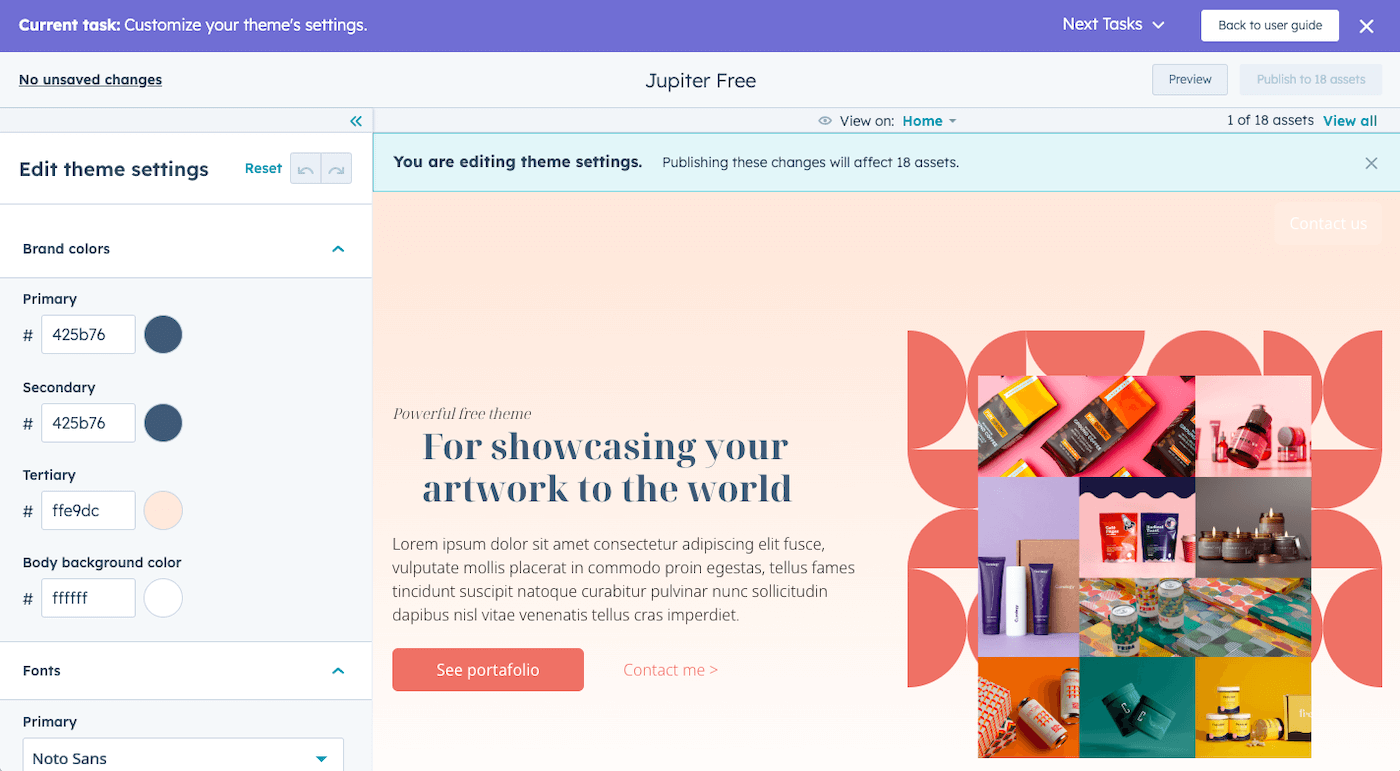 One great thing is that it's possible to change themes without losing content, which can be a limitation of other website builders. However, I'd advise using caution here, as it might not be a seamless transition – only switch templates if you have your content backed up, and if it's absolutely necessary to do.
Usability of Editor: 3/5
The next step in the process is to add your pages and content. HubSpot provides a few suggestions of pages to add – all you have to do is select which one you'd like to start with.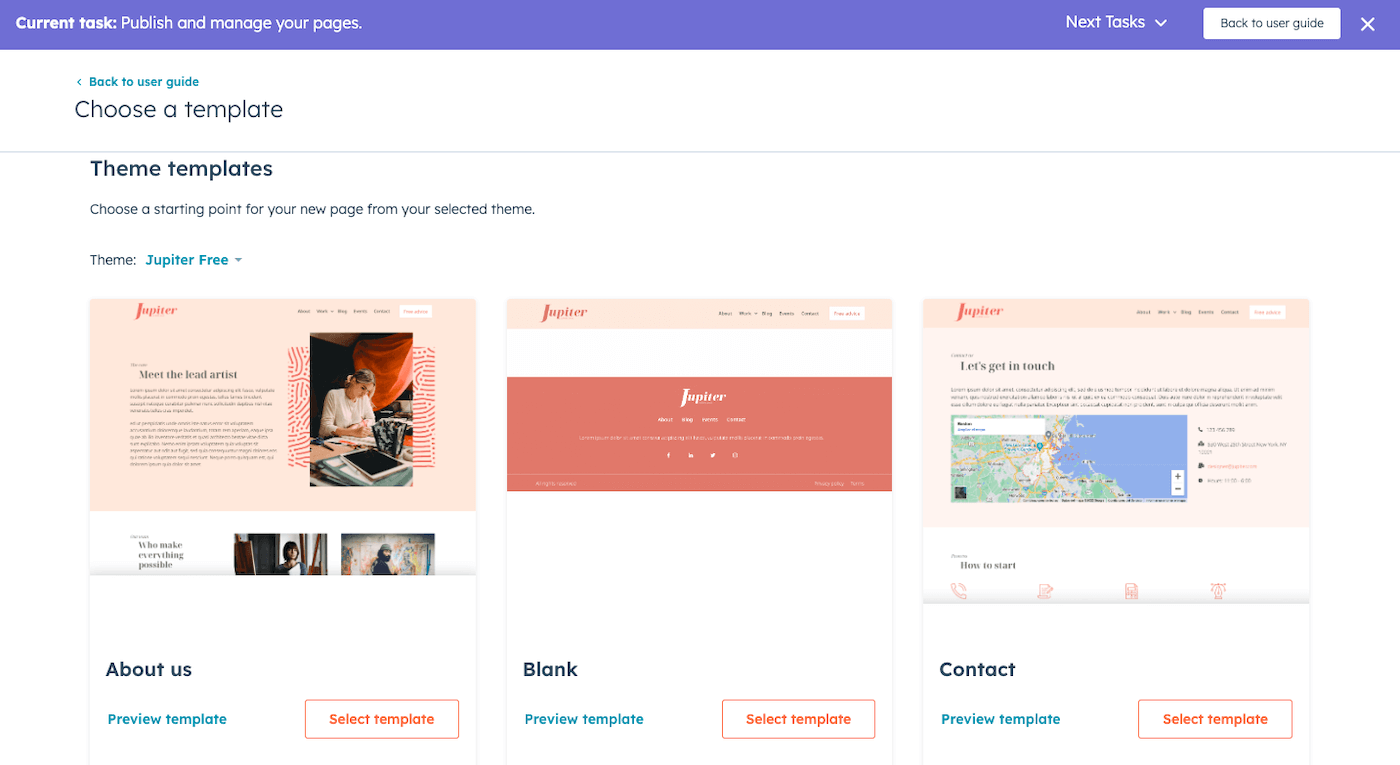 HubSpot's drag-and-drop editor lets you choose from different content modules, and insert them into your page. There's a pretty impressive selection of content types, including galleries, testimonials, columns, videos, and more.
One handy feature is the direct integration with Canva, which lets you design banners, infographics, and other graphics without leaving HubSpot.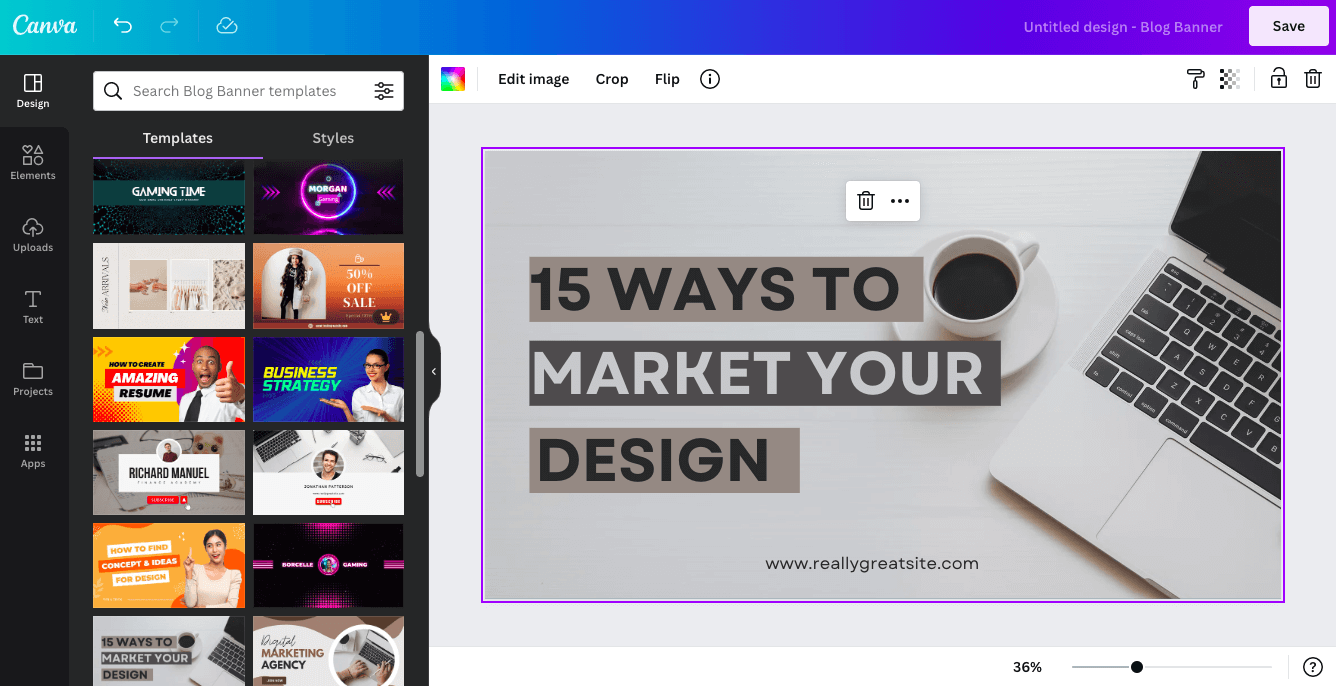 However, HubSpot's website editor is not the most flexible I've ever tried, and it didn't always play nicely. You can't drag elements to exactly where you want them on the page, and text editing happens in a separate pane (rather than inline), which makes for a slightly awkward experience.
Nor do you have full control over the alignment of elements like text and images, which can be frustrating if you're a stickler for design.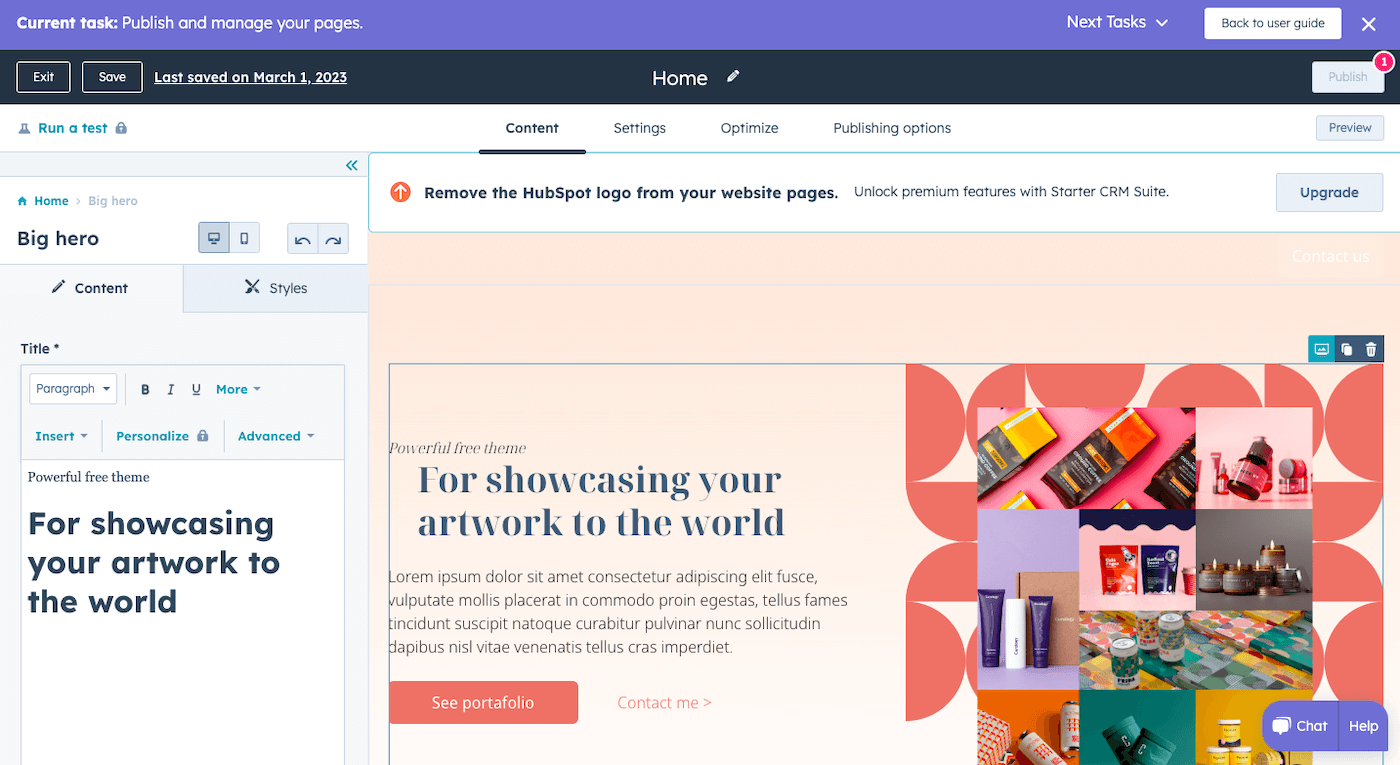 Adding other pages and editing your navigation menu is also not a very intuitive experience. Both are done in completely different areas of the platform, which take a couple of clicks to get to.
Of course, this may not a dealbreaker. And if you're considering HubSpot for building your website, you're probably more interested in its marketing capabilities rather than the usability of its editor. So, let's take a closer look at what's on offer.
Blogging Features: 4.5/5
If your business is focused on content marketing, a blog is a must-have in your toolkit. A regularly-updated blog can help you gain visibility in Google, attract a wider audience, position yourself as a thought leader in your field, and generate leads for your business.
Luckily, setting up a blog with HubSpot CMS is very straightforward. You'll be asked for a few details, such as blog title and meta description, and can even choose to set up language subfolders if you plan to have a multilingual blog. It's also possible to choose a different theme for your blog, although I'd recommend sticking to the same one as the rest of your website for consistency's sake.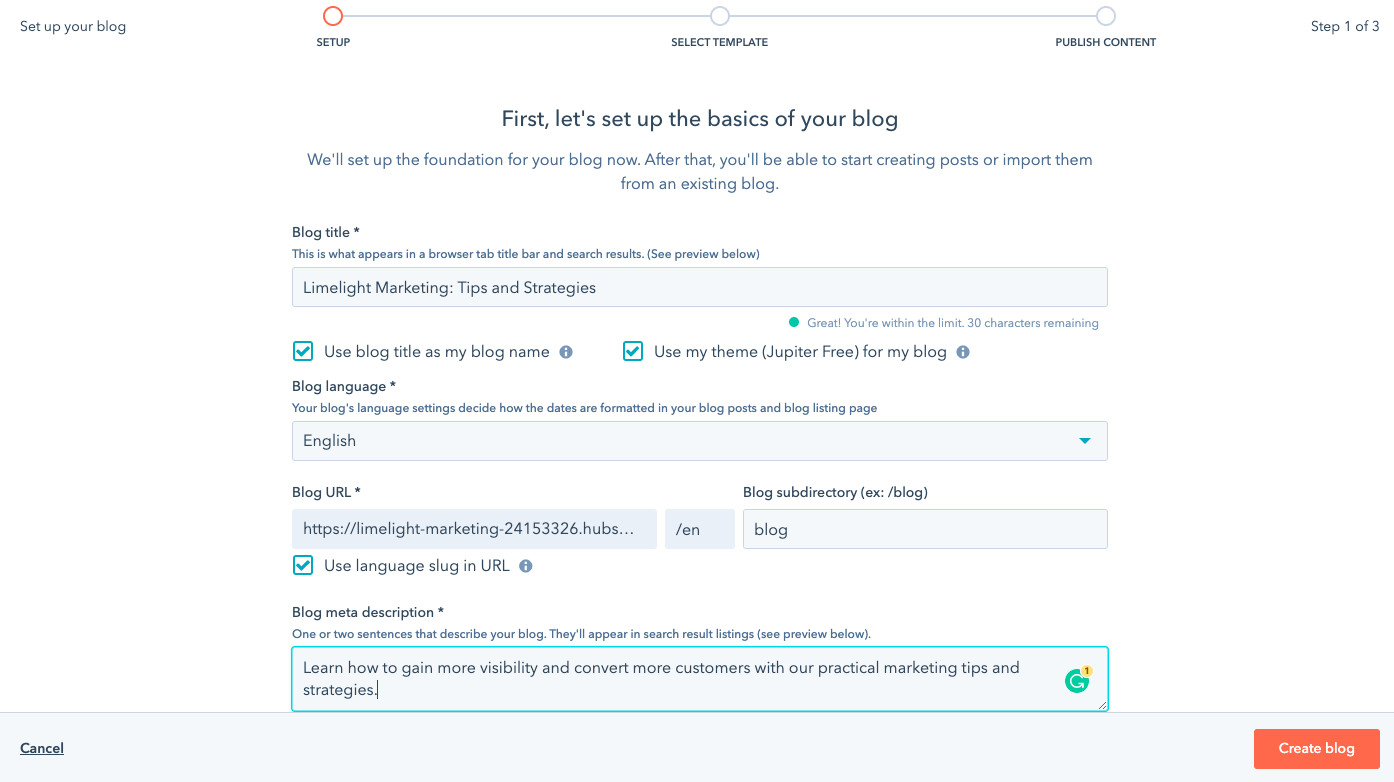 What's great is that if you have an existing blog, HubSpot will actually let you import this, regardless of which CMS or website builder you use. I used the Smart Robot option to import from an existing Wix blog, and while it can take a while to complete (up to 6 hours, apparently!), I have to say it worked pretty well. It was able to import all the posts, and I just had to manually edit a few formatting quirks – no major issues.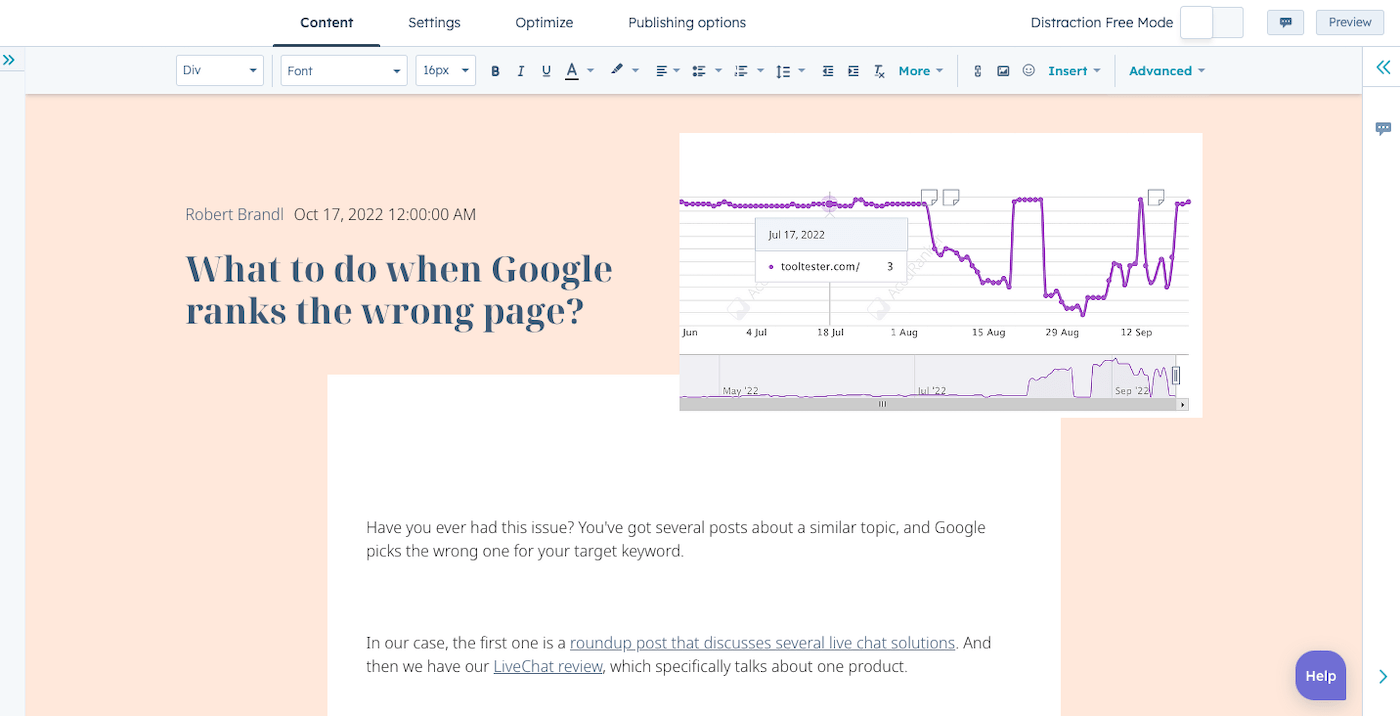 Overall, I found the blog editor to be more user-friendly and flexible than the regular website editor. If you're familiar with Google Docs or Microsoft Word, you'll have no trouble creating blog articles with HubSpot CMS. Adding tables, call-to-action buttons, videos and other content is hassle-free. And it's even possible to directly import Google Docs, which can help to save a lot of time.
Other than that, you also get options to:
Enable comments
Add related posts
Edit SEO settings
Add tags
Schedule posts
One drawback, though, is that it's not possible to create categories – Husbpot CMS only allows for tags, which may or may not be ideal for your blog setup.
The Starter plan lets you create up to 10,000 blog posts, which is more than enough for most businesses.
Search Engine Optimization (SEO): 5/5
As a business focused on inbound marketing, search engine optimization is going to be vital in getting new visitors to your site. Luckily, HubSpot offers some powerful tools to help you get found on Google.
Aside from basic SEO features that tend to come standard in all website builders (e.g. the ability to edit page titles, meta descriptions, and image alt text), you also get advanced features such as:
The ability to set language subfolders for multilanguage sites (e.g. /en/, /fr/)
The ability to specify canonical URLs
A checklist of recommendations on how to optimize each page on your site
Google Search Console integration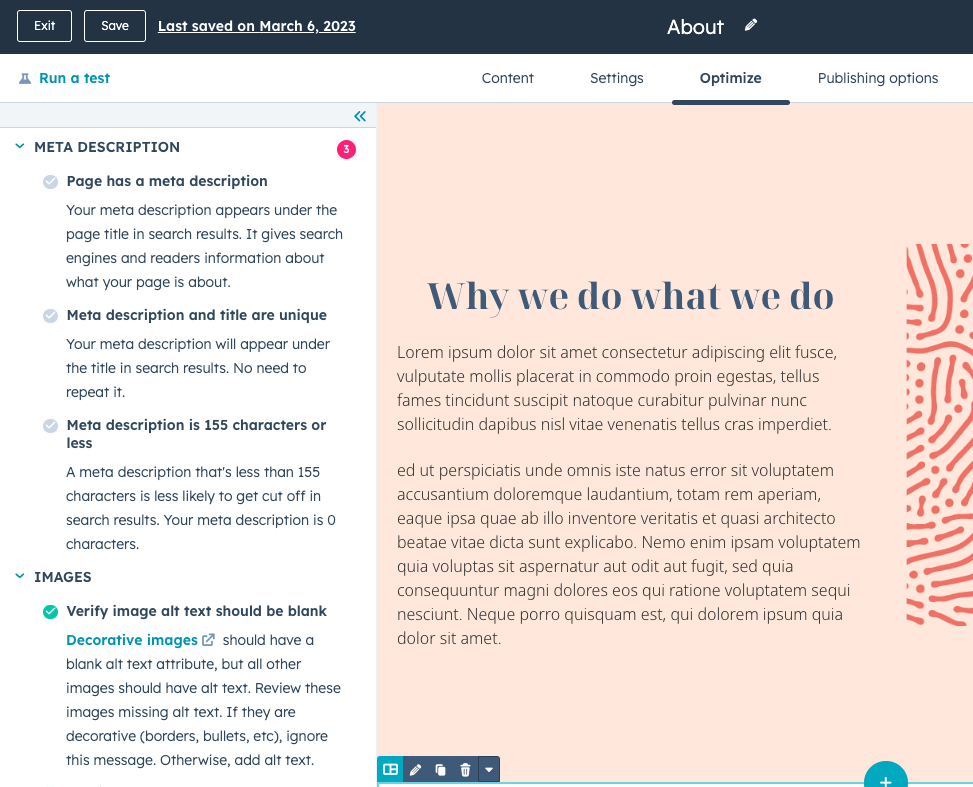 One excellent feature is Topics, which helps you identify core topics and sub-topics and create content accordingly, in line with the latest SEO best practices: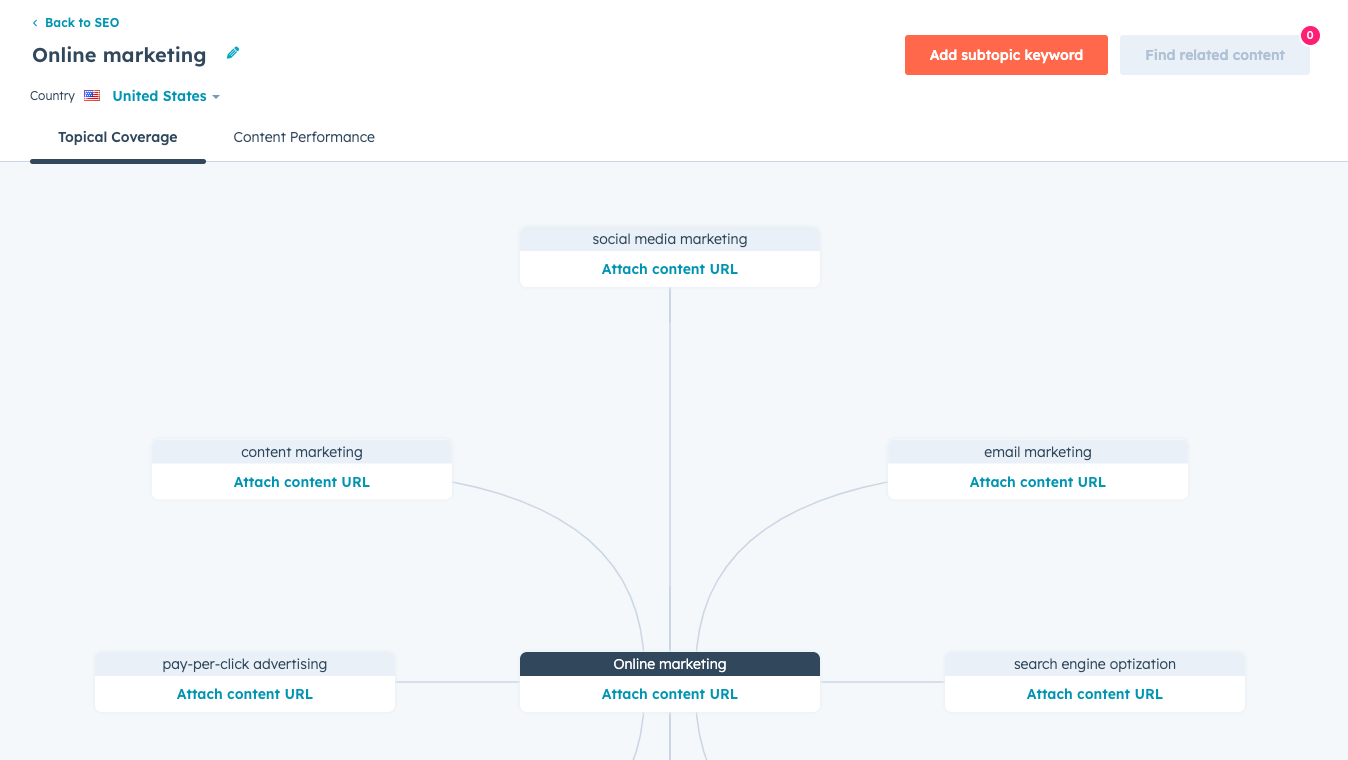 What's more, you can specify the topic of each page of your site, and receive suggestions on ideas and keywords to include: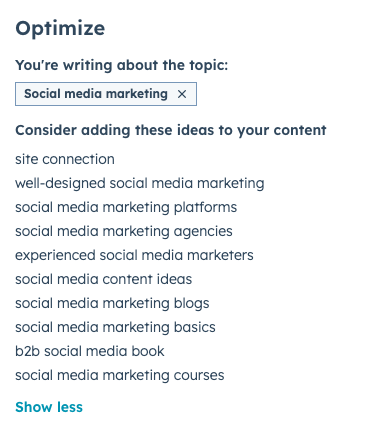 However, I have to admit that finding all these settings (and subsequently getting your head around them) can be challenging, as they're located in different areas of the platform. Some are accessed via the individual page's settings, while others are centrally located in the main dashboard.
But if you're prepared to do some digging, it's well worth the effort – very few other website builders offer this depth of guidance with SEO.
Personalization Features: 4/5
Now, here's a unique feature that you won't find elsewhere. With HubSpot CMS Hub, you'll be able to add personalized content to your pages, landing pages, and blog posts – similar to how you can personalize marketing emails.
On the Free and Starter plans, this is limited to displaying contact data saved in the CRM – first name, email address, company name, etc. This can be done using Personalization tokens, which is simple enough to do via the regular website editor (although this feature is not available if you use a Starter template).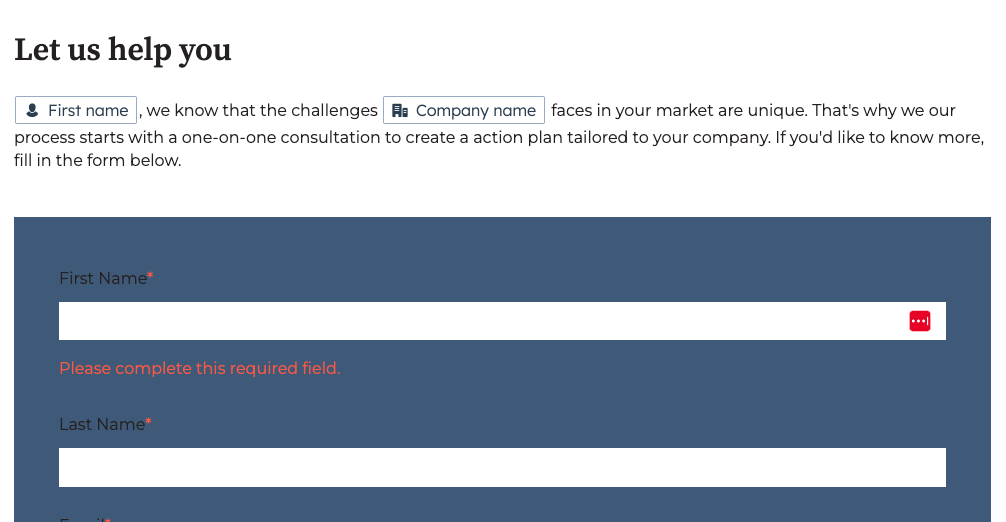 Users on the Professional plan, however, can take this even further by using the Smart Rules feature. You'll be able to show different groups of visitors different content, based on their country, preferred language, referral source, or even factors such as lifecycle stage or contact list membership.
It sounds great in theory, but in practice, it might not behave exactly as you'd expect. For example, a marketing services agency located in Australia might want to display a 'Book a free consultation' form only to visitors within the country, and hide the form to anyone outside of it.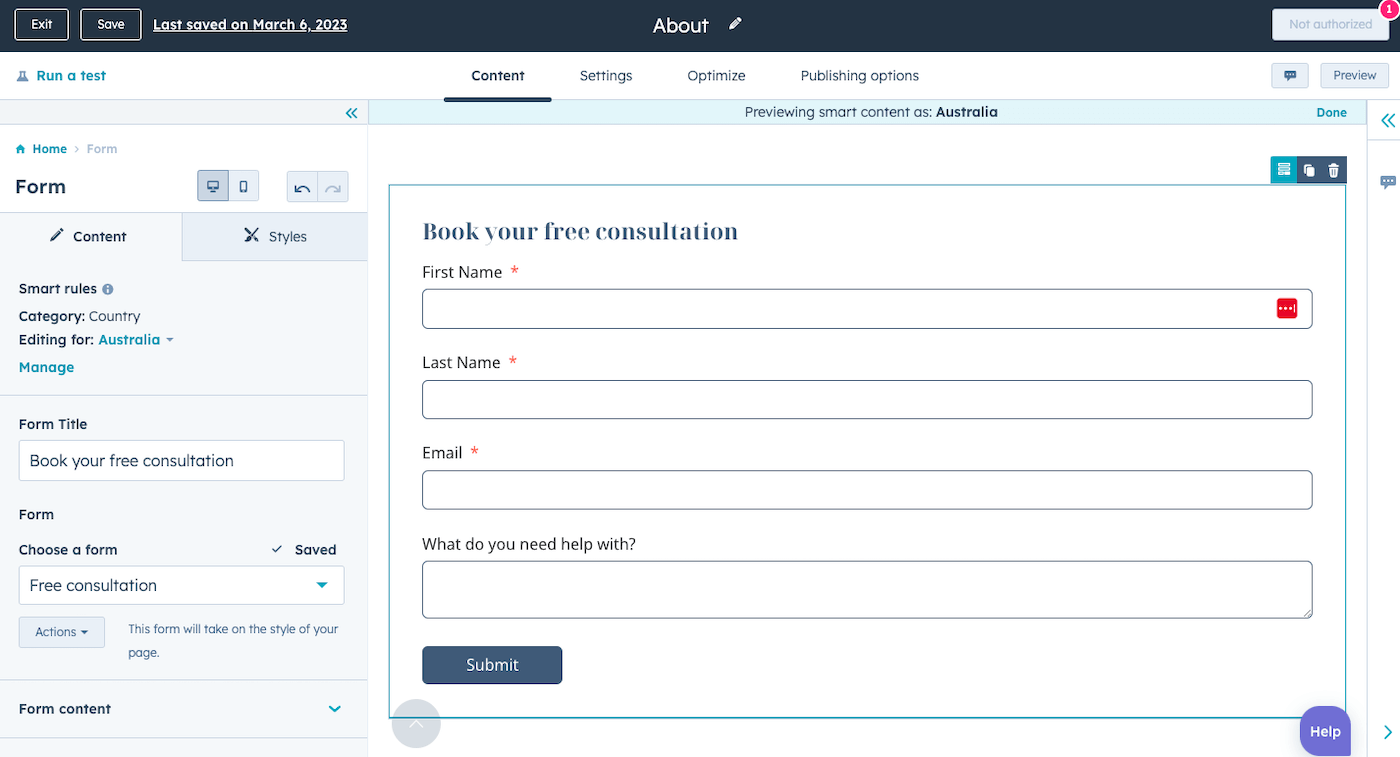 However, when I tested it out, it didn't work for me. Turns out, you can only show alternative versions of content, rather than hiding it completely to some users. So in this case, I'd need to create an alternative form to display to non-Australian users. Not exactly what I'd had in mind. Plus, for the dynamic content to display, visitors need to be tracked contacts who already exist within your HubSpot CRM.
Despite this, I can still see how it would be useful in some cases – for example, promoting different events based on geography, or promoting different calls-to-action to visitors based on their customer lifecycle stage. It's just that it may not be as "smart" as some users might like it to be.
Is this feature worth the price jump from $23 to $360 a month? On its own, probably not.
Landing Pages and Forms: 5/5
Another unique feature of HubSpot CMS Hub is landing pages. While most website builders let you build single-page websites, not many allow you to build standalone, conversion-focused landing pages, and certainly not to the same level as customization as HubSpot does.
As part of this, you get a handful of registration-based templates to start with, for a wide range of purposes – newsletter signups, ebook downloads, event registrations, meeting requests, and more: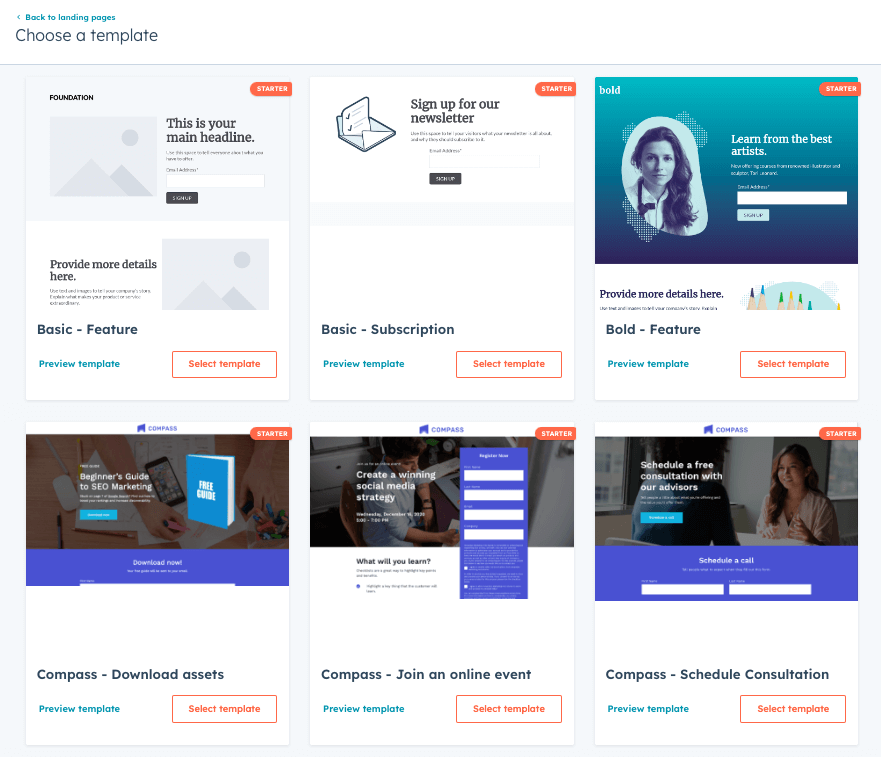 You'll also be able to attach a custom form to the page, as well as content such as images, videos, payment buttons, and calendar bookings via HubSpot's Meetings Scheduler: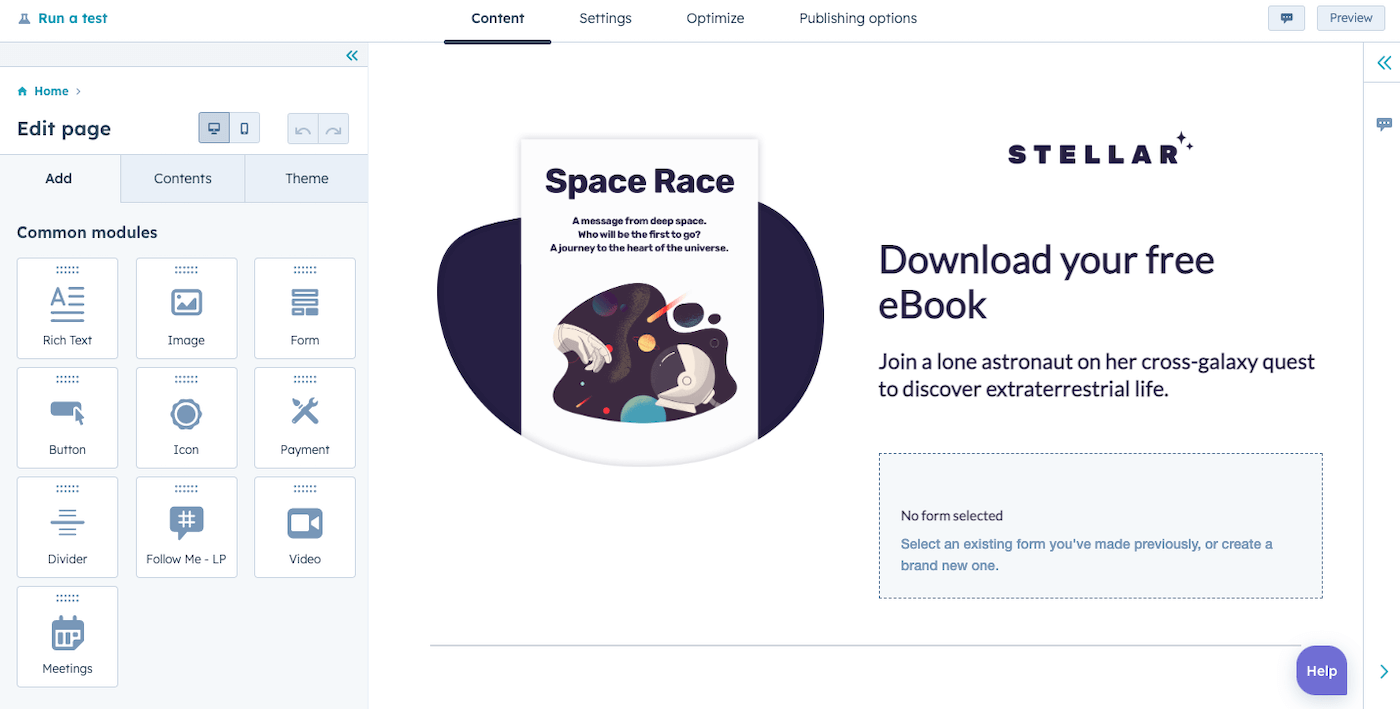 What's particularly useful is that you can define what happens after a user submits a form on your landing page. For example, you can redirect them to a thank you page, and then set up an automated workflow to send them an email, or add them to a segment in your CRM. But, once again, this happens in the Forms section of the platform – yet another interface to get to grips with!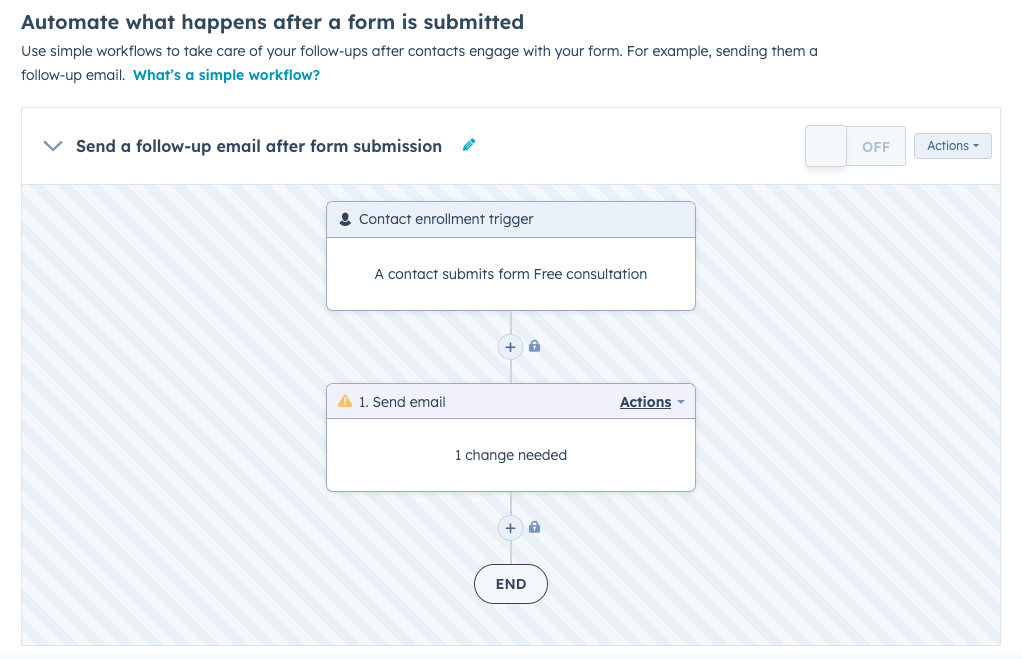 Note that you'll need to be on at least the Starter CRM plan to be able to create more than one form workflow.
The forms themselves are very easy to set up. You can create and edit them from directly within the landing page/webpage editor, or from HubSpot's dedicated Form section, which gives you access to the complete form editor.
This, in my opinion, is one of HubSpot CMS Hub's best features. Apart from being able to pull in any CRM field, you can also create new custom fields, enable CAPTCHA, and enable GDPR-compliant checkboxes.
You can also integrate your form directly into HubSpot's ticketing system, which will automatically create support tickets from form submissions – handy for embedding support request forms on your site: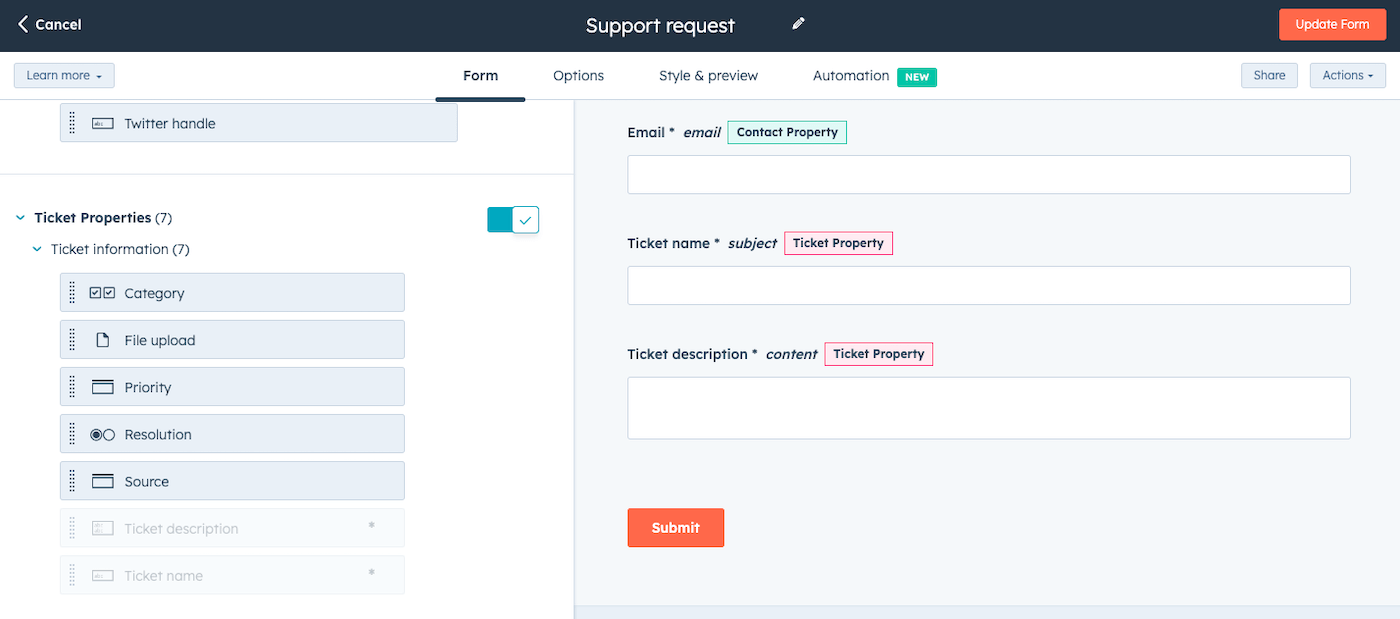 As further proof of HubSpot's conversion-focused philosophy, it also offers queued progressive fields. This removes any fields that visitors have previously completed in other forms, and replaces them with new fields – great for progressively building up contact profiles without making users fill in long forms.
All in all, HubSpot's landing page and form features are complete, offering some powerful tools for capturing new leads. The one thing they could improve on is offering A/B testing – this is only available on the pricier Professional and Enterprise plans.
HubSpot CMS Review: Conclusion
If I had to give HubSpot CMS's website builder an overall rating, I'd give it a 3.5/5.
In terms of marketing features, HubSpot CMS Hub leads the pack. Its SEO and blogging features rival that of more established website builders such as Wix and Squarespace. And its personalization and lead generation features (such as landing pages and forms) are unique in any website builder.
That makes it an appealing option for businesses with a marketing-first mindset, and that want to keep their lead generation and nurturing processes tightly managed in one place.
But I grappled with the usability of the platform and editor, and the lack of flexibility in design. To get a website looking exactly as you'd want it, you'd likely need the help of a developer, which makes HubSpot more akin to a fully-fledged content management system like WordPress, rather than a do-it-yourself website builder.
If that's not a dealbreaker though, and you're prepared to roll up your sleeves and experiment, then HubSpot CMS could be a powerful option for hosting your website, marketing landing pages, or niche microsites. Especially if you're already using HubSpot's CRM or email marketing tools.
In any case, the Free plan gives you plenty of freedom to try HubSpot CMS out. In fact, its features are pretty similar to the paid Starter plan. But if you do need to upgrade to Starter – for example, to remove the HubSpot branding, or increase your page limits – you might find it reassuring to know that its $23/month price tag is on-par with other advanced website builders. Considering everything you get in return, it's actually great value for money.
Of course, there's a big jump from the Starter plan to the $360/month Professional plan, and I think most small-to-medium businesses will struggle to justify the upgrade. But if your business is at a more mature stage of the marketing lifecycle – and has the budget! – there's no doubt that the Professional plan's personalization, testing, and optimization features could do some truly amazing things your for marketing.
Our Methodology
This article has been written and researched following our EmailTooltester methodology.
Our Methodology