Celebrating over 22 years in the business, Mailchimp is an email marketing software veteran. It claims to send over 600 million emails every day over its platform, so this should give you an idea of its popularity.
Why is it so popular? Aside from its solid marketing, I'm going to guess it's because its platform is so easy to use for complete beginners. And its landing page builder isn't any different.
So, why might you want to use Mailchimp landing pages, or landing pages in general? Well, a good landing page can help you:
Showcase products
Grow your audience
Build your brand
But most importantly, to drive sales
It's a vital tool in many email marketing strategies, as its purpose is to encourage users to take action, for example, enter a competition, buy a product or service, sign up for a webinar or event, and so on.
Mailchimp Landing Pages in a Nutshell
All Mailchimp's plans include unlimited landing pages, even their 'Free Forever' plan, which lets you send 1,000 emails per month to up to 500 subscribers. With the Mailchimp/Square partnership, you can now sell items straight from your landing page. Unfortunately, there are only 10 landing page templates available.
But how easy it is it to set up landing pages with Mailchimp? What are its templates like and are there any better alternatives? Find out all this and more in this comprehensive review.
Making a Landing Page in Mailchimp
Mailchimp's landing page editor is easy to use, but could it be too easy?
Having used a number of other landing page builders, I'd argue that Mailchimp's simplicity does end up limiting the creator. Even beginners will find that Mailchimp is missing some key functionalities like A/B testing and special content blocks like quizzes, testimonials and image carousels. Also, its range of templates is quite thin.
This is the process you'll go through in order to create your landing page:
Name your landing page (this will only be visible to you)
Select your audience (once your page is published this can't be changed)
Choose your template – Depending on the purpose of your page you have a couple of options: accept payments, lead generation, promote a product or grow your list
Edit the content as you wish, save and close
Add your page title (your visitors will see this) and URL. Bear in mind that you won't be able to use a custom domain unless you are on a higher-tier paid plan ($74.99/month for 5,000 subscribers)
Make sure the audience you want to associate with the landing page is correct and add up to 5 tags you want to assign to new signups if your page has a signup form.
Set your tracking settings (you can track with Mailchimp, Facebook Pixel, or Google Analytics)
Hit publish! (Note that your page will be live on the web but it won't be indexed by search engines like Google. This means that no one will see it until you share the link)
How you drive traffic to your pages is up to you; email newsletters, social media, paid advertising, etc.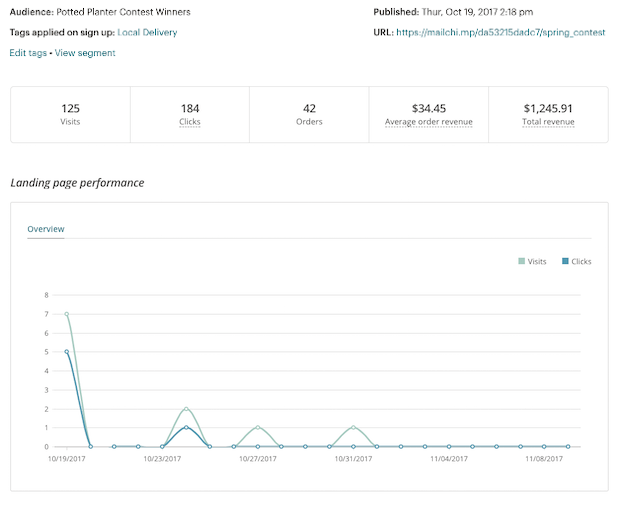 Mailchimp's landing page reports will tell you how well your pages are doing based on visits, clicks and subscribers. If you need to edit your landing page title, URL, content or tracking settings, you can do so at any time.
Mailchimp Landing Page Examples
With Mailchimp, you can rest assured that your landing pages will look good on any device, as all their templates are responsive.
As you can see below, there aren't a whole lot of them. Other email newsletter services like MailerLite offer a greater selection, so if you find Mailchimp to be lacking, then you might want to look elsewhere (scroll down for our top Mailchimp alternatives).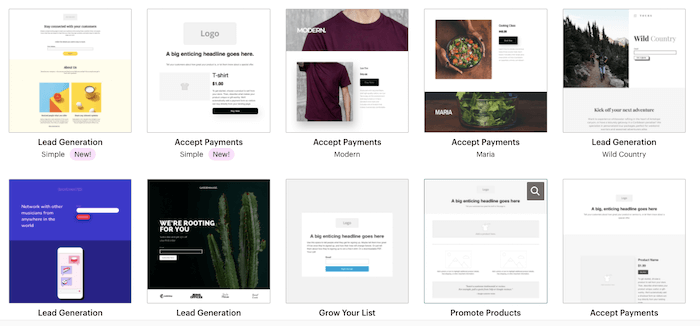 Mailchimp landing page templates
However, what Mailchimp provides does set you up with a good basis for your landing pages and they are very easy to edit. You can also see what your page will look like on desktop and mobile.
Screenshots:
Why Use Mailchimp: Pros & Cons
What I like about Mailchimp landing pages:
Unlimited landing pages
They have a number of tracking options (Facebook Pixel, Google Analytics, or MailChimp's own tracking)
You can trigger automations through your landing pages, although its automation editor isn't the most user-friendly
All templates are mobile responsive
Designs are modern and well-designed
Due to Mailchimp's partnership with Square, you can now sell items right from your landing page, meaning you don't have to set up an ecommerce. This is free, however, Square will charge a flat processing rate
What they could improve:
Mailchimp's selection of templates is pretty sparse; they only have 10 available in total
You're not able to customize your thank you/confirmation page and there are fewer options for editing form settings than there are with other tools
If you want to use your own domain name or buy a new one, you'll need to upgrade to one of Mailchimp's paid plans, either Standard or Premium plan
Limited features in the editor and you cannot add custom HTML
A/B testing is not possible
You can't save your own templates to use later
It's not possible for search engines to index your landing pages
No integration with Shopify
If you're looking for high-quality images for your landing pages, you might want to check out these discounts from Shutterstock.
Alternatives to Mailchimp Landing Pages
As I saw Mailchimp's landing pages had a number of limitations, I began looking into alternatives and found that there were plenty of really decent ones. And before you go and say it. No, they will not cost you an arm and a leg. In fact, these Mailchimp alternatives are completely free.
Try out MailerLite, Mailchimp, Omnisend, Wix
You also might like to check out these tools and more in our Mailchimp alternatives article.
Wix Landing Pages
Wix is a huge player in the world of website builders. In fact, it hosts a whopping 160 million websites! Naturally, as well as offering users a complete website creation solution, they also provide users with the ability to set up their landing pages.
Wix is available for free for as long as you want. However, if you need professional features like your own domain name or ecommerce, you'll need to choose from one of their premium plans.
What I like about Wix's landing pages:
Tons of attractive templates
Advanced editing options to make your landing page interactive and engaging. For example, you can add a music track or slider galleries
Wix gives you the option of editing how your page looks on mobile separately, meaning you can show a slightly different design for mobile visitors
Wix has loads of high-quality media files you can add to your pages, and if you can't find what you're looking for there, you can select images from Shutterstock or Unsplash or videos from YouTube, Vimeo, etc.
Offers a ton of design flexibility
Though Wix is not primarily an email marketing provider, they do also offer this service in the form of Wix Shoutouts. The subscribers you get from your landing page can be saved here or to an email marketing tool like Mailchimp or MailerLite
Screenshots:
What they could improve:
The learning curve is slightly steeper than with tools such as Mailchimp or MailerLite
The free plan doesn't allow you to use your own domain for your URL. You'll also have to put up with Wix ads on your page
Recommend for:
If you're looking for a more advanced landing page builder and have some design experience, then Wix is a solid option.
Try Wix landing pages for free
MailerLite Landing Pages
MailerLite, like Mailchimp, is primarily an email marketing service. However, their landing page builder, which is included in their free plan, has always been an added bonus for users. This makes it another popular provider of combined website building and email marketing tools.
Its free plan allows for 1,000 subscribers, 12,000 emails a month and 10 public landing pages.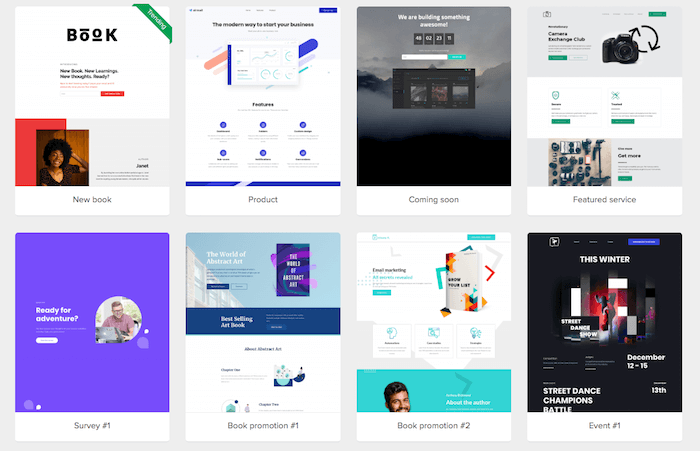 What I like about MailerLite's landing pages:
Though templates are not included on its free version, the paid plans come with 200+ very attractive, responsive templates
Your landing pages can either be hosted by MailerLite or on your own domain (though you'll need to pay $10/month for the latter)
MailerLite offer over 25 content blocks within their editor, meaning you can add events, countdowns, testimonials, your Instagram feed and much more
You can add custom HTML to your landing pages
You have a proper Thank You page you can edit
Not only can you A/B test your pages, but you can test up to 5 different designs/content combinations by splitting traffic between landing pages (paid plan)
SEO settings, where you can add keywords and a page description, are available for those who wish to SEO-optimize their pages (though it's still not possible to add a title tag or customize the URL)
You have more editing options in your form settings. A nice feature is that you can give subscribers the option of which list they subscribe too
Save your designs in your personal template gallery for future use
MailerLite give you the option to add a quiz to your page. This interactivity can help engage visitors and increase your conversions
You can set the favicon (the small icon next to your page title in the browser tabs) on the paid plan
Some of the features mentioned above are reserved for the Premium account holders, but at $15 a month, MailerLite is still very affordable once you move up to a paid plan
Screenshots:
What they could improve:
MailerLite's landing pages are an excellent addition to the other email features – you can tell a lot has been invested in this feature. The only area it could do with improving is its reports, as the only data they offer on the free plan is the number of subscribers, views and conversions. That said, the paid plan does give you additional analytics and a click heatmap. We were pretty disappointed when the landing page templates were removed from the free plan.
Recommend for:
MailerLite is a good option for non-techie, non-design-savvy marketers due to its user-friendly interface.
Omnisend Landing Pages
Omnisend, like MailerLite and Mailchimp, is an email marketing service provider that comes equipped with a decent landing page editor.
Its free plan allows for unlimited landing pages and 500 emails per month.
It's also a great option for Shopify users for its many ecommerce automations (these are even available on the free plan).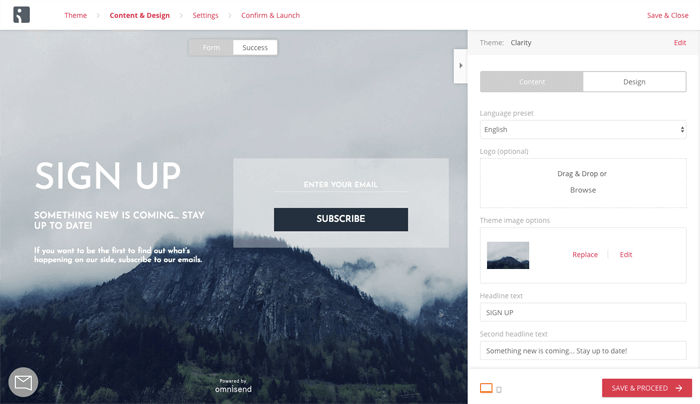 What I like about Omnisend's landing pages:
You can edit confirmation and error messages and add GDPR fields
Add a Tag to organize your new signups into segments
You can set your landing page to run for a limited time
You can edit the HTML, CSS or JavaScript
The free plan includes discount codes for ecommerce stores
The free plan now comes with unlimited automations for email push and SMS
The free plan now comes with unlimited landing pages
What they could improve: 
Layout and design customization options are limited – you'll get much more freedom with Wix
There are only a handful of templates available
Recommend for:
I wouldn't necessarily recommend Onmisend to those simply looking for a dedicated landing page editor. However, online store owners – particularly those with Shopify – who are in need of email features, will find Onmisend to be a good option.
Conclusion: Mailchimp Landing Pages vs The Competition
So there you have it. Two top Mailchimp alternatives to throw into the mix. And if you're in need of any more options, you can check out this post on free landing pages.
MailerLite is just as easy to navigate as Mailchimp and has many more options when it comes to building your landing page! Because it's also an email newsletter service, you'll be able to send your subscribers marketing emails directly from the same platform. Another thing to note is that even once you move into a paid plan (once you exceed 1,000 subscribers), MailerLite's prices are very affordable.
The Wix landing page builder has even more customization options and tons of great-looking templates. The only thing to be aware of is that beginners might find it slightly overwhelming at first.
If you have any questions or comments about the providers mentioned in this article, please let me know in the comments section below.
We keep our content up to date
14 Apr 2023 - Reduced allowance on the free plan reflected
10 May 2022 - Omnisend no longer requires you to connect your online store
28 March 2022 - Moved MailerLite down due to the removal of templates from the free plan
01 Feb 2022 - MailerLite removed free custom domain
21 Oct 2021 - Updated Omnisend 
30 Jun 2020 - Added Omnisend
11 Jun 2020 - Added free landing page builders video
Our Methodology
This article has been written and researched following our EmailTooltester methodology.
Our Methodology