ActiveCampaign Pricing
How Do I Get My Money's Worth?
It's no secret that ActiveCampaign is one of our favorite email marketing tools. We've had great experiences with their support, reports, and their automations are hard to beat.
But which of their four different offers would we recommend?
And does their product scale well if you increase your subscribers due to a successful long term email marketing strategy?
Let's break down the ActiveCampaign plans and prices below to find out.
ActiveCampaign Pricing: What Do I Get?
ActiveCampaign has recently split its features into two separate plans, Marketing and Sales. You can purchase these separately or together as a "bundle".
For Marketing, there are four plans available: Lite (from $39/month), Plus (from $70), Professional (from $159/month), and Enterprise (from $279/month).
Please note that the Lite plan is now slightly hidden on ActiveCampaign's pricing page (see screenshot).
For Sales, you can choose between Plus (from $19/month), Professional (from $49/month), or their Enterprise plan (contact sales for pricing).
It's worth noting that they do not offer a free plan. However, you can still give it a test drive for 14 days without paying anything. Once you commit to a paid plan, you can even take advantage of their free migrations offer.
And to decide which plan is the right one for you, have a look at our complete breakdown below.
Marketing Prices and Plans in Detail
Lite
Plus
Professional
Enterprise
Features
Users
1
3
5
10
Autoresponders
Yes
Yes
Yes
Yes
Automations
Yes
Yes
Yes
Yes
Templates and design editor
Yes
Yes
Yes
Yes
Landing page editor
No
Yes
Yes
Yes
Reporting & Segmentation
Yes
Yes
Yes
Yes
Social media integration
Yes
Yes
Yes
Yes
Advanced Forms (Modals, Floating Bar & Box)
No, only basic forms

(inline)

Yes
Yes
Yes
Newsletter inbox preview
Paid
5 free a month
5 free a month
Unlimited
Sends SMS
No
Yes
Yes
Yes
Custom SMS sending number
No
No
No
Yes
Shows ActiveCampaign logo
Yes (in non-HTML forms)
No
No
No
Attribution metrics
No
No
Yes
Yes
On-site messages
No
No
Yes
Yes
Social data
Optional - Paid
Optional - Paid
Optional - Paid
Yes
API & Web hooks
Yes
Yes
Yes
Yes
Custom Domain
No
Yes
Yes
Yes
Migration services
Yes
Yes
Yes
Yes
Email & Live Chat support
Yes
Yes
Yes
Yes
Phone support and personalized help
No
No
No
Yes
Uptime warranty
No
No
No
Yes
1 to 1 training
No
1 month
3 months
Forever
ActiveCampaign Marketing Plan Cost based on list size
1000 users (unlimited emails)
$39 a month
$49 a month
$159 a month
Request a quote
2,500 users (unlimited emails)
$61 a month
$125 a month
$159 a month
Request a quote
5,000 users (unlimited emails)
$99 a month
$169 a month
$239 a month
Request a quote
10,000 users (unlimited emails)
$174 a month
$249 a month
$349 a month
Request a quote
25,000 users (unlimited emails)
$286 a month
$399 a month
$599 a month
Request a quote
50,000 users (unlimited emails)
$486 a month
Request a quote
Request a quote
Request a quote
100,000 users (unlimited emails)
$505 a month
Request a quote
Request a quote
Request a quote
Due to the recent plan changes, users on the Marketing plan won't have access to the CRM features, which were previously available. So if you are in need of both sales and marketing features, you should consider opting for a bundle plan, we'll provide more information on this below.
Sales Prices and Plans in Detail
| Channels | Plus | Professional | Enterprise |
| --- | --- | --- | --- |
| SMS | With SMS add-on | With SMS add-on | With SMS add-on |
| Lead capture forms | Yes | Yes | Yes |
| Mobile CRM app | Yes | Yes | Yes |
| Facebook lead ads | No | Yes | Yes |
| CRM | Plus | Professional | Enterprise |
| Deals | Yes | Yes | Yes |
| Accounts | Yes | Yes | Yes |
| Deals Pipelines | Yes | Yes | Yes |
| Account and Deal Management | Yes | Yes | Yes |
| Lead scoring | Yes | Yes | Yes |
| Sink inbox with CRM | Yes | Yes | Yes |
| Task Management & Reporting | Yes | Yes | Yes |
| Sales enablement automation | No | Yes | Yes |
| Direct, Synced Email with Contacts and Deals | No | Yes | Yes |
| Win Probability | No. | Yes | Yes |
| | | | |
| --- | --- | --- | --- |
| Tracking and Reporting | Plus | Professional | Enterprise |
| Site tracking | Yes | Yes | Yes |
| Link and event tracking | Yes | Yes | Yes |
| Automation reports | Yes | Yes | Yes |
| Deal reports | Yes | Yes | Yes |
| Sentiment Analysis | No | Yes | Yes |
| Custom Reports | No | No | Yes |
ActiveCampaign Sales Plans costs based on user seats
| | | | |
| --- | --- | --- | --- |
| User seats | Plus | Professional | Enterprise |
| 1 user seat | $23 | $59 | Contact sales for pricing |
| 2 user seats | $46 | $118 | Contact sales for pricing |
| 3 user seats | $69 | $177 | Contact sales for pricing |
| 4 user seats | $92 | $236 | Contact sales for pricing |
ActiveCampaign Bundles:
ActiveCampaign recently introduced a "Bundles" plan, which is a combination of their Marketing Automation and Sales CRM plans, and you can choose from 3 main plans.
First up, the Plus plan starts at $93 and includes marketing and sales automation, site tracking, forms, and landing pages, Facebook custom audiences, and lead ads for up to 5 users and 1000 contacts.
The Professional plan starts at $386 and includes predictive sending, site testing, split automation, sales engagement automation, and one-to-one email for up to 10 users and 2500 contacts.
The Enterprise plan is a custom-priced option for large businesses and offers an account manager, unlimited email testing, custom reports, and a custom mailserver domain for up to 15 users and 2500 contacts. You'll need to contact their sales team to sign up for this plan.
Additional Features:
Conversations
Conversations is a feature available on all plans and can be purchased as an add-on. It allows you to have two-way conversations with subscribers via chat and email and everything is stored in a unified inbox.
Price: $19/user/month
ActiveCampaign 'Marketing' Plans and Prices Summary
We've summarized the Marketing plans, as we think these will be most suited to your email marketing needs.
ActiveCampaign Marketing Lite plan: This is a great option for small teams. Note that with this lite plan, you'll only have access to 1 user seat, however, it comes with some powerful email automations, design options, and a basic form builder. You certainly get a much more powerful product than with most competitors in the same price range.
Please note that Lite doesn't remove ActiveCampaign logos or branding in certain elements such as signup forms and confirmation emails - but if you add your forms via HTML this will not be an issue. Lastly, you won't be able to call them for support, but you'll still be able to access support through live chat and email.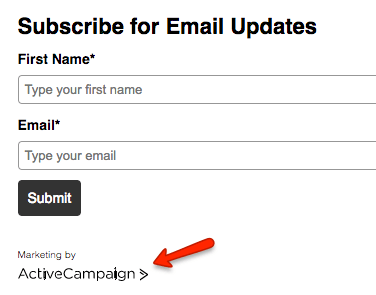 The branding in forms
ActiveCampaign Marketing Plus plan: This one is also suitable for smaller companies, offering up to 3 user seats. Other interesting features of this upgrade are the landing page editor, the ability to send SMS, social media integration, and the use of a custom domain name for your links. It also removes the ActiveCampaign branding, so your forms look more professional.
ActiveCampaign Marketing Professional plan: This advanced marketing plan starts at $149 a month (when paid annually), which is a big increase in the monthly fee. It comes with 5 user seats, the ability to show personalized site messages to your users, predictive sending based on your contact's email open data, and in-depth attribution analysis that will help you tailor measure which touchpoints led to a sale.
ActiveCampaign Marketing Enterprise plan: This plan is for growing companies with a big budget who are looking to scale their email marketing. This top-tier plan comes with 10 user accounts and the most advanced features such as a custom mailserver domain. You also get a custom phone number for sending SMS, phone support, custom reports, and a dedicated account manager who will assist you in various matters like strategy consultation, deliverability, and more.
As we mentioned earlier, they have separated their plans into Marketing and Sales, with the option of combining both plans as a "Bundle". Therefore, if you'd like to gain access to ActiveCampaign's CRM, you'll need to choose from one of their Sales plans, or if you'd like access to their Marketing and Sales capabilities, selecting one of their Bundle plans would be your best option.
> Try Active Campaign for free for 14 days
Conclusion
Marketing Plan prices start at $39 a month with the Lite plan. There is no free version, plus the free trial is limited to only two weeks - this is enough to put some people off ActiveCampaign. Sure, you can find cheaper options, especially if you only need to send very basic newsletters. And in fact, the advanced features might also make email marketing newbies a bit nervous as you could think ActiveCampaign is harder to use (it's not - and we've even prepared an ActiveCampaign tutorial to help get you started).
But if you are indeed serious about email marketing, we would definitely recommend ActiveCampaign. Their offer scales reasonably well, and larger organizations will benefit from very advanced tools, multi-platform, 24/7 support, and personal training at a reasonable price. And they are also very efficient in the way they count their subscribers, so you can easily segment and delete inactive subscribers without worrying about reaching your user limit.
FAQ
ActiveCampaign calls subscribers "Contacts" and counts them in four categories: Active, Unconfirmed, Unsubscribed and Bounced. Only Active Contacts are counted as subscribers. That means they have confirmed their subscription (if using opt-in), not unsubscribed and that they do indeed receive your emails.
If you are close to approaching your contact limit, ActiveCampaign will send you an email notification every 15 days until you upgrade your account. They will not automatically upgrade your account for you so you won't be able to add new contacts. You will also be prevented from creating new campaigns.
Actually you can. ActiveCampaign has a handy Engagement Management tool that lets you remove subscribers who have never engaged with your emails (no open) or not opened them during a certain time period. See screenshot: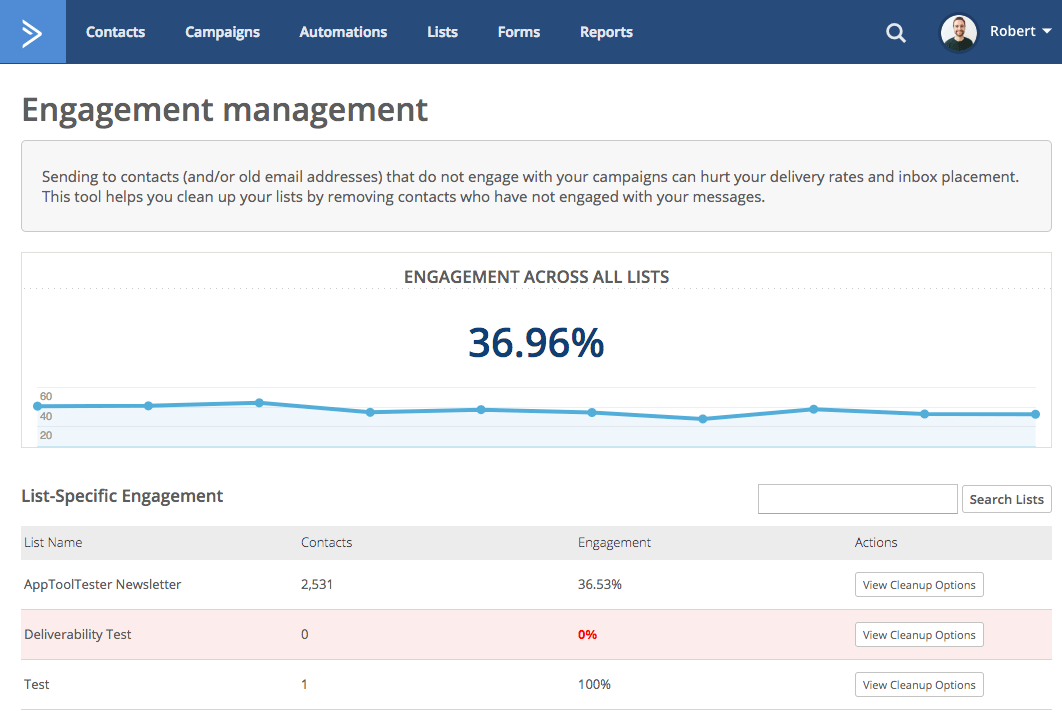 ActiveCampaign includes unlimited emails for all plans below 250,000 contacts. Accounts with over 250,000 contacts have a sending limit of 10x their contact limit – for example, an account with 300,000 contacts includes 3 million emails per month.
Yes! ActiveCampaign offer a 20% discount for non-profits.
We keep our content up to date
22 May 2023 - General update
17 May 2023 - Updated FAQ's
28 Mar 2023 - Pricing update
10 Feb 2023 - Pricing update
07 Jul 2021 - Features added to table
19 Oct 2020 - Added landing page editor
14 Sept 2020 - Added Conversations feature
02 Sept 2020 - prices updated
01 Apr 2020 - prices updated