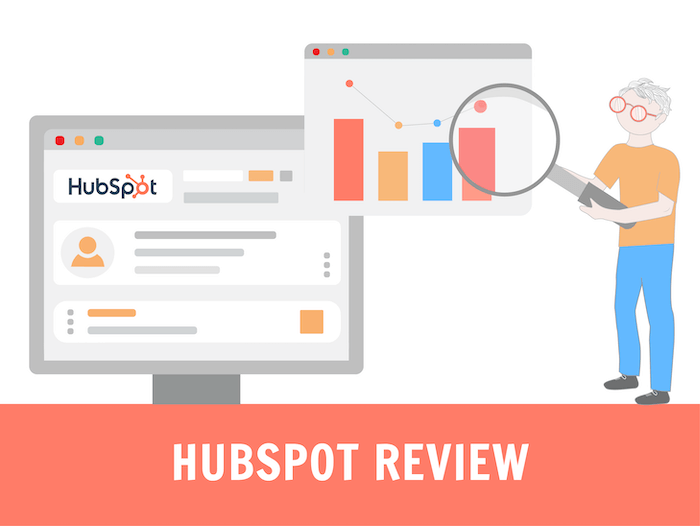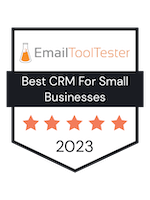 We awarded HubSpot our Best CRM Tool For Small Businesses badge for 2023!
HubSpot CRM, the customer relationship management (CRM) titan.
With a third of the market share, you've most likely heard of them? No doubt, one of your buddies has an account with them, or you've come across one of their helpful blog articles when researching digital marketing best practices.
It's a company we can certainly get behind...to an extent. After all, we're all looking to keep costs down, right? Which is exactly why you're going to want to stick around till the end of this HubSpot CRM review.
Yes, HubSpot offers a very generous free CRM plan for small sales and marketing teams, but what happens when you outgrow its "lite" features and become aware of its limitations? Do you simply move onto one of its paid plans?
Having analyzed other HubSpot CRM reviews, and the product itself in detail, we thought it was time to share our findings with you, so you can make an informed decision on whether HubSpot's CRM platform is for you.
HubSpot CRM Review Summary
Most will be interested in the HubSpot free CRM plan, which comes with 1M contacts, unlimited users, email marketing, tracking and landing pages. Those who want to remove HubSpot branding, send higher volumes of email, automate campaigns and add more custom properties and reporting dashboards will be looking at Starter, which starts at $20/month. The much pricier Professional and Enterprise plans are for those looking for sophisticated analytics, CMS features and lead scoring. But when we say expensive, we mean $890 a month expensive.
So, let's see if this is the best CRM for your needs in this HubSpot CRM review.
HubSpot CRM screenshots
HubSpot CRM Pricing
1,000000 contacts
$0/MO
Free CRM plan with limited features
1,000 contacts
$20/MO
Marketing Starter. Discounts applied to annual subscriptions
3,000 contacts
$60/MO
Marketing Starter. Discounts applied to annual subscriptions
5,000 contacts
$96/MO
Marketing Starter. Discounts applied to annual subscriptions
7,000 contacts
$128/MO
Marketing Starter. Discounts applied to annual subscriptions
10,000 contacts
$176/MO
Marketing Starter. Discounts applied to annual subscriptions
The free plan is very generous, and the Starter plans are just about manageable for small businesses, however, the Professional and Enterprise plans are extremely expensive. Making HubSpot not a great solution for scaling. Find out more in our complete pricing guide
Pros and Cons
Generous freemium plan:
It's really great that HubSpot CRM lets you add unlimited users and 1M contacts on the free version. You'll find that many other free CRMs are much more limited. Features include web forms, email marketing, ticketing, email tracking and landing pages. It really is the best CRM system for those looking for a free service.
Ease-of-use:
The fact that it's so user-friendly is a big advantage to using HubSpot's CRM platform. Its guided set-up wizard, demos and intuitive interface make it a great tool for all levels of experience. It's still a huge software with a lot of bells and whistles, but taking all that into account, its usability is still outstanding. You'll be particularly impressed with its lead management features.
Excellent customer support:
Chat support is available within your dashboard, and the customer support agents are quick to reply with helpful answers. There is also a breadth of rich content on their blog, knowledge base and within Academy, their free, online course platform.
Call feature:
HubSpot's call feature allows you to make phone calls to your current and prospective leads from your account. Calls can be recorded and saved to your contact log for future reference. This feature is available on all plans, though the time limit varies.
Expensive paid plans with hidden costs:
Anything above Starter gets very expensive and requires you to pay a high onboarding fee. In the case of the HubSpot Marketing Professional plan, this is $3,000 on top of the $890/month.
Basic templates:
Surprisingly, HubSpot's templates aren't quite what you'd expect from such a popular, modern tool. I'd like to see some more design options for email and landing pages.
Is HubSpot CRM the right crm software for you?
Recommended if:
You're looking for a free plan :
If you can make do with the "lite" version of paid features, then HubSpot's free CRM plan is definitely worth checking out.
You're a beginner:
Even if you have zero experience working with CRMs and other marketing features, you'll be able to get to grips with HubSpot CRM fairly quickly, as everything feels quite intuitive and there are plenty of resources available if you get stuck.
You want to set up sales funnels:
Because HubSpot includes a landing page builder, form builder, live chat, sales pipelines, and much more, you're able to build complete sales funnels under one roof.
Not recommended if:
You need detailed reporting for a small price :
The reporting features that come with the HubSpot CRM free plan are quite limited. At $200/month, their reporting add-on, which allows you to create custom reports and multiple dashboards, is not cheap, especially since it's only available with the Professional plan and higher.
You're a small (but ambitious) business on a tight budget:
In the case that the "lite" features found on the free plan aren't enough for you, I would recommend checking out these HubSpot alternatives before you sign up to the paid versions, as you may find a cheaper alternative with the features you're looking for.
Rating details
criterion
rating
comments

Ease of Use

HubSpot CRM offers a very user-friendly interface. The menu is well laid out, making it easy to find what you need. In fact, the whole interface is very user-friendly. You're guided through the setup process, and you can skip anything you're not ready to do. There's also chat support available in the dashboard.

Pipeline Management

Drag and drop technology makes organizing your deal pipeline a breeze. Sales pipeline management is made easy with the ability to edit the stages and add/remove custom properties to reflect your sales process. Both kanban and list view are available.

Contact/Deal Management

HubSpot CRM has excellent lead management features that facilitate deal tracking. Add notes, tasks, contracts and other docs. You'll have a record of your contacts' geolocation, call log, emails, etc. You can add up to 10 custom properties on the free plan and 1,000 on all other plans. All contacts are treated as leads. If you'd like to get around this, you could create a custom field to apply to certain contacts you didn't want to include in the sales/deal pipelines or leave them as unassigned.

Email Features

Email marketing is included: Free plan includes 2,000 email sends/month (with HubSpot branding). This limit increases as you move on to the higher-tier plans.
Group mailing, e.g. to a handful of leads, is not facilitated by HubSpot CRM. It would be nice to be able to check a number of contacts and have the option to email them all in one go.

Automation

This CRM solution offers limited form follow-up emails on the free plan. Marketing automation is now available on the Starter plan and bundles. This is great news, as it was previously reserved for the expensive Professional plan. You can choose from dozens of triggers, conditions, and actions, and the visual automation workflow builder is easy to use. If you need omnichannel automation, you'll need to be on the Professional plan.

Reporting

HubSpot CRM gives you a number of dashboard templates that contain various reports (e.g. new contacts by source, revenue by source, etc.), all of which are easy to read. Up to 3 dashboards, each with 10 reports per dashboard, on the free plan. 10 dashboards included on Starter. Integration with Google Analytics available. You can also easily export your reports.

Lead Scoring

Sadly, this feature is reserved for higher-tier plans. Users with Professional and Enterprise accounts can customize the default HubSpot score contact property to qualify leads based on custom criteria. You can also create custom score properties for your contacts, companies, and deals. Predictive lead scoring available on Enterprise plan.

Live Chat

Included in all plans. HubSpot CRM's Live Chat feature sports an integration with their chatbots, too. However, the free plan displays HubSpot branding.

Web Tracking

You can set up advanced tracking across domains and subdomains. Tracks location, original source, pages viewed, etc.

Security

2-factor authentication and access levels for user accounts. SOC 2 compliant. You can set up security alerts to notify you by phone.

Languages

The platform is available in 8 languages, in total

Integrations & Apps

There's a huge selection of app integrations available, including ActiveCampaign, survey tools, Microsoft, Google and hundreds more.

Support

HubSpot CRM is perhaps the best CRM for customer service. Very extensive knowledge base and additional resources. Customer support agents are helpful and quick to respond.

Overall Rating

4.5/5

HubSpot CRM is a well-rounded, easy-to-use CRM tool with enough functionality to help small businesses get off the ground without paying a cent. The excellent customer service paired with a good range of well-design CRM features allows marketing and sales teams to effectively manage their customer relationships.
Conclusion
HubSpot dominates the sales and marketing market for a reason: they're pros at inbound marketing. In other words, they provide potential and existing customers with rich, useful information and, once you're on board, they delight you with an excellent user experience, which includes a well-designed product, helpful support and a good range of free features.
The fact that the free plan comes with a bit of everything from HubSpot's Marketing, Sales CRM and Service hubs means that sales and marketing teams in small businesses and solopreneurs can do everything from lead capture to contact management for absolutely nothing.
The only catch is that once the time comes to upgrade, you'll notice a significant jump in costs. But, with 1M contacts and unlimited users, you should be able to benefit from HubSpot CRM's free plan for quite a while.
Not sure if HubSpot of the best CRM for you? Sign up for the free trial and take it for a spin.
Updates:
08 Mar 2023 – Prices updated
15 Dec 2022 – Added badge
17 Nov 2022 – Small updates
07 July 2022 – HubSpot now offers marketing automation on Starter plan
24 May 2022 – Note about deliverability added
08 Feb 2022 – Added call feature
20 Jan 2022 – General Update
15 Jul 2021 – Added FAQ
HubSpot CRM Alternatives

ActiveCampaign CRM
Read Review

Pipedrive CRM
Read Review

Zoho CRM
Read Review
A couple of HubSpot alternatives to check out are Pipedrive and ActiveCampaign CRM. The former is made for sales teams, and the latter is a mix of sales and marketing features.
ActiveCampaign is a particularly good choice for those serious about automation.
EngageBay is also a great option for those looking for a similar offering to HubSpot at a reasonable, scalable price.
Zoho CRM is another alternative, however, we wouldn't necessarily recommend it over HubSpot because of its overly complicated interface. The advantage of using Zoho CRM is that it's available in 26 languages, whereas HubSpot is only available in 8.
HubSpot is a big Salesforce competitor, see how it compares in our complete guide. you might also want to check it against the other ActiveCampaign alternatives.
FAQ
Is HubSpot free CRM worth it?
If you are a small business looking for a free CRM tool, then HubSpot's free CRM plan is definitely worth your consideration. You can compare it against other free CRM tools here.

Is HubSpot better than Mailchimp?
HubSpot and Mailchimp are slightly different tools. Mailchimp is principally an email service, whereas HubSpot is a customer relationship management tool, though both tools offer a range of marketing services.
It's important to analyze each tool with your needs in mind.

Is HubSpot making money?
HubSpot is a very successful all-in-one sales & marketing software company. As of Jan 2022, it's worth $21.97B.

HubSpot email deliverability - is it any good?
HubSpot's email deliverability is surprisingly low according to our bi-annual deliverability tests. It's worth keeping an eye on this.

Is HubSpot a CRM?
Yes, HubSpot is a CRM with excellent functionality. We recommend HubSpot's CRM system for ease of use, breadth of features and support.

What kind of CRM is HubSpot?
HubSpot is considered an "all-in-one" CRM platform. The array of sales and marketing features found in its various "Hubs" is designed to facilitate marketing, sales and service processes.

About Roberta Phillips
YOUR QUESTIONS AND FEEDBACK