Constant Contact Review:
Well Known, But Worth Its (High) Price?
Constant Contact has been in the email marketing game since 1995. During that time, they've managed to become one of the most used email tools in the world, after Mailchimp.
One thing I noticed is that Constant Contact is very often the top choice for many other review websites. Naturally, I am curious to see if our detailed analysis produces the same outcome.
You might have checked out the Constant Contact reviews offered by users online, too, and whilst they are pretty positive, they may not give you the whole picture. Our review of Constant Contact is based on a methodical approach and uses our practical experience and knowledge of dozens of other simple and advanced marketing automation tools.
What makes them special is that they've added several features over the years that few of their competitors sport. These include digital product downloads, event management, appointment scheduling and social campaigns, which makes them particularly appealing to certain niches (e.g. real estate). These all add to the diverse list of email options available, in addition to automations and recurring newsletters.
Constant Contact boasts a marketplace with around 400 apps and integrations that cater to even the most niche of products. Yet despite these flashy numbers and features, interest in Constant Contact seems to be on the decline, at least according to Google Trends. Enough reason for us to take a closer look at Constant Contact's ins & outs and check if it's still relevant in a modern email marketing strategy. Find out below!
Constant Contact Summary
Constant Contact is directed towards small businesses, but their prices aren't the most affordable, especially when you consider that their features just aren't that advanced. Plans start from $12/month, but this only allows for 500 subscribers, and prices rise pretty sharply after that.
Constant Contact Screenshots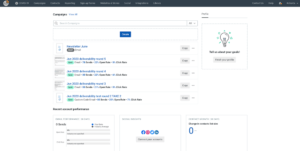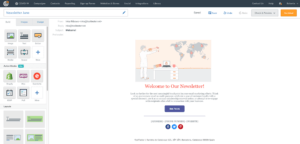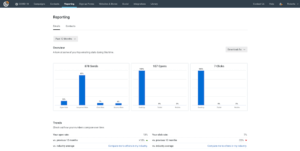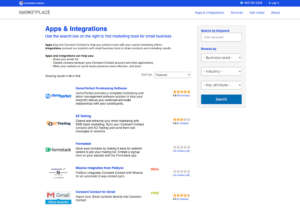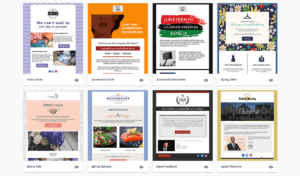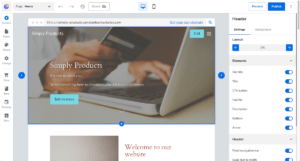 Constant Contact Pricing
$ 12
500 Subscribers
unlimited emails
Lite Plan. Discounts available for 12-month plans.
$ 30
1,000 Subscribers
unlimited emails
Lite Plan. Discounts available for 12-month plans.
$ 50
2,500 Subscribers
unlimited emails
Lite Plan. Discounts available for 12-month plans.
$ 80
5,000 Subscribers
unlimited emails
Lite Plan. Discounts available for 12-month plans.
$ 120
10,000 Subscribers
unlimited emails
Lite Plan. Discounts available for 12-month plans.
$ 180
15,000 Subscribers
unlimited emails
Lite Plan. Discounts available for 12-month plans.
$ 280
25,000 Subscribers
unlimited emails
Lite plan. Discounts available for 12-month plans.
$ 430
50,000 Subscribers
unlimited emails
Lite plan. Discounts available for 12-month plans.
$ 110
2,500 Subscribers
unlimited emails
Premium Plan. Discounts available for 12-month plans.
> Compare prices with our cost calculator
> Find out more about Constant Contact's plans in our complete pricing guide
Pros and Cons
Pros
Niche features

Constant Contact have some interesting niche features such as the ability to sell digital products, schedule your social media posts and create your logo. They also let you take payments for events (with some additional feeds applied, of course).

High deliverability rates

They have consistently performed well in our deliverability tests, offering some of the highest rates of deliverability among our reviewed tools.
Is Constant Contact the right newsletter service for you?
Recommended if:
Not recommended if:
You run events

Constant Contact is quite unique in this regard, being one of the few email marketing tools to allow you to manage event invitations, registrations, and tickets. Bear in mind that this feature comes with its own fees: 5.4% + $0.80 for each ticket sold or transaction conducted.
Constant Contact Deliverability
The deliverability rate of Constant Contact is good overall, they are one of the providers that we've tested from our very first round in 2017, and ever since they have managed to keep a stable score ranging from the late eighties to early nineties. In the last three rounds, they have scored around the 92% mark, and in our latest email deliverability test, they came fifth out of fifteen providers. They were one of the few providers who managed to land 100% of all of their emails in Yahoo, Outlook, Hotmail, and AOL inboxes – great work!
Conclusion
As Constant Contact themselves reiterate through their site, they are a tool for small businesses. And, as such, it's worth evaluating them on these terms. As mentioned above, they definitely have enough of the basics covered to satisfy most small businesses, and if it were as simple as that then we'd recommend them more highly.
The issue, these days, is that there are plenty of other email tools offering even more than Constant Contact, and for a lot less money. This includes not only features, but also user experience. In fact, for the amount you pay with Constant Contact, you could find yourself using much more powerful tools such as ActiveCampaign and GetResponse.
They do pick up points for their decent deliverability rates, integrations (particularly social media integrations), and for allowing different access levels for separate users. And with recent enhancements to automations and reporting, and the addition of new features like a website builder, it does look like they're making an effort to improve the product. But their lack of advanced features makes it difficult to recommend them over others at this price point. (You'll see we don't list them as a good Mailchimp alternative, either.)
So, there you have it: the next time you see Constant Contact as the number 1 rated service anywhere around the web, I would boldly claim that there might be other interests at play there.
FAQ
Constant Contact, in partnership with SharpSpring, offers an all-in-one CRM platform. However, at $399/month, you'd be much better off taking a look at any of these CRMs for small businesses, which will be far more affordable. There are even plenty of excellent free CRMs to choose from.
Frustratingly, you'll need to call Constant Contact within business hours Eastern time in order to cancel your account. Here is the number for the US and Canada: 855-229-5506
Constant Contact is a legit email marketing software for small businesses. It safely stores your customer data and offers a secure way to manage your subscribers.
Constant Contact's deliverability rates are consistently good in our bi-annual deliverability tests.
Constant Contact Alternatives
ActiveCampaign has one of the most advanced automation systems we've ever tried, and it can't be compared to Constant Contact's simplistic approach (it only features autoresponders). They also offer robust reports and analysis tools. On top of that, they are even cheaper than Constant Contact.
Brevo is one of the cheapest all-in-one email marketing tools on the market. It's available in 6 languages and comes with advanced automation options and a built-in CRM.
GetResponse is a solid alternative. It comes with many advanced features (e.g. a webinar tool), has excellent automations and offers one of the best spam and design testing tools we've ever used. That's why Constant Contact falls short when compared to GetResponse.
We have a detailed guide with the best alternatives to Constant Contact, check it out here. You can also try out our Smart Finder to see which newsletter service is best suited to you.
We keep our content up to date
20 July 2023 - Added deliverability section
19 April 2023 - Plans and pricing updated
17 March 2022 - Note added about legitimacy
16 Feb 2022 - Pricing plan names changed
26 Jan 2022 - No longer part of EIG
08 Nov 2021 - FAQs updated
25 Aug 2021 - Contact management features updated
07 Jun 2021 - General update
30 Oct 2020 - New video review
05 Oct 2020 - Images updated
14 Apr 2020 - Small update
23 Jan 2019 - Updated review
07 Jan 2019 - Deliverability rating updated
20 Mar 2018 - Deliverability rating added
06 Apr 2016 - Readjustments of the ratings
12 Aug 2016 - Video review added.
28 Jul - 01 Aug 2016 - Initial tests.
Our Methodology
This review has been written and researched following our EmailToolTester methodology.
Our Methodology