Small business owners experiencing growth in their companies are looking for ways to manage their contacts in a streamlined way.
In the past, CRMs (contact relationship management software) were extremely expensive and complicated to use, meaning it was reserved for large enterprises with big budgets. Fast forward to 2022 and the range of CRMs for small businesses has skyrocketed.
But this article isn't about every popular CRM software out there. No, here we're going to cover the best CRMs for small business owners and all their pros and cons.
You might have already tried a few contact management tools, but I guess if you've found your way to this article, then you haven't quite found what you're looking for?
I've personally tried and tested every CRM software listed in this guide so that you don't have to.
Of course, every small business has different needs; some sales teams may be looking specifically for visual sales pipelines, whereas marketing teams might require lead generation tools. What's more, all-in-one CRM software might sound very appealing to you, but do you really require all those features, and what about the hefty price tag?
We're going to cover all of this and more in this detailed guide to finding the best CRM software for your small business. So let's get stuck in!
Check out this video to learn more about the top 3 CRMs (5 mins):
Here are 14 of the top CRM software solutions we think are worth checking out. You can read why further down:
HubSpot – Free CRM with 1M contact limit
EngageBay – Great price for small businesses
Salesmate – Excellent functionality
Freshsales CRM – Advanced customization options
ActiveCampaign – Advanced automation
Pipedrive – Time-saving email features
Zoho CRM – Super suite of service
Salesforce – Most advanced CRM software
Brevo – Sales and marketing features in one place
Agile CRM – 10 users for free!
Streak – CRM for Gmail
Less Annoying CRM – Simple pricing structure
Drip – Ecommerce CRM
Keap – Take online payments
What is CRM Software?
CRM stands for customer relationship management software and it refers to the approach of managing potential and existing customers. It enables businesses to better organize and access customer data (no more flimsy post-its cluttering up your desk!), meaning that marketers and sales agents have access to real-time data to work with.
CRM software as we know it today is a fairly recent development. The first open-source CRM system was developed by SugarCRM in 2004, a time when CRM was swiftly moving to the cloud. This meant that CRM software products were no longer reserved for enterprises. Instead, they were now accessible to solo-preneurs and small businesses who previously couldn't afford such software. Small business CRMs were born.
CRM software has continued to evolve since then as standardized CRM solutions were replaced with industry-specific ones, making them customizable enough to meet the needs of every business. For example, those with online stores should check out Drip's ecommerce CRM, which comes with advanced marketing automation features.
It's clear that in order to compete in any industry that revolves around direct customer relations you need decent CRM software. In fact, with a CRM system, most companies see a significant increase in leads, sales revenue, and customer retention. It can turn a small business into something much bigger – and who doesn't want to grow?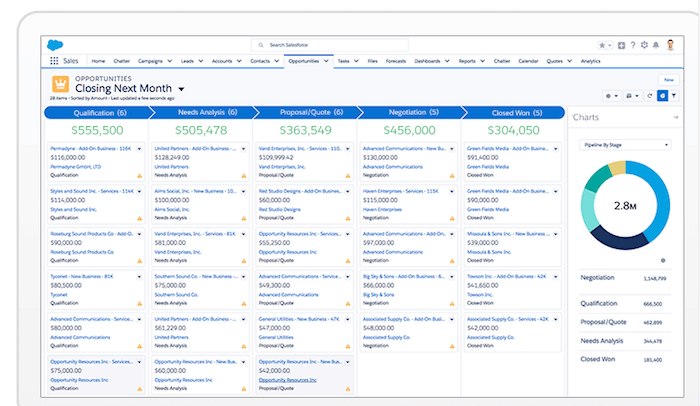 What to Look for in the Best Small Business CRM
As I've mentioned, the best marketing CRM software will allow you to customize your dashboard and the data you collect, but there's more you should look out for.
Price:
As a small business, you don't want to be spending half your monthly budget on CRM software, especially when there are a number of powerful free CRM options for those just starting out. You also don't want to be paying for all the bells and whistles that come with an all in one CRM software when you're only going to be using a few features.
Ease of use:
The last thing you need as a small business owner is the overwhelming task of learning new complex software. Luckily for you, CRM tools have been revolutionized in the last few years, meaning that even a complete beginner can easily get to grips with the CRM platform in a couple of sessions. It's also good to look out for CRM systems that have good support and a detailed knowledge base and training videos.
Just the right amount of customization:
Some tools can be slightly overwhelming due to the sheer number of customization options available, but you also don't want to find yourself limited by the software.
Pipeline management:
The real benefit of using CRM software is moving more leads through the pipeline to conversion. A good CRM platform will give you a holistic view of where your leads are in the funnel and help you to take profitable decisions.
Is it cloud-based?
You and your team will need the ability to access your CRM data from anywhere at any time, and on any device. You'll find that not every CRM solution has its own app.
Integrations:
A good CRM will be able to smoothly integrate with all your favorite social, productivity (e.g. Google Workspace, survey tools, etc.) and email marketing tools. It's also possible that the CRM you go for covers these areas, meaning you can cancel a number of your subscriptions. This can be quite attractive for small businesses that want to keep all their sales and marketing efforts under one roof.
Good support:
Of course, you want your CRM software to be as easy to use as possible, but in case you come across any issues, you're going to need responsive, helpful support you can count on.
So, let's look in more detail at the best marketing CRMs for small businesses.
Best CRM for Small Businesses: The Top 14
HubSpot CRM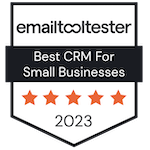 We awarded HubSpot our Best CRM Tool For Small Businesses badge for 2023!
Most people who work in sales or marketing have heard of HubSpot. Its co-founder and CEO, Brian Halligan, even coined the now very well-known term 'inbound marketing', a philosophy that HubSpot is built on and seeks to educate its users on through courses and free resources.
Founded in 2006, HubSpot has come a long way since then, now employing over 3,000 people around the world. After all, it does have a plethora of products and excellent customer support to accompany them. But what makes it one of the best CRM tools?
The great thing about the HubSpot CRM solution is that you can get started for free, and many businesses won't need to upgrade from the free plan for years. In fact, it won't charge you a cent if you have under 1M contacts. Pretty generous, right?
What I liked about HubSpot:
HubSpot CRM is an excellent product for small businesses looking for a free CRM platform. You can: track leads and customers, create timelines of your interactions with customers, chat in real-time with prospects, integrate with Gmail and Outlook, create tasks and goals for your team, and much more. These messages and calls can be tracked, and if you upload documents to the platform, you can see when the contact has opened them.
The great thing about the software is it's painless to use. You can tell they've invested time and money into designing a user interface that won't overwhelm non-techies. It also offers a mobile app and allows you to integrate with hundreds of third-party apps.
Both the free plan and the Marketing Hub Starter plan come with unlimited users, making this the best option for large teams on a budget. The Sales and Service Starter plans come with 2 users, or you can pay to add more. There are also plenty of third-party integrations.
What HubSpot could improve:
Some businesses might decide that they'd like to upgrade to one of HubSpot's paid plans in order to benefit from additional features (e.g. marketing automation, contact and company insights, email templates and tracking, etc.). The problem with this is that your subscriber limit actually drops right down from 1 million to 1,000.
Plus, there's the issue of price. If you want access to its pro sales features such as sales automation, predictive lead scoring and multiple deal pipelines, you'll need to fork out a tremendous $500/month. This price tag isn't exactly affordable for small businesses, so I'd only recommend it for the free version and Starter plans.
HubSpot CRM Pricing:
HubSpot CRM – Free
Marketing Hub – Free /  $20 / $890 / $3,600/month
Sales Hub – Free /  $20 / $500 / $1,200/month
Service Hub – Free /  $20 / $400 / $1,200/month
CRM Suite (All products bundled together) – Free / $50 / $975 / $3,665/month
EngageBay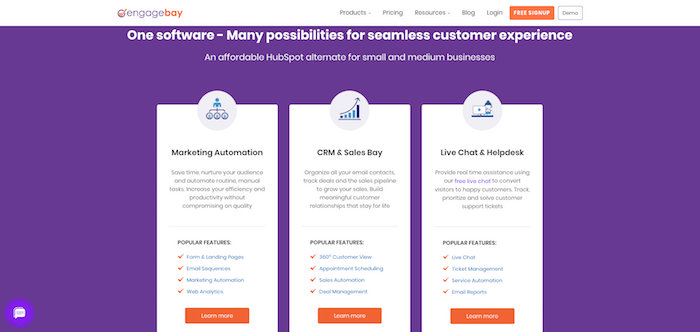 EngageBay is another great CRM software for small businesses due to its affordable prices and a myriad of features that will keep both the sales and marketing team happy.
The EngageBay team prides itself on building a CRM software that anyone can use and boasts a customer base of over 5,000 companies, which isn't bad considering it was founded in 2017.
It gives you a 360 view of your customers, allowing you to see all the customer points (be it SMS, automations, phone call, emails) at a glance. You can automate repetitive tasks, analyze customer data and nurture existing customer relationships whilst building new ones.
What I liked about EngageBay:
So why is EngageBay one of the best CRM software products?
EnageBay's pricing structure is divided into sales, marketing and service hubs, and I found the plans to be very affordable. Its prices rise incrementally and its Basic plan costs just $14.99/month per user.
In terms of usability, EngageBay has a very intuitive interface and is a good choice for those who don't have a ton of experience working with sales pipelines and deal management. A neat feature is that you can switch between the sales, marketing, service and live chat dashboard, meaning that everything is organized in a way that doesn't overwhelm each individual team.
What EngageBay could improve:
The free plan limits your emails to 1,000 and your contacts to 500, which is on the small side considering that other free customer relationship tools like HubSpot come with unlimited contacts. Its list of direct third-party integrations is also not very big.
EngageBay doesn't have a mobile app. If your business requires this feature, check out Freshsales.
EngageBay Pricing:
CRM & Sales Bay: Free for 500 contacts, 1,000 emails/month, 2 lists, appointment scheduling, predictive lead scoring, Gmail/Outlook/Office 365 integration
Basic: $14.99/month per user for 500 contacts and 3,000 emails/month
Growth: $49.99/month per user for 5,000 contacts and 25,000 emails/month
Pro: $99.99/month per user for unlimited contacts and 50,000 emails/month
Salesmate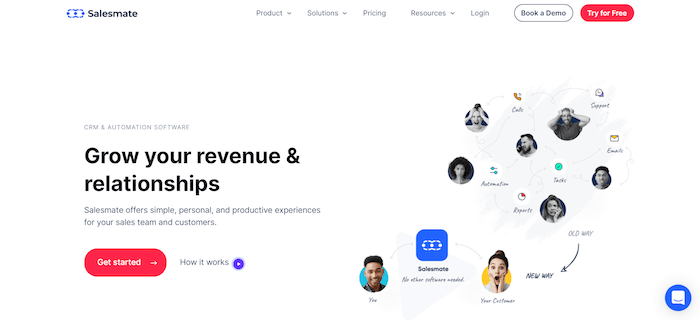 Salesmate is a CRM and automation suite that helps small businesses streamline their sales, marketing, and customer experience processes. Salesmate CRM provides a plethora of features and stays within your budget at the same time, making it the most accessible CRM and automation solution.
Founded in 2016, Salesmate has witnessed enormous growth over the years, powering more than 4000 sales teams from various kinds of businesses. But is what makes it one of the best CRMs for small businesses?
What I liked about Salesmate CRM
Salesmate is a powerful CRM platform that comes with a good range of robust features. It includes everything from contact management and sales and marketing automation to built-in calling and live chat.
Automation journeys allow you to set up automations based on a whole host of triggers and conditions, there really is nothing you can't automate with Salesmate. The automation builder is also very visual and easy to use. In fact, I found the software very user-friendly in general.
Salesmate has data centers in both the US and EU and offers a mobile app for iOS and Android.
What Salesmate could improve
When the user is creating a new automation journey, numerous actions and conditions may be slightly overwhelming for beginners. Some automation templates would help with this.
Power dialer (in-built call automation tool), email sequencing and date-based workflows are not available on the starter plan There's also no freemium plan.
Salesmate Pricing
Salesmate provides a free trial of its Boost plan for 15 days.
Starter plan – $15/user/month
Growth plan – $30/user/month
Boost plan – $50/user/month
Enterprise plan – Custom pricing
Discounts applied to yearly subscriptions.
Freshsales CRM (From Freshworks)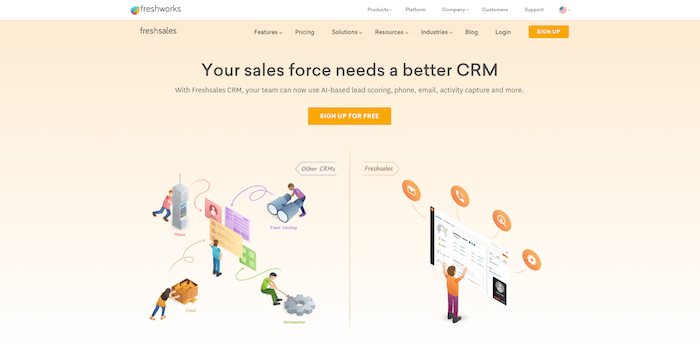 Freshsales CRM is part of a multi-product suite from Freshworks. It also offers products related to customer service tickets (Freshdesk, which you have probably heard of), live chat, call centers, and more. It was launched in 2011 in India and Freshsales CRM came on the market 5 years later.
Freshworks' package is a very complete one, which makes it attractive for small businesses. It includes built-in phone software (which automatically logs calls), lead scoring, user behavior tracking and sales automations.
What I liked about Freshsales CRM:
This is a very robust CRM software for small businesses wanting to manage their sales pipelines; it offers a great deal in terms of customization options and the type of information you can store. Aside from the 25+ fields, it gives you, you can add as many advanced custom fields as you need (on the higher tier plan).
In spite of having so many options, it boasts a simple and easy-to-navigate interface. I especially liked the drag-and-drop deal pipeline view, which gives you all the information you need at a glance, including tags such as 'Warm lead' or 'At risk'. This enables you to prioritize leads that need your attention and makes sure your sales process is running smoothly.
Freshsales has its own app for both Android and iOS included on all plans.
What Freshsales could improve:
Just a small detail, but when moving deals around on the pipeline, it sometimes takes a few seconds to update.
Be aware that no reports are available in the free plan and you won't have access to the sales funnel view in the Deals section.
As the name implies, this CRM solution is geared more towards sales teams, so you'll be missing some key marketing tools.
Freshsales Pricing:
Find out more about Freshsales' pricing here 
Free: $0/user/month
Growth: $18/user/month
Pro: $47/user/month
Enterprise: $83/user/month
Try out Freshsales CRM for free!
ActiveCampaign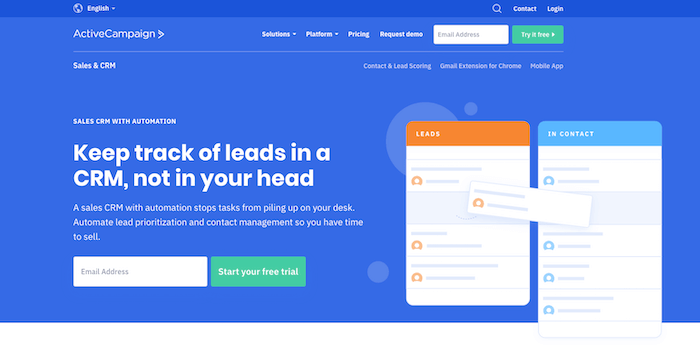 ActiveCampaign is first and foremost an email marketing provider, and it does this very well! In fact, ActiveCampaign is our number one tool for sending email campaigns. Its automations and deliverability are excellent, but what about its CRM software?
ActiveCampaign was founded in Chicago in 2003 and launched its CRM software eleven years later to complement its main offering.
So why choose ActiveCampaign's CRM software for your business?
What I liked about ActiveCampaign:
For $23/month, you can get started with ActiveCampaign's sales features. The price may seem a little more expensive considering ActiveCampaign doesn't offer a free plan, however, note that it comes with advanced sales automation, lead scoring and deal and pipeline management.
With its drag and drop deal pipeline, the system is easy to use. Stages are fully customizable, so you can create as many as you need. If you have multiple sales processes (e.g. for each product or service you sell), you can also create a sales pipeline for each of these. The Conversations feature means that you can nurture customer relationships in a natural way, hopefully helping to increase sales. Other excellent features include a landing page builder, segmentation and email marketing features, though you'll need to sign up to one of its Marketing plans to access these.

What ActiveCampaign could improve:
Unfortunately, it's not possible to export your list of deals from the tool (this could be done through an API, but it's not ideal). The reports could perhaps go a bit deeper.
Some might not like that the concept of leads and accounts doesn't really exist within the tool. Instead, everyone is a contact and the deals associated with it and everything else is all managed in the same place.
See how it did in our ActiveCampaign vs HubSpot comparison.
ActiveCampaign Pricing:
Sales Plus plan: $23/month per user
Sales Professional plan: $59/month per user
Try ActiveCampaign CRM for free!
Pipedrive
Pipedrive is a very affordable CRM software for small businesses. The clean interface makes it very easy to navigate and get set up quickly.
You can sync Pipedrive with your email client (Gmail, Outlook, etc.), and you can sync emails from as far back as 6 months. These are then linked to your respective contact persons, organizations and deals.
Sharing contacts with other team members is super easy. It also has some email features that help you save time in your sales process, such as templates and group email to up to 100 contacts.
What I liked about Pipedrive:
Pipedrive is one of the best sales pipeline management tools. The platform is fairly intuitive and makes it easy to get a holistic view of your leads and sales. The email features mentioned above help you to be more productive by automating routine tasks. Its reporting features are also pretty comprehensive, allowing you to really dive deep into each sales agent's metrics. Sales teams will be very happy with this CRM solution.
All plans come with unlimited contacts.
What Pipedrive could improve:
The Products feature, which allows you to add particular products to deals, is available in the Advanced, Professional, and Enterprise plans. In my opinion, this seems like a must-have feature for all plans.
The email features available in Pipedrive are more limited than other providers on this list.
Check out how Pipedrive compares to HubSpot.
Pipedrive Pricing:
Prices start at $21.90/month on the Essentials plan.
The best value-for-money package is the Advanced plan ($37.90/month). This comes with automation workflows, group emailing and scheduling and the ability to make sales calls directly from the platform. See how the plans compare in our complete Pipedrive pricing guide.
There is no freemium plan but you can try it out for free for 14 days.
Zoho CRM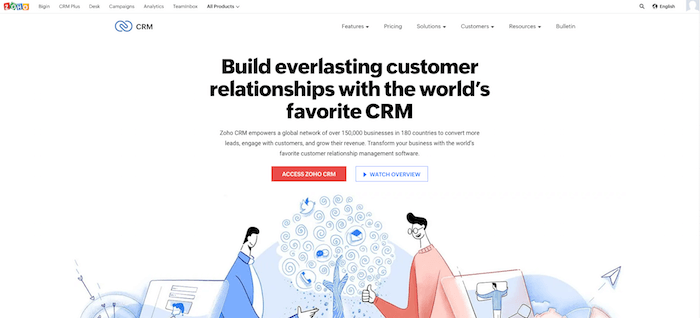 Zoho is an all-in-one marketing machine. Its services include SMS marketing, email hosting, website creation, surveys, forms, and, of course, customer relationship management software. This will all sound pretty appealing to most small businesses, but how easy is it to use and what will it cost you?
The fact that you can have up to 3 users for free, makes this small business CRM solution pretty attractive.
What I liked about Zoho:
You have 3 different views (kanban, canvas and tubular) for contacts, leads, accounts and deals. This is really helpful as one view might be better than the other in certain instances.
The 'activities' section is pretty useful as it allows you to filter by activity type, e.g. open tasks, tomorrow's meetings, all calls, etc. This isn't something I've seen in other CRMs.
It offers you what feels like hundreds of reports, and, of course, you can create custom reports and add the most important ones to your favorites. The analytics section is detailed and visually very easy to read. You can also create custom dashboards.
If you are not sure about anything, you'll surely be able to find the information you need in Zoho's extensive knowledge base or via their helpful customer service agents.
What Zoho could improve:
The interface isn't particularly modern – I'd like to see a design upgrade in the near future. Whilst it's great that Zoho has so many different Software-as-a-Service (SaaS) products on offer, it can sometimes be a bit confusing and not so easy to go between them.
There's no live chat included in the package, instead, you'll need to sign up for Zoho Desk or a third-party application.
It's a bit disappointing that customer segmentation and autoresponders are limited to the Professional tier, however, it still remains cheaper than HubSpot.
Zoho CRM Pricing:
Free: For up to 3 users
Standard: $20/user/month
Professional: $35/user/month
Enterprise: $50/user/month
Ultimate: $65/user/month
See our detailed pricing guide for more information
*20% off on annual subscriptions
Salesforce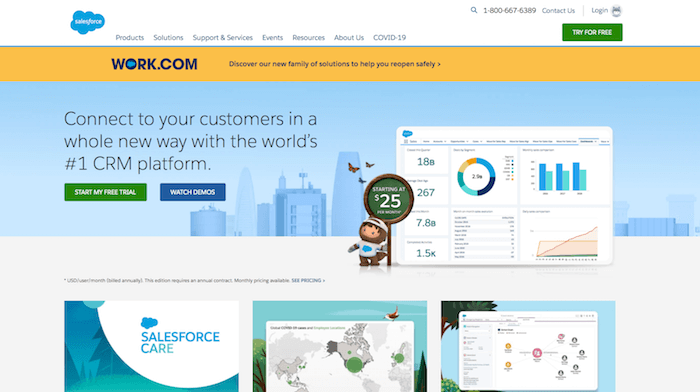 Salesforce is a CRM powerhouse many small businesses would have heard of. In fact, it may well be the most widely used CRM tool on the market. Although this software is typically used by larger businesses and enterprises, Salesforce's small business package lets you take advantage of the product's robust set of CRM tools and resources at a discounted rate.
Whether it is for you or not totally depends on your business needs and tech experience. If you're looking for an easy-to-use CRM software that you can set up fairly quickly then Salesforce probably isn't for you. However, if you're willing to invest a little more time and want to benefit from its advanced customization options and enterprise-level businesses capabilities then keep reading.
What I liked about Salesforce:
Salesforce boasts a range of advanced CRM features like sales forecasting tools, project management features and workflow automation – there really is no limit to what you can do and it makes it easy to scale as your business grows.
Salesforce recently acquired Evergage, thus giving Salesforce access to its advanced artificial intelligence technology. Users will no doubt benefit from the advanced predictive features in the near future.
Reporting tools are excellent, allowing you to analyze customer data on a very granular level.
What Salesforce could improve:
Salesforce doesn't have the most intuitive interface – in fact, it's quite overwhelming, even for someone with CRM experience. The set-up process is quite a bit more time-consuming than with other CRMs and you're encouraged to register for training and connect with a Salesforce-certified consulting partner to help you with the process.
Be aware that the plan for small businesses (Lightning Essentials) only provides support for up to five users at a time.
Read more about all the pros and cons here.
Salesforce Pricing:
Salesforce offer a generous 30-day free trial
Starter: $25/month/user, billed annually
Professional: $80/month/user, billed annually
Enterprise: $165/month/user, billed annually
Brevo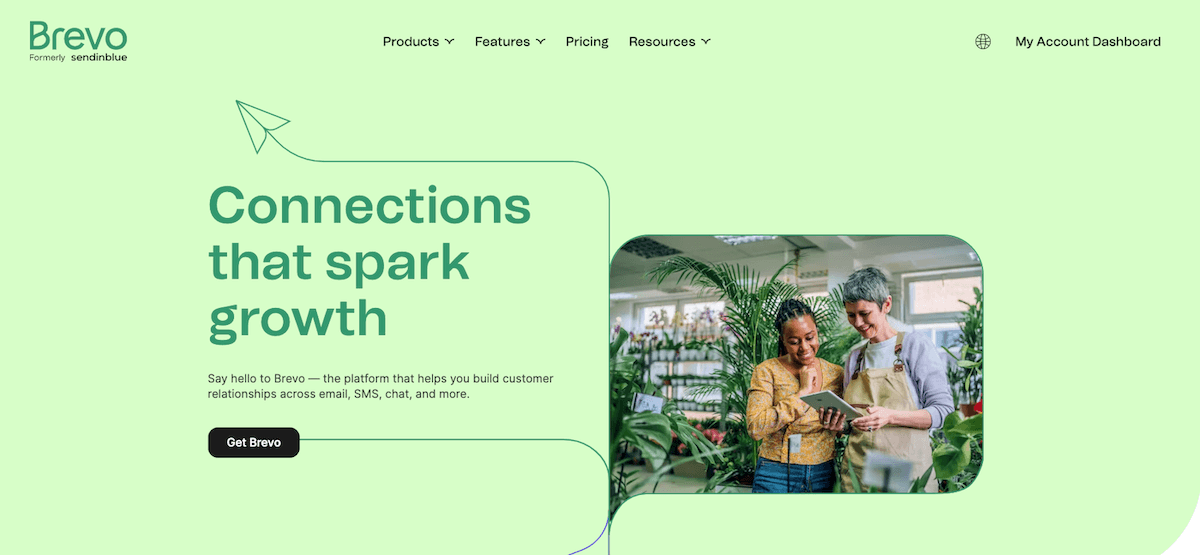 Like ActiveCampaign, Brevo is another email marketing service with CRM features. Having everything in one place like this is very handy and will no doubt help you to increase conversions and manage existing customers. With a customer list of over 500,000 businesses, Brevo definitely deserves a mention as one of the best CRMs for small businesses.
You'll be able to set up contact lists, add notes and relevant documents to l lead profiles, create tasks and assign new leads to your team.
What I liked about Brevo:
Key features include a drag and drop deal pipeline area, omnichannel automation workflows, a booking app, and a cloud-based phone system. You'll even get a phone number for free, and you can use the feature on mobile!
What's more, the Conversations feature (on the Pro plan) allows you to manage communications on various channels (Facebook Messenger, Instagram, live chat and WhatsApp), so you'll have a holistic view of all communications in one place.
Brevo's free Marketing plan comes with unlimited contacts, marketing automation, advanced segmentation and web tracking.
Find out more in our Brevo review.
All of these pro features make Brevo a very attractive option when looking for an all-in-one CRM, especially when you consider that many features are available for free.
What Brevo could improve:
You may be missing some functionality you'd get from more advanced, dedicated CRMs. For example, lead scoring is not available. With the new pricing structure and the fact that you're billed per user, larger teams wanting a mix of sales and marketing features will see costs racking up fairly quickly.
Brevo Pricing:
All Marketing plans include unlimited contacts
Free for 300 emails/day
Starter: $25/month for 20,000 emails
Business: $65/month for 20,000 emails
Sales Plan: Free / Pro $12/month per user
Conversations: Free / Pro $15/month per user
Find out more about Brevo's pricing here
Agile CRM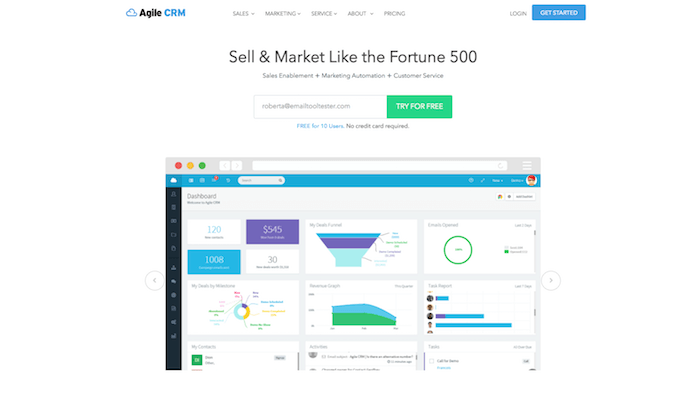 Agile CRM's affordable prices won them a spot on this list of CRMs for small businesses, but low prices aren't everything. On paper, it looks pretty good; it comes with all the right features and gives you decent allowances, but how easy is it to use, and how well does its system work?
What I liked about Agile:
The fact that Agile's free plan comes with 10 users is a big advantage for small, but growing, businesses. The free plan also comes with a number of features, such as a landing page builder, email campaigns and tracking, lead scoring and appointment scheduling. Starting at just $8.99, the paid plans are very affordable.
The system is well-designed, and the dashboard gives you a nice holistic view of your activity and what needs to be done. You can switch between pipeline and list view, and filter based on tags.
Within the contact profile, you can see everything you need: tasks, emails, deals, lead score, etc.
Phone support is included on all paid plans, and you can make and receive calls from leads within the platform on the Regular plan.
What Agile could improve:
I found adding contacts not to be that user-friendly. First, there are three options that look to be offering the same thing. Secondly, my contacts took a long time to appear in the contacts list, even though I only added seven people.
This and a couple of other items not loading correctly makes the system feel a bit buggy.
Agile Pricing:
Free for 10 users, 1,000 contacts
Starter: $8.99, 10,000 contacts
Regular: $29.99, 50,000 contacts
Enterprise: $47.99, unlimited contacts
Streak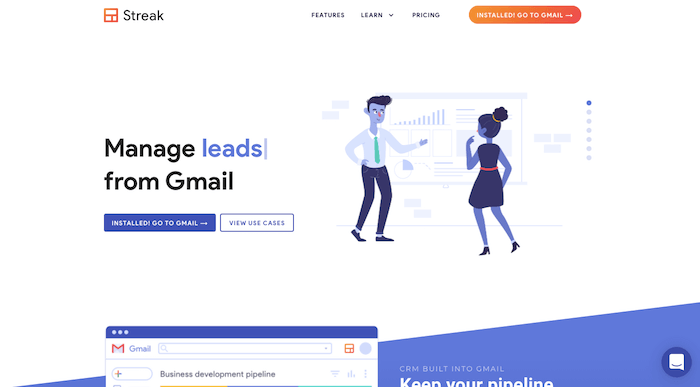 Streak CRM is made for those who want to manage contacts and deals without having to leave Gmail. As someone who has an account with hundreds of tools, I have to say that Streak's is a pretty appealing proposal. It sounds like a streamlined CRM solution, but do you miss out on functionality and features? Let's find out!
What I liked about Streak:
In terms of the system, you create pipelines and add leads/orders/projects as they come in. There are a number of pipeline templates, which are handy. You can also add tags to contacts or email threads, and track emails.
What Streak could improve:
Some users might find their inbox looks a bit cluttered with all the different colored tags, but it's pretty subjective – you might also love it.
Organizing your pipeline is a little cumbersome without the use of drag and drop technology, but I guess that's the price you pay for keeping all your data in Gmail. It's also missing its own dashboard – it would be useful to be able to see reports at a glance. And, of course, adding these types of extensions never makes Gmail faster.
It's definitely worth checking it out on the free plan, for those just starting out. However, I'd be hesitant to recommend Streak's paid plan over other CRM services, which offer much more for the same price.
Streak Pricing:
Free: Basic CRM, 500 contacts, 50 emails/days, email tracking
Solo: $19/user/month, Basic CRM, 5000 contacts, 800 emails/day,
Pro: $59/user/month, Advanced CRM, 5000 contacts, 1500 emails/day, shared pipelines
Pro+: $89/user/month, Advanced reports, automations, AI assistant
Enterprise: $159/user/month
Less Annoying CRM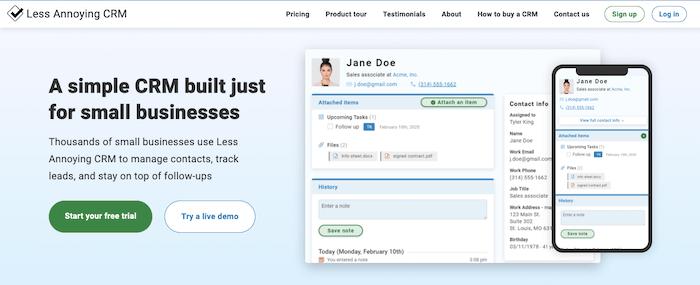 Less Annoying CRM was started by two brothers in 2009 in San Francisco with the aim of making a CRM that was…well….less annoying. To me, this sounds kind of gimmicky, so I wanted to find out if this was actually the case.
What I liked about Less Annoying CRM:
It has a simple pricing structure with just one very affordable plan that includes all features. You won't have to commit to a whole year like with some other services, and you'll have 30 days on the free trial.
There is a helpful beginner's guide, made up of video tutorials, and you also get free one-to-one consultations with your CRM coach.
What this CRM software could improve:
Setting up your pipelines and adding leads to them is a cumbersome process, mainly because of how hidden the pipeline area is and how much back and forth is required to set up the pipeline, add leads, and then view the pipeline. It doesn't make any sense to me that the option to create your pipelines is found under the 'Settings' tab and to view them, you'll need to click on 'Reports'. The lack of drag and drop technology doesn't help the overall user experience.
An absence of reporting features is a big disadvantage, as I think even the smallest of companies can greatly benefit from these insights.
Integration options are very limited.
Pricing:
$15/user/month with all features included
Try Less Annoying CRM for free
Drip Ecommerce CRM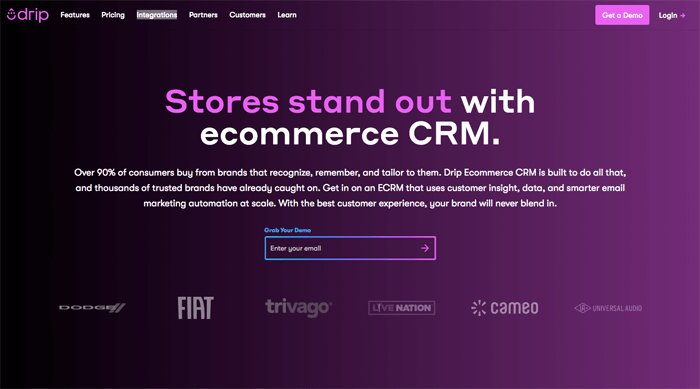 Drip came onto the scene in 2013 and has since attracted more than 6,500 ecommerce brands. It first grabbed our attention for its pretty decent marketing automation features and then, once we looked into it as a HubSpot alternative, as an excellent small business CRM software.
It is primarily directed toward online store owners and promises to help them increase engagement and sales through advanced personalization and automation features. Sounds pretty good, right?
What I liked about Drip:
Drip has an advanced tagging system, whereby contacts can be organized based on virtually any custom field. It will also score leads based on activity and behavior, meaning that you'll know who to contact with interesting offers and new products.
What's cool about Drip is that you can automatically add content like product recommendations and top-selling products straight to your newsletters, using the Visual Email Builder.
What Drip could improve:
Unlike some other tools on this list, Drip doesn't offer a free plan. You'll pay $39/month for 2,500 contacts and all features. Be aware that if you go over the subscriber limit, you'll automatically be bumped up to the next plan (without warning).
Drip is slightly different from dedicated CRM software as it doesn't include a pipeline view or allow you to add deals. This is because it is focused purely on ecommerce customer relationship management.
Drip Pricing:
Prices start from $39/month for 2,500 contacts and all the features.
Keap

Keap, from Arizona, USA, was previously known as Infusionsoft, until 2019 when they changed the name. Its services include customer relationship management, marketing automation, lead capture, email marketing and e-commerce.
What I liked about Keap:
Set-up is made easy by a step-by-step process. You can import your contacts directly from email providers and CRM software, including Mailchimp, Constant Contact and HubSpot, amongst other options.
Keap helps you to draw up professional-looking quotes and then seamlessly convert them into invoices with just one click. You can enable online payments, which makes it very easy for customers to pay you instantly via PayPal or credit/debit card. It's also possible to set up recurring payments, meaning no chasing up on your end – though this feature is reserved for Pro plan customers. It also offers sales funnel software.
There are 12 responsive email templates available. The designs aren't bad-looking, and they're easy to edit and A/B test.
What Keap could improve:
Keap's biggest disadvantage are its prices. Unfortunately, there is no free plan and the cheapest plan starts at $79/month for 500 contacts and just one user. What's more, key features such as landing pages, pipelines, advanced automations and reports are reserved for the pricey Pro plan ($149/month).
Currently, SMS messages and phone line are only available in the US and Canada.
Keap Pricing:
Pro: $199/month
Max: $289/month
Note:
All plans require an expensive one-time payment of $499 for coaching
All plans include 1 user and 500 contacts
What's the Best Free CRM for Small Businesses?
If you're specifically looking for a free CRM software then you have a couple of options: HubSpot, Freshsales, Zoho CRM or Agile. However, when comparing the features available, HubSpot comes out as the best CRM software in this case.
You'll get 1M contacts, unlimited users and 2,000 emails/month for absolutely nothing. Unlike Freshworks, HubSpot won't keep your reports from you, in fact, it offers a number of pre-made reports in its Reports Library.
Check out this overview of the best free CRM software for more information. Or, read this guide if you're looking for a CRM with automation.
Best CRM for Small Business: Conclusion
So now it's up to you to decide which is the best CRM software for you. As you've seen, CRM software for small business owners is not all made equal, and the cost to you can vary quite a bit.
The easiest to use tool for beginners is either HubSpot, EngageBay, Salesmate, Freshsales or Brevo, and you should find you have enough features and advanced customization options to meet your needs. Another easy-to-use option is Streak, though the functionality is more limited.
If you need something more robust and don't mind taking some time to learn how the product works then Salesforce is worth checking out, though I have to say that I found it quite overwhelming.
Perhaps you're also in need of appointment scheduling software or an email marketing service for business? Make sure to check out our reviews.
Have you tried any of these tools? Let us know your experience in the comments below.
We keep our content up to date
20 Sept 2023 - Prices updated for all providers
19 Sept 2023 - Brevo updated and moved up
24 Apr 2023 - Added video review of HubSpot
08 Mar 2023 - Updated Hubspot's prices
15 Dec 2022 - Added badge
29 Nov 2022 - Updated Zoho CRM new SMS marketing feature 
05 Oct 2022 - Updated Brevo and moved them up
15 March 2022 - General update
03 March 2022 - Added Salesmate and moved down Freshsales
08 Feb 2022 - General update
01 Dec 2021 - Added Pipedrive video
02 Nov 2021 - Moved Zoho down
31 Aug 2021 - Added Less Annoying CRM
18 Aug 2021 - Moved Agile down
07 Jun 2021 - Updated Brevo
18 May 2021 - Added Agile and Streak
11 May 2021 - Keap moved down
06 Apr 2021 - Updated Zoho's prices
18 Mar 2021 - Keap added
Our Methodology
This article has been written and researched following our EmailTooltester methodology.
Our Methodology