Brevo (formerly Sendinblue) Review
The Cheapest All-in-One Solution?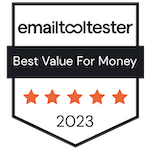 We awarded Sendinblue (now Brevo) our Best Email Marketing Tool For Value For Money badge for 2023!
Find out why in our extensive review of its product.
Starting life as a digital agency, Sendinblue's email marketing platform was developed in response to one of the biggest challenges faced by small businesses: automating email marketing on a budget.
In early 2023 they decided to rebrand their name to Brevo since they now have a comprehensive feature set that goes beyond just sending newsletters. It includes a CRM, marketing automation, transactional emails, SMS, landing pages, Facebook ads and more. All that at an extremely competitive price.
Sendinblue's original goal always appeared to be to become a sort of 'European Mailchimp'. However, after the Brevo rebranding, it seems they are now striving to be the 'European Hubspot'.
In this review, though, we'll focus on Brevo's email marketing software. Let's hope all these extra features don't slow the newsletter tool down!
Brevo Review: What to expect
Brevo has a nicely-featured
free plan
, which includes email templates, automation workflows and up to 300 emails per day. The advanced automations included offer web tracking and lead scoring.
Unlike other providers, they charge based on the number of emails you send rather than how many contacts you have. Paid plans start at $25 a month for 20,000 emails.
Now let's dive into this in-depth Brevo review and see whether this email marketing platform lives up to its promise of delivering a user-friendly, all-in-one solution.
Brevo Pricing
$ 0
Unlimited Subscribers
9,000 Emails
Unlimited subscribers. Emails include branding, daily quota of 300.
$ 25
Unlimited Subscribers
20,000 Emails
Starter plan. 20K emails. Unlimited recipients
$ 35
Unlimited Subscribers
40,000 Emails
Starter plan. 40K emails. Unlimited recipients
$ 49
Unlimited Subscribers
60,000 Emails
Starter plan. 60K emails. Unlimited recipients
$ 69
Unlimited Subscribers
100,000 Emails
Starter plan. 100K emails. Unlimited recipients
$ 75
Unlimited Subscribers
40,000 Emails
Business. Includes all advanced features.
$ 115
Unlimited Subscribers
100,000 Emails
Business. Includes all advanced features.
The most significant difference between Brevo and other email marketing services is that Brevo charges per email rather than per subscriber. In fact, there is no limit to the number of contacts you can upload.
It is also worth noting that there is a 'pay-as-you-go' option (Email Credits) available for customers who do not send newsletters every month.
Learn more in our comprehensive Brevo pricing guide.
Pros and Cons
Pros
Low-cost plans

The first thing that will probably stand out to you is Brevo's pricing. It offers some of the most competitive prices on the market, with plans starting at $35 for 20,000 emails and unlimited contacts. For this reason, amongst others, we made it one of the top ActiveCampaign alternatives.

Solid email automation

Surprising for a newsletter service at this price point: Brevo boasts excellent workflow-based automation. You can trigger campaign actions using your visitor's email and website engagement behavior, assign lead scores, send transactional messages, plus loads more. For this reason, it's one of the best email marketing tools for Shopify.

Transactional email and SMS marketing tool

Not many newsletter tools offer transactional email and SMS marketing, so it's great that Brevo does. It's also pretty affordable!

Brevo WordPress plugin

Brevo's WordPress plugin has over 80,000 active installations on WordPress, with 4.5 stars. The interface mirrors that of the web application, making for a seamless user experience.

Free CRM software

Even Brevo's free plan comes with a sales CRM. You can see how it compares to the best free CRM software in this guide.
Is Brevo the right newsletter service for you?
Recommended if:
Not recommended if:
You need to send transactional emails, SMS and/or WhatsApp messages

Brevo does much more than just email marketing campaigns, in fact, it's one of the best tools for trigger-based and transactional emails. Its automation workflow designer allows you to build campaigns triggered by clicks, opens and even webpage visits. And its dedicated transactional section allows for messages such as password resets, and sign-up and purchase confirmations! There's even an option to send SMS and branded WhatsApp campaigns to a segmented list.

You want a sophisticated tool on a low budget

Brevo works out to be a lot cheaper than other comparable tools if you send few emails to the same people. If you're after a value-for-money service with automations, advanced segmentation, live chat and dynamic personalization, it's a noteworthy option.

You're an ecommerce

With features like customizable triggers based on purchase data, the ability to import customer orders, and customizable KPIs, Brevo is well-equipped to serve ecommerce. Integrations with popular platforms like Shopify, WooCommerce and Magento are available.
A More Detailed Look at Brevo's Features
As you can see, Brevo offers a good range of pro features, and gains points for being so affordable for small businesses. Let's take a closer look at the pros and cons of Brevo's key features:
Brevo Templates
Brevo's templates aren't bad at all. There are 47 responsive designs available, and they are organized by purpose (sale, re-engagement, welcome, etc.) rather than industry (fashion, marketing, etc.). Compared to many of Brevo's competitors it's an uncommon approach, but in my opinion, this makes more sense, as the design will already be optimized for specific call-to-actions.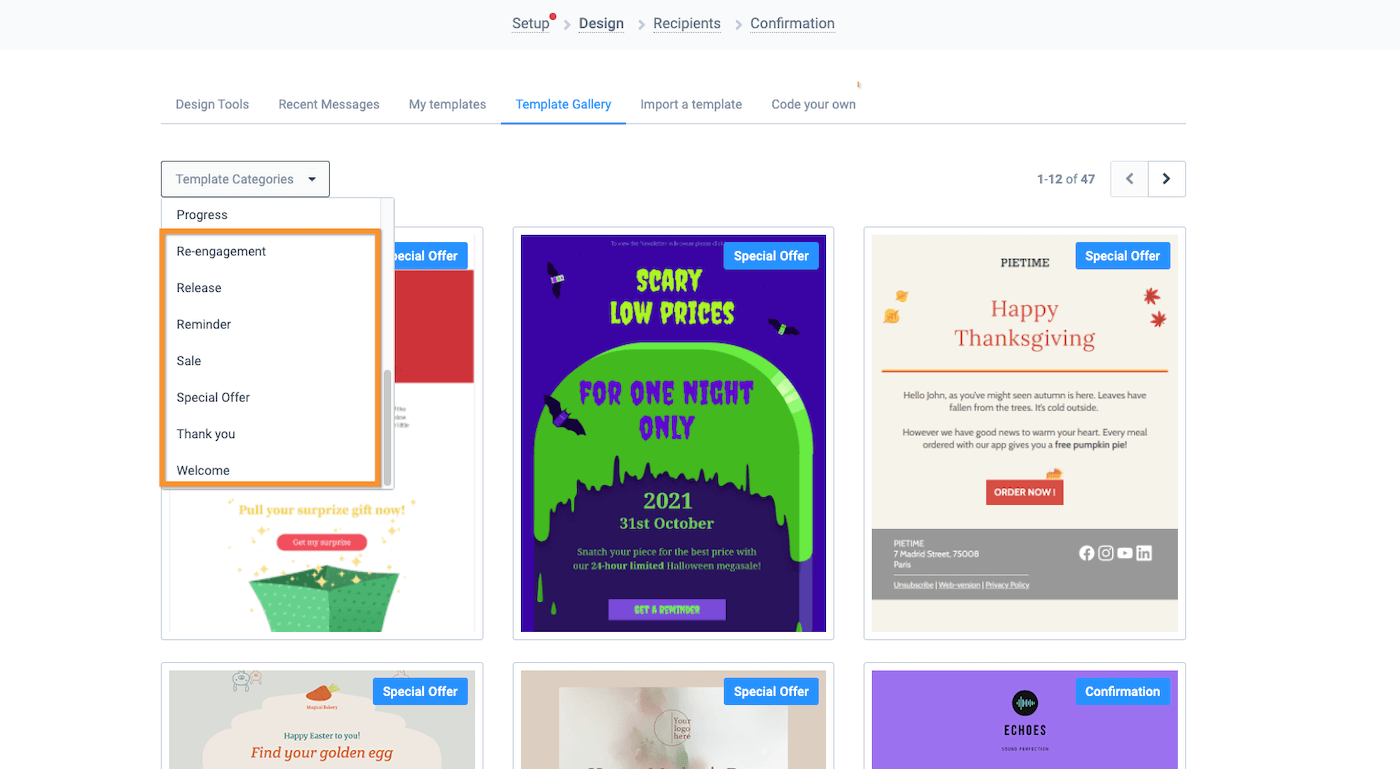 All email templates are included on all plans, including the free one. Though, bear in mind that you'll need to pay in order to remove Brevo's branding.
You also have the option to code your own newsletter and save it as a template.
Note that once you've chosen your template, you won't be able to change it without starting from scratch.
Brevo SMS Marketing
SMS marketing is offered on the free plan, though you'll need to purchase credits. The price depends on the country you're sending them to. For example, sending SMS within the US will cost you €5 for 500 SMS, €10 for 1000, etc. Note that you'll be charged in Euros regardless of where you operate.
Having the ability to send SMS is an added bonus, as not many email marketing platforms offer this. Not even the popular newsletter tool Mailchimp has this capability.
We compared prices to emailing tool Omnisend and found them to be very similar.
Brevo for transactional emails
Brevo's SMTP relay service is used to send transactional emails and avoid spam filters. This is great for those who need to send time-sensitive bulk emails.
Brevo promise rapid delivery:
50% of emails delivered within 1 second
99.98% of emails delivered in under 20 seconds
You can use Brevo's SMTP service for free with a limit of 300 emails per day. If you are going to send a higher volume, you need to pick one of their paid plans. In our tests of the transactional email service, we found some deliverability issues, unfortunately. So if you're only planning to send emails via SMTP or API, you should check out competitors such as SMTP2Go or Postmark.
Brevo CRM
Aside from unlimited contacts, marketing automation and web tracking, its free plan also comes with a built-in CRM.
Most all-in-one email marketing services charge extra for this pro feature, so having it for free is a great advantage to using Brevo.
We even included it in our guide to the best CRM software for small businesses for that very reason.
It's true that dedicated CRMs like HubSpot offer greater functionality, though if you only need a simple solution, Brevo's CRM could be enough for you. After all, we have listed it as one of the best HubSpot alternatives.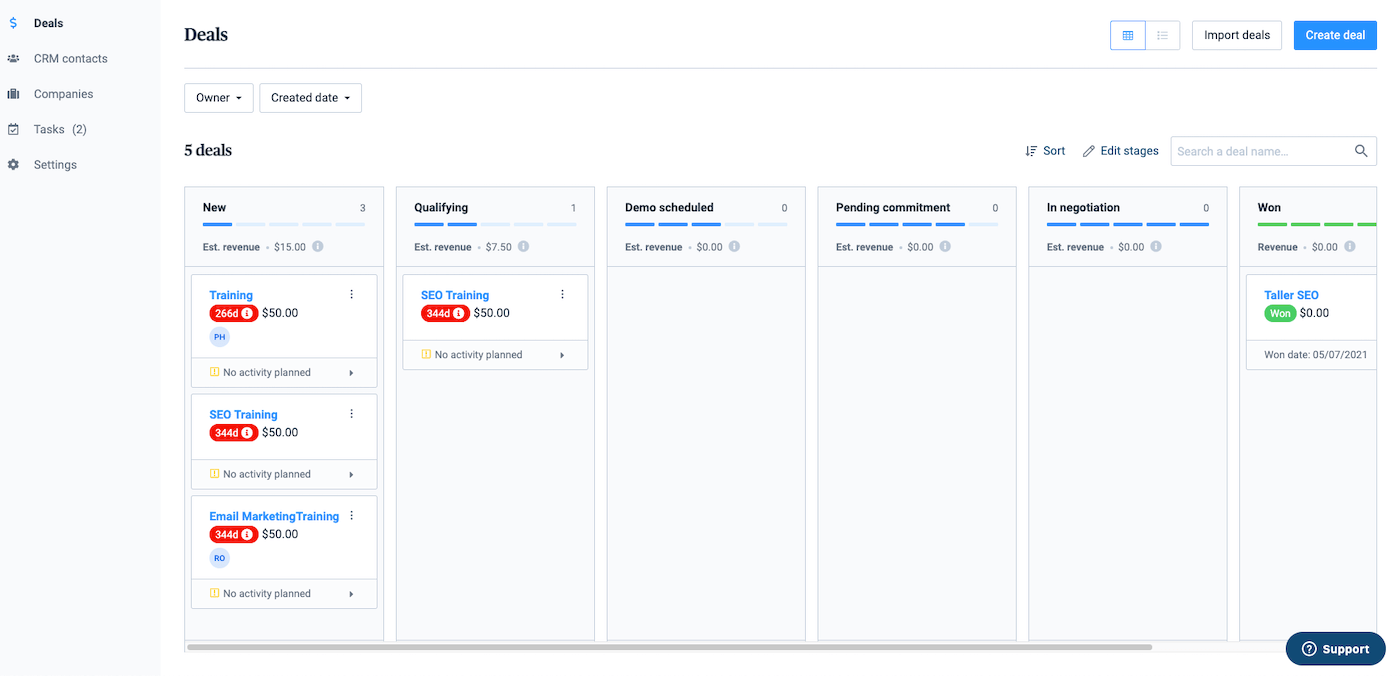 In our opinion, Brevo's deal pipeline is well-designed and easy to use. It's definitely one of the simpler CRM solutions, but that isn't necessarily a bad thing. After all, you won't be overwhelmed by hundreds of options and layers of navigation. Instead, you'll find editing columns and adding/editing attributes a breeze.
That said, it is missing two key things: lead scoring and analytics. There is no reporting at all on deals, which isn't great.
Conversations App
Multichannel contact management is possible with Brevo thanks to the Conversations app. Here you can manage messages that come in via live chat, chatbot, FB Messenger and Instagram.
This is what the interface looks like when you get started: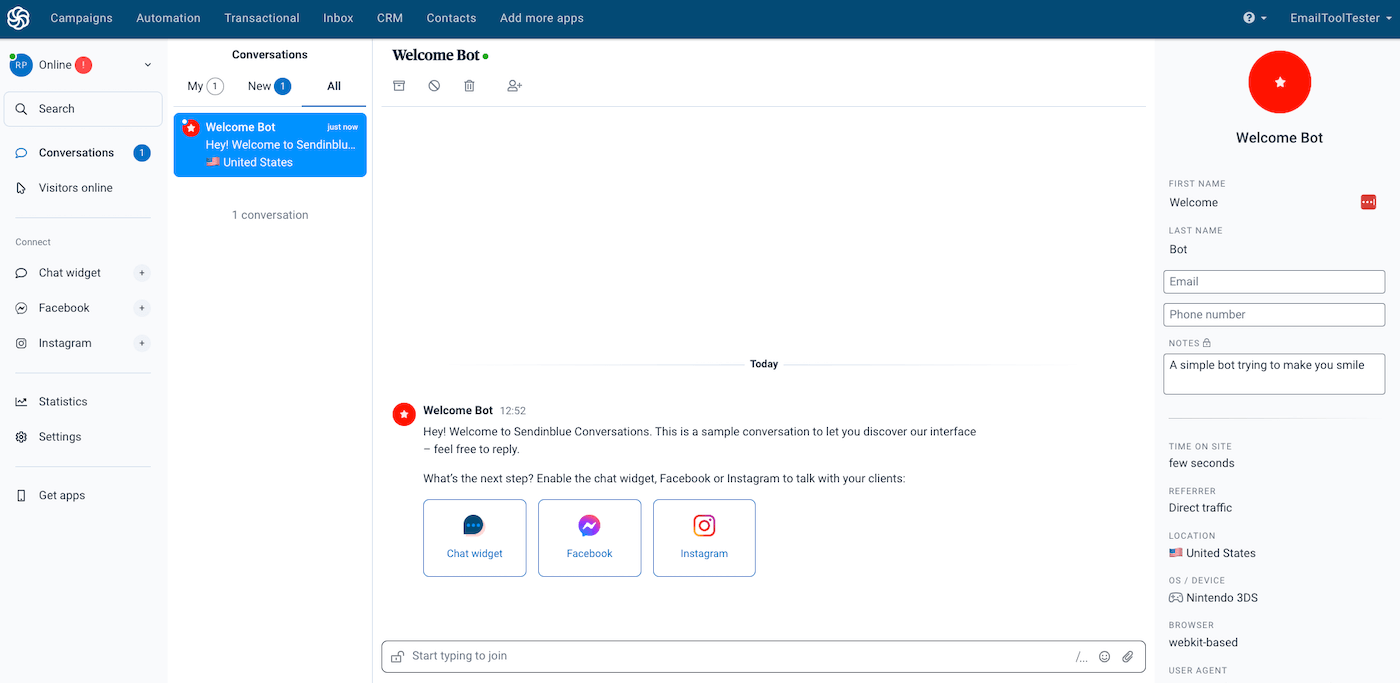 This is definitely a great addition to the emailing software, as it really helps you to stay on top of messages and quickly identify opportunities.
There is also a Conversations mobile app, which is available for both iOS & Android.
Brevo promises to integrate WhatsApp into this dashboard in the near future.
This feature is available for free, but it's quite limited, as you won't be able to connect the external messaging apps. If you want to integrate Facebook Messenger, Instagram +/ WhatsApp, you'll need to pay $15 per user on top of your monthly subscription.
WhatsApp Campaigns
As one of the first Meta partners for WhatsApp Campaigns, with Brevo, you can now send targeted messages to your audience through the messaging app.
Unlike with SMS, you can customize your WhatsApp campaigns with images, videos, attachments, and CTAs. This could be a great way to keep your customers engaged. You'll be required to add an unsubscribe link to your WhatsApp campaigns, and we'd advise keeping an eye on the unsubscribe rate, as a high one will affect your quality score. It would be great if you could A/B test such campaigns – something that isn't possible currently.
You can upload your contacts in bulk and create segments that you can use across other channels (SMS and email campaigns). So the fact that you can manage various channels all in one place is really useful.
This feature is available on all plans, though sending charges vary per country.
Brevo Deliverability
It's been interesting to monitor Brevo's deliverability rates over the years, their scores have fluctuated from the mid-nineties to a disappointing 67.7% in our latest round, coming second to last. Their average deliverability rate for the last three rounds still stands at 75.29%. And in addition to these poor results, they also saw the highest percentage of emails go to spam out of all providers and were unable to deliver any emails to AOL. Let's just say Brevo has some work to do with their email deliverability.
Conclusion
After conducting this Brevo review and taking a look at their full feature set, it's clear that Brevo 'get' email marketing. They've built-in some very clever options to help small businesses optimize their email marketing strategies, including advanced email automation, segmentation, personalization, and landing pages and forms that are geared towards increasing conversions.
They really do have small business email marketing covered (hence why we listed them as a good Mailchimp alternative, and the top Constant Contact alternative)!
While its automation features may not be enough to topple the email marketing software giants like ActiveCampaign, it's not a long way off. See how it compares to Mailchimp in this comparison.
Brevo have also been working on their CRM features, incorporating a deal pipeline and inbox where you're able to send emails to customers directly by integrating with your email client.
Aside from offering a generous free plan, with its paid plans starting from $35 for up to 20,000 emails, Brevo are one of the cheapest email marketing providers on the market.
In terms of features, there's no denying that Brevo is impressive. Our best advice? If, after reading this Brevo review, you're really interested in what they could offer you, try it out on the free version to see if you like it. Who knows, you might find yourself enjoying sophisticated marketing automation on a budget?
FAQ
Yes, Brevo is a French company that stores your contacts' data within the European Union (specifically, in France and Belgium).
In addition, Brevo offers all the necessary features for compliance, such as double opt-in, consent fields, and more.
Canceling your account can be done online. Simply log in and go to your accounts My Plan page.
At the bottom, you will see the option to cancel the monthly plan or to close the account.
If you don't close the account entirely you'll be able to use your remaining credits until you've reached the end of your billing month.
Though the free version is for an unlimited time, there is a daily sending limit of 300 emails.
If you go over this allowance, Brevo will employ its 'Requeue' feature, which means that your paused campaign will resume sending automatically in the following days until you have sent the email to all your contacts.
Looking at our detailed Brevo review, you can see that, aside from a slightly slow system, the features and allowances you get with Brevo are very good. Considering their very reasonable prices, we recommend this email marketing service. It'll make a great addition to your digital marketing toolbox.
Brevo Alternatives
MailerLite is, along with Brevo, one of the most budget-friendly tools we've tried. They offer a generous free plan as well. MailerLite is more suitable for beginners as it's a bit easier to use than Brevo.
GetResponse has some extra (advanced) features like a webinar hosting platform. It also comes with thorough reports and useful analysis features. We are also big fans of their email automations and list management capabilities.
ActiveCampaign is, generally speaking, a more advanced tool than Brevo. For example, their flexible and powerful automation system, can't be compared to Brevo's. However, Active Campaign is more expensive and you'll need some budget to use it – no free plan.
See how Brevo and Mailchimp compare.
We keep our content up to date
28 Sep 2023 - Additional information about multi-user access added
19 Jul 2023 - Added new review video
18 Jul 2023 - Updated email deliverability rate
31 May 2023 - Updated Reports section
18 May 2023 - Sendinblue rebrands to Brevo
20 Mar 2023 - Smaller updates
15 Dec 2022 - Badge added
04 Oct 2022 - Prices updated
28 Sept 2022 - New Conversations feature added
25 Apr 2022 - Deliverability rating increased slightly
17 Feb 2022 - Lite plan prices decreased
16 Nov 2021 - General update
06 Oct 2021 - Updated deliverability rating
06 Sept 2021 - Updated screenshots in light of Brevo design update
19 Jul 2021 - Mention of the Brevo Academy
22 Apr 2021 - General update
04 Nov 2020 - Pricing change - no longer offers Essentials plan, lower allowances on other plans
29 Oct 2019 - A few smaller updates
14 Aug 2019 - Updated video review
7 Jan 2019 - Deliverability rating updated
10 Sep 2018 - General update incl. new marketing automation features and landing page editor
29 Mar 2018 - Pricing change in the free account. Now you can have unlimited contacts but you're only allowed to send 300 emails per day
20 Mar 2018 - Deliverability rating added
23 Feb 2018 - Free version increased number of emails
29 Dec 2017 - Price increase for the Lite plan
18 May 2017 - New integration options
25 Nov 2016 - Update under email automation
03 Mar 2016 - Initial Tests
Our Methodology
This review has been written and researched following our EmailToolTester methodology.
Our Methodology