Wondering how much Constant Contact will cost you? This pricing guide will help you choose the right plan by letting you know what you really need and what you don't.
Constant Contact offers two different types of digital markeitng plans:
The Core Constant Contact plan is meant for small teams or freelancers and small teams that don't need the most advanced email marketing features (more info in our table below).
The Constant Contact Plus plan is great for managing large teams and is the right choice if you need features like marketing automation, advanced segmentation, dynamic content or online surveys.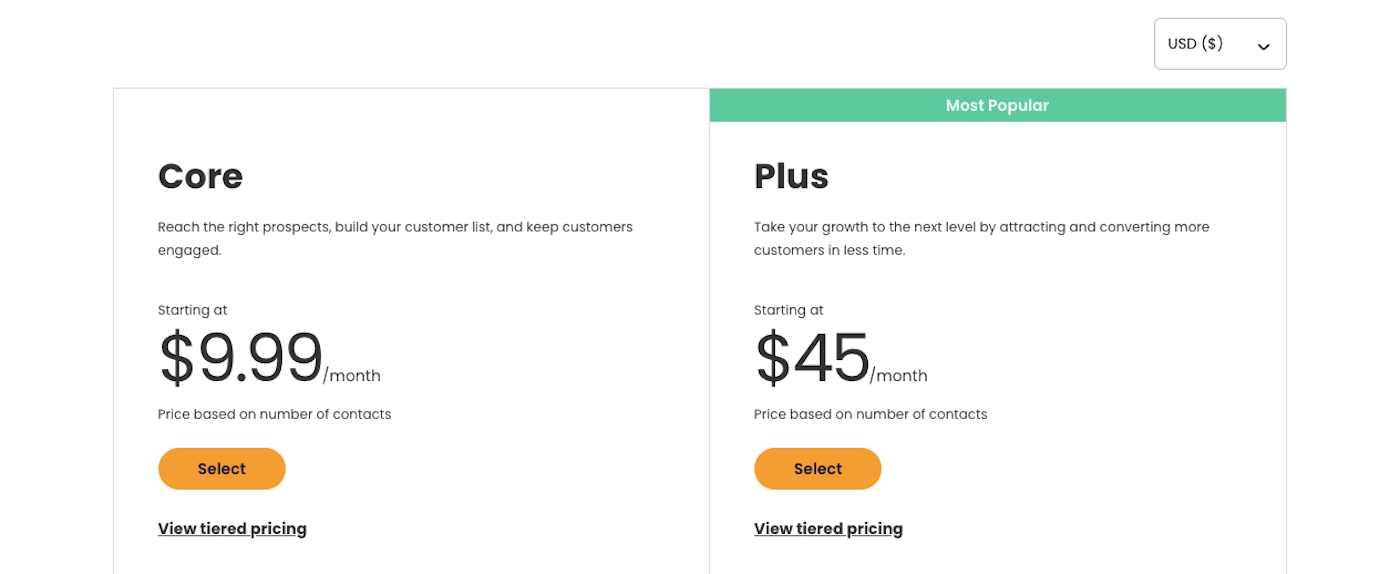 An Overview of Constant Contact Pricing
The Core plan starts at $9.99/month for 500 contacts, while Plus starts at $45/month. A 15% discount applies to 12-month plans, and a 30% discount is available to nonprofits. Constant Contact can be trialed for 60 days (no credit card required) and it has a 30-day money-back guarantee.
Of course, if you have more subscribers the price for Constant Contact will increase, as you can see below:
| Contacts | Core Plan | Plus Plan |
| --- | --- | --- |
| 0-500 | $9.99 / month | $45 / month |
| 501-2,500 | $45 / month | $70 / month |
| 2,501-5,000 | $65 / month | $95 / month |
| 5,001-10,000 | $95 / month | $125 / month |
Note: Be aware that they offer plans for larger lists. If that's your case, check Constant Contact's website for more information.
Being 100% honest, I think there are better tools out there that can do a more effective job than Constant Contact (e.g. GetResponse or ActiveCampaign) at even lower prices (e.g. MailerLite). These tools are particularly better at automations and list segmentation.
Constant Contact do score pretty well in our deliverability tests, but is it worth the high prices?
Core Plan vs Plus Plan: What is the right one for you?
Let's check the most important features for both tiers, so you can decide which is the best option for you.
| Feature | Core | Plus |
| --- | --- | --- |
| Send email | Unlimited | Unlimited |
| Users | 5 users | Unlimited users |
| Support | Chat & Phone | Chat & Phone |
| File storage | 1 GB | 2 GB |
| Templates | All included | All included |
| Registration forms | Inline, Pop-up & Landing pages | Inline, Pop-up & Landing pages |
| Stock photo library | Included | Included |
| Integrations | 350+ | 350+ |
| Reporting | Included | Included |
| Smartphone app | iOS & Android | iOS & Android |
| Email marketing automation | No | Yes |
| Event management | Yes | Yes |
| Advanced segmentation | No | Yes |
| Facebook and Google Ads | No | Yes |
| Surveys | No | Yes |
| Dynamic content | No | Yes |
| Constant Contact prices based on subscribers | | |
| Up to 500 subscribers | $9.99 / month | $45 / month |
| Up to 2,500 subscribers | $45 / month | $70 / month |
| Up to 5,000 subscribers | $65 / month | $95 / month |
| Up to 10,000 subscribers | $95 / month | $125 / month |
| Up to 15,000 subscribers | – |  $195 / month |
| Up to 25,000 subscribers | – |  $225 / month |
| Up to 50,000 subscribers | – |  $335 / month |
| 1 year deal * | 15% off |  15% off |
* You'll be required to pay for the entire period in advance.
For more information about Constant Contact features, please check our review.
Sales Accelerator Plan
The Sales Accelerator Plan is for those looking for an all-in-one CRM platform. It's brought to you by SharpSpring and starts at $399/month.
This is an extremely expensive starting price. Instead, we'd recommend taking a look at these dedicated CRM platforms for small businesses.
Constant Contact Prices & Plans: Final Thoughts
The Core plan is aimed at small organizations or solopreneurs that don't rely on email marketing solely. It's designed for those that send a campaign here and there and don't need/want email marketing automation and other advanced features. Nonetheless, it's still a bit costly and for that price, you can find much better tools.
Take into account that if you have a list of over 10,000 contacts, your Constant Contact plan would include all the Plus features (read below).
Automations and having unlimited users are, probably, the most useful upgrades of the Plus plan. This plan is meant for bigger organizations that need the advanced Constant Contact features. However, there are still smarter email marketing services out there that do a better job at segmentation and email automation.
Another thing to take into account is that you won't have unlimited storage (for files and images) with Constant Contact. The Email plan will offer 1 GB and the Email Plus will grant you 2 GB. This should be OK for most marketers, but it's something to take into consideration.
Constant Contact has discounts when you purchase their services for longer periods. You'll get a 15% discount for yearly plans. Before you lock yourself down with one of these long contracts, double-check that Constant Contact is indeed the best tool for you.
I have to say that Constant Contact is, ultimately, a very expensive tool. Especially when compared to more powerful Constant Contact alternatives at a similar (or cheaper) price. Sadly, it doesn't have a free plan either, but you can try it for free for long enough before you decide.
Are you still unsure of which plan you should get? Leave a comment below and we'll be happy to help.
Conclusion
Updates: 
16 Feb 2022 - Changed names and features offered on each plan 
FAQ
Is there a discount for NGOs?
Yes, with Constant Contact you'll be eligible for up to a 30% discount if you get a Constant Contact plan.

Does Constant Contact offer a free plan?
Unfortunately, no, Constant Contact does not have a freemium plan. If that's what you're looking for, check out these free email marketing services.

What counts as a subscriber?
They distinguish between active contacts and inactive contacts (e.g. unsubscribed). Your subscriber account limit will take into account only the active contacts. In other words, inactive contacts, like those who have unsubscribed, won't increase the price of your plan.

YOUR QUESTIONS AND FEEDBACK