These are two of the best email marketing services in our opinion. The main difference between GetResponse and ActiveCampaign is the range of features they offer and what they charge for them.
ActiveCampaign's specialty is marketing automation, allowing you to build complex workflows based on email engagement, web events, and events in third-party tools (e.g. purchases or support tickets), to name a few.
Customer messaging tools mean that you can reach your customers via a variety of channels, for example, email, SMS, Facebook Audiences, and live chat. You can also build dynamic landing pages and manage deals through the built-in CRM software.
Of course, GetResponse also has a lot to offer small businesses, and depending on your email marketing strategy, this could be an excellent platform for you.
Its niche features include a website builder, webinar software and sales funnel software. We were also pleased when they announced a new freemium plan for up to 500 subscribers.
So let's see how these email marketing software compare.
GetResponse vs ActiveCampaign: Summary
GetResponse and ActiveCampaign are
all-in-one marketing platforms
packed with plenty of advanced features such as marketing automation and segmentation, a landing page builder, CRM and much more.
ActiveCampaign's entry plan starts at $39 for 1,000 subscribers and GetResponse's Email Marketing plan is charged at $19 for 1,000 subscribers. GetResponse offers a free plan for up to 500 subscribers, but the features are more limited.
GetResponse vs ActiveCampaign Video Review
The Main Differences Between ActiveCampaign vs GetResponse
ActiveCampaign includes professional automations in all its pricing plans, unlike GetResponse which excludes them from its most affordable plan.
ActiveCampaign provides access to their CRM and deal pipeline software on their Sales plan, whereas with GetResponse you'd need to integrate with a third-party CRM software
GetResponse allows you to host webinars on its built-in software
ActiveCampaign allows you to contact your subscribers by email, SMS, Facebook Audiences, and live chat. With GetResponse this is only possible through email and live chat
ActiveCampaign allows you to show dynamic content on your website or landing pages. (Find out more in our ActiveCampaign landing pages review)
This ActiveCampaign vs GetResponse review will look at everything from ease of use to pricing and email deliverability, but before we get stuck in, here are our video reviews of the two tools.
GetResponse Video Review
ActiveCampaign Video Review
ActiveCampaign vs GetResponse: Ease of Use And Editor
Both GetResponse and ActiveCampaign offer a range of pro features, so it's nice to see that they're still fairly easy-to-use email marketing platforms.
You can arrange the dashboard to best suit your needs, adding information such as contact trends, conversion funnel data (in the case of GetResponse) and pipeline activity (in the case of ActiveCampaign).
Though both have fairly easy-to-navigate interfaces, some might feel a little overwhelmed by ActiveCampaign's menu, which has many more items than GetResponse's.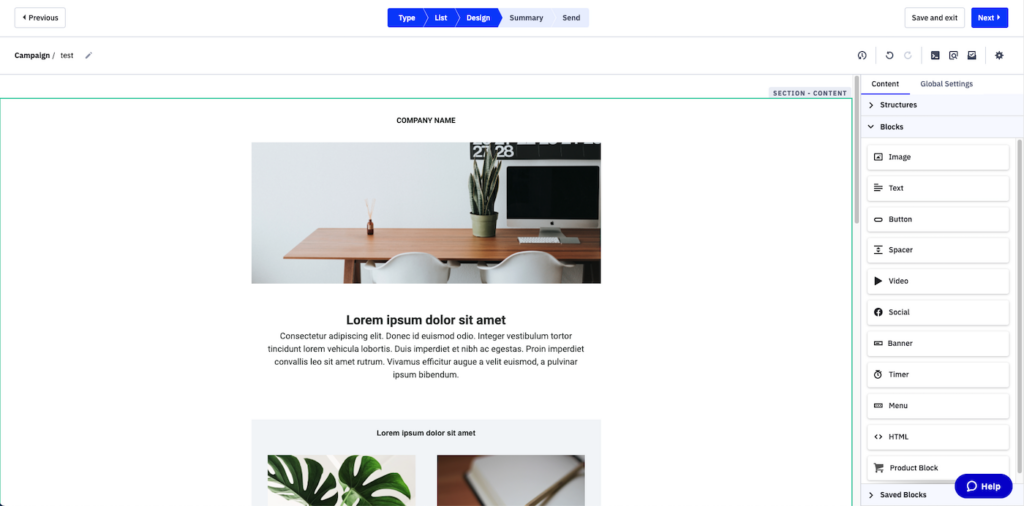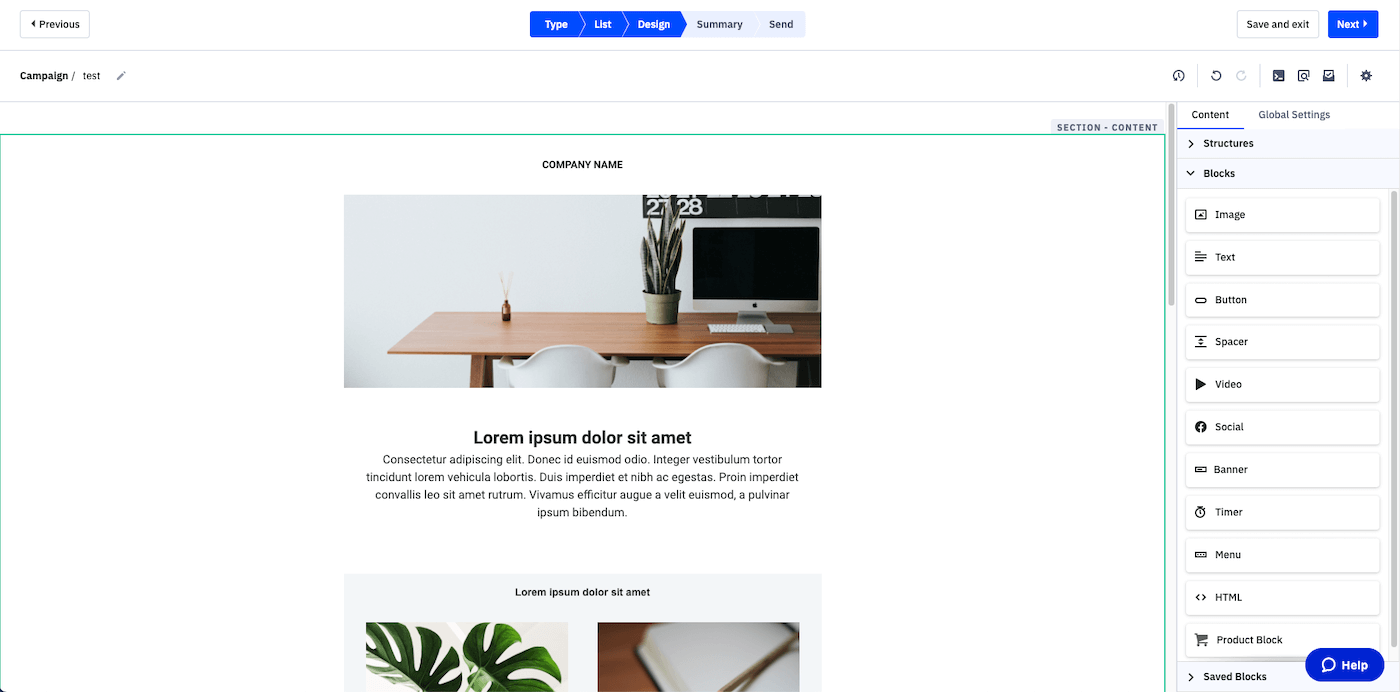 ActiveCampaign's email builder is modern and user-friendly. The drag and drop technology is fast, and there is an undo button if you make any mistakes. You can also save custom 'blocks' to reuse and see changes other people have made.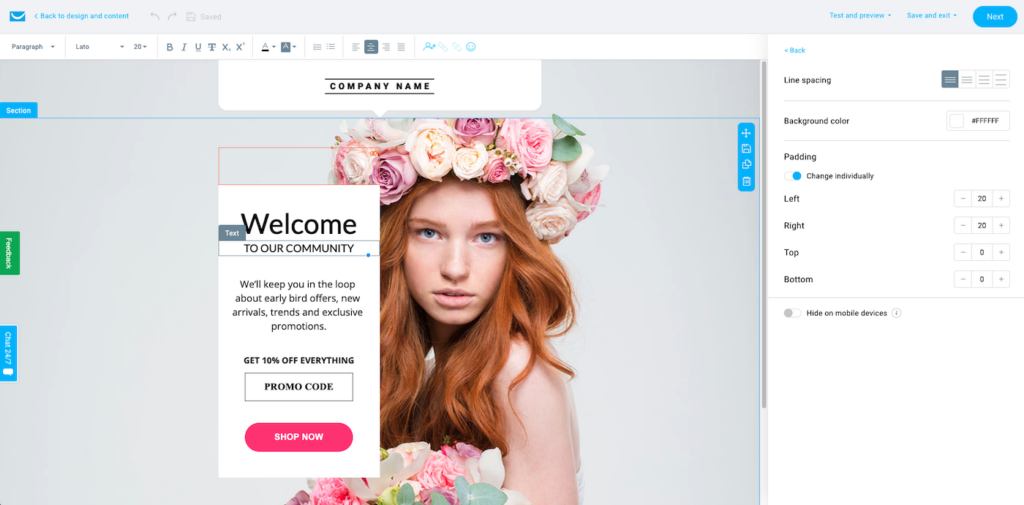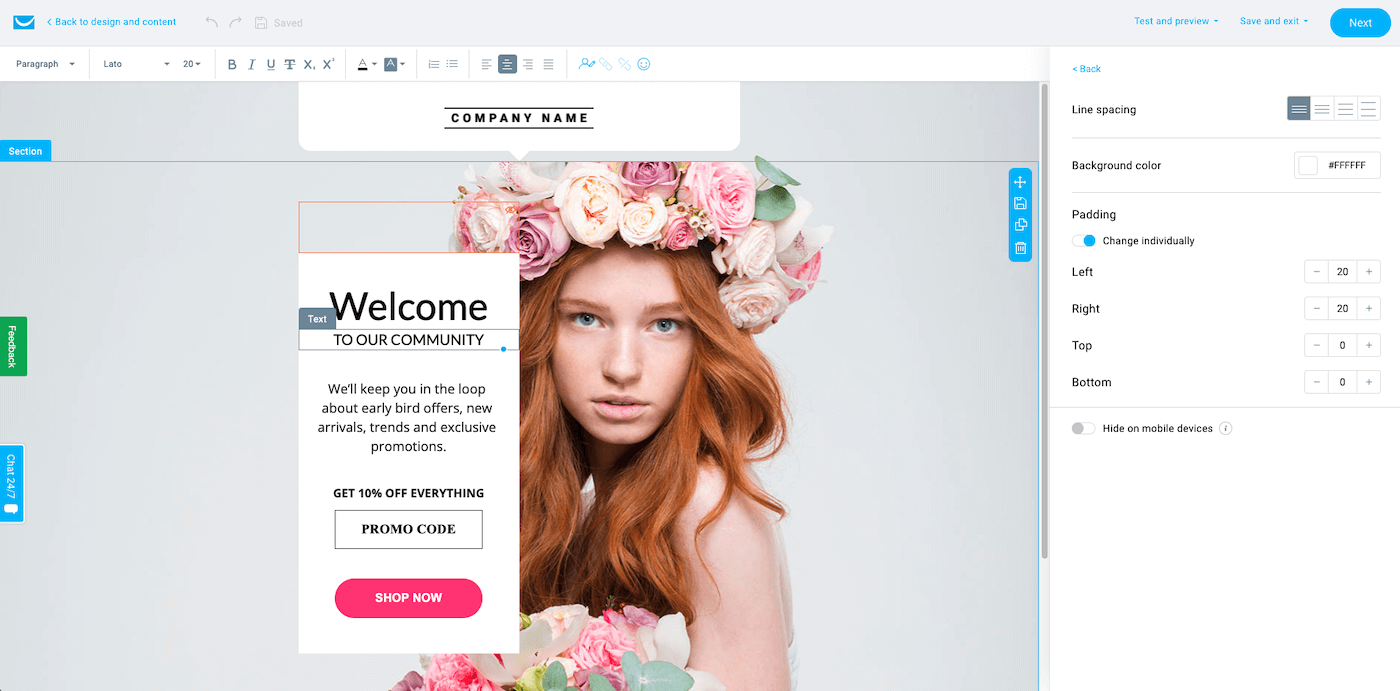 GetResponse has thankfully just updated its email editor, now offering users a fast solution with a contemporary interface. An undo button has been added, and like ActiveCampaign, you can save blocks for future use.
Winner: Both tools take a point here for their easy-to-use builders and well-designed interfaces. 1-1
Design And Flexibility
When it comes to email templates, you won't be disappointed with GetResponse or ActiveCampaign's selection. Though GetResponse says it comes with 500+ templates, there are actually far fewer. However, there are still plenty to choose from. ActiveCampaign offers 250. The templates from both providers are all mobile responsive.
You can also create or add your own HTML templates with the HTML builders offered by both tools. A/B testing is also possible.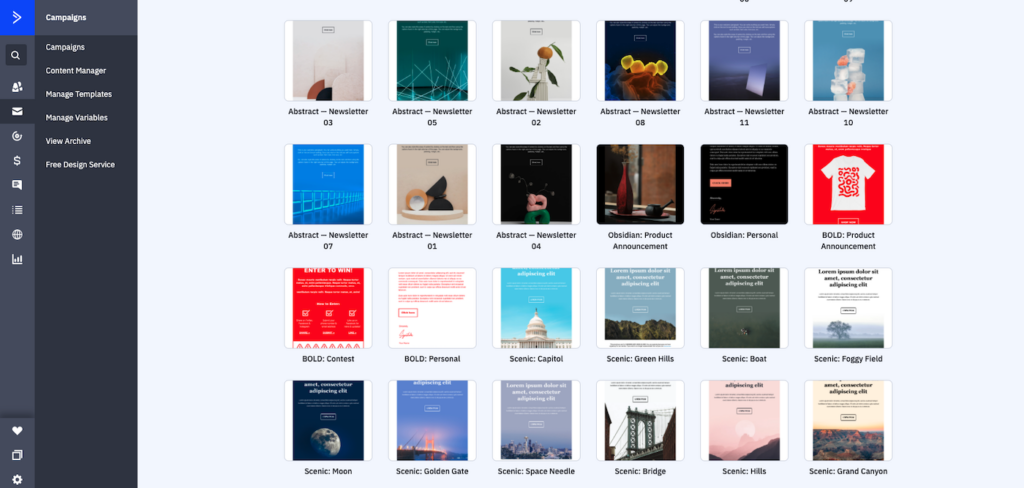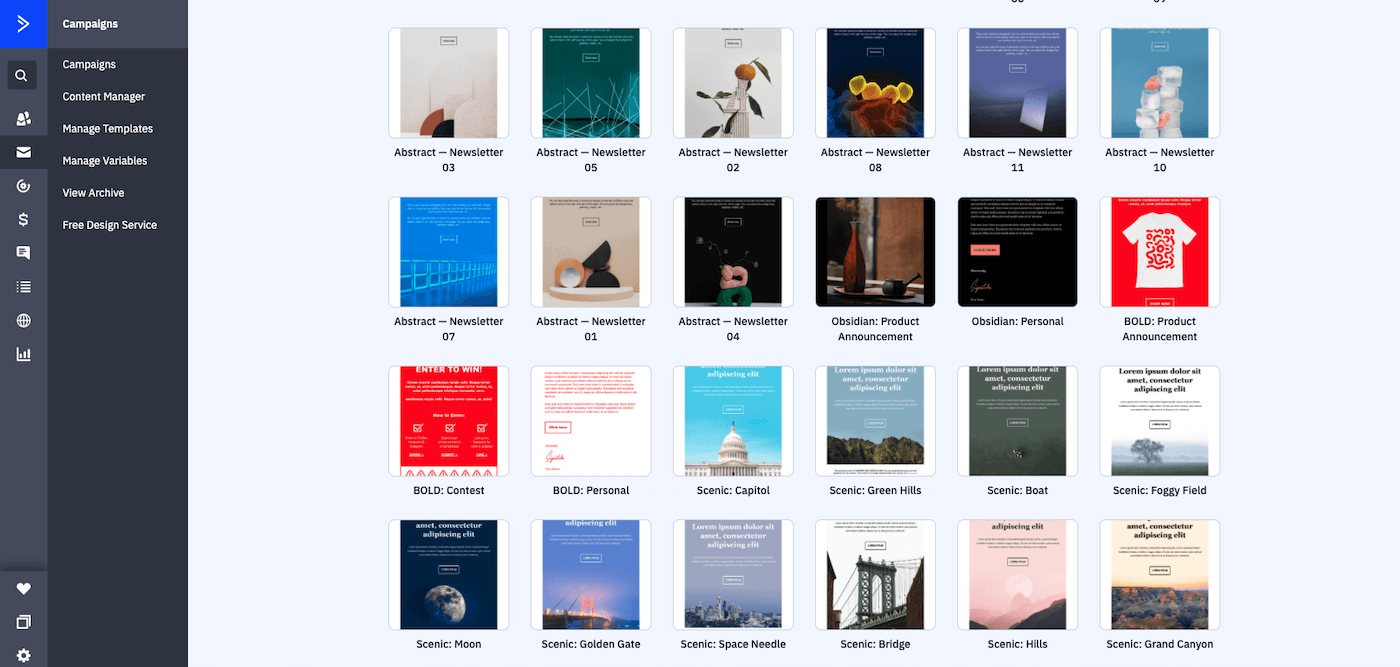 ActiveCampaign offers users a free customized email design on the Plus plan and higher.
Winner: Again, I think both deserve a point here for design options and flexibility. 2-2
Email Automations
If you're serious about email marketing, then you'll no doubt be looking for a provider that comes equipped with a robust automation workflow builder.
Luckily for you, GetResponse and ActiveCampaign are both advanced marketing automation tools.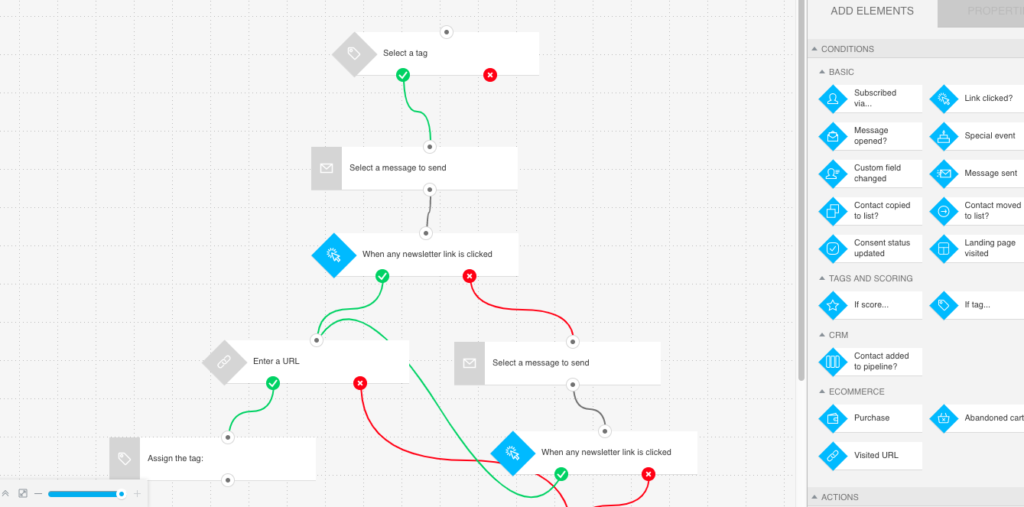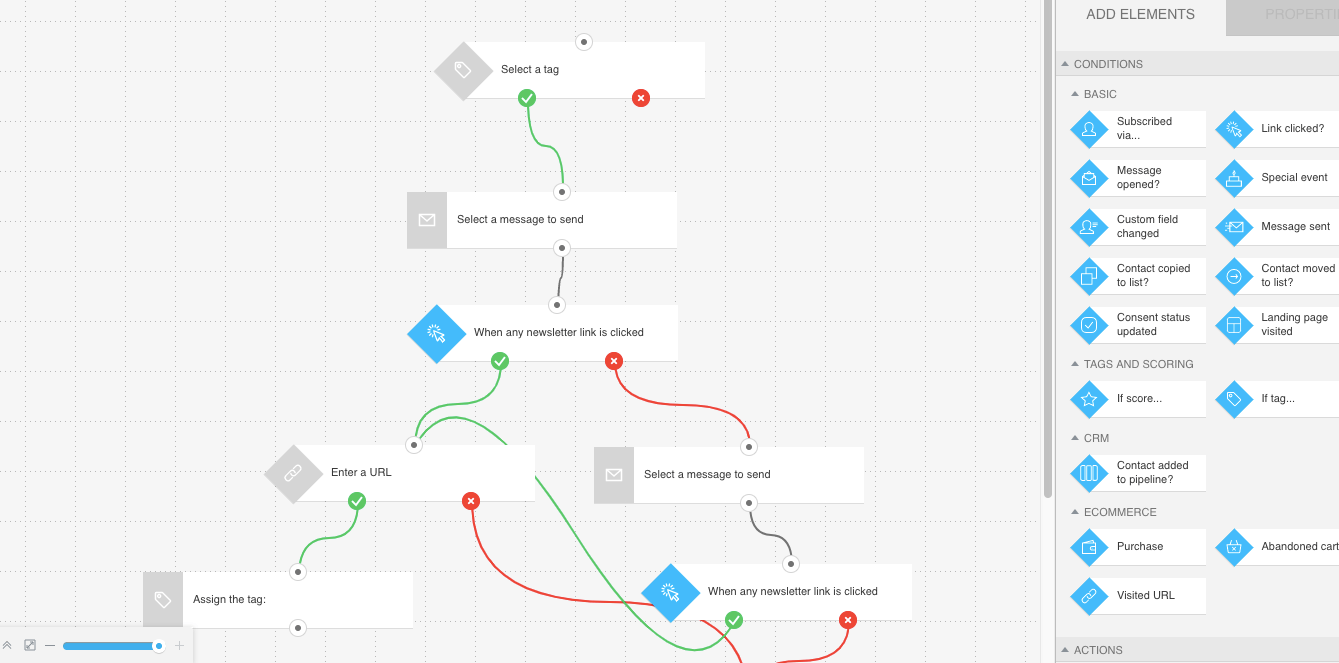 GetResponse offers a myriad of templates and a handful of triggers, such as when a user visits a page, makes a purchase, abandons their cart, etc. Automations for lead scoring and web event tracking are also available.
Unfortunately, this feature is only available on GetResponse's Marketing Automation plan and higher, which means you'll be paying a little more than with ActiveCampaign, which includes it on all plans.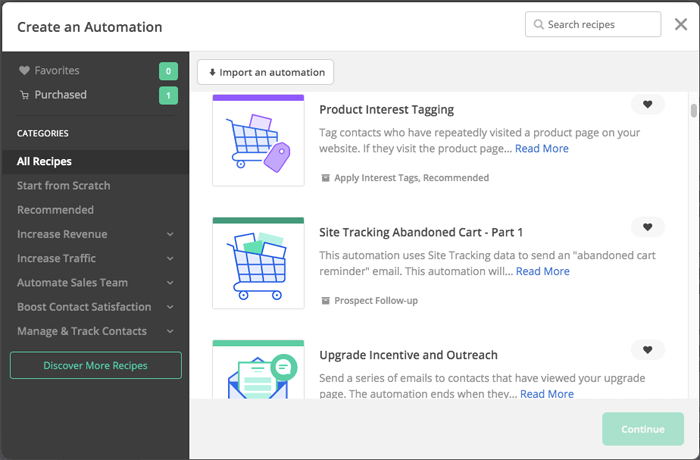 ActiveCampaign has what seems like hundreds of automation templates to help get you started. If you opt to start from scratch, you'll have a whole host of triggers and actions to choose from. If you are on ActiveCampaigns Sales or Bundle plans, you can use their CRM software, you can automatically update properties related to deals, as well as contacts and lists.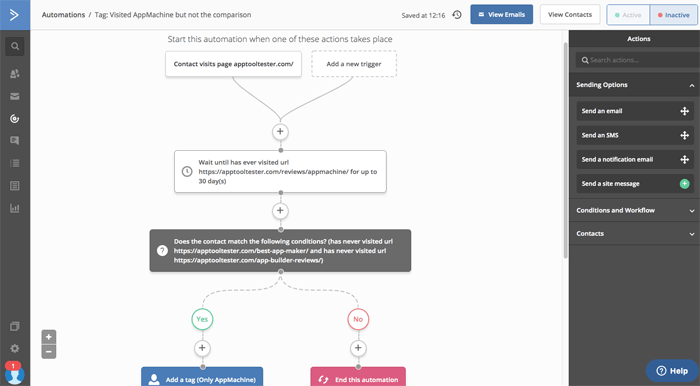 Winner: There's no limit to what you can do with the marketing automation tool, ActiveCampaign, which is why I'm giving them the point for this round. 2-3
Registration Forms
Registration forms are an important part of growing your email list, so it's good to have number of different types and designs to choose from. And that they are easy to use and customise.
GetResponse gives you many templates to work from, or the ability to create your own. You can embed forms on your site or host them on GetResponse.
The form builder is well laid out and has all the options you need – it's also possible to edit the "Thank You" page. ActiveCampaign will just show a simple "Thank You" message.
ActiveCampaign doesn't give you any templates, but you do have a number of form types, for example, floating forms and popups, whereas GetResponse seems to only offer standard forms.
Both email marketing tools allow you to create your own custom fields and add them to the form.
Winner: As both have advantages and disadvantages in this area, I think both deserve a point. 3-4
Spam And Design Testing
Inbox testing is available on GetResponse, allowing you to see the design in many browsers and on all main devices. The email's spam score is a rating from 0-5 of how likely your email will be recognized as spam.
With ActiveCampaign, spam testing is simply a 'pass' or 'fail' – there are no factors present to help understand the ruling. Though it's possible to preview your email campaigns on various email clients, this is charged at $1 per test/client, which seems a bit steep.
Winner: This round goes to GetResponse. 4-4
Reporting
GetResponse comes with detailed reports that include geo-tracking, email clients, opens, clicks, unsubscribes, etc. Conversion/ecommerce tracking is also available, as well as the option to compare the performance of different campaigns. However, one thing it's missing is a heatmap.
ActiveCampaign provides reports on basically everything. Aside from data on email campaigns, other reports include contact trends, deal reports, chat conversion, automation reports, etc. The "Recommendations for you" section offers helpful suggestions on actions you can take.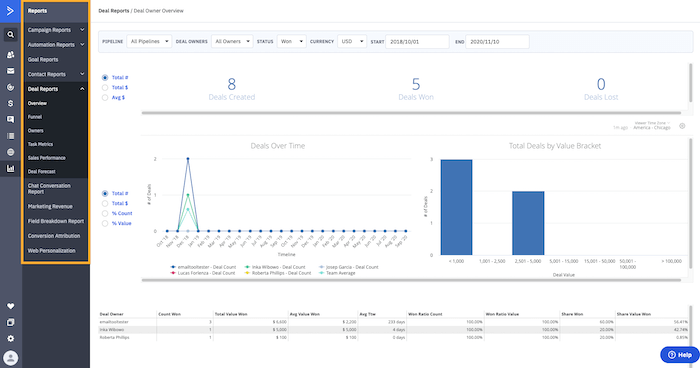 Winner: ActiveCampaign offers more comprehensive reporting, which awards them the point this round. 4-5
Deliverability
It's imperative that the email marketing tool you select has good email deliverability, otherwise all your efforts leading up to sending your campaign will have been for nothing.
We've been tracking the email deliverability of the providers we review for a number of years.
Here are the average figures of how they performed in our last 3 rounds of bi-annual deliverability tests:
| | GETRESPONSE | ACTIVECAMPAIGN |
| --- | --- | --- |
| Overall Deliverability Rate | 87.22% | 92.03% |
ActiveCampaign tends to do better than GetResponse in our tests and has managed to score in the early nineties once again.
Winner: ActiveCampaign is the clear winner here. 4-6
Landing Pages
Nowadays, email marketing automation software often includes landing page software, so it's no surprise that both ActiveCampaign and GetResponse offer this service, too.
You can create landing pages from scratch or make the most of the many landing page templates provided.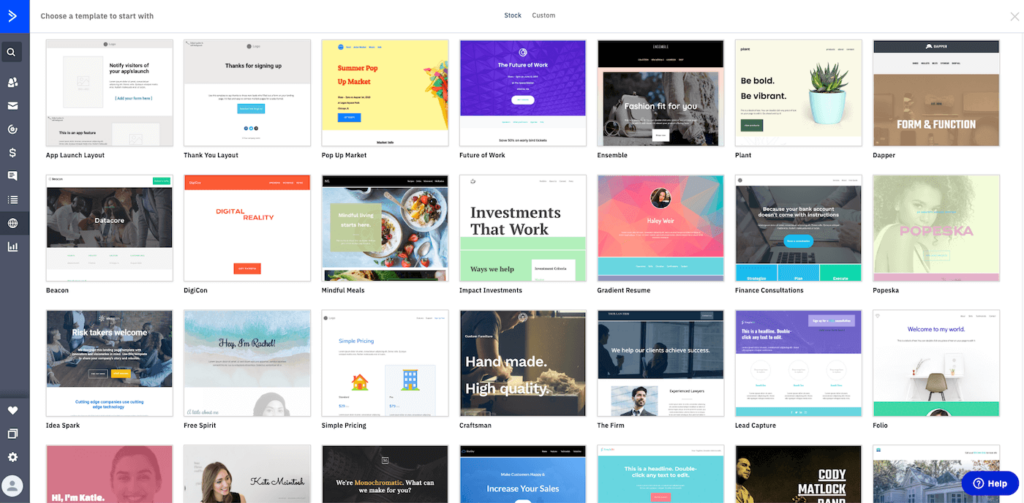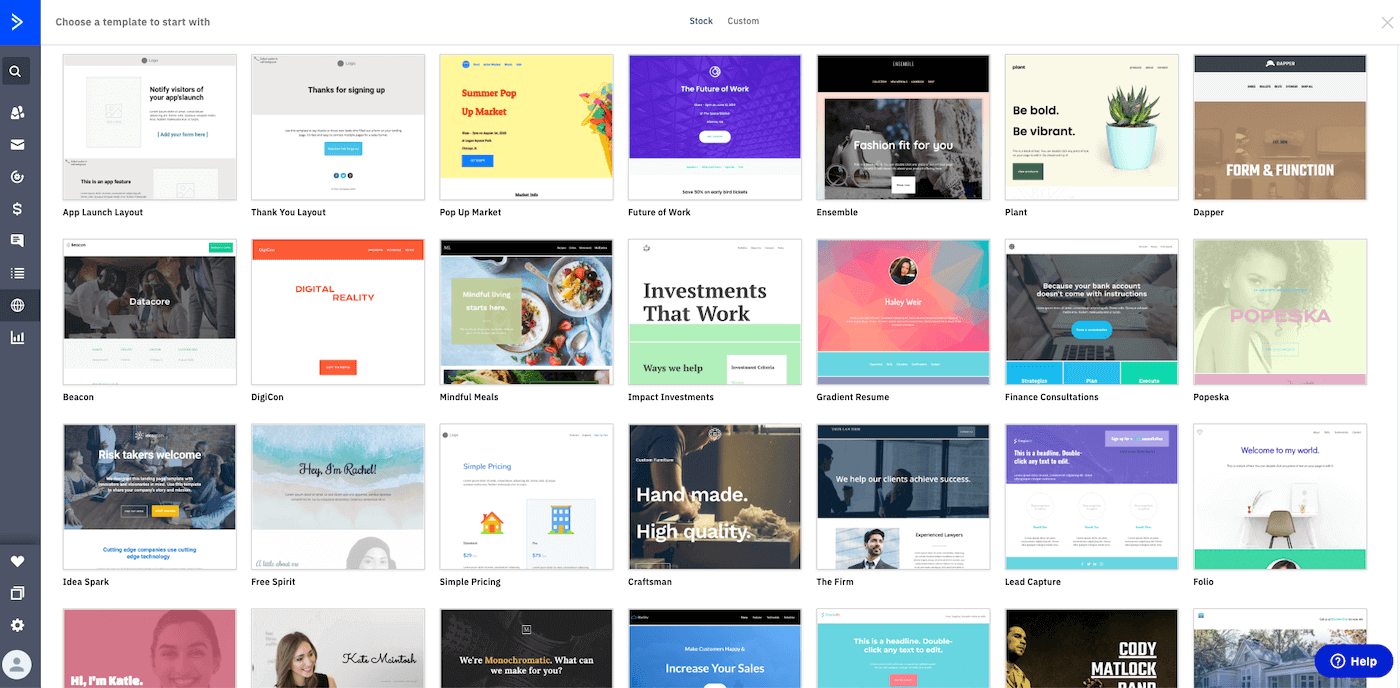 ActiveCampaign offers 56 templates, whilst GetResponse comes with 180 responsive landing page and website templates. It's possible to create unlimited landing pages on both tools. However, A/B testing is only possible on GetResponse, which allows you to test up to 10 design variants of the same page displayed under the same URL.
In terms of ease of use, you have more freedom with GetResponse in that you can freely move elements around the page. ActiveCampaign, on the other hand, only allows you to move elements within the predefined grid, which can be a bit frustrating.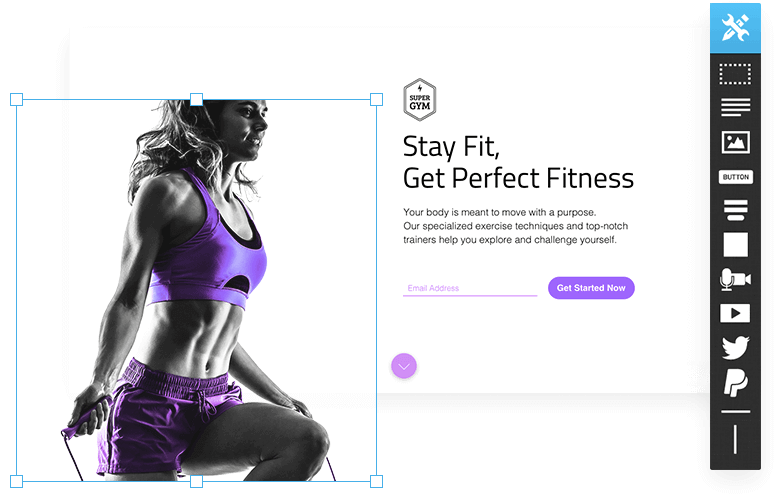 The cool thing about ActiveCampaign is that you can add dynamic content (web personalization, as they call it). This means that you can show users the information that is relevant to them – be it a product, service, event, or copy. The same feature is not available in GetResponse.
Let's talk prices. With ActiveCampaign, you can only create landing pages on the Marketing Plus plan and higher, which is a little pricey (from $49/month). Furthermore, the web personalization feature is only available on the expensive Professional plan and higher ($187/month).
GetReponse includes landing pages on all plans, even its free one (though you're limited to just 1 landing page). Find out more about the free landing page builder.
Winner: Considering that the use of GetResponse's landing page builder is considerably more affordable than ActiveCamapign's, this point goes to them this round. 5-6
Integrations And Extras
You shouldn't have any problem finding what you're looking for in GetResponse and ActiveCampaign's long list of integrations. They cover everything from ecommerce to CRM to social media tools.
Bear in mind that no integrations are included on GetResponse's free plan, and you'll need ActiveCampaign's Plus plan and above to integrate with WooCommerce.
Winner: This round is a tie! 6-7
Support
GetResponse offers email and live chat support, which I found to be quick and helpful. The knowledge base is thorough and easy to navigate, making it easy to resolve any doubts you may have.
ActiveCampaign also offers a useful and easily searchable knowledge base. Plus, there are video tutorials available, webinars (live and archived) and one-on-one training on the Plus plan. All plans include live chat.
Winner: This round is also a tie! 7-8
Prices
Let's take a look at their lowest-level plans to compare:
GETRESPONSE
(Email Marketing Plan)
ACTIVECAMPAIGN
(Lite Plan)
500 subscribers
Free
No longer available
1,000 subscribers
$19
$39
5,000 subscribers
$54
$99
10,000 subscribers
$79
$174
50,000 subscribers
$299
$486
100,000 subscribers
$539
$505
This table compares the two lower-tier plans, whereby GetResponse comes out much cheaper. However, it's important to note that you'll need GetResponse's Marketing Automation plan in order to use its marketing automation features. This pushes prices up to $59/month for 1,000 subscribers.
ActiveCampaign recently changed its plans and pricing, they now have separate Sales and Marketing plans. This means that their paid marketing plans now start from $39/month, which is pretty steep compared to competitors.
Unfortunately, ActiveCampaign is one of the few email marketing platforms that doesn't offer a free plan.
Winner: This one really depends on what you're going to be using the tool for. If you only require the basic features, then GetResponse is more affordable, and it comes with a free plan. On the other hand, if you require marketing automation then you'd be better off going with ActiveCampaign, as it works out cheaper and gives you better value for your money.
I think both deserve a point here. 8-9
Detailed Features Comparison (Table)
Ease of Use
Editor
Personalization
Email types
Choice and Flexibility of Template Designs
Email Marketing Automation
List Management
Registration Forms/ Opt-in & Opt-out- Process
Deliverability
Reports and Analysis
Languages
Spam- and Design-Testing
Bounce Management
Blocklist
Storage available for data and images
Unlimited
1 Gigabyte
Authentication
Own Domain
Different levels of account access
Integrations
Landing Page Builder
Customer Support
Prices

Up to 1,000: $39/mo

Up to 2,500: $61/mo

Up to 5,000: $99/mo

Up to 10,000: $174/mo

Up to 50,000: $486/mo

Up to 500: $0/mo

Up to 1,000: $19/mo

Up to 2,500: $29/mo

Up to 5,000: $54/mo

Up to 10,000: $79/mo

Up to 25,000: $174/mo

Overall rating
GetResponse vs ActiveCampaign: Final Thoughts
With an overall score of 8-9 to ActiveCampaign, we have a winner! But to be fair, it was very close, as GetResponse clearly has a lot going for it too. If only GetResponse's deliverability and reporting features were better.
We list ActiveCampaign as our number-one email marketing service provider. But why is ActiveCampaign the best? Well, as you've seen in this GetResponse vs ActiveCampaign head-to-head, a combination of excellent functionality, a well-designed interface, and first-rate deliverability mean that ActiveCampaign is our top choice.
You can see how these two popular email marketing services compare to Mailchimp and other providers in the following comparisons:
You can find more great alternatives to ActiveCampaign here.
Do you want to collect more email subscribers? Check out our guide to email marketing lead generation.
Check out our GetResponse tutorial for a step-by-step guide to setting up your account.
Leave a comment if you have any questions – I'd be more than happy to help!
We keep our content up to date
13 Jul 2023 - Updated Email Deliverability results
19 Jun 2023 - Small addition
28 Feb 2023 - Updated ActiveCampaigns Pricing
27 Feb 2023 - Video added
16 Feb 2023 - Updated Email Deliverability results
23 June 2022 - Added landing pages section
12 May 2022 - Added video reviews of each email marketing service
27 Apr 2022 - Updated deliverability averages
Our Methodology
This article has been written and researched following our EmailTooltester methodology.
Our Methodology