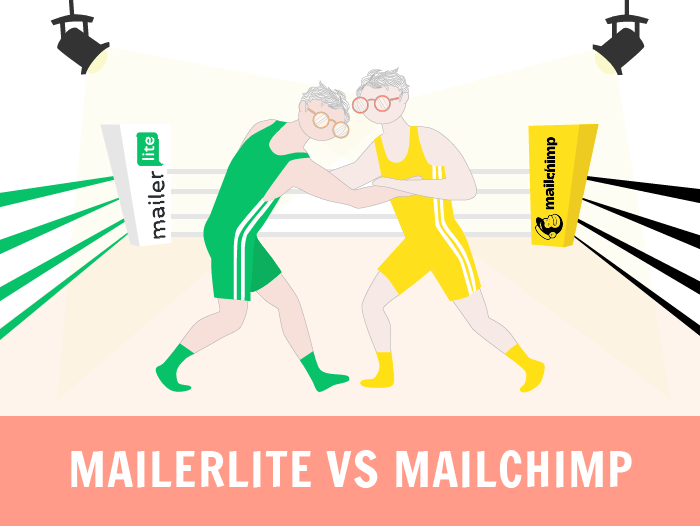 There's no denying that Mailchimp is more widely known than MailerLite. But that doesn't necessarily mean it offers a better service.
If you're reading this article, you've either tried Mailchimp and are not fully satisfied or you've heard good things about MailerLite and want to see how it compares to other popular email marketing tools like Mailchimp.
I, myself, have been using Mailchimp for years. Well, its monkey-credit referral program kind of locked us in with them. But, if there wasn't this monkey business going on, one of the first alternatives I would check would indeed be Mailerlite.
In this MailerLite vs Mailchimp comparison, I'm going to analyze each tool in detail, looking at how easy it is to use, what pro features it comes with, how pricey it is, and more.
MailerLite vs Mailchimp: Summary
Both MailerLite and Mailchimp are good options for beginners.
If you're looking for the most affordable option, then MailerLite is the tool to go for. It's higher tier plans remain pretty fair at $54/month for 10,000 subscribers compared to Mailchimp's $87.
Both offer a freemium plan, however, Mailchimp's is very limited, with much lower allowances than MailerLite (find out more here)
Mailchimp's reporting is superior to MailerLite's due to social and conversion tracking
So, let's get stuck in!
Ease of Use And Editor
Mailchimp markets itself as a very easy to use email marketing software. But, guess what? So does MailerLite. So which one is simpler?
Well, I have to say that MailerLite is slightly more user friendly. One of the issues with Mailchimp is that some functions are sometimes hard to find; for instance, adding opt-in for new sign-ups could still be slightly more intuitive for complete beginners. Also, my impression is that interface updates don't necessarily make things easier with Mailchimp.
That said, both have well-designed backends that are easy to navigate, and they do a good job of making sure you've completed all the necessary steps when setting up a new campaign.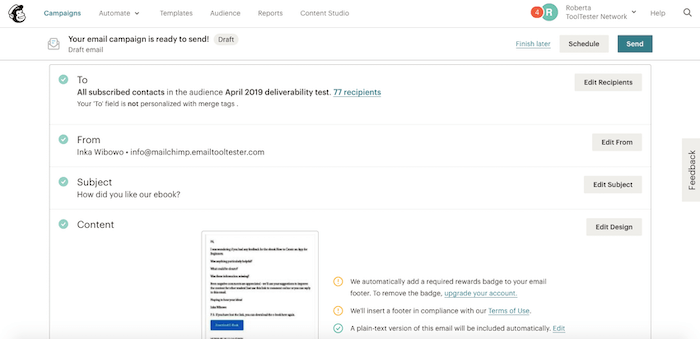 Mailchimp email campaign set-up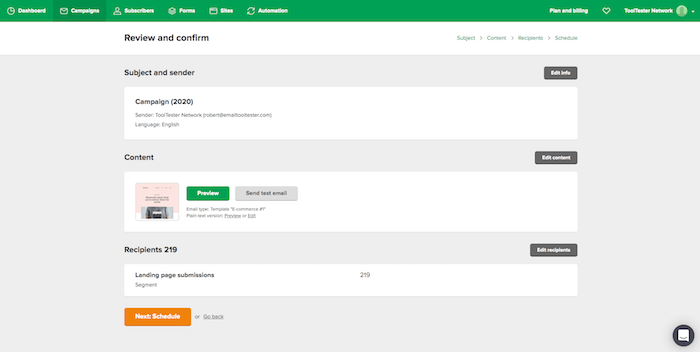 MailerLite email campaign set-up
Winner: Overall, both tools have fairly shallow learning curves, however, MailerLite has a better designed interface, which makes it a great tool for all levels. The first round goes to MailerLite! 1-0.
Design And Flexibility
When selecting an email marketing service, it's important to check out the email templates and design options it offers. Of course, you want them to be attractive, mobile responsive and have the ability to be easily customized.
Mailchimp has more than 100 templates (or 'themes', as they call them), which are mobile responsive and not bad looking. These can be sorted by category, making it easier to find what you're looking for. They are easily editable and can be saved so that you can re-use them in future campaigns. You can also create your own HTML templates via code, URL or .ZIP file.
The only thing to note is that the free plan only comes with 8 templates.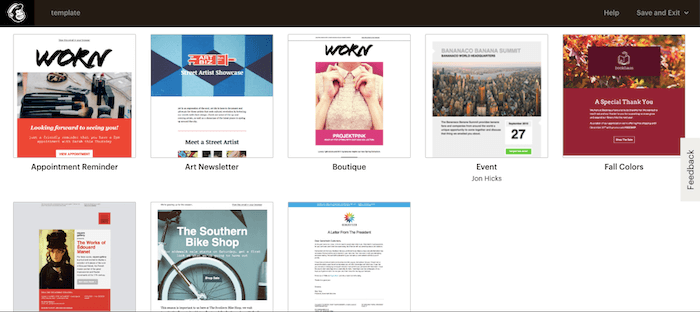 Mailchimp email templates
Personally, I prefer MailerLite's designs. Though there aren't quite as many of them (62), the mobile responsive templates look really professional and modern-looking. Adapting them is easy, as there are tons of content blocks to choose from and sufficient customization options. You can also sort them by industry.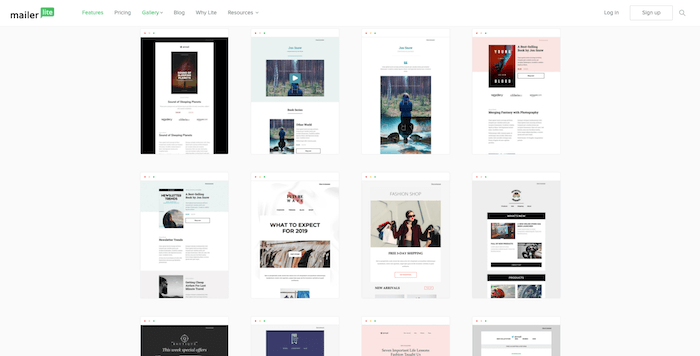 MailerLite email templates
If you can't find what you're looking for in the gallery, then you can upload your own HTML code via a .ZIP file or URL.
The only thing to note is that email designs are not included on the free plan, instead, you'll just have the basic templates to work with.
Winner: Due to the fact that both offer a good selection of email templates and editing options, I'm giving them each a point this round. 2-1 to MailerLite.
List management
One thing Mailchimp users have a real issue with is list management.
Mailchimp's lists are mutually exclusive, which means that you can't include contacts on different lists in the same campaigns. There is also no way to create automations to move subscribers from one list to another, for example, as there is with MailerLite.
As Mailchimp charges per subscriber, it means that if you have the same contact on different lists, you'll be paying for them multiple times. This is very off-putting as it could really push the cost up.
What's more, Mailchimp has made it all quite complex with its various options and naming conventions; you have audiences (contact lists), segments, tags and groups. This can get pretty confusing.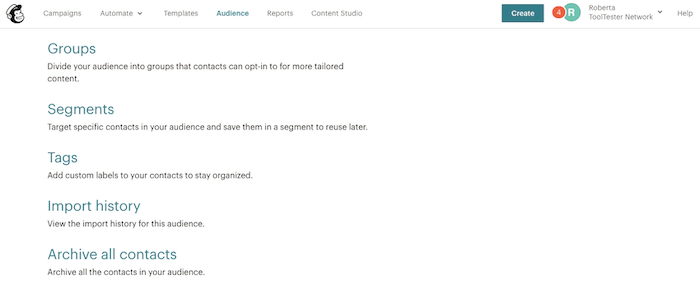 Mailchimp list management
List management is much simpler with MailerLite.
Segmentation is facilitated by a wide variety of variables, and, as I've mentioned, you can set up an automation to remove subscribers from a particular group when they join another, for example.
Regardless of how many groups or segments a subscriber belongs to, it'll only ever be counted as one subscriber.
Winner: MailerLite clearly wins this round! 3-1 to MailerLite.
Email Automations
Mailchimp has a wide range of automation triggers, including goals/email link actions and abandoned cart automations. Though you can set up simple one-step automations on the free plan, you'll need to be on the Standard plan or higher to benefit from the multi-step visual builder ($17/ month for 500 contacts).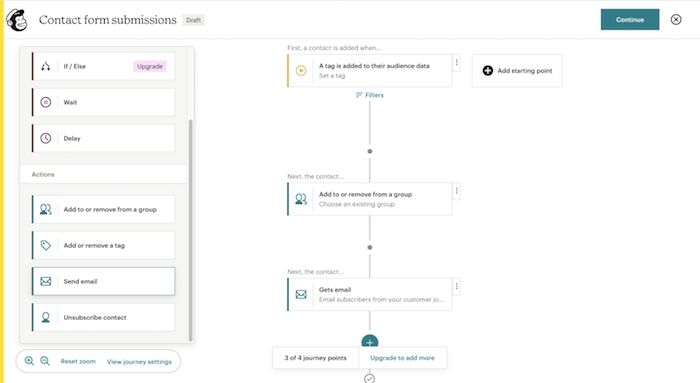 Mailchimp workflow automation
Though MailerLite doesn't have nearly as many options as Mailchimp, it is very easy to use. You can create workflows based on campaign actions, such as opens and links clicked, or conditions based on custom fields and segments. What it's missing are more advanced ecommerce based triggers.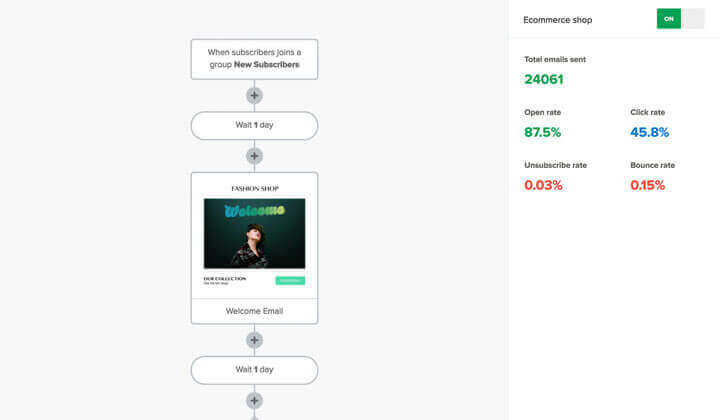 MailerLite workflow automation
The good thing about MailerLite is that users can start using the multi-step automation builder on the free plan.
Winner: Due to the fact that MailerLite's automation software is easy to use and free means that it takes the point for this round. 4-1.
Registration Forms
Let's see how easy it is to set up a form with Mailchimp and MailerLite.
First of all, it's not that easy to know where to go in order to create a registration form in Mailchimp as it doesn't appear in the main navigation. Instead, it's hidden under the 'Audience' tab.
In terms of options, you can create an embedded form, pop-up form or landing page, however, it's slightly fiddly to set up and not all forms appear to be mobile responsive.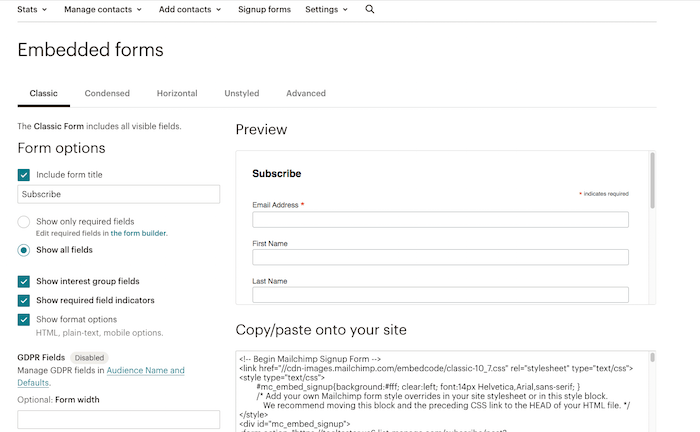 Mailchimp form builder
When new subscribers sign up, they'll be put on the list (or audience) you choose, though they can only be on one if you want to avoid being charged again.
Creating a form with MailerLite is a much simpler affair. Several types of forms are available, including pop-up and embedded forms and subscribe buttons. You can also create a landing page in this section.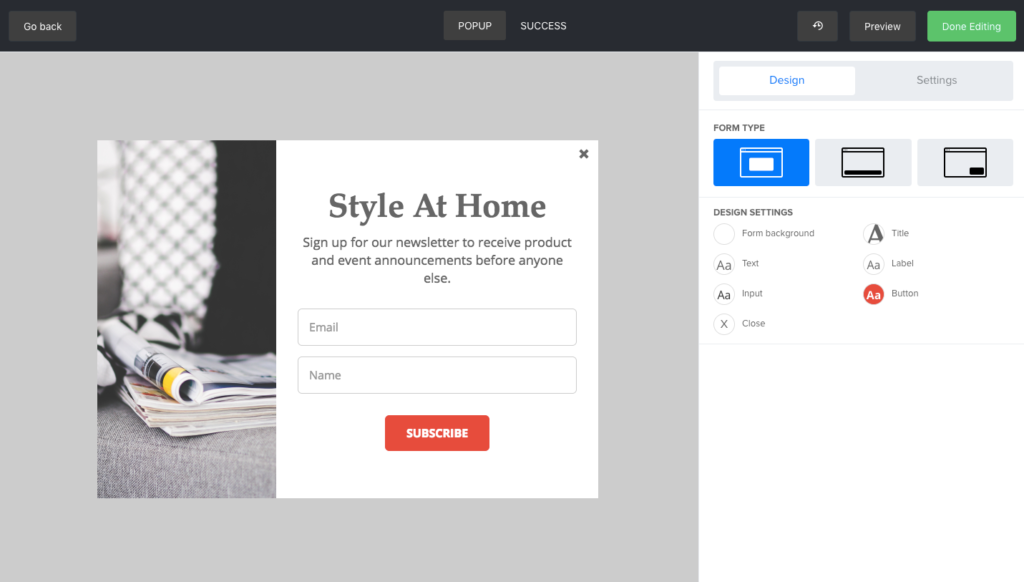 MailerLite form builder
Winner: I'm giving this one to MailerLite. 5-1.
CRM
Mailchimp's CRM capabilities are limited, but it certainly does better than MailerLite in this area. One thing Mailchimp does well is ecommerce data; if your account is connected to your online store, you can see how much revenue each contact has generated.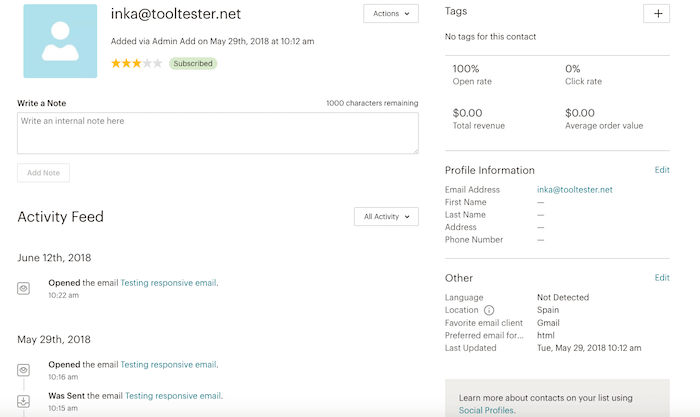 Mailchimp CRM customer profile
That said, it's missing some key CRM options like the ability to upload a file, create a task or assign contacts to specific sales agents. If you're in need of a CRM, you'd be better off checking out this post on the best CRM software for small businesses.
Winner: With MailerLite out of the race for this round, Mailchimp takes the point! 5-2.
Spam And Design Testing
Both tools allow you to test how your email will look on mobile and desktop, however, that's as far as MailerLite goes. With Mailchimp, you can also test how your email will look on various email clients, though this isn't strictly free.
Mailchimp monthly paid plans come with 25 Inbox Preview tokens to use every month. Each individual client you test will use one token and unused tokens are not carried over to the following month. You can, of course, purchase more tokens if you run out.
Mailchimp also provides a link checker, which is very useful.
Winner: A clear win for Mailchimp, taking the scores to 5-3. Will Mailchimp be able to catch up?
Reporting
MailerLite offers stats for opens, clicks, unsubscribes, devices, etc., plus purchase tracking for Shopify and WooCommerce. What it's missing are social media and email client statistics. Mailchimp's reports include these stats, plus, it offers a direct integration with Google Analytics to help track conversions.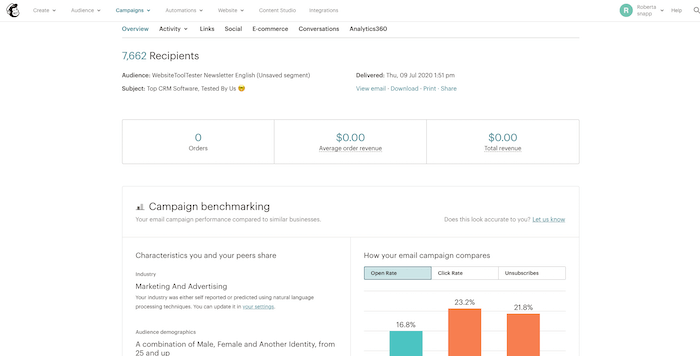 Mailchimp reports
Winner: Due to Mailchimp's extensive reporting capabilities, this round goes to them, taking the scores to 5-4.
Deliverability
It's imperative that the email tool you select has good deliverability, otherwise all your efforts leading up to sending your campaign will have been for nothing.
We've been tracking the deliverability of the providers we review for a number of years.
Here are the average figures of how they performed in our last 3 rounds of bi-annual deliverability tests (Mar 2021 – Apr 2022):
| | MAILCHIMP | MAILERLITE |
| --- | --- | --- |
| Overall Deliverability Rate | 86 | 97 |
Overall, MailerLite does better than Mailchimp, winning first place in a number of our tests, including the most recent one.
Winner: MailerLite secures the point for this round! 6-4 to MailerLite.
Integrations And Extras
Mailchimp, being as well known as it is, integrates with hundreds of tools. You should be able to connect just about every tool you need, except for Shopify, strangely.
MailerLite also offers tons of direct integrations.
Winner: As both providers do well in this area, I'm going to give a point to each. 7-5.
Support
Both providers have similar support channels available (knowledge base, email, live chat), however, whether you can access these channels depends on the plan you're on. In MailerLite's case, you'll have access to support on both the paid and free plan, but you'll only have access to live chat support on the paid plan.
Mailchimp is a little less generous. On the free plan, you'll only have email support for the first 30 days and then you're on your own. If you want access to email and chat support then you'll need to upgrade to a paid plan.
MailerLite was very responsive and helpful when I contacted them via live chat – an agent responded within 2 minutes of submitting my query. In order to access Mailchimp's live chat, you have to go through its knowledge base first and even then I wasn't able to start a chat due to the absence of a button. The only option I had was to cancel the query – very frustrating!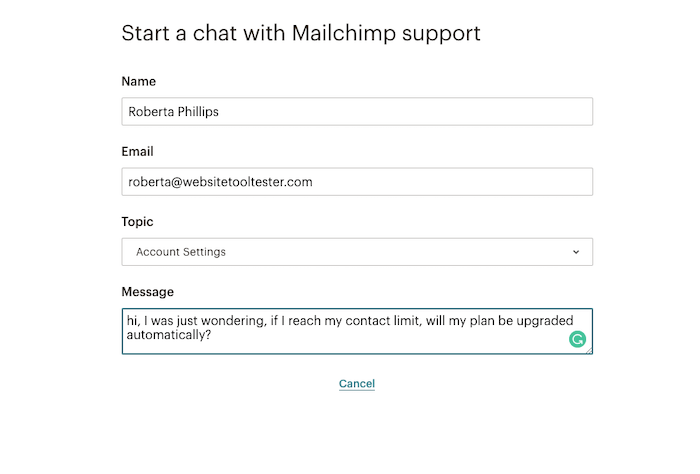 Winner: Due to the fact that it's almost impossible to get in touch with Mailchimp if you're on its free plan, we're giving MailerLite the point here. 8-5.
Prices
So, we arrive at the final round: pricing.
Although Mailchimp offers a freemium and pay as you go plan, the fact that it now charges users for unsubscribed contacts and those who haven't confirmed opt-in can make this provider quite expensive. For this reason, I'd recommend MailerLite over Mailchimp for small businesses.
Compared to other email marketing tools, Mailchimp is not the most expensive, but when matched against MailerLite, Mailchimp comes out pretty steep.
Let's take a look at their lowest-level plans to compare:
MAILCHIMP (ESSENTIALS)
MAILERLITE (GROWING BUSINESS)
Free plan
500 contacts and 2,500 emails per month
1,000 contacts for free and 12,000 emails/month
5,000 subscribers

$59

500,000 emails

$32

Unlimited emails

10,000 subscribers

$87

500,000 emails

$54

Unlimited emails

50,000 subscribers

$299

500,000 emails

$239

Unlimited emails

100,000 subscribers

$605

1,200,000 emails

(Standard plan)

$425

Unlimited emails
You'll see there is quite a difference between the two providers in price.
It's worth noting that MailerLite's free plan allows for unlimited lists and includes email A/B testing and basic email support. It's also a plus that its paid plans let you send unlimited emails.
Mailchimp's free plan has become less and less attractive in recent years since they removed email scheduling from the feature list and brought the sending allowance right down.
Winner: MailerLite takes the point here due to its very affordable prices and generous freemium plan.
This means we have a winner… MailerLite! The final score is 9-5.
MailerLite vs Mailchimp: Detailed Features Comparison (Table)
+ Add to comparison


4.4/5


4.1/5


Choice and Flexibility of Template Designs
Email Marketing Automation
Registration Forms/ Opt-in & Opt-out- Process




Storage available for data and images




Different levels of account access






MailerLite vs Mailchimp: Final Thoughts
Mailchimp is a big name in the email marketing world, however, as we've just seen, fame isn't everything.
MailerLite is a top choice if you're looking for an easy-to-use tool that doesn't skimp on features. Its prices are much more reasonable than Mailchimp's and their list management is much less of a headache. We also compared MailerLite to ConvertKit, which was a slam dunk!
Overall, it's been a close one, but I think this comparison shows that when you actually break everything down, Mailchimp still has some areas to work on if it wants to be the real champ. You can find out more about its pros and cons in our Mailchimp review.
Looks like I should definitely consider hopping over to MailerLite when those free credits have been used up!
Oh, and don't forget, aside from MailerLite, there are plenty of other Mailchimp alternatives to check out. You can see how other popular email marketing platforms compare in the following comparisons:
Leave a comment if you have any questions – I'd be more than happy to help!
Do you want to collect more email subscribers? Check out our guide to email marketing lead generation.
Updates: 
14 Apr 2022: Updated Mailchimp's prices & other small changes
27 Apr 2022: Updated deliverability averages 
28 March 2022: Updated pricing section
31 May 2021: Updated automations section
06 Apr 2021: Updated Mailchimp's prices
16 Mar 2021: Updated deliverability section based on the latest round of testing
31 Aug 2020 – Updated the deliverability averages