With a whole lot of options to choose from, it can be hard to decide which email marketing software is right for your agency. In this article, we'll uncover the best email marketing services out there, and tick one more thing off your to-do list.
Whether it's for running your clients' marketing campaigns, or for your own client acquisition, having the right email marketing software forms a vital part of your digital marketing strategy.
From nurturing the relationship with current customers to generating new leads, you'll want to be in-the-know about the best email marketing software out there – and which platform is best suited to you or your clients' needs.
So, read on to learn about the best email marketing software for agencies, and find out which one is right for you.
Why is email marketing important for agencies?
We've broken down some of the key reasons why email marketing is important, both as a marketing strategy for agencies to use, and as a service to offer to clients:
Email marketing offers agencies a powerful tool to connect with clients, promote their latest services and offers, and ultimately boost business growth.
If using an email marketing platform for client campaigns, you will be able to provide detailed reports for your clients on the performance of their campaigns, and make data-driven decisions to optimize future email marketing efforts.
Overall, email marketing is a vital tool in the marketing mix, helping agencies save valuable time, streamline processes and increase client retention.
How to choose the best email marketing software platform
It's important to note that the right email marketing software can vary depending on whether you are an email marketing agency, or whether your agency offers services across the marketing board. Each type will have different requirements.
While most platforms offer the full gamut of email marketing features, each has its own strengths and weaknesses in areas such as automation, email deliverability, email templates and integration with third-party tools, such as CRM and sales software. We've rounded up some simple steps for you to follow when selecting the best email software platform for your agency.
First things first, think about what your agency needs. It might be best to write down a list and weigh up your agency's specific needs and goals for email marketing. Factors to be considered include the size of your agency, how many clients you have acquired, campaign scale and the specific features you might need.
Decide on your budget. How much are you willing to invest in email marketing software? How much are your clients willing to invest? As we mentioned earlier, pricing structures can vary significantly across different platforms, so it is important to find a platform that suits your email marketing budget. Check out our price comparison tool for more information.
It is always best practice to look for a platform that is intuitive and easy to use. For example, most modern email marketing software use 'drag-and-drop' functionality, which makes it easier for you to send out well-designed emails. This can really help to free up some of your time to focus on other aspects of your email marketing strategy, like building your email list.
Can your platform handle multiple client accounts and many large contact lists? If you're going to be managing email campaigns on behalf of clients, this is an essential consideration. Not all platforms allow you to set up sub-accounts for different clients. And most platforms up the price to match the scale of your database (as opposed to the number of emails you send).
A/B testing capabilities are another factor to consider when selecting an email marketing platform. With email A/B testing, you craft two or more versions of an email, to determine which one performs better statistically. This allows you to make data-backed decisions and apply the same tactics to future email marketing campaigns.
Website tracking allows you to measure the effectiveness of your campaigns. By tracking click-through rates, you can determine which emails drive the most traffic. You can also gain data on actions your subscribers take on your website after clicking through an email. This allows you to gain a clearer picture of their interests, preferences, and behaviors, helping you to tailor future campaigns accordingly.
Your chosen software should provide a comprehensive report on key metrics such as open rates, click-through rates, bounce rates, and conversion rates. Email marketing platforms with advanced reporting features will enable you to gain a picture of revenue generated from your email marketing efforts, as well as the conversion rate of leads into customers.
Deliverability monitoring is also important as this indicates whether your emails are reaching your recipients' inboxes. Identifying any potential issues will allow you to improve your deliverability rates and reach a wider audience. [See our deliverability tests for more information]
Lead scoring allows you to identify and focus on the leads most likely to convert. It's a valuable feature that gives you the ability to create highly targeted campaigns and improve sales performance.
Most of the software will offer basic autoresponders, such as sending out a welcome email as soon as a visitor subscribes. Advanced automation features can include creating different automated emails based on the interests of your leads. It can also nurture leads through a series of relevant emails that steer subscribers through the sales funnel.
It's also important to consider what kind of data your agency or your clients need and value most. Whether that's social media data, campaign analytics, customer feedback, or something else, it's important to make sure your chosen platform can provide that.
Think about what your specialty is and how that can drive value to your clients. Clients are less focused on having an agency partner that can do everything. Instead, they prefer partners that own their niche. Specialized expertise gives clients the confidence that their agency can deliver campaigns that achieve consistent results.
By considering the above factors when weighing up your options, you'll be in a better position to select the platform that's right for your agency and your clients. Each emailing software has its pros and cons, so let's take a closer look by delving into the platforms themselves.
The top email marketing software for agencies
There are so many email marketing software options for agencies – it can be overwhelming! Here are the main providers you need to be aware of:
ActiveCampaign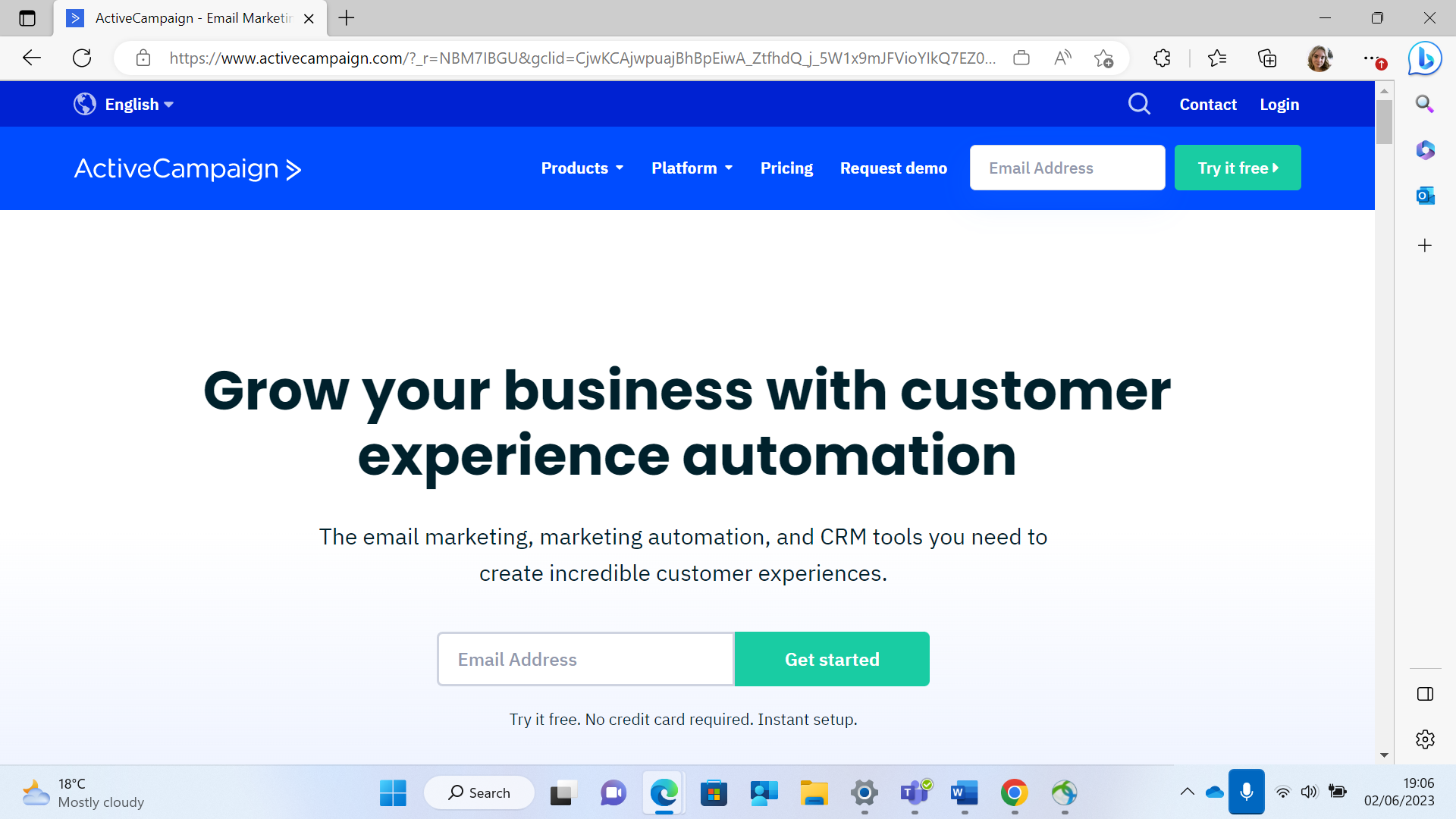 ActiveCampaign is a popular choice for marketing agencies, offering a wide range of features and tools to help clients manage their marketing campaigns, build customer relationships and boost conversions. ActiveCampaign is most suitable for agencies that want to create fully customizable automations (for example, drip campaigns).
ActiveCampaign's Pros:
A powerful built-in CRM, as well as some of the best email automation capabilities we've seen. There are also dynamic landing pages, well-designed pre-built email templates, SMS messaging, list segmentation, and A/B testing.
ActiveCampaign offers an impressive 870+ integrations – allowing marketing agencies to integrate with clients' existing tools and systems, optimize workflows and boost efficiency.
It is also one of the few platforms to offer white labeling, which is available on its Enterprise plan. This allows agencies to add their own branding to the platform and use a custom domain. It also enables customers to log in directly from the agency's website. Interestingly, there's also an Agency Reseller program that can help you earn significant commissions if you sell the platform to clients.
Cons:
However, while ActiveCampaign is undoubtedly a powerful tool, it can be quite complex to learn and navigate. It's also worth mentioning that the reports dashboard is not as sharp as other platforms'. It lacks the level of customization that you can find within platforms such as HubSpot (which we talk about below).
Read our full review of ActiveCampaign to find out more.
Pricing:
ActiveCampaign offers four tiers: Lite (from $39/month), Plus, Professional and Enterprise. The Plus and Professional plans range from $70 – $187 per month, and the Enterprise plan is issued on a quote-by-quote basis. If you want to try it out first, you'll be pleased to know ActiveCampaign offers a 14 day free-trial. Unfortunately, the product isn't cheap, but they do offer a generous discount if you pay annually.
Sign up for ActiveCampaign's free trial here.
HubSpot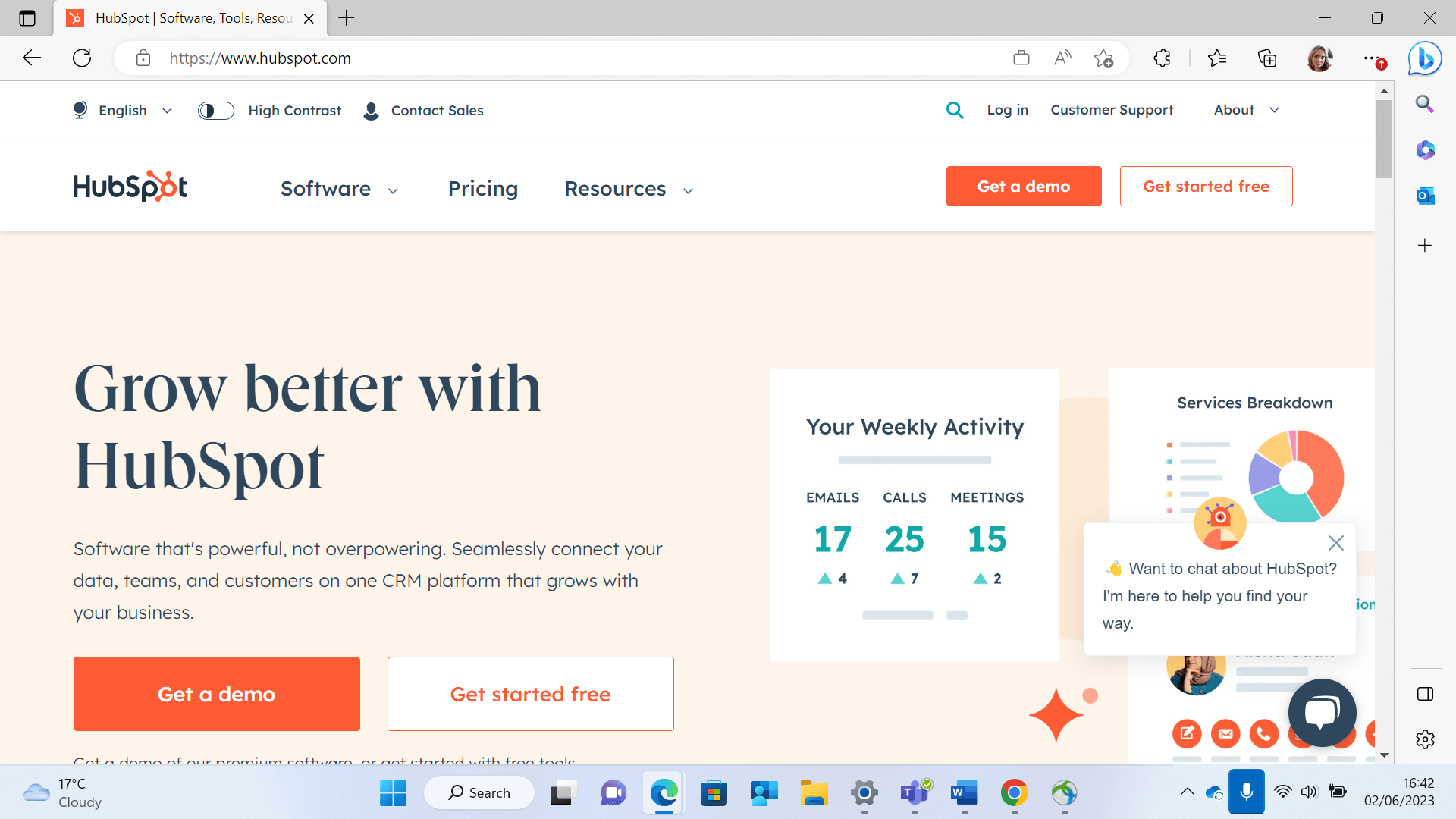 HubSpot is a global leader in marketing services, providing an all-in-one tool for email marketing, CRM, sales, website, and social media management. If you're a busy agency with lots of clients to manage, you might be looking to bring email marketing and customer experience together in one platform – making HubSpot a great contender.
With a host of powerful tools and products, HubSpot is perfect for agencies looking to create laser-targeted email campaigns.
HubSpot's Pros:
As a one-stop shop for marketing, HubSpot provides a plethora of tools to streamline marketing activities, automate emails, and improve management of customer and sales data.
HubSpot's advanced automation tools allow agencies to focus their efforts on inbound marketing, including lead nurturing, lead scoring, drip campaigns, social media scheduling and more. HubSpot's collaboration tools provide agencies with the ability to create team workflows, assign tasks and coordinate marketing activities.
Other features include a drag-and drop-editor, pre-built email templates, integrations with third-party apps, an AI-powered email writer, and reports with customer journey analytics. With a full-journey report, you can work out the best touchpoints to focus marketing efforts on.
Cons:
HubSpot's main drawback is its higher pricing compared to other platforms (often a deal-breaker for some businesses with tighter budgets). The price can creep up quickly as your business grows, especially as the number of contacts in your database increases. Its sales, service and CMS products also come at an additional cost, so bundling them together at a discounted price can be a good idea.
Read our full HubSpot guide here.
Pricing:
Although on the pricey side, HubSpot does offer a free plan for up to 2,000 email sends per month. However, it's worth being aware that the free plan offers very basic, limited features that might not be practical for your business.
After that, there are several tiers: The Starter plan starts at $20 per month (with only 1,000 contacts), the Professional plan from $890 per month, and an Enterprise-level plan from $3600/month offering the most advanced features.
Try HubSpot out for free here.
Brevo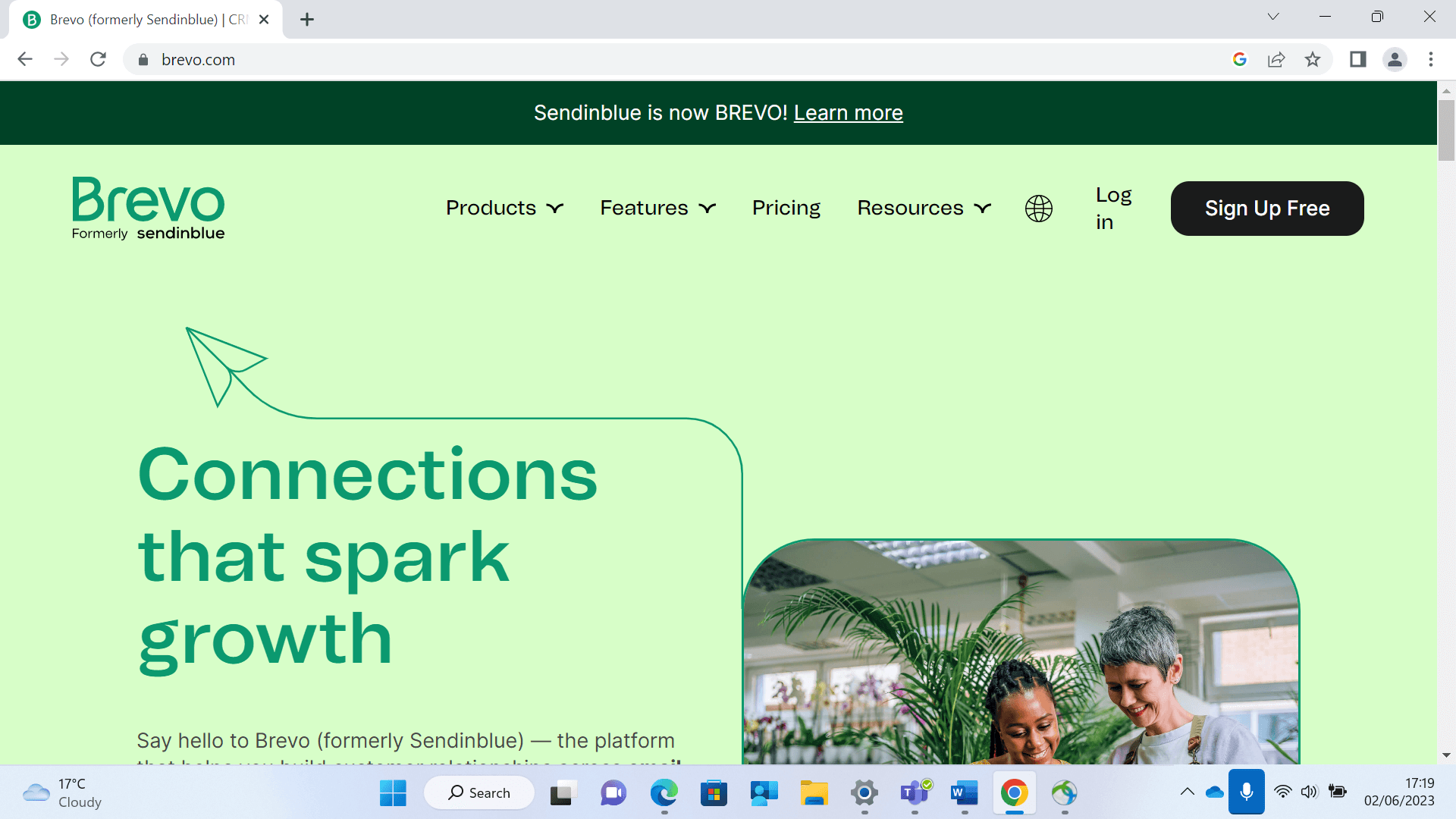 Formerly known as Sendinblue, Brevo is a good low-cost option for agencies. It offers multi-user access, making it easier for teams to collaborate effectively. It also provides a Corporate solution that lets agencies create sub-accounts, enabling them to manage multiple brands under a single umbrella account.
Brevo's Pros:
Within Brevo's offering are landing pages designed to convert visitors. Brevo's features also include automation workflows, detailed reporting, analytics, and SMS marketing. It's a good choice for agencies looking for a reliable, efficient email marketing platform that's easy to navigate.
An Agency Partner program is also available, with a tiered system for commissions.
Cons:
However, be aware that Brevo's deliverability scores can fluctuate (we run deliverability tests twice a year). Also, it is phasing out its unique white label feature, meaning it's no longer possible for agencies to customize the platform's backend with their branding.
Read our full review of Brevo here.
Pricing:
Brevo offers a free plan allowing you to send up to 300 emails a day (9,000/month) with unlimited contacts. Brevo has 3 paid tiers – Starter (from $25 per month), Business (from $65 per month), and Brevo Plus which is a custom price depending on your needs.
Drip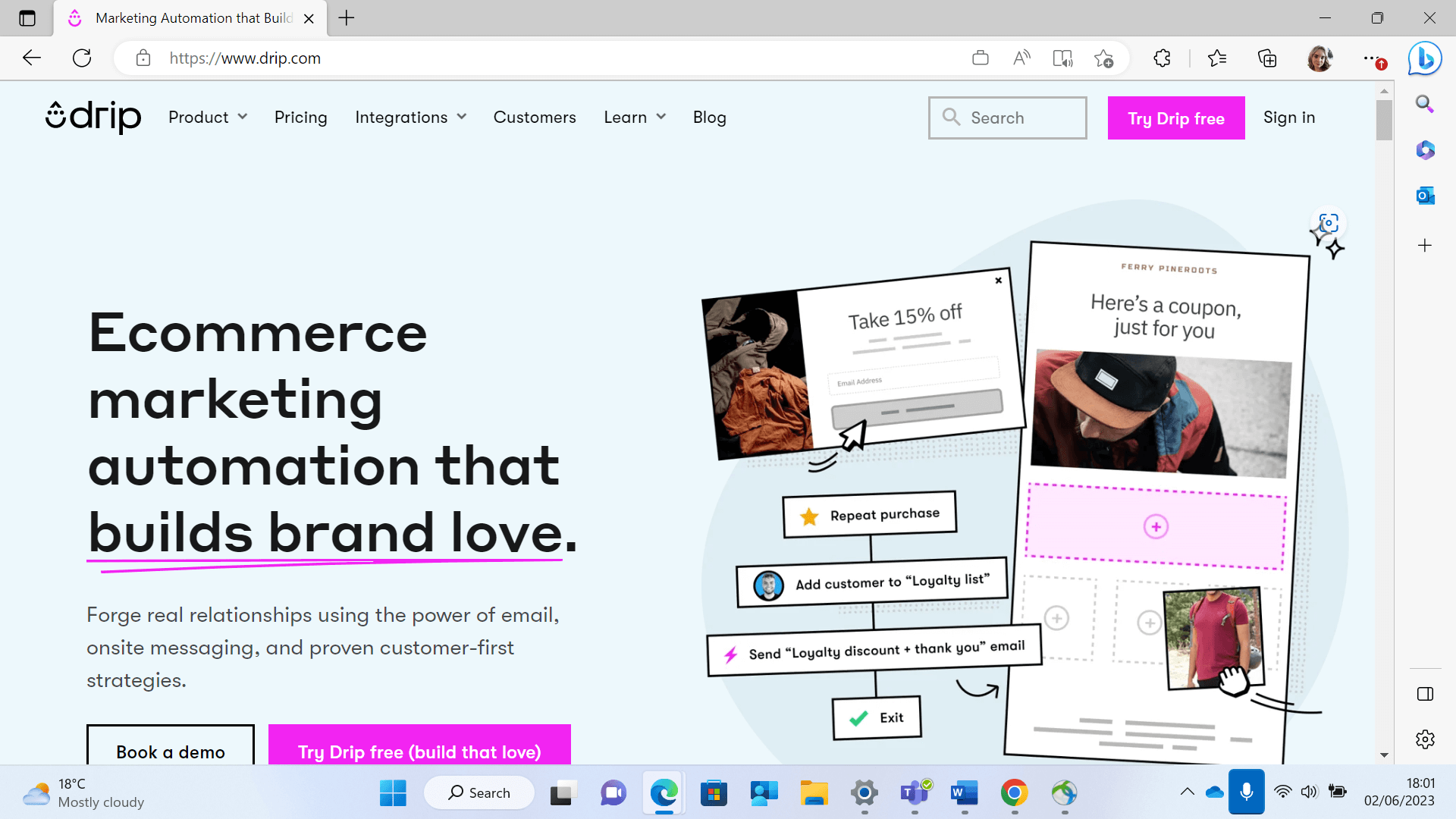 For agencies with e-commerce clients, Drip is your perfect match. A powerful email marketing tool, Drip sells itself as the 'dedicated CRM for ecommerce', working seamlessly with third-party platforms such as Shopify and Woocommerce to craft click-worthy email marketing campaigns.
Drip's Pros:
Drip offers drag-and-drop functionality, email and SMS automation, A/B testing, automation workflows, social media management and reporting. Overall, Drip is ideal for agencies that manage ecommerce customers with large databases.
An Agency Partner program is also available, with generous commissions and personalized support.
Cons:
However, it's missing some important features, such as spam testing, which you can find in alternatives like ActiveCampaign. When we tested Drip, we also found that its deliverability rates weren't the best.
Although Drip offers a catalog of resources and an in-depth user manual, you have to pay for at least 5,000 contacts to be able to access live chat support. Many of the other email marketing platforms out there will offer this right off the bat. If you're less experienced with email marketing software and on a tighter budget, a platform that has more accessible support might be a better option for you.
Pricing:
Drip's pricing starts at $39/month for 2,500 contacts.
Mailchimp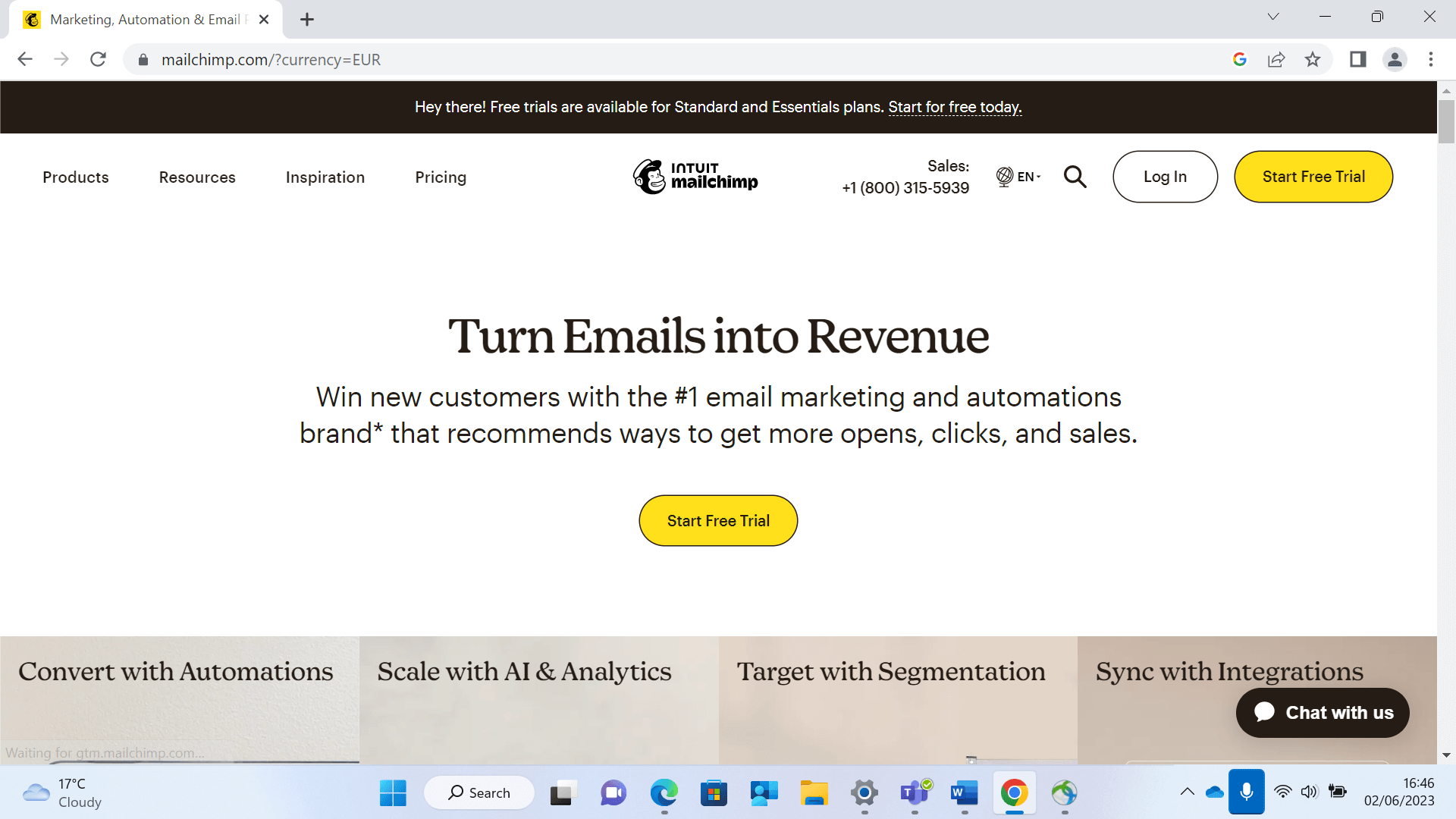 One of the most popular email marketing platforms out there, Mailchimp is often the first port of call for small businesses and agencies looking for an email service. The platform allows users to create and send email campaigns, build mailing lists, and design effective landing pages. It also provides robust reporting features.
Mailchimp is a great, affordable option for agencies, particularly with smaller clients, but larger clients can still get a good deal. And it'll make your life easier when managing multiple clients, as Mailchimp is one of the most user-friendly email marketing services out there.
You can also quickly switch between client accounts within a single account, without having to remember all the passwords. What's more, creating separate accounts allows you to offboard clients easily (so they can have their own admin access and remove you as a user). Billing is also a simpler process with individual invoices per client.
Mailchimp's Pros:
Mailchimp provides a wide range of features that enable agencies to design professional-looking and modern email templates, customize them with simple drag-and-drop editing tools, and deliver bulk emails to subscribers.
Features include list segmentation, A/B testing, automation, and analytics and reporting tools. These allow agencies to measure campaign performance and optimize their campaigns with data-driven decisions, all of which can help to more easily demonstrate ROI to clients.
Cons:
If you or your clients are in affiliate marketing, however, you might have to look elsewhere. Affiliate marketing is one of Mailchimp's prohibited industries, and severe consequences apply if you don't comply with their rules – including account deletion. There are other platforms, such as Drip, which are better suited for affiliate marketing and ecommerce.
Check out our full Mailchimp review. We've also put together a list of Mailchimp alternatives that you might want to take a look at.
Pricing:
Mailchimp is free for up to 500 contacts and 1,000 monthly email sends. The free plan is very limited in terms of pre-built email templates, automation features, A/B testing and advanced segmentation. For these features, you'll need to purchase one of the paid plans.
Note that you'll be charged for unsubscribed contacts, and for those who haven't confirmed opt-in, which isn't great.
Prices start from $13 per month for Essentials to $350 per month for their highest plan. It's worth noting that Mailchimp also offers a 1-month free trial for their Essentials and Standard plans.
Try out Mailchimp for free here.
Constant Contact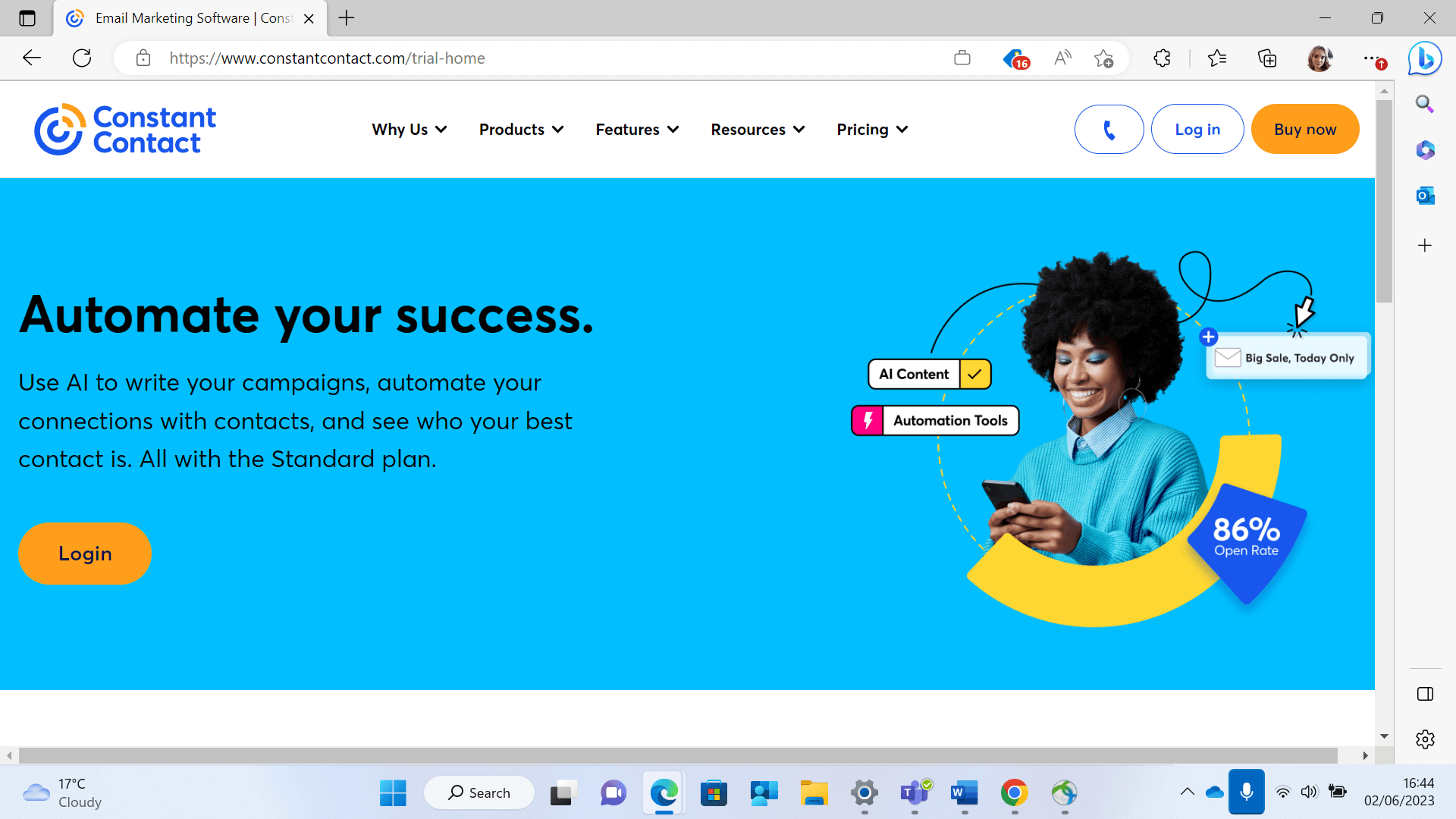 A satisfying blend of advanced functionality and usability makes Constant Contact a popular choice for small to medium-sized agencies. The platform provides customizable templates, contact management tools, automation, and reporting capabilities.
Constant Contact's Pros:
Constant Contact offers a vast range of features. These include SMS marketing, 300+ integrations, social media scheduling/advertising, automation features, list management, and reporting. Its professional-looking email templates allow agencies to design bespoke email campaigns tailored to their clients' branding.
Cons:
Compared to other tools, however, it could offer more for the steep price you're paying. We also found that their automations weren't as advanced as those offered by ActiveCampaign and other similarly-priced tools.
Read our full review of Constant Contact here.
Pricing:
Constant Contact offers 3 pricing tiers: Lite, Standard and Premium (prices start at $12 to $80 per month). It's worth noting that prices will creep up (like a lot of other email marketing services) based on the amount of contacts you have. Constant Contact also offers customers a free 60-day trial so you can test their most advanced features out for yourself – and for a longer trial period than others offer!
Try out Constant Contact here.
Enterprise email platforms worth testing
There are a LOT of platforms to choose from in the email marketing world. However, not all of them would be the best fit for agencies that serve enterprise-level clients.
In this case, you would need an email marketing service that can handle large amounts of data (i.e. huge email lists), and provide sophisticated features such as advanced automation, granular segmentation and custom reporting.
There are too many options to mention, so we've kept it simple and rounded-up the top three platforms worth a test-drive.
HubSpot
HubSpot's Marketing Hub Enterprise service combines standard email marketing with a host of other powerful features. These include account-based marketing, multi-touch revenue attribution, adaptive testing, and more, making it a favorable option for agencies that serve large-scale organizations. It's also possible to add on CRM software by purchasing their separate Sales Hub product.
Cost: Marketing Hub Enterprise begins at $3,200 for 10,000 contacts. This can quickly increase depending on how large your database is. However, HubSpot does offer a free trial for the email marketing feature so you can try before you buy.
Salesforce Marketing Cloud Account Engagement
Formerly known as Pardot, this Salesforce platform brings together your sales and marketing in one hub. Some of its advantages include detailed reporting, analytics, and advanced automation, allowing marketing to provide valuable data to the sales team so they can follow up with potential customers quickly and efficiently.
The visual automation builder provides a simple way for marketers to create complex automation workflows, including a lead scoring function that tracks behavior of website visitors and prioritizes them based on their actions.
Of course, as a Salesforce product, it also offers seamless integration with Salesforce.
Cost: The service offers four subscription plans, starting at $1,250 per month. It's not cheap, so make sure to check out these Salesforce competitors first.
Brevo (Sendinblue)
Brevo offers some seriously solid capabilities for high-volume senders, at a more affordable price than some of its competitors.
Here's a snapshot of what Brevo's Enterprise offering includes: priority support, no daily sending limit, advanced segmentation, a marketing automation suite, transactional emails and SMS, custom plugins, and integration with various third-party software (including WordPress).
Cost: Brevo Plus, the plan most suitable for larger organizations, is offered at a custom price. Their website asks you to contact the sales team directly for a quote.
Do you need more than one email marketing platform?
This depends on your specific needs and marketing goals. For the majority of businesses, having one email marketing platform is enough to deliver a successful marketing strategy. Having multiple platforms can increase your workload and can feel overwhelming. Before deciding to go down that path, it is important to evaluate your resources and your needs to decide if the benefits outweigh the challenges.
Here are some scenarios where having a second platform might be beneficial.
If you have different target audiences, using multiple email marketing platforms can help you to cater your campaigns specifically for each group. An example of this is using one platform for B2B communications and another for B2C.
Using different platforms will allow you to experiment with different features, templates and strategies best suited for your audience. You can compare the return of investment of each platform and optimize your email marketing performance.
With a larger subscriber base, managing all your email campaigns on a single platform can be more challenging. In this case, multiple platforms can help to divide up the load and increase your chances of higher deliverability rates.
Conclusion: The best email marketing software for agencies
That might be a lot of information to process – but it's important you have what you need to weigh up your options, and make an educated choice on the best email marketing platform for your agency.
The top contender will depend on your individual needs and the scale of your client database – but as we've found in our extensive testing, these are the best options to choose from:
Armed with this information, we hope that you can now confidently select a platform that aligns with your agency's unique requirements and goals.
If you have any questions, please feel free to drop them in the comments sections below.
Our Methodology
This article has been written and researched following our EmailTooltester methodology.
Our Methodology