EmailToolTester is supported by readers like yourself. We may earn an affiliate commission when you purchase through our links. Of course, this won't increase the cost of your subscription.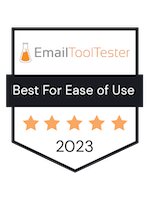 We awarded MailerLite our Best Email Marketing Tool For Ease of Use badge for 2023!
Find out why in this extensive review of the product.
This MailerLite review is based on a methodical approach and uses our practical experience and knowledge of dozens of other simple and advanced email marketing tools. You may have already checked out the MailerLite reviews offered by users online, and whilst they are pretty positive, they may not give you the whole picture. So what do you need to know about this tool?
MailerLite are relatively new when it comes to the world of email marketing, and that youthfulness permeates throughout the tool's design, features and support offered. Not in a 'young, crazy, fun!' kind of way, but more of a 'modern, clean and simple' kind of way. Perhaps it has something to do with the fact that their average office age is 25? Well, whatever it is, it's working for them.
MailerLite's company values show that MailerLite is a progressive email marketing software. Their employees and support agents are located all over the world, so getting help in your native language shouldn't be a problem. However, the actual product is no longer available in any languages other than English. This wasn't always the case. It used to also be available in Spanish, Lithuanian and Polish, but these were removed when they switched over to the new version.
MailerLite does have a mobile app, though sadly it's only currently available on iOS.
MailerLite recently launched a new version of their software, now affectionately calling the old version MailerLite Classic. This MailerLite review has been updated to reflect the changes to the design interface, the new features and pricing model.
MailerLite Review Summary
MailerLite offers a Free Forever plan, but even when you start paying, it's cheaper than most email marketing tools.
Prices on the Growing Business plan start from $10 for 1,000 subscribers and include unlimited emails and landing pages, and over 60 modern newsletter templates.
Their easy-to-use interface makes it a great email marketing software for beginners.
Excellent email deliverability
Some may find their reporting and marketing automation options slightly limited.
Even with their aforementioned simplicity, they still manage to offer a wide range of choices when it comes to things like email campaigns, landing pages and form options. And this, coupled with their fast and simple editor, really feels like a steal when you're on their 'Free Forever' plan.
All this makes it an excellent Mailchimp alternative!
Try MailerLite for free: https://www.emailtooltester.com/out/mailerlite/Check out our detailed written review for more information: https://www.emailtooltest...
MailerLite Review 2023: Why We Recommend It (& Why Not)
2022-11-15
https://img.youtube.com/vi/4zLYGWxKUdY/hqdefault.jpg
MailerLite screenshots
MailerLite Pricing
1,000 SUBSCRIBERS
$0/MO
Offers access to some features and caps emails at 12,000
1,000 SUBSCRIBERS
$10/MO
Growing Business plan. Unlimited emails
2,500 SUBSCRIBERS
$17/MO
Growing Business plan. Unlimited emails
5,000 SUBSCRIBERS
$32/MO
Growing Business plan. Unlimited emails
10,000 SUBSCRIBERS
$54/MO
Growing Business plan. Unlimited emails
15,000 SUBSCRIBERS
$87/MO
Growing Business plan. Unlimited emails
MailerLite is one of the more affordable email providers on the market. If you'd like to read more about their prices and plans, check our pricing guide.
Pros and Cons
Free plan:
A good amount of features are included in their free version, including single trigger automation workflows, a landing page builder and survey maker. This is a big reason for naming it a top ActiveCampaign alternative.
Easy-to-use:
A clean and simple interface makes this a great service for new and advanced users alike. Using MailerLite is in no way overwhelming, as is the case for some other email marketing platforms.
Landing page builder:
MailerLite's landing page builder allows you to easily create and design a landing page hosted by MailerLite or on your own domain. Thanks to MailerLite's integration with Stripe, you use landing pages to sell digital products.
Excellent deliverability:
MailerLite consistently does very well in our deliverability tests, often taking the number one spot. With MailerLite, you can be confident your email campaigns arrive in your subscribers' inbox.
Missing some pro features:
Even though it has great prices, you do miss out on a few pro features, such as full reporting, advanced automations, CRM features and spam/design testing.
Rigorous approval process:
Not necessarily a bad thing if it keeps their deliverability rates up, but it may feel a bit overkill to some users who want to get started quickly
No templates on the free version:
Unfortunately, you'll need to be on one of the paid plans in order to access the newsletter and landing page templates. You'll also need the Advanced plan to use the HTML editor.
New version only available in English:
In updating their product design, MailerLite has removed the other four languages it previously included. That said, email support is still available in many languages, including Spanish, Lithuanian and Polish.
Is MailerLite the right newsletter service for you?
Recommended if:
You're a small business owner, solopreneur or freelancer:
MailerLite is the perfect email marketing software for those who have a modest budget, but still need a tool that does more than just send newsletters. Features include automation workflows, contact tagging and segmentation, and a landing page editor, so even sophisticated campaigns can be run.
You're a blogger or creative:
Apart from its affordable pricing, MailerLite is also packed with features tailored to bloggers, including RSS campaigns, WordPress integration, and video marketing.
You're a complete beginner:
With a simple interface, intuitive navigation and easy-to-use email editor, MailerLite is the top choice for anyone who's just getting started with email marketing. With the introduction of MailerLite Academy, where their courses seek to turn you into a MailerLite certified email marketing expert, everything just got a whole lot easier – it's also totally free!
Not recommended if:
You need comprehensive reporting:
The reports for MailerLite are the standard ones you'll find in any email marketing tool (with stats for opens, clicks, etc.), plus purchase tracking for Shopify and WooCommerce. However, they don't include any social tracking, for example, so if you really need these we'd recommend an email marketing service like GetResponse.
You need complex automations:
While MailerLite lets you set up automated workflows based on a handful of triggers (e.g. when subscribers join a group, click a link or have a contact field updated), it lacks automations for more advanced triggers such as when they visit a page on your website.
Rating details
| criterion | rating | comments |
| --- | --- | --- |
| Ease of Use | | Using MailerLite couldn't be easier. Navigating the tool feels very intuitive, with most sections working fast. It has a logical structure and a clean interface. I'd say it's one of the most user-friendly email marketing services we've used. |
| Newsletter Creation | | |
| Editor | | The drag and drop email editor works smoothly and has everything you'll need. There are tons of content blocks included, which makes adding columns and interactive elements such as surveys and image carousels super simple. They also allow you to track changes, which makes undoing mistakes easy. A feature quite unique to MailerLite is the ability to add Facebook and Twitter posts directly to your email. A user-friendly custom HTML editor is also available, though only on the Advanced plan. |
| Personalization | | Simple personalization is possible, but not if/then/else logic. You also have the ability to add 'dynamic content' blocks, which will display only to selected groups/segments. |
| Email types | | Classic, A/B testing, autoresponders, surveys, recurring newsletters and date-based (specific and one-off for things like membership reminders). |
| Choice and Flexibility of Template Designs | | There is a good selection of modern templates to choose from, which are all easily customizable. Note that templates aren't included in the free plan, though you'll have a huge range of interactive content blocks to choose from, including discount vouchers, carousels and videos. |
| Email Marketing Automation | | MailerLite offer marketing automation, allowing you to create workflows based on campaign actions such as opens and links clicked, or conditions based on custom fields and segments. While unable to track page visits, automation is offered to all users, even on their free plan. The automation editor is very easy to use. |
| List Management | | You are able to segment your subscribers using a wide variety of variables. There is even a tagging system, which MailerLite calls "groups". Through their automations you can even set up certain actions such as "when a subscriber joins one group, remove them from another group". But it's also not a problem for the same user to be on multiple lists, it won't count against your subscriber limit. |
| Registration Forms/ Opt-in & Opt-out- Process | | Very easy to create and use, with several types of forms available, including pop-up, embed, unsubscribe forms and subscribe buttons. The form templates are well-designed and easily customizable. |
| Deliverability | | MailerLite offer solid deliverability rates. They've actually taken the winning spot in a number of our tests, including the three most recent ones. Their new domain alignment feature will no doubt further improve users' deliverability. |
| Reports and Analysis | | MailerLite has basic reporting available, but no dedicated section. Rather, you reach it either within campaigns, or subscribers (where you can find handy individual stats on each list). While it has ecommerce tracking, this is limited to WooCommerce and Shopify, and is lacking in social tracking. What it does have is click-mapping and geolocation stats, and Google Analytics tags can be added. |
| Languages | | The new version of MailerLite (available since March 2022) is only available in English. Classic users will continue to be able to use the 4 other languages. |
| Further Features | | |
| Spam- and Design-Testing | | You can preview how your design will look on desktop and mobile, but not on different email clients, and there is no spam testing. |
| Bounce Management | | After five soft bounces, or one hard bounce, subscribers are automatically moved to a bounce folder where they can be managed. |
| Blocklist | | You can exclude segments or groups from receiving emails from you. |
| Storage available for data and images | Unlimited | There's no limit on the size or amount of images you can store. There is a section called 'File Manager' where you can find your files. |
| Pro Features | | |
| Authentication | | SPF and DKIM (Domain Keys). |
| Own Domain | | You can add a custom domain on the Growing Business plan. The 'domain alignment' feature means that all links across campaigns and confirmation emails will have your domain, instead of the MailerLite domain. This also improves deliverability. |
| Different levels of account access | | You can choose exactly what a team member has access to. There's also two-factor authentication (2FA) available through the Google Authenticator App. |
| Integrations | | MailerLite have plenty of integration options available (Shopify and WordPress, for example), and allow access to the developer API which will help integrate it within other apps. Also, they support Zapier, which can connect to a multitude of services. |
| Landing Page Builder | | This is where MailerLite really shines, offering 200+ really cool templates. Your landing pages can either be hosted by MailerLite, or on your own domain, and you can even create an entire website with their website builder, making it one of just a handful of email marketing services to offer website-building features. You design it in exactly the same way as the newsletter, so it feels logical and is very easy to use. They also have an unsubscribe page builder, which allows you to add a survey and find out why users unsubscribed from your mailing list. |
| Customer Support | 4.5/5 | Using email support and live chat is very fast and friendly, with the same few agents responding to your requests. Note that the free plan just has basic email support and 24/7 live chat support is reserved for the Advanced plan. The knowledge base was thorough, and their free online courses are packed full of useful info. No phone support is available. |
| Overall rating | 4.4/5 | MailerLite is a fast and easy to use email tool, with enough features for small business owners. Considering you can have up to 1,000 subscribers for free, it's not a bad deal. |
A More Detailed Look at MailerLite's Top Features
As you can see from this MailerLite review, it offers a good range of features, and gains points for being so user-friendly. Let's take a closer look at the pros and cons of its key features:
MailerLite Landing Page Builder
We've done extensive testing on MailerLite's landing page builder, and recommend it very highly.
The fact that you can build and publish up to 10 landing pages for free is a big plus, especially when you consider just how expensive a dedicated landing page builder can be ($40-$90/month).
Note that if you wish to publish your page on a custom domain, you'll need to move up to the Growing Business paid plan ($10/month).
So what's so good about the MailerLite landing page builder? 
Being a drag and drop builder, it's super easy-to-use.
You have plenty of content elements you can add, like countdown timers, events, surveys, etc.
Form fields can be easily edited, and form submissions go straight into whichever list you select.
There are options to edit SEO settings (including whether you want your landing page to be indexed).
You can trigger automations, for example, a welcome series, follow-up message or reminder email in the case of an event.
There are plenty of good-looking modern templates on paid plan.
Customer support are very responsive and helpful.
The Stripe integration means you can sell services and products on your landing pages.
What's not so good?
MailerLite's free plan doesn't include any landing page templates.
Reports on the free plan are also a little thin, only including the number of subscribers, views and conversions.
Pro users will be missing the option to add personalized dynamic content. For example, you may wish to show users in New York an event that's specific to them and users in San Francisco another. If this sounds like something you're in need of, check out ActiveCampaign's landing page builder.
MailerLite Templates
As I mentioned above, MailerLite's paid plans come with 200+ landing page templates and 50 newsletter templates. And to access these, you'll need to be on one of the paid plans.
It's definitely disappointing that no templates are included for free, though you won't actually be starting with a blank canvas. The screenshot below shows what you'll be working with if you select 'Start from scratch' in the newsletter editor. I'd say, then, that the free plan actually includes one template to help get you started.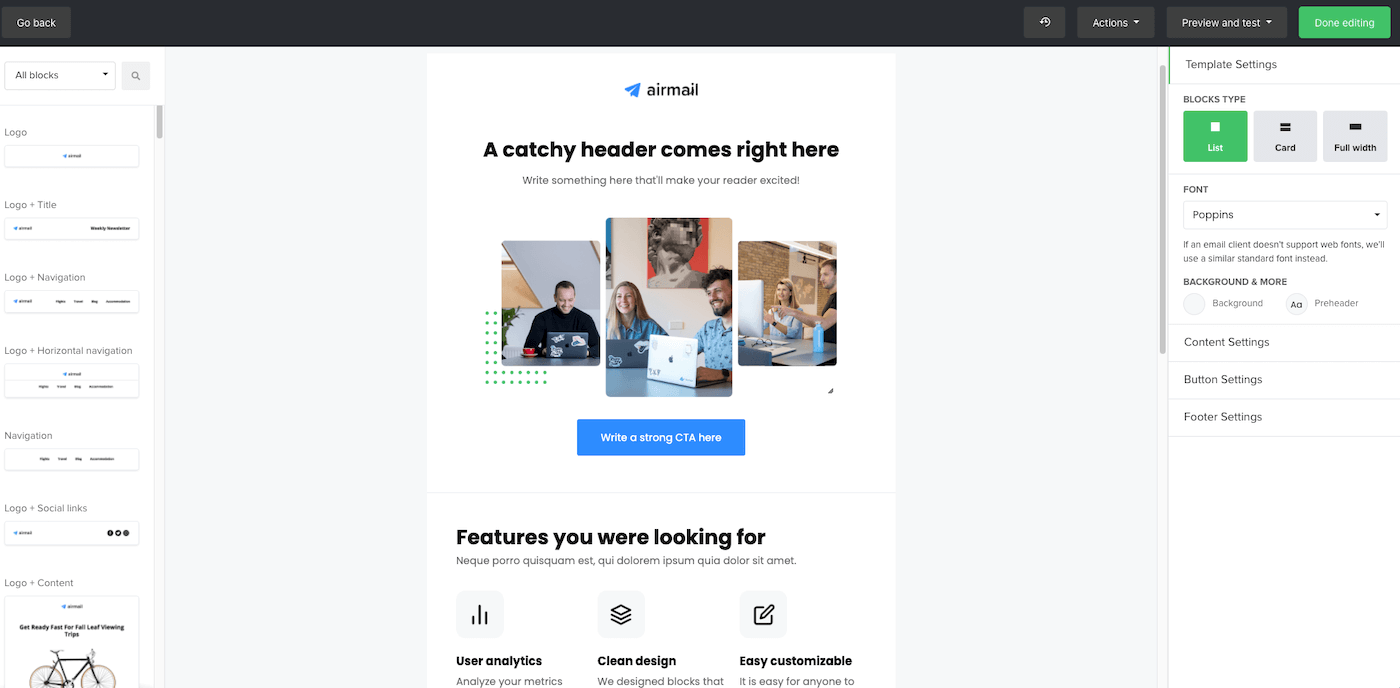 We rate MailerLite's templates very highly, as they're all responsive and were clearly made by experienced designers.
You can sort by category and edit the content with ease. You can also create your own template and save it for future use.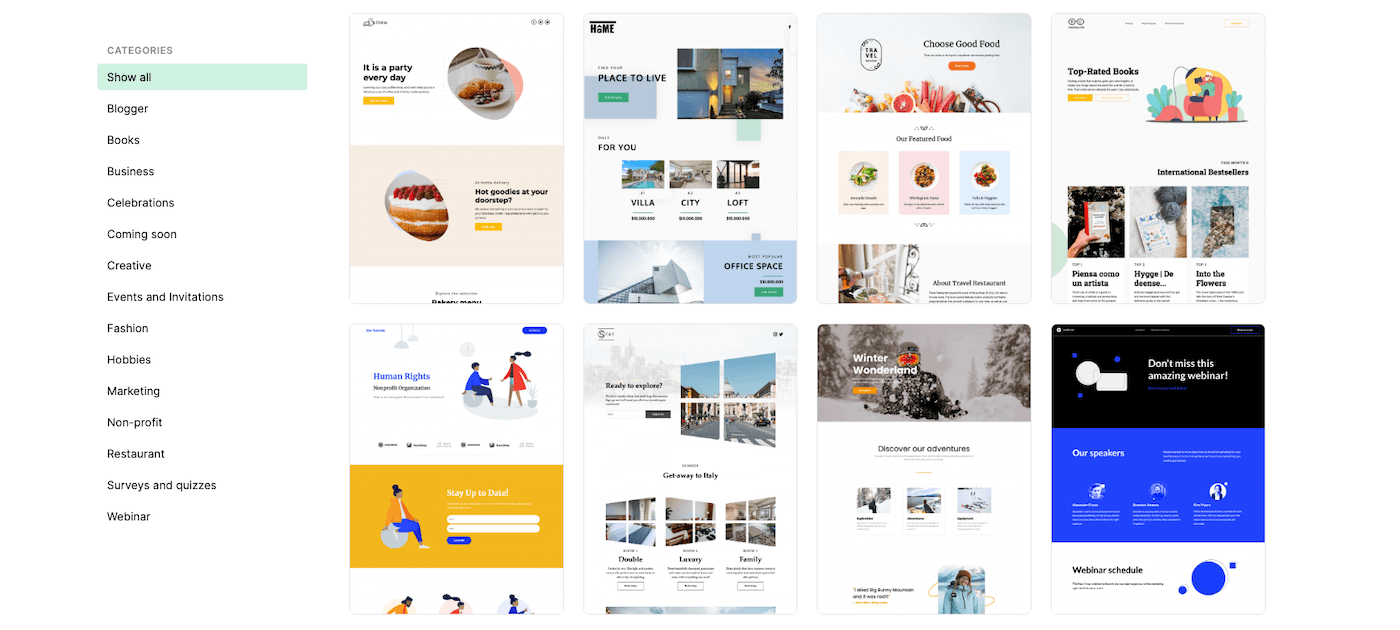 If you want to insert your own custom code or password protect your pages, you'll need the Advanced plan ($21/month).
Drag and Drop Editor
The drag and drop editor is one of the best editors we've used (and we've tested a lot!). It's fast and provides you with tons of content elements (video, testimonials, image carousels, quizzes, etc.) so you can make your campaigns as engaging as possible. Dynamic content means you can make your emails ultra-personalized, too.
PROS
CONS

RSS feed: You can have MailerLite automatically fetch information from your RSS feed, so you can automatically send an email with all your new blog articles.
Social sharing: Integrate your Twitter, Facebook and Instagram posts directly in your newsletter.
Ecommerce listings: Integrate with your ecommerce and include your listings directly in your newsletter/campaigns.
Images: MailerLite has a direct integration with Giphy and Unsplash, meaning you can find and upload beautiful images in no time. What's more, MailerLite includes image editing software within the editor, which is a big plus.

Dynamic content: You can set the visibility for any block so it shows only to specific subscriber segments.

Spam & design testing: Unfortunately, there is no spam testing, and it's not possible to preview how your email will look on different email clients.
HTML editor: Custom HTML editor is only available on the Advanced plan
List Management
MailerLite doesn't limit the number of lists you can have, and this may be a key reason why Mailchimp users migrate to MailerLite.
There are two kinds of lists you can build with MailerLite: Segments and Groups.
Segments: This is a dynamic group. Each segment has at least one rule or condition that subscribers must meet to be part of this list. Once the rule is met, the subscriber is automatically added to the segment. This allows you to send targeted communications to those contacts who it's most relevant to.
Groups: This is a static group. Think of these as interest groups. Here, you manually add and remove contacts and they don't need to meet any kind of criteria.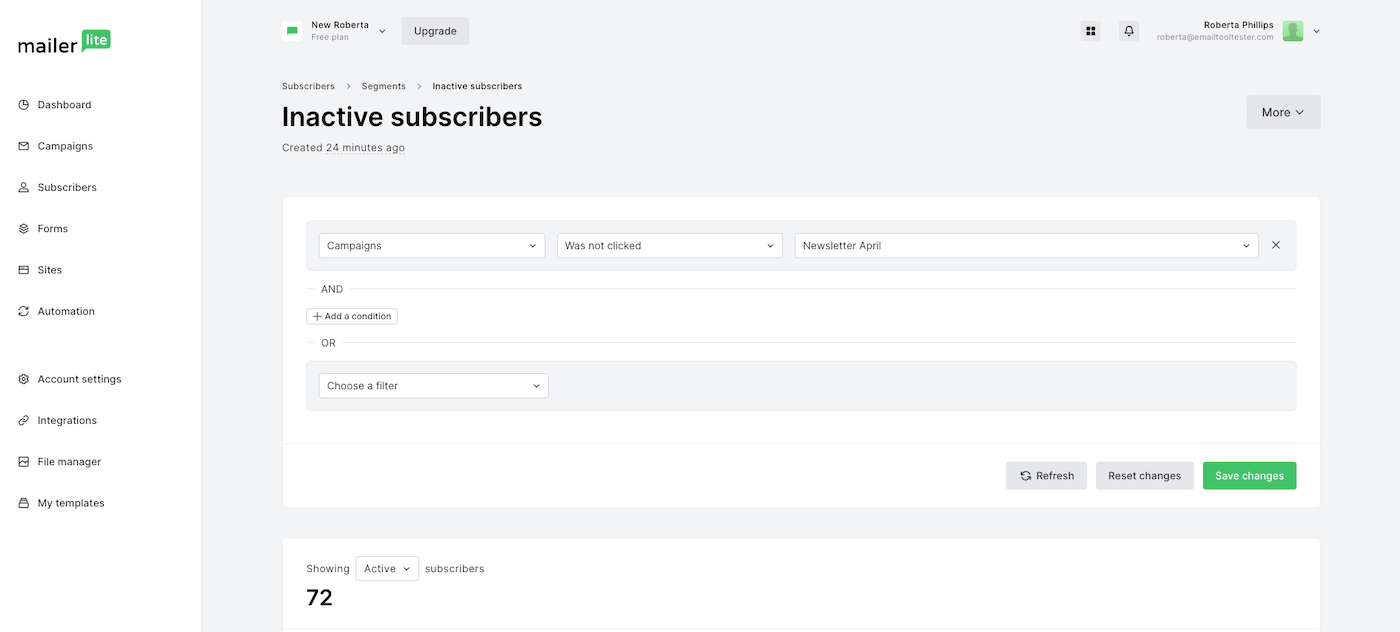 Segmentation filters include if a subscriber has opened/clicked on a certain campaign, if they are in a particular time zone or have been inactive for a certain amount of time.
These segments can be used in your marketing automation campaigns.
Compared to pro email marketing tool ActiveCampaign, MailerLite's list management tools may not be as sophisticated, but you'll find them much easier to use.
MailerLite Deliverability
MailerLite's deliverability is consistently excellent, according to our bi-annual tests. With an average of 95.2% (based on our last three rounds of testing), it's clear this is an area MailerLite takes very seriously. Here are some of the awards it's won for email deliverability over the years: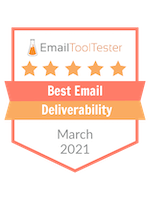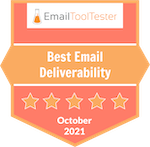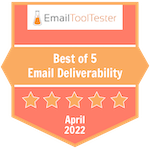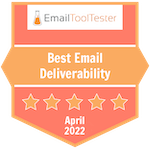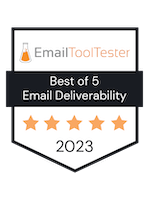 One thing to note, however, is that it averages about 20:80 when it comes to landing emails in Gmail's main inbox vs the Promotions tab.
With the addition of features such as the ability to sell digital products and recurring subscriptions on top of the website and landing page builder, MailerLite is definitely heading towards all-in-one marketing platform territory.
Conclusion
MailerLite really shines in the areas of user experience and simplicity, and it has enough features for the needs of most small businesses' email marketing strategies. Of course, being cheaper than a lot of other tools means that there are some drawbacks, for example, MailerLite's automation capabilities are a little thin, and spam/design testing isn't available.
We used to be big fans of their 'Forever Free' plan, but are a little disappointed that they've limited some of its features now, including access to email and landing page templates and the HTML editor. However, if you have fewer than 1,000 subscribers, it'll do the job. Note that MailerLite are a little stricter on their approvals processes than other providers – you'll need to make sure that your list collection and email sending practices are above board.
Basically, their excellent drag and drop editor and beautiful designs make MailerLite one of the best email marketing solutions for newsletter creation. So if that's what you're after then you don't need to look any further.
Try MaillerLite now for free for up to 1,000 recipients.
Not enough high-quality contacts on your list? Check out our complete guide to how to build an email list.
Other tools by MailerLite include:
MailerCheck, their email verification tool to help you improve your deliverability
MailerSend, their transactional email service. Find out more here.
MailerLite Alternatives

Sendinblue
Read Review

ActiveCampaign
Read Review

GetResponse
Read Review
Sendinblue is one of the cheapest all-in-one email marketing tools on the market. It's available in 6 languages and comes with advanced automation options and a built-in CRM.
ActiveCampaign stands out for being one of the platforms with smarter automations – the options available to you are much more advanced than with MailerLite. They are not only very powerful, but also straightforward to use.
GetResponse is a powerful alternative to MailerLite with loads of pro options (e.g. Conversion Funnel) and good automations. Unlike MailerLite, they offer their platform in more than 20 languages, and their design and testing tools are top notch.
Still not sure which is the right newsletter tool for you? Try our Smart Finder.
FAQ
Where does MailerLite host my data?
MailerLite is based in Vilnius, Lithuania, and store all of their data there. In case you are wondering: yes, Lithuania is part of the European Union and thereby covered by EU data protection laws.

Why did MailerLite reject my account application/close my account?
In an effort to reduce spam rates and keep deliverability rates high, MailerLite have recently introduced strict approvals processes for new accounts. They also take enforcing their Terms of Use seriously, and are known to immediately shut down accounts that they deem to be in violation (e.g. Forex industries, MLM, affiliate marketing). Please make sure to read their Terms of Use and Anti-Spam policy before signing up for an account.

Is MailerLite any good?
We really rate MailerLite. Not only is their service affordable, it's also really easy-to-use, and comes with some great email and landing page designs. MailerLite competitors include Sendinblue and Mailchimp.

Is MailerLite legit?
Yes, MailerLite is a legit email marketing platform for small businesses. Your customer data will be safely stored on its servers.

MailerLite deliverability - is it any good?
MailerLite's deliverability rates are consistently excellent in our bi-annual deliverability tests. In fact, they have the best deliverability of all providers tested.

About Roberta Phillips
YOUR QUESTIONS AND FEEDBACK