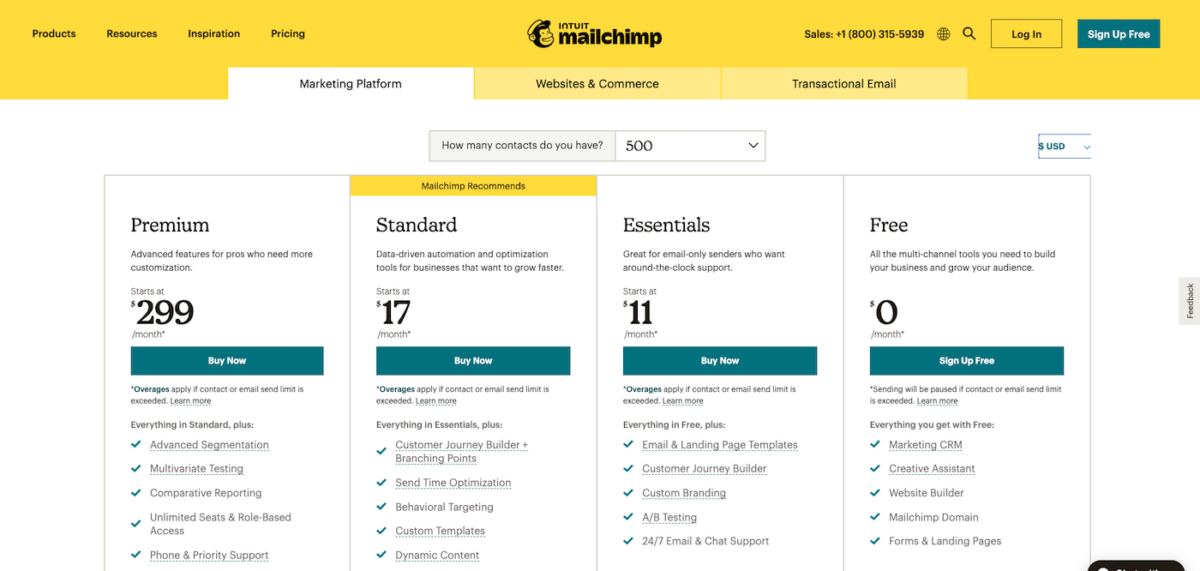 At first glance, the Atlanta-based company seems pretty generous, offering free newsletters and landing pages. However, make sure you read until the end as there are a few snags in their pricing model, especially with regard to how they charge for contacts. Recent changes to their plans and inclusions have also made it a much less attractive option for small-to-medium businesses, as we'll detail below.
MailChimp pricing in a nutshell
MailChimp offers the Free plan for up to 500 contacts and 2,500 emails per month (with ads). The Essentials plan starts at $11/month for 500 contacts and 500k emails. The Standard plan adds advanced automations, starting at $17/month, and Premium gives you all-areas access from $299/month.
Pricing for Mailchimp's monthly plans is calculated based on the size of your 'audience' (that is, list size). But each plan also has a monthly email sending limit, as well as a limit to the number of different 'audiences' you can have, which we go through below.
Note that as of May 2019, new users (and those switching from free/pay-as-you-go plans to a monthly plan) started getting charged per contact, as opposed to just subscribed contacts (which was previously the case). So, new users will also start paying for unsubscribed contacts and those who haven't confirmed opt-in. Depending on the proportion of your contacts who are unsubscribed, this could push up your costs significantly.
MailChimp also features a pay-as-you-go pricing system, where you'll just pay for the amount of emails that you send. This plan comes with the same features as the monthly MailChimp plans.
Let's have a look at their prices in more detail:
MailChimp Pay-as-you-go plans
On Mailchimp's pay-as-you-go plan, you prepay your email quota. Although they famously used to offer credits that 'never expired', new changes mean that credits now expire after 12 months.
| Emails | Price per email | Price |
| --- | --- | --- |
| 5,000 | $0.03 | $150 |
| 10,000 | $0.02 | $200 |
| 50,000 | $0.02 | $1000 |
| 75,000 | $0.02 | $1500 |
MailChimp monthly marketing plans and prices
The advantage of a subscription is that you never run out of credits thus your automations won't stop on Black Friday because you forgot to refill. However, you will incur additional charges if you go over your contact limit (rather than automatically being bumped up to the next tier), so be sure to keep a close eye on this and, if needed, to change up to the next level of your plan in advance.
MAILCHIMP PLANS
FREE
ESSENTIALS
STANDARD
PREMIUM
Features
Single-step automations

(Autoresponders)

Yes
Yes
Yes
Yes
Multi-step automation workflows
No
No
Yes
Yes
Max. number of audiences (lists)
1
3
5
Unlimited
Monthly email sending limit
2,500
10x maximum contact count
12x maximum contact count
15x maximum contact count
Email templates
Basic
All
All
All
Abandoned Cart
Yes
Yes
Yes
Yes
A/B Testing
No
Yes
Yes
Yes
Reports
Yes
Yes
Yes
Yes
Segmentation
Yes
Yes
Yes
Yes (advanced)
Landing pages
Yes
Yes
Yes
Yes
CRM
Yes

(limited to 1 audience*)

Contact profiles, tags & segments

Yes

(3 audiences)

Contact profiles, tags & segments

Yes

(5 audiences)

Customer lifetime value, purchase likelihood, lookalike audience finder

Yes

(unlimited audiences)

Customer lifetime value, purchase likelihood, lookalike audience finder

Chat and Email Support
No (Knowledge base + 30 days email support only)
Yes
Yes
Yes
Mailchimp advertisement
Yes (a small banner in the newsletter's footer)
No
No
No
Retargeting (Facebook, Google, Instagram)
No
No
Yes
Yes
Social post scheduling
No
No
Yes
Yes
Ecommerce
Yes
Yes
Yes
Yes
Scheduling software
Yes
Yes
Yes
Yes
 Inbox
Yes
Yes
Yes
Yes
Number of users
1
3
5
Unlimited
Advanced Features
Time Zone delivery
No
No
Yes
Yes
Predicted Demographics
No
No
Yes
Yes
Transactional Emails
Add-on (prices vary)
Add-on (prices vary)
Add-on (prices vary)
Add-on (prices vary)
Comparative Reports
No
No
No
Yes
Multivariate Testing
No
No
No
Yes
Mailchimp Cost
500 contacts
Free
$11
$17
N/A
2,500 contacts
Free (up to 2,000 contacts)
$34
$59
N/A
5,000 contacts
N/A
$59
$90
N/A
10,000 contacts
N/A
$87
$115
$299
15,000 contacts
N/A
$150
$189
$399
25,000 contacts
N/A
$225
$259
$530
50,000 contacts
N/A
$299
$359
$700
*An audience is where all your contacts are stored. You can then segment or tag subscribers within this.
But what MailChimp Plan should you choose?
Firstly, you need to decide if you need a pay-as-you-go account where you purchase email credits and send campaigns out or if it makes more sense to have a monthly account with a subscriber limitation. Generally speaking, if you send email campaigns regularly, getting a monthly account is more sensible. However, if you just want to send the odd campaign occasionally (or are generally scared of commitment), buying email credits is your best option.
Monthly plans: Mailchimp Prices
Free Plan: MailChimp lets you start your email marketing program for free. This complimentary plan used to be much more generous than it is today, though, it does still include a good amount of features. For example, you have access to single-step email automations and some other advanced features (e.g. CRM, reporting and ecommerce features, landing page builder, scheduling app, etc.). However, you get very limited access to templates, a maximum of just 1 audience/list, and you won't be able to benefit from any personal support after the first 30 days. Another big disadvantage is that you won't be able to schedule your campaigns. Most other email services include this feature for free.
You have to be aware that this plan is limited to just 500 subscribers (contacts) and 2,500 emails (a month) with a daily sending limit of 500. If you exceed these, you'll have to purchase a monthly plan or email credits (pay-as-you-go). Take into account that when sending campaigns, MailChimp's logo will show in your communications.
We used to be big fans of MailChimp's free plan, but, honestly speaking, we like MailerLite's free plan even more. Theirs allows for up to 1,000 subscribers and 12,000 emails with no daily sending cap. You can also schedule your emails without any problems.
Essentials Plan: Chances are that the MailChimp Free plan isn't for you, for example, if you need to send more than 2,500 emails per month, you have more than 500 contacts, or want to set up multi-step automations.
Essentials is the cheapest monthly plan available, and gives you advantages over the free plan such as:
The MailChimp branding will disappear from your emails.
You get access to all Mailchimp email templates.
A/B testing is available.
Preview how your emails will look in different inboxes (e.g. Outlook or Gmail). You'll get 25 previews a month.
Get MailChimp's Delivery by Time Zone and make sure subscribers receive the campaigns when's a good time for them, even if they live in different countries.
Get chat and email support.
However, restrictions include a maximum of 50,000 contacts, 3 audiences/lists, and a limit of 500,000 emails per month. Disappointingly, you don't get access to multi-step automations, so overall it's a pretty basic plan. If you're likely to go over these limits or need more complex marketing automation, the Standard or Premium plans would be better for you.
Standard Plan: If you need advanced features such as multi-step automations, you'll need to opt for the Standard plan, which comes with everything included in the Essentials plan, plus:
Delivery by Time Zone and Send Time Optimization to make sure subscribers receive the campaigns when's a good time for them, even if they live in different countries.
More advanced CRM features (predicted demographics, customer lifetime value and so on).
The ability to import your own HTML email templates.
More sophisticated automation workflows – multi-email campaigns, onboarding series, etc.
Retargeting ads for Facebook, Google and Instagram
With the Standard Plan, limits are 100,000 contacts, 5 audiences, and 1.2 million emails per month. You also get a maximum of 5 users on the plan. If you need any more than that, then you'll have to go for the Premium plan, which in our opinion is very expensive.
Premium Plan: This isn't cheap at all, as you'll need to pay at least $299 a month to get MailChimp's cutting-edge features. But let's see what these Pro features can do for you and your organization:
MailChimp saves the Advanced Segmentation options for the Pro users. Basically, these will let you create complex segmentation based on user behavior (e.g. email activity, demographics and purchase history).
You will be able to create Comparative Reports, which allow you to group campaign reports and do a bunch of geeky statistic research.
Multivariate Testing is possible. With the lower plans, you can A/B test one variant (e.g. subject line or body message). But if you want to test the subject line and the body message at the same time, you'll need Multivariate Testing.
You also get unlimited users and role-based access – ideal if you need to give access to various team members.
Finally, you also get phone support in addition to email and chat.
Is the hefty price tag worth it? Personally, we don't think so. Unless multivariate testing or comparative reports are really, really important to you, you'll find that you get much better value for money with more powerful tools such as ActiveCampaign or GetResponse.
Websites & Commerce Plans
If you're looking to build your website or ecommerce on Mailchimp, you'll need one of the following plans.
| | FREE | CORE | PLUS |
| --- | --- | --- | --- |
| Price | $0 | $10 | $29 |
| Transaction  processing fees | + 2% transaction fee and Stripe processing fees | + 1.5% transaction fee and Stripe processing fees | + .5% transaction fee and Stripe processing fees |
All Websites & Commerce plans come with the features available on the free email marketing plan.
Transactional Email
| Total Blocks | Emails/Month | Price/Block |
| --- | --- | --- |
| 1-20 blocks | 1 to 500K emails | $20/block |
| 21-40 blocks | 500K to 1M emails | $18/block |
| 41-80 blocks | 1M to 2M emails | $16/block |
| 81-120 blocks | 2M to 3M emails | $14/block |
| 121-160 blocks | 3M to 4M emails | $12/block |
| 161-40 blocks | 4M+ emails | $10/block |
Normally, Mailchimp Transactional Email is offered only as a paid add-on to a Mailchimp Standard or higher account. However, new transactional email users can get up to 500 free email sends. Find out more in our guide to mass email sending.
Conclusion
Unfortunately, the pricing structure Mailchimp introduced in early 2019 doesn't really seem to benefit anyone other than Mailchimp themselves. New users will end up having to pay more because they're now charged for unsubscribed/un-opted in contacts, and new plans have introduced restrictions such as email sending limits and a cap on the number of different 'audiences' (lists) you can have.
Mailchimp's free plan is not bad - provided your list is on the very small side (remember, unsubscribed email addresses go towards your 500 contact limit). And, if you don't mind sending your campaigns manually, having limited or no support and displaying an¡ Mailchimp advertisement at the footer of your email, of course.
Most users would probably find the paid plans to be more realistic options, but be aware that the lowest level marketing plan (Essential) comes with just the basics. And even the higher Standard plan has some contact and email sending limits, which might not make it ideal for large-volume email senders. Plus, there are other Mailchimp alternatives that are more powerful and also offer much cheaper paid plans.
MailChimp's Premium plan is really expensive (and dare we say, overpriced). Unless you are looking to create complex segmentations, need an advanced reporting system or want to do multivariate testing, it's not worth it.
It may be surprising, but MailChimp is actually one of the most expensive newsletters tools out there for small-to-medium businesses. If you are looking for a solution that is more in line with a small business email marketing budget, we'd encourage you to try our Newsletter Pricing Comparison Tool and find one that suits you.
> Compare MailChimp with other newsletter tools
Updates: 
19 Sept 2022 - Updated prices
20 Jan 2022 - Mailchimp no longer includes scheduling on freemium plan
1 June 2021 - Added Websites & Commerce plans and Transactional Email
19 May 2021 - New features added
06 Apr 2021 - Updated prices to reflect the increase
FAQ
Do I need the Premium features?
These features can do really advanced tasks, however, they are quite expensive as plans start at $299 a month. Unless you need to perform complex A/B tests, require (really) advanced segmentation or would like to get comparative reports, you don't need the features.

What counts as a contact?
MailChimp's pricing is based on the number of contacts you have in your system, regardless of whether they're subscribed or not. So, you'll also be charged for contacts who are unsubscribed, inactive, or haven't opted-in yet. This new pricing structure was introduced in May 2019.

Are there any additional costs?
There are no additional set-up fees involved. However, if you want to use a custom domain (e.g. using your own subdomains for landing pages, rather than Mailchimp's own), it will cost you an extra $137.81 per year, regardless of what plan you're on.
Also, don't forget that you'll be charged (read: penalized) with additional fees if you go over your monthly contact limit at any point. Mailchimp won't automatically upgrade you to the next plan, so to avoid these extra charges make sure to keep an eye on how many contacts you have, and to adjust your plan before you hit your limit.

Is Mailchimp really free?
Yes, though it comes with some restrictions! You can send up to 2,500 emails to 500 contacts on the freemium plan. You'll also get features like landing pages, appointment scheduling and ecommerce. Note that you won't be able to schedule your newsletters, though, and the templates available look quite outdated.

Does Mailchimp offer any discounts to nonprofits?
Yes! Mailchimp offers a 15% discount to nonprofits and charities.

YOUR QUESTIONS AND FEEDBACK