This article isn't about how your small business should be doing email marketing.
It's not even about why your small business should be doing email marketing.
By now, we think email marketing has more than proven its worth. There's no shortage of research that shows that email marketing generates around $36 for every $1 spent. Or that 81% of small businesses rely on email marketing as their main acquisition channel.
Plus, there are plenty of best practice tips on how to run effective, targeted email marketing campaigns available online (including our little guide here).
We're just going to make the assumption that, as a small business owner, you already know that you want to run email marketing campaigns.
Or, that you're already running them – but are wondering whether there's another email marketing service that could help you run them better.
Luckily, there is a whole market of email marketing software specifically geared toward small businesses.
We're talking about tools that are easy on the budget, simple to use, and come with all the key features you need to execute a successful email marketing strategy – whether you want to send newsletters, transactional emails, automated campaigns, or segment your contacts automatically.
So who are they, and which one should you choose for your small business?
Video Review of the Best Emailing Services for Small Businesses
Find out more about the pros and cons of the top email marketing services in this video review:
ActiveCampaign , MailerLite, Brevo, GetResponse
Small Business Email Marketing: What Should I be Looking For?
Here's our quick checklist of things to look for in an email provider. Some of these features may be more important to you than others, and deciding on which will help you determine which is the best email marketing service for you.
☑ Ease of use
If you're running a small business, you probably don't have a lot of time to dedicate to learning the ins and outs of a complex new tool. An intuitive platform with a fast, easy-to-use email editor (and ready-to-go templates, preferably) is your best bet for cutting down the time you spend on building email marketing campaigns.
☑ Solid deliverability
The spam folder is the last place you want your email to end up! As you'll see in our list below, some providers do a good job of avoiding spam filters, while others seem to be a bit more hit-and-miss. You can track how each tools does in our deliverability tests. Check out our complete guide to email deliverability best practices and email authentication for more detailed information on how to improve your email deliverability.
☑ Segmentation
Tools that include features like forms, tagging and dynamically-generated groups will help you target your campaigns, and make sure you only send to relevant subscribers.
☑ Reporting
It doesn't have to be super sophisticated (although there are tools that give you deep-level reporting if you really want it). Just something that will help you quickly see open and click-through rates, and get a feel for how your email marketing campaigns are performing.
☑ Autoresponders and Automation Workflows
Because you don't want to be manually sending a welcome email every time someone signs up for your service! Autoresponders are an absolutely crucial part of small business email marketing (think order confirmations, renewal reminders etc). And if you want to take them to the next level, choose a tool that offers advanced automations, such as web-triggered campaigns and lead scoring.
☑ Extra features
In order to stay ahead of the competition, many email marketing tools have added extra features such as a landing page or website builder, live chat, scheduling software, CRM features, and more. As a small business, it might interest you to have all your tools under one roof, so be aware that some email service providers are more comprehensive than others (and that doesn't necessarily mean they're more expensive).
☑ Integrations
Of course, you also want an email marketing service that will easily connect to your existing software. For example, if you're running restaurant email marketing campaigns, you might want an ESP that integrates with your table booking system. Or, if you're an online store owner, you may want a platform that can insert store products into your emails, and tie sales back to specific email campaigns. Be sure to choose an email marketing service that offers integrations with your website CMS, CRM, and other key tools.
Now let's take a look at the best email marketing services for small businesses, and how each one delivers against these criteria.
Best Email Service for Small Business (Top 12)
These are our top-rated email marketing services (ESPs):
Smart Quiz: Use Our Interactive Tool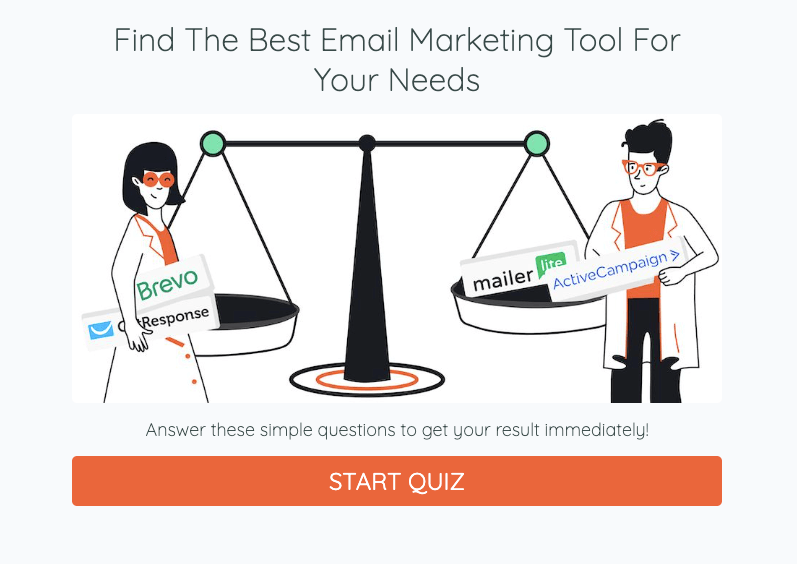 Read on to discover all the pros and cons of each emailing service:
ActiveCampaign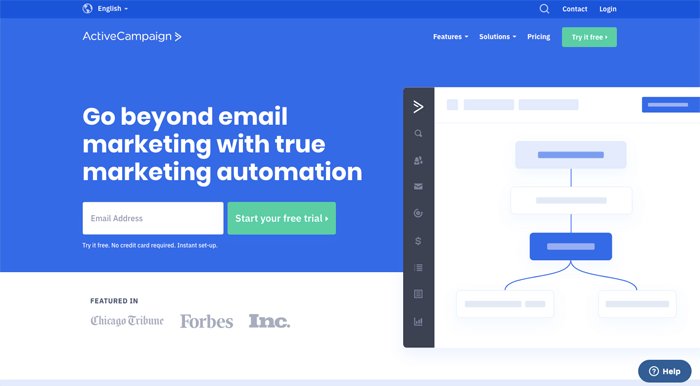 ActiveCampaign is a powerhouse of a platform for small businesses that are really serious about email marketing. By that, we mean businesses who want to run laser-targeted automated emails and integrate their email with other key tools (such as CRM, website, online store, or support desk). With an inbuilt CRM, landing page builder, SMS distribution, and the ability to manage personalized Facebook ads and site messages, there's very little that this US-based provider doesn't do, so it's an attractive option for marketers who have a dynamic email marketing strategy.
Pricing:
Up to 1,000 contacts per month: $39 per month
Up to 5,000 contacts per month: $99 per month
Up to 10,000 contacts per month: $174 per month
Video review:
What we like: Automations are ActiveCampaign's specialty, so the different automations on offer are almost limitless – you can build complex workflows based on email engagement, web events, and events in third-party tools (e.g. purchases or support tickets). Segmentation features are advanced, with the ability to use automation workflows to organize people into lists. As you'd expect, the reports are excellent, with options to view reports on deals, automations and contact trends. And finally, ActiveCampaign have consistently performed well in our deliverability tests. All this makes it one of the best email marketing services for small businesses.
Where they can improve: With so many complex features, ActiveCampaign can take a bit of work to get used to. It hasn't really been built with complete beginners in mind. The comparatively higher pricing also reflects the extra features, so you'd need to have a good amount of budget allocated for it.
Recommended for: Small businesses and online stores looking to run advanced automations, and to centralize their online sales and marketing processes.
Try ActiveCampaign for free for 14 days
GetResponse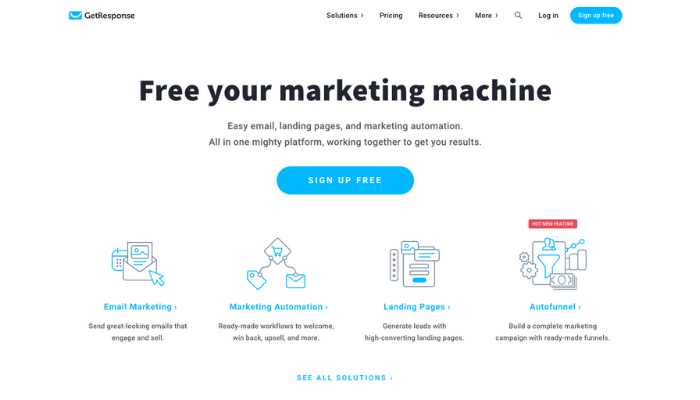 GetResponse is another one of the best email marketing services for small businesses, offering triggered campaigns, automated segments, dynamic content, and tagging. But it also includes some very handy extra features, such as landing pages, CRM, and even webinars, which are part of its conversion funnel feature set. It's little wonder, then, that customers worldwide are signing up to GetResponse – they currently serve over 350,000 clients in 183 countries.
Pricing:
Up to 500 subscribers: Free
Up to 1,000 subscribers: $19 per month
Up to 5,000 subscribers: $54 per month
Up to 10,000 subscribers: $79 per month
Video review:
What we like: GetResponse's marketing automation is first-rate, letting you run all kinds of campaigns, including automated ecommerce and subscriber management campaigns. You also get free stock photos, and a bucketload of integrations. And of course, the fact that it comes with a complete feature set for building sales funnels sets it apart from the competition.
GetResponse now offers AI product recommendations based on the behavior, preferences, needs and habits of your website visitors. This is pretty innovative and should provide you with very tailored recommendations for your subscribers.
Where they can improve: Our deliverability tests also show that GetResponse aren't the strongest in this area. If you want to make use of their marketing automation features, you'll need the higher-tier plan. Check out these slightly more affordable automation software options.
Recommended for: Businesses looking to run complex automations, and who want to integrate landing pages and webinars as part of their email marketing strategy.
Try GetResponse for free (receive a special 10% lifetime discount through this link)
MailerLite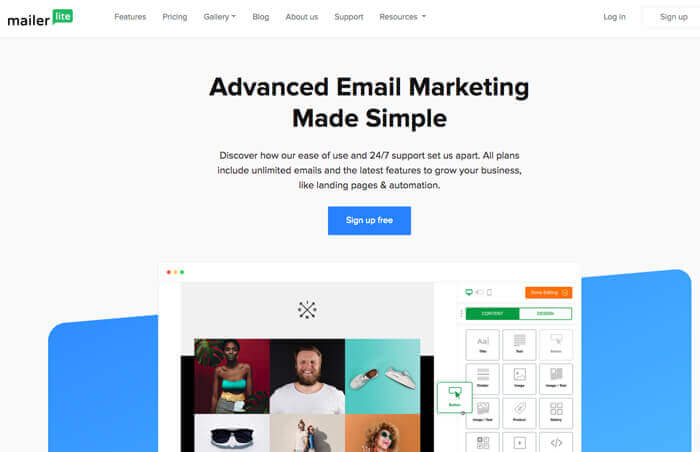 This relatively new email provider is steadily building a reputation for itself as a decent, value-for-money tool. Why? Because, for the low price you pay, you get a surprisingly generous amount of features, including landing pages, marketing automation and advanced segmentation. What's more – MailerLite make the tool super accessible with an easy-to-use interface, and by offering a decently-featured free plan for up to 1,000 subscribers.
Pricing:
Up to 1,000 subscribers, 12,000 emails: $0
Up to 5,000 subscribers, unlimited emails: $39 per month
Up to 10,000 subscribers, unlimited emails: $73 per month
Note: 15% discount available for yearly payments
Video review:
What we like: MailerLite ticks all the boxes – it's simple to use and offers good deliverability, great segmentation, reports and autoresponders. The landing page editor is a handy bonus, too, and comes with loads of modern templates. Plus, the relatively low pricing (and free option!) makes it extremely affordable. In short, it's a tool that caters perfectly to small business.
Where they can improve: Autoresponders are on the basic side – just enough to set up the most simple triggered campaigns. It doesn't come with a huge template range, either (and none on the free plan), so you'll probably need to use their visual editor to create your own. Finally, it doesn't offer a spam or design testing feature – if you wanted these, they'd need to be performed externally.
Recommended for: Small businesses looking for a low-cost (or free) solution that offers ease of use and a good range of added features.
Brevo
Brevo is an email marketing platform all-rounder, offering a feature list that would make some other better-known tools blush – and at extremely competitive prices, too. We're talking about automations, transactional emails, SMS, landing pages, and dynamic segments. And prices that seem almost too good to be true (not to mention a decently-featured free version). Let's take a look in more detail.
Pricing:
Up to 9,000 emails a month: $0 (with limited functions and maximum 300 emails daily)
Up to 20,000 emails a month: $25 per month
Up to 40,000 emails a month: $35 per month
Up to 60,000 emails a month: $49 per month
Video review:
What we liked: Brevo's prices are hard to beat, with their lowest plan starting at $25/month for up to 20,000 emails. And the fact that you get so much for the little you pay is incredible. For instance, we love that you can send transactional emails (invoices, password resets, etc.) straight from the tool and track website visitors. Automations are also pretty advanced, with options to build email campaigns based on email clicks, opens, and web visits. It also offers a decent plugin for WordPress.
Where they can improve: We experienced a few issues with the email editor being a little slow at times.
Recommended for: Budget-conscious businesses looking for a tool that does a little bit of everything.
MailChimp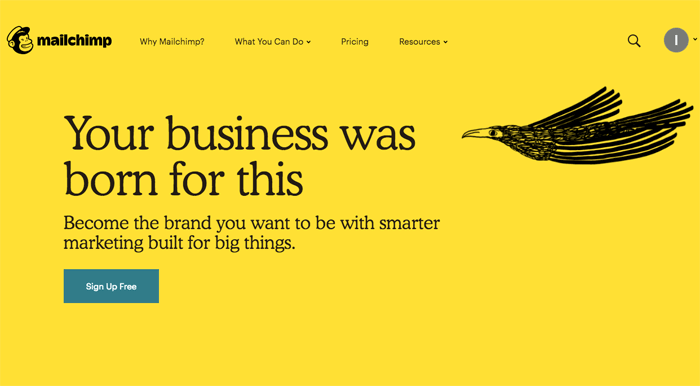 It's probably the world's best-known (and loved) newsletter tool, and for a small business, MailChimp is definitely worthy of consideration. It comes with some with useful features, including automated emails, landing pages, A/B testing, and advanced reporting. You can also choose between a monthly plan, pay-as-you-go credits, or even a free plan (with 1,000 emails per month for up to 500 subscribers).
Pricing:
Up to 2,000 subscribers, 10,000 emails max: $26.50 (with adverts)
Up to 5,000 subscribers: $69 per month
Up to 10,000 subscribers: $100 per month
Video review:
What we liked: MailChimp places a strong focus on design, which is evident in its easy-to-use editor and modern-looking templates. If you're an ecommerce, MailChimp offers some of the best automation options out there, including abandoned cart templates and purchase confirmation emails. Reporting is superb, too, with data around social media and conversions. There are also hundreds of integrations available, making it one of the most popular email marketing services. In terms of extra features, Mailchimp now offers a website and ecommerce builder and appointment booking software.
Where they can improve: List management isn't the best – it doesn't remove duplicates and lists are kept isolated from one another. It also has one of the strictest acceptable use policies, and isn't ideal if your business deals with affiliate marketing, healthcare products, or novelty products. And it's certainly not the cheapest provider out there – surprising, given its popularity (which just goes to show the power of great marketing!). Note – we've noticed that emails from MailChimp tend to go to Gmail's Promotions folder.
Recommended for: Businesses who don't plan to send many emails regularly would benefit from MailChimp's flexible pay-as-you-go pricing, or even its free version. Ecommerce businesses, such as those using Shopify, might also find MailChimp's range of automations useful.
Omnisend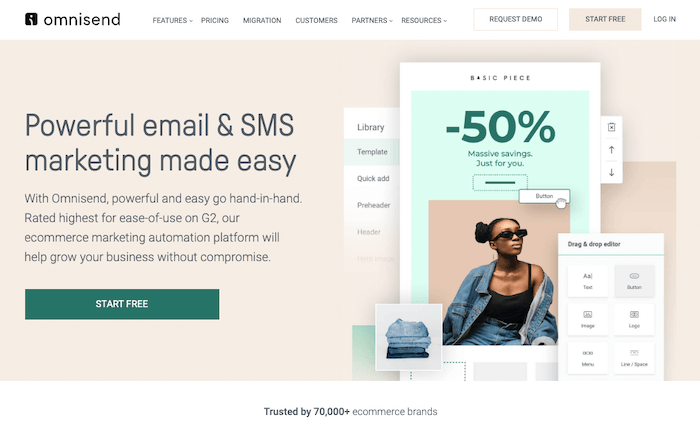 Omnisend is an email service that helps online store owners take their email campaigns to the next level. Aside from a long list of clever ecommerce automations like abandoned cart campaigns and product recommendation emails, Omnisend also offers unique features such as online scratch cards, gift boxes, and 'wheel of fortune' incentives. A/B testing and website tracking are included, too.
Pricing:
Up to 500 subscribers and 250 emails monthly: $0 per month
Up to 500 subscribers and 6,000 emails monthly: $16 per month
Up to 1,000 subscribers and 12,000 emails monthly: $20 per month
Up to 2,000 subscribers and 24,000 emails monthly: $30 per month
Up to 5,000 subscribers and 60,000 emails monthly: $65 per month
Up to 10,000 subscribers and 120,000 emails monthly: $115 per month
See our detailed pricing guide for more information.
Video review: 
What we liked: Ecommerce is definitely Omnisend's strong suit – in fact, it's one of the best email marketing platforms for ecommerce. The range and depth of integrations available with online stores are impressive – which makes it a great option for Shopify store owners. There's even integration with Google ads for retargeting campaigns and options to segment lists based on purchase data. The tool also includes some very nice landing page templates. Plus, there's a free plan that includes all advanced features with a reduced sending allowance.
Where they can improve: Outside of ecommerce, there aren't a heap of marketing automations available. Unfortunately, it doesn't track the social media or geo-location of your subscribers.
Recommended for: For online stores, the integrations, automations and extra features are really hard to beat, making this a great solution for email marketing for small businesses.
Campaign Monitor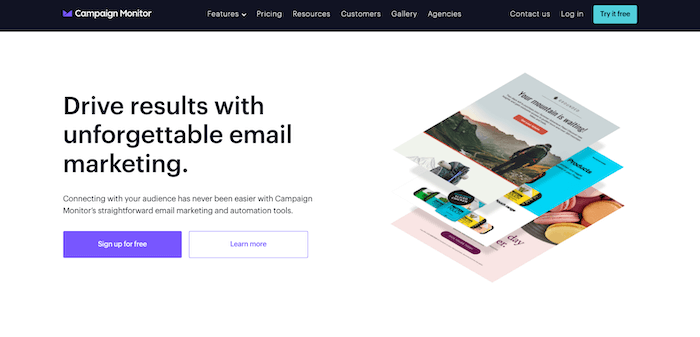 Another option when looking for an email service provider for small businesses is Campaign Monitor. Though perhaps not as complete as other providers on this list in terms of features, its user-friendly interface and myriad of integrations could be enough to tempt you.
Pricing:
$9/month for 500 subscribers and 2,500 emails
$29/month for 2,500 subscribers and 12,500 emails
$49/month for 5,000 subscribers and 25,000 emails
$89/month for 10,000 subscribers and 50,000 emails
What we like: 
The Basic plan is pretty generous with features, so although there is no freemium plan available, at least the lower-tier account will be enough for most small businesses.
There are over 250 integrations, so you shouldn't be missing any. The email templates are also plentiful, with modern designs.
Campaign Monitor's interface is clean and easy to navigate. The drag-and-drop email builder is smooth and gets the job done. There aren't quite as many content blocks as other tools such as MailerLite, but you should be able to achieve good results with what's available.
Where they can improve: 
Automation workflow triggers include the usual, 'when a contact is added to a list' or 'joins a segment', but it's missing more advanced automations such as 'when a subscriber makes a purchase', 'when a subscriber visits x page' and or 'abandons their cart'.
There is no freemium plan, and it doesn't come with extra features like a landing page builder or CRM.
Recommended for:
Small businesses that want an easy-to-use email marketing platform with great newsletter templates.
Sender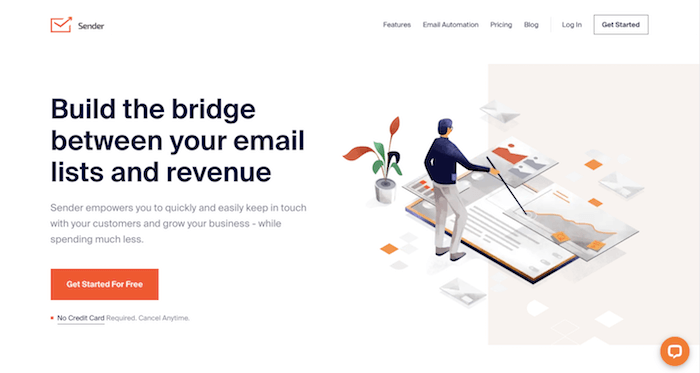 Sender is a no-nonsense email marketing platform equipped with the functionality you need to create and send email newsletters and automations. It's simple and effective but could be lacking in features for those businesses looking for an all-in-one solution.
Pricing:
2500/subscribers – Free (15,000 emails p/m)
5000/subscribers – $22/month
10000/subscribers – $38/month
15000/subscribers – $61/month
20000/subscribers – $83/month
What we like: Sender's free plan is one of the more generous ones we've come across; it includes 2,500 subscribers, 15,000 emails p/m, autoresponders and transactional emails.
The interface is very easy to navigate, and the editor is fast. A cool plus is that you can access tons of professional photos from Unsplash directly from the editor. It also offers you plenty of fun GIFs.
The automations (also included on the free version) are surprisingly advanced, for example, you can send abandoned cart campaigns, move subscribers to different lists or set it up so that custom field values are updated automatically. The automations editor also very easy to use.
SMS and MMS have recently been added to the Standard plan and above.
Where they can improve: 
Currently, Sender doesn't offer landing pages or push notifications, though they promise these are coming soon.
Recommended for:
As a small business, cutting costs is crucial. With such a generous free option, Sender is a great choice for email marketing. If, however, you need additional features such as a landing page builder and/or CRM software, you'd be better off with ActiveCampaign, GetResponse or Brevo.
Moosend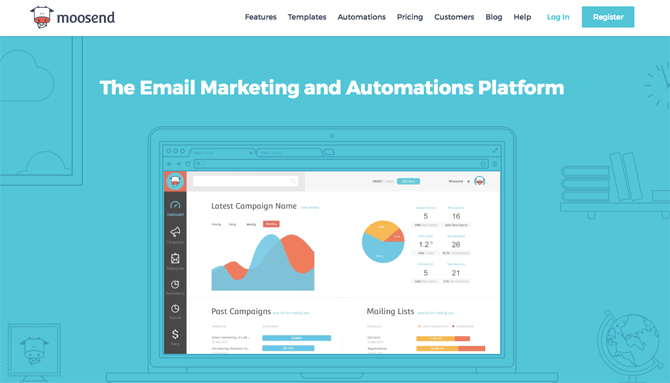 Moosend is an affordable option, with prices starting at $9/month. It offers a drag-and-drop email builder, landing page builder, marketing automation, and detailed reporting. It's a good choice for those who need automation workflows at a low cost, and it offers many pre-built automation templates. Additionally, Moosend has detailed reporting as a key feature. Keep reading to learn more about the pros and cons of using Moosend as your email service provider.
Pricing:
Up to 500 subscribers: $9
Up to 1,000 subscribers: $16
Up to 2,000 subscribers: $24
Up to 5,000 subscribers: $48
Up to 10,000 subscribers: $64
 Video review:
What we liked: 
The workflow options are endless; they include the basic autoresponders like anniversary emails, plus more advanced options related to ecommerce, like abandoned cart and upselling emails. The automation workflow editor is also pretty easy to use.
We also really liked that users have access to all features, regardless of the plan they're on.
Where they can improve: 
I had some issues with the form builder being a bit buggy. Their deliverability also needs to be monitored. It's a shame they don't offer a free plan.
Recommended for: Businesses who need marketing automations at a low price.
Benchmark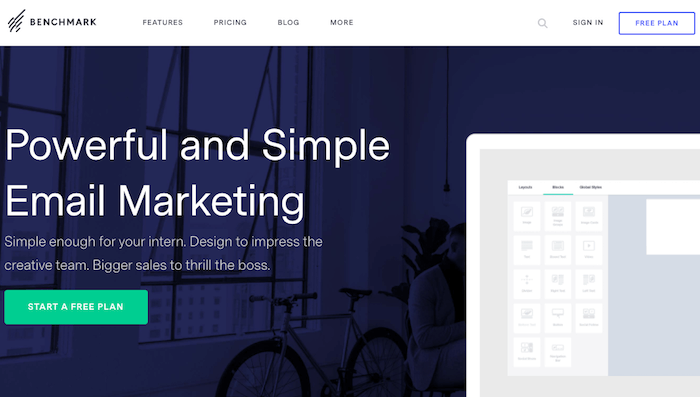 If ease of use is at the top of your list, Benchmark is a worthy contender. Offering a simple, stripped-back interface, and a fast, intuitive email editor, Benchmark offers a pleasant user experience all around. Feature-wise, they have all your basics covered, plus some nice extras such as marketing automation and spam and design testing.
Pricing:
Up to 2,500 subscribers: $29 per month
Up to 7,500 subscribers: $[bm-en-7500] per month
Up to 15,000 subscribers: $[bm-en-15000] per month
Video review:
What we liked: We think Benchmark have done a great job of design, in both their minimalist interface and their modern, mobile-responsive email templates. We also like that automations are presented in a workflow editor, and that they offer automation templates to help you start setting up your workflows quickly and easily.
Where they can improve: In our tests, deliverability rates were a cause for concern. This may not be the case for you but it's worth keeping in mind. Automations aren't as advanced as you'd find in tools like ActiveCampaign or GetResponse, and you have to pay extra ($5/mo) to upload more than 10MB of images (which you will). Though the free account gives you access to most features and allows you store unlimited contacts, you can only send 250 emails/month, which isn't many at all.
Recommended for: Business owners who need a gentle learning curve in their email tool. As deliverability could be an issue, we'd also only recommend Benchmark for smaller mailing lists.
AWeber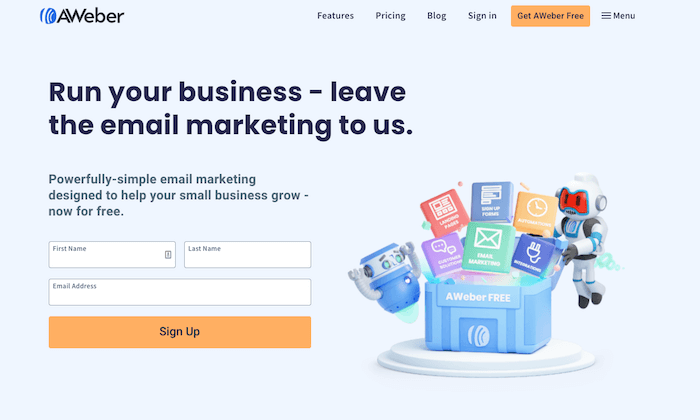 AWeber has been on the email marketing scene for over 20 years, though it was only recently that AWeber updated its service, which now includes a free plan.
The free account, though it includes the same features as the paid plan, limits you to just 500 subscribers, which isn't many at all. You'll have a limit of 3,000 emails/month, which may be enough for some small business owners. Or you can pay $19.99/month for unlimited emails.
Features include A/B testing, email analytics and conversion tracking. They also have various mobile apps, so you can design and send emails on-the-go.
Pricing:
500/subscribers – Free (3,000 emails/month)
500/subscribers – $19.99/month (Unlimited emails)
2500/subscribers – $29.99/month
5000/subscribers – $49.99/month
10000/subscribers – $69.99/month
Video review:
What we like: AWeber's list management features help you keep your contacts organized. You can use their automations to automatically manage subscribers via the rules you create. They also have decent support and education tools.
Where they can improve: Though this email marketing platform recently added a free plan to their offering, the paid plan prices are on the expensive side. We'd recommend you check out MailerLite or Brevo for a cheaper alternative.
Recommended for: The issue with AWeber is that, apart from customer service, there isn't a particular area they excel in when it comes to features, making it a bit difficult to recommend over other tools. We are happy to see that they now offer a free plan, though.
Constant Contact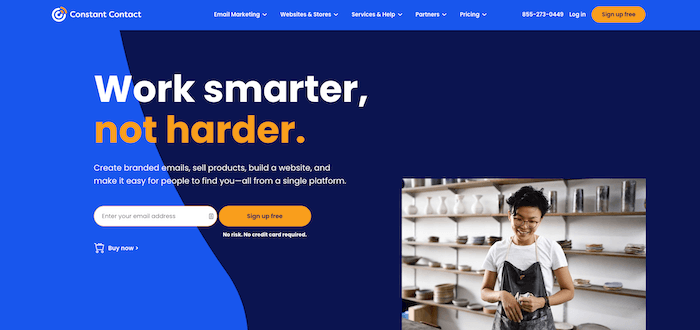 Constant Contact has been around since 1995. That makes them email marketing veterans, and though they have thousands of customers, you might be asking yourself if their service is right for small business owners?
Well, we have to say that their prices are slightly off-putting for companies who are just starting out and don't have a big marketing budget. And this might be something that they could get away with if their features weren't so underwhelming.
Pricing:
500/subscribers – $12/month
2500/subscribers – $50/month
5000/subscribers – $80/month
10000/subscribers – $120/month
Video review:
What we like: Constant Contact performs consistently well in our deliverability tests. Though some of their templates look a little dated, there are a lot to choose from (including for specific niches like real estate). They offer some niche features such as appointment booking software, a website builder and the option to take payments for events.
Where they can improve: 
The prices for this newsletter tool are incredibly high compared to what they offer, and also compared to other tools. It also doesn't offer a free plan. Its form options are pretty limited as you're not able to add any custom fields (not great for email list building).
Recommended for: Constant Contact could be a good option if you run events.
Best Email Service for Small Business: Conclusion
Maybe you have big plans to automate your email marketing and get serious about using it as an acquisition channel.
Or, you'd just like to send out a simple little newsletter every now and then.
As we've shown you, there is a whole range of email marketing services available – and at least one that would suit your needs.
So, consider your budget, as well as the features that are absolutely essential. You can even compare the different tools here.
Don't have any budget to spend? No worries – there are plenty of free tools that can work for you.
And if you're still not sure, you can always use our Newsletter Service Smart Finder to point you in the right direction.
Email marketing doesn't have to be complicated, and if you've got the right email service, you can be confident that you're doing it in a way that's easy, secure, and will get you results that will make the effort worthwhile. If you're in need of some tips related to lead generation through email marketing, make sure to check out our guide – it's packed full of best practices!
Got any questions about the small business email marketing tools we've discussed? Post them in the comments below!
You also might want to check out our detailed review of Mailchimp alternatives and see how the tools compare in the following articles: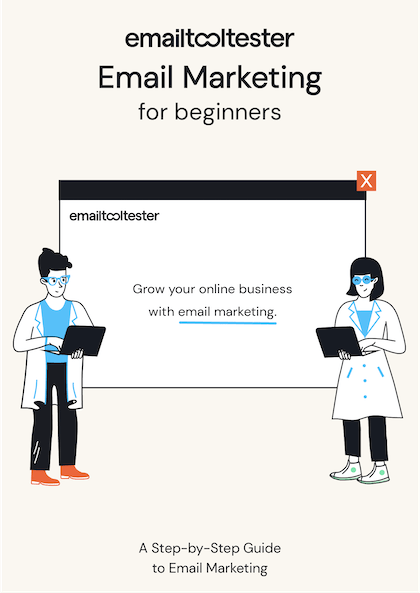 Email Marketing Crash Course: Step-by-Step Guide
Our email marketing course for beginners: ideal for small and medium-sized businesses, online stores and bloggers. It shows you all the steps you need to send your first email campaign. Best of all, it's free!
Sign up to receive your copy immediately!
We keep our content up to date
17 Jul 2023 - Added smart quiz
17 Mar 2023 - Changes to Mailchimp and Moosend plans
15 Dec 2022 - Smaller updates 
13 Dec 2022 - Added Moosend video review
01 Dec 2022 - Omnisend video added 
16 Nov 2022 - Added new MailerLite video
18 May 2022 - Moved Omnisend up
26 Apr 2022 - Updated Omnisend profile
13 Apr 2022 - Updated Mailchimp video review
24 March 2022 - Added vs articles
15 Feb 2022 - Added new video review
12 Jan 2022 - Added Campaign Monitor
16 Nov 2021 - Updated some pricing information 
03 Jun 2021 - General update
1 March 2021 - Added Sender
27 Jan 2021 - Moved Omnisend up, table of contents added
10 Dec 2020 - Removed Mailify and added Constant Contact and AWeber
20 Nov 2020 - Images updated
18 Jun 2020 - Moosend added
11 Jun 2020 - Videos updated
Our Methodology
This article has been written and researched following our EmailTooltester methodology.
Our Methodology