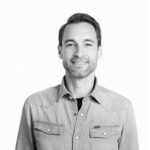 For the past 16 years, I've been working in the email marketing industry.
First for a digital marketing agency and then I set up EmailTooltester. My goal with this website is to save you time and assist you in successfully setting up your email marketing.
Consider the EmailTooltester team and me as your expert buddies, always there to help if you ever find yourself lost in the forest of email services. Feel free to leave a comment on this page or contact us directly.
But now, let's get started! Together with my team, I have compiled a selection of the best email marketing solutions currently available, all meticulously tested and ranked.
I hope that by the end of this, you will have a clear idea of the best email marketing service providers!
Quick Breakdown: Best Email Marketing Services
| Use Case | Emailing Service | Free Option? | Paid Plans |
| --- | --- | --- | --- |
| Best tool for marketing automation | ActiveCampaign  | Free trial only | From $39/mo |
| Most intuitive tool for beginners | MailerLite | Yes | From $25/mo |
| Best range of advanced features | GetResponse | Yes | From $19/mo |
| Great value for money | Brevo | Yes | From $25/mo |
| Best for ecommerce automation | Omnisend | Yes | From $16/mo |
| Very affordable tool | Moosend | Free trial only | From $9/mo |
| Good transactional service | Mailjet | Yes | From $15/mo |
Video Review of the Best Emailing Services
Find out more about the pros and cons of the top 4 in this video review:
ActiveCampaign, MailerLite, Brevo, GetResponse, Omnisend
Smart Quiz: Use Our Interactive Tool
So what is the best email marketing tool? Take a look at our ranking table below to find out.
The Top Email Marketing Services Ranked
#
Email marketing service
Pricing
Pros and Cons
1

The Automation Champs

Try for free

1,000 contacts: $39/mo
2,500: $61/mo
5,000: $99/mo
10,000: $174/mo
50,000: $486/mo

Fair subscriber count ✅
(learn more)

Extremely powerful automation
Thorough reporting
Good deliverability
Free migrations

Features can be overwhelming
Not the cheapest

2

Simplicity and Design

Try for free

1,000 contacts: $0/mo
2,500: $25/mo
5,000: $39/mo
10,000: $73/mo
15,000: $109/mo

Fair subscriber count ✅
(learn more)

Free plan
Easy-to-use
Landing page editor
Excellent deliverability

Missing some pro features

3

The Swiss Army Knife

Try for free

1,000 contacts: $19/mo
2,500: $29/mo
5,000: $54/mo
10,000: $79/mo
50,000: $299/mo

Fair subscriber count ✅
(learn more)

Intelligent list automation
Conversion funnel feature
Design and spam testing

Email automation is expensive


> More about GetResponse
4

Bang For Your Buck

Try for free

300 emails/day: $0/mo
20,000 email: $25/mo
40,000 emails: $35/mo
60,000: $49/mo
100,000: $115/mo

Fair subscriber count: ✅
(learn more)

Low-cost plans
Solid automation
SMS marketing

Inconsistent deliverability rates


> More about Brevo
5

Ecommerce Automations

Try for free

500 emails to 250 contacts: $0
2,000 contacts: $30/mo
5,000: $65/mo
10,000: $115/mo
50,000: $330/mo

Fair subscriber count ✅
(learn more)

Niche ecommerce features
Excellent automations
Live website tracking
Landing pages

Limited allowances on free plan


> More about Omnisend
6

800 Pound Gorilla

500 contacts: $13/mo
2,500: $39.50/mo
10,000: $100/mo
30,000: $295/mo
50,000: $350/mo

Fair subscriber count ❌
(learn more)

Thorough reporting
Limited freemium plan
Great drag and drop email builder

Expensive paid plans
Limited allowances on free plan


> More about Mailchimp
7

Pay-as-you-go plan

Try for free

500 contacts: $9/mo
1,000: $16/mo
2,000: $24/mo
3,000: $32/mo
5,000: $48/mo
10,000: $64/mo

Fair subscriber count ✅
(learn more)

Tons of automation workflow templates
Unlimited emails on all plans

Small UX issues
Custom reporting reserved for Enterprise plan

8

CRM Ecommerce

Try for free

2,500 contacts: $39/mo
5,000: $89/mo
10,000: $154/mo
50,000: $699/mo

Fair subscriber count ❌
(learn more)

Ecommerce CRM features
Excellent automations
Contact tagging

No spam or design testing
On the pricey side

9

Very affordable

Try for free

6,000 emails: $0/mo
50,000: $35/mo
100,000: $95/mo
250,000: $225/mo

Fair subscriber count ✅
(learn more)

Transactional emails
Drag and drop editor
Affordable

Premium features cost extra

10

 

All-in-one sales and marketing

Try for free

1,000 contacts: $20/mo
5,000: $96/mo
10,000: $176/mo
20,000: $336/mo

Fair subscriber count ✅
(learn more)

Email marketing + CRM
Powerful automations

Confusing pricing
Overwhelming feature range
See the Lower-Rated Email Marketing Services
Fair subscriber count explained:
We believe it's not fair to charge for inactive contacts, such as unsubscribed or bounced email addresses. While this practice is uncommon today, there are still a few major email service providers that require payment for such contacts.
How Do I Pick the From the Best Emailing Services?
Nowadays, most email marketing software is designed to perform a range of functions beyond simply sending email campaigns and newsletters. Which features are an absolute must? Here's our list of the key things you should be looking for in order to support your marketing strategy:
Drag and drop editor: An easy-to-use visual editor that will let you customize your email templates (without any coding) is your best bet for getting campaigns sent out quickly and efficiently
Different campaign types: Your email mailing software should be able to support a range of email types, including regular newsletters (email blasts), A/B tests, and autoresponders. (Learn more about what is a newsletter and how it differs from other email types)
Marketing automation: Whether you need just simple autoresponders or advanced automation features such as targeted automated campaigns and contact tagging, it's important to make sure that your software can cater to your automation needs
Sign-up forms: A good email marketing platform will allow you to create your own online form to capture subscribers, which can either be embedded on your site or hosted on a separate landing page
Integrations: Your email software needs to be able to link up to your other key applications – e.g. your blog, ecommerce, CRM, and analytics tool
Email Deliverability: What good is a newsletter service if your emails don't get past the spam filters?
Support: A thorough knowledge base, email support and live chat/phone support are all ideal. Not all email marketing platforms provide all these channels, though
Detailed reporting: It's important to monitor the performance of your email marketing campaigns. Some providers offer more data than others.
The Best Email Marketing Tools Reviewed
Here's a more detailed look at the best email marketing software from our ranking table. Each profile also contains a link to the full review, in case you need more information.
---
1. ActiveCampaign – The Best Email Automation Platform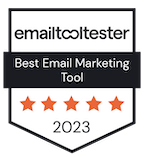 We awarded ActiveCampaign our Best Email Marketing Tool badge for 2023!
ActiveCampaign's main goal is to help you send fewer emails with better results. To that end, the American provider clearly focuses on marketing automation and highly targeted messages in order to make sure your marketing efforts are fruitful. Though other email marketing tools we've tested are working to improve their automation features, ActiveCampaign continues to rein in that field.
With ActiveCampaign, you can automate everything based on your website visitors' behavior with complex if/when/then logic. The CRM also makes it easy to manage sales directly from the backend and target 'at risk' or 'hot' leads. It's worth mentioning that they recently divided their plans into two different Sales and Marketing plans, so you'll need to purchase their Sales plan for CRM access, or you can buy a combination of the two plans, which is now called a Bundle.
And with so much hype around AI, they have introduced ActiveCampaign AI, a content generator that helps you create newsletter texts faster (based on the GPT engine). This can help make implementing your newsletter marketing strategy a lot more efficient.
What we like about ActiveCampaign:
Where ActiveCampaign can improve:
Who ActiveCampaign is for:
ActiveCampaign offers more advanced automation features than other popular email marketing companies. I'd recommend it to power users, for example, ecommerce stores and B2B companies who optimize their lead generation process through the integrated CRM. Marketing agencies can benefit from ActiveCampaign's white labeling features.
---
2. MailerLite – The Best Email Marketing Platform for Deliverability
We awarded MailerLite our Best Email Marketing Tool For Ease of Use badge for 2023!
Based in Lithuania, MailerLite is made up of over 130 designers, developers, and email marketing experts, all with the shared interest of "keeping it simple". And judging by their modern and easy-to-use email marketing platform, it's no surprise that the company started out as a web design agency.
And in spite of its basic appearances, MailerLite offers well-developed features, a robust editor, and a "free for life" plan. Too good to be true? Apparently not, as you'll see in the pros and cons.
What we like about MailerLite:
Where MailerLite can improve:
Who MailerLite is for:
MailerLite is a great email marketing software for small businesses, bloggers and freelancers who want an affordable solution with an easy learning curve and well-designed features with good functionality. It's also a great choice for EU-based companies who need to comply with the GDPR (i.e. having to host their data inside the European Union among other things).
---
3. GetResponse – Email Marketing Software With Biggest Feature Set
With 350,000 users in 183 countries and more than a billion messages sent monthly, the numbers look good for GetResponse. We particularly like two unique features of theirs: the ability to create webinars and sales funnels, both of which come under their popular Conversion Funnel feature.
Moreover, GetResponse offers excellent automation functions and we like their free access to 1000 iStock photos. They also offer a well-designed landing page builder and website builder with a range of attractive templates – making it quite the marketing hub!
In addition to these great features, they have also jumped on the ChatGPT bandwagon with a brand new AI email generator, which assists you with your email newsletter content and subject lines. 
What we like about GetResponse:
Where GetResponse can improve:
See how it compares to our top-rated email marketing service, in this GetResponse vs ActiveCampaign guide.
Who GetResponse is for:
Sales-driven small and medium-sized businesses looking for an all-in-one marketing tool. This includes advanced automations, sales funnel tools as well as its CRM and webinar solution.
---
4. Brevo – Best Emailing Service for transactional email and SMS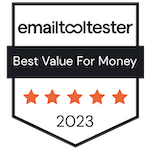 We awarded Brevo our Best Email Marketing Tool For Value For Money badge for 2023!
Launched in 2012 as Sendinblue, the Parisian platform, Brevo, used to focus on transactional emails (for invoices, subscriptions, etc…). They have since pivoted and now provide mass email services with their own newsletter platform. The bet seems to have paid off. They now send around 30 million emails and SMS daily in more than 14 countries. However, since this recent name change, they now brand themselves as a CRM suite.
What we like about Brevo:
Where Brevo can improve:
See how Brevo compares to Mailchimp in this guide.
Who Brevo is for:
Small businesses who want a good budget solution with a wide range of decent features and unlimited contacts.
---
5. Omnisend – The Best Email Marketing Service for Ecommerce Automation
Omnisend's mission is to give marketers 'the power to rise above the promotional noise and get better results than ever.' Sounds pretty appealing, right?
Due to its many automations, including browse abandonment and cart recovery, Omnisend is a great choice for online store owners (in fact, we think it's the best email marketing software for ecommerce out there).
What we like about Omnisend:
Where Omnisend can improve:
Who Omnisend is for:
It's ideal for ecommerce stores (like Shopify) looking for an affordable option that helps them maximize conversions.
More about Omnisend's plans here.
Show all Email Marketing Services
A great way to encourage sign-ups is a free checklist, ebook or other exclusive content. Check out our complete guide to
how to build an email list
for more strategies like these.
The Best Email Marketing Services for Your Purpose or Industry
Obviously, there is no one-size-fits-all piece of advice, as the best newsletter software for you may be completely different to the one I'd recommend for the next person browsing this page. That's why I created a few categories to help you navigate.
The best email marketing service for small businesses

Our focus is small business email marketing, which means that this review of email apps was created with you in mind. So, basically, if you just want a decent and affordable email solution that won't cost you an arm and a leg, I'd recommend MailerLite or Brevo.
If, on the other hand, you want a CRM for your small business, and are also keen on getting your marketing automation close to perfection, check out ActiveCampaign or Drip. Of course, that means spending a little more, but hey, with all that automation you'll either increase your sales or save time which you can invest elsewhere.
The best email marketing platforms for ecommerce (e.g. Shopify and WooCommerce)


Are you an online store owner? Learn more about the best email marketing for ecommerce in our complete guide.
As an online merchant, you have very specific needs: Sales data should find its way into the newsletter software so you can use it to create segments and launch triggered campaigns (like abandoned cart emails). We've compiled a list of the top Shopify newsletter tools here.
Omnisend is fully focused on ecommerce and offers deep integrations with Shopify, WooCommerce and BigCommerce. Using their product picker, you can drag and drop your items very easily into your email campaigns.
If marketing automation features are important for you, check out ActiveCampaign or Drip. Use their free Deep Data Integrations for Shopify, WooCommerce, BigCommerce and Square to pull in revenue, order numbers, order status, etc.
Best free email marketing services

There are a number of free email marketing services to choose from. The most infamous is Mailchimp, which immediately grants users free access to a selection of handy email marketing tools. The only issue is that since their update, the subscriber and send limits on the free plan have decreased, therefore you may need to upgrade sooner than expected.  
The best free email marketing service is MailerLite. The free plan includes 12,000 emails and up to 1,000 subscribers, automations and an excellent landing page editor. What's more, you won't get a shock once you move onto the paid plan, as prices start from just $15/month, and you'll pay $39/month for up to 5000 subscribers.
Brevo also offers a free version, which comes with unlimited subscribers and 9,000 emails a month, just be aware of the daily cap of 300 emails. In terms of paid plans, even if you've got a bit of email volume, they are very affordable. 40,000 emails per month go for only $35/mo.
Can't find a free service that suits you? Check out our list of the top cheap email marketing services.
The best email marketing platforms for affiliate marketers

Let me start by telling you which email mailing service you should avoid: Mailchimp doesn't like their tool being used for affiliate marketing. Countless accounts have been closed because of this violation of their terms of service.
Instead, you should probably look at GetResponse. They recently introduced a sales funnel feature, which is particularly useful if you run lead generation campaigns via paid ads or webinars. We also have a much more detailed article on the best sales funnel builders here.
You can find more platforms that are suitable for affiliate email marketing here.
Why Email Marketing is Important
It is indeed old, but it doesn't mean it's ineffective. In fact, its maturity can be a strong indication that it's here to stay, especially when you consider its excellent ROI of 36%. Look at the following pros:
Lifespan: Consider Friendster, MySpace or Google+. Social media platforms can come and go. An email address? People tend to hang on to the same one for an average of 10 years.
Data insights: Facebook and other social media tools are primarily advertising platforms. The data on their users is a goldmine they aren't willing to share. With email marketing, you control everything you get to know about your users.
Flexibility: once you've got your address list, it's easy to switch providers. All you need is to export/ import the list via CSV.
Ease of use: 10 years ago, email marketing platforms were complex beasts. Today, it takes 10 minutes to integrate a sign-up form, create a template and email everyone. It will certainly be faster to send your first newsletter than to create an ad campaign on Facebook or Twitter.
As you can see, email marketing is still a robust and reliable workhorse. And as we mentioned in the last point above, the platforms are increasingly easy to use for complete beginners. Best of all, many of them come with free plans, so you can test the waters before spending money on the solution.
Quick List of Email Marketing Services Features and Terminology
Now, one more thing before we finish up – let's just recap the basic email marketing terms…
Autoresponder: A series of automated emails sent in sequence. Usually start as soon as a user subscribes to one of your forms. They can range from tips and tricks to sales funnels designed to convert clicks into sales. Learn more about autoresonders.
Bounced email: Undelivered email, because the address is invalid or deleted. Email marketing providers usually deactivate these users for you.
Which Email Marketing Service is Best? Final Thoughts
Prices vary a lot between different email marketing services. And more expensive doesn't always mean better. For instance, Brevo and MailerLite have very good affordable plans. AWeber is on the pricier end, and you don't even get better automation than with GetResponse or ActiveCampaign (nobody does better marketing automation than ActiveCampaign).
Choosing a free email marketing service to start with seems relatively risk-free. Do keep in mind that your emails will show a small ad, and you'll only have limited support.
Though ActiveCampaign is our number one email marketing service, some might be put off by the higher price tag. In this case, you should check out these alternatives to ActiveCampaign.
In any case, we hope this guide gives you a good idea of the pros and cons of each tool, so you can find the right email marketing service for you.
Questions? Feedback? We answer all comments below.
FAQ
The General Data Protection Regulation (GDPR) is a framework established by the European Union to safeguard the personal data of its citizens.
GDPR-compliant email marketing services include Brevo, MailerLite, Moosend, Mailjet, CleverReach, ActiveCampaign, Mailchimp, and Omnisend.
Where they differ is in the location of their data storage. ActiveCampaign, Mailchimp, and Omnisend store user data on U.S. servers, in accordance with the "EU-U.S. Data Privacy Framework."
Brevo, MailerLite, Moosend, Mailjet, and CleverReach, on the other hand, specifically store data on servers within the European Union. This may be preferable for full compliance, as there is a possibility that the Data Privacy Framework might be repealed, just like its predecessors.
It's also essential to use these tools responsibly, ensuring not to violate EU rights, such as tracking visitors' activities without their consent. If GDPR compliance is a priority, especially concerning data storage within the EU, you should opt for a newsletter service like Brevo, MailerLite, Moosend, Mailjet, or CleverReach.
Cloud-based software is usually available for a monthly subscription fee. There's no upfront cost, and you'll often get the chance to pay month by month or opt for discounted yearly plans. You can expect the following to be included within your monthly fee:
A maximum allowance for subscribers or email sends (you can move to higher plans to increase these limits)
Email templates + editor
Autoresponders/marketing automation
Drip campaigns
Registration forms
Reporting
Storage for emails and files (e.g. images)
Mail delivery and technical maintenance
Some support
At EmailTooltester, we only review cloud-based email marketing software. They have a couple of advantages over packaged software that is installed locally on your computer:
You can access the tool from any computer.
Software updates occur automatically in the background, you don't need to update manually.
The newsletter editor, email server, and all the required webspace are offered and maintained by a single provider.
The email server is geared towards mass distribution – as a result, it's been whitelisted and certified, which increases your delivery rate.
You have access to customer support services rather than dealing with open-source software.
However, there are some disadvantages too:
Your list of recipients is stored on a server outside your own company.
A cloud-based tool is usually more expensive than packaged software, which can be purchased once and used for an extended period of time at no extra cost.
In general, we've noticed that the best email marketing software is cloud-based. Smaller and medium-sized companies, in particular, benefit from having no IT maintenance to worry about. Never underestimate the amount of time and money that this costs. For smaller companies, it's almost impossible to run an email server for newsletters that isn't blocked by services such as AOL or Gmail at some point.
And then there's the security aspect: many companies don't like hosting their recipient lists off-site. The email marketing companies themselves will obviously be very careful to fix any security issues as quickly as possible – after all, it's their reputation on the line. However, there will always be some residual risk.
We keep our content up to date
03 Nov 2023 - Added HubSpot and Zoho Campaigns
04 Oct 2023 - Small updates for Brevo and GetResponse
25 Aug 2023 - Information about GDPR added
24 Jul 2023 - New overview video published
19 Jul 2023 - Updated Brevo video review
17 Jul 2023 - Mailify removed
24 May 2023 - General Update
23 Mar 2023 - Fair subscriber count rating added
21 Feb 2023 - Updated ActiveCampaigns pricing
18 Jan 2023 - Update of rankings based on new deliverability results
15 Dec 2022 - Added badges
14 Dec 2022 - Added Moosend video
01 Dec 2022 - New Omnisend video added
29 Nov 2022 - New ActiveCampaign video added
16 Nov 2022 - Added new MailerLite video 
20 Sept 2022 - Mailchimp plans and pricing changes
01 Aug 2022 - Moosend removed free plan
11 May 2022 - New GetResponse video added
28 Apr 2022 - Updated Drip profile
26 Apr 2022 - Moved CleverReach up and updated profiles based on new deliverability results
13 Apr 2022 - Updated Mailchimp video review
17 Jan 2022 - Structural change
07 Oct 2021 - ConvertKit moved up in light of improved deliverability rates
20 Sept 2021 - Omnisend and Mailjet prices updated
20 Jul 2021 - General update
09 Jun 2021 - Infographic added
08 Jun 2021 - New video added
20 May 2021 - Updated Mailchimp section
26 Apr 2021 - General update
10 Feb 2021 - Added Moosend
22 Dec 2020 - Added Omnisend and Drip
05 Oct 2020 - Added 'What is an Email Marketing Service?' section
21 Sept 2020 - Added 'Quick Breakdown' table
28 Apr 2020 - Added updated MailerLite video
22 Apr 2020 - ConvertKit added a free plan
22 Apr 2020 - Benchmark made changes to their free plan and pricing
3 Feb 2020 - Ranking changed based on new deliverability scores