While Mailchimp is one of the most popular email marketing tools out there, the company's decision in May 2019 to stop its native integration with Shopify was a deal-breaker for many ecommerce brands, and many turned to Omnisend as an alternative. Mailchimp has since reopened its partnership with Shopify, but is it too late?
Looking at the ratings in Shopify Marketplace, Omnisend is the clear winner with 4.7 out of 5. Mailchimp only scores 3.4.
Of course, Shopify isn't the only platform that users interested in the two email marketing services will be using. Though, if you've arrived at this article, you're no doubt looking for an email marketing platform to pair up with your ecommerce – am I right?
In this Omnisend vs Mailchimp review, we're going to look at everything from ease of use to automation workflows and landing pages to see which email marketing service comes out on top.
Omnisend vs Mailchimp: Summary
Omnisend is made for ecommerce marketing automation. It allows all users (even those on its free plan) to benefit from all its pro features and has some pretty unique content elements to make its newsletters more engaging.
Mailchimp is more of an all-rounder, and comes with high subscriber and email allowances, but not necessarily all the features (unless you splash the cash). Both offer a free plan and allow you to pay on a monthly basis.
Let's see how they do in each of the individual categories below.
Omnisend Video Review
Mailchimp Video Review
Ease of Use and Editor
Is Omnisend easy to use? Is Mailchimp more user-friendly?
Well, the answer is that these are both very easy-to-use tools due to their clean, intuitive interface.
That said, there are a couple of things that could be improved in each.
Mailchimp's main navigation menu makes finding what you're looking for a little difficult. For example, the landing page builder is hidden within 'Campaigns', and the search bar won't help you find it, as this is to help you find a specific campaign. Omnisend doesn't make it very easy to find landing pages, as these are hidden within 'Forms'.
In the case of Omnisend, something I found frustrating was that, in order to do anything, you must connect your online store. This isn't ideal, as you may simply want to test out the tool before committing.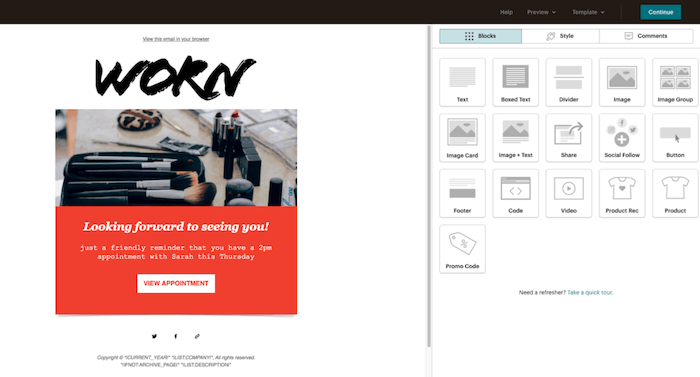 Crafting a good-looking email newsletter is more than possible with either tool. Both come with a good range of content blocks, including the ability to feature the products your customers are most interested in (otherwise known as 'dynamic content').
Omnisend, however, does outshine Mailchimp in this area, including the option to add scratch cards and gift boxes to your emails. Plus, Omnisend recently launched a new email editor with a 'Quick add' section that includes all your most used content blocks.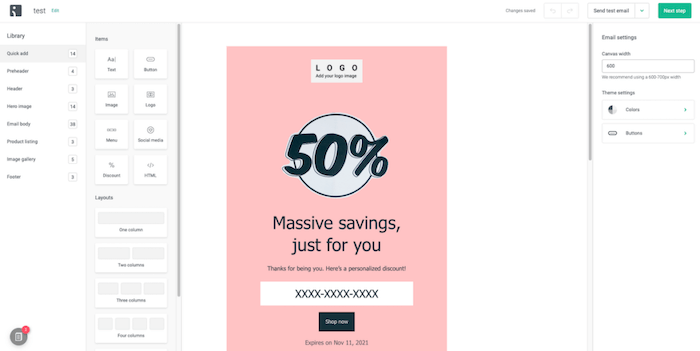 An annoying thing about the Mailchimp editor is that there is no undo button, and CMD+Z can't even help you out.
Winner: If you want to send ecommerce-specific newsletters, then Omnisend is definitely the better option. Its editor is also faster with an undo button and 'Quick add' section.
In general, Omnisend and Mailchimp offer very easy to use platforms, which is why I'm going to give each a point: 1-1
Designs and Flexibility
Having a good range of newsletter templates is very important to most marketers.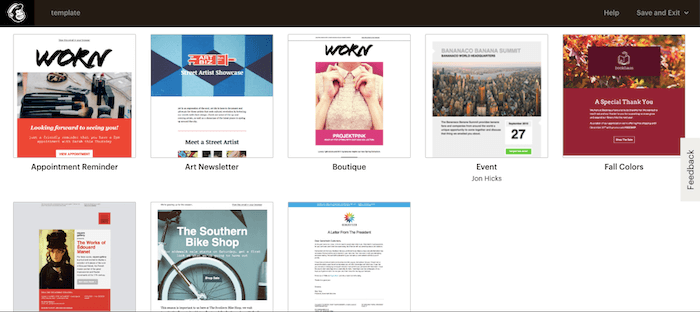 Many people who sign up to Mailchimp's freemium plan are not aware that the design templates available to them are incredibly basic and outdated. Only those on the Essentials plan and higher have access to the 100+ modern templates. Furthermore, if you want to add or code your own HTML templates, you'll need to be on the even more expensive Standard plan.
The good thing about Omnisend is that, although there are fewer templates (25), all are modern-looking and accessible across all plans, even the free version. The same goes for HTML templates.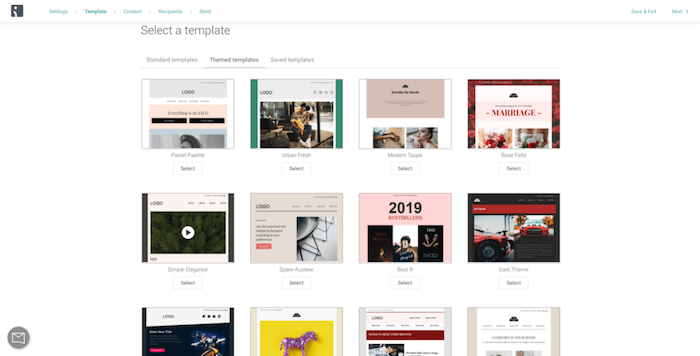 In terms of the editing options, both are pretty good. It's easier to edit the padding in Omnisend, and Mailchimp makes it easier to make changes across all content blocks of the same kind, e.g. to apply font or sizing changes to all text blocks.
Winner: The fact that you can access all the nice-looking templates and add HTML templates for free, makes Omnisend the more flexible tool for design. With so many great email template builders (many of which don't charge a penny), it's a real plus to have the option to import the HTML for free.
2-1 to Omnisend
Email Automations
Whether you want to set up a welcome series, abandoned cart email, or something more complex, there's no doubt that email automation is a key feature of any email marketing service.
Both Omnisend and Mailchimp provide users with a myriad of automation templates and have easy to use visual workflow builders. The catch is that Mailchimp doesn't make this available to customers on the free and lower-tier plans.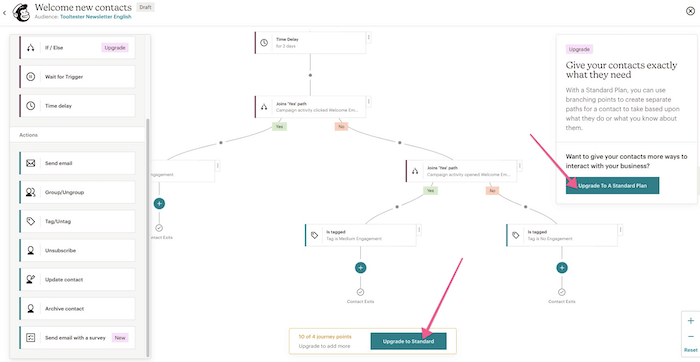 Mailchimp's Forever Free and Essentials plan only allows for single-step automations, and the builder isn't very visually exciting. The conditional branching logic used to create complex multistep automation workflows is only available on the Standard plan (from $17/month) and higher.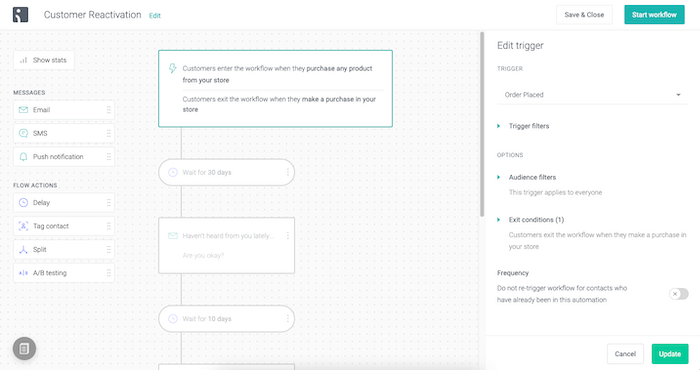 Omnisend's advanced features are built for implementing a sophisticated ecommerce email marketing strategy. It lets you set up conditionals, SMS, Facebook Messenger and push notifications right in the same visual flow. You'll have a number of triggers to choose from (order placed, product viewed, page viewed, added to a segment, etc.) and you can also incorporate SMS marketing and conduct A/B testing.
Considering that Omnisend offers advanced marketing automation for free, it's a pretty good deal.
Winner: That's another point to Omnisend! 3-1
Registration Forms
Registration or sign-up forms are important for capturing new leads and building your email list.
Most email marketing platforms will integrate with your online store or website, making adding forms a pain-free process. This is the case for both Omnisend and Mailchimp.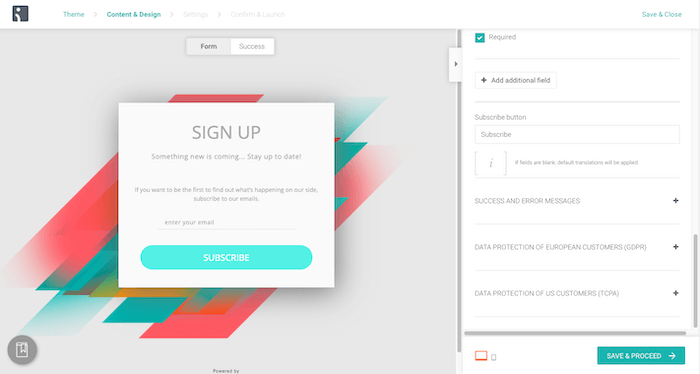 The many form templates offered by Omnisend are attractive, and overall, the process is pretty streamlined. Mailchimp, on the other hand, has many options (embedded form, popup form, form builder, contact form and form integrations) and each option has its own form builder. In my opinion, this is a very clunky way of doing things.
What's more, the templates are only available in popups and these are quite basic. Apart from the popup form builder, in general, I didn't find Mailchimp's form builders to be very intuitive.
Omnisend gives you four options: Signup bar, popup, landing page and wheel of fortune (fun!). There are also plenty of design and behavior settings you can edit.
Winner: Considering how much more user-friendly Omnisend's form builder is, this point has to go to them. 4-1
Spam and Design Testing
Mailchimp allows you to see what designs will look like on different clients and devices through its partnership with 'Inbox Preview' by Litmus. Monthly paid plans come with 25 tokens and if you need more, you'll need to purchase these through Litmus. No spam testing is available.
Though Omnisend allows you to preview your design on desktop & mobile and send a test email, you won't be able to see how your email will look on specific email clients. Spam testing is also not available.
Winner: A point to Mailchimp! 4-2
Reporting
Omnisend's reports are cleanly laid out and easy to read. Everything you need is there, including click map, open/click rate, revenue, unsubscribed and issues. Omnisend can track your sales on the following channels: email, SMS, push notifications.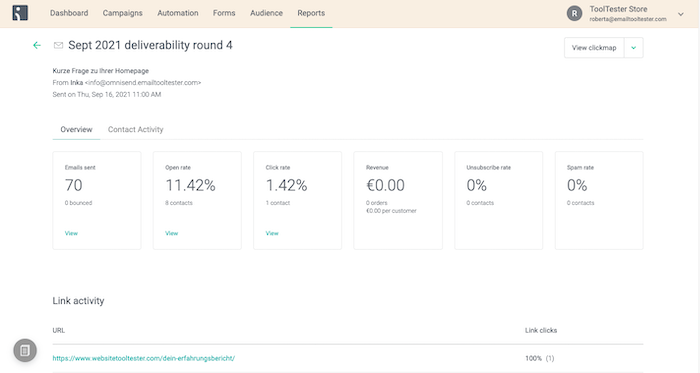 What's more, you'll have a lifecycle map, which highlights which contacts need nurturing, are at risk, are loyal customers, etc. You'll also be provided with a customer retention report.
One thing Mailchimp has that Omnisend doesn't, however, is geolocation tracking.
In general, reporting is an area Mailchimp does very well in. You can track everything up to your social media campaigns, and you'll have a whole section dedicated to ecommerce conversions.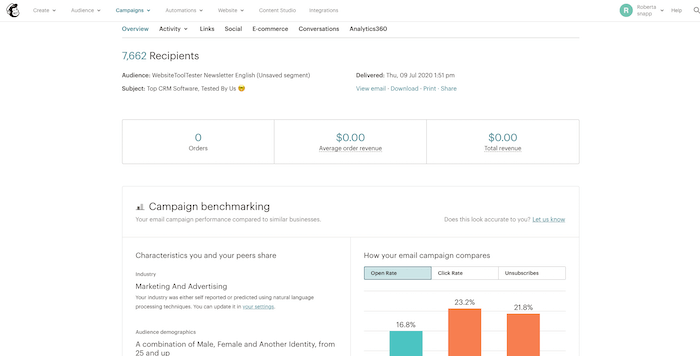 The Standard plan includes a feature called 'Content Optimizer', which gives you helpful tips on how to improve your email content.
Winner: Both do very well in this category, however, Mailchimp slightly outshines Omnisend with its reporting features. 4-3
Deliverability
It's imperative that the email tool you select has good deliverability, otherwise all your efforts leading up to sending your campaign will have been for nothing.
We've been tracking the deliverability of the providers we review for a number of years.
Here are the average figures of how Mailchimp and Omnisend performed in our last 3 rounds of bi-annual deliverability tests:
| | MAILCHIMP | OMNISEND |
| --- | --- | --- |
| Average Deliverability Rate | 91.39% | 76.12% |
Winner: Mailchimp's higher score means that it takes the point for this round, however, if you're looking for an email marketing tool with excellent deliverability, check out MailerLite. 4-4
Landing Pages
Nowadays, many email marketing platforms offer a landing page builder as well as a newsletter builder.
This is great for small businesses who don't have a website, or want to promote an event or offer on a separate subdomain.
Both Omnisend and Mailchimp come with pretty good free landing page builders. What's more, they both allow you to build an unlimited number of landing pages.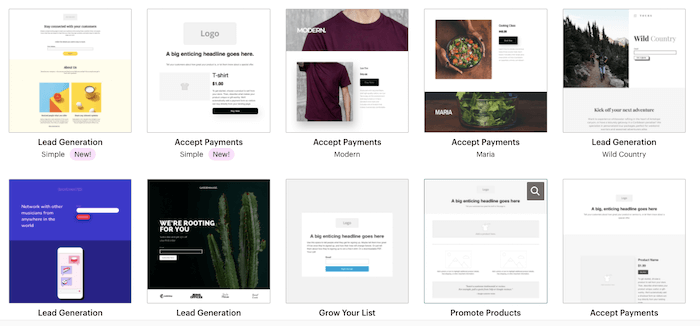 With Mailchimp's landing pages, you're able to add tracking for Facebook Pixel, Google Analytics, or Mailchimp's own tracking.
Unfortunately, you're not able to customize your thank you/confirmation page, whereas this is possible with Omnisend. However, in general, the design customization options with Omnisend are pretty limited. In fact, there are only a few landing page templates available.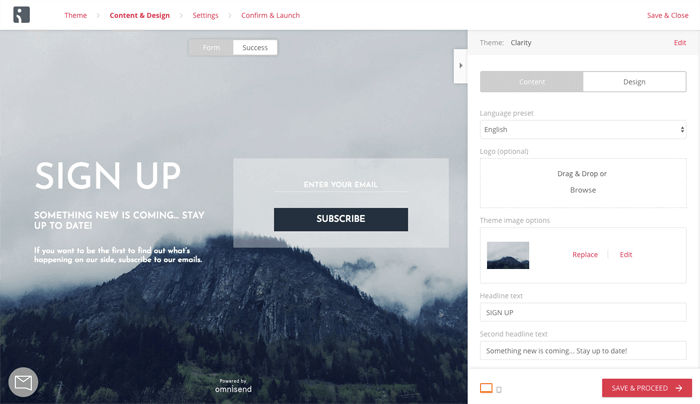 Winner: Due to the extra customization options in Mailchimp's landing page builder and a better range of templates, I'm going to give them the point here. 4-5
Integrations and Extras
Many people comparing Omnisend vs Mailchimp will be Shopify users. Thankfully, after a short hiatus, the Mailchimp Shopify integration is back!
In fact, Mailchimp has a marketplace packed full of integrations with third-party apps, so you're sure to find what you need.
Omnisend, on the other hand, doesn't have quite so many native integrations available, though it does integrate with all popular ecommerce platforms: Shopify, BigCommerce, WooCommerce (WordPress), Magento, OpenCart, Drupal Commerce, and Volusion. You can use Zapier for the apps you're missing.
Winner: It depends on what integrations you require, but for the sheer number of integrations available, I have to give the point to Mailchimp here. 4-6 to Mailchimp
Support
A lot of Mailchimp users on the free plan complain about the lack of support available. And I must admit, it is pretty frustrating being so on your own after the first 30 days.
Omnisend, on the other hand, provides users on the free plan with email support.
24/7 email and chat support is available on the Standard plan.
I found the support agents friendly and quick to help you resolve your issue. Mailchimp customer support was a little slower to respond.
A detailed knowledge base is available on both platforms.
Winner: Omnisend brings it back with their great customer support! 5-6
Prices
Let's take a look at their lowest-level plans to compare:
PLAN
MAILCHIMP
OMNISEND
Free plan
500 contacts for free and 1000 emails per month
Unlimited contacts for free, but you can only reach 250 with a limit of 500 emails/month
5,000 subscribers
$69/month 50,000 emails
$65/month 60,000 emails
10,000 subscribers
$100/month
100,000 emails
$115/month 120,000 emails
50,000 subscribers
$350/month
500,000 emails
$330/month 600,000 emails
100,000 subscribers
$700/month
1,200,000 emails
$720/month
1,200,000
Note that Omnisend offers new customers 15% off for the first 3 months with this code: EMAILTOOLTESTER
Onmisend vs Mailchimp Feature Breakdown
We've broken down the features and pricing, so you can decide which tool is better for your business.
| FEATURE | OMNISEND (all plans, inc. free) | MAILCHIMP (Essentials) |
| --- | --- | --- |
| Responsive email templates | Yes | Yes |
| A/B testing | Yes | Yes |
| Product recommendations | Yes | Yes |
| Discount codes | Yes | Yes |
| Gamification | Yes | No |
| Landing pages | Yes | Yes |
| Custom tags | Yes | Yes |
| Facebook Audiences | Yes | Yes |
| Google retargeting ads | Yes | Yes |
| Usable automation templates | Yes | No |
| Conditional branching logic | Yes | No |
| Abandoned cart automation | Yes | Yes |
| SMS marketing | Yes | No |
| Appointment scheduling | No | Yes |
As you can see, Omnisend offers all its features to all users, even those on its free plan. This is great for small but ambitious businesses that have few subscribers and want to send targeted messages via various channels.
The fact that you can set up complex ecommerce automation and incorporate SMS into your marketing plan for free is a big advantage.
On the other hand, those with larger lists will find that Mailchimp's pricing is slightly more affordable.
Winner: It's a tough one. On the one hand, you've got a feature-rich product from Omnisend, but on the flip side, you'll end up paying more down the line. That said, I think most would benefit from its generous range of features, which is why this one goes to Omnisend. 6-6
Detailed Features Comparison (Table)
Ease of Use
Editor
Personalization
Email types
Choice and Flexibility of Template Designs
Email Marketing Automation
List Management
Registration Forms/ Opt-in & Opt-out- Process
Deliverability
Reports and Analysis
Languages
Spam- and Design-Testing
Bounce Management
Blocklist
Storage available for data and images
Unlimited
unlimited
Authentication
Own Domain
Different levels of account access
Integrations
Landing Page Builder
Customer Support
Prices

Up to 500: $0/mo

Up to 1,000: $20/mo

Up to 5,000: $65/mo

Up to 10,000: $115/mo

Up to 500: $0/mo

Up to 2,500: $39.50/mo

Up to 10,000: $100/mo

Up to 20,000: $220/mo

Up to 30,000: $295/mo

Up to 40,000: $330/mo

Up to 50,000: $350/mo

Overall rating
Omnisend vs Mailchimp: Final Thoughts
It's a tie! Both Omnisend and Mailchimp clearly have a lot of great features.
Deciding between the two, that's down to you and your email marketing strategy now.
Having read this dissection, you should be in a better position to make the decision.
If ecommerce automation is important to you, Omnisend is a clear winner, but if you need really granular reporting, you might lean toward Mailchimp. And if your online store is on Shopify, don't forget to check out our post on email marketing for Shopify for the ultimate decision-maker.
You can see how other popular email marketing platforms compare in this Mailchimp alternatives post or by checking out the following comparisons:
Do you want to collect more email subscribers? Check out our guide to email marketing lead generation.
Let me know how you get on! Please leave a comment if you have any questions – I'd be more than happy to help!
We keep our content up to date
13 Jul 2023 - Updated deliverability averages
16 March 2023 - Updated Mailchimp's pricing and deliverability rates
01 Dec 2022 - Video reviews added
27 Apr 2022 - Updated deliverability averages
Our Methodology
This article has been written and researched following our EmailTooltester methodology.
Our Methodology