Omnisend Review (2023):
Top Choice For Ecommerce?
With so many email marketing services to choose from, it seems like a good idea to specialize in something and do it really well. So perhaps the fact that Omnisend specifically focuses on email marketing for online stores is a big point in their favor. Let's dive in and take a closer look at Omnisend to see if that's the case.
Launched in Lithuania in 2014 under the name of Soundest, Omnisend has come a long way in recent years. They now employ over 180 people and cater to over 70,000 ecommerce brands.
With a rating of 4.7/5 on the Shopify app store, we knew Omnisend was popular among Shopify users. We even ranked it as the top email marketing service for Shopify. But how does it do overall? And what do you need to know before signing up?
Omnisend Review Summary
Omnisend
is an email marketing solution directed toward ecommerce users. It offers a free plan that comes with all features and its paid plans start at $16/month for an unlimited contact list and contact reach of up to 500 per month.
Features include landing pages, ecommerce email automation, and advanced segmentation.
Omnisend Review
Omnisend vs Klaviyo
Omnisend Pricing
$ 0
250 Subscribers
500 Emails
Free plan with 500 email/month limit - unlimited contact list (reach up to 250 contacts).
$ 20
1,000 Subscribers
12,000 Emails
Standard plan, all features included
$ 65
5,000 Subscribers
60,000 Emails
Standard plan, all features included
$ 115
10,000 Subscribers
120,000 Emails
Standard plan, all features included
See our complete pricing guide here.
Note that if you're an existing Klaviyo customer looking to migrate, Omnisend will take care of the migration for free! You can also take advantage of a 15% discount for the first 3 months, using code EMAILTOOLTESTER.
Check out the offer here
.
Pros and Cons
Pros
Ecommerce centered

If you have an online store, Omnisend is a great choice. It integrates seamlessly with all popular ecommerce platforms and the email editor includes unique features like their product picker, scratch cards and gift boxes. Product and Category Recommendation reports help you target the customers who are most likely to buy a specific product.

Free plan includes all features

Though Omnisend's free plan has a very limited sending allowance, it does come with advanced features, and you can store unlimited contacts.

Automation

You'll save tons of time and no doubt see your revenue increase with its range of automation workflows. There are plenty of triggers, filters and conditions to choose from and the editor is really easy to use.

Sales tracking

This is available for email, SMS and push notifications. Web-tracking filters make it possible to segment your users by the pages and products they have or have not looked at.

SMS marketing

SMS marketing can be very important for ecommerce brands. With Omnisend, users can text to join your list, really simplifying the opt-in process.
Is Omnisend the right newsletter service for you?
Recommended if:
Not recommended if:
You have an online store

There's no doubt that Omnisend is a great email newsletter platform for online store owners, especially those on Shopify, BigCommerce, WooCommerce,  Magento, OpenCart, Drupal Commerce, or Volusion, as Omnisend has a direct integration.

You're serious about ecommerce automation

Aside from abandoned cart automation, you'll have templates for cross-selling, customer reactivation, transactional emails, and order follow-up. These will save you plenty of time and no doubt lead to more conversions.

You want modern designs

Omnisend comes with 36 attractive email templates and a number of cool form designs. They've just added a variety of modern holiday forms to the mix so that you can add seasonal discount popups to your store.

You want to check your performance against that of industry peers

Using the last 30 days of brand data, the health check feature uses contextual benchmarks and evaluates your brand's overall performance compared to its industry peers in each of the following areas: Customer retention, Campaigns, Workflows, Cart abandonment, and Sign-up forms.
A More Detailed Look at Omnisend's Top Features
As you can see from what we've already covered in this Omnisend review, this email marketing solution offers a good range of pro features for ecommerce marketers. Let's break those down and assess what works and what could be improved:
Omnichannel Marketing
Omnisend is an omnichannel marketing automation platform, meaning you can retarget your audiences with the right message at the right time.
It means a seamless customer experience across all touchpoints (e.g. web, mobile, social media, customer service, etc.)
While multichannel marketing uses all these channels individually, omnichannel marketing goes much further. It integrates those channels, so the messages you send to your customers are customized to their current buying stage. 
A good example would be a customer who added an item to their shopping card, abandoned it and later received an email reminder about the missed purchased as well as a retargeting ad on Instagram. 
An email marketing strategy that involves various channels is the key to success for many ecommerce businesses, so being able to set this up through Omnisend's omnichannel software is a big plus.
Google Customer Match allows you to sync your segments and continue engaging with this audience across Google Search, Shopping, Gmail and YouTube.
You can do the same with Facebook Customer Audiences, using social media campaigns to retarget your audiences across Facebook & Instagram.
The great thing is that this feature is included on all Omnisend plans, even the free one. Typically, these kinds of features would be reserved for higher-tier plans, so this is a big advantage to using Omnisend.
Ecommerce Automation
Automating your email campaigns with personalized messages is key if you want to increase customer engagement and sales.
Ecommerce businesses will be happy to hear that Omnisend does an excellent job of ecommerce-specific automation.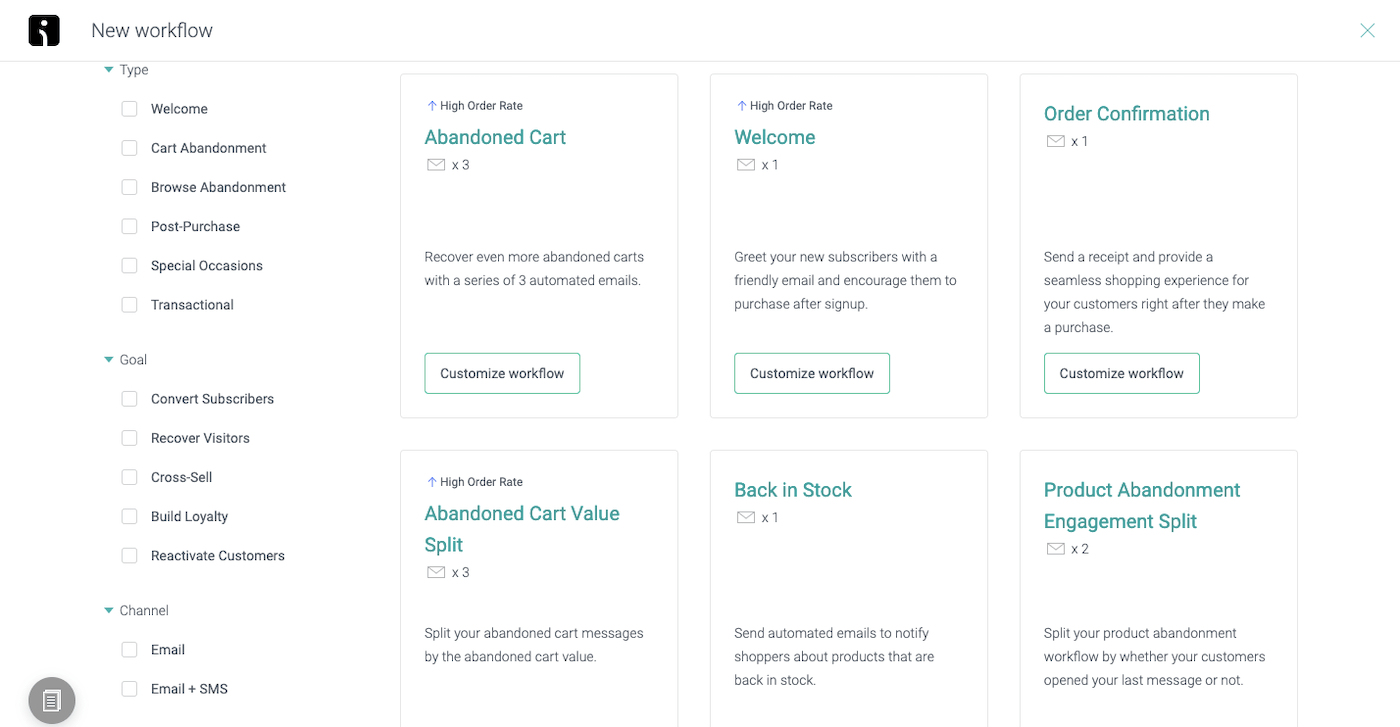 You can filter the automated workflows by type (welcome, abandoned cart), goal (build loyalty) or channel (email/SMS), and there are plenty of templates to choose from.
Note that all the templates are catered toward ecommerce business requirements, so you may be missing some more content-based automation templates.
We compared the automation features against other marketing automation software and found it to be very good value for money. For example, split automations are something some providers reserve for higher-paying customers, whereas Omnisend includes this feature on all plans.
Customer Lifecycle Map
Omnisend's Customer Lifecycle Map is a handy report that uses AI to sort your email subscribers into different segments based on how much they spend, how often they buy, and when they last made a purchase:

This helps you figure out who your best customers are, and who might be slipping away. Once you know this, you can send them messages that suit them better and encourage them to shop with you more.
You can use these groups in your email campaigns and automatic messages. Omnisend even gives you ideas on how to keep each group interested with retention strategies specific to their stage: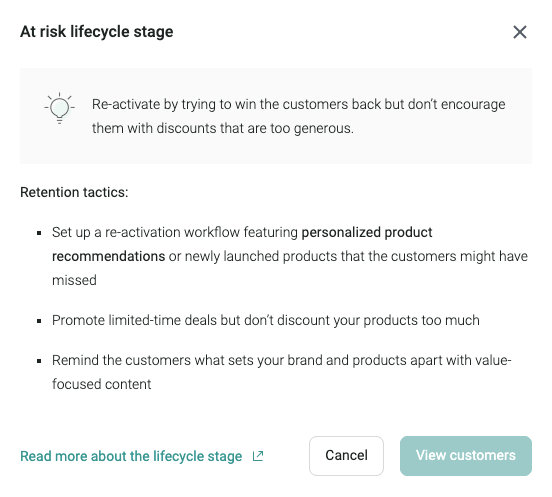 But here's the trick: It works best when you have at least 100 customers, and around 5-7% of them have bought from you recently. That way, Omnisend can really tell who's who. If you have fewer customers or fewer recent buyers, it will make guesses based on general rules, not your store's unique data.
Overall, it's a unique feature that we can't say we've seen in many other email marketing services, empowering you to personalize your campaigns based on what may arguably be the most critical factor: your customers' spending habits.
SMS Messaging
Omnisend allows you to send SMS messages on all plans. In fact, a certain allowance is included at no extra cost, whereas other email marketing and SMS tools will require you to buy credits on top of your paid plan.
If you need more than the free allowance, you can purchase additional credits at a very reasonable price. For example, if you're sending to the US, each SMS will cost you $0.015.
Brevo does offer SMS sending slightly cheaper at €10 for 1,000 SMS, however, you'd be missing all the niche ecommerce features that Omnisend comes with.
Omnisend Deliverability
One downside of Omnisend is its deliverability rate: our tests only put it in the bottom third of email service providers. They have scored very average results in previous tests, but in our latest round, they scored their highest deliverability rate yet. Although it seems as though they have made significant improvements in their performance, scoring 87.9%,  a 15.41% improvement from our last round, we still saw that 55% of their emails ended up in the Gmail promotions tab. Looks like there's still a lot of room for improvement!
Conclusion
At the end of the day, the fact that Omnisend focuses specifically on email marketing for ecommerce is a big point in their favor.
Specializing in the ecommerce area means that what it offers online store owners is tailored to their needs and is done well.
You'll find a host of ecommerce automation workflows at your disposal as well as advanced segmentation, transactional emails and SMS marketing campaigns. The email template designs are also very attractive and modern.
It's also attractively priced if we compare it to similarly positioned newsletter services such as ActiveCampaign and Klaviyo. You should be aware of one difference, though. Omnisend limits the number of emails you can send per month – it works out at 12 emails you can send each contact. ActiveCampaign, for example, includes unlimited emails. However, you should consider whether it's indeed necessary to send more than 12 emails in a month to a single contact.
FAQ
Omnisend, an EU-based company located in Lithuania, adheres to GDPR regulations.
Data storage, albeit on U.S. servers, is in compliance with the "EU-U.S. Data Privacy Framework," a provision that should be noted could potentially be repealed in the future, as has happened with previous frameworks.
Omnisend offers a suite of tools to help you ensure that your email marketing meets GDPR standards.
Take care not to use features that might violate EU rights, for example, monitoring your website visitors' behavior without first securing their consent.
If GDPR compliance is a priority for you, you might consider Brevo or MailerLite, as they store your contacts' data on servers within the European Union.
The simplest way is to add Omnisend from Shopify Market Place and register your Omnisend account from 'Shopify admin'.
There's no need to worry, as Omnisend is a legit email marketing tool for small businesses, and more specifically, for online store owners. Rest assured that your customer data will be safely stored in their data storage centers.
Omnisend Alternatives
GetResponse is a powerful alternative to Omnisend with good automations, landing pages and a unique autofunnel feature. Unlike Omnisend, GetResponse's platform is available in more than 20 languages, and you can track email clients and geo-location.
ActiveCampaign stands out for being one of the platforms with smarter automations. They are not only very powerful, but also straightforward to use.
MailerLite is for those who need an easy-to-use, affordable email marketing tool.
We keep our content up to date
06 Nov 2023 - Added information about Customer Lifecycle Map
27 Oct 2023 - Pricing update
25 Aug 2023 - Information about GDPR compliance added
07 Aug 2023 - Updated discount
18 July 2023 - Deliverability section edited
18 Jul 2023 - Omnisend vs Klaviyo video added
22 May 2023 - Form builder update
04 May 2023 - Small updates
18 Apr 2023 - Smaller updates
16 Mar 2023 - New features added
01 Dec 2022 - New video review added
12 Sept 2022 - New small features added
03 Aug 2022 - Section on Omnisend's top features added
27 Jul 2022 - General update
07 Jun 2022 - Updated form builder
16 May 2022 - New small features added
10 May 2022 - Deliverability reports added
28 Apr 2022 - You can now use Omnisend without an online store
25 Apr 2022 - Deliverability rating decreased slightly
21 Apr 2022 - Note about web tracking added
17 March 2022 - Note about legitimacy added
08 March 2022 - General update
18 Jan 2022 - General update
09 Nov 2021 - General update
16 Sept 2021 - Prices updated
08 Jul 2021 - New features and FAQs added
Our Methodology
This review has been written and researched following our EmailToolTester methodology.
Our Methodology