Launched in Lithuania in 2014 under the name of Soundest, Omnisend has come a long way in recent years. They now employ over 180 people and cater to over 70,000 ecommerce brands.  With 4.7/5 on the Shopify app store, we knew Omnisend was popular among Shopify users - we even ranked it as the top email marketing service for Shopify - but how does it do overall? And what do you need to know before signing up?
Omnisend Review Summary
Omnisend is an email marketing solution directed toward ecommerce users. It offers a free plan that comes with all features and its paid plans start at $16/month for an unlimited contact list and contact reach of up to 500 per month. Features include landing pages, email automation with a focus on e-commerce, and advanced segmentation.
With so many email marketing services to choose from, it seems like a good idea to specialize in something and do it really well. So perhaps the fact that Omnisend specifically focuses on email marketing for online stores is a big point in their favor. Let's dive in and take a closer look at Omnisend to see if that's the case:
Let's find out all the pros and cons of using Omnisend for your eCommerce business in this video review. Try Omnisend for free: https://www.emailtooltester.c...
Omnisend Review 2023: Top choice for Ecommerce?
2022-12-01
https://img.youtube.com/vi/uOs_jZRnrJM/hqdefault.jpg
Omnisend screenshots
Omnisend Pricing
250 SUBSCRIBERS
$0/MO
Free plan with 500 email/month limit - unlimited contact list (reach up to 250 contacts).
500 SUBSCRIBERS
$16/MO
Standard plan, all features included
1,000 SUBSCRIBERS
$20/MO
Standard plan, all features included
5,000 SUBSCRIBERS
$65/MO
Standard plan, all features included
10,000 SUBSCRIBERS
$115/MO
Standard plan, all features included
See our complete pricing guide here
Pros and Cons
Ecommerce centered:
If you have an online store, Omnisend is a great choice. It integrates seamlessly with all popular ecommerce platforms and the email editor includes unique features like their product picker, scratch cards and gift boxes. Product and Category Recommendation reports help you target the customers who are most likely to buy a specific product.
Free plan includes all features:
Though Omnisend's free plan has a very limited sending allowance, it does come with advanced features, and you can store unlimited contacts.
Automation:
You'll save tons of time and no doubt see your revenue increase with its range of automation workflows. There are plenty of triggers, filters and conditions to choose from and the editor is really easy to use.
Sales tracking:
This is available for email, SMS and push notifications. Web-tracking filters make it possible to segment your users by the pages and products they have or have not looked at.
SMS marketing :
SMS marketing can be very important for ecommerce brands. With Omnisend, users can text to join your list, really simplifying the opt-in process.
Missing tracking options:
Unfortunately, it doesn't track the social media or geo-location of your subscribers.
Only available in English :
Those looking for a multi-language platform will need to look elsewhere.
Limited integrations:
All the main ecommerce platforms are there, but it's missing key integrations with platforms such as GoogleAnalytics and CRM software.
Deliverability:
Omnisend didn't do too well in our latest deliverability tests.
Is Omnisend the right newsletter service for you?
Recommended if:
You have an online store:
There's no doubt that Omnisend is a great email newsletter platform for online store owners, especially those on Shopify, BigCommerce, WooCommerce,  Magento, OpenCart, Drupal Commerce, or Volusion, as Omnisend has a direct integration.
You're serious about ecommerce automation:
Aside from abandoned cart automation, you'll have templates for cross-selling, customer reactivation, transactional emails, and order follow-up. These will save you plenty of time and no doubt lead to more conversions.
You want modern designs:
Omnisend comes with 25 attractive email templates and a number of cool form designs. They've just added a variety of modern holiday forms to the mix so that you can add seasonal discount popups to your store.
You want to check your performance against that of industry peers:
Using the last 30 days of brand data, the health check feature uses contextual benchmarks and evaluates your brand's overall performance compared to its industry peers in each of the following areas: Customer retention, Campaigns, Workflows, Cart abandonment, and Sign-up forms.
Not recommended if:
You need advanced tracking:
Though the reports offer a good amount of data (including revenue generated), you won't be able to see where your subscribers are based.
You need a higher sending allowance but don't want to pay:
500 emails a month to 250 subscribers isn't very much. You'll find other free email marketing services offer much more generous sending allowances.
Rating details
| criterion | rating | comments |
| --- | --- | --- |
| Ease of Use | | Omnisend is pretty easy to use. It has a clean, modern interface design and everything works smoothly. |
| Newsletter Creation | | |
| Editor | | The editor makes featuring your store products and their prices easy, you can use their "product picker" to drag your e-commerce store items into your email template. The speedy email editor has been further improved by a 'Quick add' section, where you can find all your most-used content blocks. You can also duplicate blocks and sections, making your email creation process even faster. Order summary and shipping and billing content blocks are also available for your automation. |
| Personalization | | Omnisend has added personalization options in the form of a drop-down to every input field. This really simplifies the process. What's more, you can decide what you show on different devices. You can show a specific item for mobile or desktop users by clicking on the "Layout" tab and scrolling down to "Display settings". |
| Email types | | All email types are available: Classic newsletters, autoresponders, A/B testing, recurring newsletters (e.g. birthday emails), SMS and advanced automation. |
| Choice and Flexibility of Template Designs | | There are 30 mobile-responsive templates available across all plans. These are very modern and work especially well for ecommerce. There are various themes you can choose from that change the color palette of your email. You can also create your own HTML design by importing the code or pasting it in. Bear in mind that Omnisend are currently moving over to a new email builder so half of their templates can be found in the old builder and the other half in the new one. Hopefully, these can all be found in the same place soon. |
| Email Marketing Automation | | A number of automation workflow templates are available. Omnisend's automation features are especially good for those with online stores on platforms such as Shopify. There are plenty of options related to triggers, filters and conditions, and automations can include SMS and push notifications. A/B testing is also possible. |
| List Management | | You can create lists by tagging contacts. To remove them from the list simply remove the tag. If you unsubscribe a contact, this is from all lists. There are tons of filters you can use for segmentation, e.g., contact field criteria, behavior (clicks, reads, purchases, etc.). When setting up your segments, suggestions that are most commonly used with your chosen event are offered, which saves you time. You can also set up an automation to tag a contact when they perform a specific action like viewing your pricing page, purchasing a product, etc. Users can opt in to receive SMS from you by simply texting a keyword. An Email List Cleaning solution scans contacts with subscribed and non-subscribed statuses and gives you recommendations to optimize your audience. This is priced at $0.20 per 100 contacts. |
| Registration Forms/ Opt-in & Opt-out- Process | | You have some pretty cool templates to choose from, and there are plenty of them. The new form builder allows you to drag and drop the content elements directly onto the design. The form is added automatically to your store once it's been enabled, and you'll have various display options, for example, according to the device, time on page, exit intent or scroll depth. Contact tagging can also be set directly in the form builder options. Options include signup forms, cross-selling and promotions. |
| Deliverability | | Omnisend's deliverability leaves room for improvement. If you are looking for a solid email marketing platform and a better performer, ActiveCampaign would be a better choice. Omnisend includes deliverability reports, so you can easily track key factors that influence your email deliverability, such as your email list hygiene and sender domains, and make improvements based on their tips. |
| Reports and Analysis | | These are cleanly laid out and easy to read. They include click map, open/click rate, revenue, unsubscribed and issues. It's not possible to track geo-location, however, Omnisend can track your sales on the following channels: email, SMS, push notifications. A new feature gives users a lifecycle map, highlighting which contacts need nurturing, are at risk, are loyal customers, etc. You'll also have access to a customer retention report. |
| Languages | | Only available in English |
| Further Features | | |
| Spam- and Design-Testing | | You can preview your design on desktop & mobile and send a test email, but it's not possible to see how your email will look on specific email clients. Spam testing not available. |
| Bounce Management | | Hard bounces are shown in reports. If the emails to the same subscriber are soft bounced three times in a row, Omnisend counts it as a hard bounce and does not send any emails to this address anymore. |
| Blocklist | | Not available |
| Storage available for data and images | Unlimited | No limit on quantity of stored images. Max size of uploaded image should be 5 MB |
| Pro Features | | |
| Authentication | | SPF and DKIM (Domain Keys). |
| Own Domain | | Available on Pro plan. |
| Different levels of account access | | Levels are as follows: content creator, campaign coordinator, analyst, manager, admin and owner. |
| Integrations | | Omnisend integrates with all the popular ecommerce platforms: Shopify, BigCommerce, WooCommerce (WordPress), Magento, OpenCart, Drupal Commerce, Volusion. Integration with Facebook Lead Ads allows you to pass leads collected from Facebook & Instagram to Omnisend. Other types of integrations are limited. |
| Landing Page Builder | | Limited designs. The free plan allows for unlimited landing pages. |
| Customer Support | 4.5/5 | 24/7 email and chat support available on the Standard plan and access to email support is on the free plan. The support agents are friendly and do their best to help you. A detailed knowledge base is also available.  Another plus is that you'll have access to free online courses within the Omnisend Academy. On top of this, Omnisend hosts and records webinars and events to help you learn the ins and outs of the tool. |
| Overall rating | 4/5 | Omnisend has a great deal to offer email marketers with its wide range of advanced features. We hope to see spam and design testing features added in the near future, as well as tracking options. |
A More Detailed Look at Omnisend's Top Features
As you can see from what we've already covered in this Omnisend review, this email marketing solution offers a good range of pro features for ecommerce marketers. Let's break those down and assess what works and what could be improved:
Omnichannel Marketing
Omnisend is an omnichannel marketing automation platform, meaning you can retarget your audiences with the right message at the right time.
An email marketing strategy that involves various channels is the key to success for many ecommerce businesses, so being able to set this up through Omnisend is a big plus.
Google Customer Match allows you to sync your segments and continue engaging with this audience across Google Search, Shopping, Gmail and YouTube.
You can do the same with Facebook Customer Audiences, using social media campaigns to retarget your audiences across Facebook & Instagram.
The great thing is that this feature is included on all plans, even the free one. Typically, these kinds of features would be reserved for higher-tier plans, so this is a big advantage to using Omnisend.
Ecommerce Automation
Automating your email campaigns with personalized messages is key if you want to increase customer engagement and sales.
Ecommerce businesses will be happy to hear that Omnisend does an excellent job of ecommerce-specific automation.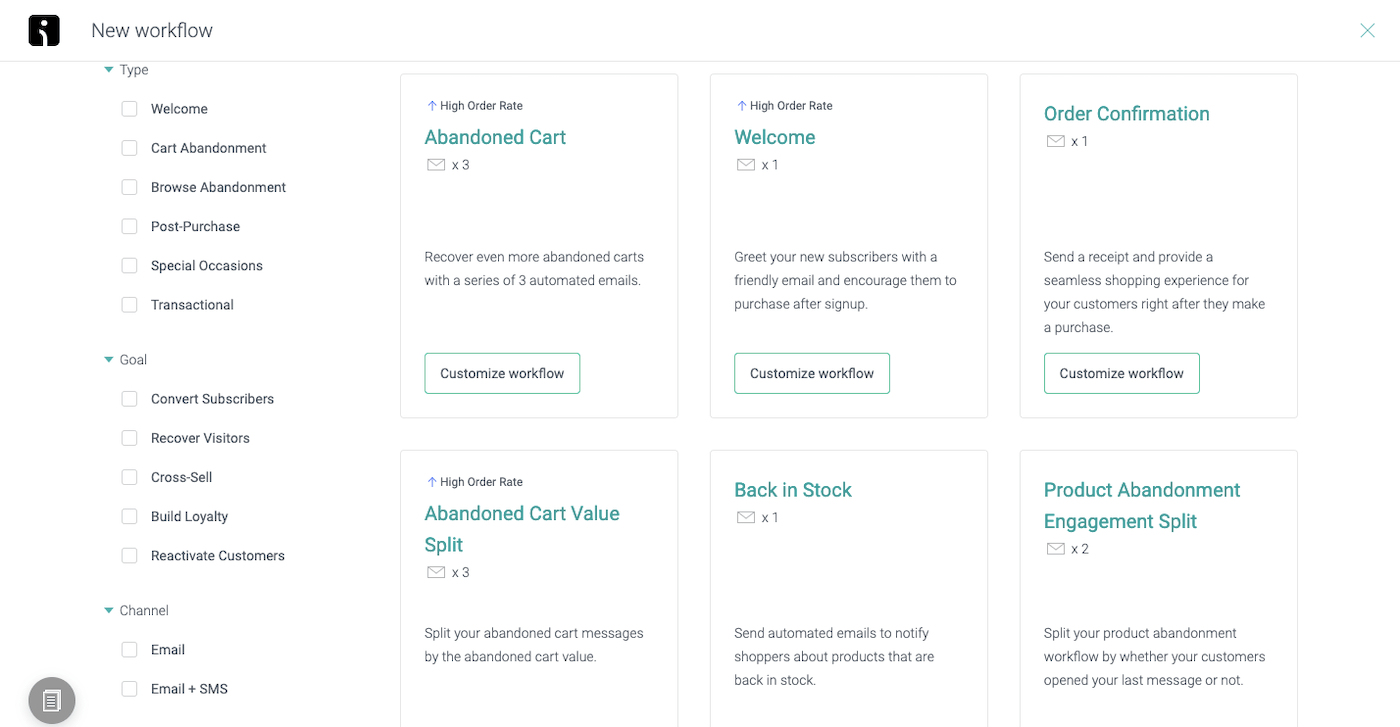 You can filter the automation workflows by type (welcome, abandoned cart), goal (build loyalty) or channel (email/SMS), and there are plenty of templates to choose from.
Note that all the templates are catered toward ecommerce business requirements, so you may be missing some more content-based automation templates.
We compared the automation features against other marketing automation software and found it to be very good value for money. For example, split automations are something some providers reserve for higher-paying customers, whereas Omnisend includes this feature on all plans.
SMS Messaging
Omnisend allows you to send SMS messages on all plans. In fact, a certain allowance is included at no extra cost, whereas other email marketing and SMS tools will require you to buy credits on top of your paid plan.
If you need more than the free allowance, you can purchase additional credits at a very reasonable price. For example, if you're sending to the US, each SMS will cost you $0.015.
Sendinblue does offer SMS sending slightly cheaper at €10 for 1,000 SMS, however, you'd be missing all the niche ecommerce features that Omnisend comes with.
Conclusion
At the end of the day, the fact that Omnisend focuses specifically on email marketing for ecommerce is a big point in their favor. Specializing in this area means that what it offers online store owners is tailored to their needs and is done well. This is a key reason we include Omnisend as one of the top Mailchimp alternatives and also a great alternative to ActiveCampaign.
You'll find a host of ecommerce automation workflows at your disposal as well as advanced segmentation, transactional emails and SMS marketing. The email template designs are also very attractive and modern.
Omnisend Alternatives

GetResponse
Read Review

ActiveCampaign
Read Review

MailerLite
Read Review
GetResponse is a powerful alternative to Omnisend with good automations, landing pages and a unique autofunnel feature. Unlike Omnisend, GetResponse's platform is available in more than 20 languages, and you can track email clients and geo-location.
ActiveCampaign stands out for being one of the platforms with smarter automations. They are not only very powerful, but also straightforward to use.
MailerLite is for those who need an easy-to-use, affordable email marketing tool.
FAQ
Is Omnisend better than Mailchimp?

How to use Omnisend with Shopify
The simplest way is to add Omnisend from Shopify Market Place and register your Omnisend account from 'Shopify admin'.

Is Omnisend legit?
There's no need to worry, as Omnisend is a legit email marketing tool for small businesses, and more specifically, for online store owners. Rest assured that your customer data will be safely stored in their data storage centers.

About Roberta Phillips
YOUR QUESTIONS AND FEEDBACK