We know you've heard a lot about Mailchimp. Constant Contact? Possibly not. While they have been around since 1995 and serve roughly half a million users worldwide, their share of the market is nothing compared to Mailchimp's. Though Constant Contact is Mailchimp's biggest competitor, it owns just 8.69%. Mailchimp owns a whopping 62.23%!
It should also be noted that they are rated lower than MailChimp in our comparison table. Why is that? Let's break it down below to find out.
MailChimp vs Constant Contact: Summary
Constant Contact's plans start at $12/month and they have pretty solid deliverability rates. Mailchimp offers more advanced features, including better automations, reporting, email templates, and a free plan for sending 10,000 emails to up to 2,000 contacts per month. Constant Contact doesn't have a free plan but can be trialed for 30 days, check out ConstantContacts plans here.
Check out our video review of these two email marketing giants:
If you're interested in checking out any of the other tools mentioned in the video, you can do so by following these links: ActiveCampaign, GetResponse, Brevo, MailerLite.
Ease of use and editor
Both Mailchimp and Constant Contact offer easy navigation and clear sections, making them ideal for beginners or people who don't want to spend too long learning how to use an extra backend. But if we had to pick a winner, we'd have to say that Mailchimp's editor feels more modern and faster than Constant Contact's, even if some advanced features are a bit hard to get at first (it took us a while to find how to add subscriber opt-ins, for instance.)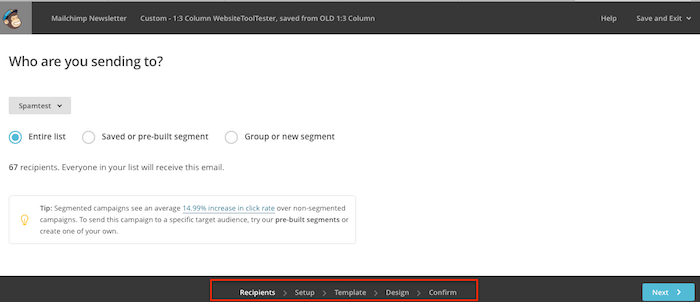 One feature we really like is the navigation menu when you create a campaign in Mailchimp. You can move forward and backward to check every step of the campaign and to make sure everything is in place.
There are some aspects to the Constant Contact design that don't feel very modern (e.g the contacts section) and some things are a bit hidden in the menu.
Winner: Constant Contact feels simpler because it has fewer features. But when Mailchimp do advanced features, they do them well: the campaign navigation tool, for example. This one goes to Mailchimp.
Design and Flexibility
Both solutions offer a decent number of templates to get you started. There are fewer of them with Mailchimp (100 Vs 200 for Constant Contact) but Mailchimp's are sorted in categories like ecommerce, events, holidays, newsletters or notifications.
When it comes to creating your own newsletter from scratch, both platforms let you use HTML. And with Mailchimp, you can import the code from a URL or a .zip file.
Bridging the gap between custom code and a template, Mailchimp offers some blank templates called layouts. These are basically an empty structure where you can add your content such as images and text. It's pretty handy, and while Constant Contact offers 3 or 4 of them too, they are nowhere near as useful.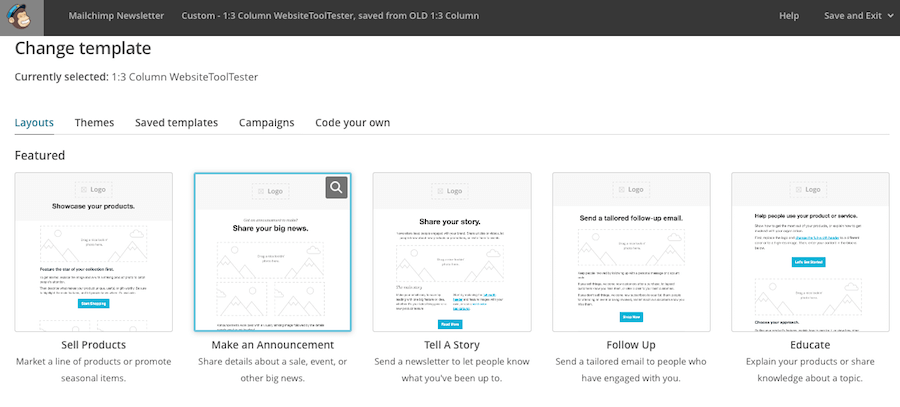 In terms of editing the template, Mailchimp seems to offer a bit more flexibility and options, for example, they offer more content blocks, like product recommendations. You can also get creative with how you display images and social media options, showing shares and likes on your page.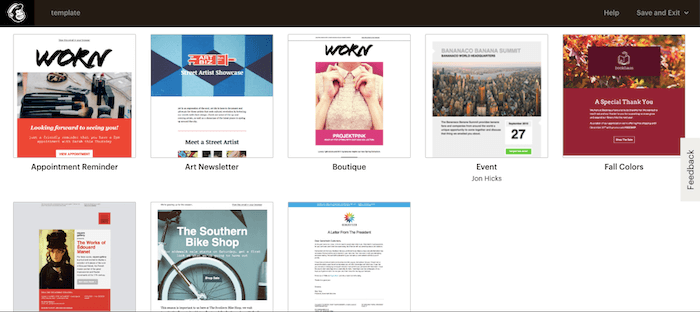 Finally, both solutions let you save your templates and re-use them for your next newsletters (luckily).
Winner: Definitely Mailchimp. There are 100 fewer templates, but they look better and offer more flexibility.
Email marketing features
Constant Contact offers decent autoresponders (emails sent to users on special occasions or when they sign up to your mailing list). They also let you add surveys and coupons.
Mailchimp also offers autoresponders, but most importantly automations. These come with solid features such as campaigns triggered by segment (people interested in product A will get emails that people interested in product B will not), and email sequences, perfect for newsletter sales funnels.
They also offer a basic A/B split testing option with 3 different variables (different subject line, content or send time, for instance). You can try more complex multivariate testing at an extra cost.
Winner: Mailchimp wins this round too. One thing to note though, if you really want the best marketing features, we highly recommend you check out Active Campaign and Get Response. The automations and A/B tests, amongst others, are far superior to Mailchimp's.
Registration forms
The form that could make or break your subscriber list. If you want it as nice as possible when integrating it with your website, Mailchimp simply has more options. You can add custom fields, drag and drop existing ones and tweak the color (although you have to do it with a HEX color code for some weird reason).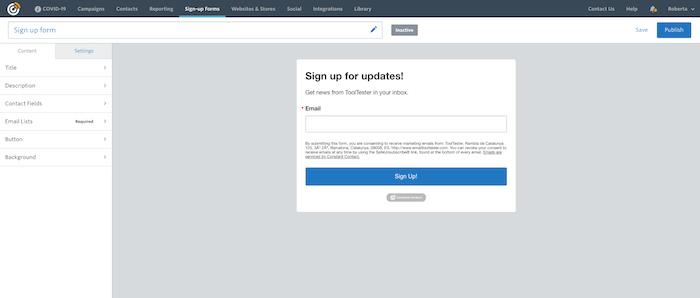 Constant Contact lets you change the font, image banner, background color and… that's about it. The fields are limited to standard tick boxes for first name, last name, company, etc… You can create a QR code that links to your sign-up form, which is pretty cool.
Mailchimp is also better with opt-in messages, as you can easily customize them based on your preferences. Constant Contact does it too, but the interface isn't intuitive or fun to play with.
Winner: The QR code option isn't enough to help Constant Contact win this round. Mailchimp wins again.
Spam and design testing
An important step when you want to ensure your emails arrive in your subscribers' inbox looking good. To do so, Mailchimp offers a third-party tool called Inbox Preview which lets you visualize your newsletter on different devices and email clients. Monthly paid Mailchimp accounts receive 25 Inbox Preview tokens each month and each view costs 1 token. If you're not on a paid plan, you can sign up for a Litmus account. All Mailchimp users receive their first 7 days of Litmus for free.
As for spam testing? Constant Contact does have a new spam testing feature, but we wouldn't rely on it 100%. You're better off using an external app such as GlockApps or MailTester.com.
Winner: Mailchimp. But it's a soft win. Here again, other providers are more advanced. GetResponse, for instance, gives you a spam score for each newsletter campaign.
Reporting
Also known as how to measure your newsletter's success and an important part of your overall strategy. Constant Contact lets you know who opened and clicked it. There is also Google Analytics integration for tracking conversion.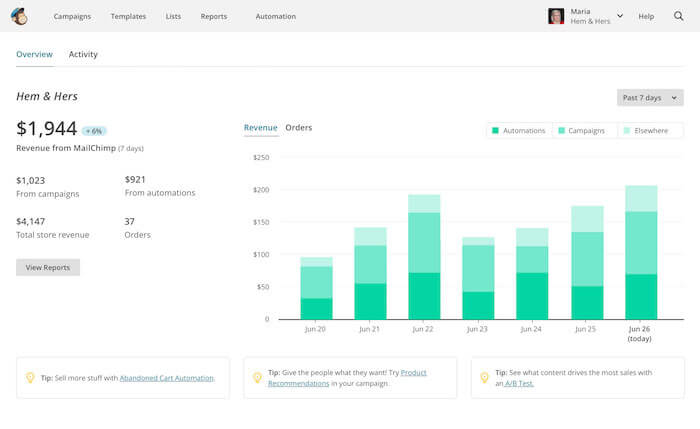 Mailchimp offers all of the above, plus geo-tracking, social media reports and click maps, plus cool things like newsletter success per provider (Gmail vs Yahoo for instance). And most impressive of all, they offer a unique ecommerce conversion tracking feature that lets you know when products are sold through your store, and how.
Winner: Mailchimp probably has the best reporting system out of all the email tools we've tried. So yeah, Mailchimp.
Deliverability: Mailchimp vs Constant Contact
An important metric to measure the success of your email before users read them. Quite simply, an email is considered delivered when it doesn't land in the spam folder or go undelivered.
We continuously monitor the deliverability of top email marketing providers and found that Constant Contact were more consistent than Mailchimp.
Here are the average figures of how they performed in our last 3 rounds of bi-annual deliverability tests:
| | MAILCHIMP | CONSTANT CONTACT |
| --- | --- | --- |
| Overall Deliverability Rate | 91.39% | 91.72% |
Winner: Overall, Constant Contact have better deliverability, and fewer emails land in the spam folder compared to Mailchimp.
Integrations and extras
This could turn into a numbers game here as Mailchimp offers 800 integrations and Constant Contact has only 353. They range from social media to website integrations, but the truth is that you're very unlikely to be missing any with either service.
Some of Mailchimp's integrations include: WooCommerce, SalesForce, Facebook, Twitter, Instagram, WordPress. Surprisingly, they no longer offer a direct integration with Shopify. Constant Contact offers a direct integration.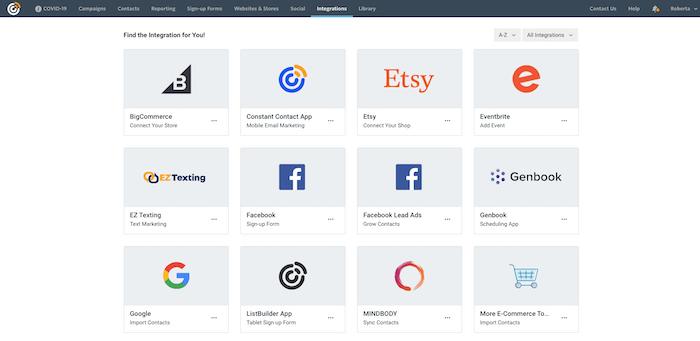 Constant Contact used to include event management software in their $45 / month plan, however, this has now been removed and users are prompted to integrate with Eventbrite. This integration lets you manage and promote events and track registrations for attendees. We haven't tested how well the integration works but it's surely not as convenient as when the feature was a part of their software. Furthermore, you'll need to pay any fees incurred by using Eventbrite.
Winner: As Mailchimp offers more integrations than you'll know what to do with, they win this round.
Support
Mailchimp has 24/7 email support and chat help (during business hours). Free users access 1 month of support to get started, after that they're on their own. We've asked Mailchimp a few questions and their answers are good, if a bit slow at times.
Constant Contact offers chat and phone support (during business hours Eastern Time) and apparently they check the community forums and Twitter during the weekend for urgent matters. We're a bit dubious because we've had bad experiences with their support in general. The documentation and knowledge base are not as complete as Mailchimp's and, worst of all, we contacted them 3 times after they said they would call back. They never did.
The cancellation process is also quite frustrating with Constant Contact as you have to call them, rather than simply canceling online.
Winner: Mailchimp.
Price
In our full Mailchimp review, we've commented on the fact that their free plan is very generous (if limited in terms of features), the problem is that they get expensive quite quickly, as you will see in the table below. But they do also offer a flexible pay-as-you-go option.
Pricing
Mailchimp (Essentials Plan)
Constant Contact
Free plan
Up to 2000 subscribers / 10000 emails.
N/A
5000 subscribers
$69 a month
$80 a month
10 000 subscribers
$100 a month
$120 a month
Pay as you go
1000 emails – $30
5000 emails – $100
10000 emails – $200
N/A
Constant Contact doesn't offer a free plan but you can try it for 30 days. They get even more expensive than Mailchimp after that and don't have a pay-as-you-go option.
Winner: Mailchimp, obviously. Note that working out newsletters costs is quite difficult, so check our handy price comparison tool for more info.
Niche Features
Both email marketing services have recently added a website builder to their offerings, as well as other niche features such as appointment scheduling software, in the case of Mailchimp. Constant Contact has always been the tool to use to manage events, though it doesn't offer too much more in the way of advanced features, as we've seen above.
The website builders Mailchimp and Constant Contact offer are simple solutions and not recommendable over dedicated website builders.
Mailchimp vs Constant Contact comparison table
Ease of Use
Editor
Personalization
Email types
Choice and Flexibility of Template Designs
Email Marketing Automation
List Management
Registration Forms/ Opt-in & Opt-out- Process
Deliverability
Reports and Analysis
Languages
Spam- and Design-Testing
Bounce Management
Blocklist
Storage available for data and images
unlimited
Unlimited
Authentication
Own Domain
Different levels of account access
Integrations
Landing Page Builder
Customer Support
Prices

Up to 500: $0/mo

Up to 2,500: $39.50/mo

Up to 10,000: $100/mo

Up to 20,000: $220/mo

Up to 30,000: $295/mo

Up to 40,000: $330/mo

Up to 50,000: $350/mo

Up to 500: $12/mo

Up to 1000: $30/mo

up to 2500: $50/mo

Up to 5,000: $80/mo

Up to 10,000: $120/mo

Up to 15,000: $180/mo

Up to 25,000: $280/mo

Up to 50000: $430/mo

Up to 2,500: $110/mo

Overall rating
Final thoughts
Mailchimp wins pretty much all the rounds in this comparison review, as they are the best for general and advanced features, reporting, support and price, amongst others.
So should you even bother with Constant Contact? Well, since they removed their events management feature, they're a hard sell due to a lack of features and documentation, and the price doesn't help.
But don't forget that there are other great Constant Contact alternatives and a whole range of alternatives to Mailchimp too. For instance, GetResponse and ActiveCampaign are much better at complex automations than Mailchimp, so if you still want to investigate other platforms, make sure you check out our comparison table and the following comparisons: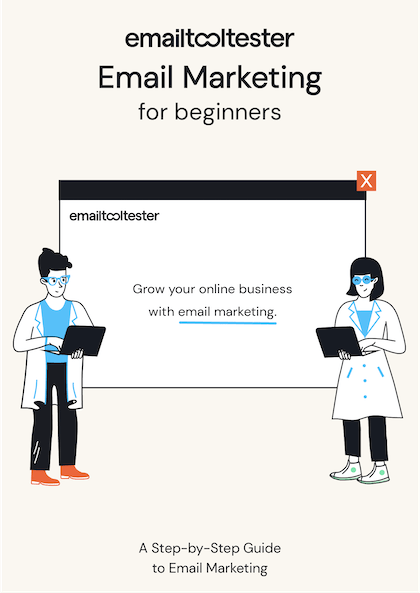 Email Marketing Crash Course: Step-by-Step Guide
Our email marketing course for beginners: ideal for small and medium-sized businesses, online stores and bloggers. It shows you all the steps you need to send your first email campaign. Best of all, it's free!
Sign up to receive your copy immediately!
We keep our content up to date
13 Jul 2023 - Updated deliverability averages
09 March 2023 - Updated deliverability averages
27 Apr 2022 - Updated deliverability averages
21 Jul 2021 - Niche features section added
31 May 2021 - General update
06 Apr 2021 - Updated Mailchimp's prices
16 Mar 2021 - Updated deliverability section based on the latest round of testing
05 Oct 2020 - Updated Constant Contact images
31 Aug 2020 - Updated the deliverability averages
15 June 2020 - Video review added
2 June 2020 - General update
22 May 2019 - Updated sending limit for Mailchimp free plan
29 July 2019 - Deliverability averages including latest round of testing
16 Jan 2020 - Constant Contact no longer offers their own event management software
10 Feb 2020 - Deliverability averages including latest round of testing
Our Methodology
This article has been written and researched following our EmailTooltester methodology.
Our Methodology