If your store is new and you've had only a few customers so far, you might be able to get away with sending them simple marketing emails from a free email client like Gmail. But as your customer base grows, this approach will quickly prove unworkable:
Free email clients don't like it when you mass-send emails from their domains, and your emails may get blocked from reaching your recipients.
Manually emailing customers individually is also not the best use of your time when you have other store responsibilities to take care of!
The more feasible alternative is to use dedicated email marketing platforms that help ecommerce businesses market to customers and generate more revenue.
Think elegant email forms for building a list of potential customers and stunning newsletters for publicizing upcoming sales. Throw in email automations for rescuing abandoned carts, or thanking customers for their purchase, on autopilot.
And last but not least, imagine you have reports that tell you exactly how much revenue your emails are bringing in every day!
These are just some perks you can look forward to in some of the best email marketing platforms for ecommerce. Let's check out 12 of the top options as you hunt down the right email marketing software for implementing your ecommerce email marketing strategy!
Best email marketing for ecommerce: summary
The 12 best options for email marketing for ecommerce are:
Omnisend, Klaviyo, and ActiveCampaign are among the best email marketing software for ecommerce stores. They have a good range of ecommerce email marketing features, such as abandoned cart reminders and email personalization. These platforms also offer SMS marketing if you want to engage your customers using both email and SMS.
Ecommerce features to look out for in an email marketing service
Since you're investing in an email marketing service for your store, the service needs to support your efforts to grow your store traffic and sales.
So look for an email marketing service that offers these ecommerce features:
☑ Online store integration
A direct store integration helps your email platform sync product and customer data from your shop and enrich your email marketing activities. For example, you could feature your store products in your emails, or send targeted emails (such as product recommendations or subscription reminders) based on your customers' order history.
Most good email marketing services will offer direct integrations with leading ecommerce platforms like Shopify, WooCommerce, and BigCommerce. So if you've built your store on one of these platforms, you generally don't have to worry about your store not integrating with them.
☑ Email templates
Your email platform should have a wide selection of attractive email templates you can customize for your emails. These templates should also be mobile-friendly in case your customers are reading your emails from their phone.
☑ Email editor
You'll use the email editor to design and write your emails, and you'll be doing that a lot! So it's important that your email platform's email editor is user-friendly and offers many customization options for crafting your emails to your exact specifications.
☑ Contact segmentation
Whether your email platform refers to contacts as "contacts," "subscribers," or even "people" (which is the case for Drip), it should let you flexibly segment them according to various parameters — for example, geography, age group, or even previous purchases.
From there, you can send emails containing offers targeted to each segment's unique characteristics — and increase your sales.
☑ Email automation
Your chosen email service should help you automate common ecommerce marketing scenarios, such as post-purchase follow-ups and the sending of winback emails. And cart reminders too, given how abandoned cart emails reap 3X more conversions than other automated email campaigns!
For the most personalized customer interactions, shortlist email platforms that support a wide range of triggers and actions as you build automations from scratch. (In this respect, our favorite email platform is ActiveCampaign.)
☑ Personalization
Addressing customers personally in your emails is pretty much a standard practice now (take a look at how H&M does it, for example). But for even more tailored emails — and higher sales — check that your email platform can add personalized email content for:
recommending products based on your customers' interests, or
displaying the exact items they have left behind in their cart.
☑ Sales reporting
Your store platform will tell you your latest sales transactions and how much you've earned, but not the extent of orders attributable to your emails.
That's where a good email platform will pick up the slack. It'll report on the subscribers who converted from certain emails, and how much revenue they contributed to your coffers. The more detailed its sales reports, the better!
☑ Customer relationship management (CRM) features
CRMs help you get a bird's eye view of your customers and their store behavior. They do so by storing individual profiles on your customers, including details on their geolocation, email address, purchase history, and website activity.
Using such data, you can understand how your customers interact with your store and email campaigns, then optimize your marketing efforts for higher sales.
While most email platforms will store basic info on your customers' names and email addresses, not many will offer insights into your customers' website activity and other advanced intel. If a good CRM is something you need, try the HubSpot CRM.
☑ Email deliverability
Email deliverability is a measure of an email platform's ability to deliver emails to their intended inboxes. There's little point in sending emails that don't reach their recipients, so select an email platform with good deliverability scores.
From our regular deliverability tests, MailerLite and ActiveCampaign tend to have some of the best deliverability scores around.
☑ Pricing
Finally, the email platform you go with should fall within your budget! But don't just look at its pricing — consider the value you'll get for the price you pay.
Although some platforms may charge similar fees for their email software, the extensiveness of their pricing plans may differ vastly.
Some platforms also offer "forever free" plans where you can use their platform for free so long as you stay within certain sending or subscriber limits.
12 best email marketing tools for ecommerce
1. Omnisend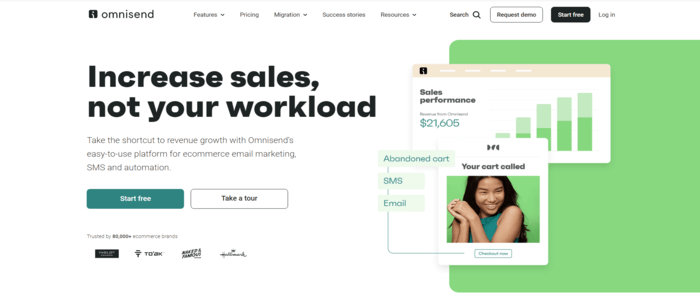 Omnisend is one of our top picks for ecommerce business owners. It's got all the features you'll need for comprehensive ecommerce email marketing, from signup forms and landing pages, to product blocks for your emails, pre-built ecommerce automations (called "workflows"), and discount coupon codes.
Segmentation and conditional content features make it easy to send personalized email campaigns to specific segments of contacts. And if you want to send SMSes and web push notifications to contacts, Omnisend can help with that too!
Just connect your store using Omnisend's direct integrations with Shopify, BigCommerce, WooCommerce, and more, and you'll be on your way.
Pros of Omnisend
Omnisend offers plenty of ecommerce-focused email marketing features, such as discount coupon codes and product listings, out of the box. This is unlike some other email platforms we've tested, where you'll need to integrate certain ecommerce features separately.
The platform's free plan is generous, giving you access to (almost) all its features at no cost. These features include advanced ones like automation splits, personalized recommendations, and conditional content blocks.
Apart from sending emails, Omnisend also lets you send SMSes and web push notifications. Not all email platforms we've tested offer these even though they're common marketing channels for ecommerce stores.
Cons of Omnisend
Based on our regular email deliverability tests, Omnisend's deliverability isn't the best.
Advanced reports aren't updated in real time — for example, the detailed campaigns report is updated only once a day. The data you see in your advanced reports may therefore not provide a fully accurate picture of your emails' performance.
Omnisend pricing
500 emails to 250 contacts: $0
2,000 contacts: $30/mo
5,000: $65/mo
10,000: $115/mo
50,000: $330/mo
More information on Omnisend pricing available here.
Who is Omnisend best suited to?
Online stores in need of a comprehensive email marketing tool for ecommerce will find Omnisend a strong option.
> Read our full Omnisend review
2. Klaviyo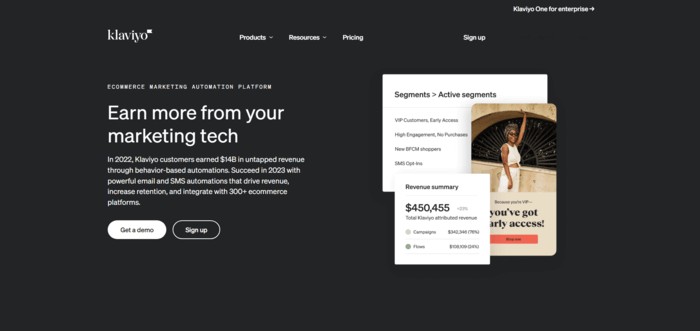 Klaviyo fared a little worse than Omnisend in our recent Omnisend vs Klaviyo review, but this ecommerce email marketing platform is still a worthwhile option.
From our tests, Klaviyo is highly user-friendly and this is always a plus when you're creating advanced email marketing campaigns. The platform also sports gorgeous email forms, for which you can set up Google Analytics goal and conversion tracking.
If you're planning on sending marketing texts, you'll be glad to know that Klaviyo supports SMS marketing. In fact, you can build automations that deliver both automated emails and SMSes to contacts in your marketing funnels!
Our research shows that email platforms generally don't double as customer data platforms (CDPs). But Klaviyo does! Using its built-in CDP, you can combine customer data from various sources, and get the fullest pictures of your customers when marketing to them.
Pros of Klaviyo
With Klaviyo, you can A/B test your email subject line and copy — and your email forms too. A/B-testing of email forms isn't a common feature in the email platforms we've tested.
It's easy to build emails using Klaviyo's drag-and-drop editor. I also like how you can add dynamic product recommendations in your emails. This is something that some other platforms, such as ActiveCampaign, don't offer.
Uniquely, Klaviyo provides industry email benchmark data so you can measure how your campaigns are performing compared to your peers.
Cons of Klaviyo
Klaviyo's email automations (called "flows") are somewhat basic. There are only a couple of automation actions and you can set up only one automation trigger per flow. Some other platforms we've tested let you add multiple triggers with no issues.
If you're on Klaviyo's free plan, you'll get email support for only the first 60 days from signup.
Klaviyo pricing
500 emails to 500 contacts: $20/month
10,000 emails to 1,000 contacts: $30/month
50,000 emails to 5,000 contacts: $100/month
105,000 emails/month to 10,000+ contacts: $175/mo
Who is Klaviyo best suited to?
If you intend to build comprehensive profiles of your customers for marketing to via email and possibly also SMS, take advantage of Klaviyo's CDP and SMS marketing features to do just this.
3. ActiveCampaign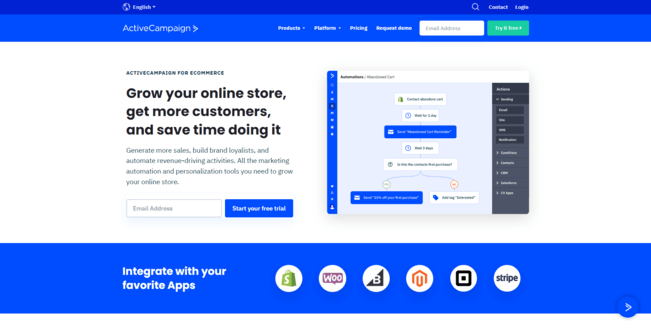 And here, we have our all-time favorite email platform for marketing automation. (No, seriously — we've awarded ActiveCampaign our Best Email Marketing Tool badge for 2023!)
This powerful email marketing tool lets you set up sophisticated automations for practically any need, be it sending discount codes to contacts on their birthday, following up with contacts interested in certain products, or something else.
Meanwhile, ActiveCampaign's flexible contact management features mean you can precisely segment your contact list, before targeting each segment with relevant emails. The sending of order confirmation, password reset, and other transactional emails are also available for a separate fee. Have I made our love for ActiveCampaign clear yet?
Pros of ActiveCampaign
Automations! ActiveCampaign's marketing automations are extremely powerful, with plenty of triggers and actions to choose from. Pre-built automation templates (called "recipes") are also available if you want help getting your automation off the ground.
Track the performance of your campaigns, contacts, ecommerce, and more with ActiveCampaign's reports. All the basic stats are there, such as open rates and click-through rates, but you can also get niche info such as clickmaps and contact geolocations. The platform's reporting capabilities are among the most comprehensive we've seen in the market.
Email deliverability in ActiveCampaign is fantastic.
Landing pages are also available as part of ActiveCampaign's Marketing Plus plan.
Cons of ActiveCampaign
There's no free plan and ActiveCampaign's prices can be fairly high.
Given ActiveCampaign's extensive features, you may face a steep learning curve as you familiarize yourself with the platform. You may not want to go through such hassle if you have simpler email marketing needs.
ActiveCampaign pricing
1,000 contacts: $39/mo
2,500 contacts: $61/mo
5,000 contacts: $99/mo
10,000 contacts: $174/mo
50,000 contacts: $486/mo
Learn more about ActiveCampaign pricing.
Who is ActiveCampaign best suited to?
Store owners who are passionate automators should make a beeline for ActiveCampaign. Get ready to automate your store email marketing to your heart's content!
> Try ActiveCampaign in a free trial
> Read our full ActiveCampaign review
4. GetResponse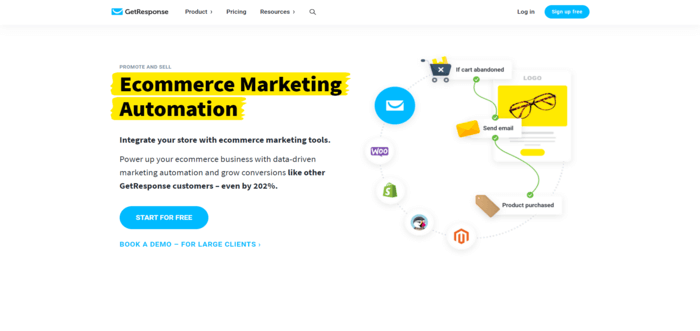 GetResponse's interface looks a bit dated, but don't underestimate this platform. Integrate your store with it and you can send automated emails for recommending products, recovering abandoned carts, follow up with customers post-purchase, and more.
Conversion funnels are a feature unique to GetResponse, where you can set up end-to-end sales funnels featuring your store products. And if you're running an omnichannel marketing strategy, you'll love how GetResponse can help you engage customers via SMS, paid ads, and even webinars from its platform!
Pros of GetResponse
GetResponse's customizable email templates and forms are beautiful and there is a good number of them to choose from.
The platform has a wide variety of segmentation options for creating groups of contacts.
You can also automatically generate email subject lines using AI.
Cons of GetResponse
GetResponse has a free plan, but you might find it impractical. That's because you can't integrate your store unless you upgrade. Even then, many ecommerce-related features are locked behind the platform's (fairly expensive) Ecommerce Marketing plan.
While I found GetResponse's email editor easy to use, I wish it would let you add conditional content blocks to emails.
GetResponse pricing
1,000 contacts: $19/mo
2,500 contacts: $29/mo
5,000 contacts: $54/mo
10,000 contacts: $79/mo
50,000 contacts: $299/mo
Learn more about GetResponse pricing.
Who is GetResponse best suited to?
Use GetResponse if you want to manage complete sales funnels and multiple marketing channels from one platform, and you don't mind shelling out more to get access to ecommerce features.
> Read our full GetResponse review
5. MailerLite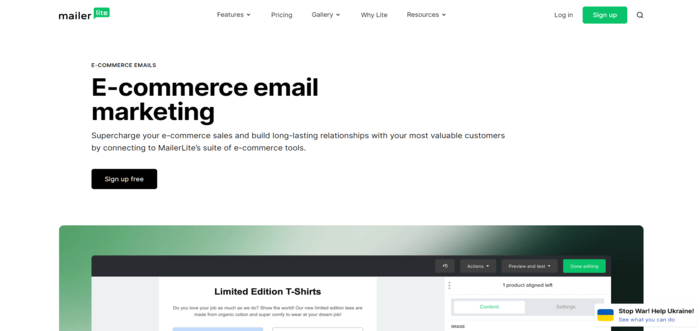 There's a reason why MailerLite scored our Best Email Marketing Tool For Ease of Use badge for 2023 — it is just that easy to use. The interface is clean and intuitive, and most features are rarely more than a few clicks away.
On the ecommerce front, MailerLite integrates directly with all the main ecommerce platforms, and you can showcase your store products in your emails. The platform will even keep track of the number of subscribers who bought these products (and how much revenue you've earned accordingly)!
The best part? All these ecommerce features can be used at no cost under MailerLite's free plan.
Pros of MailerLite
MailerLite's free plan is generous, letting you build automations, split-test emails, and even send surveys and quizzes to up to 1,000 subscribers for free.
Adding product blocks of varying layouts to your emails is straightforward. I also like how you can set up strikethrough formatting for your product prices to indicate price reductions, which is a great sales tactic.
MailerLite also has stellar email deliverability. In fact, it came out tops in our latest deliverability tests!
Cons of MailerLite
MailerLite has limited ecommerce automation capabilities. You can set up automations triggered by store purchases and cart abandonment, but not those triggered by the viewing of a product or the subscription of back-in-stock notifications, for example.
The platform's reports could also be more full-featured. For one, it'd be great to see social media and conversion tracking reports.
MailerLite pricing
1,000 contacts: $0/mo
2,500 contacts: $17/mo
5,000 contacts: $32/mo
10,000 contacts: $54/mo
15,000 contacts: $87/mo
Learn more about MailerLite pricing.
Who is MailerLite best suited to?
MailerLite is perfect for users who want a beginner-friendly platform for their ecommerce email marketing efforts. It's also a great choice if you want to get started on a budget.
> Read our full MailerLite review
6. Drip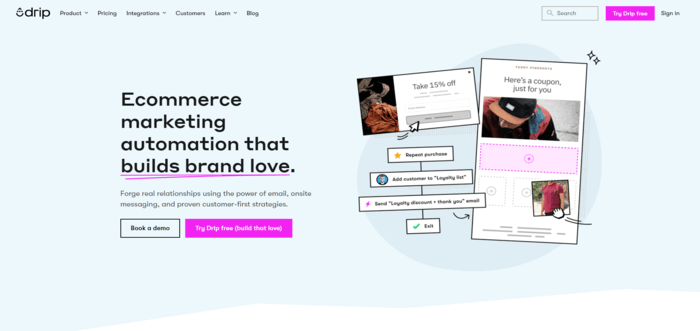 Apart from its bright colors and quirky graphics, customer engagement is one of Drip's greatest strengths. Other email platforms may limit you to distributing standard ecommerce lead magnets like discounts and free shipping, but Drip's advanced email forms (called "onsite campaigns") support mystery offers, quizzes, and even "spin-to-win" gamification.
Once you've collected some subscribers (aka "people" in Drip terminology), you're spoilt for choice as to the filters you can use to segment them. Send your segmented people a targeted one-off single email campaign, or automate the interaction in split-path automations (or "workflows"), and personalize the customer journey as you please.
P.S. Drip doesn't offer SMS marketing, web push notifications, social ads, CRM, or CDPs — it does email and email only. If you want your email platform to also support such other marketing channels, you're better off checking out the other platforms in this guide.
Pros of Drip
This ecommerce email marketing software offers a good range of workflow triggers and actions. They're also helpfully categorized by platform to make finding the right trigger or action for your workflow easier. For example, selecting BigCommerce triggers will display only triggers that apply to BigCommerce store events.
Instead of the regular email sign-up forms, Drip lets you create "onsite campaigns" that come embedded with daily offers, surveys, gamification, and more. The platform even previews your onsite campaign on your website as you're building it.
Drip doesn't lock any of its features behind more expensive plans. You'll pay more only if you have more people on your email list. (That said, there is no free plan and we find Drip to be generally pricier than other email platforms.)
Cons of Drip
Although Drip's interface is fun and colorful, it isn't the easiest to navigate among the various email platforms we've tested.
Drip's deliverability is rather dismal, coming in third from last in our latest email deliverability tests.
Drip pricing
2,500 contacts: $39/mo
5,000 contacts: $89/mo
10,000 contacts: $154/mo
50,000 contacts: $699/mo
Who is Drip best suited to?
If you want to grow your email list using exciting offers, surveys, and games, Drip will help fill out your pipeline with people in no time!
7. Mailchimp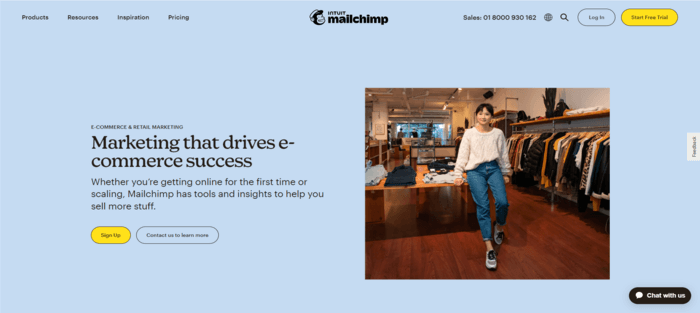 You've probably heard of this household name as you started researching email providers. With Mailchimp's easy-to-use platform, you can design email forms and landing pages to collect contacts, then convert them using automated email campaigns. Sending ecommerce-specific emails, such as abandoned cart emails and order confirmations, is also possible.
But from being just an email platform in the beginning, Mailchimp has since expanded its feature set to help users manage marketing channels such as social media, digital ads, and postcards. Mailchimp can even help you build a store if you don't already have one on another platform.
Just be aware that Mailchimp will take a 0.5–2% transaction fee on each sale you make through your Mailchimp-built store. What's more, this fee is on top of the credit card fees and Mailchimp subscription fees you'd already be paying!
Pros of Mailchimp
You can pull your product data directly into your emails after connecting your store to Mailchimp.
Unlike some email platforms we've tested, Mailchimp offers ecommerce-specific automation triggers such as when a customer purchases a product, abandons their cart, or views a certain Shopify store page.
Like MailerLite, Mailchimp makes many of its ecommerce features, such as order and shipment confirmation emails and sales reporting, available on its free plan.
Cons of Mailchimp
Mailchimp charges for even inactive and unsubscribed contacts on your contact list, which is a downer considering how expensive its plans quickly get. We've covered Mailchimp pricing in more detail here.
The platform stores your contacts in lists and there's no way of managing contacts across lists. For instance, you can't mix and match contacts from different lists when creating segments.
Mailchimp pricing
500 contacts: $13/mo
2,500 contacts: $39.50/mo
10,000 contacts: $100/mo
30,000 contacts: $295/mo
50,000 contacts: $350/mo
Learn more about Mailchimp pricing.
Who is Mailchimp best suited to?
Pick Mailchimp if you want to manage your store marketing (not just email, but social posts and digital ads as well) from one user-friendly platform.
> Read our full Mailchimp review
8. Brevo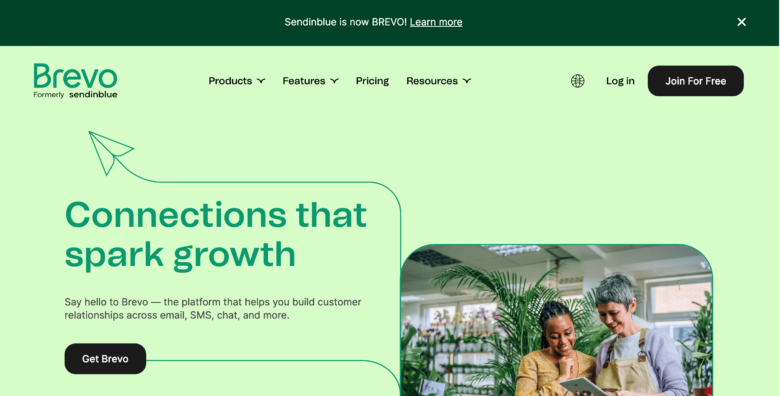 Brevo, which was previously called Sendinblue, is one email platform to consider if your budget is limited. This email marketing software offers a good range of advanced features, such as A/B-testing, SMS marketing, and send time optimization, for one of the most affordable prices we've seen on the market.
(It's therefore no surprise that Brevo wins our Best Email Marketing Tool For Value For Money badge for 2023!)
While it doesn't have the fancier bells and whistles you might see in ecommerce-focused email platforms, such as Omnisend or Drip, Brevo still does ecommerce email marketing pretty well. It syncs with all leading ecommerce platforms to display your products in your emails, automate the sending of abandoned cart emails, and segment your contacts using their order history.
Such ecommerce features are available on Brevo's free plan — which has no contact limits, so you can build your email empire for free as long as you send not more than 300 emails per day.
Pros of Brevo
Conditional content blocks let you personalize your emails for higher conversions.
Brevo's ecommerce dashboard gives you a neat overview of your order and revenue figures, and best-selling products for any specified period. It also tracks the adding of products to carts, and cart checkouts, in real time.
Transactional emails, WhatsApp campaigns, and SMS marketing features are available even on Brevo's free plan.
Cons of Brevo
While Brevo can automatically display your store products in your emails, it can't get info on your product variants.
Brevo's contact segmentation options aren't as extensive as those we've seen in other email platforms.
Brevo pricing
300 emails/day: $0/mo
40,000 emails: $35/mo
60,000: $49/mo
100,000: $115/mo
Learn more about Brevo pricing.
Who is Brevo best suited to?
Brevo is the right choice if you're after an affordable email marketing solution for your ecommerce store. This email platform already works great on the free plan, and you don't necessarily need to pay much more to unlock further value for your email marketing efforts.
9. Shopify Email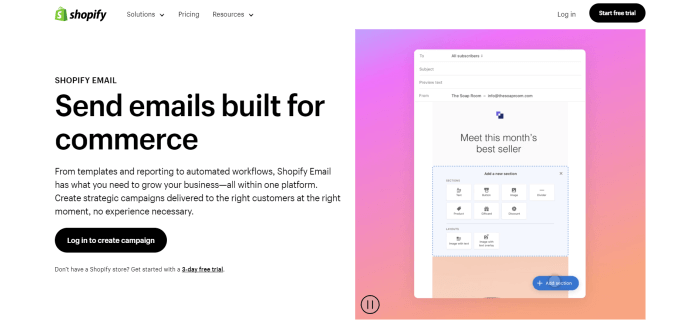 Using Shopify for your store, or planning to do so? Then tapping into the platform's native email marketing outreach service might seem like a no-brainer.
Naturally, your email list will comprise customers who have consented to receiving your emails. You can also use the separate Shopify Forms app to collect email subscribers who haven't bought from you yet.
After that, set up marketing automations for sending automated emails to subscribers. The usual suspects, such as abandoned cart and customer winback automations, are included as default templates, and you can also build custom automations.
Considering how Shopify lets you send up to 10,000 free emails every month, Shopify Email is definitely an option to explore if you're a current or prospective Shopify owner.
Pros of Shopify Email
Managing a Shopify store and your email marketing within the same platform is highly convenient.
There is a generous limit of 10,000 free emails per month. It costs $1 for every subsequent block of 1,000 emails, which isn't too expensive either.
You can add express checkout buttons to your emails to let customers skip the cart page and directly pay for your emails' featured products. It's a useful feature for reducing checkout friction that could hurt your conversion rate.
Cons of Shopify Email
There are only a handful of email templates to choose from and they look quite basic. Customization options in the email builder are also limited.
Shopify's customer segmentation filters work fine but they're presented in programming language-format (such as "products_purchased ( ) = true"), which can be confusing for non-coders.
Shopify Email pricing
10,000 emails per month: Free
20,000 emails: $10/month
30,000 emails: $20/month
50,000 emails: $40/month
Who is Shopify Email best suited to?
Shopify store owners, of course — but specifically those who value the convenience (and cost savings) of managing their store and email marketing in one place.
You can also check out our guide to the best ecommerce email marketing services for Shopify if you're still undecided.
> Try Shopify Email for free with a Shopify store trial
10. SmartrMail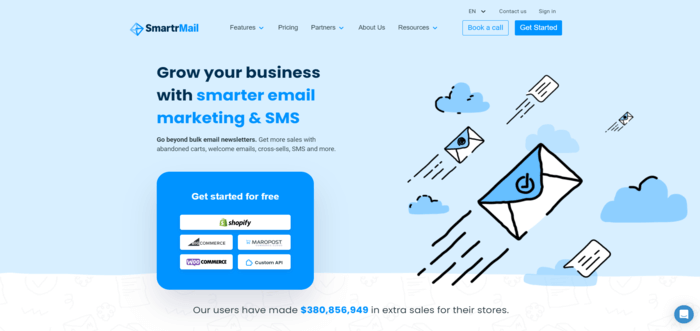 SmartrMail is designed to integrate with Shopify, BigCommerce, WooCommerce, and Maropost, and offers store email marketing features such as newsletters, ecommerce automations, and email templates.
A Brand Kit feature lets you set up default brand styles for your emails, and the platform also automatically generates email templates to match your store's design. Using both features, you can rest assured that you keep your email marketing assets on-brand.
Although SmartrMail integrates with WordPress, I'm not sure I'd recommend using it for a WooCommerce store. The SmartrMail WordPress plugin appears to have only 80 active installations at this time.
What's more concerning is how the SmartrMail WordPress plugin has neither been updated in over two years nor tested with the latest three major WordPress releases. It might still work with your WooCommerce store for now, but such compatibility might break if SmartrMail doesn't release further plugin updates.
Pros of SmartrMail
SmartrMail's recommendation engine can automatically generate product recommendation emails for your customers. All you have to do is review the suggested email content, set your subscriber list, then send the email. We haven't found many other email platforms with a similar recommendation engine feature.
There's a decent number of email templates designed for use in seasonal holidays, various points of the customer journey, and for stores in certain industries.
The platform includes a few pre-built smart segments for common customer scenarios, such as customers who have placed an order within the last 30 days. You can also create your own smart segments.
Cons of SmartrMail
The platform's automations aren't the most sophisticated. For example, they can have only one trigger and can't help to tag subscribers.
SmartrMail integrates with only Shopify, BigCommerce, WooCommerce, and Maropost. You won't be able to use it if you've built your store on another ecommerce platform, such as Volusion or Shift4Shop. And see what I mentioned above about SmartrMail not being the best choice for WooCommerce stores.
SmartrMail pricing
1,250 emails to 250 subscribers: Free
1,000 subscribers: $19/month
5,000 subscribers: $49/month
10,00 subscribers: $86.50/month
50,000 subscribers: $386.50/month
Who is SmartrMail best suited to?
With SmartrMail's last WordPress plugin update being sometime back, the platform would be best for Shopify, BigCommerce, or Maropost store owners who want smart recommendations on email template designs, and products to promote to customers.
11. Constant Contact

Constant Contact pitches itself as a digital marketing platform rather than an email one per se, and this shows from its SMS marketing and social media marketing features. But it still offers typical ecommerce email marketing capabilities, such as integrating with your store and sending abandoned cart emails.
That said, I have doubts about Constant Contact's email forms. They're essentially simple text forms and may work for a store that wants to convey seriousness and professionalism. But if your ecommerce store has a more lighthearted or funkier aesthetic, you may find Constant Contact's forms too plain for your liking.
So given the platform's rather basic email form and automation capabilities (more on the latter below), Constant Contact's pricing doesn't have the best price-performance ratio. This is unless you're opting for its cheapest Core plan, which is $9.99/month for up to 500 contacts.
Otherwise, many other platforms I've discussed here deliver just as good — if not more powerful — email marketing capabilities at more attractive price points.
Pros of Constant Contact
Unlike some other email platforms we've tested, Constant Contact lets you select product variants when embedding products in your emails.
If you've set up multiple abandoned cart email automations in Constant Contact, the platform will ask you if you want to remove an older one so you don't accidentally send customers repeated emails for the same abandoned cart. Nice!
Constant Contact's deliverability rates were quite respectable in our regular email deliverability tests.
Cons of Constant Contact
The platform's email forms look rather bland. It seems you can't even add images to them.
It'd be nice if Constant Contact had more powerful automations. Among other limitations, its automations can have only one trigger and they also can't help you tag contacts.
Constant Contact pricing
500 contacts: $12/mo
2,500: $50/mo
5,000: $80/mo
10,000: $120/mo
Learn more about Constant Contact pricing.
Who is Constant Contact best suited to?
Use Constant Contact if you have a small email list and are happy to work with simpler (and hence easier-to-manage) email automations.
> Try Constant Contact in a free trial
> Read our full Constant Contact review
12. HubSpot

HubSpot seems like a sweet deal at first glance. The platform provides a variety of free marketing tools, which are good for setting up simple forms and sending one automated email per form, among other features.
Meanwhile, you can use HubSpot's CRM features to manage your contacts for free. HubSpot can also help you send abandoned cart emails if your store runs on Shopify.
But HubSpot's marketing automations pose a major stumbling block. Its free plan restricts you to one action per email automation, and this cap increases to 10 for the platform's lowest plan (Starter). You'd need a Marketing Professional plan or higher to get unlimited automation actions — and this plan is really expensive at $890/month and up.
Given the role of automations in effective email marketing, this high price point may turn you off HubSpot when other platforms provide similar automation features for much less.
Pros of HubSpot
HubSpot's built-in CRM lets you compile detailed customer behavior profiles with information such as your customers' latest store activity, purchases, and support interactions.
You can segment your contacts using a variety of filters for targeting purposes.
The platform's attribution reports can track exactly which store pages or email campaigns resulted in new store orders. This is great for identifying which marketing efforts are delivering the highest return on investment.
Cons of HubSpot
While HubSpot can integrate with Shopify, WooCommerce, and BigCommerce, its abandoned cart email functionality is compatible with only Shopify stores. Also, you need a paid third-party app to integrate HubSpot with BigCommerce.
The platform charges an arm and a leg for access to its full marketing automation features.
HubSpot pricing
2,000 emails per month: Free
1,000 contacts (5 emails per contact): $18/mo (Marketing Hub Starter plan)
2,000 contacts (10 emails per contact): $800/month (Marketing Hub Professional plan)
Read more on Hubspot pricing.
Who is HubSpot best suited to?
HubSpot works best with stores built on Shopify, so I'd recommend it only if you run a large Shopify store and therefore have deep pockets to afford HubSpot's marketing automation features.
Which ecommerce email marketing solution is right for your store?
After testing the features of the 12 best email marketing software for ecommerce above, I'm leaning in favor of the platforms specially built to serve online stores. Namely Omnisend, Klaviyo, Drip, and — unless you use WooCommerce — SmartrMail. (And Shopify Email, too, if you operate a Shopify store.)
That's because they can do what non-ecommerce email marketing platforms can do — plus other things that only store owners will find valuable, such as displaying product listings in emails.
But that's not to say you should rule out the more generalist email platforms altogether. You may relish ActiveCampaign's powerful email and SMS marketing automations, or the omnichannel marketing features of GetResponse and Mailchimp.
If you have a small email list, MailerLite, Brevo (Sendinblue), and Constant Contact might be good free or value-for-money options. And finally, try HubSpot if you want access to a powerful CRM.
These 12 email platforms all offer either a free plan or free trial, so use these to test-drive their features before you commit to any of them!
I'm also happy to take questions on any of the email platforms discussed here — just drop them in the comments below.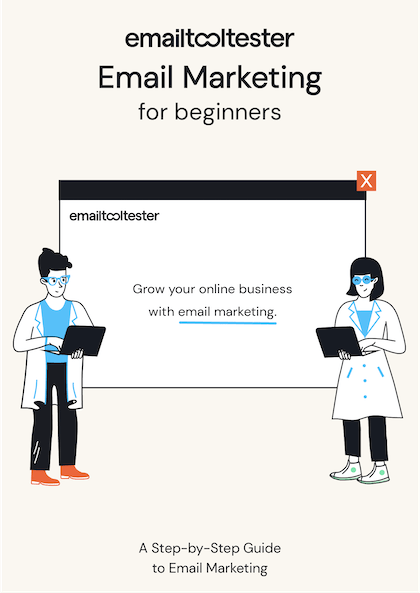 Email Marketing Crash Course: Step-by-Step Guide
Our email marketing course for beginners: ideal for small and medium-sized businesses, online stores and bloggers. It shows you all the steps you need to send your first email campaign. Best of all, it's free!
Sign up to receive your copy immediately!
We keep our content up to date
12 May 2023 - Sendinblue is now called Brevo
25 Apr 2023 - Added video review of HubSpot
Our Methodology
This article has been written and researched following our EmailTooltester methodology.
Our Methodology