If you work in sales or marketing, you've most likely come across HubSpot in one capacity or another. Owning almost a third of the marketing automation market, it's clear HubSpot is a widely used platform, often recommended as one of the best CRMs for small businesses.
Champions of inbound marketing, they have tons of free resources available; most notably their free online course and comprehensive blog.
Now, I'll be upfront with you, having done both the course and used their free CRM as a marketer, I'm a fan of HubSpot. Their free plan is generous, and their platform is really easy to use, but there's a reason why the company I worked for never upgraded to one of their paid plans. As a startup, we just couldn't justify the extra monthly costs.
You can find out more about HubSpot's pricing and plans here.
So, what spurs paying and non-paying HubSpot users to look for an alternative?
In the case of those on a paid plan, many business owners upgrade thinking that it's going to be the answer to all their problems, only to discover that they aren't getting their money's worth. After all, you need the staff and time to really make the most of all the features you're paying for. In fact, many end up paying for the use of just a few top features, and this can be pretty costly.
Those using HubSpot's free CRM are most likely small-to-medium-sized businesses, who – as the name implies – started using it to manage their leads and customers. However, with a host of limitations (more on that below), many find the service to be lacking but do not have the funds to upgrade to one of their paid plans. But first:
What HubSpot Does Well
First, let's take a quick look at why some might want to stick with HubSpot. (See full Hubspot CRM review here)
Free plan:
Their free CRM plan is pretty generous, with the ability to add unlimited users and 1M contacts. It allows you to integrate with Gmail and Outlook, set up forms and newsletters and create tasks and goals for your team. Find out how it stacks up against our list of the best free CRM software.
Support:
They have a breadth of helpful resources and channels of communication, plus their customer support agents are very responsive and knowledgeable. They support 6 languages (English, French, German, Japanese, Portuguese and Spanish).
CRM features:
You can see the complete activity of any given lead, e.g. their downloads, the source, which landing pages they've visited, etc. You can also easily manage your sales pipelines by organizing and tracking every aspect. Set up lifecycle stages and tag leads based on their interest and where they are in the buyer journey.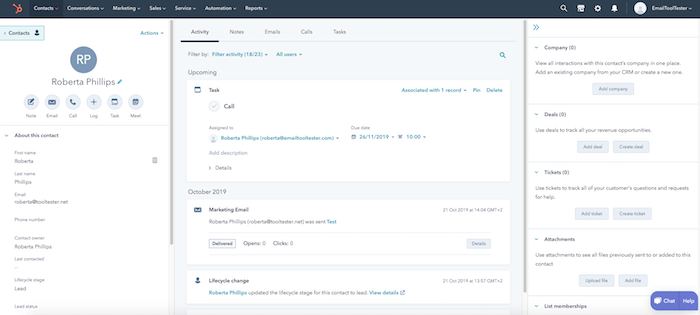 Mobile app:
The fact that HubSpot comes with a mobile app makes it easy for users to keep track and take care of business when on the move.
Integrations:
Hundreds of integrations with third-party apps are available.
HubSpot's Biggest Drawbacks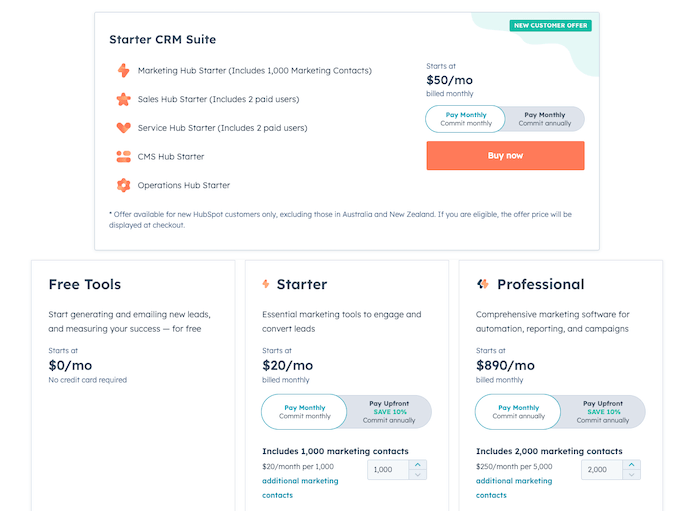 Price:
HubSpot's Starter plans are $20/month or $50 for the CRM Suite bundle, which isn't a bad deal for small businesses.
However, if you want access to HubSpot's pro marketing features such as omnichannel marketing automation, A/B testing, deal and company scoring, dynamic personalization and blog creation, you'll need to fork out a hefty $890/month. And, to be honest, there are plenty of tools that do most of these things better and for less money – like the ones on this list!
On top of that, the Pro and Enterprise plans require a 12-month contract and very pricey onboarding fees.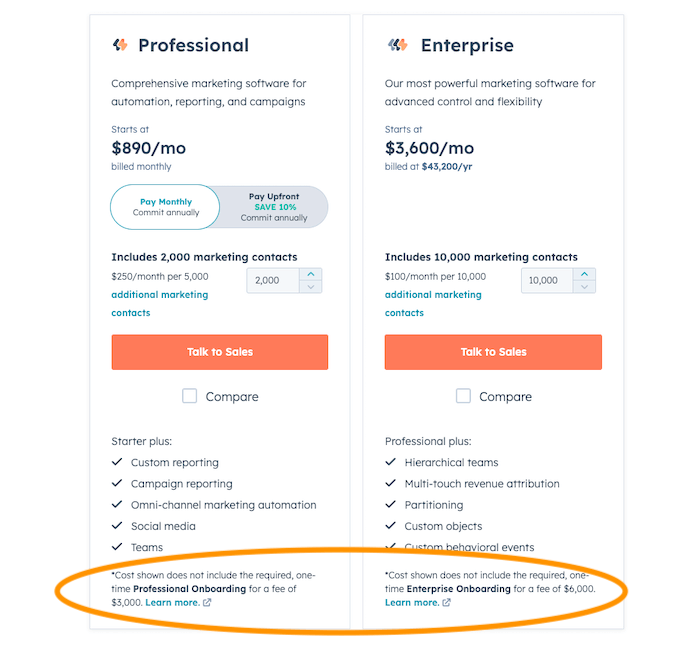 Cheaper, more flexible alternatives: Freshsales, Brevo, ActiveCampaign, GetResponse, Aritic PinPoint, EngageBay, Pipedrive
Reporting:
The reporting features that come with the free plan are quite limited and you'll have to buy their reporting add-on ($200/month) in order to create custom reports and multiple dashboards.
Reporting alternatives: ActiveCampaign, GetResponse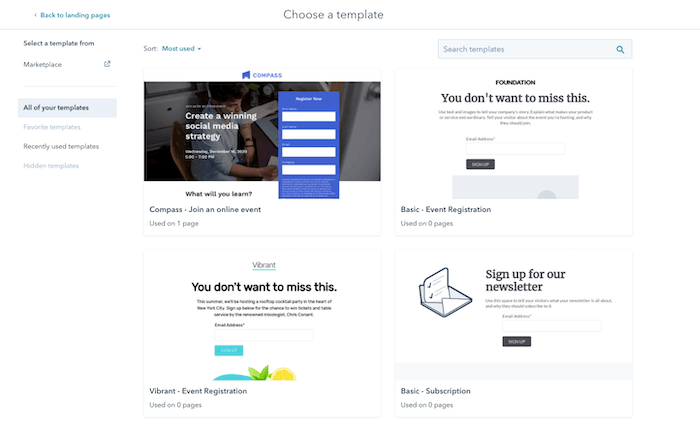 Templates:
As you can see above, HubSpot's own selection of landing page and email templates isn't the best. They have their Asset Marketplace where you can purchase landing page templates, but that stings quite a bit considering you're already paying such a lot.
Alternatives for templates: Ontraport, GetResponse, Wishpond
Tasks:
Not a deal-breaker, but you can't schedule recurring tasks. This means if you have daily tasks that you want to add to your Task Queues you will have to manually add each daily task. Tasks don't sync to your Google Calendar.
Alternatives: ActiveCampaign
You can find out all about HubSpot's pros and cons in our video review:
HubSpot Video Review
12 HubSpot Alternatives
There are plenty of all-in-one solutions that won't break the bank, the key is knowing exactly what features you need and not paying an excessive amount for features you don't. The tools on this list are varied in their offerings and prices, so you're bound to find the right one for you.
ActiveCampaign
ActiveCampaign is a powerhouse all-in-one marketing solution without the hefty price tag.
One of the most important features of this Chicago-based company is its automations, which allow you to automate follow-up campaigns, edit multiple conditions, and much more, all within their easy-to-use flowchart-style editor.
We actually named ActiveCampaign our top email marketing tool in light of their superb automation capabilities, excellent deliverability rates, and great value for money, amongst other reasons.
Where ActiveCampaign beats HubSpot:
ActiveCampaign boasts a robust CRM, which makes automating tasks between sales and marketing seamless. I especially like features such as lead/contact scoring and their simple drag and drop card-based pipelines (Trello users will know what I mean).

A landing page editor and a decent range of templates are also included in the Plus plan, making it another attractive all-in-one provider of website-building and email marketing tools.
If you don't require a CRM or landing pages, you can select a marketing plan, their Marketing Lite plan starts from $39 for first-rate email marketing (including 125 responsive templates), marketing automation tools, reporting, and support. Otherwise, the Sales Plus plan starts at $23/month, and this includes deal and contact management features.
Bear in mind that HubSpot only offers email automation on the Starter plan and if you want to unlock its omnichannel marketing automation features, you'll have to pay $890/month, making it one of the pricier omnichannel software options! ActiveCampaign have made quite significant changes to their pricing and plans, dividing their services into Marketing and Sales, you can purchase these together as a Bundle. Sounds familiar right? Find out more about ActiveCampaign's pricing here.
If you're an ecommerce business, the deep data integrations ActiveCampaign offers will be beneficial, as you can import orders into your account. Right now it's available for WooCommerce, Shopify, BigCommerce and Square.
ActiveCampaign's standard reporting features are also superior to HubSpot's. Aside from standard campaign reports, they also have automation reports, contact trend metrics, conversation reports (for their live chat and email support feature) and goal-based reports that you can set up yourself. Ecommerce reports are also available.
ActiveCampaign also allows you to sync calendar tasks from Google Calendar, Outlook and Apple Calendar, so that they show up within your CRM – something that HubSpot hasn't yet developed.
I could sing ActiveCampaign's praises all day, but I know you're busy. If you'd like to delve deeper into their features, you can check out our comprehensive review here.
Where HubSpot wins:
ActiveCampaign has limited dashboard customization options compared to HubSpot (though this feature isn't cheap).
ActiveCampaign doesn't offer a free plan (though it is much better value for money when you consider all the premium features you get for a very reasonable price.
Check out our detailed ActiveCampaign vs HubSpot comparison, or find out more in our ActiveCampaign alternatives guide.
Recommended for:
Due to ActiveCampaign's premium features and affordable starter plan, all business sizes can benefit from signing up to ActiveCampaign.
If yours is an ecommerce business, you can personalize your email marketing based on purchasing behavior, order data, and recover abandoned shopping carts.
Try out ActiveCampaign for free! 
Freshsales
Freshsales is primarily a customer relationship management software for sales teams. It comes with visual sales pipelines, workflows, custom reports, and much more.
There are three paid plans to choose from: Growth, Pro and Enterprise. There is also the option to sign up for the 'Freshsales Suite', which is for those looking to make use of a few additional marketing features.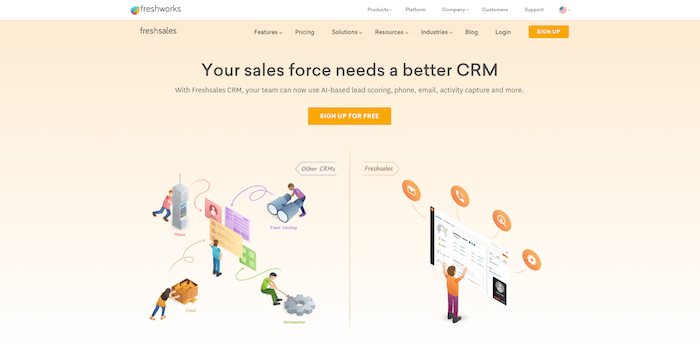 Where Freshsales beats HubSpot:
Compared to HubSpot, Freshsales has a much simpler pricing structure, and the price jump between tiers isn't as severe as with HubSpot. There's also a free plan available for those just starting out.
The CRM software is robust and comes with plenty of customization options. Visually, the interface is easy to read; I especially liked the drag and drop deal pipeline view, which gives you all the information you need at a glance, including tags such as 'Warm lead' or 'At risk'. Leads are also given a score, which allows you to analyze them on an even deeper level.
Where HubSpot wins:
No reports are available on Freshsales' free plan, whereas HubSpot's reports are pretty detailed, even on their free plan. In fact, HubSpot's free plan is a bit more generous than Freshsales', as it includes 1M contacts.
Recommended for:
Freshsales is a reasonably priced CRM software for small businesses. It will appeal more to sales teams than marketing, however, you might find the Freshsales Suite has enough features to keep both teams happy.
EngageBay
EngageBay is a tool that can pretty much match HubSpot in terms of features. Their offering includes email marketing, landing pages, live chat/helpdesk, ticketing, appointment scheduling, contact management and more. What's more, it's also pretty easy to use!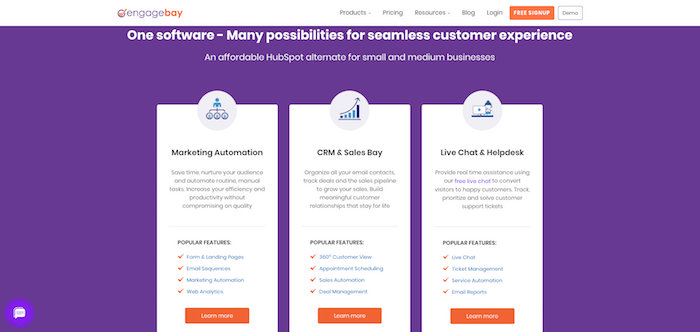 Where EngageBay beats HubSpot: 
They offer a free plan, which includes a wide variety of features, and is not dissimilar to HubSpot's. The difference is apparent when you look at EngageBay's paid plans. The prices are really very reasonable, especially when you consider how comprehensive their services are. Their Pro plan will cost you just $49.99/month and there are no compulsory onboarding fees.
In terms of contact management, EngageBay allows you to store as much (or as little) as you like. Add notes, store documents, see which emails leads have been sent, any chats they've had with agents, etc.
Where HubSpot wins: 
If you compare just their free plans, you'll see that EngageBay limits your emails and contacts to 1,000, whereas HubSpot is a bit more generous (2,000 emails and 1M contacts).
In terms of integrations, HubSpot beats EngageBay.
Recommended for:
Startups and small-to-medium-sized businesses looking for an affordable, all-in-one marketing suite.
Zoho CRM
Zoho, like HubSpot, is an all-in-one marketing powerhouse. Its most popular services include email hosting, website creation, and customer relationship management software, however, you'll also find accounting, customer service, and project management software featured on their long list.
If you're looking for an alternative to HubSpot, then you'll most likely be interested in the CRM software – the good news is that Zoho CRM allows for up to 3 users for free.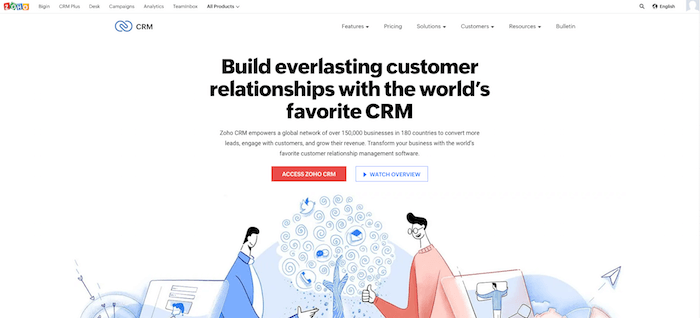 Where Zoho beats HubSpot:
Aside from the fact that there is a free plan available, the paid plans are reasonably priced, as you only pay for what you need.
I liked that in Zoho CRM you have 3 different views (kanban, canvas and tubular) for contacts, leads, accounts and deals. HubSpot just has 2 views.
Something quite unique to Zoho CRM is the 'activities' section, which allows you to filter by activity type, e.g. open tasks, tomorrow's meetings, all calls, etc. There are tons of filters to choose from, and it seems a great way to find what you're looking for quickly.
The reports you can generate are endless and the analytics section is detailed and visually very easy to read. You can also create custom dashboards.
Where HubSpot wins:
Though the interface is fairly easy to navigate, it isn't particularly modern, especially when compared to HubSpot's. There's also no live chat support available, whereas the support available on HubSpot is very fast.
HubSpot offers some features that Zoho CRM doesn't, for example, event management and split testing.
Recommended for:
Zoho CRM caters to both enterprises and small businesses. With no set-up fees and a pay-for-what-you-need pricing model, it's a great HubSpot CRM alternative to consider.
GetResponse
Polish-based company, GetResponse, has more than 15 years of experience in the business. Their global reach extends to 183 countries and their services are available in 27 different languages.
Their offering is an interesting one, especially with the addition of the conversion funnel. This is a feature they added in early 2019 which takes care of traffic generation, and it can even act as an online store.
Like ActiveCampaign, they feature impressive automations, which are both 'easy and advanced' – a marketer's dream!
Find out more about GetResponse's features in this video:
Where GetResponse beats HubSpot:
What makes GetResponse a great HubSpot alternative is their conversion/sales funnel feature.
It comes with pre-built funnel templates you can use to efficiently create your own funnels that consist of landing pages, forms, emails, etc. and you can even process payments through gateways such as Stripe, PayPal and Square.
GetResponse has over 180 responsive landing page templates, which you can A/B test to get optimal results. Unlimited landing pages are available on all of the plans, which means that even if you're paying $19, you'll benefit from this feature.
The Plus plan is a little more expensive, but the features are obviously a lot more advanced; it'll cost you $59/month for 1,000 subscribers, unlimited webinar funnels and webinar hosting for up to 100 attendees. You'll also have 5 sales funnels. Of course, there are cheaper plans but these don't come with advanced automations. Find out how GetResponse's prices compare to HubSpot's here.
Where HubSpot wins:
GetResponse doesn't include a CRM in its free plan, so if it's just a CRM you're after, HubSpot's free CRM is a good option.
If you're prepared to flash the cash ($800/month!), HubSpot offers a host of marketing features, including social media scheduling, content creation and SEO strategy tools. But, to be honest, that's a huge expense you could probably do without.
Recommended for:  
GetResponse is a good option for ecommerce businesses or those hosting webinars. Their Autofunnel feature is really worth checking out as this could really help with traffic and lead generation.
>Try out GetResponse for free!
Pipedrive
Pipedrive, a CRM software primarily directed towards sales teams, is a powerful solution that any small-to-medium-sized business would be more than happy with.
In spite of the many customization options and dashboard features, Pipedrive's interface is very easy to navigate and a great tool for all levels. We put Pipedrive and HubSpot to the test in our detailed head to head and found that there wasn't too much difference between the two tools; they both have excellent reporting capabilities, have been well-designed and offer decent multi-channel support.
Find out more about Pipedrive's features in this video:
Where Pipedrive beats HubSpot: 
Pipedrive's paid plans are much more reasonably priced than HubSpot's. What's more, you can pay for a single user, which you can't with HubSpot. Its plans start at $21.90/month/user and go up incrementally as you grow. There are also discounts if you pay annually. Find out more about Pipedrive's pricing in our detailed guide.
Where HubSpot wins:
If you're in need of a free solution that can also provide you with marketing features such as forms and landing pages then HubSpot's Free CRM plan is definitely worth checking out. It also offers email features such as its Conversations inbox where agents can view, manage, and reply to incoming conversations all in one place.
HubSpot also has many more direct integrations with third-party tools.
Recommended for:
It's a good sustainable solution for growing businesses on a tight budget, as you'll get access to advanced CRM features without having to fork out hundreds of dollars.
>Try Pipedrive for free for 14 days!
Brevo (formerly Sendinblue)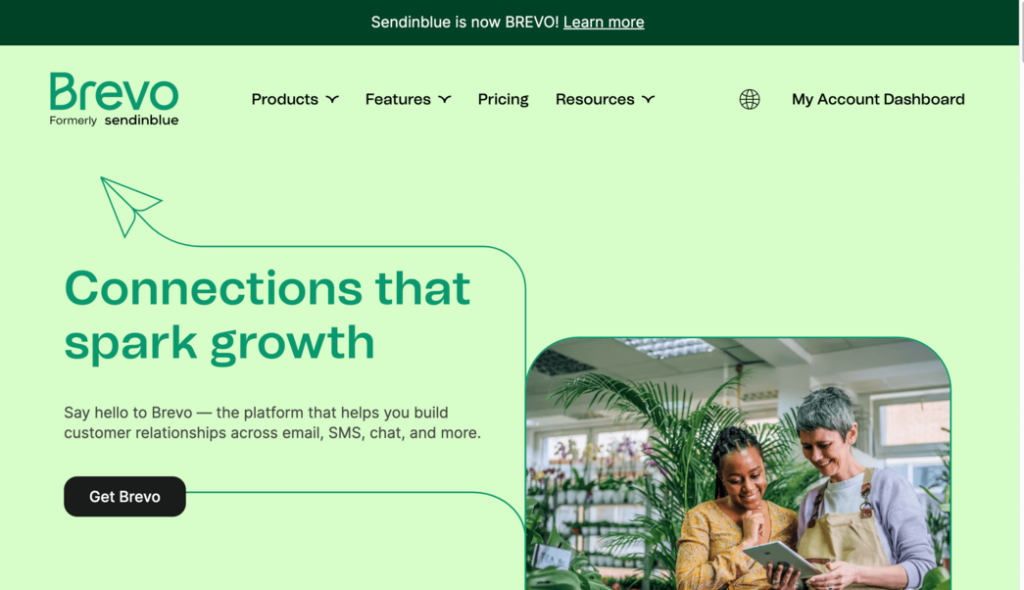 Brevo launched in 2012 under the name Sendinblue boasts 175,000 users and 100 million emails sent per day! Their offering is pretty complete, coming equipped with a CRM, email marketing automation, transactional emails, SMS, landing pages and Facebook ads. Like HubSpot, they offer a free plan, but how do Brevo's prices compare once on a paid plan?
Find out more about Brevo and all its features in this video:
Where Brevo beats HubSpot:
Price is a big reason why Brevo is a great HubSpot alternative; their free plan comes with unlimited contacts, built-in CRM, marketing automation and web tracking. Unlike with HubSpot, the jump to a paid plan is more like a little hop, with paid plans starting at $35/month for 20K emails and unlimited contacts.
Because Brevo charges per email rather than per contact, it makes it a great solution for businesses that have a large contact base but just send a few emails per month.
Brevo's editor is easy to use and comes with a fairly wide selection of templates, even in the free plan. HubSpot's free tier doesn't come with any templates, but to move up to their Marketing Starter package just for this access would be ludicrous!
Another feature that makes Brevo stand out as a great alternative is the fact that you can send transactional emails (e.g. invoices, order notifications, sign-up emails, etc.). HubSpot doesn't offer this feature.
Brevo allows you to manage communications on a range of channels with their Conversations dashboard. Here you can stay on top of messages coming in from leads via Facebook Messengers, Instagram and live chat. Find out more in our Brevo review.
Where HubSpot wins:
When it comes to CRM features, HubSpot still beats Brevo. Yes, Brevo allows you to assign contacts to different users and create deals and set tasks and deadlines within each customer profile, but HubSpot's deal tracking and pipeline management features are much more sophisticated.
Recommended for:
Businesses on a budget that are looking for an all-in-one service that won't break the bank. The fact that you can send SMS and transactional emails through Brevo will attract ecommerce businesses.
Omnisend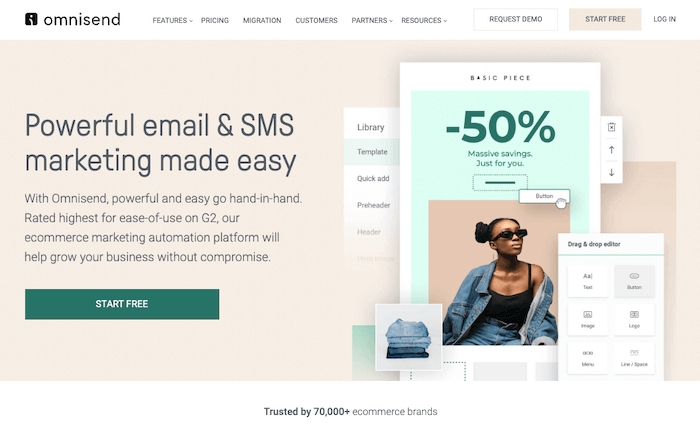 Omnisend is a great HubSpot alternative for ecommerce store owners looking to take their email marketing to the next level.
Specializing in the ecommerce arena means that online store owners get access to features that are tailored to their needs – and done well.
Where Omnisend beats HubSpot:
It's difficult to compare HubSpot and Omnisend, as they are two very different tools for different use cases.
If you are running an ecommerce business and sending transactional messages, the better solution is, without a doubt, Omnisend.
Omnisend focuses specifically on email marketing, and is a great solution for ecommerce businesses, due to its focused feature-set. We've tested the emailing software over a number of years, and have seen great progress made from regular updates to the product.
Omnisend offers an excellent drag and drop email editor and landing page builder, automated workflows, SMS marketing and advanced segmentation. Niche features like their product picker, scratch cards and gift boxes also make for an interesting offering, and omnichannel marketing is a built-in feature.
It packs a good range of pro features into an easy-to-use package – it even offers all of this for free for users who send fewer than 500 emails a month.
In fact, it's very good value for money with its paid plan starting at just $16/mo for 6,000 emails.
Where HubSpot wins:
HubSpot offers more features overall, including social media marketing, website design and development, and CRM capabilities, whereas Omnisend is limited to email marketing.
You might consider using HubSpot if you are looking to integrate all of your marketing and sales functions in one software.
Recommended for:
Ecommerce businesses in need of an email marketing solution to take care of their email and SMS campaigns, transactional emails and abandoned cart automations. The direct integration with Sopify is particularly good.
Drip
Drip, which launched in 2013, have quickly gained traction in the sales and marketing world. They focus on the 'human side of ecommerce' and have attracted more than 6,500 ecommerce brands.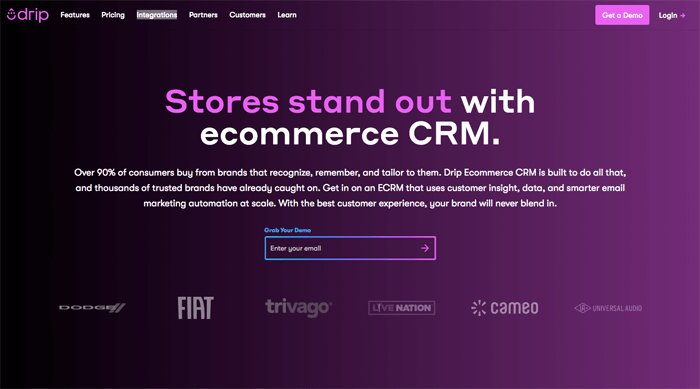 Where Drip beats HubSpot:
Advanced automation is a key feature of Drip's offering. Their automation workflow editor is easy to use, well-designed and flexible, plus their icons and bright colors make it kind of fun to use. Choose from a host of triggers such as link clicks, page views, tags assigned, or even a purchase in your online store.
With Drip you can basically build any automation you desire, but where they really shine is ecommerce automation. Not only can you set up an abandoned cart automation, but with Drip, you can take it one step further and trigger the automation when customers simply create a checkout (without necessarily completing it). Available by default, these are very simple to set up.
Another great feature is their tagging system. These can be used to help you categorize your contacts, using characteristics such as source, whether or not they're a customer, or if they've visited a specific page on your site. You have the option to either apply tags through Drip's universal 'Rules' function or in an automation workflow. For example, you can tag leads who have viewed a specific page as 'interested' and set it up so that a specific campaign is sent to these people.
All your contact data is stored within Drip's ecommerce CRM, which is used by Drip to assign a single lead score to each contact. This gives you a sense of how engaged a person is or how likely they are to make a purchase.
Where HubSpot wins:
Drip doesn't offer any kind of spam or design testing. Though HubSpot don't have spam testing capabilities either, you can test your design on a whole host of email clients. HubSpot is more diverse in that you can use it whatever your business. Drip, on the other hand, is only for those who have an online store.
Recommended for:
Drip is a great all-in-one solution for ecommerce businesses. Their direct integrations and sophisticated automations for the most minute triggers will save you tons of time, and hopefully, make you significant profits.
Prices start from $39/month for 2,500 contacts and all the features.
Ontraport
Based out of California, this all-in-one software has become very popular around the world for its power and simplicity. In fact, Ontraport serve thousands of business owners in over 60 countries.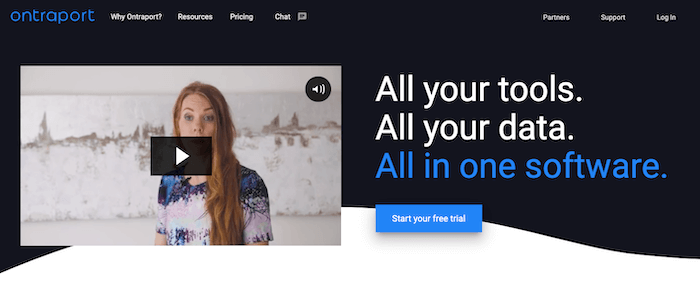 Where Ontraport beats HubSpot:
It's easy to get a bit flustered when you've got so many layers to your marketing efforts (emails, landing pages, forms, social ads, etc.). Ontraport allows you to integrate all of this and much more to create complete automated funnels. This really helps to give you a holistic view of your efforts and allows you to better track the success rates of each one.
A never-ending list of free automation templates means that you can get very specific with automations, really personalizing the buyer experience and the users' journey.
All the information you could need on your leads and customers is in their CRM, which makes it a strong HubSpot competitor.
They also have a great selection of responsive landing page templates, which are easy to edit and split test across multiple pages.
You can also set up and manage everything to do with your ecommerce in Ontraport. Think payment processing, secure order forms, coupon codes, recurring payments and cart abandonment and sales automation.
Where HubSpot wins:
Ontraport is currently only available in English and Spanish, whereas HubSpot supports 6 languages and has support teams across the Americas, Europe and the Asia Pacific.
Ontraport's reporting dashboard isn't particularly visually appealing as it doesn't have graphs and charts.
Recommended for:
With plans starting at $79/month, Ontraport isn't the cheapest HubSpot alternative, but it is still good value for money.
It's a good solution if you're planning on setting up an affiliate program for your project, as they have in-built software for this business model.
Wishpond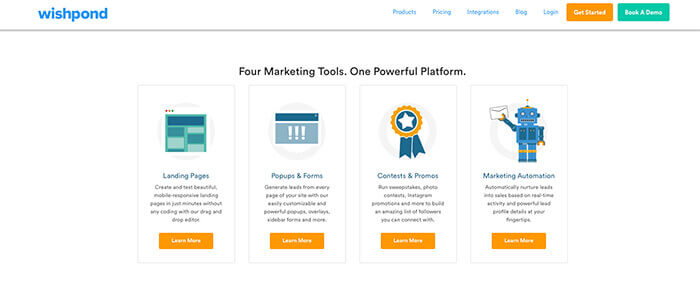 Wishpond, from Canada, are another HubSpot competitor with an all-in-one marketing solution.
The easy-to-use platform allows you to create landing pages, pop-ups and social media contests. More importantly, it also comes with email marketing, automation software and a built-in CRM.
Where Wishpond beats HubSpot:
The email and landing page templates that HubSpot offers are very poor. Wishpond has a great range of modern-looking templates, which are really simple to set up.
Where HubSpot wins:
Wishpond doesn't come with a freemium plan, and their starting prices could be slightly cheaper.
Wishpond also doesn't have a mobile app, though whether this is a deal-breaker or not will depend on how you operate.
Recommended for:  
Wishpond is a good solution for small-to-mid-sized businesses that don't want to incur the massive charges that come with HubSpot's pro plans.
Aritic PinPoint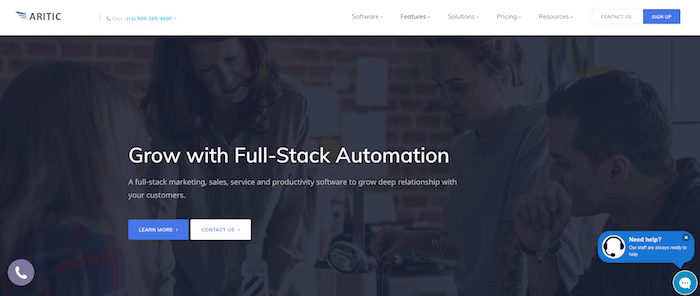 Aritic, which claim to have over 2,500 customers, offer a full-stack marketing automation platform.
Like HubSpot, their pricing model is divided into various "stacks": PinPoint (complete marketing solution), Sales CRM, Desk (for customer service agents) and Mail (transactional email), plus various add-ons. Their features are extensive and they even offer a free CRM.
Where Aritic PinPoint beats HubSpot:
Though Aritic and HubSpot structure their offering in a similar way, by dividing up marketing and sales features, Aritic are much more generous with their features. It is, therefore, better value for money, with paid plans starting at $19/month for 1,000 contacts and 1 free user.
Their key features include lead profiling, lead behavior tracking, advanced segmentation and automations. Email marketing, landing pages, SMS campaigns, push notifications and social media campaigns are also included, as well as transactional emails, which HubSpot doesn't offer. There are 50+ themes included – much more than you'll get with HubSpot.
Where HubSpot wins:
Aritic's marketing automation software isn't as intuitive as HubSpot's. In fact, some buttons are slightly hidden and the process feels a bit clunky at times.
HubSpot has slightly more native integrations with third-party apps.
Recommended for:  
It might take you a bit of time to figure out how to use the software, but once you do you'll find Aritic's features to be pretty impressive.
HubSpot Alternatives Conclusion
So you see, there are a whole host of HubSpot competitors on the market that actually offer a cheaper, and oftentimes, better product.
As you've seen, no two solutions are the same and depending on the business, one will be a better fit than the other. Let's quickly recap what tool is best for what purpose.
If you need first-class automations then I'd recommend ActiveCampaign, GetResponse, Omnisend or Ontraport.
If you're looking for an easy-to-use tool that doesn't skimp on features then Freshsales, EngageBay, Pipedrive or Drip are good options.
The best value for money is Omnisend ($16), Freshsales ($29/user/month), Zoho ($30/user/month) EngageBay ($49.99/month), Pipedrive ($59/month) or Brevo's Premium plan ($66/month).
Let me know which one you go for and how you get on in the comments!
You might also find this guide to Mailchimp alternatives helpful. 
FAQ
A free version of the HubSpot CRM is available for up to 1 million contacts. Learn more about HubSpot's pricing here.
Among other things! In this article we've talked about HubSpot's competitors in the CRM arena, but HubSpot is also renowned for its email marketing and automation features, as well as its website builder.
We keep our content up to date
04 Aug 2023 - Omnisend added
25 Jul 2023 - Smaller updates and additions
10 Jul 2023 - Added FAQs
24 Apr 2023 - Added video review of HubSpot
08 Mar 2023 - Updated HubSpot's pricing
24 Feb 2023 - Updated ActiveCampaign's pricing
05 Oct 2022 - Updated Brevo profile
07 July 2022 - HubSpot now offers marketing automation on Starter plan
28 Apr 2022 - Updated Drip profile 
09 March 2022 - Updated GeResponse prices 
09 Feb 2022 - Freshworks changed name to Freshsales
01 Dec 2021 - Added Pipedrive video review
02 Nov 2021 - Moved Zoho down 
19 Oct 2021 - Updated Aritic
19 Jul 2021 - Moved EngageBay up
22 Feb 2021 - Added Freshworks
26 Jan 2021 - Zoho CRM added 
22 Oct 2020 - Pipedrive added 
12 March 2020 - EngageBay added
Our Methodology
This article has been written and researched following our EmailTooltester methodology.
Our Methodology