Hubspot, if you haven't heard, is quite a big deal. They have been active for more than fifteen years. They're a publicly-traded company and offer a complete solution for CRM, inbound marketing, email marketing, website building, analytics, and much more.
In fact, there's almost too much going on! But for the sake of this introduction, here is the most basic HubSpot pricing info I can give:
Hubspot Pricing: What do I get?
There are four products: Hubspot CRM is completely free. Marketing Hub, Sales Hub, and Service Hub are available via four plans, with varying features and add-ons: Free, Starter ($20/month), Professional ($400–$890) and Enterprise ($1200– $3600). Growth Suite bundles all the products together at a discounted price.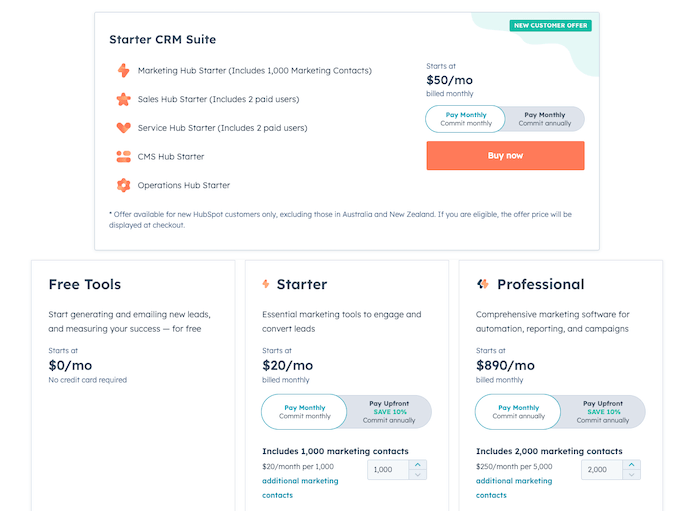 What Do Hubspot Products Offer Exactly?
Pricing for Hubspot can get confusing quickly. Here is a summary of the features included in the various plans, however, you can compare Hubspot costs in the table further down.
The first one I'll focus on is Hubspot Free CRM. As far as Customer Relationship Management tools go, it is an exhaustive one. Like with every other Hubspot product, it's heavily focused on sales. With it, you can:
Track leads and customers
Create timelines of your interactions with customers
Chat in real-time with prospects
Integrate with Gmail and Outlook
Aggregate communications from emails or social media
Create tasks and goals for your team
Add team profiles
Then, there's the Marketing Hub. It's aimed at experienced marketers and marketing teams. You can do everything to do with broadcasting your message, including:
Create email marketing campaigns
Build SEO strategy
Manage adverts
Set up automated campaigns
Add and upload content
Get full reporting and analytics
Etc…
The Sales Hub is full of advanced sales features and tools for expert teams. Here's what you get with it:
Email templates
Contact and company insights
Email tracking and notifications
Meeting scheduling
Team email
And more…
Finally, Service Hub is all about customer support. You get:
Ticketing
Live chat
Conversation bots
Canned snippets
Meeting scheduling
Etc.
Find out more about how the features perform in our Hubspot review.
Prices and Plans in Detail
Because there's a lot on offer with Hubspot, I'll just focus on the main features added with each new tier. They are, of course, increasingly expensive, except for Hubspot CRM, which is 100% free.
If the paid plans are too pricey for you, check out our HubSpot alternatives article, where you'll find plenty of great options.
All prices are for monthly plans, though, be aware that you'll need to commit to an annual contract if you opt for the Professional plan. Free plans always come with Hubspot branding – you need the Starter plan minimum to remove it. You can also pay in seven currencies: EUR, JAP, USD, GBP, COP, SGD and AUD.
The last thing to note is that different plans give you more users. They are like admin accounts that can access every feature of the plan. If you don't want to pay for extra users, you can have some on the free plan and others on the paid account.
Free *
Starter
Professional
Enterprise
Hubspot Free CRM
The service is 100% free. You can add unlimited users and 1M contacts.
N/A
N/A
N/A
Marketing Hub

$0 a month.

Tools like forms, email marketing, and basic chatbots. 2,000 email sends/mo

$20 a month.

Adds lead capture forms, ads and automation, amongst others. Email sends: 5x contacts

$890 a month.

+  $3,000 onboarding fee

Adds all the inbound marketing features like SEO & content strategy, landing pages, calls to action, phone support, etc. Email sends: 10x contacts

$3,600 a month.

+  $6,000 onboarding fee

This gives you the whole package, including sophisticated analytics, CMS membership, custom reports and YouTube integration, etc. Email sends: 20x contacts

Sales Hub

$0 a month.

A good selection of tools with limited use. For example, email tracking is limited to 200 emails. You can call users for 15 mins, etc…

$20 a month.

Adds calling time (8 hours), unlimited email tracking, email sequences, and conversation bots.

1 user included.

$500 a month.

+  $750 onboarding fee

Adds phone support, 300 sales automation workflows, Salesforce integration, and more.

5 users included.

$1,200 a month.

+  $3,000 onboarding fee

English call transcription, 30 e-signatures per month, predictive lead scoring, up to 1,000 playbooks, etc…

10 users included.

Service Hub

$0 a month.

Good for one person. Ticketing, live chat, email and chat to ticket, 5 canned snippets, 1 meeting link per month.

$20 a month.

Adds conversation routing, more meeting scheduling options, canned snippet, email templates and email sequences.

1 user included.

$400 a month.

+  $750 onboarding fee

You can build a knowledge base, add Salesforce integration, phone support and customer feedback.

5 users included.

$1,200 a month.

+  $3,000 onboarding fee

Work in multiple currencies, add custom reporting, goals, 1,000 playbooks per month, etc…

10 users included.

CRM Suite

(All products bundled together)

$0 a month

$50 a month

4 users included

$565 – $975 a month

+  onboarding fee

5 users included

$1,265 – $3,665 a month

+  onboarding fee

10 users included
Hubspot Prices: Add-ons and Extras
As if there wasn't enough going on already, Hubspot gives you the ability to tack on more features and add extra users. With every plan, you get the opportunity to add:
CMS: to build a fast, mobile-optimized website. You can purchase this product as part of the CMS Hub bundle or the Starter CRM suite, with prices starting at $23/month. A limited free version is also available.
Custom reports: more customizable with templates and dashboards sent directly via email. $200 per month.
API: to increase the API call volume of your integrations. Get up to 1,000,000 calls per day for $500 a month/month.
Users
Adding extra users is also an option. The price varies depending on which plan you are on. Each new user added to the Service Hub and Sales Hub Starter plan costs $10 per month. Extra users for the Professional plans cost $100 / month. On the Enterprise plan, each extra user will cost you $120 / month.
Marketing Contacts
If you are using the Marketing Hub, it's also possible to increase the contacts limit for your plan.
On the Starter plan: $20 a month per 1,000 contacts.
On the Professional plan: $250 per month for an extra 5,000 contacts.
On the Enterprise plan: $100 per month for an extra 10,000 contacts.
Consulting/Training
Finally, Hubspot offers consultancy and training from their expert teams:
Inbound consulting monthly: monthly session with a marketing a sales expert, plus quarterly inbound reports. $400 a month.
Inbound consulting ongoing: same as above, but for five hours a month for $850 monthly.

Technical consulting ongoing: five hours of consultation with a technical expert for $850 a month.

Premium consulting: five hours a month with an inbound consultant and technical consultant for $1,600 a month.
There are also various on-site training programs available
Hidden Costs and Onboarding Fees
Depending on which plan you go for, you may encounter some pretty steep onboarding fees, which you're required to pay regardless of whether you need the service or not.
Marketing Professional plan: requires a $3,000 onboarding fee
Marketing Enterprise plan: requires a $6,000 onboarding fee
Sales Professional plan: requires a $750 onboarding fee
Sales Enterprise plan: requires a $3,000 onboarding fee
Service Professional plan: requires a $750 onboarding fee
Service Enterprise plan: requires a $3,000 onboarding fee
Hubspot Pricing – Conclusion
It's a lot to take in! But at the end of the day, I think everyone should buy the Enterprise CRM Suite for $3,665/month.
Of course, I'm kidding. As always with enterprise solutions, I feel like a lot of features aren't exactly necessary. Some features crossover between products. They also feel "puffed up" for the sake of it. And worst of all, adding extra users to Hubspot is more expensive on the higher tiers.
Now would I recommend the free plan? Definitely! If you want to try something that big companies use, and you don't mind the Hubspot branding, give it a go. We're happy that Hubspot has reduced the cost of their Starter plans to be more aligned with other dedicated CRM solutions that offer similar features. Thankfully, Hubspot no longer requires an annual commitment for their Starter plans.
It's certainly a good all-in-one solution for those looking for a wide range of sales and marketing features. However, if you're just looking for an email marketing service, I'd stick with my top dedicated solutions like ActiveCampaign, GetResponse and MailerLite.
> Click here to try Hubspot for free
Hubspot Pricing: Frequently Asked Questions
Nothing, as far as I can tell. Everything is Hubspot-branded, but I don't feel it will hurt your reputation. That said, you will be missing core features, so the offer is designed to make you buy into the more expensive tiers. However, Hubspot's free CRM should offer enough for small businesses.
Yes. Hubspot has a pricing calculator that takes different variables into account. For example, you can add more users to each Starter plan, or marketing contacts if you're on the Marketing Hub. Professional and Enterprise tiers also require "professional onboarding", which is very expensive and non-negotiable.
Yes, there is! HubSpot for Startups is a special initiative that allows newly founded companies to get a huge reduction in their HubSpot bill.
Depending on your eligibility, you can save between 30 – 90% in the first year, as well as possible ongoing discounts. Find all details here.
We keep our content up to date
26 May 2023 - FAQ updated
08 Mar 2023 - Full update in light of price decreases for Starter plans
07 July 2022 - HubSpot now offers marketing automation on Starter plan
09 Feb 2022 - Full update in light of price increases
30 Jun 2021: Added Hidden Costs and Onboarding Fees section
12 Nov 2020: Small update to prices
16 May 2019: Smaller updates and corrections
Our Methodology
This article has been written and researched following our EmailTooltester methodology.
Our Methodology