WordPress is one of the most popular CMSs. In fact, almost 43% of all websites on the Internet use WordPress!
And if you've landed on this page then you're most likely one of many who make up that number. Whether you're a blogger, have an ecommerce, a review site, or some other online business, WordPress is a powerful solution.
Wouldn't it be nice to manage part of your email marketing strategy right from the WordPress dashboard?
Well, you've come to the right place. In this article, I'm going to take you through the pros and cons of using each of the WordPress email plugins on this list.
But first:
WordPress Newsletter Marketing: Things to be Aware of
When it comes to selecting the right WordPress plugins there are a couple of very important things to bear in mind.
Security: WordPress sites are vulnerable to hacking attempts. Aside from using strong passwords and protecting access to your WordPress admin area, it's important to make sure you're using secure plugins that are up to date.
Using an outdated plugin or theme can make your site vulnerable. You'll want to pick a plugin whose author will be quick to detect and fix any security flaws and bugs. You can see when each plugin was last updated in the preview window (see screenshot below).
You, as the user, will need to make sure your email plugin is regularly updated, as you wouldn't want to be at risk of losing your email list to some hacker.
A safer alternative can be to use a service that doesn't actually store your contact list in WordPress but in a separate database belonging to the newsletter service (e.g. Sendinblue). While you have to give away your data to a third party, it's usually a much safer affair as these newsletter services have full control over the security of your list.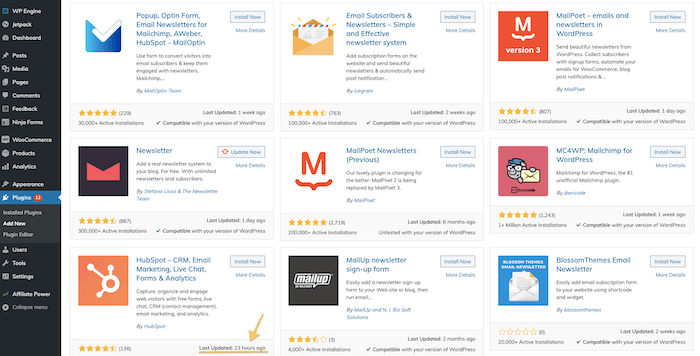 Ease-of-use: Designing and sending out your email newsletters should be a quick and pain-free task. You don't want to find yourself with a clunky or buggy email newsletter plugin.
Designs: Like with any email service provider, you want to make sure that it comes with attractive and responsive email templates that you can easily edit to fit your needs.
Deliverability: What's the point of sending out an email newsletter if it doesn't reach the recipients? As you can see in our deliverability tests, not all email tools get the same results. You'll want to choose a newsletter plugin that has deliverability as its main priority (along with security, of course). It might be that the plugin uses SMTP (Simple Mail Transfer Protocol) or integrates with a third-party service such as Mailgun, Sendinblue, Mailjet or SendGrid.
When you search for newsletter plugins within your WordPress website, you'll see that plenty come up. You'll also see how many people have rated it and how many active installations it has currently. This article looks at some of the most popular email and optin form plugins.
So, now that we know what we're looking for, let's dive in and check out the best WordPress email plugins!
Best WordPress Email Plugin (Top 9)
1. MailPoet – Modern design templates
2. HubSpot – Generous free plan with CRM
3. Sendinblue – Advanced form, automation and newsletter options
4. WP Mail SMTP – For better deliverability
5. Email Subscribers & Newsletters (Icegram) – No third-party subscriptions required
6. Thrive – Suite of features
7. Mailster – Target your audience with custom conditions
8. Newsletter – Free plan
9. OptinMonster – Targeted popups
MailPoet
Rating on WordPress
:

Active installations:
100,000, plus 200,000 from the previous version
The fact that MailPoet has recently brought out a new version of its WordPress email marketing software should indicate that it's a more secure, user-friendly plugin. It also claims to have a deliverability rate of 98.5%, due to the MailPoet Sending Service – so no need to use a third-party SMTP service. It's important to understand that your subscribers will be stored in WordPress, which means that it'll be your job to keep the data safe.
What I liked about MailPoet
MailPoet offers really great email templates. There are 50 of them and they all have really modern designs.
It integrates directly with WooCommerce so if you have an online store you'll be able to easily add your products to your newsletters in the drag & drop editor. Updating subscribers on your latest blog posts and news is also hassle-free due to MailPoet's automations.
This integration means that you can segment subscribers based on actions that have taken place in your store, for example, if a subscriber has bought a particular item or an item from a particular category. Even on the free plan, you can send unlimited emails to your subscribers.
You're in full control of your list as you don't have to upload it to any external service (of course you are also in charge of security, which is probably a disadvantage).
What could be improved
In order to find out who's opening and clicking your emails, you'll need to upgrade to the Premium plan.
Pricing
The free plan comes with unlimited emails, which you can send to up to 1,000 subscribers. Premium plans are available from $13/mo.
Try MailPoet for free or go Premium and get 30% off with this link

HubSpot
Rating on WordPress
:

Active installations:
200,000+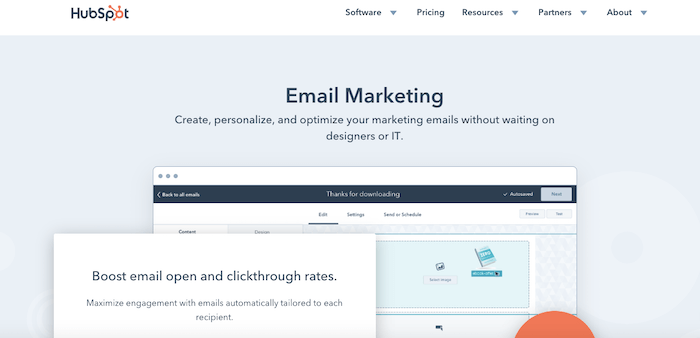 It should come as no surprise that there is a HubSpot WordPress plugin available to users. With over 200K active installations and 4.5 stars, it is a very popular plugin amongst email marketers.
What I liked about HubSpot
Setting up forms, pop-ups and email marketing campaigns is made simple with a simple drag-and-drop builder, and because HubSpot is primarily a CRM, it will collect any sign-ups you get and add them as leads for you to nurture.
The free plan is feature-rich and allows for 2,000 emails/month to 1M contacts. As well as email marketing and web forms, features include live chat, conversational bots and customer segmentation.
What could be improved
Unfortunately, the free plan doesn't come with any email templates, and you can't even upload your own.
You're also not able to properly authenticate an email sending domain through SPF and DKIM on the free plan, and paid plans start at $50/month.
Pricing
The free plan comes with 2,000 emails/month and 1M contacts. Paid plans start at $50/month
Try the HubSpot WordPress plugin for free
Newsletter, SMTP, Email Marketing and Subscribe Forms by Sendinblue
Rating on WordPress
:

Active installations:
 50,000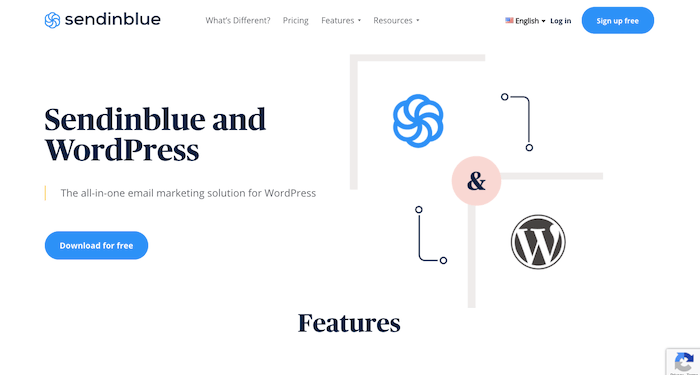 This is Sendinblue's WordPress email marketing plugin. In order to use it, you'll need to create an account with Sendinblue's email marketing service.
Sendinblue is one of our top-rated email marketing services due to its affordable prices and range of pro features. You can also get started for free with this plugin, though the sending limit is just 300 emails/day.
What I liked about Sendinblue 
Sendinblue's free plan includes marketing automation, transactional emails and SMS and unlimited contacts. The plugin works via an API so the interface looks basically the same as on the Sendinblue platform. This continuity is helpful if you're going between the two.
The automation options available are pretty advanced. You can trigger campaign actions using your visitor's email and website engagement behavior, assign lead scores, plus loads more.
Your contacts are stored in Sendinblue's built-in CRM on its email marketing platform, thus making it much more secure.
What could be improved
The daily limit of 300 emails/day on the free plan is an issue.
Pricing
Free plugin (unlimited contacts, 300 emails/day). Paid plans start from $35 for 40,000 emails/month
Try the Sendinblue WordPress plugin

WP Mail SMTP
Rating on WordPress:

Active installations: 2M+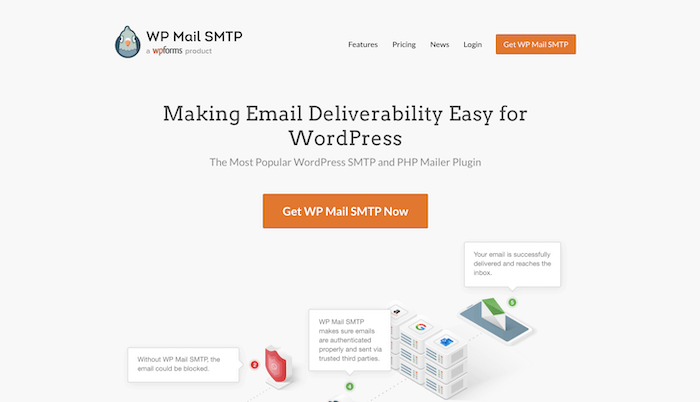 With 5 stars and almost 3,000 reviews, WP Mail SMTP by WPForms is a WordPress email marketing plugin you need to know about.
WP Mail SMTP is brought to you by the same team that's behind WPForms and OptinMonster. They developed WP Mail SMTP to help WordPress users improve their email deliverability. It's a simple solution, which is used in conjunction with a dedicated mailer service, such as Sendinblue or SMTP.
Using WP Mail SMTP allows you to bypass the default wp_mail() function and forces your site to use SMTP settings instead. Because WP Mail adds authentication to the emails, the deliverability of the emails being sent from your site is greatly improved, meaning far fewer emails end up in the spam folder.
What I liked about WP Mail
The most useful feature is the email log section, which allows you to see what emails are sent from your website and whether they are delivered to the correct inbox. You can also see if they've been opened or clicked. This is what sets it apart from a regular WordPress SMTP plugin. This feature is available on the Pro plan and above.
If an email is undelivered because the contact address is not correct, WP Mail SMTP lets you resend it to the correct email address with a click of a button.
What could be improved
The free version is quite limited and the renewal prices of the paid plans are on the pricey side.
Pricing
Free
Pro: Introductory price is $49/year then $99/year
Elite: Introductory price is $99/year then $149/year
Email Subscribers and Newsletters (Icegram)
Rating on WordPress
:

Active installations:
 100,000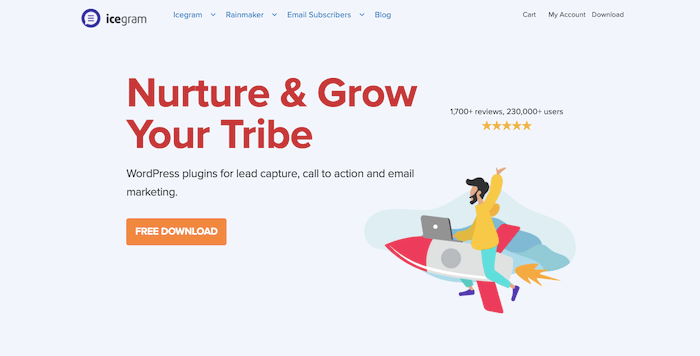 This very easy-to-use WordPress email marketing plugin doesn't require any third-party subscriptions or additional tools to send your newsletters. The interface is intuitive and the basic features should be enough to get started with, though this only comes with basic security, so I'd recommend paying a little extra to know your contact list will be safe.
What I liked about Icegram
You can easily set up autoresponders like welcome messages and emails notifying subscribers when you publish a new blog post.
A nice feature of the forms is that users can choose which list(s) they subscribe to when they sign up.
What could be improved
The custom fields you can add to forms are limited to name and email on the free plan.
There are a number of trigger options for automations available, but the majority are reserved for paying customers. If you're on the free plan you'll be limited to user registered, deleted or updated.
Pricing
Free for basic features (no SMTP support) and security or $9/month for SMTP, high security and premium email templates.
Try the Icegram plugin for WordPress

Thrive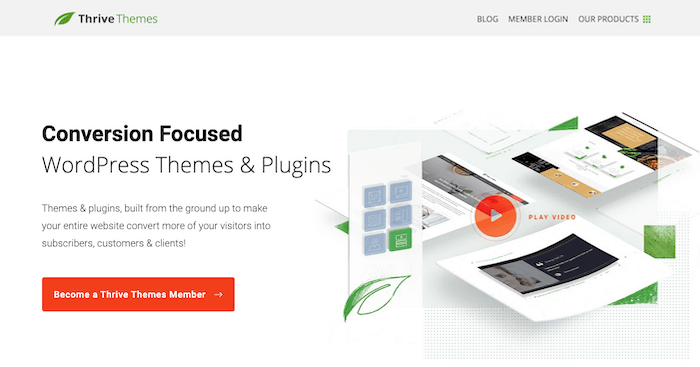 Thrive offers a pretty complete package. Features include: Opt-in forms, landing pages, conversion-focused WordPress themes, visual drag & drop website builder, widgets, headline optimizer, scarcity campaign builder, testimonials plugin, quiz builder and online course builder.
What I liked about Thrive
The Thrive Suite helps users do everything from build a website to build an email list, and considering all that's included, Thrive is very affordable.
You can use the features on numerous websites, which makes it a good choice for agencies and those who manage multiple sites.
What could be improved
Unfortunately, because you have to download the software, Thrive does not offer a free trial. The fact that you have to upload the plugin makes the set-up process slightly more complicated than with other plugins.
Note that you'll need a self-hosted WordPress.org website to use Thrive Suite.
Pricing
Membership costs $30/month paid quarterly or $19/month paid annually
Mailster
Rating on WordPress
:

Active installations:
 22,500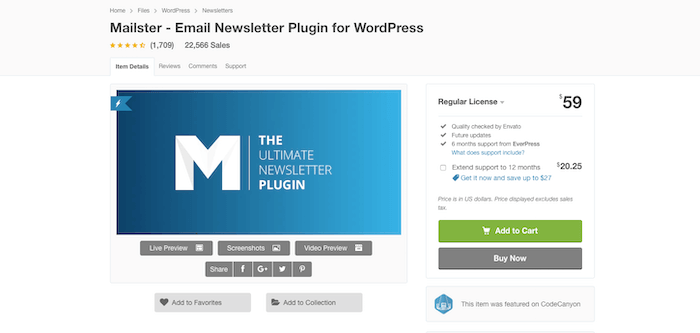 Mailster offers a premium, paid WordPress email marketing plugin for your site.
The drag & drop editor makes setting up your email newsletters a simple affair. Its segmentation options allow you to better target your audience through the use of custom conditions.
It doesn't include SMTP, but it's compatible with many popular email sending services, such as SendGrid, Amazon SES and Mailgun.
What I liked about Mailster
Setting up forms is made simple by the use of a drag & drop builder. You can also easily add your forms to posts by using the shortcode generated – no need to play around with any code.
Advanced reporting and simple autoresponders like welcome emails and birthday messages are all available with Mailster.
There's no limit to the number of forms, lists or subscribers you have.
What could be improved
Mailster comes with only a couple of the most basic templates. In the templates gallery, it seems there are plenty of options available but you'll have to purchase them. Considering that this is a paid plugin, you'd imagine it'd have more in the way of designs.
Pricing: $59 for a one-site license and 6 months' support. Of course, you also have to factor in the price for an email sending service, as SMTP is not included.
The Newsletter Plugin
Rating on WordPress
:

Active installations:
 300,000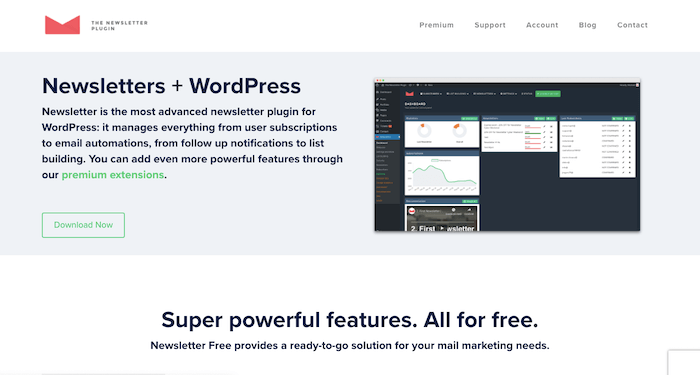 The WordPress email marketing plugin by Newsletter is free and easy to set up, as you do not need any other tools or services to use this plugin. That said, it does give you the option of connecting to other SMTP plugins to help deliver your emails. We'd recommend you do so in order to get maximum results.
What I liked about Newsletter
The blocks available in the newsletter editor are a bit limited but it does allow you to easily add your blog articles and has a Giphy library, which could be a fun feature for some marketers who like to use GIFs.
You'll get unlimited emails to unlimited subscribers, even on the free plan!
What could be improved
It doesn't really offer much in the way of templates so you'll need to build it yourself using the drag & drop editor or uploading raw HTML. Setting up forms isn't the most intuitive as there's no preview of what the code will look like on the frontend (as you'd see in a regular form builder).
If you want pro features like automations, advanced reporting and integrations then you'll have to pay for them, starting from $65 for the year.
Pricing
Free plan with unlimited emails and subscribers. It has premium plans for pro marketers, which will cost you $65/yr (install it on up to 3 different websites) or $249/yr (unlimited sites) for a year of updates.
Additionally, you'll have to pay for an email sending service.

OptinMonster (For Optin Forms & Popups)
Rating on WordPress
:

Active installations:
 900,000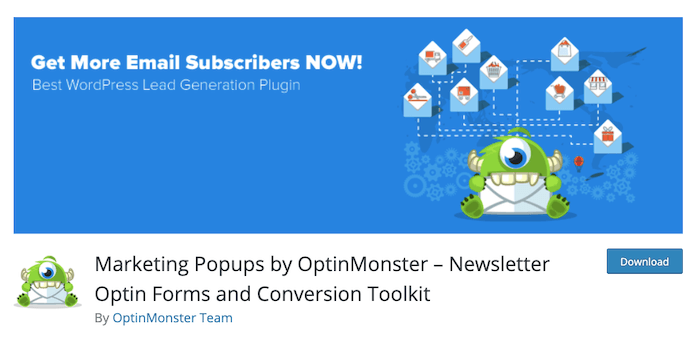 OptinMonster has the highest number of active installations of the plugins on this list. That's a very good indicator of the quality of the plugin, as users are clearly very satisfied with the software.
OptinMonster specializes in optin forms and popups, so you can use it to get more interested people on your mailing list. Bear in mind that OptinMonster is used to generate leads but you'll need to connect it to an ESP in order to send those leads your newsletters.
What I liked about OptinMonster
The range of popups is vast: exit popup campaigns, floating header or footer popup bars, slide-in popup boxes (also known as scroll triggered boxes), sidebar popup forms, inline popup forms, mobile popup campaigns, fullscreen welcome gate popups, and more. These are simple to set up with helpful templates, and, of course, are all mobile responsive.
The advanced targeting and segmentation options make it easy to reach the right people in the right moment. For example, you can show a coupon code popup to only new visitors on your site. Or perhaps you only want to show a popup about an event to people based in a certain city.
What could be improved
All plans are billed annually by default, which isn't ideal for those who aren't ready to commit for such a long time period. Also, because you'll need a third-party service to send the emails, you'll be looking at extra costs.
Pricing
Prices start at $9/month for unlimited campaigns, page-level targeting and 1 site. For $29/month the Pro plan will allow you to employ advanced targeting, countdown timers, you'll be able to remove branding and use it on 3 sites.
Try OptinMonster with a 14-day money-back guarantee
Best WordPress Email Plugins: The Verdict
As you've seen, there are plenty of great WordPress email plugins available. All of them are pretty affordable and some even free for limited features.
Best Free WordPress Email Subscription Plugin
MailPoet has an excellent free plan, which includes unlimited emails, SMTP and attractive design templates. HubSpot, with its live chat, landing pages and CRM, offers a very good free plan. Check out this post for other free email marketing services.
Most Complete WordPress Newsletters Plugin
Sendinblue is the most comprehensive newsletter plugin for WordPress. The paid plan ($35/month) will allow you to set up advanced automations and send up to 10,000 emails to unlimited contacts. And because your contacts are stored in Sendinblue's built-in CRM on its email marketing platform, you can rest assured that no hacker will be able to access your contact list via your WordPress site.
Best WordPress Newsletters Plugin For Optin Forms And Popups
OptinMonster has a ton of excellent form and popup options. The fact that you can use smart targeting based on your visitors' location and interaction on your website means that you'll be able to grow your email list rapidly and set up relevant automations for new leads.
Note: We recommend you follow these email deliverability best practices and check out our guide to email authentication before you start sending.
Let me know how you get on! Are you using a WordPress email plugin that isn't on this list? Let me know in the comments below.
Updates: 
11 Jan 2022 – Added WP Mail SMTP
15 Dec 2021 – Smaller updates
8 Feb 2020 – Added HubSpot and Thrive
Email Marketing Crash Course: Step-by-Step Guide
Our email marketing course for beginners – ideal for small and medium-sized businesses, online stores and bloggers. It shows you all the steps you need to send your first newsletter. Best of all, it's free! Sign up to receive your copy immediately!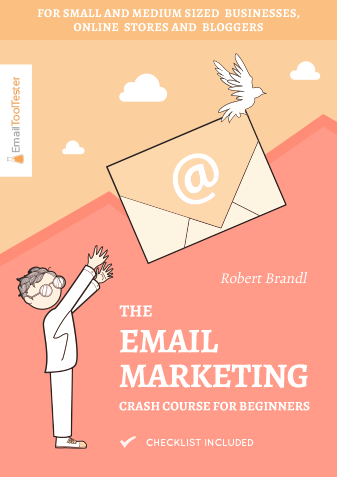 Email Marketing Crash Course: Step-by-Step Guide
Our email marketing course for beginners – ideal for small and medium-sized businesses, online stores and bloggers. It shows you all the steps you need to send your first newsletter. Best of all, it's free! Sign up to receive your copy immediately!
Please note: From time to time we will also send you our newsletter. We will never share your email address with anyone other than our email service provider. And of course, you can unsubscribe at any time.