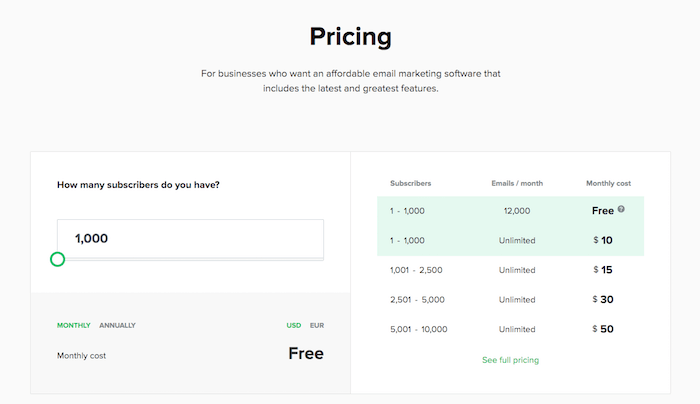 MailerLite is an affordable email marketing software provider, with a pricing model that's generous on features and easy to understand.
MailerLite is one of my favorite email marketing tools. They have a clean and intuitive backend, and they don't fall short on features  – even their free plan includes pro features like automations and landing pages. Read our review for more information.
In short: I find that MailerLite is powerful and super easy to use for all levels.
MailerLite Pricing: What to expect?
MailerLite's freemium plan is available for those with under 1,000 subscribers and comes with 12,000 emails/month. For a maximum of 2,500 contacts it costs $15/month, $30/month for 5,000 contacts, $50/month for 10,000 subscribers or $75/month for 15,000 contacts. You'll have access to all of the features on any of the paid plans.
If you have more subscribers, no worries, they've got plans for larger lists too. Check out MailerLite's site for more information. Additionally, if you sign up for a yearly plan, you'll get a 30% discount.
Features
FREE PLAN
PAID PLAN
User accounts
Unlimited
Unlimited
Emails sent
12,000 emails/month
Unlimited
Autoresponders
Included
Included
Automations
Included
Included
Designs
Not included
45 templates
Interactive content blocks
Included
Included
Reporting & Segmentation
Limited
Included
Forms
Popups & embedded forms
Popups & embedded forms
Landing Pages
5 landing pages
Unlimited landing pages
Newsletter inbox preview & spam testing
Not available
Not available
Email & chat support
Includes email support only
Included
MailerLite Pricing based on list size
1,000 subscribers
Free
2,500 subscribers
–
$15 monthly
5,000 subscribers
–
$30 monthly
10,000 subscribers
–
$50 monthly
15,000 subscribers
–
$75 monthly
50,000 users
–
$210 monthly
100,000 users
–
$360 monthly
MailerLite plans: Free vs. paid plan
Besides having a lower subscriber (1,000 contacts) and email allowance (12,000/mo), there are a few limitations to the free plan you should know about. You won't get access to:
Newsletter templates
Custom HTML editor
Live chat support
Custom domains for landing pages
Auto resend to those who didn't open or click
Delivery by timezone
Email click maps
Opens by location
A MailerLite logo will also be added at the bottom of your emails on the free plan. This logo can't be removed and will be visible to your recipients.
You do however get access to features such as automations, email reports, the landing page editor and email support on the free plan. We compared MailerLite's free plan alongside those of other email newsletter providers and found it to be the best.
Add-Ons
Dedicated IP: You can buy a dedicated IP for $50/month. This is for those sending over 50,000 emails/week.
Website Builder: Called 'SitesPro', this add-on will cost you $10/month for unlimited websites and landing pages.
Priority Support: For $100/month MailerLite offers users a dedicated manager, available via email and live chat.
Discounts on MailerLite Pricing
Nonprofits: MailerLite offers a generous 30% off for nonprofits
Annual discounts: If you sign up for the annual plan, you can benefit from 30% off
MailerLite Prices & Plans: Last thoughts
Their offer is straightforward, they have only one paid plan, and it includes all the available features. Easy as pie.
To know exactly how much MailerLite will cost you, you only need to know how big your subscriber list is and check it against MailerLite's pricing tiers.
Check our price comparison tool if you want to compare MailerLite's prices with those of their competitors.
For smaller lists, their prices are among the most competitive in the industry, and they also offer a lot in terms of features (read review). In my opinion, MailerLite is worth every penny as it's one of the tools that offers the best value for your money. Plus, for those with less than 1,000 subscribers, their free plan isn't bad at all, so long as you're willing to go without features such as templates and live chat support.
> Open your free MailerLite account
Updates:
29 Nov 2021: Added Discounts section
22 Apr 2021: Added Add-On section & updated FAQs
13 Oct 2020: Minor updates
15 Apr 2020: General update of content and table
30 Apr 2019: Minor updates
25 Nov 2019: Minor updates
FAQ
What counts as a subscriber?
Any contacted email will count as a subscriber for your monthly payment. Please note that with MailerLite there's no possibility to replace used subscribers with new ones constantly – you should choose a plan according to the number of active subscribers you have.

Does MailerLite have a pay-as-you-go plan?
MailerLite does not have a pay-as-you-go plan, unfortunately.

Are there any discounts for non-profits?
Yes! MailerLite offers a generous discount of 30%

Can I cancel my account at any time?
You can cancel the monthly plan at any time. The annual plan cannot be canceled before the expiration date.

Is MailerLite free?
MailerLite offers a generous free plan, which comes with 12,000 emails and 1,000 subscribers. You can also set up landing pages and send autoresponders on the free plan.

How much does MailerLite cost?
Paid plans start from $10/month and go up incrementally based on the number of subscribers you have.

YOUR QUESTIONS AND FEEDBACK