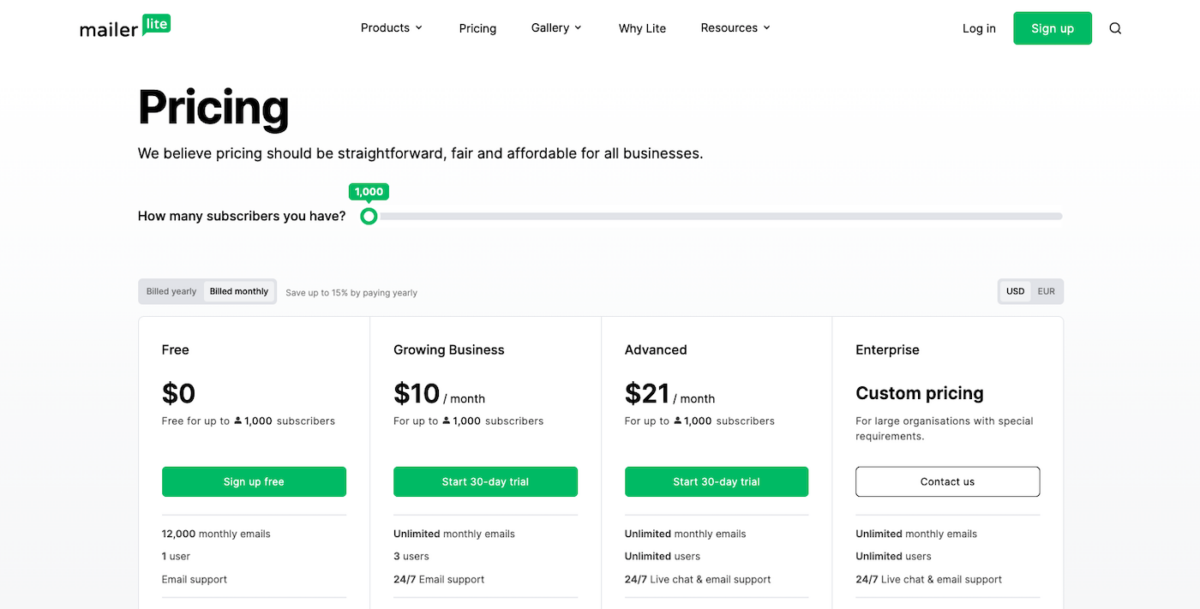 MailerLite's pricing model is similar to that of other popular email marketing services; it offers a free plan and two paid plans with varying features. Despite the recent increase in MailerLite's prices, it remains a very affordable provider that's generous on extras.
MailerLite is one of my favorite email marketing tools. They have a clean and intuitive interface, and they don't fall short on features – even their free plan includes pro features like automations and landing pages. Read our complete MailerLite review for more information.
In short: I find that MailerLite is an excellent email marketing tool for small businesses, as its pricing is very competitive and the software is powerful and super easy to use for all levels. This is why we selected it as one of the top Mailchimp alternatives.
MailerLite Pricing: What to expect?
MailerLite's freemium plan is available for those with under 1,000 subscribers and comes with 12,000 emails/month. For a maximum of 2,500 contacts the Growing Business plan will cost you $17/month, then $32/month for 5,000 contacts, $54/month for 10,000 subscribers or $87/month for 15,000 contacts. You'll have access to features such as unlimited newsletter and landing page templates, dynamic emails, branding-free emails, unlimited websites, and more.
If you want access to features such as promotion pop-ups, Facebook custom audiences, multiple automation triggers and its custom HTML newsletter editor, you'll need to sign up for the Advanced plan. Prices start at $21/month, so not much more than you'd be paying on the Growing Business plan. However, you'll notice more of a difference when you get to the 8,000 subscribers mark.
Check out MailerLite's site for more information. Additionally, if you sign up for a yearly plan, you'll get a 15% discount.
FEATURES
FREE PLAN
GROWING BUSINESS
ADVANCED
User accounts
1
3
Unlimited
Emails sent
12,000 emails/month
Unlimited
Unlimited
Autoresponders
Included
Included
Included
Marketing automation
Included
Included

(Single trigger)

Included

(Multiple triggers)

Designs
Not included
63 templates
63 templates
Drag & drop newsletter builder
Included
Included
Included
Custom HTML newsletter editor
Not included
Not included
Included
MailerLite branding
Not removable
Removable
Removable
Reporting & Segmentation
Included
Included
Included
Forms
Popups & embedded forms
Popups & embedded forms
Promotion popups
Landing Pages
10 landing pages
Unlimited landing pages
Unlimited landing pages
Websites
Unlimited
Unlimited
Unlimited
Email A/B split testing
Included
Included
Included
Sell digital products
Not included
Included
Included
Send paid newsletters & sell recurring subscriptions
Not included
Included
Included
Email support
Basic
Priority
Priority
24/7 live chat support
Not included
Not included
Included
MailerLite Pricing based on list size
1,000 subscribers
Free
$10 monthly
$21 monthly
2,500 subscribers
–
$17 monthly
$30 monthly
5,000 subscribers
–
$32 monthly
$39 monthly
10,000 subscribers
–
$54 monthly
$87 monthly
15,000 subscribers
–
$87 monthly
$119 monthly
50,000 users
–
$239 monthly
$289 monthly
100,000 users
–
$425 monthly
$425 monthly
MailerLite plans: Free vs. Growing Business paid plan
Besides having a lower email allowance (12,000/mo compared to unlimited emails), there are a few limitations to the free plan you should know about. You won't get access to:
Landing page and newsletter templates
Custom HTML newsletter editor
Live chat support
Custom domains for landing pages
Auto resend to those who didn't open or click
Dynamic content
Paid newsletters and subscriptions
A MailerLite logo will also be added at the bottom of your emails on the free plan. This logo can't be removed and will be visible to your recipients.
You do however get access to features such as marketing automation, email reports, the landing page editor and email support on the free plan. We compared MailerLite's free plan alongside other free email marketing services and found it to be the best in terms of included features and allowances.
Growing Business vs Advanced Plan
MailerLite used to have just one paid plan, and the prices were similar to that of the Growing Business account. However, alongside an update of their interface and the addition of new features such as the ability to sell digital products and recurring subscriptions, the Advanced plan came into the mix.
There isn't a massive difference in features between the two. However, those who need the following features will want to upgrade to Advanced:
24/7 live chat support
Unlimited users
Multistep automations
Promotion popups
Facebook custom audiences
Custom HTML newsletter editor
Enterprise
This plan is for large organizations where pricing is worked out on a case-by-case basis.
It includes a dedicated IP, which is recommended for those sending over 50,000 emails/week.
Discounts on MailerLite Pricing
Nonprofits: MailerLite offers a generous 30% off for nonprofits
Annual discounts: If you sign up for the annual plan, you can benefit from 15% off
MailerLite Prices & Plans: Last thoughts
To know exactly how much MailerLite will cost you, you only need to know how big your subscriber list is and check it against MailerLite's pricing tiers.
Check our price comparison tool if you want to compare MailerLite's prices with those of their competitors.
For smaller lists, their prices are among the most competitive in the industry, and they also offer a lot in terms of features (read our full MailerLite review).
In my opinion, MailerLite is worth every penny, as it's one of the tools that offers the best value for your money and, it will be an integral part of your overall email marketing strategy.
Since email marketing ROI can secure you as much as $36 for every dollar you spend on your email campaign, you really have nothing to lose with MailerLite's very affordable prices.
Plus, for those with less than 1,000 subscribers, their free plan is excellent, so long as you're willing to go without features such as templates and priority support.
> Open your free MailerLite account
Looking for a mass email service provider? Check out MailerSend, MailerLite's transactional service.
Updates:
28 March 2021: Complete update in light of changes to prices and plans 
29 Nov 2021: Added Discounts section
22 Apr 2021: Added Add-On section & updated FAQs
13 Oct 2020: Minor updates
15 Apr 2020: General update of content and table
30 Apr 2019: Minor updates
25 Nov 2019: Minor updates
FAQ
What counts as a subscriber?
Any contacted email will count as a subscriber for your monthly payment. Please note that with MailerLite there's no possibility to replace used subscribers with new ones constantly – you should choose a plan according to the number of active subscribers you have.

Does MailerLite have a pay-as-you-go plan?
MailerLite does not have a pay-as-you-go plan, unfortunately.

Are there any discounts for non-profits?
Yes! MailerLite offers a generous discount of 30%

Can I cancel my account at any time?
You can cancel the monthly plan at any time. The annual plan cannot be canceled before the expiration date.

Is MailerLite free?
MailerLite offers a generous free plan, which comes with 12,000 emails and 1,000 subscribers. You can also set up landing pages and send autoresponders on the free plan.

How much does MailerLite cost?
Paid plans start from $10/month and go up incrementally based on the number of subscribers you have.

YOUR QUESTIONS AND FEEDBACK