AWeber's big claim to fame, over their 18 years of existence, is to be the company that invented the autoresponder. By comparison, MailChimp is certainly the new kid on the block – albeit the kid everyone's talking about thanks to their clever marketing and share-worthy mascot.
So how do the two email marketing solutions compare? Our unbiased review should let you know exactly where they excel, and where they're found lacking.
Take a look at our video comparison or scroll down for our full review:
MailChimp vs AWeber: Summary
MailChimp offers a freemium plan and paid plans start at $13 a month. The free plan includes 500 subscribers and 2,500 emails. AWeber also offers a similar free plan, with 500 subscribers and 3,000 emails/month. Paid plans start at $19.99 per month for up to 500 subscribers.
Ease of Use And Editor
MailChimp prides itself on its ease of use, and this may come as a surprise, but we don't actually find it to be the most intuitive solution for complete beginners. However, they gain a number of points for their fast, easy to navigate and well-designed backend. While some functions are sometimes hard to find (for instance, how to add opt-in for new sign-ups), they have excellent features such as the navigation menu for checking every step when setting up your campaign.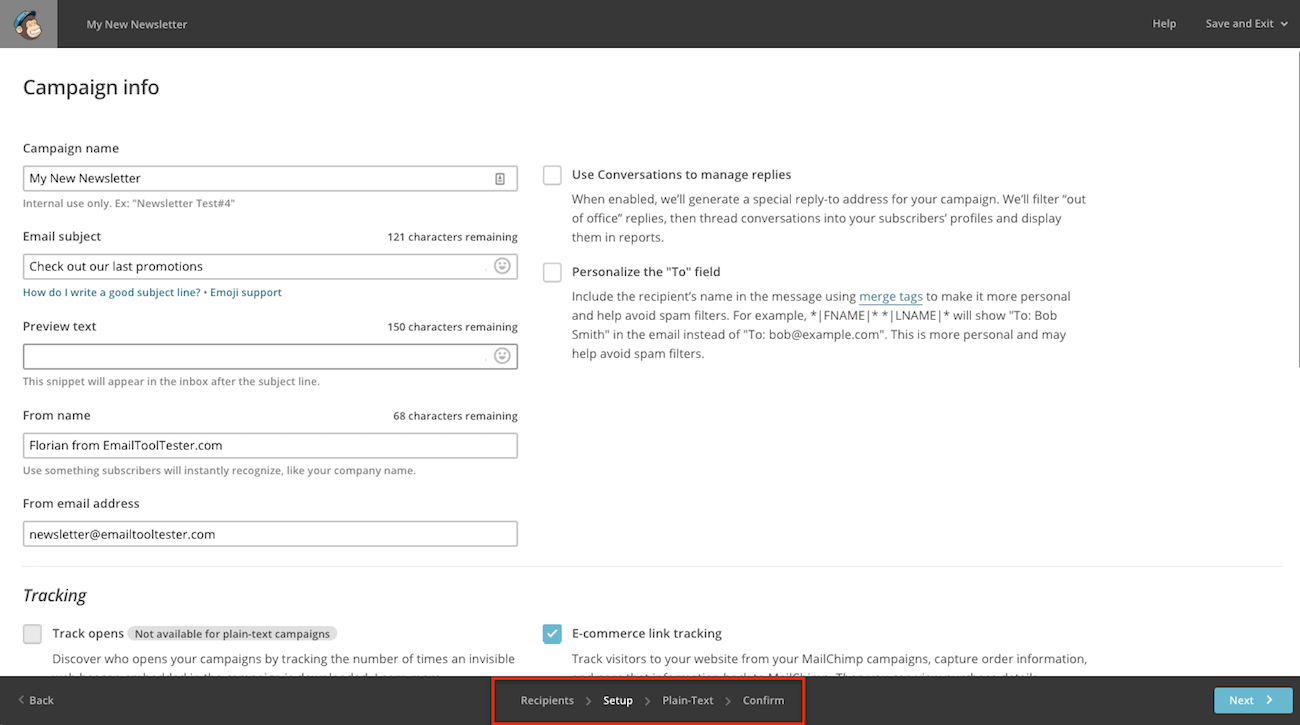 Nevertheless, as a whole, MailChimp's platform is still easier to use than AWeber's. The latter have options that feel hidden (how to reuse a campaign or choose a sender address), and navigating between the steps of your campaign is more tedious. One strange design choice also makes them lose points: their confusing naming conventions. For example, they call regular newsletters "Broadcast" and they say "Campaigns" when they mean email automations.
Winner: By and large not the easiest newsletter tool in the world, but MailChimp still beats AWeber here. (Have a look at our comparison chart to see how they rank overall).
Design and Flexibility
The general advice for newsletter layouts is to keep it simple. This is why it's nice to see that MailChimp has 80 clean and sleek templates, divided into sections such as ecommerce, events or holidays. You can then further customize these templates with layouts, and of course things like font and colors. When you're done tweaking, you can save the template and reuse it for all your communications. We also like that you can create HTML templates via code, URL or .ZIP file.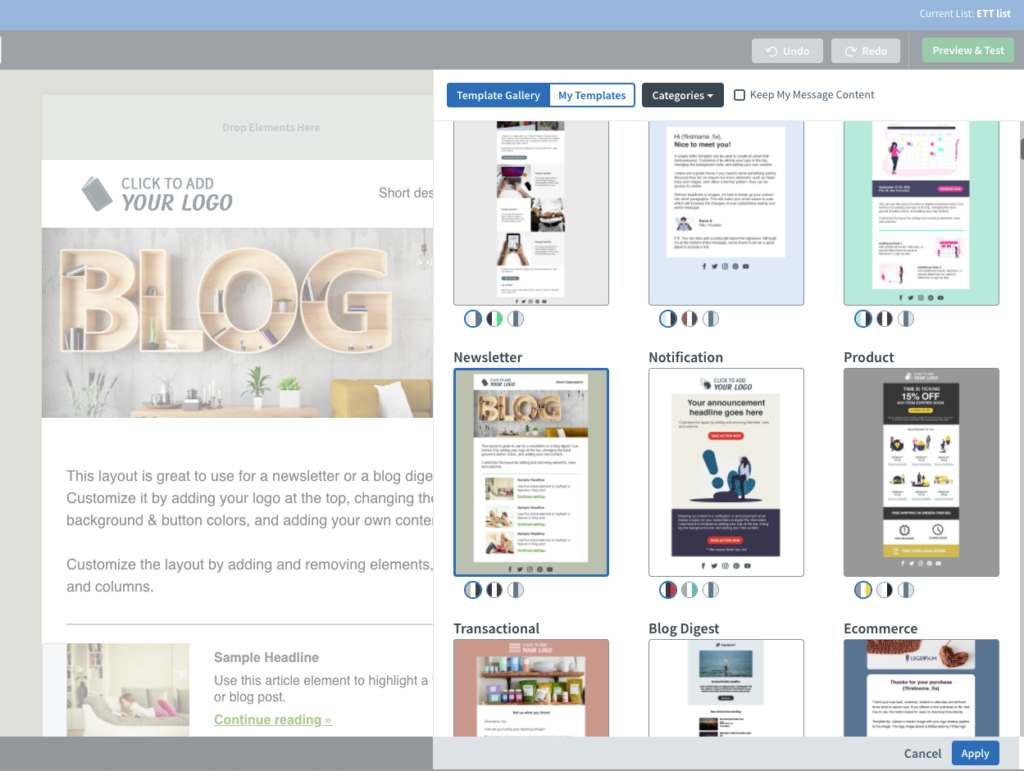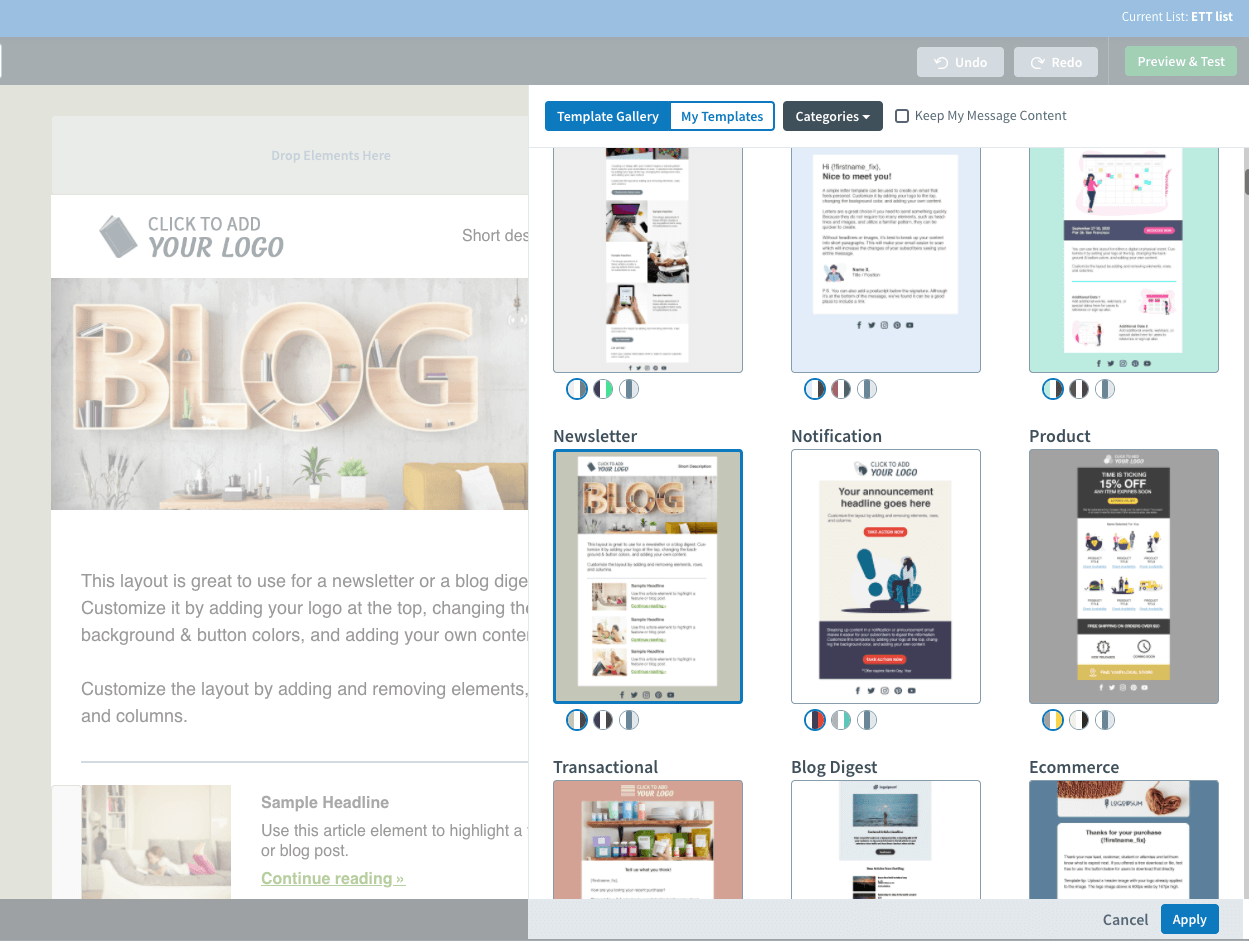 AWeber wins in terms of template numbers (150) but they're not necessarily better. We find their style a bit outdated, and for instance, it's hard to find 2 or 3 column layouts. You should still be able to create what you want thanks to good customization options, but it's less flexible.
Winner: MailChimp wins this round too – we'd rather have fewer templates but more flexibility with our design. 0:2 to Mailchimp
Email Marketing Features
For your email marketing strategy to be a success, you'll need your provider's automation and form building functionality to be on point! Let's have a look at how both tools perform in this respect…
Email automations
MailChimp has solid autoresponders. For instance, you can launch a campaign for different subscriber groups (people interested in product A or product B) and create email chains. Other triggers let you message users who bought a certain product, who subscribed to a form or those who opened a custom field. Sadly, editing them is not as user-friendly because the visual editor isn't exactly intuitive (unlike the one with Active Campaign, for instance).
AWeber's automations -confusingly called Campaigns-, are a new addition, and we tested them as a beta feature. In spite of that, they seemed decent enough. You can tag users and send them emails accordingly, including personalized messages. They might be lacking in features, but we still found them slightly easier to set up than with MailChimp.
Winner: MailChimp's automations are more powerful than AWeber's. We should say that neither of them is as good or intuitive as Active Campaign or GetResponse, where you can create campaigns based on user behaviors (which page they visited, for example) and with a great visual editor. 0:3 to Mailchimp
Registration forms
There are many ways to build your email list. But if you want subscribers to add themselves to your list, you need to create a registration form.
MailChimp makes it easy to build those with drag and drop tools, and you can add all the fields you need such as name or city for example. You can also pre-segment your users to let you know why they're interested as they sign up (for instance you could have a field where they write the product they like on your page). It's also easy to create opt-ins and thank you pages (when users have subscribed), but selecting color options was a bit finicky for our liking.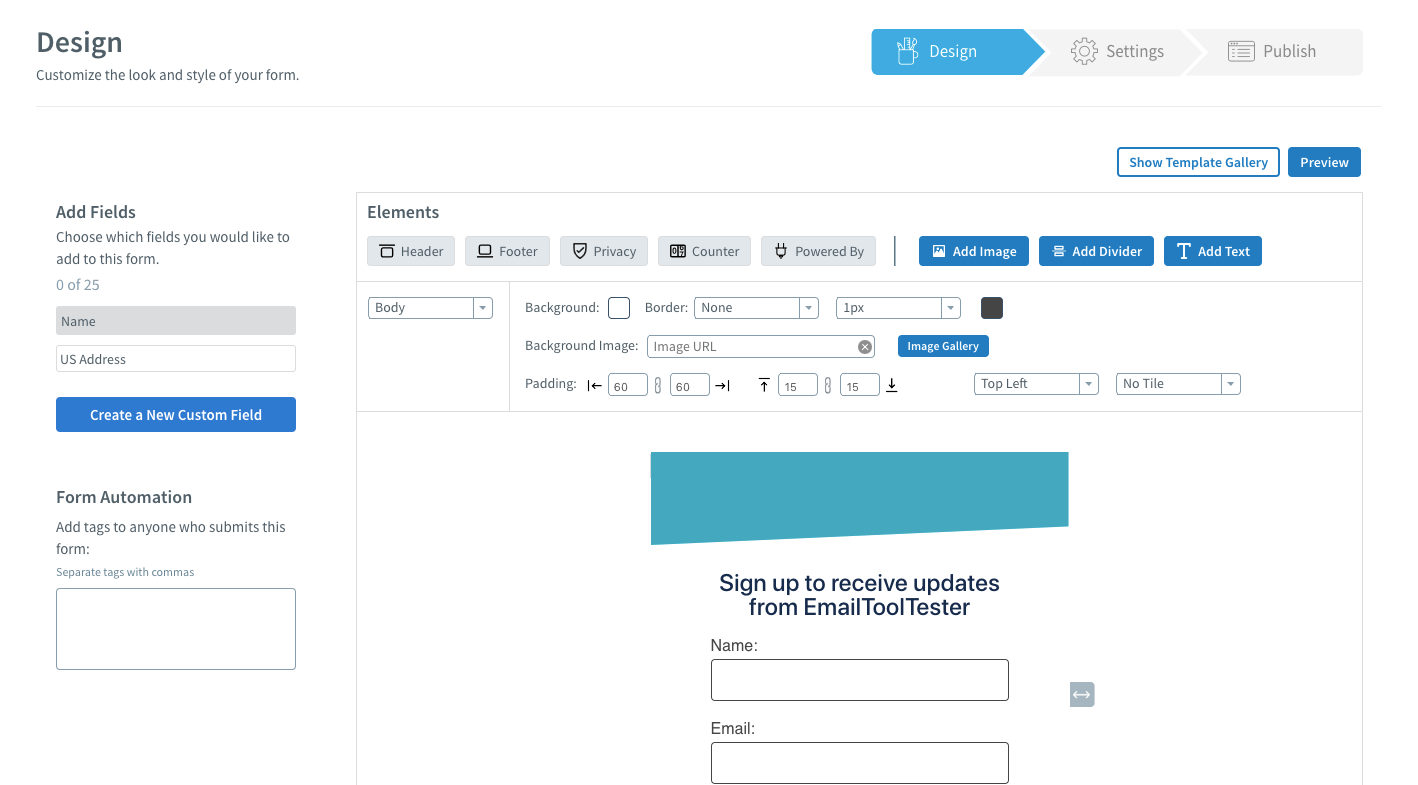 AWeber's registration forms are very powerful and full of features. Like with MailChimp, you get custom fields and thank you pages plus cool extras like the ability to add audio and video! However, these features come at a price for usability. It's just not that fun or intuitive to create your registration forms. On top of that, the templates aren't exactly the most eye-pleasing…
Winner: We were quite impressed with AWeber's registration form features – but you are not too likely to need them. So we'd still pick MailChimp for ease of use and the template choices. 0:4
Spam and design testing
When possible, you should always make sure your email looks good in all kinds of inboxes. MailChimp lets you do exactly that with their third-party Inbox Preview. It's a nifty tool, but unfortunately not free if you are on the cheaper subscription plans (each preview costs 1 token and you can buy 25 of them for $3). Also, we're surprised that they still don't offer spam testing.
In any case, it's still better than AWeber, which doesn't have spam testing or a good preview system in place. So not much more to add here.
Winner: Definitely MailChimp, by default. 0:5
Reporting
Measuring the success of your campaigns is just as important as their content. MailChimp offers an excellent integration with Google Analytics, and they even track the performance of your messages across different geographical zones or ecommerce conversions. There's also a click map and of course a bounce rate and click-through rate.
We're particularly fans of the social reports to analyze stats about how many people your email reached, and on what channels – you can even break it down by email provider (Gmail vs Yahoo). Finally, we should say that the reports look good and the information is easy to digest.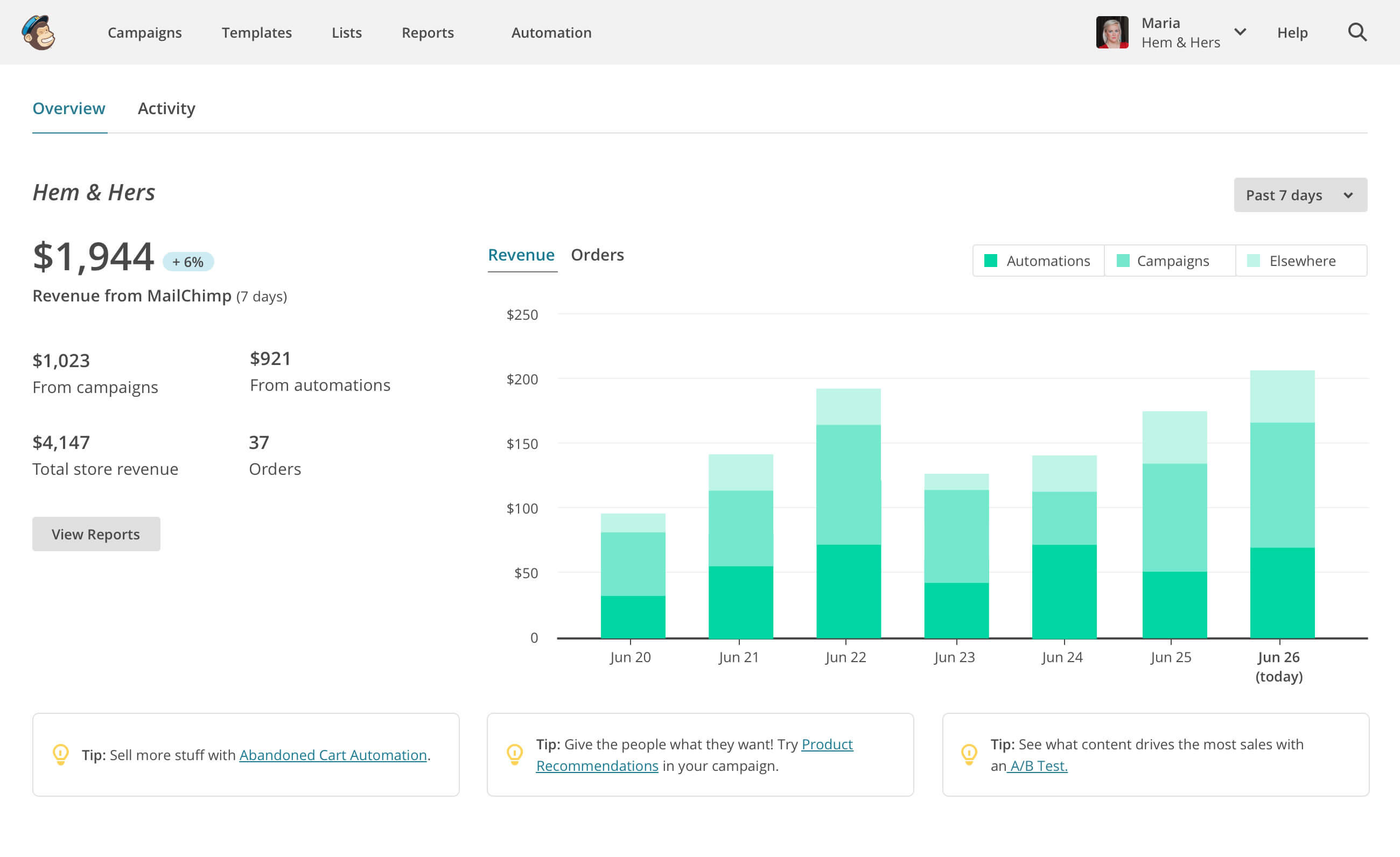 AWeber's reporting is on par in terms of features. You get the basic info about communication's performance such as openers, bounces and clicks, but also advanced data like ecommerce or geo-tracking. Sadly AWeber's design team could work a little harder on the reports because they're not as nice to look at, and some of the information is harder to access.
Winner: In terms of features, both solutions are actually very good. But MailChimp has the upper hand thanks to their superior user experience and design. 0:6
Deliverability
This is how you measure the number of emails that reach your users' inboxes. We've been monitoring the deliverability of popular email marketing providers in our bi-annual deliverability tests and saw that Mailchimp had a much better score compared to AWeber, which performed pretty poorly. In fact, AWeber sits very near the bottom for its average deliverability rates across our last 4 tests.
Here are the average figures of how they performed in our last 3 rounds of bi-annual deliverability tests (Mar 2021 – Jan 2023):
| | MAILCHIMP | AWEBER |
| --- | --- | --- |
| Overall Deliverability Rate | 91.39% | 85.74% |
Winner: MailChimp wins this round. Unfortunately, AWeber consistently sees a higher proportion of their emails end up in spam and have an overall lower deliverability score than MailChimp. 0:7 to Mailchimp – will AWeber manage to score a single point?
Landing Page Builder
Both AWeber and Mailchimp offer unlimited landing pages on their free plans, which is really generous!
Mailchimp's landing page builder is easy to use, and you can sell items straight from your landing page. The only thing is there are only 10 templates to choose from, whereas AWeber comes with 39. In my opinion, Mailchimp is easier to use than AWeber, but it's still fairly easy to edit AWeber's templates.

Winner: We're giving this point to AWeber, given that there are many more designs to choose from. 1:7 – finally!
Support
MailChimp offers email support and a good knowledge base. The chat support, however, is limited to business hours. Moreover, free users only have access to support during the first month, after that – they're on their own. We found that the answers were good, but they sometimes came a bit slow.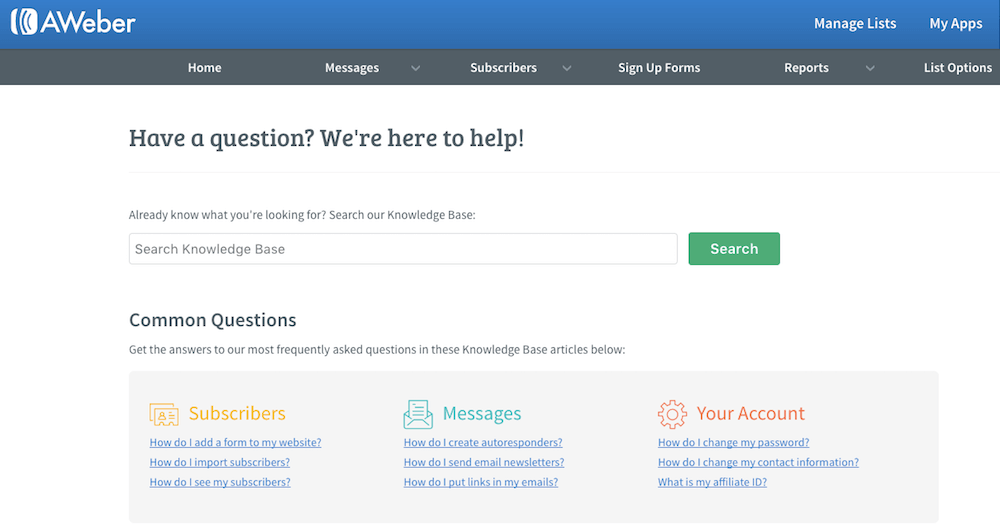 AWeber's support was fast, friendly and available through multiple channels (email and phone 7 days a week). The knowledge base is good, but finding the right topic is sometimes a bit tough. We'd recommend getting in touch with them directly if you really need an answer.
Winner: AWeber's support offers a tiny bit more when it comes to real time answers, but MailChimp's knowledge base is easier to browse. A point to each: 2:8
Prices
We've often commented on how generous MailChimp's free plan is, but this has all changed. In the past, you could send up to 10,000 emails to 2,000 subscribers, but this has dropped to 500 subscribers and 2,500 emails.
They also get expensive quickly.
Move up to 5,000 subscribers and you'll be paying $69 per month. Then it's $100 for 10K users. On the other hand, a plus is the pay-as-you-go offer, where you can send 5,000 emails for $150 and 10,000 emails for $200. Very few platforms offer Pay as You Go, and it's a shame because it's a nice flexible solution for small businesses.
One catch to bear in mind with MailChimp is that as of May 2019, new users (and those switching from free/pay-as-you-go plans to a monthly plan) started getting charged per contact, as opposed to just subscribed contacts (which was previously the case). Depending on the proportion of your contacts who are unsubscribed, this could push up your costs significantly.
There's no pay-as-you-go with AWeber and a pretty limited free plan. It starts at $19.99 a month for 500 subscribers, which is pretty expensive. The rest of AWeber's prices are pretty much on par with MailChimp's, with a $49.99 plan for 5,000 subscribers and $69.99 plan for 10,000 subscribers.
| | AWeber | MailChimp (Essentials) |
| --- | --- | --- |
| Free plan | 500 contacts and 3,000 emails/month | 500 contacts for free and 2,500 emails/month |
| 5,000 subscribers | $49.99 | $69 |
| 10,000 subscribers | $69.99 | $100 |
| 50,000 subscribers | $392.99 | $350 |
Winner: We're not huge fans of either tool's pricing, as there are many cheaper options, such as MailerLite. But AWeber is very slightly more affordable than Mailchimp. 3:8
Detailed Feature Comparison
If you would like to compare all the features of these two newsletter tools, check the following table:
Ease of Use
Editor
Personalization
Email types
Choice and Flexibility of Template Designs
Email Marketing Automation
List Management
Registration Forms/ Opt-in & Opt-out- Process
Deliverability
Reports and Analysis
Languages
Spam- and Design-Testing
Bounce Management
Blocklist
Storage available for data and images
unlimited
Unlimited
Authentication
Own Domain
Different levels of account access
Integrations
Landing Page Builder
Customer Support
Prices

Up to 500: $0/mo

Up to 2,500: $39.50/mo

Up to 10,000: $100/mo

Up to 20,000: $220/mo

Up to 30,000: $295/mo

Up to 40,000: $330/mo

Up to 50,000: $350/mo

Up to 500: $0/mo

Up to 500: $19.99/mo

Up to 2,500: $29.99/mo

Up to 5,000: $49.99/mo

Up to 10,000: $69.99/mo

Up to 25,000: $149.99/mo

Up to 50,000: $392.99/mo

Up to 100,000: $792.99/mo

Overall rating
When Not to Use MailChimp or AWeber
As mentioned in the corresponding sections, MailChimp and AWeber aren't necessarily your best bet when it comes to email automations. ActiveCampaign is far superior for creating very flexible and complex campaigns. Similarly, neither MailChimp or AWeber are as cheap as some very good competitors like MailerLite. MailerLite is also a good option if you want a landing page editor, and so is GetResponse.
Conclusion
As you can see in our main comparison table, MailChimp ranks higher than AWeber. We will be consistent here and declare MailChimp a clear winner. Their automations are easier to set up, the reporting is top-notch, and their general user experience wins them extra points for a lot of categories.
In fact, it would be really hard to recommend AWeber for any reason, except maybe their support – and even that's a stretch.
However, remember that there are other solutions out there. MailChimp is actually quite expensive when you leave the free plan, so do check out MailerLite if cost is a big issue for you.
Similarly, advanced marketers with more complex email marketing strategies will surely benefit from better automations like the ones found with ActiveCampaign or GetResponse.
You can see how other popular email marketing platforms compare in this Mailchimp alternatives post or by checking out the following comparisons:
Questions? Comments? Talk to us below and we'll reply to everything!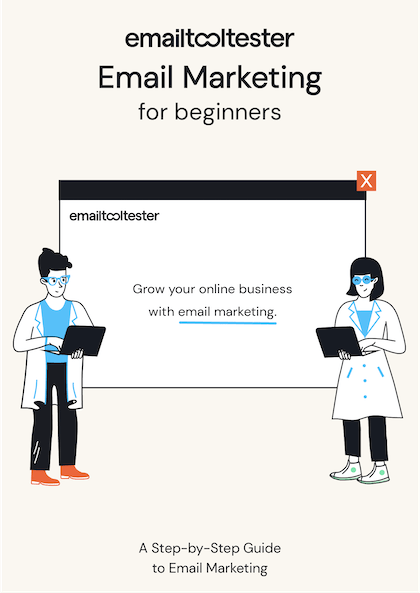 Email Marketing Crash Course: Step-by-Step Guide
Our email marketing course for beginners: ideal for small and medium-sized businesses, online stores and bloggers. It shows you all the steps you need to send your first email campaign. Best of all, it's free!
Sign up to receive your copy immediately!
We keep our content up to date
09 March 2023 - Updated deliverability averages
15 Sept 2022: Changes to Mailchimp's free plan
27 Apr 2022: Updated deliverability section
21 Oct 2021: Updated deliverability section
19 May 2021: Updated screenshots & added landing page section
06 Apr 2021: Updated Mailchimp's prices
16 Mar 2021: Updated deliverability section based on the latest round of testing
31 Aug 2020: Updated the deliverability averages
15 July, 2020: AWeber added a free plan
23 July, 2019: Updated deliverability results
8 October, 2019: Video addition
10 Feb, 2020: Updated deliverability results
Our Methodology
This article has been written and researched following our EmailTooltester methodology.
Our Methodology