Customer relationship management software (or just "CRM" for short) and email marketing go together like donuts and coffee.
Sure, you could add data to your CRM manually, and send marketing emails without the help of a CRM. But they're better together — combine the two, and you've got a beautiful system for:
In other words, your CRM and email marketing efforts feed into each other and enhance your sales and marketing campaigns as a whole.
If you're keen on implementing such a system, I'll be reviewing eight of the best CRM and email marketing tools for doing so — their pros, cons, and who I think will benefit from them most. It's a detailed piece, so feel free to grab a donut, and make yourself a coffee, as we dig in!
First off: what is CRM email marketing and what can you get out of it?
What Is CRM Email Marketing?
CRM email marketing refers to the use of email to market to contacts in a CRM. For example, you could send:
Why Opt for a CRM With Email Marketing?
Your CRM contains a rich treasure trove of data, which you can use to personalize your emails to contacts and improve customer relationships and sales!
For instance, if you run a gym with many branches in the country, you could use your CRM to store information on your customers' names, gym membership tiers, locations, and gender. From there, you could email:
Only customers who live in a certain geographical area (to notify them you're temporarily closing the branches there for renovations, for example)
Female customers about upcoming ladies-only gym sessions
VIP customers about their exclusive gym membership perks
By tailoring your marketing messages to your audience, you can send targeted offers that help increase your conversion rate. You also avoid sending your contacts irrelevant promotions that may cause them to unsubscribe.
To engage in CRM email marketing, you'd need to invest in a CRM that includes email marketing features such as email form creation, automations, and contact segmentation. Alternatively, you could use an email platform that contains CRM features.
These two options sound similar, but they differ in terms of the feature set that the platform is stronger in. A CRM and email marketing tool that's primarily a CRM will tend to have more comprehensive CRM features than email ones, while the reverse is true for an email-first platform.
You'll see what I mean as I cover a mix of both types of platforms in this guide. While you're reading, think about whether your ideal tool should be more CRM- or email marketing-focused!
What Is the Best Email Marketing Service With CRM?
The best email marketing services with CRM include HubSpot, ActiveCampaign, EngageBay, and Brevo.
They can help you store customer data and manage your sales pipelines with ease. You can also segment your customers for sending targeted campaigns, and build automations to put your email marketing on autopilot.
8 Best Email Marketing Tools With Built-in CRM Software
We'll take a look at all these CRMs:
Let's continue with our detailed profiles:
1. HubSpot CRM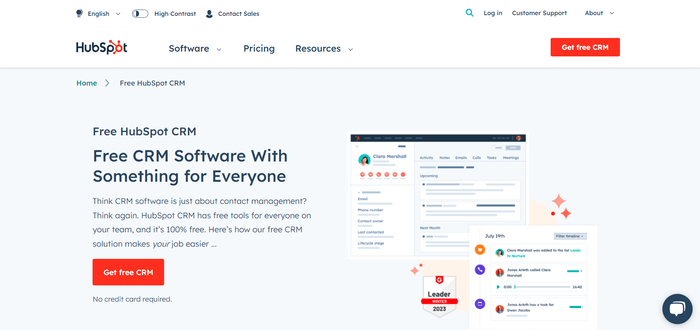 While some tools are email marketing services with CRM features included, HubSpot is a full-fledged CRM with an email integration. It's a popular one at that, claiming about 31.61% market share in the marketing automation space!
Let's break down what gets HubSpot all this love:
For one, HubSpot's free CRM is packed with powerful features such as email forms and landing pages, a deal pipeline, contact website activity (i.e. website tracking), and email marketing automations. You can also store one million contacts — no typo here — and send up to 2,000 emails per month.
With all this in mind, is it any wonder that HubSpot has also won our Best CRM Tool For Small Businesses badge for 2023?
Pros of HubSpot CRM
HubSpot's free plan is highly generous, letting you store up to one million contacts in your CRM, send up to 2,000 emails per month, and set up simple marketing automations. You can even use the platform's non-marketing features, such as conversational bots, at no cost.
Build end-to-end sales funnels within HubSpot by taking advantage of its built-in email form and landing page builders, marketing automations, and sales pipeline features.
HubSpot's CRM is easy to use despite being feature-rich.
Cons of HubSpot CRM
The platform's email forms look rather plain and uninspiring.
HubSpot doesn't have great deliverability, finishing second from the bottom in our email deliverability tests for 15 providers.
HubSpot CRM pricing
The CRM Suite Free plan includes forms with limited features and HubSpot branding, 2,000 email sends per calendar month, one automated email action, and one deal pipeline
The CRM Suite Starter plan removes the HubSpot branding and gives you 10 automated email actions and two deal pipelines. It also increases the monthly email send limit to 5X your marketing contact tier. The CRM Suite Starter plan starts at $50/month for 1,000 marketing contacts and two paid users
The CRM Suite Professional plan gives you unlimited automated email actions, 15 deal pipelines, and 100 custom reports. It also increases the monthly email send limit to 10X your marketing contact tier. The CRM Suite Professional plan starts at $1,781/month for 2,000 marketing contacts and five paid users, not including a one-time $4,500 Professional Onboarding fee
The CRM Suite Enterprise plan gives you multi-touch revenue attribution, 100 deal pipelines, predictive lead scoring, and 500 custom reports. It also increases the monthly email send limit to 20X your marketing contact tier. The CRM Suite Enterprise plan starts at $5,000/month for 10,000 marketing contacts and 10 paid users, not including a one-time $12,000 Enterprise Onboarding fee
Learn more about HubSpot CRM pricing here.
Who is HubSpot CRM best suited to?
Businesses that want free yet powerful CRM tools should definitely check out HubSpot! But no worries if you feel the platform isn't right for you — there are many HubSpot alternatives worth considering.
> Read our full HubSpot CRM review
2. ActiveCampaign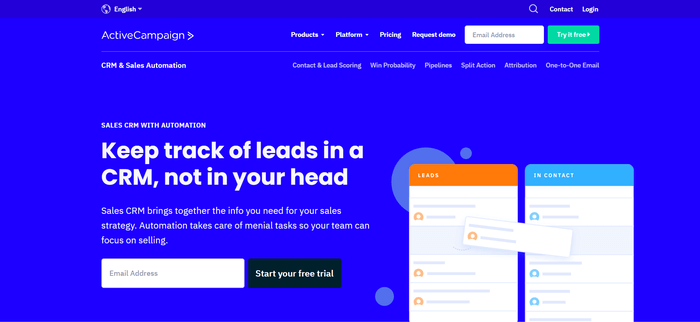 If email marketing automation is your priority, ActiveCampaign may be up your alley. The platform boasts some of the most powerful marketing automation capabilities we've discovered in the market.
That's not to say ActiveCampaign's CRM features are lacking, though.
Create deals and assign them to users, and you can also view the progress of your deals in pipelines. (There's no limit on the number of pipelines you can have in ActiveCampaign.) And remember the automation features I mentioned earlier? You can use them to manage your deals too — such as automatically updating a deal's status when a contact opens your email.
ActiveCampaign offers its email marketing and CRM features in separate plans, so you'd need to get a bundle plan to access both feature sets. And given how ActiveCampaign isn't cheap to begin with, this bundle plan will cost you quite a bit — see the pricing section below for more info.
Pros of ActiveCampaign
The platform offers a wide variety of triggers and actions for building sophisticated marketing automations, including adjusting a deal score when a contact clicks an email link.
ActiveCampaign scored well in our email deliverability tests.
Once you've won a certain number of deals, ActiveCampaign can help you calculate the win probability for open deals. This is helpful for deciding which deals to focus your efforts on.
Cons of ActiveCampaign
You may find ActiveCampaign's prices too high to swallow.
The platform's CRM reports could be more customizable, like what we've seen in other CRMs.
ActiveCampaign pricing
The Marketing + Sales Plus Bundle plan includes contact segmentation, sales automation, and lead scoring. It starts at $116/month for 1,000 contacts and five user seats
The Marketing + Sales Professional Bundle plan adds unlimited email sends, sales engagement automations, and win probability predictions. It starts at $482/month for 2,500 contacts and 10 user seats
The Marketing + Sales Enterprise Bundle plan adds custom field objects, custom reports, and single sign-on (SSO) features. A custom quote is needed
Learn more about ActiveCampaign pricing here.
Who is ActiveCampaign best suited to?
Go with ActiveCampaign if you have deep pockets, and your marketing strategy involves running the best CRM email marketing automations that money can buy.
> Try ActiveCampaign in a free trial
> Read our full ActiveCampaign CRM review (or our main ActiveCampaign review here)
3. EngageBay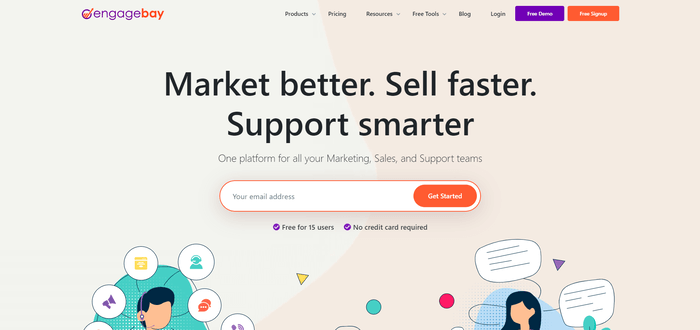 From email broadcasts to sequences and automations, the EngageBay CRM software offers strong email marketing capabilities in a user-friendly interface. While platforms that provide a ton of features tend to be cluttered and difficult to navigate, finding what I'm looking for in EngageBay is rarely more than a few clicks away. Seriously, even the color scheme of EngageBay's interface sparks joy whenever I fire up the platform!
You'll need EngageBay's All-in-One bundle plan to access the platform's email marketing and CRM features. And you may find the free plan of interest here — with it, you can track deals and send 1,000 emails per month, among other features.
But if you need to upgrade, EngageBay's All-in-One pricing is a lot more affordable than some other bundle options in the market we've tested (I'm looking at you here, ActiveCampaign).
Pros of EngageBay
The EngageBay platform is clean and a joy to use. Kudos to its user interface designers!
You can save precise segments of contacts using a wide range of filters.
Each of your contacts is assigned a score and you can have these automatically adjusted using automations. You can also trigger automations when your contacts' scores reach a certain value.
Cons of EngageBay
Marketing automations are available only if you upgrade to EngageBay's second-highest paid plan (All-in-One Growth) or higher.
EngageBay's form and landing page templates look rather garish compared to those in various other platforms we've tested. I wouldn't use them without extensively customizing them first.
EngageBay pricing
The All-in-One Free plan includes five form embeds, 1,000 emails per month, and predictive lead scores for up to 250 contacts
The All-in-One Basic plan adds custom deal milestones and calling minutes. It also increases the email send limit to 3,000 emails per month. The All-in-One Basic plan starts at $14.99/user/month for up to 500 contacts
The All-in-One Growth plan adds marketing automation, time zone-based email delivery, and custom deal tracks. It also increases the email send limit to 25,000 emails per month. The All-in-One Growth plan starts at $49.99/user/month for up to 5,000 contacts
The All-in-One Pro plan adds goals, custom reports, and role management. It also increases the email send limit to 50,000 emails per month. The All-in-One Pro plan starts at $99.99/user/month for an unlimited number of contacts
Who is EngageBay best suited to?
Sales and marketing teams that want affordable CRM and marketing automation features in an all-in-one platform should give EngageBay a go.
4. Brevo
Brevo is more of an email marketing software than a CRM, but it can be the latter as well — just install its separate (and free) Sales CRM app. When you do so, Brevo becomes a decent email marketing with CRM tool for tracking your deals and sales pipelines.
What I especially love about Brevo is its free plan. This plan not only gives you free access to basic CRM and email marketing features, but also lets you store unlimited contacts! You're just capped at sending a maximum of 300 emails per day.
All these reasons make the platform a strong choice if you want to manage a large contact list on a modest budget. (They're also why we've awarded Brevo our Best Email Marketing Tool For Value For Money badge for 2023.)
Pros of Brevo
The platform has a decent free plan. Among other features, it lets you segment unlimited contacts, send automated email campaigns, and manage your contacts in a CRM as long as you don't send more than 300 emails per day.
Brevo's email marketing and CRM interfaces are clean and easy to navigate.
You can also build relatively advanced email automations with multiple entry points and if/else conditions.
Cons of Brevo
You won't be able to work with your email marketing contacts in the Sales CRM app until you've registered "companies" in the CRM and associated your email marketing contacts with them. Doing all this can be rather tedious.
Brevo's landing page builder is available only on the more expensive Business and Enterprise plans.
Brevo pricing
The Sales CRM add-on app is free and includes deal management, customizable signup forms, and task automation for unlimited contacts
The Marketing Platform Free plan includes marketing automation for up to 2,000 contacts, contact segmentation, and 300 email sends per day
The Marketing Platform Starter plan removes the daily email send limit and gives the option of removing Brevo branding (for an extra $10/month). It starts at $25/month for sending up to 20,000 emails per month
The Marketing Platform Business plan adds A/B testing, send time optimization, and advanced email reports. It starts at $65/month for sending up to 20,000 emails per month
The Marketing Platform Enterprise plan adds custom shared inboxes, multi-user access, and enterprise-grade security. It starts at $1,000/month
Learn more about Brevo pricing here.
Who is Brevo best suited to?
Small business owners on a tight budget may find themselves making a beeline for Brevo's free email marketing and CRM features. You can also find more free email marketing services here.
5. Freshsales Suite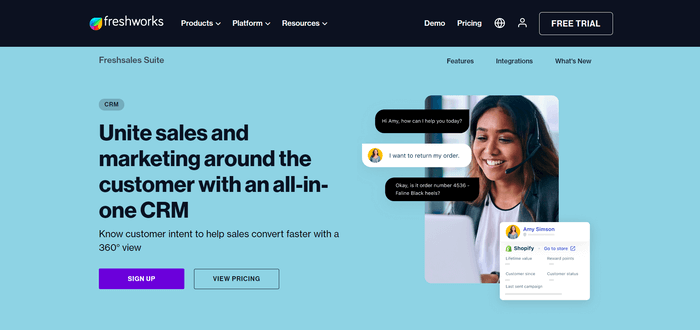 The Freshsales CRM is part of the Freshworks line of products, offering features such as sales pipelines, contact management, an activity timeline, and workflows.
Like Zoho CRM, there is an option for using Freshsales for free. But Freshsales's free plan does a bit better in that you can enjoy the full extent of the platform's lowest-tiered paid plan without paying to unlock some features. You're just limited to having up to three users in your account.
The regular Freshsales product doesn't include email marketing features. For that, you'd need to go for its CRM with email integration, called "Freshsales Suite," instead. And given how Freshsales Suite's plans have the same starting prices as Freshsales's, you might as well do so.
This way, you'll get access to comprehensive marketing automations (called "customer journeys"), merge tag personalization, campaign analytics, and more.
AI is also a major selling point of Freshsales Suite, which you'll learn more about below.
Pros of Freshsales Suite
Freshsales Suite's Freddy AI assistant can help score contacts, give insights on deals, and forecast sales. Not many CRMs we've tested offer similar AI-powered insights.
The platform has extensive options for segmenting your contacts based on their contact properties, email activity, web page visits, and more.
A rotten deals feature lets you set up an age after which a deal is considered likely to have been lost (such as 30 days after creation). Sales reps who want to see which deals to spend more attention on before they "rot" may find this feature useful. We didn't come across many other CRMs with a similar feature.
Cons of Freshsales Suite
The email campaign builder is rather inflexible. For example, you can't add multiple columns of content to a single-column container.
Freshsales Suite's campaign revenue attribution feature works only with Shopify stores.
Freshsales Suite pricing
The Growth plan includes contact and deal management, AI-powered contact scoring, and email campaigns for up to 1,000 marketing contacts. It is free for three users and $18/user/month for additional users
The Pro plan adds multiple sales pipelines, AI-powered deal insights, and sales team management. It starts at $47/user/month for up to 1,000 marketing contacts
The Enterprise plan adds custom modules, AI-based forecasting insights, and a dedicated account manager. It starts at $83/user/month for up to 1,000 marketing contacts
Learn more about Freshsales pricing here.
Who is Freshsales Suite best suited to?
Choose Freshsales Suite if you want to tap into AI for your sales and marketing processes.
> Try Freshsales Suite for free
6. Salesmate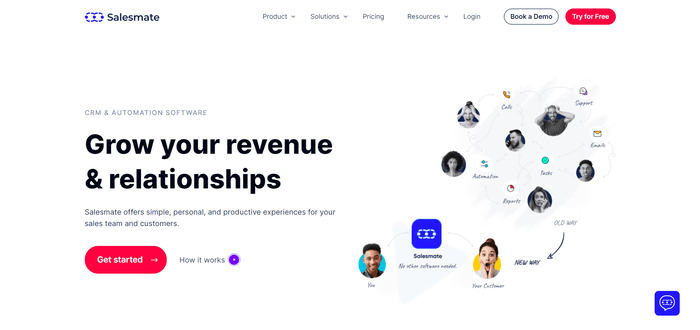 Salesmate is a comprehensive CRM tool for helping you organize your contacts, track deals through your sales pipelines, and manage activities in one place. It also has useful email marketing features for creating email forms, sending automated email marketing campaigns, segmenting your contacts, and more.
What's unique is how Salesmate offers built-in features for calling your contacts. You can also record, transfer, and mask calls within Salesmate itself. Such calling features are available even on the lowest-tiered plan — you won't have to pay more to access them.
Pros of Salesmate
Salesmate stores rich customer insights on each contact, including their email correspondence with you, deals, and activities.
Built-in calling and texting in over 90 countries are included in all Salesmate plans. Based on our research, not many other CRM tools offer the same.
Create personalized email templates with attributes like your contacts' company name, city, last communication date, and more.
Cons of Salesmate
Salesmate offers three types of automations: workflows, sequences, and automation journeys. Understanding the differences among them — and figuring out how to set them up — can involve a bit of a learning curve.
You're limited to sending a maximum of 250 mass sales emails at one go. You'd have to send your email multiple times if you want to reach more contacts than that.
Salesmate pricing
The Starter plan includes bulk emails, deal management, and custom pipelines and stages. With it, you can send 250 sales workflow emails/user/day. The Starter plan starts at $15/user/month
The Growth plan adds email scheduling, sequence emails, and custom deal layouts. It also increases the sales workflow email send limit to 500/user/day. The Growth plan starts at $30/user/month
The Boost plan adds team management and raises the team inbox and workflow limits to five and 50 respectively (being three and 25 respectively on the Growth plan). It also increases the sales workflow email send limit to 1,000/user/day. The Boost plan starts at $50/user/month
The Enterprise plan adds unlimited dashboards, priority support, and a dedicated account manager. It also increases the workflow email send limit to 1,500/user/day. A custom quote is needed
End-to-end marketing and sales automations require a separate Automation Journeys add-on, which starts at $30/month for 1,000 contacts
Who is Salesmate best suited to?
If you intend to not just email but also call your contacts, Salesmate's built-in calling features may make it the right CRM software for your needs.
> Try Salesmate in a free trial
7. Zoho CRM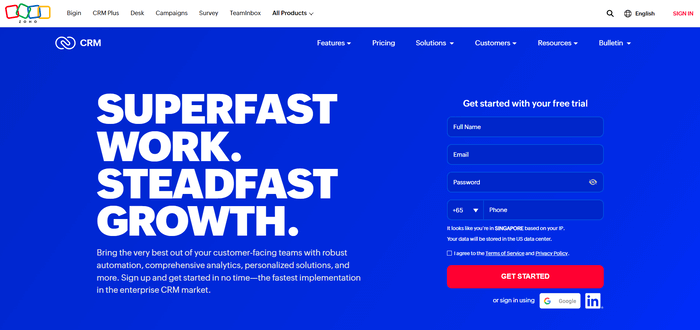 Zoho offers a whole suite of products for HR management, cloud storage, social media management, and other needs. It also has a CRM, which was launched in 2005 and has become one of the platform's best-selling products ever since.
The Zoho CRM free plan probably has something to do with this: it's free for up to three users, and provides a good range of features such as contact and deals management, email campaigns, and activities. You can also set up workflow rules to automate various tasks — up to 2,500 rules to be exact, which is the same as what paid users enjoy.
That said, Zoho CRM's email marketing automation capabilities are largely limited to sending auto-responder emails. If you need more advanced email automations, sign up for Zoho's separate Campaigns app. The free version of Zoho Campaigns lets you send up to 6,000 emails per month to up to 2,000 contacts, so adding it on is a no-brainer.
Pros of Zoho CRM
With the canvas view feature, you can customize how Zoho CRM displays your CRM record data. From our experience, not many other CRMs offer a similar feature.
You can set up a maximum of 2,500 workflow rules, even if you're a free plan user.
Zoho CRM offers many pre-defined reports, such as reports for today's sales and top 10 email templates by click rate. You can also create custom reports if you are on at least the Standard plan.
Cons of Zoho CRM
Zoho CRM isn't the most user-friendly. For example, you'd need to click through several layers of menus just to create email templates.
You can't set up auto-responder emails unless you're on at least the more expensive CRM Enterprise plan. Even then, you're limited to just three such emails (five for Ultimate plan users). That said, you can get around this by using Zoho Campaigns to send automated emails.
Zoho CRM pricing
The Zoho CRM Free plan includes leads, deals, and campaigns for up to three users
The Zoho CRM Standard plan includes mass emails, pipelines, and email insights. It starts at $20/user/month
The Zoho CRM Professional plan adds automation macros, CRM validation rules, and custom reports. It starts at $35/user/month
The Zoho CRM Enterprise plan adds customer segmentation, auto-responders, and email parsers. It starts at $50/user/month
The Zoho CRM Ultimate plan adds Zoho Analytics, which is the platform's self-service business intelligence and data analytics software. The plan starts at $65/user/month
The Zoho Campaigns Free plan includes signup forms, email templates, and 6,000 emails per month for up to 2,000 contacts and five users
Learn more about Zoho CRM pricing here.
Who is Zoho CRM best suited to?
Zoho CRM is a good CRM with email marketing tool for small sales teams on a budget — emphasis on "small," because the free plan can accommodate a maximum of three users. (In contrast, you can have unlimited users on a single free HubSpot account, for example.)
> Read our full Zoho CRM review
8. Drip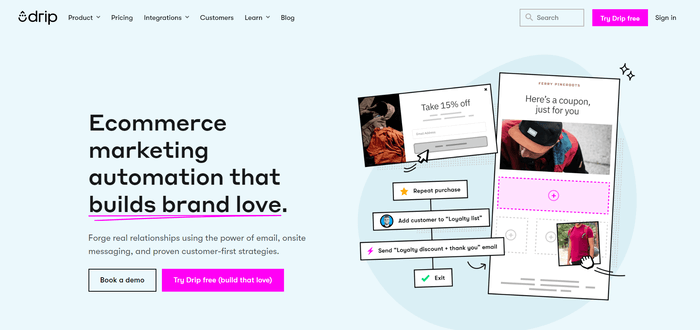 Ecommerce owners, this may be the CRM for you. Drip integrates with all major ecommerce platforms, including Shopify, WooCommerce, and BigCommerce, to populate its CRM with details of your customers. You can track how much each person has spent with you so far and the specific orders they've placed.
Apart from that, you can also set up automated workflows that drip emails and nurture subscribers (known as "people" in Drip) into customers over time, or segment your people to send targeted promotions their way.
Pros of Drip
Drip doesn't lock any features behind more expensive plans. You pay more only if you have more people in your account or need to increase your monthly email send limit.
The platform offers plenty of ecommerce-focused email marketing automations, such as abandoned cart reminders and post-purchase sequences.
Get a bird's eye view of each person's order history and customer lifetime value.
Cons of Drip
Its CRM features are rather limited. For example, you can't add deals or view your sales pipeline.
Drip performed poorly in our email deliverability tests (third from last out of the 15 email providers we tested).
Drip pricing
Drip pricing includes email templates, onsite campaigns, and automated workflows. It starts at $39/month for 2,500 people
Who is Drip best suited to?
Online store owners who want a simple ecommerce-focused CRM should take a closer look at Drip.
What to Consider When Choosing a CRM Email Marketing Software
With so many CRM email marketing tools out there, use these considerations to narrow your options:
Bonus: How to Make the Most Out of Your CRM With Email Marketing
One last thing before I wrap things up! Here are some quick tips for getting the highest CRM with email marketing ROI:
Personalize, personalize, personalize: Use the customer data you've gathered in your CRM to personalize your emails as much as you can. Don't just address your contacts by name in your emails — that's too basic. Instead, go one step further and tailor your emails based on your contacts' location, past interactions with your business, order history, and other characteristics. As far as possible, contacts should feel as if you've written your emails with them specifically in mind.
Test your email marketing automations: Check that your automations work as intended before you roll them out. To do so, enter your automation — such as by subscribing to your email form — and observe what happens in your CRM's backend. This simple test can save you from a lot of embarrassment if you accidentally send a big-ticket client down the wrong automated path!
Review your CRM reports regularly: What's working, and what has room for improvement? Your reports will tell you exactly that so you can refine your funnels for higher conversion rates. For example, if you seem to be losing many deals at the proposal stage, this could be a sign that your proposals need improving.
Which Is the Right CRM With Email Marketing Tool for Your Business?
Picking the best CRM with email marketing tool can be tricky, but I hope my comprehensive breakdown of eight of the top options in the market has helped point you in the right direction!
The key is to decide whether you prioritize CRM features over email marketing ones, or vice versa, first. Because as mentioned earlier, most tools tend to be stronger in one feature set over the other. From there, narrow your options accordingly.
In any case, you won't go wrong if you try the tools out for yourself before deciding. They all have either free plans or trials, after all.
I'm also happy to take questions on the CRM and email marketing tools I've covered here! Just leave your question in the comments section below.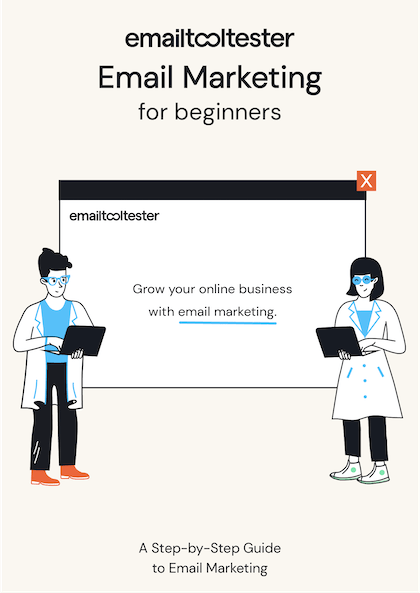 Email Marketing Crash Course: Step-by-Step Guide
Our email marketing course for beginners: ideal for small and medium-sized businesses, online stores and bloggers. It shows you all the steps you need to send your first email campaign. Best of all, it's free!
Sign up to receive your copy immediately!
Our Methodology
This article has been written and researched following our EmailTooltester methodology.
Our Methodology