Clearing out a busy inbox can be a daunting task and often the culprit is email marketing. Although email newsletters are largely useful, for example, for providing information or offering you exclusive discounts, some can become a nuisance, especially if you're receiving multiple emails a week, or even every day, from the same company.
According to data from MaristPoll 76% of Americans are shopping online, translating to 252.2 million online shoppers from the US.
When making an online purchase you are given the choice to opt-in or out of marketing newsletters, but, which ones are worth signing up for? And which companies continue to send you emails even after you unsubscribe?
To analyze the sending behavior of major US ecommerce retailers, we have conducted a study signing up for email newsletters for seven months from over 30 companies, examining a total of 4,568 emails.
Here is a summary of some of our key findings from this analysis:
The fashion retail sector sends the highest volume of marketing emails, averaging 31 emails a month
Nordstrom sent the highest volume of emails in our study, with 640 over seven months
H&M used personalization the most to entice customers, with "for you" featuring 107 times
Salesforce was the most commonly used email service provider, with 48% of companies in the study using this service
Nordstrom, Kohls, H&M and ASOS kept sending emails even after unsubscribing
The companies who send the highest volume of marketing emails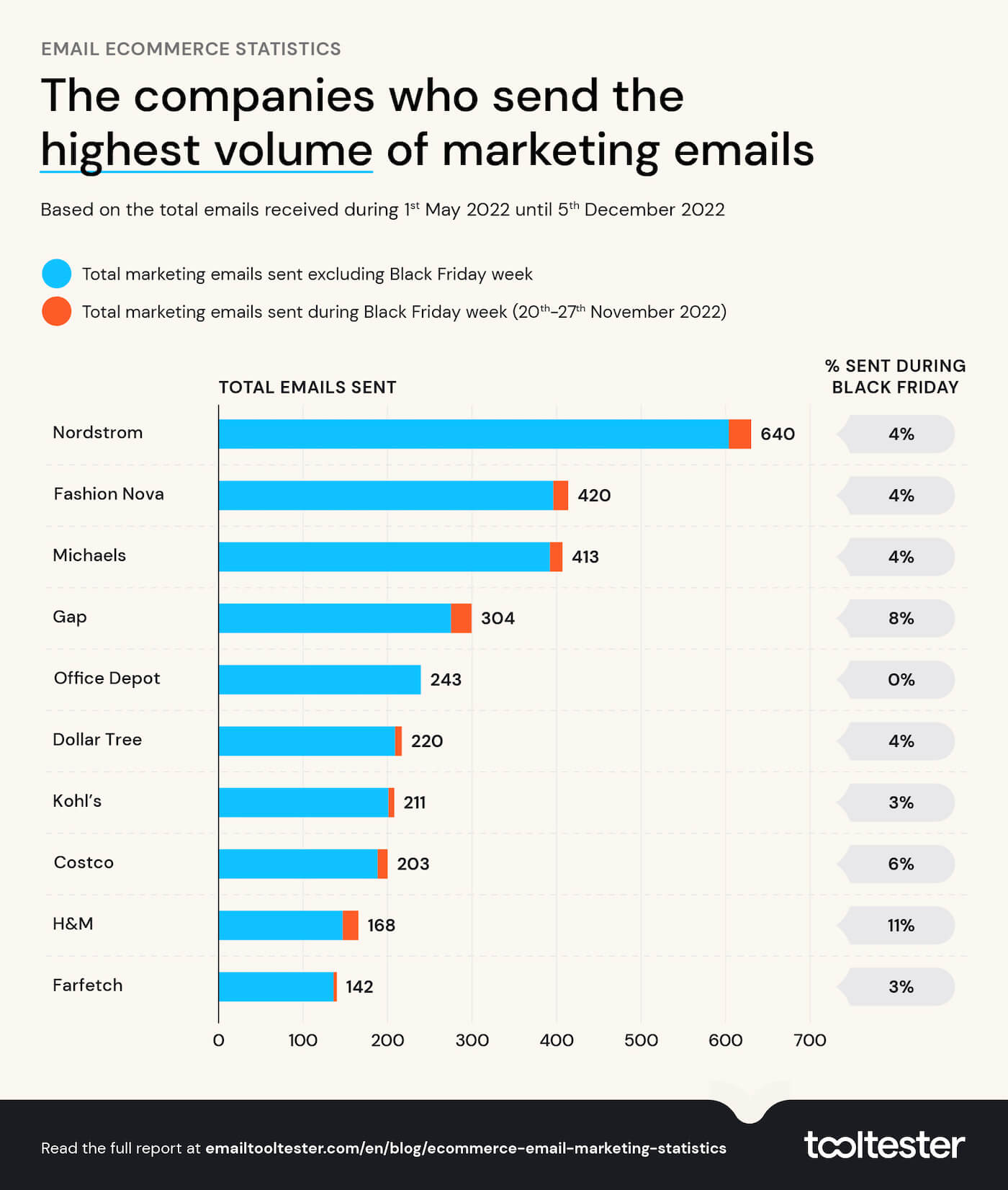 Nordstrom sent the highest number of emails in our study
The luxury department store was the most avid sender of marketing newsletters. With a volume of 640 newsletters sent over the course of seven months, this is an average of 91 emails a month, 13 a week, and nearly two a day! 4% of these total emails were sent during Black Friday week.
H&M had the largest Black Friday increase
Black Friday is the time for a bargain and as this commercial period marks the beginning of Christmas shopping, H&M capitalized on this by sending 11% of all their marketing emails during this week.
The fashion retail sector are the biggest senders
Making up six of the top ten, the clothing sector was found to send the most marketing emails. This was made up mostly of sales, offers and new product lines dropping onsite. Interestingly, most of the companies are fast fashion brands, thus having a surplus of stock that could relate to the higher volume of marketing newsletters in your inbox.
So, now we know who sends the most marketing emails, but what is the content of these newsletters? What are these brands trying to say?
The companies who communicate urgency the most in marketing emails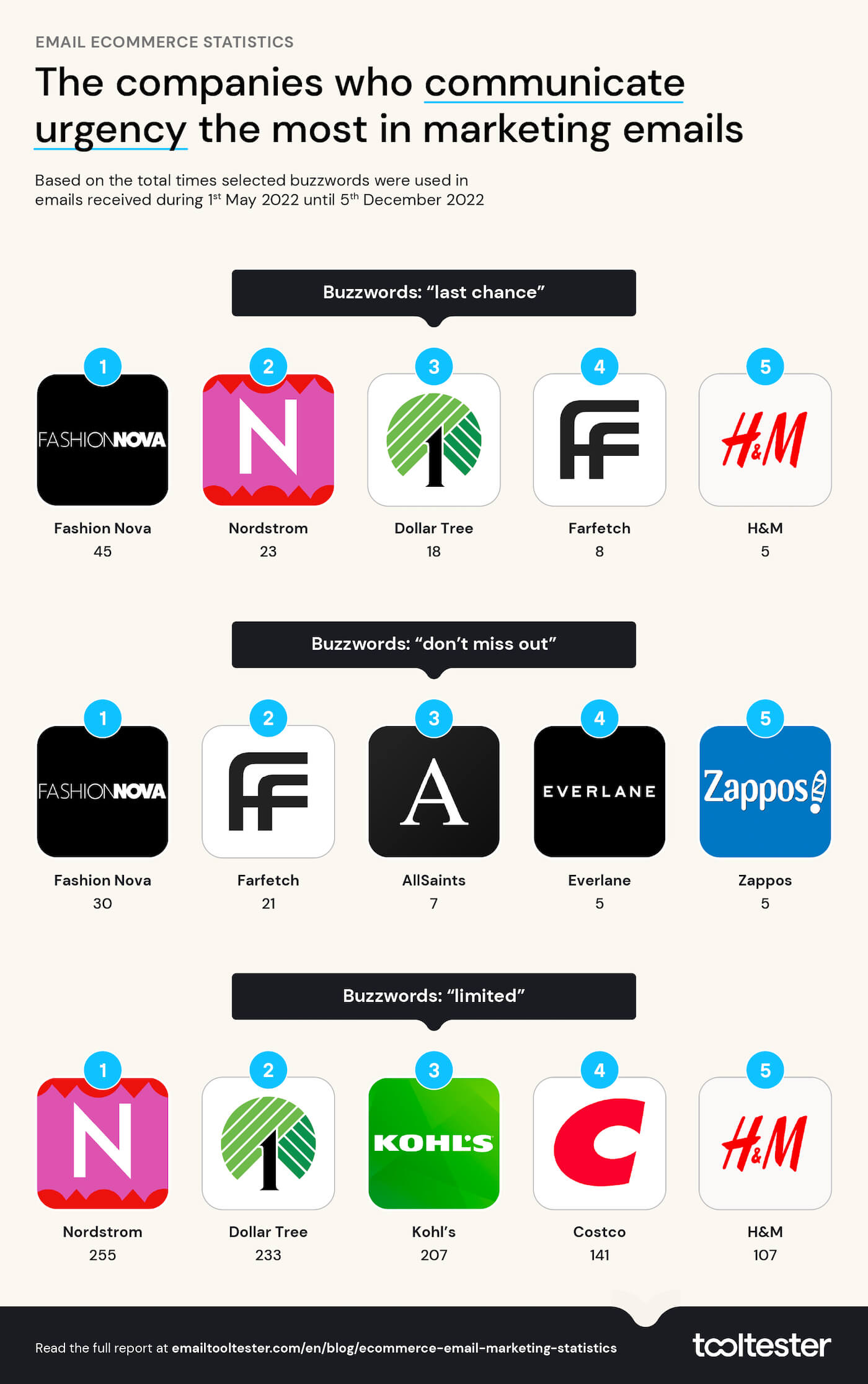 Going, going, gone
A common sales tactic used by the majority of e-commerce companies is that of urgency. Persuading the potential buyer that the discount will expire soon or that stock is running low, in an effort to encourage them to make a purchase.
Analyzing several key phrases that reflect this, our study found that the online fashion store, Fashion Nova, utilized the sentiment of urgency the most. Containing the expression "last chance" 45 times in their marketing emails, as well as "don't miss out" 30 times.
Nordstrom similarly used the buzzword "limited" in 255 of their marketing newsletters, with Dollar Tree also using the term 233 times.
The companies who communicate exclusivity the most in marketing emails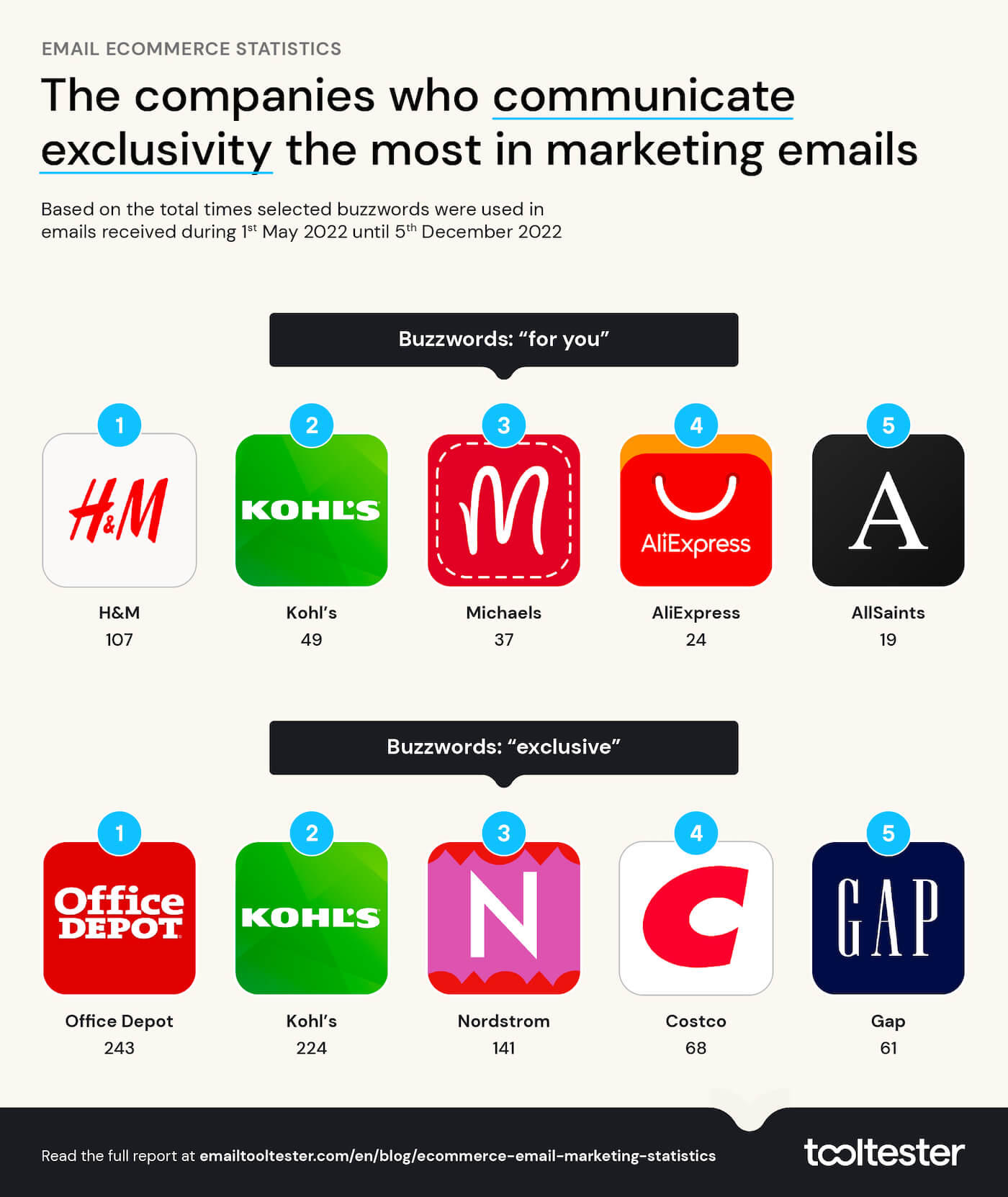 H&M takes a personal approach
When signing up for marketing communications from a company, you can sometimes tick boxes on things you are interested in and would want to be notified about, tailoring what lands in your inbox. Whilst we signed up for everything for a fair approach across the board, the majority of companies still apply a personalized style to their emails. H&M used the phrase "for you" 107 times throughout their newsletters, followed by Kohl's 49 times and Michaels, 37.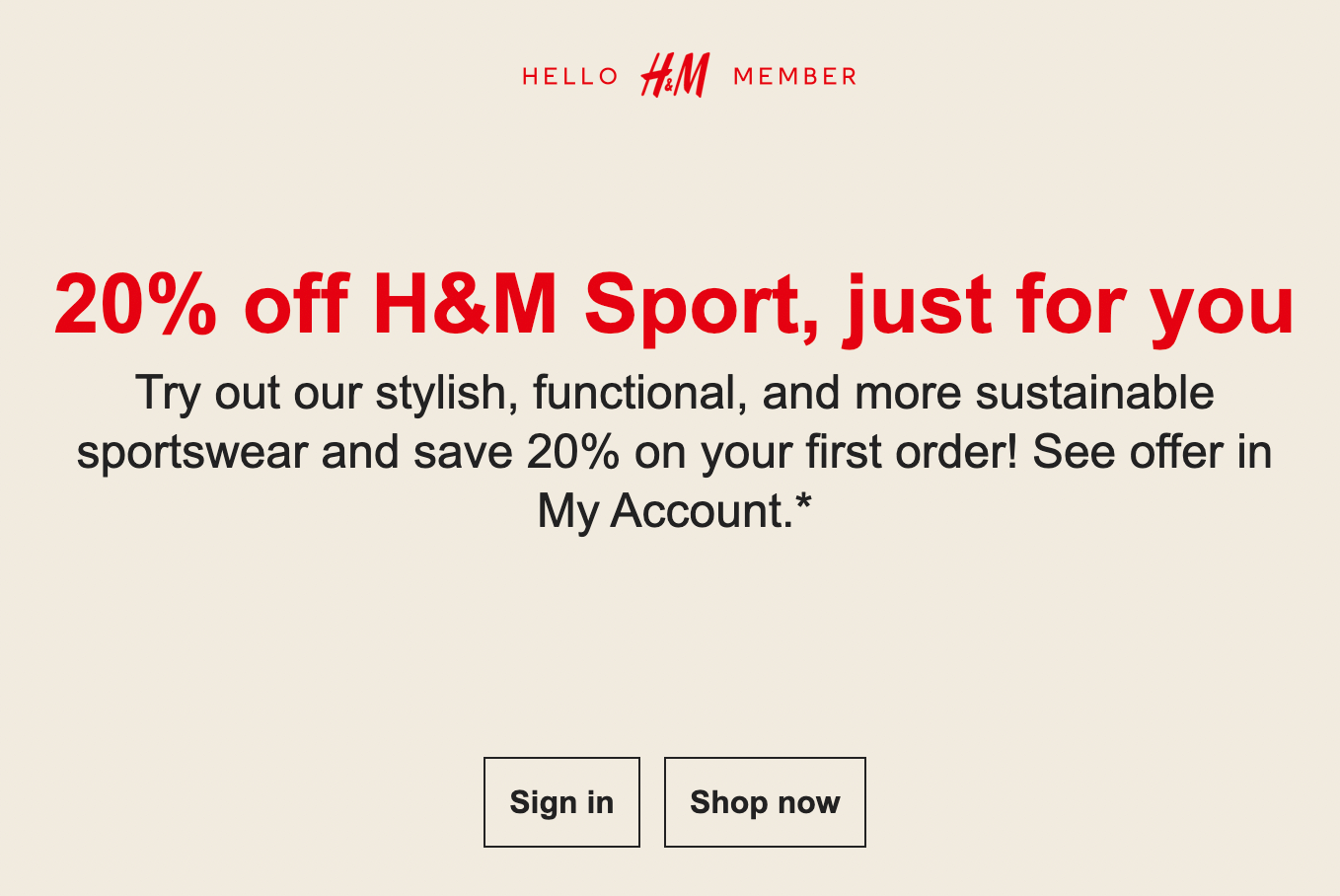 As we can see from the above image of an H&M marketing email, the offers and discounts are presented as though they are for you only, using the term "just for you". This personalized angle could encourage the customer to make a purchase.
Office Depot utilizes exclusivity
From exclusive offers and deals to in-demand products exclusive to that specific store, being able to offer your customer something no one else can, can entice a purchase. Office supplies retailer, Office Depot, used "exclusive" 243 times in their marketing newsletters. Kohl's again followed in second with 224 and Nordstrom with 141.
The most popular email service providers
Writing and planning your marketing communications is one thing, but finding the right email service provider is another. But, which ESPs did the companies in our study use?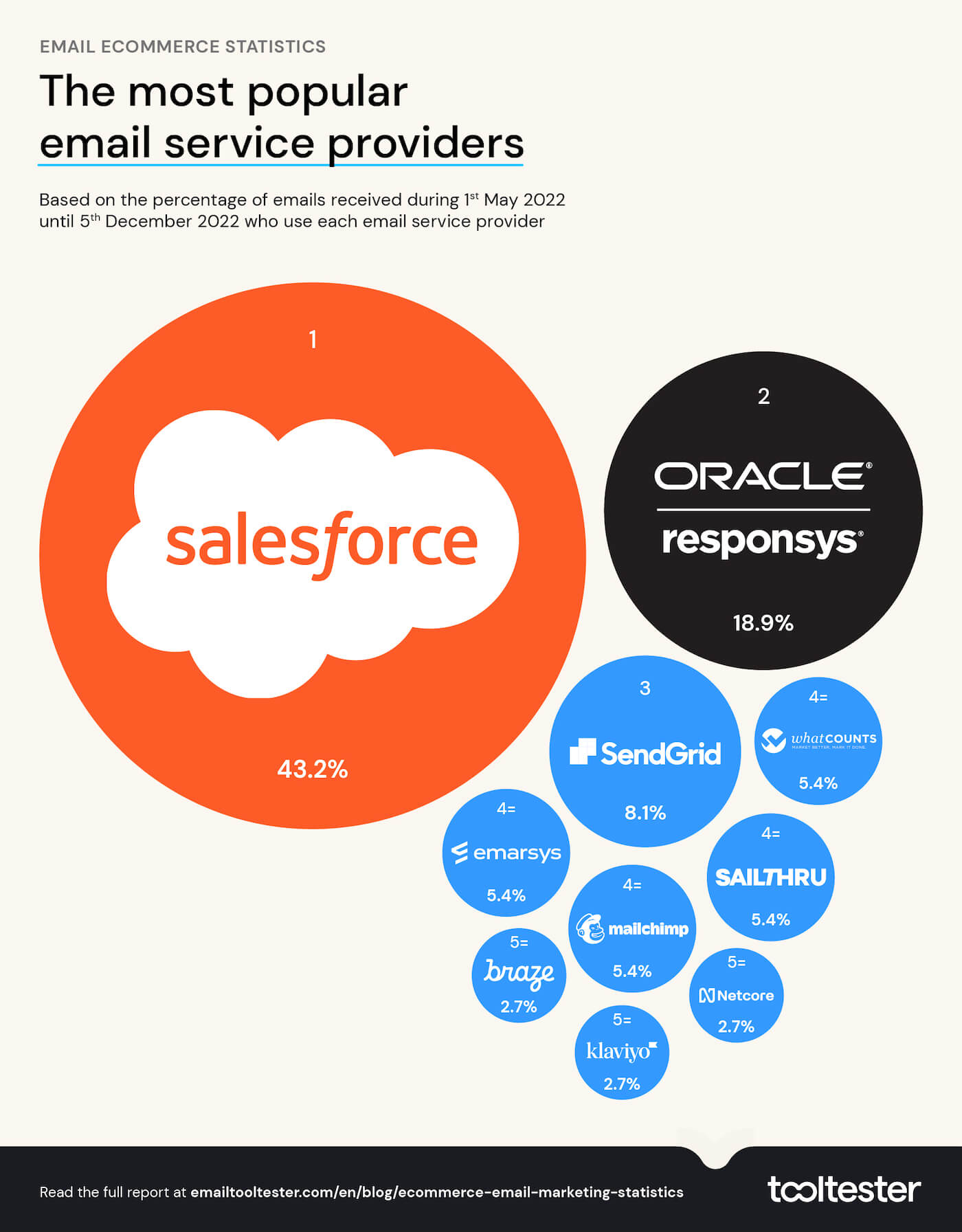 Salesforce was the most popular email service provider
Of all the companies in our study, over 43% used Salesforce for their email marketing service, and the second-most popular was Oracle's Responsys with just under 19%, followed by SendGrid at just over 8%. Across the fashion sector, Salesforce was the most popular email marketing service, with 16 of the 33 analyzed opting for this provider.
How difficult is unsubscribing from marketing emails?
Most email providers from Gmail to iMail now offer an 'unsubscribe' button at the top of marketing newsletters, so you can unsubscribe with ease if you have been signed up without your consent or find the volume of emails you're receiving is too high.
In order to unsubscribe from marketing communications for this particular study, we followed the above for the majority of companies, which abruptly ended the marketing emails, however, for a number of brands this wasn't so simple.
Two steps, three steps, and…five
For American Eagle, Costco, and Walmart we had to click unsubscribe at the bottom of the email, and then we were redirected to the website to confirm the unsubscription. For eBay and Wayfair the process required three steps, meanwhile, Walgreens had five steps you had to follow before you could unsubscribe from their newsletters.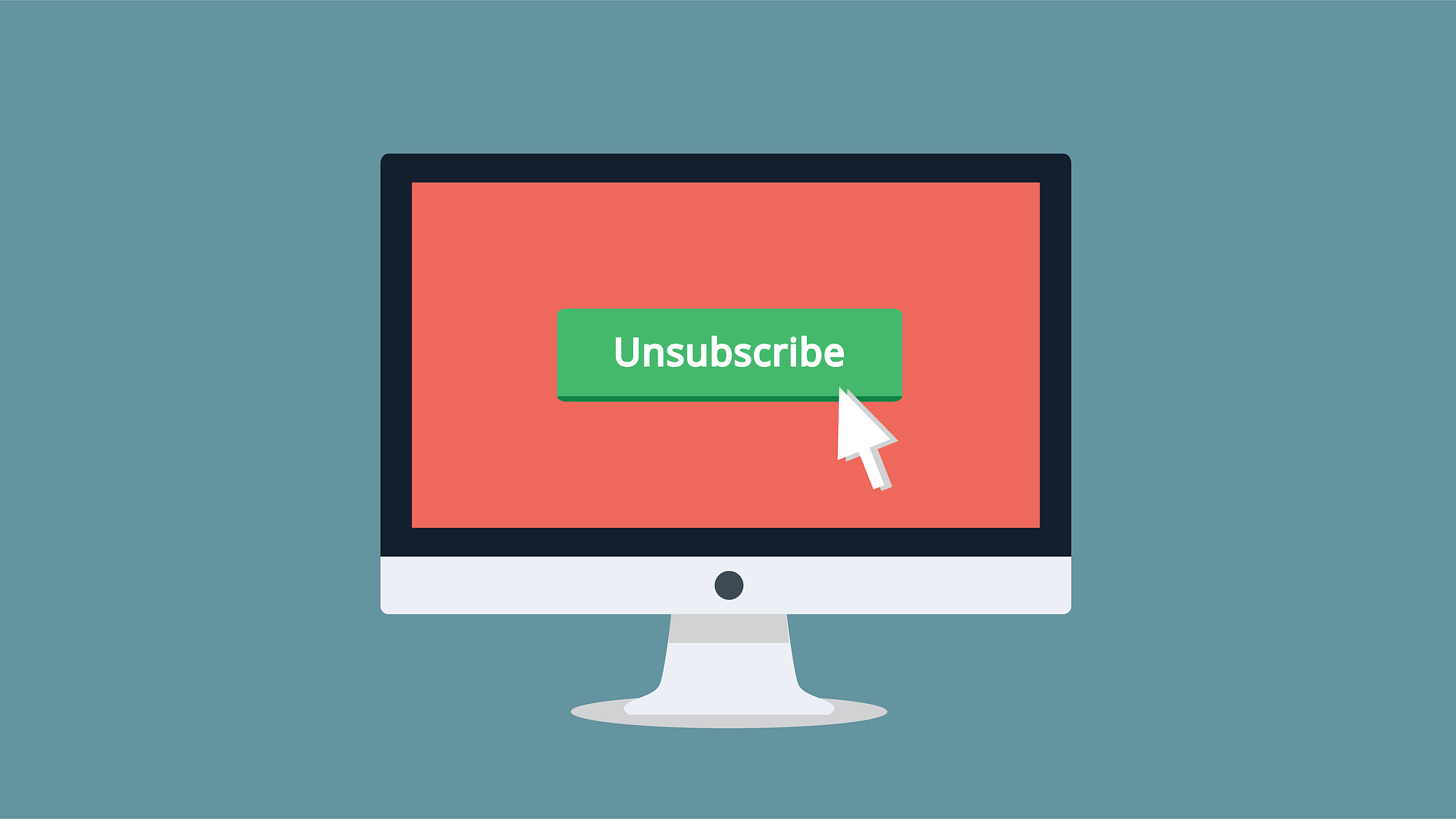 Who carried on sending emails after unsubscribing?
After unsubscribing in the ways outlined above, we still received marketing newsletters from several companies. Nordstrom, Kohls, H&M and ASOS still had communications land in our inbox despite pressing the 'unsubscribe' icon that Gmail provides.
ASOS, Nordstrom, and Kohls have continued to send marketing emails to date. H&M continued sending until January 1st, nearly an entire month after we unsubscribed. This could suggest that these companies require you to unsubscribe directly from their email, rather than using the unsubscribe function Gmail provides.
Email marketing is an important aspect of the e-commerce industry and finding the right newsletter service is a key component. At EmailToolTester we can help you find the best fit for your business, allowing you to make an informed decision.
Methodology
We signed up for email marketing newsletters from the following 42 popular US e-commerce websites:
Abercrombie & Fitch
Adidas
AliExpress
AllSaints
American Eagle
ASOS
Bath and Body Works
Bed Bath & Beyond
Bershka
Best Buy
Charlotte Russe
Costco
Dollar Tree
eBay
Everlane
Farfetch
Fashion Nova
GAP
Harbor Freight Tools
H&M
IKEA
JCPenney
Kohl's
Louis Vuitton
Lululemon
Lush
Mango
Michaels
Nordstrom
Office Depot
Peloton
PUMA
QVC
Sam's Club
Target
Tripadvisor
Urban Outfitters
Walgreens
Walmart
Wayfair
Zappos
ZARA
After seven months we unsubscribed from all marketing communications to analyze a variety of factors including:
The number of emails sent
The frequency of emails sent
We chose certain 'buzzwords' and analyzed how often brands used them
The increase in emails sent during the week of 'Black Friday'
If any marketing emails were received after unsubscribing
The email service providers used
The email service providers were found using esp@sendview.io, please note that for six of the companies, the ESPs could not be found.
Our Methodology
This article has been written and researched following our EmailTooltester methodology.
Our Methodology