Benchmark Email Review
Hitting the mark?
You might have checked out the Benchmark Email reviews offered by users online, and whilst they are pretty positive, they may not give you the whole picture. Our review of Benchmark is based on a methodical approach and uses our practical experience and knowledge of dozens of other simple and advanced marketing automation tools.
With a presence in fifteen countries around the world, Benchmark Email pride themselves on international service. I found myself speaking to several of their (more than 100+) staff on many occasions, and it's true that their support is not only fast but also friendly. In fact, Benchmark's support has won prizes, so I guess that's something to brag about.
Offering a 'powerfully simple' tool (complete with a fresh, no-nonsense interface), Benchmark Email have done a decent job in terms of both user experience and features offered. This is particularly true when you consider that many of their features can be accessed without paying a cent. Though the number of emails you can send is limited to just 250/month, you can store unlimited contacts, so it's not a bad deal.
But do they stand up when compared to other email tools in the market? Let's find out.
Benchmark Pricing
$ 9.99
500 Subscribers
unlimited emails
Pro plan. Discounts applied to annual subscriptions
$ 19
1,000 Subscribers
unlimited emails
Pro plan. Discounts applied to annual subscriptions
$ 29
2,500 Subscribers
unlimited emails
Pro plan. Discounts applied to annual subscriptions
$ 49
5,000 Subscribers
unlimited emails
Pro plan. Discounts applied to annual subscriptions
$ 79
10,000 Subscribers
unlimited emails
Pro plan. Discounts applied to annual subscriptions
$ 199
25,000 Subscribers
unlimited emails
$ 279
50,000 Subscribers
unlimited emails
Free plan for up to 250 emails a month and unlimited subscribers is available.
Pros and Cons
Pros
Easy-to-use editor

Strangely, a lot of newsletter tools get this wrong, but Benchmark's is a breeze to use with all the elements you'll need. The clean design makes it easy to navigate and work through the setup process quickly.

Flexible templates

Their template choice is wide and high quality, with mobile display options for all templates. They are sorted by type, industry and calendar holiday.

Marketing automation

Benchmark allows you to set up useful, behavior-based email campaigns that are ideal for things like abandoned cart follow-up and basic lead nurturing. The visual workflow editor makes setting up automations a simple affair.
Is Benchmark the right newsletter service for you?
Recommended if:
Not recommended if:
You need a simple and easy newsletter tool

We found Benchmark to be a pleasantly easy tool to use, with a clean design, logical navigation and an intuitive email editor. Great for beginners, or those who just don't want a lot of complexity in their email tool.
Conclusion
When comparing Benchmark's paid plans to its competitors, they sit within the middle to higher end, depending on subscriber numbers. They can match their competitors in the areas of ease-of-use, especially when it comes to the editor and template flexibility. But Benchmark starts to lose some of its luster when you look at things such as their deliverability issues.
Its automation pro feature offers users a way to set up simple yet useful automated campaigns, and is ideal for businesses who are just getting started with marketing automation. It should be noted however that it doesn't stack up against the powerful automation offered by ActiveCampaign. A definite plus, though, is that you can try out Automation Pro on the free plan – you will just need to switch to a paid plan in order to activate your campaigns.
Benchmark is surprisingly stingy with their image and file storage: 10 MB won't get you far. Keep that in mind when calculating the cost of their plans as you'll probably end up paying $5 on top of that for additional storage.
Benchmark is a capable tool, with a good design that is simple enough for first-time users. And with their free plan, you can get a good sense of whether their marketing automation and email capabilities will fit your needs.
FAQ
Benchmark only counts active subscribers towards your monthly billing limits. Unsubscribed and bounced email addresses don't count. Confirmed via live chat: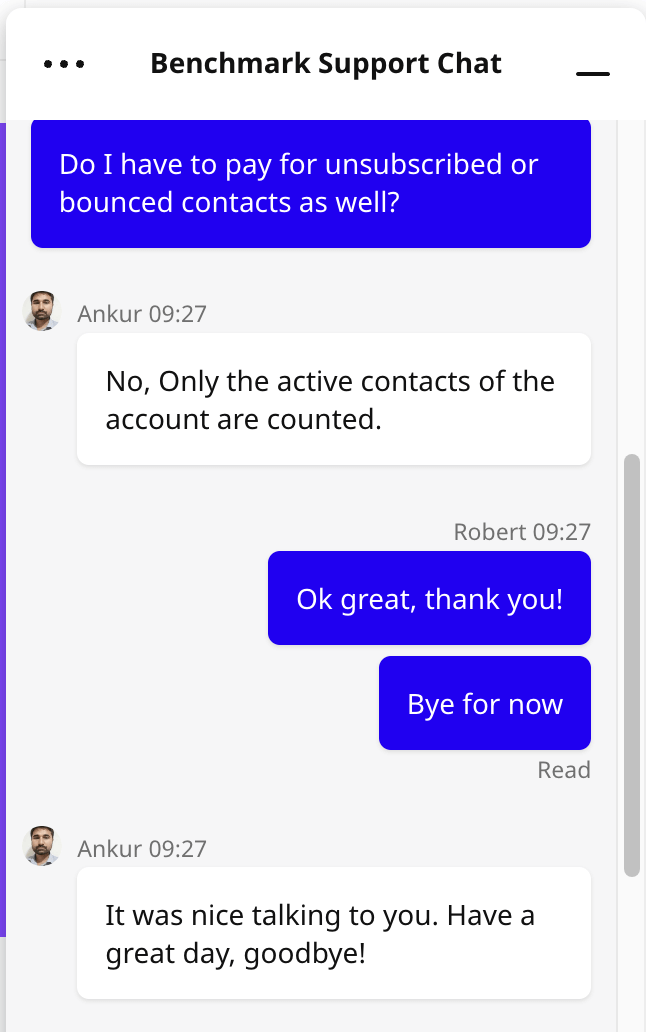 Benchmark does offer a free. This comes with unlimited contacts and 250 emails/month. Though features are limited, you can benefit from responsive templates, basic drip campaigns and segmentation without paying a cent.
Though Benchmark is really easy to use and comes with decent automation features, its deliverability lets it down.
Yes! A generous 25% discount is given to all nonprofits.
Benchmark's email marketing service is legit and safe. It stores your customer data securely, so there's no need to worry.
Benchmark Alternatives
ActiveCampaign has the most powerful automation system we've ever tried, but at the same time it's not over complicated. Their deliverability rates are also well above average, and their registration forms are highly customizable. Their pricing is fair if you consider their (high) quality.
GetResponse is more powerful than Benchmark, it comes with one of the best automation solutions we've ever seen. Additionally, it has unique advanced features like a webinar hosting solution or a landing page editor. It's also a cheaper alternative than Benchmark.
MailerLite is affordable too and they performed well in our deliverability tests. In terms of features, they are similar to Benchmark – but way more budget friendly.
But if you are still unsure of what tool to use, check our smart assistant and find out in a couple of minutes.
We keep our content up to date
18 Jan 2023 - Pricing update
25 Apr 2022 - Deliverability rating decreased
17 March 2022 - Note about legitimacy added
03 Jun 2021 - General update
22 Apr 2020 - Updated free plan limits
7 Jan 2019 - Deliverability rating updated
20 Apr 2018 - Video review added
20 Mar 2018 - Deliverability rating added
8 Mar 2018 - Updates in interface and marketing automation
16 Jan 2018 - Prices update
28 Nov 2016 - Small updates in the storage section.
15-27 Oct 2016 - Initial tests.
Our Methodology
This review has been written and researched following our EmailToolTester methodology.
Our Methodology