Marketers often have to jump through hoops to achieve results, and email marketing is no exception. We all know the importance of email marketing campaigns as a worthwhile tool to build relationships with your database and reach new prospects. No matter how effective emails can be, to be successful, marketers need to learn ways to avoid email spam filters.
Email spam filters are now more intelligent than ever. With the number of cyberattacks on the rise, it's no surprise they feel the need to keep up the pace. The increase in attacks is reflected by a recent report, which reveals that March 2023 saw a 91% rise in the number of ransomware attacks since February – a whopping 62% increase from March 2022. 459 ransomware attacks were recorded in March, reaching a new record.
As email spam filters become more powerful, it's important for email marketers to stay ahead of the game – and be extra vigilant before hitting that send button.
But how do you avoid spam filters?!
Fear not, there are ways to get around tricky spam filters and get your emails seen. In this article, we'll be filling you in on all things spam filters and how you can avoid them – so when you've crafted the perfect email campaign, you can sit back and relax, knowing you've done everything within your power to avoid ending up in the dreaded spam folder.
Working in the digital marketing field for over 5 years, I've had to send my fair share of email campaigns, especially as an account-based marketing executive. I've extensively tested HubSpot, both as an email marketing platform and a CRM, through real-world application.
Maintaining a clean contact database is one of the most important tasks on my to-do list, including removing any bounced email addresses and segmenting contacts accordingly. Not only does this improve your chances of avoiding spam filters, but, in my own experience, also keeps the cost down, since most ESPs charge based on the number of contacts you have.
More on the importance of maintaining a healthy contact list later!
Now let's go back to basics…
What is a spam filter, and how does it work?

A spam filter is typically described as a system designed to scan every incoming email and block any forms of malware, for example, suspicious URLs and attachments. Their primary goal is to remove any harmful content and irrelevant emails from your inbox.
Spam filters are clever. They use complex filtering methods to identify the content of emails, and if it's against their rules, it will be flagged as spam. The algorithms are built to detect unsolicited, undesired or unsafe emails and stop them from reaching the intended inbox.
Don't panic, by playing by the rules you can give your emails a high chance of bypassing the spam filters – knowledge really is power here.
Spam traps
Before we list some proactive steps you can take to avoid the spam filter, we need to cover spam traps. There are various types of spam traps, and most of the time they are essentially dummy email addresses.
In other words, email addresses that are used by Internet Service Providers (ISPs) and blocklist operators to catch out senders who aren't abiding by the rules and following email best practices.
These email addresses may have been active and legitimate once, but are now invalid. There are two main types of spam traps you might find:
1. Pristine: These spam traps are email addresses that were never real in the first place – and would have never been able to opt into an email. Pristine email traps are on public websites but hidden behind the site's code. Their goal is to catch out email marketers who use unhealthy list building practices, such as scraping sites for emails or buying contact lists from lead generation platforms.
2. Recycled: Once valid email addresses, recycled spam traps have since been regenerated by their provider. An example of this is someone that might have used that email address to opt in at one time, but the email address has been abandoned since. This could be the case if your list is over one year old, you don't communicate with your list often or the email addresses are invalid or misspelled (e.g. 5678gh@spam.com).
To investigate whether a spam trap is included in your email list, a quick way is to double-check the email delivery rates. If these are quickly dropping, your list may include a spam trap. This is due to the fact that emails sent to spam traps won't be registered as delivered (which in turn might start to damage your reputation as a sender).
Keeping your email list healthy is very important, including deleting any email addresses that bounce regularly. Any contact that hasn't opened an email from you in more than a year could potentially be a spam trap so your best bet is to remove them from your contact lists.
So now we've covered spam traps, it's time to find out what alerts spam filters, and what we can do about it.
How to avoid spam filters: A step-by-step checklist
While the exact reasons can vary, spam filter triggers include poor grammar and spelling, suspicious or irrelevant attachments and sending out bulk messages without segmenting contact lists. We've rounded up eight steps to keep the email odds forever in your favor.
1. Choose an email service provider (ESP) with high deliverability rates
Email deliverability rates play a key role in the success of your email marketing campaign. You've probably heard of the importance of email deliverability rates when comparing email service providers before, especially if you're a regular EmailTooltester reader.
The term refers to the percentage of emails that successfully land in your recipients' inboxes without being marked as spam, bounced or blocked in some way. Email deliverability rates are a pretty effective way to measure how good your email campaigns are at reaching the desired recipients.
So, stating the obvious here, but I think we can all agree that making sure your emails reach your audience's inbox is an important consideration.
Which is why at EmailTooltester we conduct bi-annual email deliverability tests, comparing popular email service providers and their email deliverability rates. This helps our readers to choose the best-performing and most reliable email marketing software.
As well as a reputable sender reputation and high email deliverability rate, a good email service provider will have features such as segmentation, personalization, automation, analytics and support. We round up the top 14 email marketing services in 2023 here.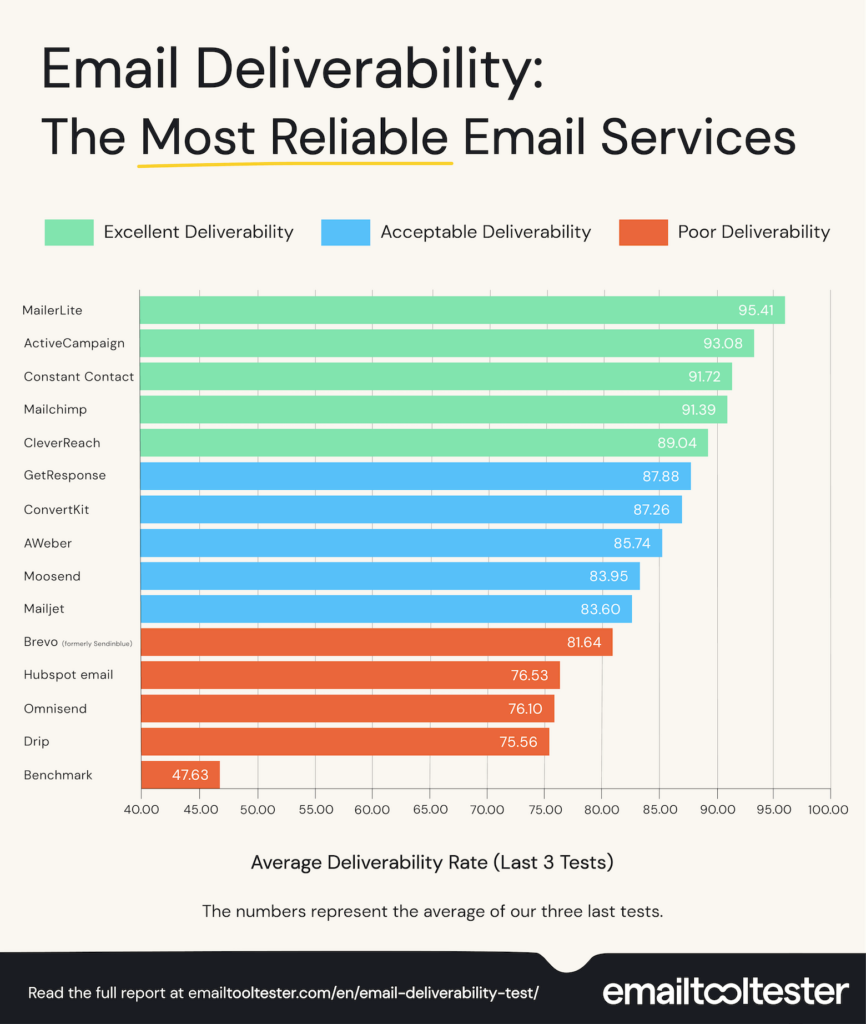 2. Spring-clean your database
If your email metrics are dwindling, it could be down to a messy mailing list. If you adopt good email marketing hygiene habits, your emails are far less likely to be directed to the spam box.
Most legitimate email marketers make updating the email list a routine habit – it helps to identify inactive subscribers and check over contact preferences. Doing this regularly will promote more effective communications with subscribers, help to bypass spam triggers and avoid the risk of your emails being marked as spam.
Other ways of cleaning up your contact list include:
Using double opt-in – this allows you to be sure that you have permission from your contacts, as well as ensuring there are no invalid email addresses, i.e. removing email addresses with typos. You can do this by emailing your subscribers with a link so they can confirm they are aware of being added to your contact list.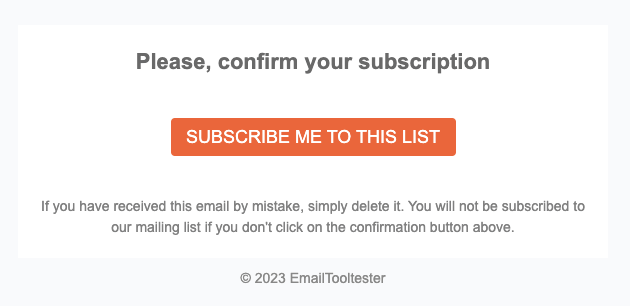 EmailTooltester's double opt-in message
Segment your contact list – asking your subscribers at the sign-up stage about their interests or preferences is an important step, or sending already active subscribers a questionnaire is a good way to get to know your contacts better. When you've obtained this information, you can then divide up your email list and craft personalized, targeted content based on your contacts' individual needs and preferences.
Remove bounced email addresses – you'll usually find email bounces of two types: soft and hard – with the same result of your emails failing to reach your recipients. Soft bounces are temporary setbacks, often due to things like busy servers or an email that's too large, whereas hard bounces are more concerning. Hard bounces occur if it's an invalid address or your emails are being blocked by the recipient, and so you should simply ensure these are removed from your email database.
Re-engagement campaign – if you are constantly providing irrelevant content that doesn't have a lot of value for your audience, it could leave you with low engagement rates and high unsubscribe rates. Sending a re-engagement email to inactive subscribers with an offer such as a discount code or exclusive content can help to boost engagement with your brand.
3. Use a real reply-to address
One of the main factors email providers use to determine whether your email gets marked as spam or not is whether you have received responses to your previous emails. This is because it's normal to not respond to spammers or to emails you're not fussed about – they're most likely to end up deleted or lost in the spam folder. If, however, your campaigns are bringing in responses, it's a positive signal to email providers that you are sending legitimate, worthwhile emails.
So when you're in the set-up stage, it's best to avoid using emails such as noreply@yourbusiness.com as the reply-to address, as they will naturally reduce your response rate.
It's also worth mentioning that to abide by anti-spam laws, you need to include a physical mailing address in your email – this is both for accountability reasons and to allow the recipient to validate and identify the sender.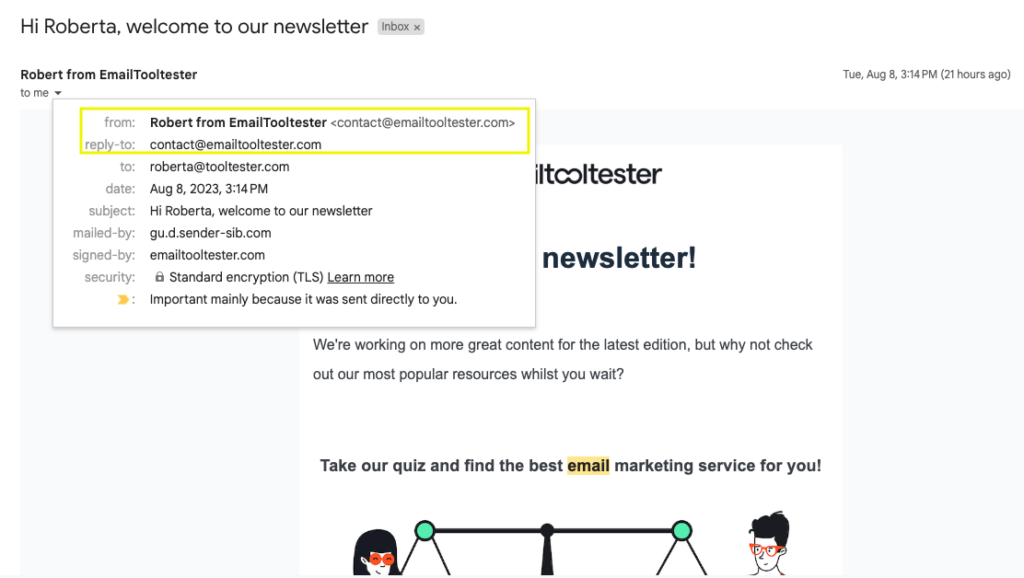 Reply-to in EmailTooltester's newsletter
4. Make sure your email content is good (relevant and engaging)
As artificial intelligence gets more sophisticated than ever, email providers are now turning their attention to behavioral signals, using AI to recognize email senders with high engagement – for example, high open and click-through rates. In turn, these behavioral signals allow email providers to penalize senders with low-engagement emails.
This is why, before sending, it's important to consider if the email is relevant to your audience and engaging enough, as well as asking yourself, 'Would I open this email?'
Here are some tips to follow to craft the perfect marketing emails, designed to avoid spam filters…
As we've mentioned throughout this article, making sure your content is valuable to your audience is of the utmost importance! On that note – you should also avoid mixed messages. For example, using promotional messages in a billing email is a no-go.
Use segmentation to send targeted campaigns – try segmenting your list rather than bulk sending. Sending targeted messages to match your recipient's interests is more likely to increase your open rate and decrease the amount being deleted, which in turn sends a positive message to email providers about the validity and strength of your campaigns. Check out our guide on creating an engaging marketing email.
Avoid spam trigger words and a spammy email subject line, such as 'win', 'free', 'weight loss' and 'make money.' Keeping the subject line relevant and engaging (and leaving a little mystery!) goes a long way and is always email marketing best practice. HubSpot has put together a list of spam trigger words to avoid using in your emails – check it out here.
Pick someone in your team to proofread your emails before you hit the send button. Or you can simply use spell check if you're operating solo. Don't forget to check it over, though, whatever you do! There's nothing that gives recipients the 'ick' more than bad spelling.
Make sure to check your links – it should always be clear to the recipient where they're being directed to. And it's always worth checking in case you spot any broken links.
Include a clear unsubscribe link (and make sure you action any opt-out requests!) – if you don't do this, you risk your email being marked as spam in the recipient's inbox if they don't see another way to opt-out.
5. Be careful with embeded content
Alt text – As images don't always appear by default in emails, you should make sure you're adding a short description (alt text) to your images. This is because sometimes email recipients will need to authorize the images before they appear as you designed them to. As most spammers won't take the time to do this, applying alt text to your images will increase your chances of your emails being delivered.
Image size – You should also make sure your images are compressed to reduce the image size, which will also reduce the email loading speed. And, be careful of your image to text ratio – it's not uncommon for spam emails to include lots of images to bypass text-based filters.
Avoid embedding video – instead, you can try linking a video thumbnail image (with a play button overlay) or use a GIF. Videos are usually large files, so it can harm your deliverability and reduce loading speed.
Link to files instead of including attachments – links are a much faster and more secure way of sending documents. Attachments can also get stuck in your outbox if they're too large – or your recipient's spam filters could block the attachment entirely.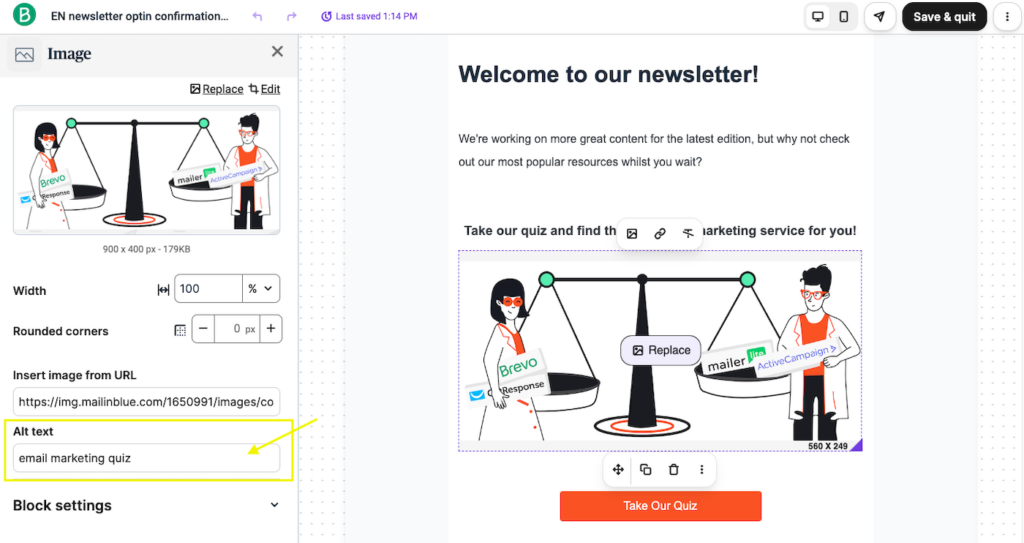 Alt text for images in EmailTooltester's newsletter
6. Follow best practices for HTML emails
HTML emails are virtually the opposite of plain text emails – adopting color, style images and multimedia. You might be more inclined to use HTML emails if you want to spice up your emails with images and other media to make your brand bolder and more engaging.
Email marketing platforms offer a lot of modern, engaging templates to choose from – so you don't have to be a designer to create click-worthy email campaigns. However, there are some best practices to be aware of when using HTML:
Avoid using heavy templates – HTML-rich templates can be prone to getting flagged by email providers as advertising, which means they have a higher chance of ending up in your spam folder.
Use standard fonts – It's best to only use regular web fonts that are widely available in browsers and various email clients, such as Arial, Helvetica, Times New Roman or Georgia. Additionally, using different colors and font sizes may trigger spam filters.
Include a plain text version – If you're using an HTML design, it's good practice to include a plain text version too to ensure accessibility. Note that some ESPs will do this for you automatically.
HTML could be more likely to end up in a spam folder, but this is the same case for plain text emails too, especially if sending bulk emails out too frequently or not following email best practices. This is why choosing a reputable ESP is the most efficient way of increasing your deliverability rate.
7. Test first
It's always a scary moment hitting the send button as there really is no going back. Which is why testing is so important. Make sure you factor in the time to send a test, both to yourself and a couple of other team members.
Some email marketing platforms also offer various types of spam tests. These will flag the elements of your copy that a filter could interpret as spam. Every filter varies – using different scores and weightings to measure the level of spam. If your email goes above their chosen threshold, your email is likely to end up in the spam folder. When choosing an ESP, it's a good idea to check if they offer spam tests.
For example, Mailchimp offers an abuse-prevention algorithm that predicts bad behavior in a campaign before you click send. ActiveCampaign is also on top of its spam detection – by running a Spam Check for every campaign or automation you send out. The backend email marketing tool used is called SpamAssassin, an open-source anti-spam platform widely used for assessing messages on their level of 'spamminess'. There's also the option of testing for spam on other sites such as Mail Tester and Glockapps (the service we use to run our own tests).
8. Monitor performance
It's always good practice to keep an eye on the performance of your email marketing campaigns:
Your analytics will tell you what demographics and email messaging gets the most engagement from your audience, which can help you to decide on what to send in the future.
Analyzing your metrics such as open rate, click-through rate, bounce rate and unsubscribe rate will allow you to identify and rectify issues that can affect your email deliverability and reputation.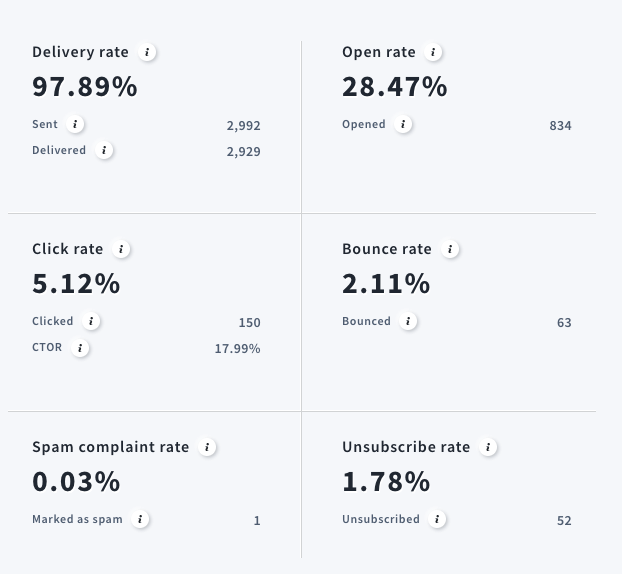 GetResponse email campaign metrics
Regularly monitoring your email performance and deliverability will help you to optimize your email marketing efforts and improve future results.
Conclusion
It's fair to say that most of us don't spend time sifting through our spam folders. And with spam filters making it harder for email campaigns to be delivered to subscribers' inboxes, your chances of having a successful email campaign are dramatically reduced.
We're not telling you all this to make you fear an email spam filter – in fact, you don't need to make them your enemy. They can actually be used to your advantage. The more you are aware of how spam filters work, the more you can stay ahead of the competition.
By picking an email marketing provider with reputable deliverability rates and focusing on your spam score, you can automatically increase your chances of avoiding spam filters. By following the steps we've laid out, you can boost your sender reputation, and rest assured that your content has a good chance of skipping the junk folder and arriving in its intended destination.
Check out our guide to email deliverability best practices for more information.
If you have any questions, drop us a comment below and we'll do our best to help!
Our Methodology
This article has been written and researched following our EmailTooltester methodology.
Our Methodology