These days, it's impossible to run successful email marketing campaigns without the help of autoresponders.
Why?
Because email autoresponders are perhaps the cheapest, easiest, and most effective way of nurturing email leads and converting your subscribers into customers.
Picture this: you run a consultancy. A visitor comes to your website and registers to download a free eBook. You provide them with a link to download the eBook – but is that really where you're going to leave things?
Of course not!
It's a golden opportunity to keep nurturing and building a relationship with someone who has indicated a potential interest in your services – so why would you waste it?
But you're probably not going to pick up the phone and call them – other than being a little creepy, you just don't have the time for it.
And that's where a free email autoresponder comes in.

Free Autoresponder Summary
Autoresponders are simply a sequence of automated emails that are sent to a subscriber, based on a trigger event. That event can be a download or sign-up (as in the above example), a specific date (such as a birthday or anniversary), or another action taken by the subscriber (e.g. email click, web visit, product purchase, or even abandoned cart).
Autoresponders work because they're targeted – after all, you're only sending them based on a relevant action or event. And once you've set an autoresponder up, it should, in theory, run with virtually no maintenance required. The beauty of using a free autoresponder is that you'll have the software working away for you without having to pay a cent!
But the real icing on the cake? If they're done well – that is, if you're sending interesting and useful content – they can also help to convert subscribers into customers. (Find out more in our guide to email marketing lead generation.)
The great news is that autoresponders don't have to be expensive. In fact, some newsletter tools provide them for free.
Video Review of The Best Free Autoresponder Tools
Try out: MailerLite, *Moosend or Sender
*Moosend was removed from the article when it removed its free plan.
That's what we'll be sharing with you in this article – the top email marketing services that let you use autoresponders for free.
Comparison Table of the Best Free Autoresponders
Here's our roundup of the best email marketing software for free autoresponders. More detailed reviews are available below the table.
It's worth noting that most of these tools offer autoresponders as part of a wider marketing automation solution. To access the more advanced automations (e.g. complex marketing automation workflows, moving subscribers from one campaign to another, branching logic, etc.), you'll usually need to upgrade to a paid plan.
| Email Marketing Platforms | Sending limit | Free autoresponders available |
| --- | --- | --- |
| MailerLite | 12,000 emails for up to 1,000 subscribers. | You get your basic autoresponders, such as subscription-based emails (e.g. welcome emails), anniversary or date-based emails. As a bonus, you can also send autoresponders when a contact field gets updated, or when a contact clicks an email link. (Full review) |
| Sender | 15,000 emails p/m to up to 2,500 subscribers. | A wide range of autoresponder emails, including welcome emails, anniversary or date-based emails, abandoned cart emails, and more. Easy-to-use visual editor. |
| Brevo | 9,000 emails per month (daily limit of 300) for an unlimited number of subscribers. You can have a maximum of 2,000 subscribers in your automated campaigns at any time. | A good range of advanced autoresponders is offered on the free plan, including welcome, anniversary, page visits and ecommerce (such as product purchase or abandoned cart). You also get an allowance for free transactional emails. SMS can also be added for an extra cost. (Full review) |
| Omnisend | 500 emails p/m to 250 contacts | Though the sending allowance is small, Omnisend's free plan comes with lots of advanced features, including marketing automation, website tracking and niche engagement features for ecommerce. (Read our full review) |
| SendPulse | 15,000 emails per month for up to 500 subscribers. | Subscriber and date-based, as well as trigger-based (email opens, clicks, email not opened). Advanced marketing automation is available on higher plans. You can also send SMS as part of autoresponder campaigns. |
| AWeber | 3,000 emails per month for 500 subscribers. | Simple autoresponder emails with limited triggers. Good list management and email template designs. (Full review) |
| MailChimp | 2,500 emails p/m (daily limit of 500). 500 subscribers | MailChimp's autoresponder range is comprehensive. It includes basic autoresponders (welcome, date-based, RSS, etc.), as well as more advanced options (e.g. ecommerce, tag-based). The main drawback: their autoresponder editor isn't the easiest to use and you're limited to single-step email automation workflows. (Full review) |
| Benchmark | 250 emails per month for unlimited subscribers. | Simple autoresponders – welcome, birthday, anniversary and date-based reminder emails. More complex email automation workflows are available on their paid plans. (Full review) |
The Email Autoresponder Tools in More Detail
So, now that you've gotten an overview of the sending limits and what kind of autoresponders you can create and send with each email marketing tool, let's take a closer look at each free email autoresponder.
1. MailerLite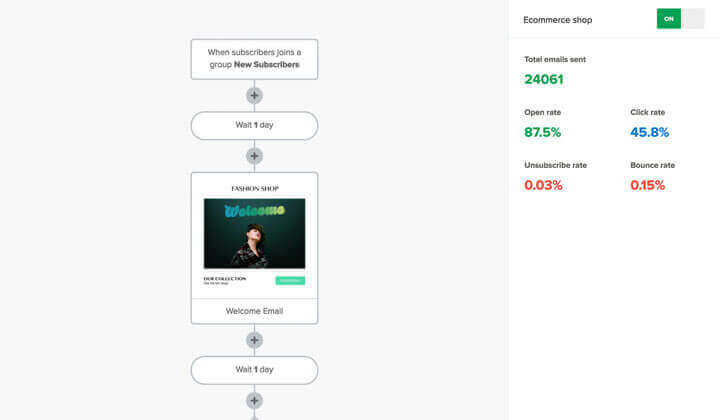 We make no secret of the fact that we love MailerLite at EmailToolTester. And it's for good reason – this simple newsletter tool is a breeze to use, and comes packed with handy features such as landing pages, forms, and – of course – autoresponders. Its free plan gives you access to a good range of features (and up to 12,000 emails a month).
What we liked:
MailerLite's ease of use makes it an ideal tool for getting started with autoresponders – even beginners can master setting up emails and campaigns fairly quickly. And it's great that you can use most of the features completely free of charge (as long as you have fewer than 1,000 subscribers). If you do need to upgrade, it's one of the most competitively priced providers on the market – so it's a great way to set up cheap autoresponders. Other features include a landing page builder, website builder and survey maker.
Where they should improve:
Unfortunately, you don't get access to email templates on their free plan, which is a big drawback. You'll also be limited to 1 user account, 1 website and 10 landing pages.
Video review:
2. Sender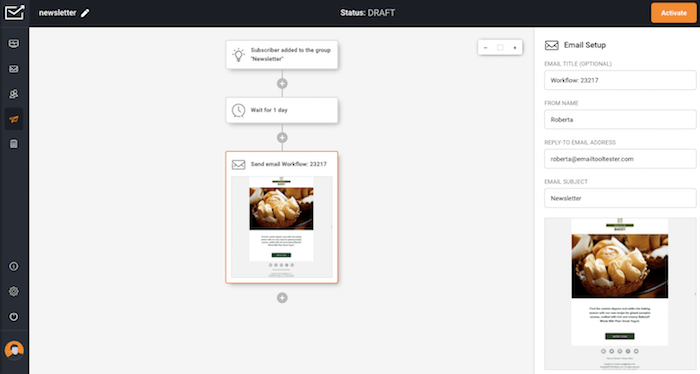 Sender is another great choice for those looking for a free autoresponder tool.
Its free plan includes 2,500 subscribers, 15,000 emails p/m, transactional emails via SMTP, and of course, autoresponders.
What we liked:
Considering you won't be paying a cent for them, the autoresponders available to you are pretty advanced. Triggers can be date or anniversary-based, link-based, they can be triggered when a product is purchased or if a user abandons their cart, and of course, when a subscriber joins a list.
Setting up the autoresponders is a simple affair, made easy by a visual builder.
What they should improve:
Their knowledge base is a bit sparse. It's also not possible to A/B test your emails or autoresponders.
3. Brevo (formerly Sendinblue)
This transactional email provider includes some advanced autoresponders as part of its free plan, including those triggered by web events, purchases and abandoned cart. SMS marketing is also available and you can send SMS messages as part of your autoresponder campaigns.
What we liked:
Brevo's autoresponder options (and email automations in general) are top-notch – surprising, given their extremely low pricing. You edit them in an intuitive visual editor, and can even test campaigns before launching them.
Where they should improve:
On the free plan, there's a daily cap of 300 emails, which might be limiting for those with larger lists. Brevo imposes a limit of 2,000 contacts in any automated/autoresponder campaign at any time.
Video review:
4. Omnisend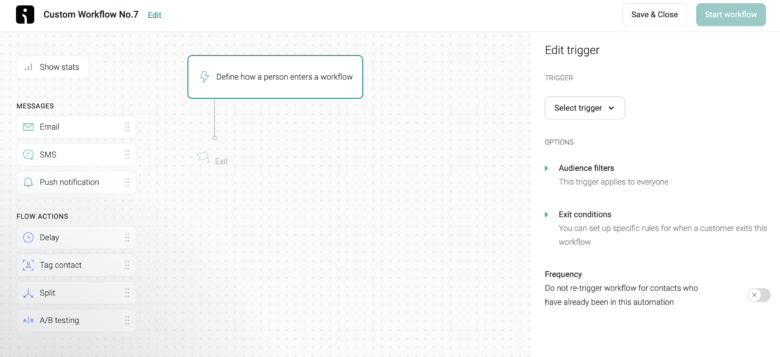 Omnisend is an excellent email marketing service for ecommerce businesses looking to send automated emails for free.
With a limit of 500 emails p/m to 250 contacts, it isn't the most generous free autoresponder on the list. However, they do make up for it in features.
Omnisend's free plan comes with all the advanced features, including landing pages, website tracking and marketing automation.
It's also worth mentioning that though you can only contact up to 250 subscribers per month, you can collect an unlimited number of subscribers.
What we liked: 
Omnisend has a lot of really great features, especially if you run an ecommerce business. These include automation workflows, the ability to add your store's products directly in the email editor, and cool email add-ons like scratch cards and gift boxes with discount codes. All this will help you keep your subscribers engaged and lead to more sales from your automated messages.
There are a whole range of filters you can use for segmentation, e.g., contact field criteria, behavior (clicks, reads, purchases, etc.), and more. Plus, Omnisend will make suggestions that are most commonly used, which will save you time.
You can also A/B test your emails.
Where they should improve:
The sending allowance is quite small, only allowing for 500 emails a month to just 250 subscribers. If you wish to send to more autoresponders, you'll need to upgrade to the paid plan, which starts at $16 and includes 6000 emails to 500 subscribers.
Video review: 
5. SendPulse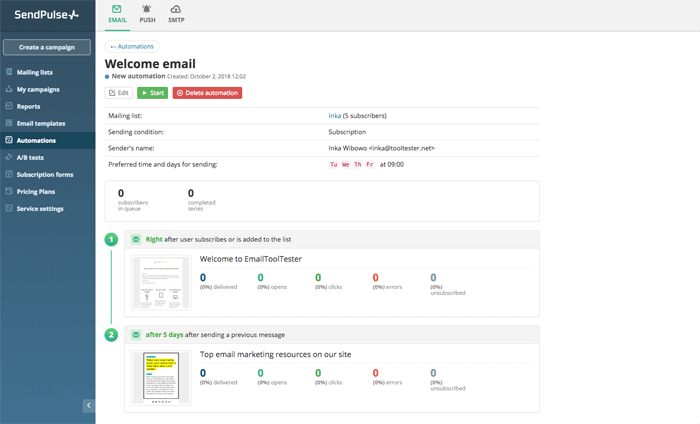 SendPulse is a versatile platform that offers not only email, but also web push notifications, SMS marketing, Viber and transactional emails. It's no surprise then that they'd also include autoresponders as part of its offering. These are available to use on SendPulse's free plan, which allows for 15,000 emails per month for up to 500 subscribers.
What we liked:
Aside from autoresponders, other cool features like A/B testing, advanced reporting, web push notifications and transactional emails also come as part of the free plan.
Where they should improve:
The autoresponders would be easier to manage if they could be edited in a multi-path workflow view – the current editor is just a little too basic. They reduced the free plan's subscriber limit, which is now pretty low compared to other free autoresponder services on this list.
6. AWeber

Since AWeber recently launched their freemium plan, they now deserve a place on this list of free autoresponders. They also claim that they invented the autoresponder, so we had to see how it fared against the other free autoresponder tools.
What we liked:
You can use their automations to manage subscribers via the rules you create, saving you plenty of time. You have a decent limit of 3,000 emails/month and there's quite a good selection of responsive templates available
What they should improve:
The free plan, though it generously includes the same features as the paid plan, limits you to just 500 subscribers, which isn't many at all. Their terminology could be confusing for experienced users as automations and autoresponders are called 'Campaigns'. The triggers available are pretty limited; these are simply 'when a tag is applied' or when a contact is subscribed to a list'.
Video review:
7. MailChimp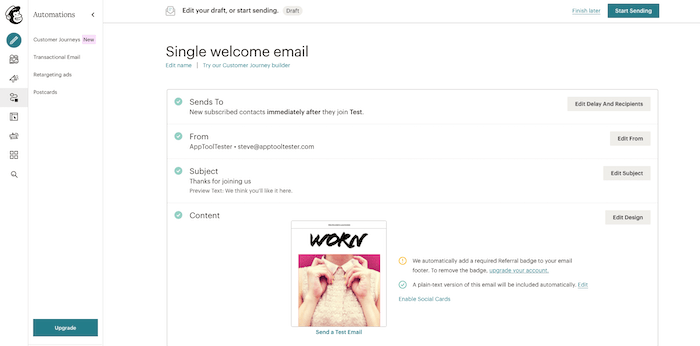 Mighty MailChimp also make our list of top tools that offer a free autoresponder software, though with some limitations. You'll have the option to set up automated ecommerce, RSS and tag-based campaigns but will be restricted to single-step automations.
What we liked:
Their autoresponders extend beyond the basic welcome and anniversary emails to include advanced campaigns such as abandoned cart and retargeting emails – awesome news if you're an online store.
Where they should improve:
Like SendPulse, MailChimp lacks a visual workflow editor for autoresponders (on the free plan). We've also noticed that their emails often go to Gmail's Promotions tab, rather than the main inbox. You'll need to move beyond the free plan to make use of their multi-step automations, and MailChimp's paid plans are quite pricey. Note that you have a limit of 2,500 emails p/m (with a daily limit of 500) for up to 500 contacts.
Video review:
Check out these Mailchimp alternatives
8. Benchmark

Benchmark's clean interface is easy on the eyes, and like MailerLite, it's also a super simple tool to use. The free plan lets you use basic autoresponders (they call this 'Automation Lite'), forms, surveys and reports. Advanced automations, however, are only available if you upgrade.
What we liked:
This is a provider that really puts design above all else. Their email templates are stunning, and editing emails is just such an easy, streamlined experience.
Where they should improve:
Unfortunately, this ease of use doesn't apply to the autoresponder editor. You can't view autoresponders in a workflow, and they're not very flexible (you can't send autoresponders to send after an hour, for example, and you can't set sending time ranges). Historically, Benchmark haven't performed so great in our deliverability tests, either. Also, with a limit of only 250 emails/month, you're going to find the free plan incredibly limiting.
Video review:
How can I use an email autoresponder in my email marketing?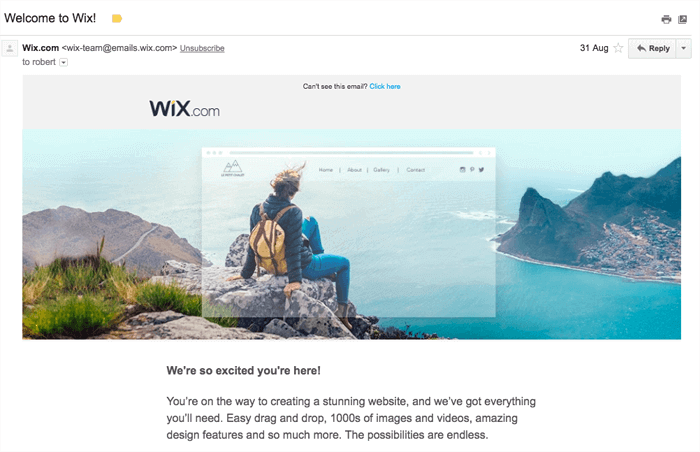 An autoresponder welcome email from Wix
The eBook example is just one instance of how you might use an autoresponder. There are plenty of other ways you can use them in your email communications:
When someone subscribes to your newsletter, you could send a single welcome email introducing yourself and setting expectations around the frequency of emails, and the type of content they'll receive.
When a subscriber signs up for a free trial of your product or service, you could send them an autoresponder 'welcome' series with tips on how to get started, and information on the different features available.
If you have subscribers' birthdates in your database, you could send an autoresponder on their birthday with a special birthday offer or discount (who doesn't love presents on their birthday?).
When someone clicks on a specific link within one of your previous newsletters, you could send them an autoresponder series with content around that particular topic.
If you have an online store, you could target users who have abandoned their carts with a promotion code to entice them to buy.
When a customer purchases a product online, you could send an autoresponder with additional information about how to care for the product.
If a customer's subscription is coming to an end, you could send an email autoresponder a few weeks beforehand to remind them to renew.
And the list goes on… (in fact, you can check out more automated email examples here.)
Hopefully, that's given you a few ideas to take your email marketing strategy to the next level!
Make sure to check out our complete guide to email deliverability best practices and email authentication for information on how to improve your email deliverability rate, as you want to make sure your subscribers actually receive your autoresponders.
Tools for setting up a free autoresponder: Conclusion
So there you have it – our round-up of some solid (and free!) email marketing tools for running autoresponder campaigns.
Which one is right for you? It really depends on the kinds of autoresponders your subscribers (and your business/website) would benefit from.
If a simple, yet powerful autoresponder system is what you're after, MailerLite is hard to beat.
For online store owners who want to send autoresponders like order confirmations and abandoned cart campaigns, Omnisend, MailChimp and Brevo are all trusty options.
If you're dealing with big sending volumes, MailChimp has the most generous allowance.
So pick one that you think will work for you, and give it a whirl – then let us know about your experiences in the comments below!
Note that you will find limitations with these free email marketing services and the types of autoresponders you can send. If you're serious about marketing automation and have some budget to invest, we'd recommend ActiveCampaign. It comes with tons of automation templates, detailed reporting and a built-in CRM.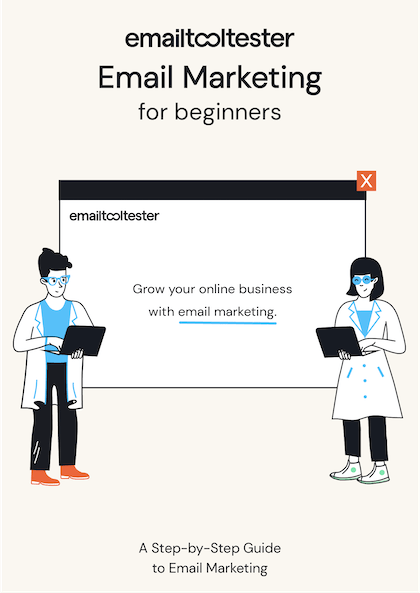 Email Marketing Crash Course: Step-by-Step Guide
Our email marketing course for beginners: ideal for small and medium-sized businesses, online stores and bloggers. It shows you all the steps you need to send your first email campaign. Best of all, it's free!
Sign up to receive your copy immediately!
We keep our content up to date
08 May 2022 - Updated Omnisend image
01 Dec 2022 - Omnisend video added 
01 Nov 2022 - Mailchimp lowered the allowances on the free plan. Omnisend added
01 Aug 2022 - Removed Moosend as they no longer offer a freemium plan
15 Feb 2022 - General update
20 Jan 2022 - Updated Mailchimp profile
26 Oct 2021 - Moved Brevo up
27 May 2021 - Video added 
1 March 2021 - Added Sender
17 Dec 2020 - Added AWeber
24 Aug 2020 - Updated MailChimp profile
28 Apr 2020 - Added updated MailerLite video
22 Apr 2020 - Benchmark made changes to their free plan. Added Moosend
Our Methodology
This article has been written and researched following our EmailTooltester methodology.
Our Methodology