Once upon a time, when I was living in London and working for a fast-paced marketing agency (and drinking way too much coffee), my job was to manage digital projects for some pretty big-name clients.
One of the project requests that frequently came in was landing pages. My clients were regularly running big-budget email marketing campaigns and, logically, needed to create landing pages to drive prospects to.
As with most client requests when you're working for an agency, they usually needed them done urgently. And they were prepared to fork over thousands to make it happen.
You read that right. Thousands of dollars, often on just a single landing page.
Now, I'm not saying that amount isn't justified. Good landing page design often needs a lot of thought, and a skilled team of designers, developers, and project managers behind them.
That's fine if your company is a well-known brand with that kind of budget to throw around.
But it's not exactly realistic if you're a small-to-medium business, with just as legitimate a reason to need a landing page.
Thankfully, things have evolved a lot over the past few years. Thanks to online tools such as email marketing software and website builders, it's now possible to create a landing page even on shoestring budgets.
Or, as we'll see in this post, completely for free.
Best Free Page Builders [Video Review]
Let's take a look at which free landing page builder tools will let you do that – and the pros and cons of each one.
Try out MailerLite, Mailchimp, Omnisend, Wix
But first, what do I need in a free landing page creator?
Here's our list of features to look for when assessing free landing page builders. Some are essential for lead generation, while others are nice-to-haves that can help to optimize your email marketing strategy:
User-friendly – If you can't set up your page reasonably quickly and easily, then this will impede your ability to create an optimal landing page.
Good design – There's definitely an art to designing landing pages. You want to make beautiful landing pages that are easy to navigate. They need to be created with usability in mind, so it's important to choose a tool that offers some cleverly-designed and user-friendly templates that you can edit easily.
Forms and CTA buttons – The primary purpose of a landing page is to generate leads and convert traffic into paying customers, so make sure your tool lets you embed forms and call-to-action buttons within your free lead capture page.
Mobile-friendly – A responsive landing page that's viewable on mobile phones and tablets is an absolute must. Most free landing page builders offer this as standard.
Social sharing – Having your landing page shared on social networks by users is a great way to increase its visibility – so check whether your tool allows you to enable social sharing.
Integration with your email marketing software – If your landing page builder allows new leads to automatically be entered into your email marketing or marketing automation software, that will save you a huge amount of time and effort. You also might want to integrate with your CRM.
Tracking – Can you connect your landing page software with Google Analytics? Doing so will give you valuable insight into how your pages are performing, and how they can be improved.
A/B testing – Although a little hard to come by on free plans, this feature can be super useful if you have large volumes of traffic visiting your pages, and you want to know how to optimize them.
Best free landing page builder comparison
Without further ado, here are the top tools for creating your landing pages in 2023. You can find the full reviews below the table.
Landing page builder
Number of
free landing pages
Features
Mailchimp
Unlimited
Tracking for Facebook Pixel, Google Analytics

Automations

HubSpot
20
SEO settings Email marketing & CRM software
Wix
Unlimited
Excellent templates Steeper learning curve
MailerLite
10
Social sharing buttons SEO settings Automations
Jimdo
5
Shallow learning curve
Weebly
Unlimited
Ease of use

Decent range of content types

Omnisend
Unlimited
Ecommerce focused Advanced automations
ConvertKit
Unlimited
Plenty of designs

Custom domain name

Strikingly
Unlimited
Nice designs

Responsive support

Ucraft
Unlimited
Ideal for creatives Up to 15 pages
Webnode
Unlimited
You can modify SEO settings

Nice-looking templates

Carrd
3
Stylish templates

Modern interface

Site123
Unlimited
Tons of languages
Landingi
(free trial only)
Unlimited
5 custom domains

HTML customization
Free landing page builder – A detailed look at the tools
With so many landing page builders to choose from – with many offering unlimited landing pages – it's necessary to take a closer look at how the platforms perform and how good their designs are. Some also come with other interesting features such as email marketing, automation, and membership features, which can save you money and help you optimize your marketing efforts.
1. MailChimp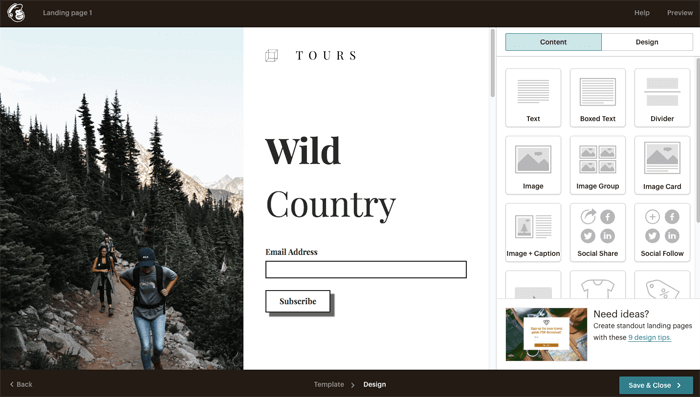 You may (or may not) be surprised to know that the world's most popular email marketing software lets you build landing pages too. These are available on MailChimp's 'Free Forever' plan, which lets you send 10,000 emails per month to up to 2,000 subscribers.
What we liked: Like MailerLite, MailChimp's landing page software is easy to use, with lots of options for customization. You're able to add tracking for Facebook Pixel, Google Analytics, or MailChimp's own tracking. You can also trigger automations, although their automation editor isn't the most user-friendly.
Where they can improve: Not many templates to choose from, although the designs aren't bad. You're also not able to customize your thank you/confirmation page, and there are fewer options for editing form settings than there are with MailerLite. By default, your URL will be on a MailChimp domain – to use your own, you'll need to pay $99/year.
Who is it suited to? If you want an email marketing service with an inbuilt landing page builder, but find MailerLite's 1,000-subscriber limit a bit restrictive, MailChimp might be a better option.
Find out more about MailChimp's landing page builder here.
2. HubSpot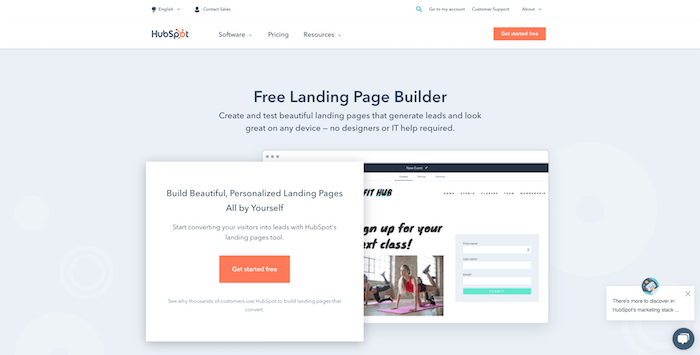 Next on our list is HubSpot. Its CMS Hub website builder offers a generous allowance of 20 free landing pages and a very easy-to-use online form builder. Of course, these aren't free of the HubSpot branding, but this is pretty inconspicuous, right at the bottom of the page.
With a whole breadth of features, we thought you'd like to know all about what HubSpot had to offer.
What we liked: 
It's great that HubSpot allow for up to 20 landing pages for free. The templates are simple but effective, and there are 17 templates to work from.
A cool feature is that HubSpot helpfully offer you tips on how to optimize your pages, for example, whether the page is mobile friendly or if all the SEO settings are correct.
Another plus is that HubSpot is primarily a CRM tool, meaning you'll be able to store and manage all the leads you generate in one place. It also has email marketing capabilities.
Where they can improve: 
Like most free landing page builders, HubSpot's free plan doesn't include a custom domain. You'll need to upgrade to the Starter plan ($50/month) or another one of Hubspot's paid plans for this feature.
The content blocks available to you are slightly limited, for example, it would be nice to have a block for events, quizzes, maps or testimonials (all of which are available with MailerLite).
Unfortunately, it's not possible to integrate with Google Analytics on the free plan.
Who is it suited to? 
HubSpot is a great option for those looking for an all-in-one service (especially one that combines a website builder and email marketing). The fact that it includes 20 landing pages, email marketing and CRM software makes it very appealing.
3. Wix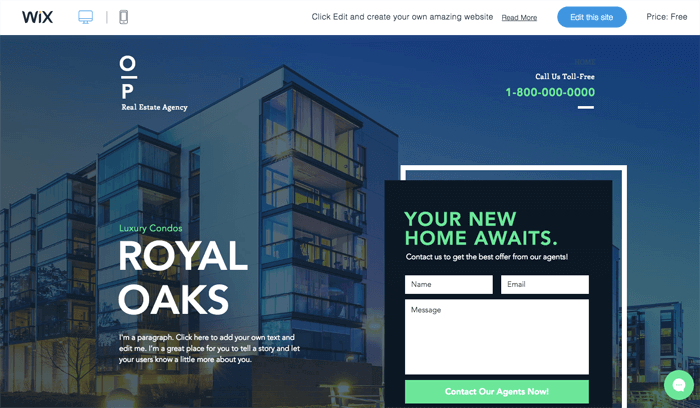 They're known for their slick website builder, but Wix is great for building single-page sites, too. Among their extensive range of modern-looking website templates is a selection of around 30 landing page designs – all of which can be fully edited, and are available for free (provided you're okay with using a Wix domain for your URL, and having Wix ads on your page).
What we liked: If full design flexibility is what you're after, Wix won't disappoint. You have pretty much free rein to place elements as you like, and there are a heap of content types to choose from (galleries, videos, testimonials, maps etc). Submissions get saved to your contact list in Wix, and you can trigger automated emails (e.g. thank you or welcome emails) to be sent from within the tool. There are even third-party apps that you can add to have contacts go straight to your email marketing tool (e.g. MailChimp, Constant Contact, AWeber).
Where they can improve: Wix is pretty easy to use for the most part, although their editor can be a little overwhelming at first glance. Since it's a fully featured website builder it isn't the simplest landing page software though, and might take a little longer to learn. To use your own domain, you need to upgrade to a paid plan.
Who is it suited to? Wix is a solid all-round solution for building landing pages, but I'd recommend it especially to design-savvy marketers who want professional-looking pages and a good amount of control. With some work, it's possible to create beautiful landing pages with Wix.
4. MailerLite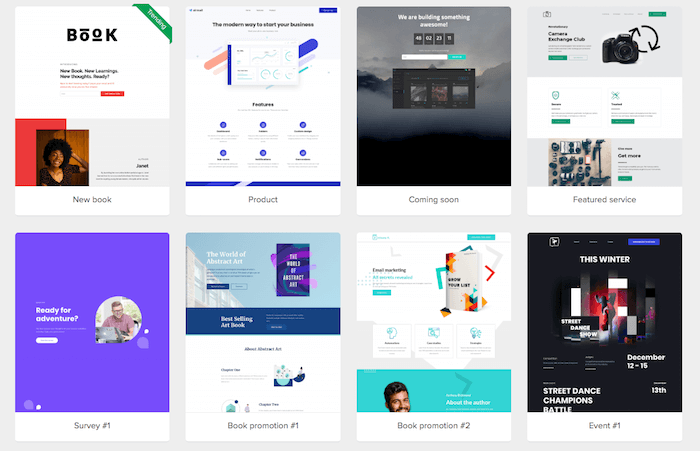 There's a massive benefit to using email marketing software to build your landing pages. After all, having all your contacts, landing pages and email campaigns in one place definitely makes things easier to manage.
MailerLite is an email marketing tool that's something of a favorite at EmailToolTester – we love its simplicity and usability. Luckily, it offers a free plan, which includes 10 public landing pages and up to 1,000 subscribers. It also includes 12,000 emails per month.
What we liked: MailerLite's landing page builder is both flexible and easy to use – you can adjust your design by dragging and dropping content blocks as you like. Form fields can be easily edited, and form submissions go straight into whichever list you select. Social sharing buttons are included, as are options to edit SEO settings (including whether or not you want your landing page to be indexed). Plus, you can trigger some nice automations for new contacts, including welcome and drip email campaigns.
Where they can improve: MailerLite's free plan doesn't include any landing page templates. In the past, this was the case, so we were pretty disappointed when they removed them. There also aren't any email templates included, which means you'll have to build your own (although this can be easily done through their visual editor). As is the case with most free landing page builders, you'll only be able to use a generic domain to host your page. If you want to use a custom domain you'll need to upgrade to the Growing Business plan for $15/month.
Who is it suited to? Both beginners and experienced marketers alike who want to create beautiful landing pages. MailerLite offers one of the better landing page tools, with an easy-to-use interface, plenty of flexibility and some pretty handy options for managing automations. Its advanced form options are especially useful for GDPR-conscious businesses that serve European clients.
5. Jimdo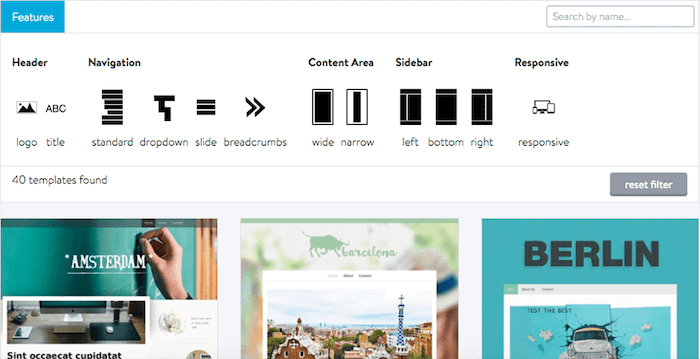 The Hamburg-based company Jimdo also offers free landing pages. Though you'll have to put up with ads, fortunately, these are discreetly placed at the bottom of the page.
The usual restrictions on free plans apply. The domain has the following structure: site.jimdofree.com, but you can of course also switch to a paid plan, where you can use your own domain.
Jimdo does not offer email marketing itself, but external registration forms can be integrated. To do this, simply copy a snippet of code into an HTML block.
What we like: It's easy to understand how Jimdo works, because everything is kept very simple and the editor responds nicely. Incidentally, all templates are responsive, which means that they are always displayed well, even on mobile devices.
What should be improved: The designs are not necessarily made for the purpose of a landing page. In addition, Jimdo is unfortunately not that flexible when it comes to making structural changes to the template.
Who is it suitable for? Jimdo is a really easy way to create small landing pages with registration options. The ad-free pro plan is quite affordable even for small budgets.
6. Weebly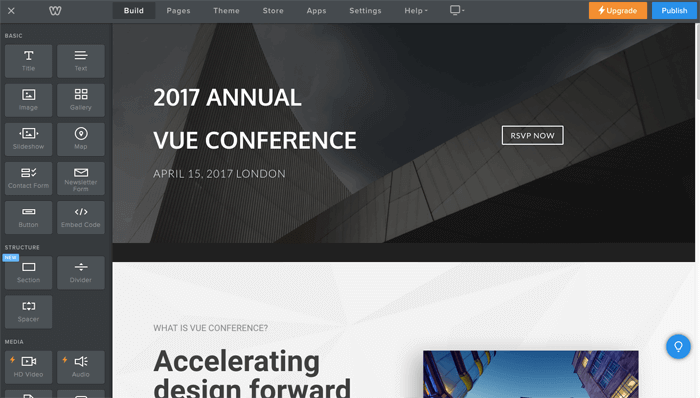 Weebly is another website builder that's often compared to Wix. It's built a reputation for itself as being one of the easiest website builders to use. While they don't offer landing page templates per se, Weebly's collection of decent-looking templates can be edited down to a single-page layout. Sites can be published for free as long as you use their domain and are happy to display a Weebly ad.
What we liked: Creating a Weebly landing page isn't difficult, and you get a fair amount of flexibility with your site design, with the ability to add multimedia, forms, and other content. You can also add apps to let you integrate with external email marketing tools. Plus, you really can't beat Weebly for ease of use – it has a much gentler learning curve than some other tools.
Where they can improve: While their templates look nice, there are not that many on offer. There aren't any inbuilt options for follow-on automations, and site stats aren't available unless you upgrade. Once again, you'll need to pay to use your own domain.
Who is it suited to? If you like the idea of using a flexible website builder for your landing pages but want something super easy to use, Weebly landing pages are your best bet.
7. Omnisend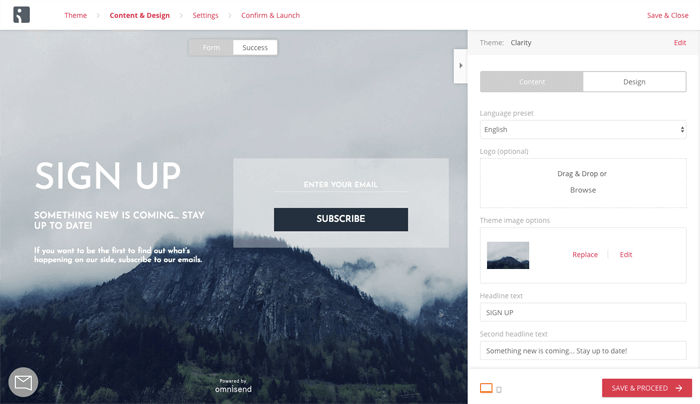 It may not be quite as well-known as MailChimp, but this ecommerce-focused email marketing provider also includes a landing page builder. And with its free plan offering users access to all pro features (including marketing automation) and unlimited landing pages and forms, Omnisend definitely earns a place on this list.
What we liked: The fact that there is no limit to the number of landing pages you can publish is a big plus. You have options to edit confirmation and error messages and add GDPR fields.
Where they can improve: Unfortunately, Omnisend now has fewer templates than it did previously. You aren't able to really customize the design and layout, other than being able to change the background.
Who is it suited to? I wouldn't use Omnisend exclusively as a landing page builder – instead, I'd recommend it only to online store owners who would benefit from email features like discount codes, sales reports and automation (which come with the free plan).
8. ConvertKit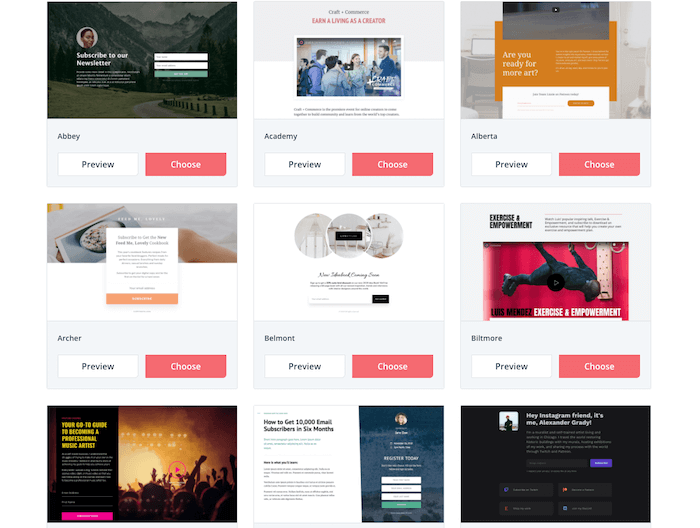 ConvertKit, an email marketing platform for creatives, also offers landing pages, but they weren't always on this list of landing page builders. That's because ConvertKit didn't offer a free plan until Spring 2020, but we're very glad they do now! Especially since you're allowed unlimited landing pages, forms and traffic on the free plan, plus a customizable domain. It does have a limit of 1,000 subscribers.
What we liked: SEO options are available for those wishing to have their landing pages indexed on search engines like Google. ConvertKit is the only provider that allows you to add a custom domain, which is great! Of course, being able to build unlimited landing pages is also a great advantage. The selection of templates is also pretty good, in fact, you'll have almost 50 modern designs to choose from.
Where they can improve: The customization options are very limited, for example, you can't add additional content blocks like testimonials, and it's impossible to add hyperlinks to images. In fact, the usability of the tool is pretty poor, and the fact that you can't drag and drop elements (or move them at all) is extremely frustrating. They also say that all templates are responsive but you can't preview how your design will look on mobile. Another downside is that the reports are pretty thin.
Who is it suited to? Beginners looking for a simple landing page builder with no cap on pages and the ability to add their own custom domain for free. Bear in mind that you'll also need a fair bit of patience!
9. Strikingly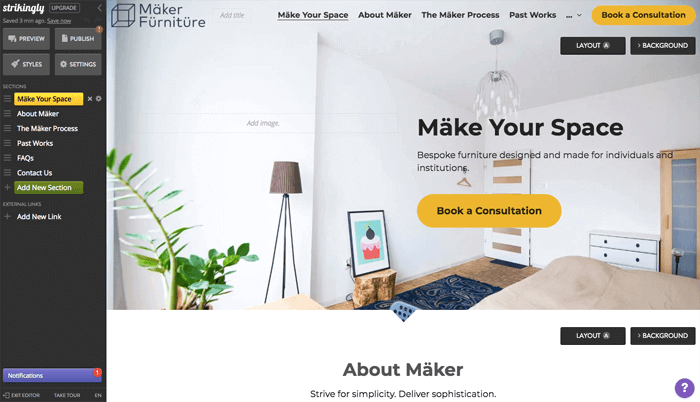 Strikingly is a website builder that specializes in single-page websites. The free plan lets you build an unlimited number of landing pages and test out its features, but won't give you full access to all of them (e.g. adding your own code, defining mobile-specific actions). As with the other website builders, a Strikingly domain and ad also come with the free plan.
What we liked: The template range is decent, with plenty to choose from and some really impressive designs. The editor is straightforward, with several different layout options for each section. You also have a nice preview tool to see how your landing page will display across desktop, tablet and mobile. Analytics such as visitor stats are available, as is Google Analytics tracking. We also found their support to be useful and responsive.
Where they can improve: Unfortunately there are only a handful of form fields available to choose from. Contacts get sent to a nominated email address and saved within the tool, but there's no option to integrate them with external tools.
Who is it suited to? Strikingly will let you build more complex single-page sites, beyond your standard lead capture landing page – with minimal effort required. If you wanted to build out a fully-sectioned site displayed on a single page, Strikingly's templates are built for this purpose.
10. Ucraft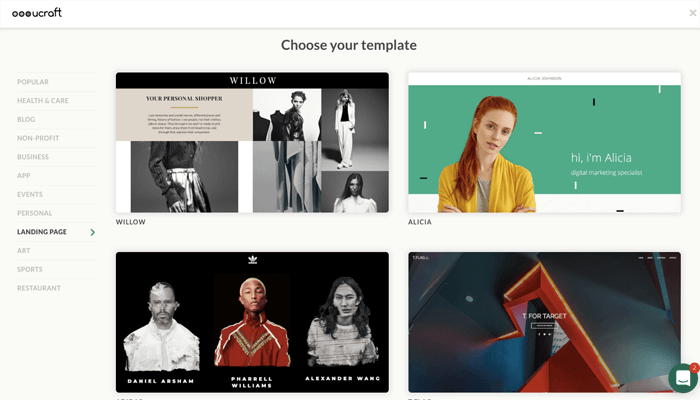 Website builder Ucraft offers some very sleek and cutting-edge landing page designs. Having the likes of Pharrell Williams and Ice Cube featured on their homepage doesn't hurt their cooler-than-thou image, either. Ucraft's free plan lets you build sites with a small ad displayed.
What we liked: The drag-and-drop editor is easy enough to use, letting you add basic elements such as images, galleries, buttons and videos. The templates are modern and ideal for creative professionals like artists, photographers, and designers.
Where they can improve: On the free plan, you are restricted in terms of which content elements you can drag and drop into your page. It's also not possible to use forms in the free plan, which isn't ideal for lead generation landing pages.
Who is it suited to? With their bold designs, Ucraft is probably more suited to those targeting consumers rather than business audiences. Their templates are ideal for promoting new brands, events, apps, and creative work.
11. Webnode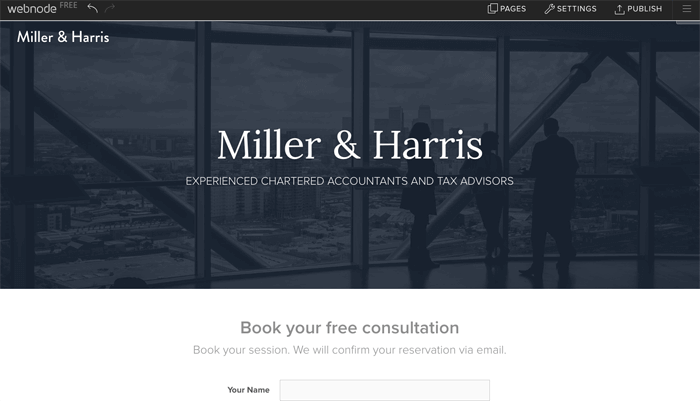 They don't exactly play in the same league as Weebly, but with 30 million registered users, website builder Webnode aren't doing too badly. Known for their mastery of multilingual sites, Webnode don't specifically offer landing page templates, but any of their templates can be customized to a single-page layout.
What we liked: Their website templates are some of the nicer ones out there. You can also modify SEO settings. It's possible to build multilingual pages, but you do need to opt for a paid plan in order to access this.
Where they can improve: Webnode is a basic web builder that lacks some of the more advanced customization options offered by other tools. For example, button text can only be edited to display URLs. Form options are also limited. While you can add subscription, reservation and order forms, you can't seem to add something as basic as a contact form. Also, it displays a pretty annoying banner ad that unfortunately doesn't disappear when you scroll down.
Who is it suited to? A bit tricky, as Webnode's website builder isn't exactly the most powerful or advanced – nor is it the easiest to use. It is however a solid option for those looking to build landing pages in multiple languages, but bear that you'll need to pay around $12/month for this feature.
12. Carrd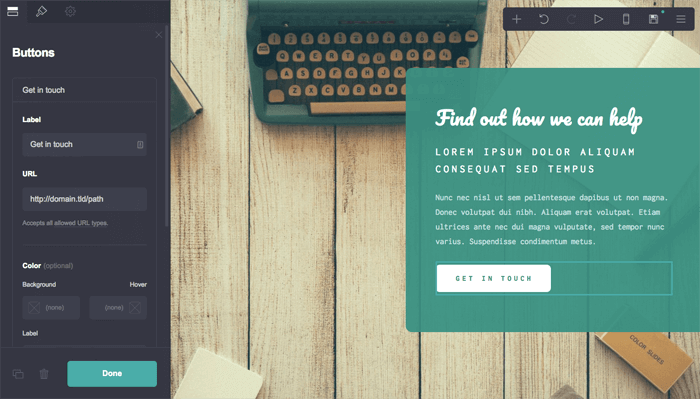 Here's another new platform making waves in the one-page website market. Founded by a former template designer, Carrd offers some stunning, responsive templates for creating landing pages, profiles, portfolios and other single-page sites. The free plan lets you have up to three sites, although there is a slight catch – it's not possible to use forms unless you upgrade to a paid plan. With plans starting at $9/year, however, it's by far the cheapest landing page builder out of all the ones we've looked at.
What we liked: You can jump straight into the tool and start building your landing page without signing up, so you can really get a feel for it without any commitment. A big thumbs up for the interface, which is both modern and easy to navigate. I also liked the selection of stylish templates on offer. And integrations with tools like MailChimp, MailerLite, ConvertKit and GetResponse make it possible to route subscribers straight to your email marketing service.
Where they can improve: Formatting text isn't as straightforward as in other editors – you need to use markdown-like coding to change text styles. Styling also requires knowledge of CSS, and you aren't able to change fonts. In general, the editor works a little differently to other builders we're used to – it's not super difficult to get your head around, but may require a bit of time to get used to.
Who is it suited to? Offering the cheapest plans around, Carrd is the most affordable option if you want to use your own domain and integrate with your email marketing software. Just be aware of some of the styling limitations – it's not quite as flexible as builders like Weebly.
13. Site123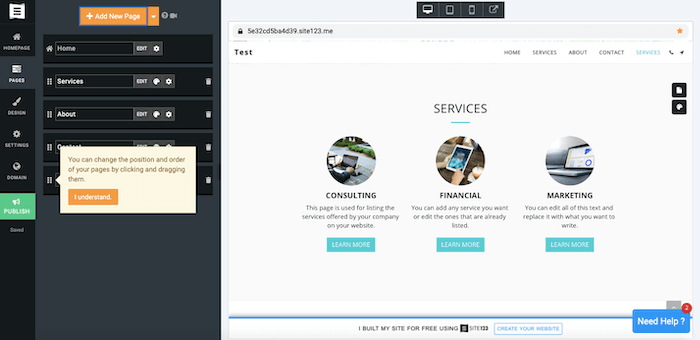 Site123 is a website builder, and, like the name suggests, you can put together a website in three steps: choose a design, add content, and go live. Of course, you can also use it to set up single landing pages.
That said, we found the editor and templates to be a bit restrictive. In terms of creativity, you might find it to be quite limiting.
What we like: The fact that the editor is available in more than 20 languages (including languages such as Turkish, Arabic, Romanian) is a big plus. Though restrictive, their editor is very easy to use and support is usually fast to answer.
What they can improve: More design flexibility would be nice. Like with most free plans, you'll have to put up with ads. With Site123 this comes in the form of a floating banner and footer tag.
Who is it suited to? Beginners who won't need a whole lot of creative free rein.
Dedicated Paid Landing Page Builders With a Free Trial
Though this list features some excellent landing page builders you can use for free, some very serious marketers might find that a dedicated landing page software caters to their needs slightly better.
For that reason, I wanted to include the following tool, which, although is not technically free, does offer a 14-day free trial.
Landingi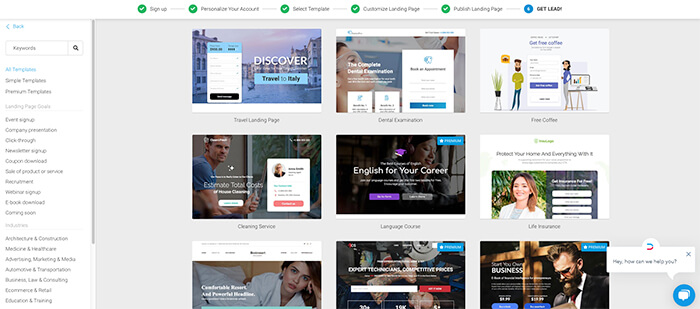 Compared to other dedicated landing page builders, Landingi is one of the cheaper tools. It will cost you $39/month and works out at $29/month when you pay annually. When compared to Instapage ($129/month) and Unbounce ($99/month) Landingi's prices seem quite reasonable. This price includes unlimited custom landing pages.
So, what's different about Landingi and the free landing page builders on this list? Well, because it's directed more towards marketing agencies, you can use up to 5 custom domains. What's more, you can edit the HTML, giving you much more freedom than with some of the other builders on this list.
What we like: Landingi offers some of the best landing page templates I've seen, and, what's more, they are really easy to edit and publish. Naturally, they are all mobile responsive. The interface is very well-designed, so you shouldn't run into any problems. However, if you do get stuck, you'll find the live chat agents to be responsive and helpful. This is a top choice for building custom landing pages.
What Landingi can improve: One thing you need to be aware of with Landingi's landing page builder is that you'll have to integrate the landing page form with your CRM or email marketing software every time you build a new lead capture page, though this isn't the case if you simply copy an existing page you've built.
Who is it suited to? Landingi is for serious marketers and agencies who need multiple domains and more freedom when it comes to design.
Try out Landingi for free for 14 days
Free landing pages: Which one is right for me?
Building landing pages is no longer the costly exercise it used to be. Thanks to the free tools we've listed, marketers now have plenty of options when it comes to creating budget-friendly landing pages for any purpose.
Here's a quick summary of the free landing page builder that could be right for you:
Tried out any of these free landing page builders, or have any others to suggest? Let us know in the comments below!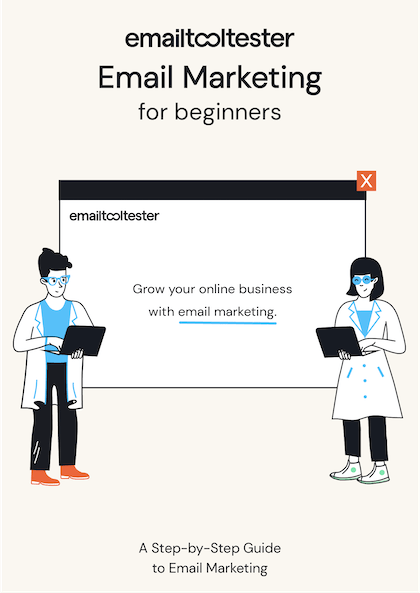 Email Marketing Crash Course: Step-by-Step Guide
Our email marketing course for beginners: ideal for small and medium-sized businesses, online stores and bloggers. It shows you all the steps you need to send your first email campaign. Best of all, it's free!
Sign up to receive your copy immediately!
We keep our content up to date
21 Oct 2022 - Ucraft no longer allows you to connect your domain on free plan
10 May 2022 - Omnisend no longer requires you to connect your online store
28 March 2022 - Moved MailerLite down after they removed landing page templates
03 Feb 2022 - Moved Omnisend down after they removed templates
20 Sept 2021: Omnisend pricing updated
15 June 2021: Moved ConvertKit down due to poor usability
02 Mar 2021: Moved down Omnisend and added HubSpot
09 Nov 2020: ONTRApages removed as you now need to pay for the service. ConvertKit added
22 Apr 2020: Added video
19 Feb 2020: Added 'Dedicated Landing Page' section
30 Jan 2020: Jimdo and Site123 added
21 Jan 2020: Content updated. Screenshots added to MailerLite, Mailchimp and Wix profiles. Comparison table added.
01 Feb 2019: Small change in Ucrafts free plan
Our Methodology
This article has been written and researched following our EmailTooltester methodology.
Our Methodology