Email marketing is all about trying to stay relevant: sending the right message at the right time, and read by the right recipient. If you can't hit that trifecta, your campaign will head to the trash without the slightest chance of being read.
Email marketing automation is hailed as the ultimate solution to staying relevant. And it seems to work. Businesses using email automation software generate twice as many leads as those that don't.
For a long time, though, only large corporations were able to benefit from automation. Email automation software solutions were obscenely expensive, and smaller and medium-sized businesses didn't get to play in that particular sandbox.
Now, however, things look a bit different.
More recently, a few affordable, cloud-based small business email marketing providers have entered the market, with cleverly-engineered feature sets that go well beyond a classic autoresponder.
In this article, we discuss just how powerful a marketing automation strategy can be for a business. We also look at 11 different email automation software providers that are really making waves in the small-to-medium business market. So if you're looking to transform your email marketing strategy forever, read on.
Here's what we'll cover:
Email Automation Software: A Brief Introduction
Automated email marketing campaigns can range from really simple to really complex. They include welcome email series, abandoned cart emails and behavioral automations (for example, when a user visits a specific page or clicks a link – see here for more automated email examples). Having these set up will save you a ton of time and help increase your profits. And, with the right automated email sender, it doesn't need to be difficult – in fact, most providers offer helpful templates.
This 3-minute video will show you some real-life examples to help you get a sense of what you might need for your business.
As you can see from the video, automation at its most basic level is really just sending an email (or series of emails) based on a simple action, like a visitor signing up to your mailing list. Most newsletter tools will be able to do this through their autoresponder feature.
What's the benefit of doing this? Well, the theory is that, by signing up to your mailing list, the visitor has indicated some interest in your business. At this stage, it's still too early to tell what exactly they're interested in. An autoresponder campaign can help to nurture that interest further and increase your chances of converting them into a customer down the line, as research shows that it often takes several touchpoints before a sale.
Slightly more sophisticated automated campaigns use the same principle of sending emails based on an action, however, the actions (or triggers) are a bit more complex. For example, it could be a contact who's opened an email or clicked on a specific email link (which might indicate their interest in that particular topic). These kinds of triggers allow you to send more targeted and tailored content.
This is when you start moving into real automation territory, and you'll need marketing automation software to run these kinds of campaigns. However, if you don't plan to set up anything more complex than this, you'll find that the email automation tools at the lower end of the price/feature scale will usually serve your needs. We outline some of these tools down below.
Professional automation is the really heavyweight stuff. It includes things like linking anonymous website data to a known contact, abandoned cart campaigns, contact tagging, lead scoring, dynamic content – pretty much any kind of automation you can think of, really! The sky's the limit here, but of course, you'll need a marketing automation platform that's powerful enough to do this. We've also included a few options in the section below.
Still need a more detailed explanation on marketing automation? No worries – just jump ahead to the bottom of this page to our Automation examples section.
Which Email Automation Software is Right for my Business?
When assessing different automated emailing software solutions for your business, you'll need to know what level of automation you'll be needing, and, of course, your budget.
Here's our list of the top 11 cloud-based email automation tools for small-to-medium business:
The following table summarizes the automations they offer, and pricing:
| Provider | Auto-Responder | "Birthday" emails | Trigger emails | Tagging | Website tracking | Workflow view | Ecommerce tracking | Lead scoring | Prices (Cost calculator) |
| --- | --- | --- | --- | --- | --- | --- | --- | --- | --- |
| ACTIVECAMPAIGN | | | | | | | | | From $39/mo. for up to 500 recipients |
| GETRESPONSE | | | | | | | | | From $19/mo. for up to 1,000 recipients |
| SENDINBLUE | | | | (limited) | | | | | From $0 for 9000 emails/month (up to 300/day) |
| OMNISEND | | | | | | | | | From $16/mo. for up to 6,000 emails |
| ZOHO | | | | | | | | | From $5 for unlimited emails and 500 contacts |
| DRIP | | | | | | | | | From $39/mo. for up to 2,500 recipients |
| FRESHWORKS | | | | | | | | | From $19 for 500 contacts |
| HUBSPOT | | | | | | | | | From $50/mo. for 1,000 marketing contacts |
| MAILCHIMP | | | | | (very limited) | | | | From $11/mo. for up to 500 emails |
| BENCHMARK | | | | | | | | | From $9.99/mo. for up to 500 subscribers |
| MAILERLITE | | | | | | | | | From $15/mo. for up to 1,000 recipients |
Email Automation Software in Detail
Here's our full list of the best email marketing automation software tools:

#1. ActiveCampaign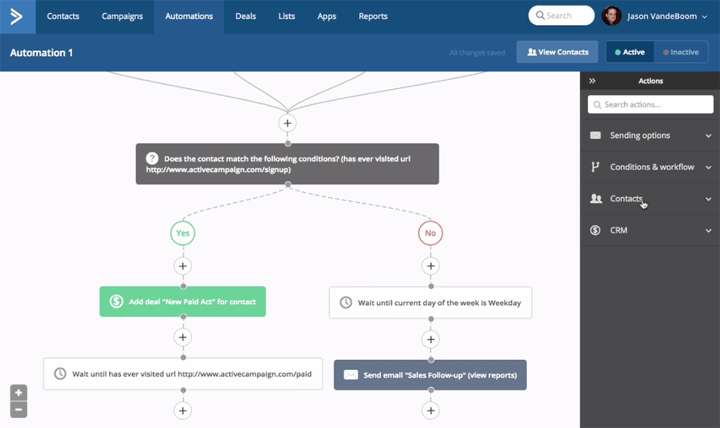 If you're ready to dive straight into the deep end of marketing automation, ActiveCampaign provides plenty to get your feet wet. It offers enterprise-grade automations at an SME-level price.
We're talking about segmentation, dynamic content, site tracking, lead scoring – the full gamut of marketing automation. It even has an inbuilt CRM, allowing you to link up your sales and marketing data, and set up automations for sales follow-ups.
As you'd expect with such advanced features, ActiveCampaign's pricing is at the higher end of the small-to-medium business budget range (5000 contacts are $99/month, for example). And it does come with a steeper learning curve than other automated emailing software solutions, too. But is it worth it? We absolutely think so.
Video review
What we like
How powerful it is. If you're really serious about running targeted, one-to-one campaigns to your contacts, it's hard to bypass ActiveCampaign.
Where they should improve
The tool itself can be daunting and takes a bit of time to get used to. It would be great if they could make it more beginner-friendly. Check out the top ActiveCampaign alternatives here.
Recommended for
Larger businesses who need to streamline their sales and marketing processes, and have the time and resources to dedicate to running advanced marketing automations.
---
#2. GetResponse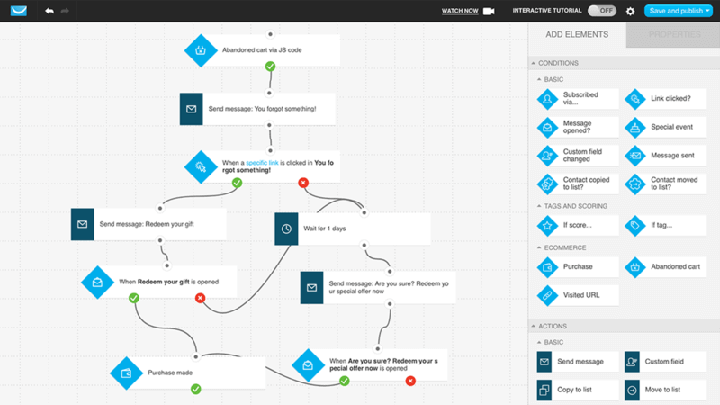 GetResponse is another fully-featured marketing automation tool, that's perhaps most notable for its powerful automations in list management.
Like ActiveCampaign, GetResponse offers advanced automations such as triggered campaigns, segmentation, tagging and data updates. On its Pro plan, you also get access to a CRM.
There's the added bonus of being able to create landing pages, and even run webinars, too. This is all available under their Conversion Funnel feature, which is an excellent automated email sender for those serious about automation. Find out more about their sales funnel software here.
It's a versatile tool and highly recommended if you're looking for an all-in-one solution. 1,000 contacts will set you back $19/month with GetResponse, though you'll only be able to set up simple autoresponders. If you want to access the advanced automation workflows, you'll need to be on the Plus plan or higher.
Video review
What we like
The completeness of it – with its long list of features and integrations, it's really possible to perform most, if not all, of your lead generation campaigns through this tool.
Where they should improve
GetResponse doesn't do so well when it comes to deliverability, which is definitely concerning.
Recommended for
Businesses who want a solid tool that does automation well and comes with plenty of extras.
---
#3. Brevo (formerly Sendinblue)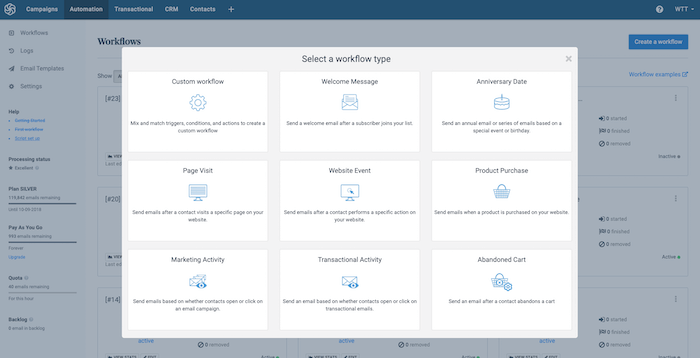 Originally a transactional email service, Brevo has evolved into a complete newsletter tool offering advanced marketing automation, at a surprisingly affordable price. There's even a free plan that gives you access to its automations, allowing you to send up to 300 emails a day.
Automations include website goal-based campaigns, sales reminders based on custom triggers, lead scoring, and even SMS-based campaigns (for the US). You can also use its transactional email function to send emails such as purchase confirmations and invoices.
Video review
What we like
Its price point. You get a surprisingly decent amount of automations for the price you're paying. To give you an idea – their paid plans start at $25/month for 20,000 subscribers.
Where they should improve
There are a few key features missing, such as A/B testing and the ability to set up multiple users/logins. And while you can set up a tagging solution via custom contact attributes, it's not as convenient as with other email marketing services.
Recommended for
Budget-conscious businesses who want to run sophisticated automated campaigns. It's also ideal for online store owners, with integrations and automations specific to ecommerce. Plus, its transactional email capabilities also make it a good option for those looking to keep all their email marketing within the one tool.
---
#4. Omnisend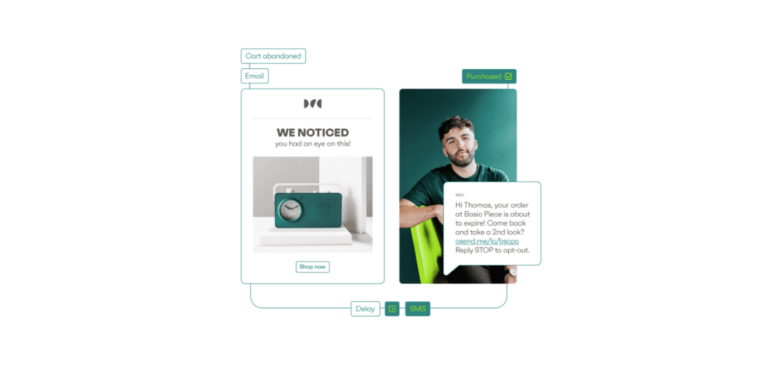 Omnisend is an email marketing tool that caters to ecommerce, offering unique features such as email gift boxes, scratch cards, and integration with Google and Facebook ads.
Part of their offering also includes a range of ecommerce-specific automations. These include standard automations (cart recovery, order confirmations, etc.), but also more advanced campaigns (e.g. cross-sell, customer reactivation, browse abandonment).
Omnisend have a free plan for up to 500 emails a month (reaching up to 250 contacts), with all advanced features included, automations too. Find out more about Omnisend's pricing here.
Video Review
What we like
The automation editor is quite easy to use, with a simple workflow editor and some nice ready-to-go templates. There are plenty of excellent ecommerce specific templates, and you can use conditional splitting for more advanced automations.
Where they should improve
Omnisend hasn't done so well in our deliverability tests, it would be good to an improvement in that area.
Recommended for
Omnisend includes an impressive amount of features designed to help maximize conversions and purchases, so it's a top choice for those who run an online store on platforms like Shopify.
---
#5. Zoho Campaigns
Zoho Campaigns is a robust sales & marketing suite. Its services include email hosting, website creation, surveys, forms, customer relationship management software and email marketing and automation. The latter comes under Zoho Campaigns (each service comes under a separate section), and gives users a well-rounded package, with unlimited emails and access to Zoho's CRM software, amongst others.
What we like
There are a wide range of automation workflow and autoresponders available. These can be based on sign-ups, email actions, dates and anniversaries, and the workflows connect with Zoho's CRM software.
The workflows are where you can create sophisticated automations based on tons of different triggers and actions – there really is no limit!
With plans starting as low as $5 for 500 subscribers, Zoho Campaigns is definitely worth checking out.
Where they should improve
There is no live chat support, which would definitely be nice to have. Also, the campaign set-up process isn't quite as intuitive as other tools.
Recommended for
Due to their very reasonable starting prices, Zoho Campaigns is a good option for small businesses. However, its functionality and scalability means that larger businesses will also find it to be an interesting option.
---
#6. Drip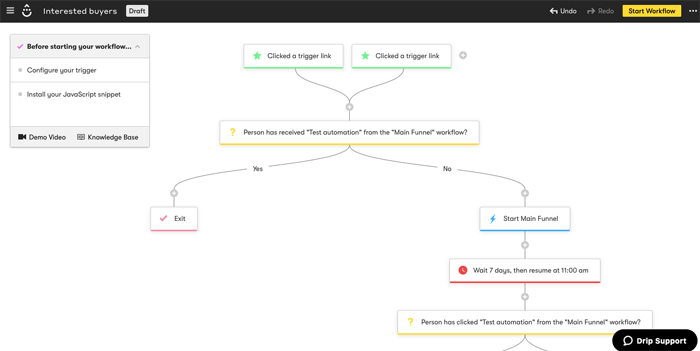 Describing itself as 'the ecommerce CRM', Drip is a powerful marketing automation service that is notable for its ecommerce automation and segmentation features. Offering deep integrations with the biggest online store platforms (Shopify, WooCommerce, Magento, etc.), Drip enables you to send targeted emails at every point of the customer journey.
These include sending abandoned cart campaigns and upsell emails, but also communications around smaller actions like product views, deleted checkouts, order updates, and many more.
But it doesn't stop there. Drip's flexible marketing automation editor is also ideal for non-ecommerce businesses, allowing you to combine a wide range of triggers and actions to build out an endless number of sophisticated automations.
What we like
The well-designed workflow editor is one of the easiest and most intuitive automation editors we've used. But you can also set up automations via their 'Rules' feature, allowing you to run universal automations without building out complex campaigns. Drip's list management features are top-notch, too, letting you effortlessly create segments, tags, and lead scoring rules.
Where they should improve
The email editor isn't as flexible or intuitive as it could be – tools like ActiveCampaign offer a better experience. The same goes for their form editor, which requires a bit of coding to insert dropdown or checkbox fields. Plans start at $39 for 2,500 subscribers, so it's really geared towards more established businesses. Bear in mind there'll be no warning if you exceed your subscriber limit (instead, they'll automatically bump you up to the next plan).
Recommended for
Online store owners, but also anyone who wants plenty of flexibility in creating automations, and an easy way to do so.
---
#7. Freshworks (formerly Freshsales)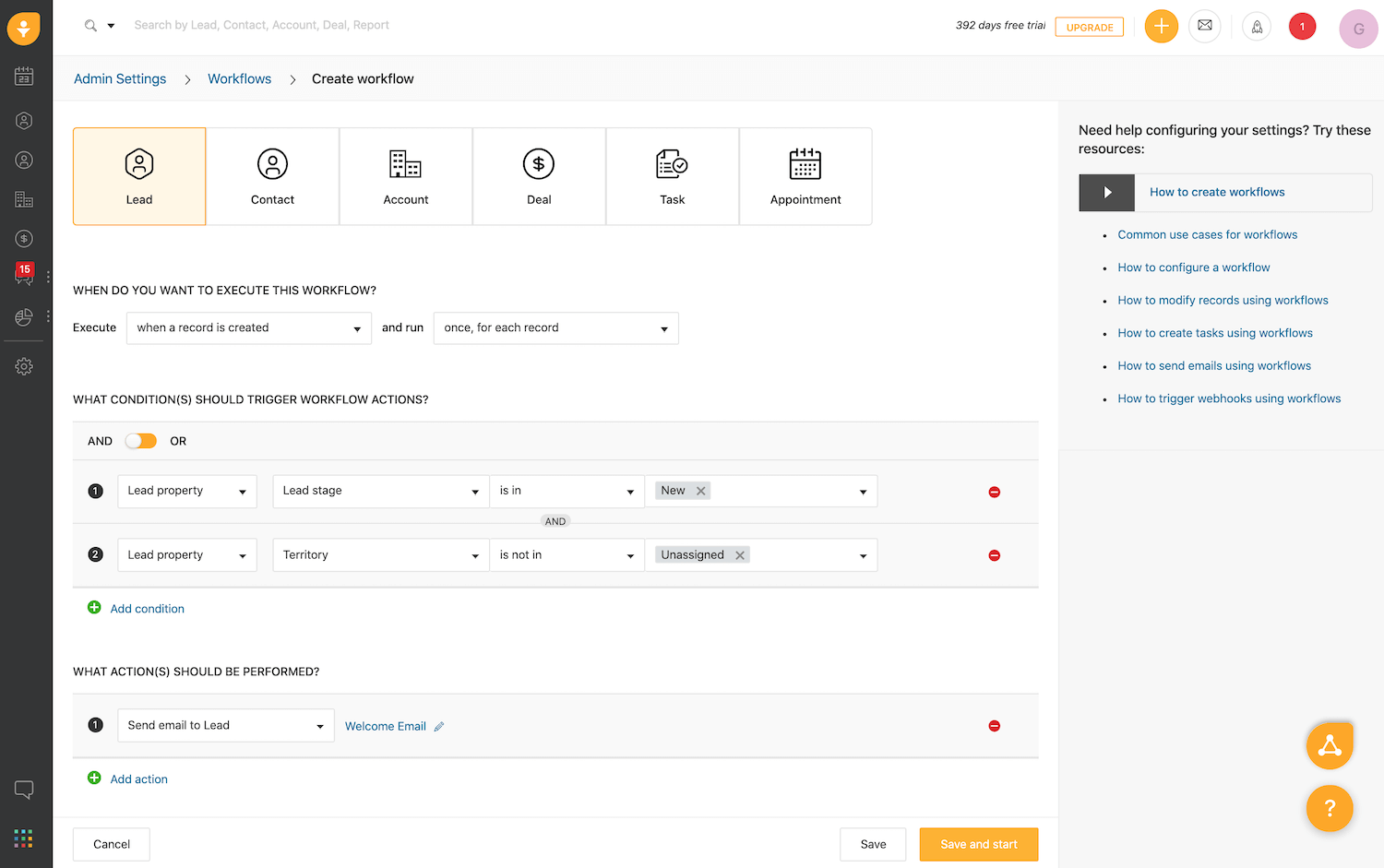 Like HubSpot, Freshworks is an all-in-one sales and marketing platform. They offer three different plans: Customer-For-Life, Sales Cloud and Marketing Cloud, and each of these offer different features or allowances related to automation. In terms of email automation, they offer features like automation workflows and segmentation.
What we like
For $29/month you'll get 1000 contacts, 5 active marketing journeys, 20 workflows, plus many other advanced CRM features like visual sales pipeline, sales sequences and custom reports and dashboards. Find out more about Freshwork's pricing here.
Where they should improve
Unfortunately, marketing transactional emails are reserved for the Marketing Cloud Enterprise tier, and at $99/month per user that's quite a lot to pay considering that the contact allowance stays at 500 contacts.
Recommended for
I'd recommend this service to businesses that are also looking for a CRM software. Considering all that it has to offer, their prices are pretty reasonable, for small businesses too.
---
#8. HubSpot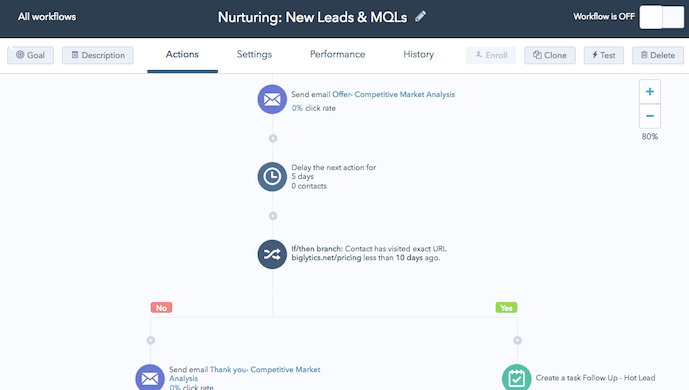 HubSpot offers a number of different automations, which include task automation, lead notifications and email marketing campaigns. However, what's available to you depends on the plan you're on, and there is quite a big difference in price. What's more, HubSpot has so many plans, bundles and suites, it can get quite confusing.
What we like
HubSpot is an all-in-one marketing and sales platform with tons of features to help you automate many areas of your business. If you have the budget, the advantage of using HubSpot is that you can keep everything under one roof, as they offer so many features (email marketing, landing pages, CRM, etc.). You can send automated messages on the Marketing Starter plan and up, which starts at $50/month and includes 1,000 marketing contacts.
Where they should improve
Pricing is the main reason why we're not so keen on HubSpot's automations. If you're really serious about omnichannel marketing automation, HubSpot offers a very pricey Professional plan, but you're looking at paying the following very high monthly fees: $890/month (2,000 marketing contacts and 1 million non-marketing contacts). You're also required to pay very steep onboarding fees. The good thing is that you can have up to 300 workflows.
Note that you'll only be able to set up a total of 10 automated email marketing actions on the Marketing Starter plan, and the same goes for form automations.
Recommended for
Well-established businesses with a big budget. HubSpot's higher-tier plans are only worth considering if you're really going to make the most out of all the features, and even then, it's a lot of money.
---
#9. MailChimp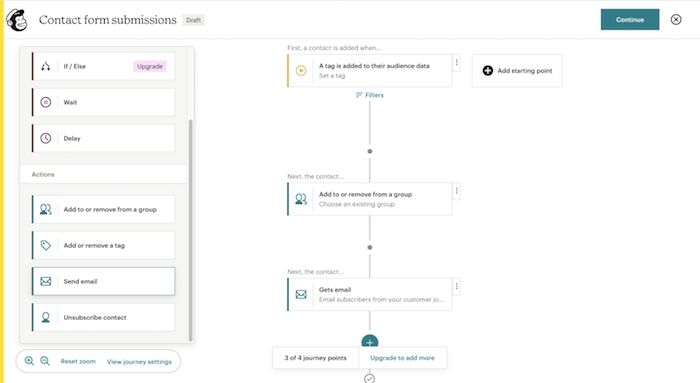 Surprise, surprise – everyone's favorite newsletter service also offers automations. It's just another reason to love this charming and quirky email marketing provider.
MailChimp's range of automations aren't half-bad, either. You can send standard autoresponders, as well as more advanced campaigns with triggers such as blog updates, updated contact data, opens and clicks, etc. They also allow for ecommerce integrations, meaning you can send abandoned cart campaigns, order confirmations and related product suggestions. They also offer a direct integration with Shopify.
A couple of added bonuses – you can also build landing pages within MailChimp, and access some detailed reports, making it a versatile tool for running your automations. To give you an idea of their pricing: 5000 contacts are $69/month.
Video review
What we like
MailChimp integrates with hundreds of apps, including ecommerce, CRM, social and blogging platforms. It's without a doubt one of the best tools for streamlining your email marketing processes.
Where they should improve
Only single-step automations are available on MailChimp's free plan, meaning you will need to fork out a bit of cash to be able to benefit from this feature.
Recommended for
As we said, MailChimp offers a lot of integrations, but we think its MailChimp's ecommerce integrations and purpose-built templates that would especially benefit online store owners.
---
#10. Benchmark

If you're only interested in running basic automations, Benchmark is a nice and easy option. With a very simple interface, it's definitely one of the more user-friendly tools we've tested. Automations are also easy to set up, with a logical workflow editor and handy templates to get you started.
On its free plan, automations include autoresponders for contacts that have been added to a list (e.g. new signups), and date-based triggers (birthdays, anniversaries, etc.).
Benchmark's paid plan gives you access to a little more, including triggers like email opens, clicks and webpage views. These let you run some pretty targeted campaigns, such as abandoned cart campaigns (which are also included in the automation workflow templates). 5000 subscribers will cost you $49/month with Benchmark.
Video review
What we like
Its simplicity. By cutting out all the complexity, Benchmark makes an easy task of marketing automation, which is something a lot of other automated email software providers struggle to do.
Where they should improve
Benchmark never do very well in our deliverability tests, which could have a big impact on the success of automated campaigns. We recommend doing your own tests to make sure this isn't a problem for you.
Recommended for
Businesses looking for a simple way to set up some clever trigger-based campaigns.
---
#11. MailerLite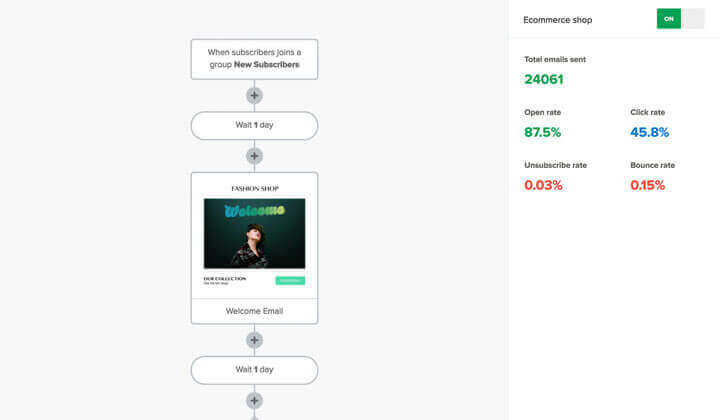 Admittedly, MailerLite's automation options won't exactly knock your socks off (especially when compared to a platform like ActiveCampaign). But there are two main reasons why we highly recommend it: 1) it offers a super-generous free plan for up to 1,000 subscribers (which gives you access to all its automations), and 2) it's one of the easiest tools we've ever used.
Setting up automations is fairly straightforward, with a simple workflow editor that lets you set up multi-step campaigns. Automation triggers include email clicks, specific dates or anniversaries, contacts being added to a new group (e.g. new sign-ups), or when a contact field is updated. Actions that can be triggered include email sends, and moving contacts from one group/segment to another.
It also comes with a landing page editor and easy-to-edit forms, so it's a solid choice for those looking to power-up their content marketing efforts on a low budget (5000 subscribers are only $39/month).
Video review
What we like
MailerLite is an email marketing provider that offers real value for money. The low prices, combined with its wide feature set and ease of use, is truly hard to beat.
Where they should improve
One of the most significant drawbacks of MailerLite is the absence of a tagging system. Although their documentation mentions 'tags,' they actually refer to contact lists, which are markedly different.
Considering how much they offer for the price you're paying, it's still an interesting ESP to consider.
Recommended for
Email automation beginners, or users who don't want to spend a lot (or anything at all!).
---
So which automation software is right for me?
There's definitely a clear winner among these email automation software providers: ActiveCampaign wipes the floor with all the others. Almost anything is possible with them.
GetResponse offers an exciting range of features, especially thanks to tagging and lead scoring being available right from the start. Site tracking is also available, which means that you can use certain website activities (e.g. a visit to a specific page) in your workflows.
For ecommerce, Drip and Omnisend are hard to beat. Omnisend has some unique ecommerce marketing automation features that could really help to take your sales to the next level.
And SendInblue also offers solid website integration, which will allow you to use website visitor data to automate your email marketing. Their prices are also surprisingly low.
If you're also in need of a CRM with automation, ActiveCampaign, Freshworks and HubSpot are worth checking out.
MailChimp, on the other hand, does a few things right, but feels unnecessarily complicated due to the missing workflow view. Their system is also very inflexible when it comes to changing existing workflows.
Benchmark and MailerLite are both good options for those seeking simplicity, although Benchmark allows for slightly more sophisticated automated campaigns.
Email Marketing Automation Examples
Still not sure how automation could work for you? In order to make the topic a bit easier to digest, let's divide it into three categories:
1. Simple Email Automation
These are basically automation solutions for beginners – almost any newsletter tool should be able to handle this, no questions asked. So, nothing new to report here.
Autoresponder Emails
The term 'autoresponder emails' refers to an automated series of emails that are sent according to a predetermined schedule. For instance, take a potential customer who downloads a fitness app and fills out a registration form in order to use it. A day later, he will receive an email with information on how to use the app. On day two, you send him workout plans. And on day three, you follow up with diet plans, and so on. All you have to do is get the sequence started, that's it.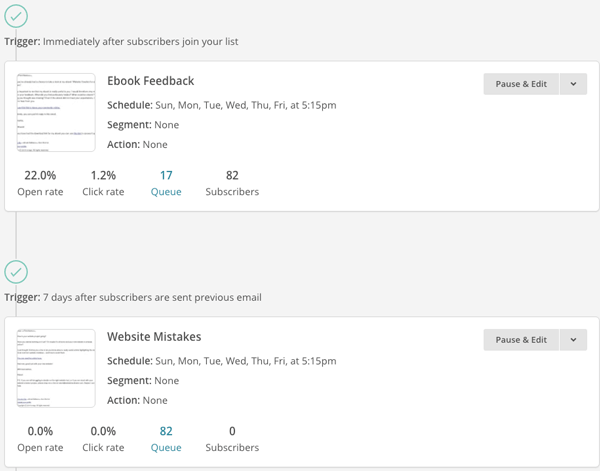 Fig. 1: A traditional auto-responder feature in MailChimp
Birthday Emails
These are emails that are sent on a specific date. However, don't be fooled by the name – the feature is not restricted to birthdays, of course – for example, an auto repair shop can also use it to remind its customers of their yearly inspection date.
Note: Make sure to check out our complete guide to email deliverability best practices and email authentication for detailed information on how to improve your email deliverability.
2. Advanced Email Automation
The following scenarios are a bit more complex, but still manageable with some of the better-known newsletter tools.
Trigger Campaigns Based On Email Behavior
Let's assume that our fitness app user (we'll call him Jim) opens a link in your newsletter – the link is about losing weight. As a result of the click, Jim will receive another email two days later – an email specific to weight loss. Normally, this should be of increased interest to Jim. But we can even go one step further.
Tagging
If we really want to make sure whether Jim is interested in losing weight, we can also use tags. This refers to a kind of attribute in a database.
For example, the tag "weight loss". Jim's interest in this topic is noted ("tagged") when clicking on at least two articles on the subject in your newsletter. Another tag could be "weight loss – strong interest" – this time for readers who have clicked on such a link at least five times.
By using tags, you can send emails to exactly the right contacts instead of bothering others with topics that they aren't interested in.
Here's an example: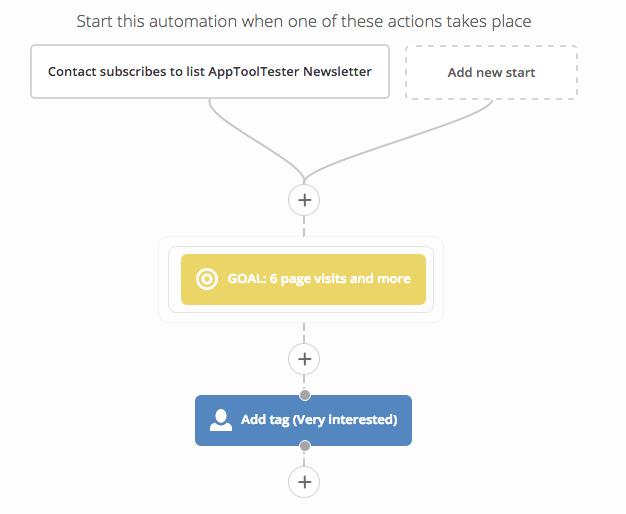 Fig. 2: Tagging feature in ActiveCampaign
3. Professional Email Automation
If that doesn't impress you, then listen to this. By using the right tools, you can take data collection to the next level on your website – before the potential customer even signs up for your newsletter! How does that work? I'm glad you asked.
Website Tracking
Now let's assume that our fitness fan Jim is taking a look at the fitness app website for the first time. As our newsletter software tracking code is implemented on the website, we can tell that it's Jim, even if we don't know his name or his email address. Once he registers for the app or the newsletter, we can connect his visitation data with his contact information. There is no loss of data because a tracking cookie is active from the very beginning.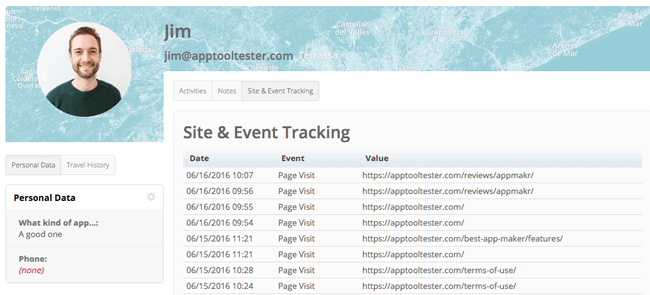 Fig. 3: Website tracking in ActiveCampaign
Based on website visitor data, we can send out more intelligent emails. If Jim has visited the pricing page 15 times, but still hasn't decided to purchase a paid plan, he might think that the app is too expensive. In that case, you can respond by offering a coupon and asking whether there's any particular reason why he's hesitating.
Workflows (If-Then-Else Conditions)
But wait – there's more! Take automatic shopping cart abandonment emails, for instance: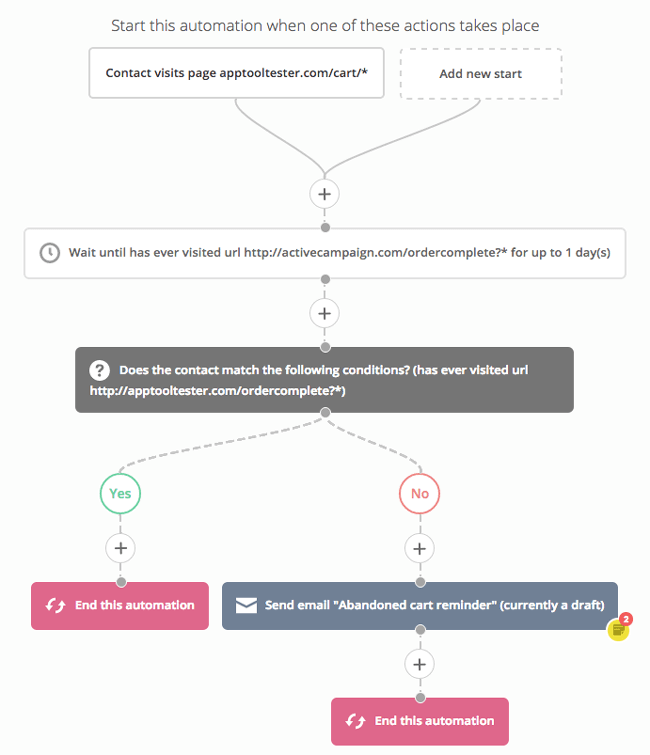 Fig. 4: Shopping cancellation workflow in ActiveCampaign
The sky's the limit: Some newsletter tools will even let you adjust your newsletter content to match certain tags or actions – it's all about dynamic content.
Ecommerce Tracking
You can link up that workflow with your ecommerce store and create dependencies between your newsletters and actual purchases (or even sales figures). While website tracking is easy to implement (just copy a bit of code to your page), ecommerce tracking is a bit more complicated to manage. You'll need some deeper technical insight to move forward.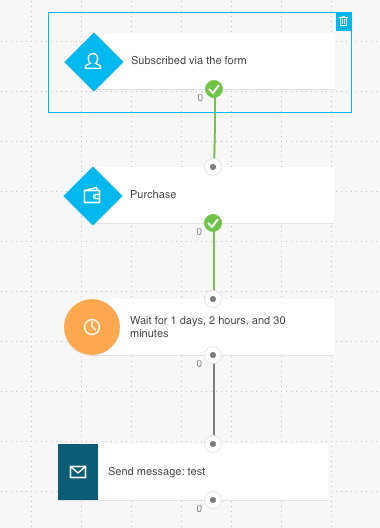 Fig. 5: Follow-up email for buyers in GetResponse
Lead Scoring
Every salesperson's dream is closing a deal with every call. If you use lead scoring correctly, that dream is closer to becoming a reality than ever before. You can assign points for each action (visiting the website, making a purchase, etc.). As soon as a contact has hit a certain number of points (without knowing about it, of course), the salesperson can be notified.
And while this is almost moving into CRM territory, you can do this with professional newsletter tools such as ActiveCampaign, too.
Learn more about lead scoring best practices in our guide.
Email Automation Software: Conclusion
It's fascinating to see what you can do with modern email marketing software. The amount of data you can collect and use for marketing purposes is astounding. However, it's important to use the data wisely. When you compare the possibilities of automation with the status quo, here's our conclusion:
Send fewer messages! But make these messages better, more relevant, and more accurate for each specific customer. The results will speak for themselves.
We're happy to report that more and more DIY tools are moving into automation territory. Among the tools we tested, ActiveCampaign is certainly the most powerful newsletter service for automations. But other providers such as GetResponse and Brevo are catching up.
We're excited to see how MailChimp, the biggest among the newsletter service providers, will try to hold its ground in the future. Because when it comes to automation, they aren't doing too well at the moment.
What's clear, though, is that more and more providers are adding marketing automation to their feature set – a sign of how indisposable it's becoming to small and large businesses alike. And for businesses who weren't able to benefit from marketing automation before, that can only mean good things.
I hope you liked this article! If you have any questions, please feel free to leave me a comment.
We keep our content up to date
14 Jul 2023 - New automation explainer video added
26 May 2023 - Smaller updates and corrections
26 Apr 2023 - Omnisend's profile updated
12 July 2022 - Updated HubSpot's profile
06 May 2022 - Moved Omnisend up and Drip down
09 March 2022 - Updated GetResponse 
20 Sept 2021 - Updated Omnisend's pricing
19 May 2021 - Updated Mailchimp profile and moved them up
26 Apr 2021 - Updated Drip's prices
04 Mar 2021 - Added Zoho Campaigns
16 Dec 2020 - Added Freshworks and HubSpot
10 Sept 2020 - Content update
31 Oct 2019 - Added new Brevo video
28 May 2019 - Drip added
26 Apr 2019 – Additional pricing information added
22 Mar 2018 – Benchmark added to the table
30 Jul 2018 - General updates, email automation software profiles added
Our Methodology
This article has been written and researched following our EmailTooltester methodology.
Our Methodology