Email marketing remains one of the most powerful ways to build a relationship with your customers. By building an effective email marketing strategy, you can help your brand to boost sales and gain trust amongst your customers.
Email is the one marketing channel you have great control over, with the ability to test your emails and segment your campaigns to specific audiences. With a strong email marketing strategy in place, you have the potential to grow your business and revenue.
More businesses are turning to email marketing because it's effective. Not only is it cheaper than other forms of marketing, it's also high-converting, giving you the best bang for your marketing dollar. That's because your email list is filled with people who want to hear from your brand.
In this article, we will provide you with a step-by-step guide on how to build an effective strategy, as well as some examples of powerful email campaigns.
Ready? Let's dive in!
What is an email marketing strategy?
An email marketing strategy is an organized approach to reaching out to potential and existing customers to build relationships and increase sales. It involves sending personalized emails to target audiences and then measuring their effectiveness. The best strategies are tailored to the target audience's needs and the organization's goals.
But to make this work, you need to create marketing emails – whether that's a newsletter, email funnel, or other type of marketing email – that are compelling, valuable, and nudge readers to take action (i.e. make a purchase).
You may even convert buyers into lifelong brand advocates.
Why do you need an email marketing strategy?
The number one goal of every business is to generate revenue. Email marketing is a great method for achieving this. It places your content in front of people who already agreed to receive communications from your brand, which does two things:
Increases content consumption from your core audience (with each email serving as a touchpoint)
Makes convincing readers to become customers easier
It's non-invasive (unlike its cousin, disruptive advertising). And according to Litmus, it reigns supreme as the most effective marketing channel. Likely why 37% of companies increased their email budget in 2022.
Who can blame them? Email usage is exploding with no end in sight: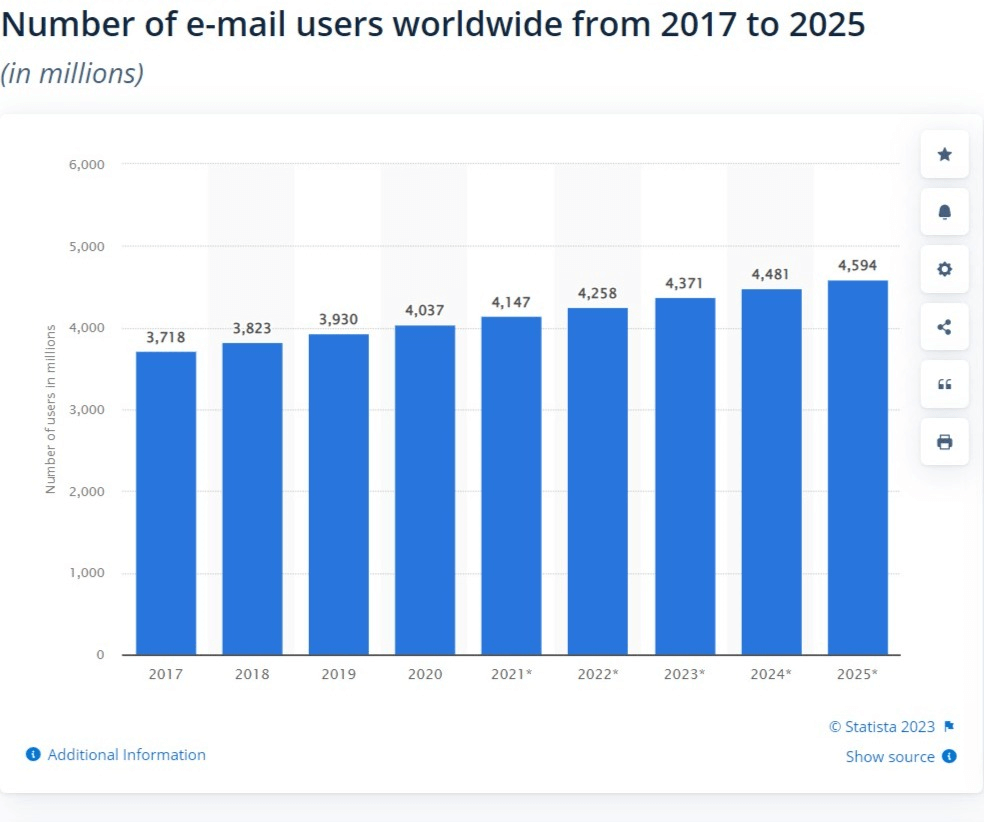 "Number of e-mail users worldwide from 2017 to 2025" – Statista [Source]
When done right, email marketing can produce amazing benefits, including:
Grows lead generation from quality traffic that's already shown interest in your brand
Gives you direct access to high-value prospects (and their wallet)
Provides first-party (and zero-party) data you can use to learn more about your audience (e.g., email preferences, email engagement numbers, purchase history)
Offers an enhanced customer experience, using behavioral insights to personalize your emails
Saves you money by targeting shoppers who are most likely to convert
Allows you to measure email marketing campaigns to see what's working, so you can reiterate on the fly to enhance results
Automates the nurturing and sales process — build the campaign once, and it continues working even as you sleep (learn more about the kinds of emails you can automate)
Scales to accommodate growth, while remaining cost-effective
Without an email marketing strategy, you risk throwing arrows aimlessly in the dark and hoping for a hit. No need for that. If you don't have the time or skills to build your strategy, you can always use email marketing services.
Choosing to use an email marketing service can help you to avoid the following problems that brands run into: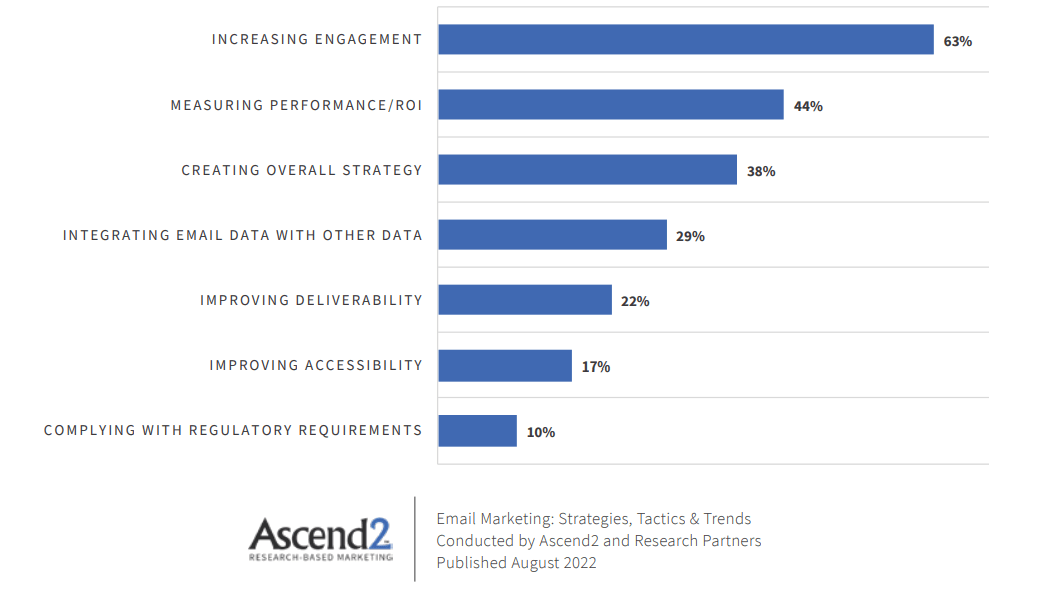 Statistics about issues brands have with email marketing strategies – Source: Ascend
How to Create a Winning Email Marketing Strategy: Step-by-step
It's time to start building your strategy. What should you include to make it effective?
Let's take a look.
1. Determine your brand's objectives
What goals are you trying to reach, and why do you think email will help you to achieve them? The objectives you set should be SMART:
Specific: Vague goals are hard to reach because you never know when you will get there. Instead, be clear — for example, we want to increase monthly sales by 5% by the end of the year.
Measurable: With your specific goal in place, it's easier to keep track of progress. For example, we can see if we're hitting our goal by monitoring the number of new sales each month.
Achievable: Some brands are ambitious, and rightly so. But don't let this be your Achilles heel — be realistic about what you can achieve within the timeframe you set.
Relevant: All goals should align with your company's overall mission. For instance, becoming a thought leader wouldn't make sense if your audience doesn't consume thought leadership content and refers to case studies to guide their purchase decisions.
Time-bound: Set a time limit for your goal, so you know how long you have to achieve it. This will keep everyone on track and motivated. Plus, it'll ensure you don't get discouraged if you don't hit the mark within the first few months (if the timeframe is a year).
2. Identify your audience and their pain points
It's not enough to guess who your audience is and why they may purchase your product or service. There are too many tools available to deliver facts to back up your assumptions.
Whether you're launching your first product or have been in business for years, knowing and understanding your top customers is key to your continued growth.
But how do you find them and once you do, how do you get into their heads?
Well, the first step is to look at the data in your existing CRM software — customer relationship management database — (if you have one) and/or Google Analytics account. Use this to identify your best customers and their characteristics.
For example:
What demographic do they fall under?
Where are they located in the world?
How much do they spend?
How often do they return, and how long do they remain customers?
What is their lifetime value?
How do they find your brand and products?
Which channels do they prefer?
Which products do they flock to?
Once you understand what they're doing, it's time to discover why.
The most effective option is to conduct interviews or surveys with your best customers. Some questions you want to ask include:
What do you like most about our product/service?
What do you think sets us apart from other companies in our industry?
What do you think we could improve?
Do you have any suggestions for new features or products?
What do you think of our customer service?
How have our products/services helped you achieve your goals?
How did you first hear about us?
What's the most important thing we could do to make your experience better?
Are there any other products or services you'd like to see from us in the future?
What do you think of our pricing model?
But if this isn't possible, you can resort to tools like Sparktoro (or use it in combination with your surveys and interviews). This is an analytics tool that analyzes customers' internet behaviors, such as:
Common terms used in their bios and social media posts (keyword research)
Who they follow and engage with on social media (potential influencers to reach out to)
Which publications and websites they read and visit (potential sites to guest post on for backlinks)
Competitors they engage with that you may not have considered (to analyze their strengths and weaknesses)
We also recommend using tools like ChatGPT to identify any common pain points that your audience may have. Here is an example prompt: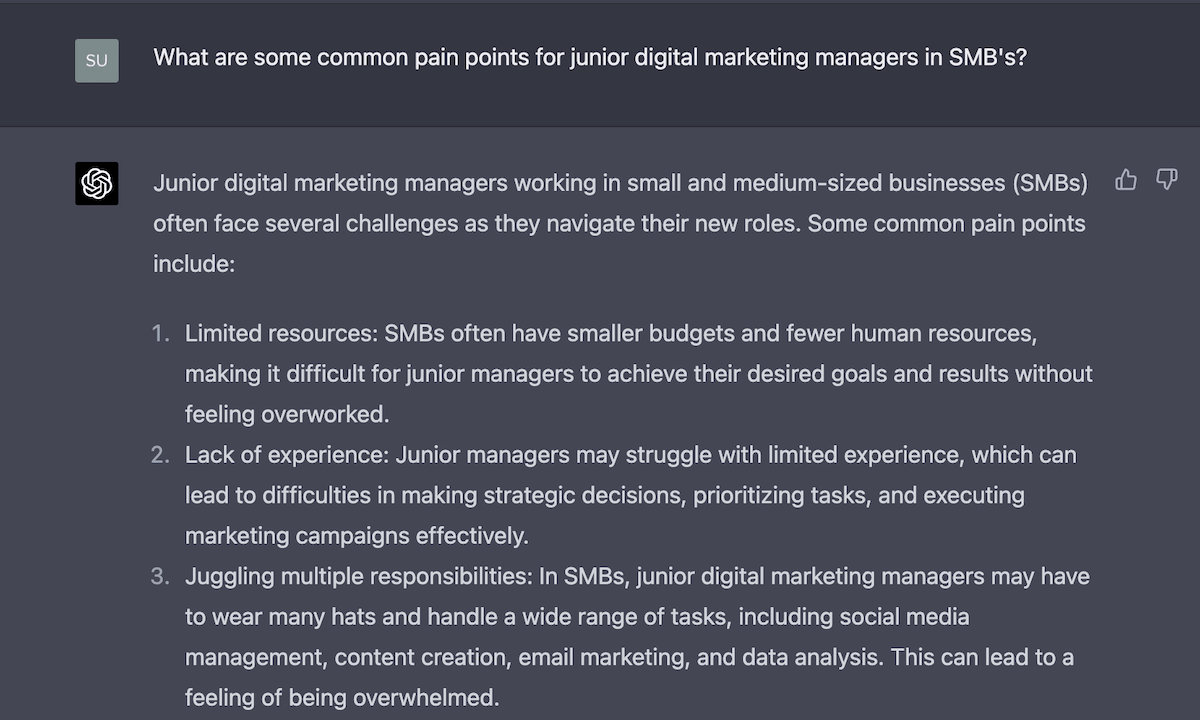 After digging up all the dirt possible on your top customers, use it to direct the type of content you create, where you advertise your content, and which promotions to offer.
3. Design your content plan
The data you uncovered in the last step will make developing your content plan oh-so-simple. You've uncovered pain points, interests, and even their language. The way they describe their challenges or the benefits of your product is digital gold you can sprinkle throughout your content to resonate with your audience.
They'll feel you get them, which is a big win for encouraging prospects to convert.
But what's required for an email content plan? Here are a few things to consider:
How many emails you'll send monthly and length of each campaign
Type of emails you'll send (e.g., transactional, welcome series, onboarding, newsletters, promotions, etc.)
Themes for each campaign
Topics and outlines for each campaign and newsletter
Whether you'll have a short or long-form newsletter (and other assets it'll point to, such as downloadable content, blog posts, or videos)
How often you'll promote a product (e.g., every email or every few emails)
The tone of your content (e.g., friendly, quirky, formal, professional, etc.)
Based on all this, you might find the need to create various game plans as part of your overall email marketing strategy, such as a newsletter marketing strategy, or a marketing automation strategy.
Here's a look at the different types of content brands create in their email campaigns: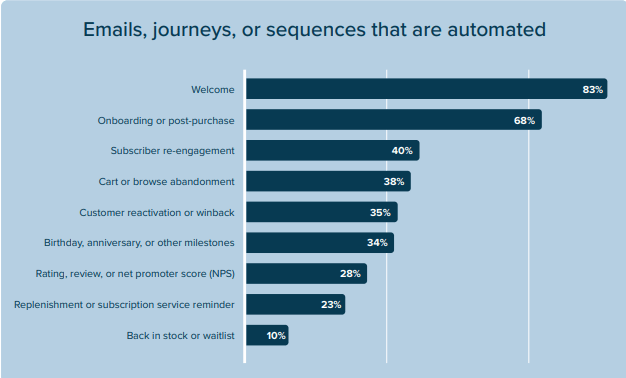 The State of Email Marketing Report, 2021, Litmus Source
It's also ideal to analyze examples of newsletter campaigns from other brands to see what others are doing and to get ideas for your campaigns.
Once you have a content strategy, you can begin fleshing it out with the help of a content writer (in-house, agency, or freelance).
4. Decide on an email marketing platform
Now, it's time to determine which emailing software you'll use to execute your email marketing campaigns. There are many email service providers (ESPs) to select from, but these are some of the most popular and why:
1. MailerLite: MailerLite has a simple drag-and-drop editor to create attractive newsletters for your campaign. It also comes with targeting and automation features to streamline your email marketing efforts.
2. ActiveCampaign: ActiveCampaign is a bit more technical than the others on the list, but offers excellent features if you're up for the learning curve. It offers features like canned responses, geo-targeting, website visitor tracking, contact management and advanced sales and marketing automation software.
3. Brevo: Brevo offers all the bells and whistles needed to run a successful email marketing campaign, including automation, simple email design, and a CRM. Plus, it goes a step further with other marketing tools, such as SMS marketing and chat.
4. GetResponse: GetResponse offers a range of useful features, such as A/B testing, analytics and ROI tracking, landing page design, and conversion funnels. It also allows you to launch a retargeting campaign via Facebook Pixel and tracks website visitors so you can better understand your audience.
5. Mailchimp: Mailchimp is a popular email marketing platform that comes with many of the tools you need, including landing pages, scheduling, and segmentation. It also has a free website builder for non-techie business owners. (We recommend checking out the Mailchimp alternatives before you commit.)
6. ConvertKit: ConvertKit is a popular choice amongst content creators, such as bloggers and podcasters. You can use it to build an automated email funnel for an e-commerce store, affiliate products, or other items you sell.
Once you've decided on the email marketing platform that works best for your business, it's time to start tracking your campaigns' success.
5. Create an email template
No need to code the HTML and write each email from scratch. A newsletter template speeds up and simplifies the process by removing the guesswork, and there are plenty of email template builders out there.
Your email template is more than just the design (e.g., where images go, colors, fonts). It's also about how you structure your emails.
For example, your newsletter may begin with a short introduction, tell a real-life story highlighting a pain point, provide tips to overcome it, and then a call to action.
Or if you're doing something more promotional for an e-commerce brand, you may focus on how you present products, testimonials, and video demos.
Here's an example of a makeup brand using testimonials, visuals, and freebies to entice a conversion:

Others may go straight in with the product offer, like in this example: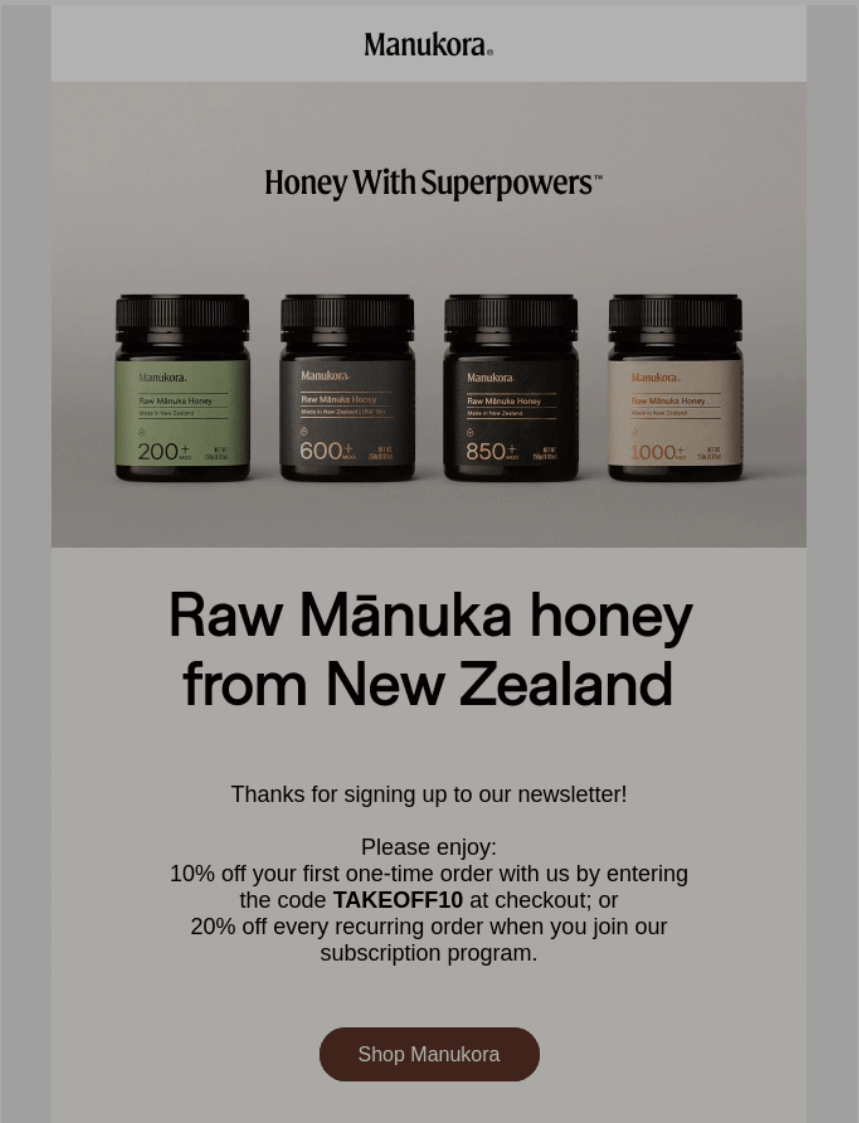 This is ideal to use for existing customers who may need to re-up and don't require convincing to purchase (outside of a coupon).
You may not get it right on your first try, so test your campaigns and be prepared to make changes until you find what works. Once you have your go-to template, all you have to do is fill in the blanks.
6. Write compelling email copy
Email subscribers should be excited to open your messages. Easier said than done — we know — but not impossible.
It all begins with a great subject line. Get this right, and you'll have more subscribers opening your emails. Email open rate is a metric you want to track to see if your subject lines and topics resonate with your audience.
Make sure you test your subject lines to ensure they will display correctly on dffferent devices. You can use our free subject line previewer for this!
Next, your email body needs to follow through with the expectation of your subject line. If you promise an answer, awesome deal or something of value then make sure it's there.
If your emails are high-value, then getting opens will be easy. But getting folks to take the next step requires a copywriter that excels in writing engaging and persuasive content.
Unfortunately, increasing engagement is a top issue for 63% of brands using email marketing. You can overcome this by:
Personalizing your emails: Use the recipient's name in the subject line and body of the email, and other personalization tactics, such as segmentation, tagging and dynamic content.
Writing compelling copy: Ensure your copy is interesting and engaging, with a clear call-to-action (CTA).
Simplifying the design: Keep your emails simple by using a clean design with plenty of white space and easy-to-read fonts.
Optimizing for mobile devices: Make sure that your emails look great on both desktop and mobile devices by optimizing for mobile viewing.
Sending emails at optimal times: Research when most of your customers are likely to open their emails, then send your newsletters and emails at those times to maximize engagement rates.
Using A/B testing: Test different versions of your email subject lines and copy to see which have higher engagement rates, then make tweaks accordingly. (Check out our guide on how to implement email A/B testing in your campaigns.)
Analyzing performance data: Monitor metrics like open rate, click-through rate, email deliverability rate, conversion rate, bounce rate, and unsubscribes to understand how successful each campaign was in reaching its goals and objectives.
Learn more about how to write a marketing email in our full guide.
7. Monitor and reiterate your email marketing strategy
Your strategy is doomed from the start if you don't track what's happening on a monthly basis. Monitoring the metrics that matter most to your campaign will tell you when you're on the right track or when it's time to change course.
Deciding on the metrics to track depends on your campaign goals. For example, if you're looking to increase website form fills, then you need to focus on the average conversion rate of form fills coming from your email campaigns.
Here's a look at the most common email marketing KPIs (key performance indicators) brands track in their campaigns:
Open rate: Measures how many people opened your email
Click-through rate (CTR): Measures how many people clicked on a link in your email
Bounce rate: Measures how many emails bounced back to you due to an invalid address or another delivery issue
Unsubscribe rate: Measures how many people unsubscribed from your list after receiving your email
Conversion rate: Measures how many people completed the goal you specified in the email (e.g., filled out a form, made a purchase, etc.)
By monitoring these metrics over time and adjusting your email strategy accordingly, you'll hone in on what works and what doesn't for your audience.
This is easier to do when you have easy-to-read data charts generated using email marketing tools (like the ones we listed above).
Every great email campaign begins with a strategy
There's a lot to learn when launching your first email marketing campaign, but it's not difficult. It just requires consistent testing to see what works. With your analytics tools in tow, you'll have a bird's eye view of what's working and what's not, giving you the confidence to make sound decisions about your campaigns.
Combine this with the steps above and you'll be well on your way to building a successful email marketing strategy.
Email marketing is a valuable marketing tool for small businesses and enterprises alike. If you're getting people subscribing to your email list, then half the battle's already won. Just make sure to avoid these common email marketing mistakes.
The only thing left to do now is to get started!
Our Methodology
This article has been written and researched following our EmailTooltester methodology.
Our Methodology