A common method of running email marketing together with a website is to:
build a website on one platform;
set up email marketing on a third-party provider; then
embed your email forms on your website.
While this approach works, it can be troublesome as you'd need to manage your website and email efforts through separate providers.
So what if there was a platform that lets you do both?
Using this platform, you'd be able to run your website and your email marketing strategy in one place. And with the same provider developing and maintaining its website and email features, you wouldn't have to worry about compatibility issues between the two.
This may sound too good to be true, but such platforms are no mythical creatures!
They do exist, and I'm going to uncover the top 10 website builders with email marketing features available in the market right now.
Let's explore each of them in detail and find out which may be the best option for you.
Summary: Which is the best website builder with email marketing?
The best website builders with email marketing features include MailerLite, GetResponse, ActiveCampaign, and Wix, among others. These platforms offer a good mix of functionality for building beautiful landing pages and growing an email list. However, you'll likely have to decide whether to forgo sophisticated email marketing features in favor of more powerful website-building ones (and vice versa).
Read on to learn more about what each platform offers in terms of website building and email marketing.
The 10 best website builders with email marketing
1. MailerLite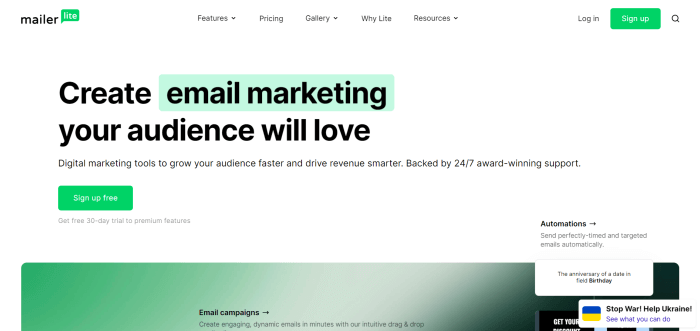 With its great ease of use and deliverability, MailerLite is one of our favorite email marketing services. (In fact, we've awarded MailerLite our Best Email Marketing Tool For Ease of Use badge for 2023!)
MailerLite offers a wide range of email marketing features. These include email forms, landing pages, and automations, all of which you can test-drive even on their free plan. You can also create a free professional-looking website, complete with a navigation menu. All this makes MailerLite a strong choice if you need to set up a website and email marketing on a limited budget.
Pros of MailerLite
MailerLite's deliverability has always been excellent, and it came out tops in our latest email deliverability tests.
You can create single-trigger email automations on the free plan. This is unlike some platforms like GetResponse and ConvertKit, where automations are a paid feature.
The platform's flexible segmenting and grouping features make it easy to categorize your subscribers based on various attributes. Meanwhile, A/B-testing and click heatmap features help you optimize your emails for the highest conversions.
Creating blog and store pages is a breeze when using MailerLite's website builder. We haven't tested many other email platforms that offer such a powerful website builder.
Cons of MailerLite
Unlike many other email platforms we've tested, MailerLite charges for access to its email and landing page templates.
MailerLite's email automation features could be more sophisticated. In some other email platforms, such as ActiveCampaign, you can have your automation trigger when a person visits your website (check out our comparison on MailerLite vs ActiveCampaign for a closer look at their differences).
While the website editor gives you some element of drag-and-drop control, it's not as flexible as other email marketing tools we've tried. It would be great if the website builder let you freely arrange your content blocks anywhere (like what Wix's can do).
Sample web page built with MailerLite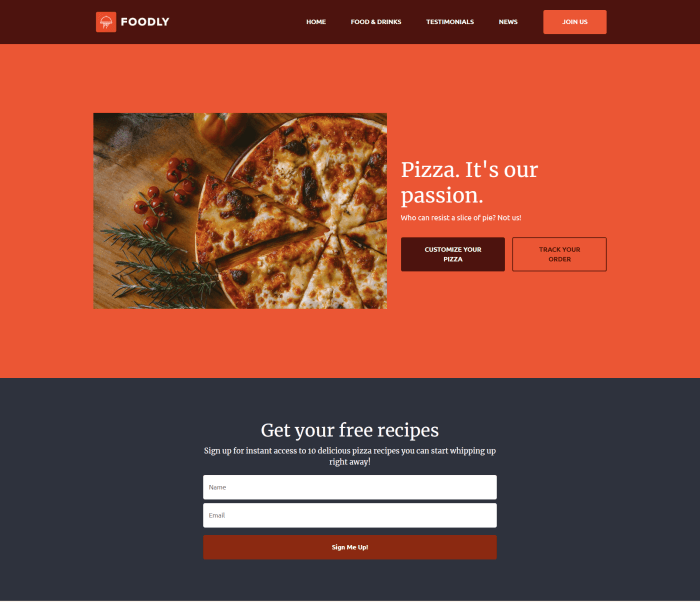 MailerLite pricing
The Free plan includes the website builder, landing pages, and 12,000 monthly emails for up to 1,000 subscribers
The Growing Business plan gives you templates, unlimited monthly emails, and lets you sell digital products. It starts at $15/month for 1,000 subscribers
The Advanced plan gives you 24/7 live chat support, custom HTML editor, and unlimited users. It starts at $21/month for 1,000 subscribers
Who is MailerLite best suited to?
If you're looking for an easy-to-use platform for getting started with website-building and email marketing at no cost, you'll love how MailerLite's free plan lets you do exactly that!
> Read our full MailerLite review
2. GetResponse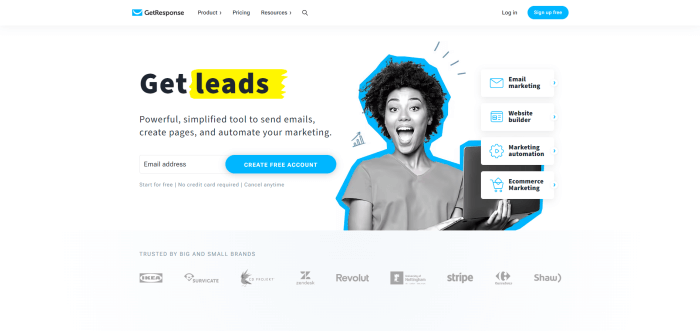 GetResponse has been one of our top platforms for some time now. It's got a comprehensive suite of email marketing features, from granular list segmentation to a landing page builder, as well as advanced automation. You can even build a website using ready-made templates or its AI-powered website builder.
And if you're using GetResponse, you definitely need to take advantage of its Conversion Funnels feature.
State your funnel's objective — such as building your email list or promoting a webinar — and the platform provides a checklist of the marketing collateral you'll need to set the funnel up. (And yes, you can build all these in GetResponse too.) You'll find Conversion Funnels especially useful if you need guidance on building out your leads funnel.
Pros of GetResponse
GetResponse's landing page builder is more flexible than those of some other platforms we've tested. You have some freedom in dragging and dropping elements around the page instead of these being strictly confined within page containers.
The platform's AI website builder helps you launch your website quickly and easily.
You can set up basic member areas for your GetResponse website to give subscribers exclusive access to content.
There are a wide variety of email and landing page templates to choose from.
The Conversion Funnel feature provides handy assistance with setting up landing pages, email forms, and automated email funnels for collecting and converting email leads.
Cons of GetResponse
While you can try out GetResponse's email automations for free for 30 days, they are ultimately a paid feature. In contrast, other tools like MailerLite and Mailchimp offer basic automation features on their free plans.
GetResponse's deliverability scores were unimpressive in our email deliverability tests.
The website builder doesn't support blog pages.
Neither does it have native ecommerce features, so you'd need to connect your website to an existing Shopify, Magento, or BigCommerce store to enable ecommerce functionality. (If you don't need a full website, an alternative is to create a Conversion Funnel for selling a product. When you do so, you can set up a standalone sales page for pitching and taking payments for products.)
Sample web page built with GetResponse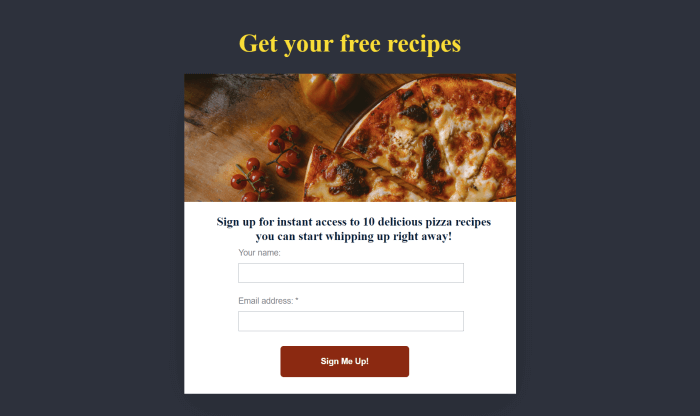 GetResponse pricing
The Email Marketing plan gives you website builder access and unlimited email sends to 1,000 subscribers for $19/mo
The Marketing Automation plan adds marketing automation, advanced segmentation, sales funnels, and webinars. It starts at $59/mo for 1,000 subscribers
The Ecommerce Marketing plan adds ecommerce features like abandoned cart recovery and product recommendations, starting at $119/mo for 1,000 subscribers
Who is GetResponse best suited to?
Small business owners and solopreneurs who want to build and manage an end-to-end conversion funnel from a single platform will find GetResponse worth a closer look, although you'll need to compromise on advanced website features such as ecommerce and a blog.
> Read our full GetResponse review (or our review of the GetResponse AI website builder)
3. ActiveCampaign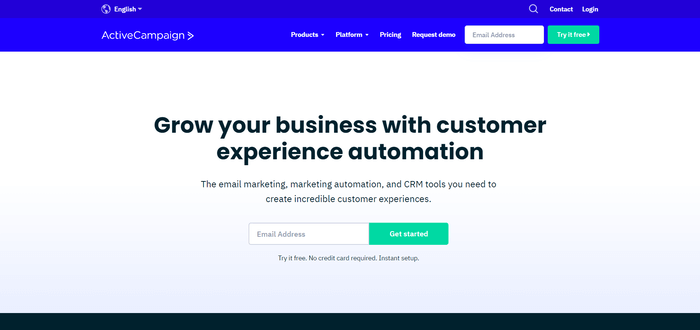 The "A" in ActiveCampaign might as well stand for "automation," because this is hands-down the platform's strongest suit. From our tests, ActiveCampaign's automation features are among the most comprehensive in the market.
You won't be able to build a multi-page website in ActiveCampaign, but its landing page builder may be good enough for helping you with email marketing lead generation. Just be prepared to pay to build landing pages with ActiveCampaign as it doesn't have a free plan.
Taking into account ActiveCampaign's capabilities as a whole, we've awarded the platform our Best Email Marketing Tool badge for 2023.
Pros of ActiveCampaign
ActiveCampaign has awesomely advanced automation features that we didn't find in many other email platforms. These include triggering your automation when a person visits a certain web page or replies to your email. Your ActiveCampaign automation can even perform simple math!
The platform offers in-depth reports for your email campaigns, forms, automations, and more. For example, you can track your campaigns' click-to-open rates and every click of your landing page buttons and links.
Enjoy reliable email deliverability — ActiveCampaign consistently scores well in our deliverability tests.
Cons of ActiveCampaign
You'll get access to ActiveCampaign's landing page builder only if you're on the Plus plan or higher. The Plus plan starts at $49/month (paid yearly), and you might find this quite a high price to swallow. Find alternative landing page builder options here.
Since ActiveCampaign can't build multi-page sites (individual landing pages only), you won't be able to build a full business website using the platform.
ActiveCampaign doesn't have a free plan. You'll have to upgrade if you want to continue using it after the trial period expires.
Sample web page built with ActiveCampaign

ActiveCampaign pricing
The Plus plan gives you website builder access, email marketing, automations and ecommerce integrations for $49/month
The Professional plan adds site messages and attribution reporting for $149/month
Who is ActiveCampaign best to?
Email automation power users will relish being able to funnel their website leads through their sophisticated ActiveCampaign automations.
> Try ActiveCampaign in a free trial
> Read our full ActiveCampaign review (or our separate review of ActiveCampaign's landing pages)
4. Mailchimp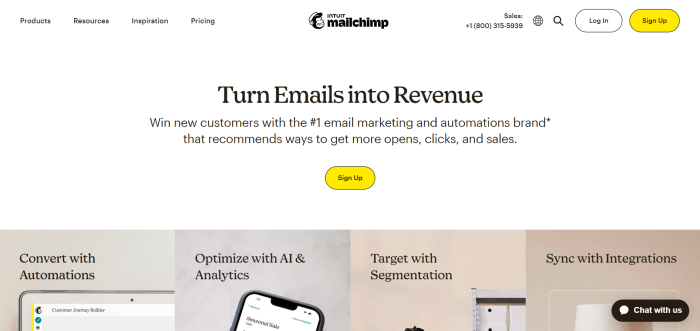 Mailchimp started out as an email marketing tool, but its features now span the gamut from landing pages to social media management, digital ads creation — and even a website builder. With Mailchimp, you could easily create a simple website (or just a landing page) for collecting email sign-ups, then use retargeting ads to generate sales.
That said, Mailchimp's reputation of being a great free email marketing platform is fading: the platform has been gradually reducing its free plan's email send and contact limits over the years.
Pros of Mailchimp
You can easily drag and drop different content blocks (such as image groups, buttons, and social follows) to flesh out your landing pages.
Mailchimp offers a variety of options for tracking your landing page traffic, such as Google Analytics and Meta Pixel.
Building a simple website using Mailchimp's website builder is straightforward, albeit with limited customization options. For example, you can't add multi-level navigation menus.
You can build an ecommerce store for selling products (but Mailchimp will charge a transaction fee — on top of the usual credit card processing fee — for every sale you make).
If you need to schedule customer appointments, you'll find Mailchimp's built-in appointment-booking features useful. We haven't found this feature in many other website builders so far.
Cons of Mailchimp
Mailchimp has recently — and significantly — reduced the email send and contact limits of its free plan. Nor can you schedule your emails anymore. With all this in mind, you may find yourself needing to upgrade to a paid plan sooner.
There are only nine landing page templates to choose from.
Check out these Mailchimp alternatives for more affordable email marketing services.
Sample web page built with Mailchimp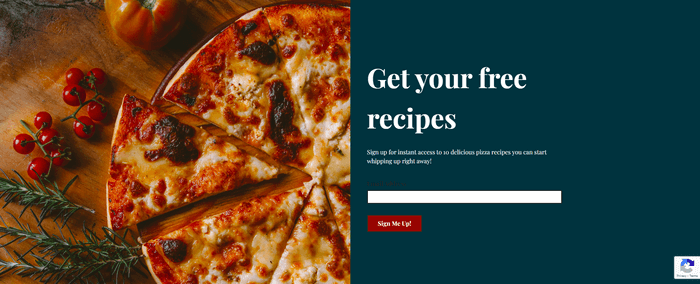 Mailchimp pricing
The Free plan gives you landing pages and limited email marketing features for up to 500 subscribers
The Essentials plan removes Mailchimp branding and adds 24/7 support, starting at $13/month for 500 subscribers
The Standard plan adds automations and dynamic content, starting at $20/month for 500 subscribers
Who is Mailchimp best suited to?
Mailchimp is suited for small businesses and creators who want to manage all their marketing channels (such as their website, email marketing, and social media pages) from a single platform.
> Read our full Mailchimp review (or our separate review of Mailchimp's landing pages)
5. ConvertKit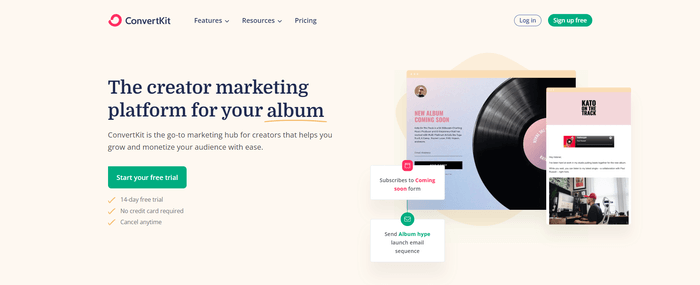 Billing itself as a "creator marketing platform," ConvertKit offers a range of email form and landing page templates for growing your email list. Meanwhile, powerful visual automations let you send your subscribers through personalized email funnels. Interestingly, you can also turn your emails into web pages and charge for access to them (handy if you have a paid newsletter, for example).
Apart from that, ConvertKit lets you build a Creator Profile, which is a landing page that displays your bio, email sign-up form, latest email content, and "link in bio"-style list of links. But if you wanted a more extensive website builder solution, you'd be out of luck.
Pros of ConvertKit
From my tests, I've found ConvertKit's landing page builder to be simple to use.
ConvertKit's tagging and segmenting features for organizing subscribers are extremely powerful and flexible. This is handy for sending targeted emails to specific categories of subscribers, e.g. new vs. repeat customers.
The paid posts feature gives you the option of monetizing your content. To do so, publish your emails as web pages, then put them behind a paywall.
Cons of ConvertKit
Being more of an email platform than a website builder, ConvertKit lets you create only landing pages and standalone web pages for posts. You'll have to look elsewhere if you want to build a multi-page website.
Landing page reporting is limited to the number of visitors and subscribers your landing page has received, and your conversion rate. You can't check the location of these visitors or your bounce rate, among other useful stats.
Sample web page built with ConvertKit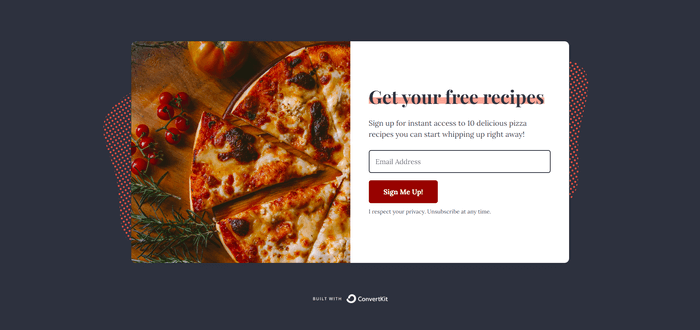 ConvertKit pricing
The Free plan gives you unlimited landing pages, forms, segmentation, and the ability to sell digital products and subscriptions, for up to 300 contacts
The Creator plan adds support and automations from $15/month (for up to 300 contacts)
The Creator Pro plan includes a newsletter referral system, scoring, advanced reporting and unlimited team members for $29/month (for up to 300 contacts)
Who is ConvertKit best suited to?
Creators who primarily want an email platform with landing page functionality, and the ability to put their email content behind a paywall, will find ConvertKit perfect for their needs.
> Read our full ConvertKit review
6. Wix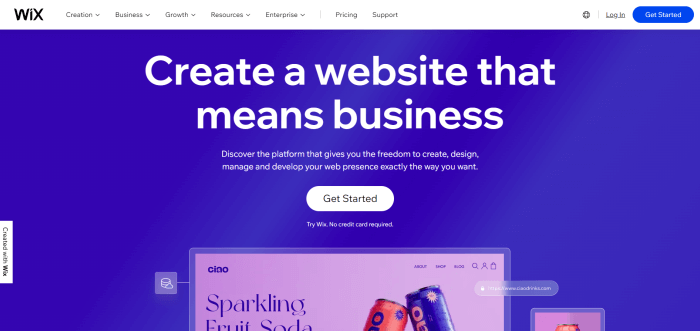 And here, we have our favorite website builder! (No, really — we've awarded Wix our Best Website Builder badge for 2023.)
Building a professional-looking website in Wix is a fuss-free experience thanks to an intuitive website builder. Alternatively, make use of Wix's AI-powered builder if you'd rather get the platform to build a website for you based on your provided inputs.
On the email marketing front, you can easily create email forms in Wix and embed them into your web pages. After that, send beautiful email campaigns to your contacts. The platform's automation features are rather limited, though.
Wix's email features are part of its Ascend suite of tools, which also includes customer service and sales tools. Learn more about Ascend by Wix here.
Pros of Wix
Wix's website and email builders are a joy to use. The interfaces are clean and easy to navigate.
The website builder is powerful, with a huge range of templates, features and apps to help you build a business site, blog, online store, portfolio, or any (almost) kind of website you like.
Unlike many other website builders, you can run a website and a basic email setup for free using Wix (but with Wix branding attached). You can also check out more free website builders here.
There is quite a good range of options for segmenting your contacts into precise groups.
The ability to easily integrate with third-party tools means you're not limited to using Wix's email marketing platform — you can also embed Mailchimp or MailerLite forms, for example.
Cons of Wix
Wix's email automation features are limited. You can set up autoresponder emails when someone subscribes to your email list, but you can't have conditional automation actions for example.
The email reports also contain only basic data, such as the number of times your emails have been opened or clicked. There are no click maps or deliverability stats, unlike what some other platforms offer.
Wix Ascend gives you 5,000 emails/month for free, but if you want to send any more than that, you'll need to upgrade to a paid plan (in addition to your Wix website subscription).
Sample web page built with Wix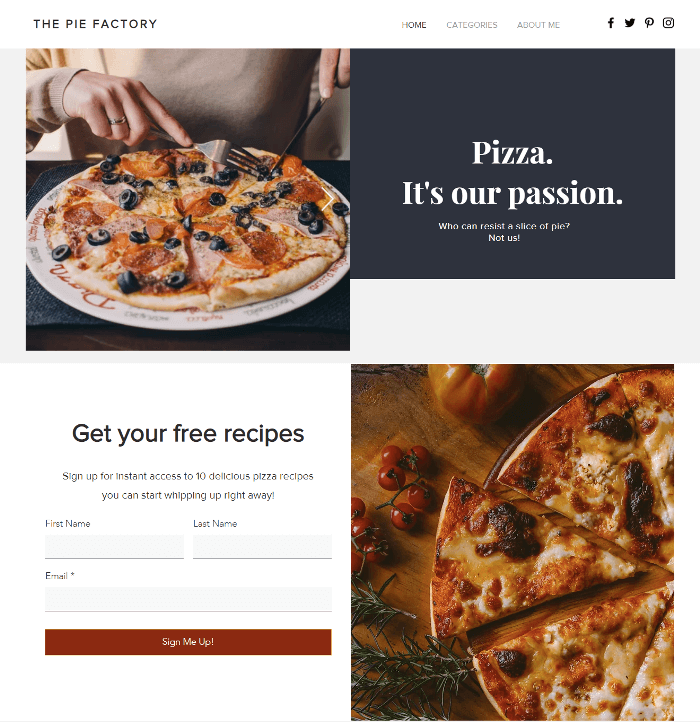 Wix pricing
Free plan: $0/month
Combo plan: $16/month
Unlimited plan: $22/month
Business & eCommerce plan: from $27/month
While a limited free version of Wix Ascend for email marketing is available, the paid plans start at $10/month.
For which target user is Wix best suited?
Use Wix if you want to create a professional website and emails using hassle-free builders, and don't need a sophisticated email setup.
> Read our full Wix review (or our separate article on Wix email marketing)
7. Squarespace
Whether you're building a blog or an online store, there's something about Squarespace's beautiful aesthetic that just makes it super obvious — in a good way — that you've created your website using Squarespace. Its website builder is snappy and beginner-friendly, and can also accommodate up to a whopping 1,000 pages (compared to Wix's 100)!
In contrast, Squarespace's email marketing tools (called Squarespace Email Campaigns) aren't as comprehensive as its website-building ones. You can set up email forms and send autoresponder emails, but you can't do much beyond that. If that's all you need, then Squarespace might be the right platform for carving out your personal space on the web.
Pros of Squarespace
Squarespace's email templates are all modern-looking and pleasing to the eye.
If you like the ease of use of Squarespace's site builder, you'll be happy to know that the platform's email builder is equally user friendly!
Although you'll have to subscribe to Squarespace's email marketing features separately from its website-building plans, the platform's entry-level email marketing plans are highly affordable. The cheapest one is just $5/month! Be aware of its low send limits, however (more info on this below).
Cons of Squarespace
While email automations are available, they are largely limited to the sending of basic autoresponder and drip emails. You also have very few subscriber segmentation options. For example, you can't segment your subscribers based on their geolocation or birth month.
The send limits on Squarespace's lowest-tiered email marketing plans are quite restrictive. The $5/month plan sounds like a steal until you realize you're limited to sending only three campaigns and 500 emails per month. You'd need to upgrade to a more expensive plan to increase your send limits.
Sample web page built with Squarespace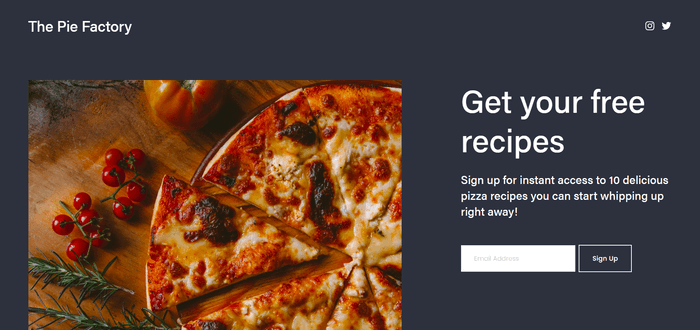 Squarespace pricing
Personal: $16/month
Business: $23/month
Online Store (Basic): $27/month
Online Store (Advanced): $49/month
The Squarespace Email Marketing add-on starts at $5/month.
Who is Squarespace best suited to?
Go with Squarespace if you like the signature look of Squarespace-designed websites and have simple email marketing needs (alternatively, integrate a separate email platform if you prefer).
> Try Squarespace in a free trial
> Read our full Squarespace review (or our separate Squarespace email marketing review)
8. HubSpot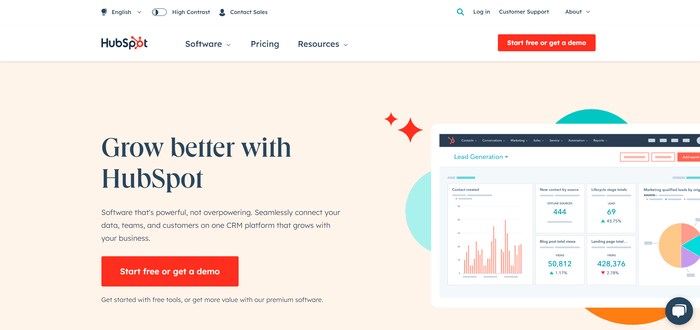 Depending on what you need HubSpot for, it could be a customer relationship management (CRM) tool for sales, customer service knowledge base and chat system, or even an operations hub for processing customer data. But in the marketing category, you'll find HubSpot's website-building and email marketing features worth a look.
Create email forms and landing pages in HubSpot for collecting email subscribers, then nurture these subscribers using automations. (These are called "workflows" in HubSpot, and they're a paid feature.) You have many workflow customization options at your disposal: for example, you can set your workflow to trigger when a contact has replied to your email.
Running a website using HubSpot is also possible thanks to its native website builder. Uniquely, you can use themes from third-party marketplace Themeforest for your website. Not many website builders I tested for this article — especially those that are email platforms first and site builders second — let you do the same.
Pros of HubSpot
HubSpot has a CRM bundled in, which is helpful for managing the leads and deals you obtain via your email marketing efforts.
The email reports are quite thorough. You can get insights into the percentage of contacts who have read, skimmed, or just glanced at your email. The deliverability report is also broken down into categories such as spam reports and hard/soft bounces.
The platform also provides detailed suggestions on optimizing your landing pages for search engines, such as including a meta description and having fewer than 300 outbound links per landing page.
Cons of HubSpot
HubSpot didn't fare too well in our email deliverability tests, ranking second from the bottom in our test of 15 email marketing providers.
The pricing for HubSpot's various platform solutions and products can be rather confusing to navigate.
Sample web page built with HubSpot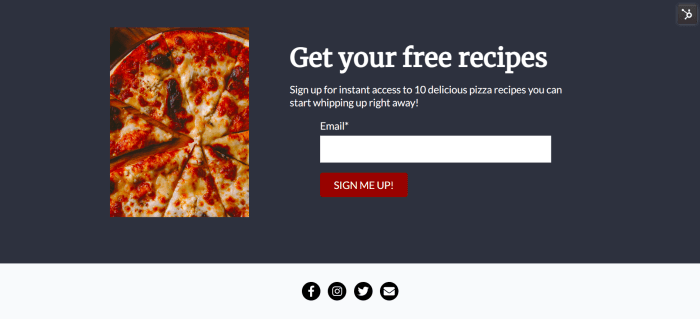 HubSpot pricing
CMS Hub Starter: $23/month
CMS Hub Professional: $360/month
CMS Hub Enterprise: $1,200/month
Starter CRM Suite: from $30/month (for up to 1,000 contacts)
For which target user is HubSpot best suited?
Marketing-focused businesses that want a platform for collecting email leads and managing their sales pipeline in one place may find HubSpot ideal.
9. Constant Contact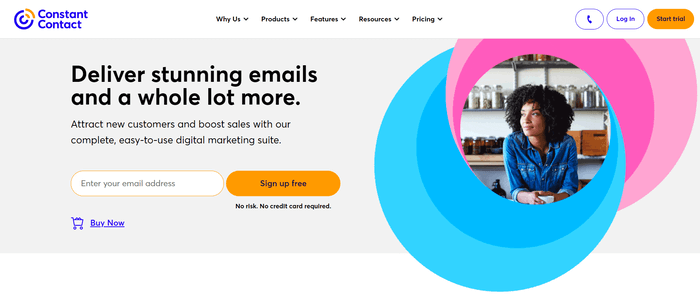 Constant Contact has been around since the mid-1990s, and it has since evolved from a pure email marketing tool to a broad-based digital marketing platform that also offers social media and SMS marketing features. At one point, the platform even offered a nifty AI website builder, but it seems this feature has been discontinued.
That said, you can still create simple lead generation landing pages and email automations for nurturing your leads. But given the platform's relatively high prices, you're likely to get more bang for your buck elsewhere.
Pros of Constant Contact
There are 200+ templates for building your emails with.
Constant Contact fares quite well in our regular email deliverability tests.
The platform also offers pre-built segments for grouping contacts based on how often they engage with your emails.
Cons of Constant Contact
Constant Contact offers two types of landing pages: a lead generation landing page and a custom landing page. Although you get more customization options if you're building a custom landing page, you can't embed an email form in it. Meanwhile, your lead generation landing page can include an email form — but the page looks extremely barebones and lackluster. See the sample page I built below, for example.
The platform's automations are quite basic. For one, you can't set up conditional paths or multiple automation triggers.
Sample web page built with Constant Contact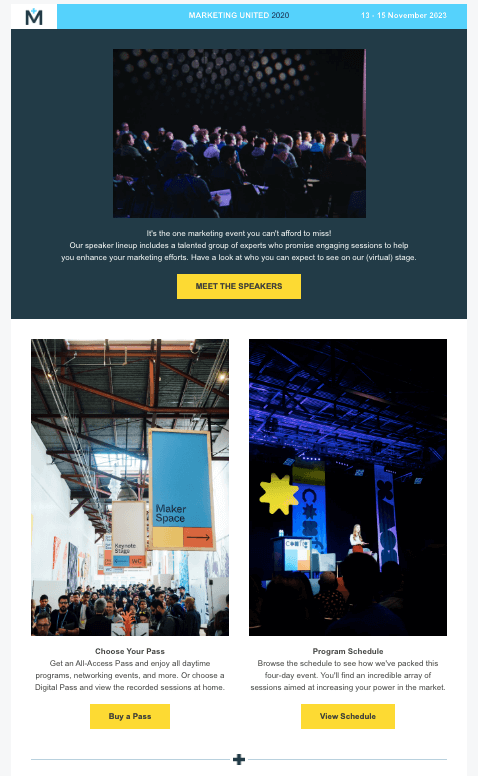 Constant Contact pricing
The Lite plan includes landing pages, email marketing and automated welcome emails, starting at $12/month for up to 500 contacts
The Standard plan adds more automations (such as abandoned cart recovery), advanced reporting and surveys, starting at $35/month for up to 500 contacts
For which target user is Constant Contact best suited?
If you plan on maintaining a simple email marketing setup and have fewer than 500 contacts, you may find Constant Contact's cheapest $9.99/month Core plan suitable for your needs. But if you want to run more sophisticated email funnels or have a larger email list, you're likely to be better off using another platform (such as ActiveCampaign or MailerLite).
> Try Constant Contact in a free trial
> Read our full Constant Contact review
10. WordPress.org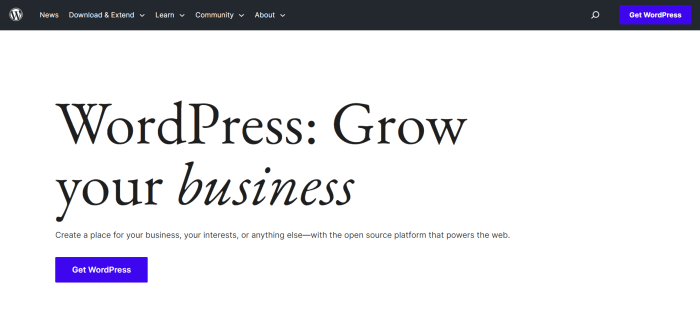 Unlike the other tools I've mentioned here, WordPress.org doesn't offer any built-in email marketing features. But given the platform's global popularity, I have to mention it here for the sake of completeness.
Once you've built your WordPress website (including signing up for web hosting, registering your domain, and the like), you can integrate it with a separate email platform to start turning website visitors into email subscribers. This typically involves creating email forms in the email platform, then embedding the forms into your WordPress web pages.
Doing so will call for taking extra steps compared to using an all-in-one website builder and email marketing solution. But in return, you'll get much more control over your website's look and features. This is unlike how email platforms with website-building features tend to offer a more limited range of website customization options. (The reverse is also true for platforms that are primarily website builders with email marketing features added on.)
Pros of WordPress.org
The flexible nature of the platform means you can conceivably build websites or online stores with any and all features you need.
Any email marketing provider worth its salt will have built a plugin for integrating its platform with the world's most favored website builder software. You should therefore have no trouble using your preferred email marketing provider with your WordPress website.
Whether from the official WordPress plugin repository or a third-party marketplace like Codecanyon, you'll have no shortage of plugins for extending your website functionality.
Cons of WordPress.org
You may find it a hassle to have to manage your website and email marketing on separate platforms.
You'll also need to maintain your website's security and plugin updates by yourself. This effort can be troublesome and even technically challenging if you have limited web development experience.
Sample web page built with WordPress.org
(Note: This page was built with the help of the Elementor landing page builder and the WPForms plugin)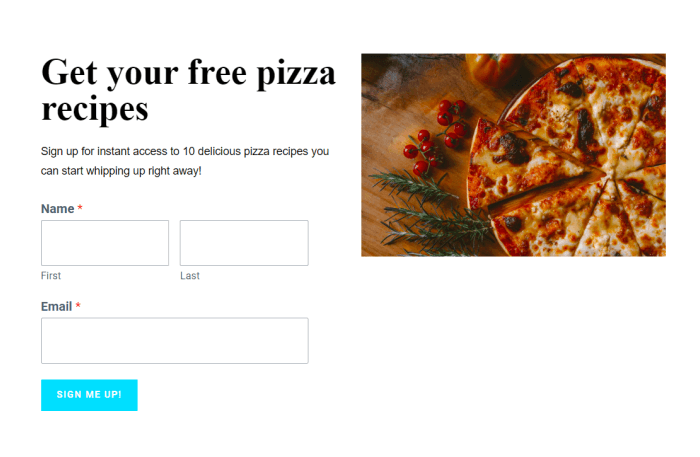 For which target user is WordPress.org best suited?
Users who want the freedom of building a website to their custom specifications, and the flexibility of integrating their favorite email platform with it, may find WordPress.org to be the solution that provides the best of both worlds.
> Read our full WordPress.org review (or our separate WordPress.com review if you're keen on using the hosted version of WordPress for your own website)
Which is the best website builder and email marketing solution for you?
After testing the 10 website builders with email marketing features above, one thing is clear — finding a solution for running a comprehensive website and a powerful email setup in a single platform is a challenge.
Most website builders that focus on website-building do this really well, but with the trade-off that they tend to be lacking in the email marketing department. The opposite is true for email platforms that offer website-building functionality (outside of simple landing pages).
So unless you're open to building a website from scratch using WordPress.org and integrating a separate email provider, my recommendation is to:
decide whether you prioritize website-building or email marketing, then
narrow your options from there.
If website-building is your priority, then go with either Wix or Squarespace. Both are equally awesome website builders, although we have a slight preference for Wix.
On the other hand, perhaps you've decided to prioritize sophisticated email marketing features. In this case, take your pick from MailerLite, GetResponse, and Mailchimp if you intend to build a multi-page site. Alternatively, choose from ActiveCampaign, ConvertKit, and Constant Contact if you just need landing pages.
Last but not least, if you want to pair your marketing efforts with a CRM, then HubSpot might be the platform for you.
I hope this article has helped point you in the right direction as you search for a good website builder and email marketing solution!
If you have further questions, feel free to drop them in the comments below and I'll get back to you.
We keep our content up to date
25 Apr 2023 - Video reviews added 
Our Methodology
This article has been written and researched following our EmailTooltester methodology.
Our Methodology