Ready to take your Shopify store to the next level? Chances are, you've probably already thought about using email marketing to do that (if you're not already!).
With the right strategy, email marketing can offer a great way to improve conversions, boost sales, and get more repeat business to your store.
However, the icing on the cake is that it's not only affordable but relatively easy to do, too – especially since the vast majority of your store's emails can be automated based on customers' actions.
Of course, there are some email marketing services that are better suited to Shopify than others – ones that offer direct integrations, allow you to send triggered emails (e.g. abandoned cart campaigns), and let you access your store data directly from within your ESP (email service provider), for example.
So what are the best tools for Shopify email marketing? We've tested out some of the most popular ones to find out which really let you do the most with your Shopify online store.
Top 14 Email Marketing Services for Shopify
Here's our list of the top 14 Shopify email marketing tools, ranked:
Email Marketing for Shopify – Video Review
Try out GetResponse or Omnisend
What Can the these Email Marketing Services Do with Shopify?
Before we jump in, let's quickly review what a good email marketing software should let you do with your ecommerce business, and more specifically, your Shopify store.
Must-have features are:
Forms that integrate directly with Shopify – Ideally, any forms on your Shopify site would automatically connect up with your email marketing service as soon as you set up the integration, without any need to insert code on your site. Signup forms are a key part of any email list-building strategy.
Contact syncing – Contact details and purchase history of both existing and new customers should be able to go straight into your email tool. Many tools will automatically import all Shopify contacts, and set subscribe/unsubscribe status based on whether contacts opt-in at checkout.
Segments – A good email tool should let you create segments of customers, based on purchase history. Some will go so far as to let you track which products customers have viewed (but not purchased), and let you create segments around this criteria. A handful of tools also create pre-built segments for you as soon as you import contacts from Shopify (e.g. first-time customers, repeat customers).
Automated/triggered campaigns – An absolute must-have in an email marketing software, automated campaigns such as abandoned cart, order confirmations, cross-selling and upselling promotions, and recommended product emails will help you boost your store's sales significantly.
Reporting – So you know how successful each campaign is, your email marketing service should be able to report on how much revenue was generated by each individual email. All the tools we've listed below include this ecommerce reporting feature (with the exception of ConvertKit, which is working on building this capability).
Easy to use email editor – An intuitive visual editor, such as one that lets you drag and drop text and images into your email, will help you to quickly and easily build out your emails. Some of the tools below also let you automatically add your Shopify products straight into your email.
So which email marketing platforms meet all the criteria above? Check out our list below to find the right one for you.
But first, let's take a look at Shopify's own email marketing app.
Shopify Email Marketing App
Since its launch in 2019, Shopify Email has made significant improvements. Our initial review highlighted its limited capabilities, but it seems Shopify took note. Nowadays, Shopify Email boasts powerful customization and automation features included for free with your Shopify plan.
However, Shopify Email is not the best marketing tool for everyone. Let's take a look at what it does well and where it could improve to help you decide if this is the right email marketing app for your business.
Pricing
The Shopify Email app is free to install with all subscription plans. It allows you to send 10,000 emails each month for free. Then, it's $1 USD for every 1,000 emails you send.
This is a substantial increase from Shopify's previous sending threshold of 2,500 emails per month, making it a viable option for small to mid-sized ecommerce stores.
What we liked
We were glad to see Shopify recently add an email analytics feature, which allows you to evaluate your email's performance by identifying subscribers who opened the email or took particular actions, like unsubscribing or clicking a link.
Shopify has also enhanced its template selection and editing tools. Currently, Shopify Email offers 24 templates which can be easily modified using the email editor. Shopify provides a good range of options for adding content to your email, including linked products and discount codes.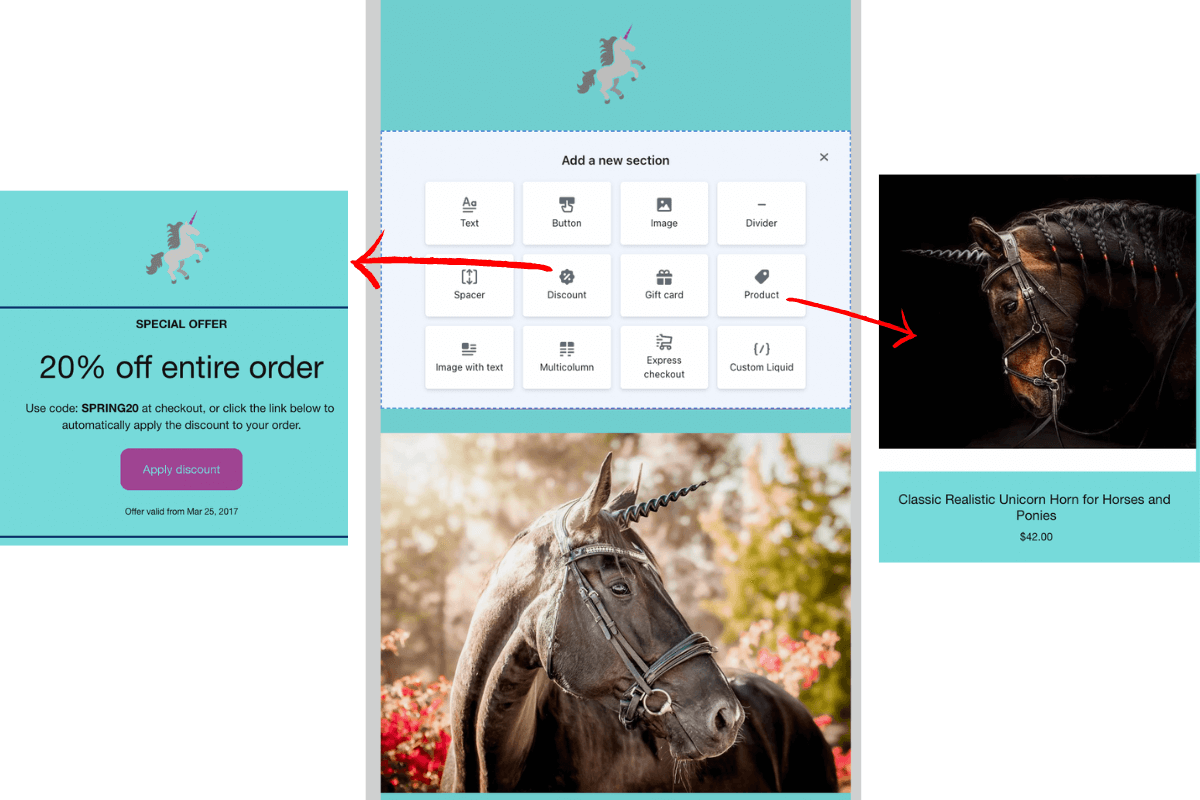 We are also impressed by Shopify Email's recently expanded automation features. You can now create automated marketing campaigns with Shopify's pre-built workflows, connect a third-party app, or create a marketing automation from scratch.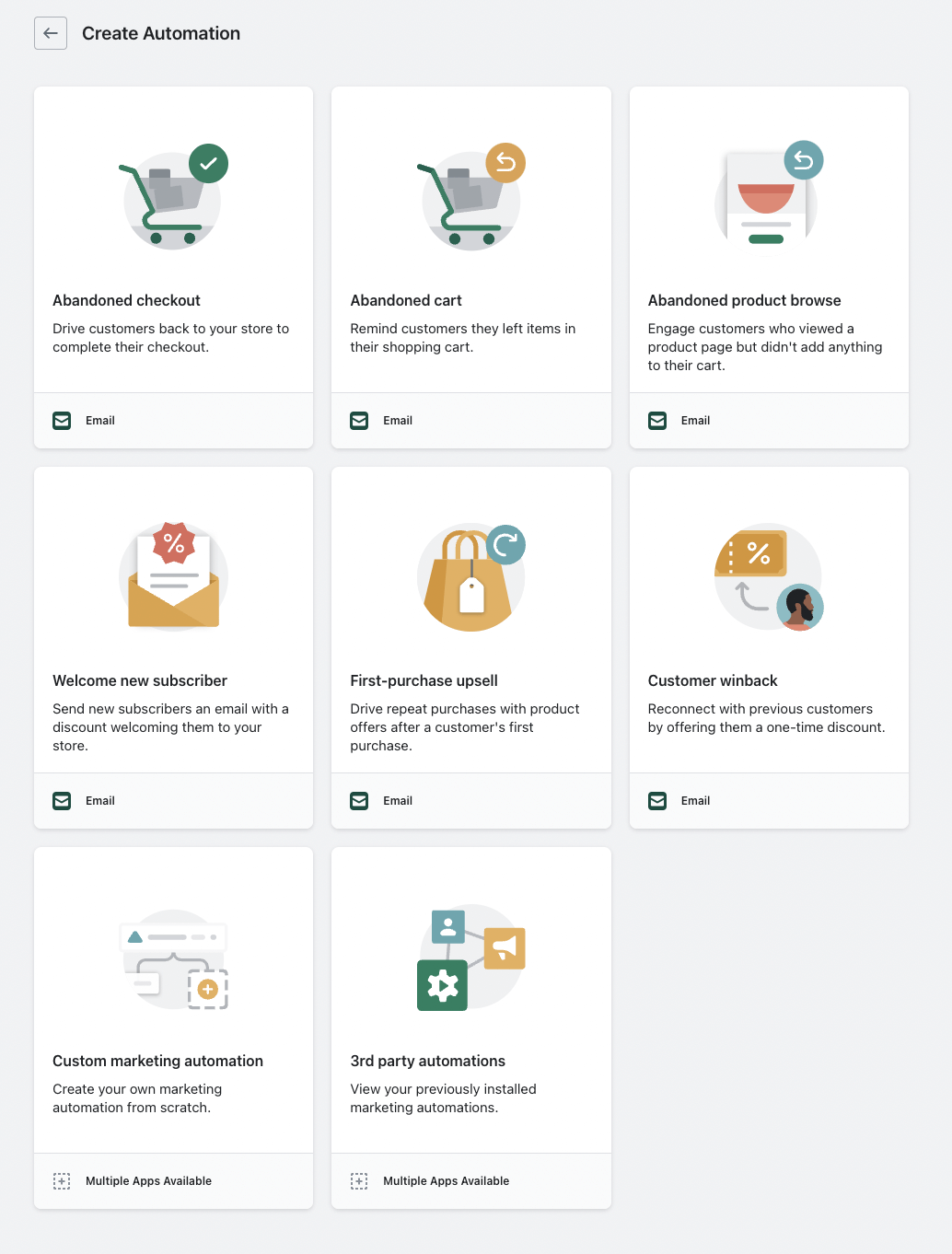 Where they could improve
Shopify uses a method called "batching" for sending emails to lists with over 1,000 subscribers, resulting in staggered email delivery. Shopify recommends reaching out to customer support if your email campaign hasn't finished sending within 72 hours. But for time-sensitive promotions, such as Black Friday sales, a 72-hour window might be too lengthy for completing an email campaign.
Also, Shopify Email is not a good solution for running campaigns in multiple languages. Despite supporting multilingual websites, emails can only be sent in one language unless you are willing to do some complex coding. If you run a multilingual store, this is a big drawback because customers won't automatically receive emails in their browser's default language.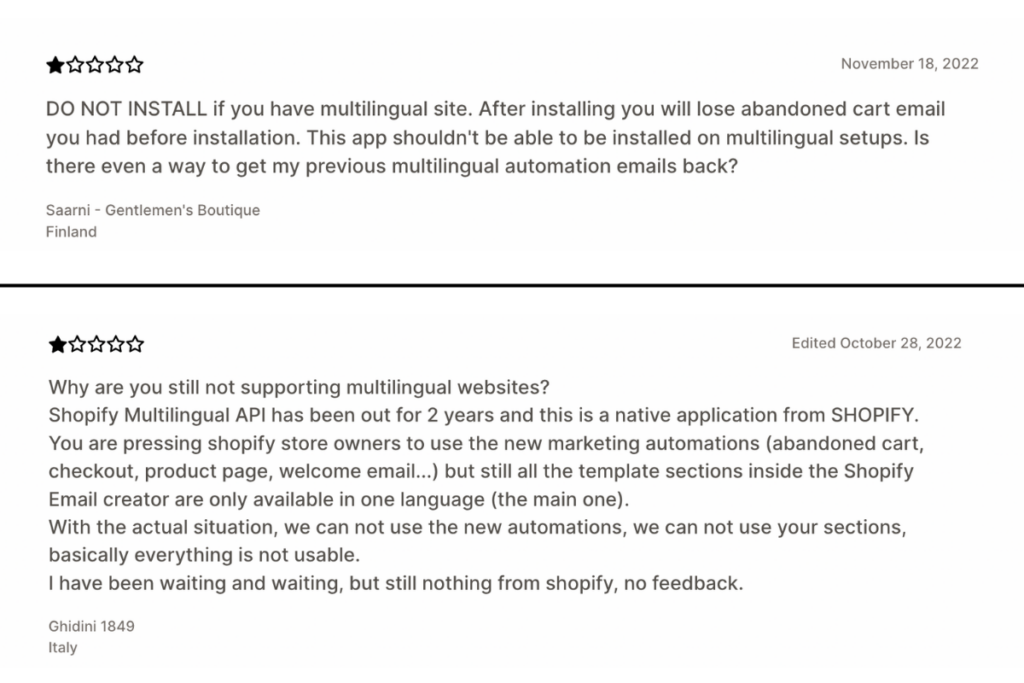 Who would we recommend Shopify Email Marketing to
Shopify's email marketing app is recommended for small to mid-sized ecommerce stores looking for a cost-effective solution with solid customization, analytics, and automation features. It is suitable for businesses that primarily operate in a single language and do not require immediate delivery for time-sensitive email campaigns. But for advanced automation, segmentation, and personalization, we'd recommend checking out the other tools on our list.
Unicorn Corner Case Study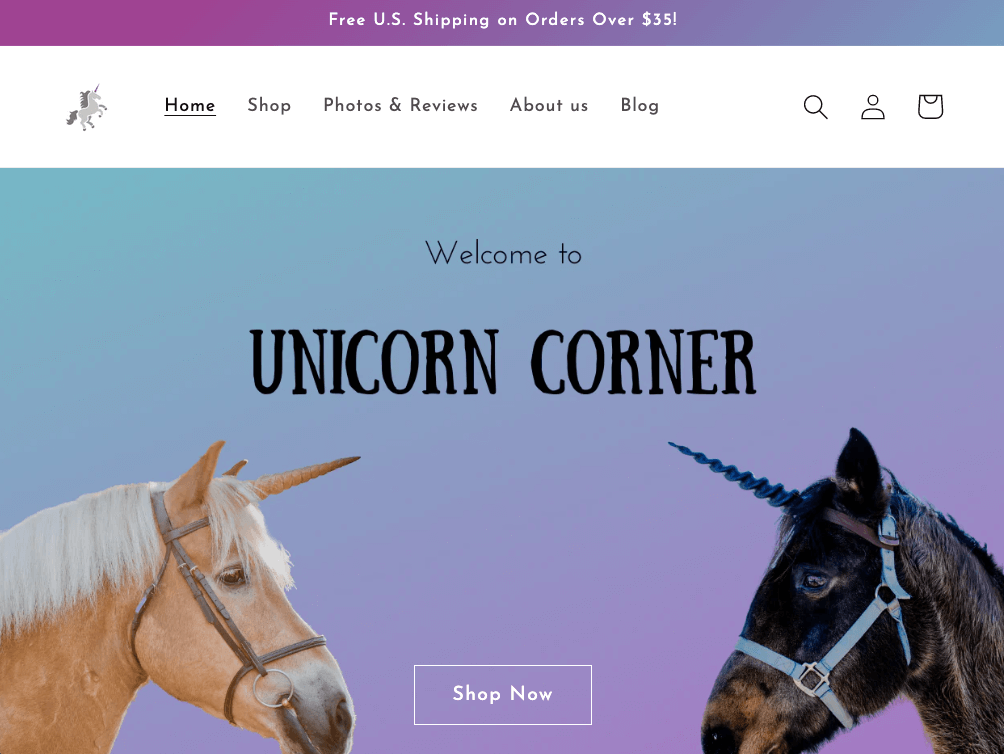 Sarah Baxter, owner of Unicorn Corner, tells us about her experience using Shopify Email.
"When I opened my current Shopify store, Unicorn Corner, I used Mailchimp's free plan to send email marketing campaigns. By the time Shopify launched its own email marketing app, Mailchimp had reduced the number of emails allowed on a free plan, so I made the switch to Shopify Email.
Shopify's current limit of 10,000 emails per month for free is more than enough for my small business. I also like that Shopify's pricing structure allows for growth without moving abruptly into a new pricing tier. For example, if I send 12,000 emails a month, I pay just $2, rather than upgrading into an expensive monthly plan.
I have no experience with coding and prefer to keep things simple, so Shopify's templates and editing tools meet my needs. I really like that I can save my brand elements (like colors and logos) and then Shopify automatically applies them to new emails. It's like having the base of the email already built, so my editing focuses on writing copy and adding unique content, like information about a seasonal sale.
With my store's current sales volume, I'm happy to stick with Shopify Email rather than migrating to an external email marketing service."
Best Email Marketing for Shopify: Which are the Top Tools?
1. Omnisend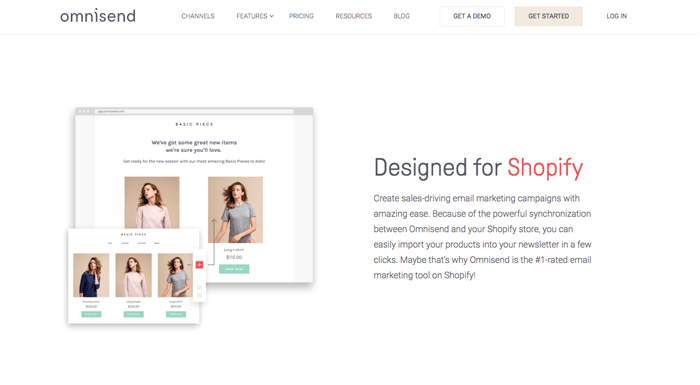 With its strong focus on ecommerce, multi-channel provider Omnisend fairly and squarely lands the number one spot on our list. This slick tool offers a range of automated workflows targeted at different stages of the customer journey (browse abandonment, cart abandonment, order confirmations, etc.), plus some very cool email features such as gift boxes, scratch cards and other incentives, making it one of the top tools for ecommerce marketing automation.
Beyond email, Omnisend also allows you to send SMS, push notifications, and Facebook and WhatsApp messages.
Omnisend Pricing
500 emails/month to up to 250 contacts: Free
Up to 500 contactable subscribers and 6,000 emails/month: $16 per month
Up to 1,000 contactable subscribers and 12,000 emails/month: $20 per month
Up to 5,000 contactable subscribers and 60,000 emails/month: $65 per month
You can store unlimited contacts on all plans. See our detailed pricing guide for more information.
Tip: get 15% off for the first 3 months using this exclusive discount code: EMAILTOOLTESTER.
Redeem the offer here
.
What we liked
The ease of integration with Shopify. You can create a sign-up form that automatically links up with your store in Shopify (as long as you're not using a third-party template, in which case you just need to insert some code into your site). The email editor also lets you automatically add products from your store straight into your email. And conversion-focused features such as scratch cards, gift boxes and 'wheel of fortune' signup forms are quite unique to Omnisend – we haven't really seen them in any other provider. The fact that the free plan comes with unlimited subscribers is a big plus (though be aware that you can only contact up to 250/month).
Check out our video review:
Where they could improve
While the email editor lets you integrate some features with your store (e.g. Product Picker, Featured Product and Product Listings, letting you add these directly into your email), other features like the Product Recommender and Gift Box didn't seem to have that same direct integration. And while the 20 or so email templates provided look nice and modern, it would be nice to see a wider range of templates. The free plan used to have a much higher sending allowance.
Who we would recommend Omnisend to
If you need a multi-channel platform that lets you manage your ecommerce business marketing communications out of one place, and would like to be able to add some unique extra features to your emails, which is why Omnisend is listed as the best email marketing app for Shopify. (Read full Omnisend review.)
2. ActiveCampaign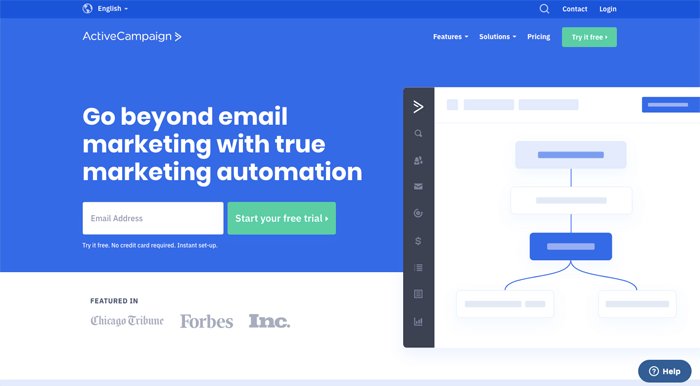 Like GetResponse, ActiveCampaign has earned itself a solid reputation in marketing automation. It now makes this available to Shopify store owners, thanks to its Deep Data Integration with Shopify.
Store owners can take advantage of features such as Active Campaign's CRM, dynamic segments and tagging, conditional email content (e.g. different products and offers based on what a contact is interested in), and, of course, advanced automations. Other integration options (Zapier, Revenue Conduit) are also available.
ActiveCampaign Pricing
Up to 1,000 emails per month: $39/month
Up to 5,000 emails per month: $99/month
Up to 10,000 emails per month: $174/month
What we liked
The Deep Data integration process was a breeze, and all contacts who make a purchase or abandon a cart in your store will automatically be added as a contact in ActiveCampaign. It's great that you can see contacts' orders, abandoned carts and spending totals within their contact profiles too – it gives you the kind of view you're used to seeing in more purpose-built CRMs.
We also love ActiveCampaign's workflow-based automation editor, which lets you build abandoned cart campaigns, upsell emails, re-purchase reminders and more. Adding products into email templates is made simple via the drag and drop editor, and you can add your Shopify products and a "Buy Now" button to your ActiveCampaign landing page. You can also automatically embed a form on your site instead of having to copy and paste it into your store's code. This form can include a discount code to encourage users to make a purchase.
The ready-made marketing automation templates are excellent, plus there are plenty to choose from: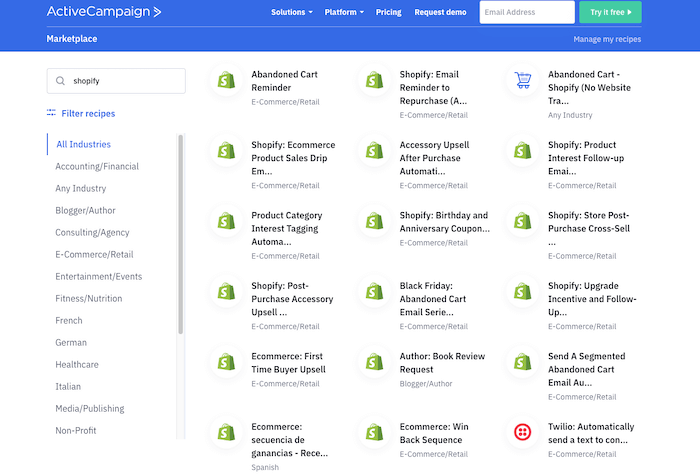 Check out our video review:
What could be improved
ActiveCampaign is an advanced tool, and its learning curve can be steeper than that of other email marketing services. For example, the personalization and conditional content require a little bit of code to be inserted. It's not necessarily something that can be improved – the rewards far outweigh the time and effort required – but it's just something to keep in mind if you really want to take full advantage of the tool. Discover all the excellent ActiveCampaign alternatives here.
Who we would recommend ActiveCampaign to
As with GetResponse, ActiveCampaign works well for larger ecommerce stores that need to be able to send more complex automations and segment their lists finely. Their CRM is pretty powerful, too, which is ideal if you work with a lot of repeat customers.
>Try ActiveCampaign for free for 14 days
> Compare ActiveCampaign vs Klaviyo for Shopify in our complete guide
3. GetResponse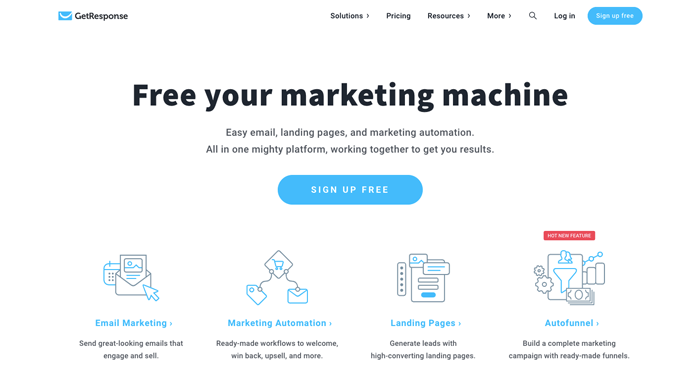 A powerhouse provider of marketing automation, GetResponse goes that little bit further than your average email marketing service. It does this by offering features like landing pages, webinars and a CRM.
It also happens to be one of the best tools for Shopify email marketing, with its Deep Data integration allowing for synced customers, order and product data, advanced segmentation and tagging, and automated campaigns. Its cart abandonment solution is also more advanced than most, letting you see exactly where users are abandoning carts in their journey.
Pricing
Up to 1,000 subscribers and unlimited emails: $19/month
Up to 5,000 subscribers and unlimited emails: $54/month
Up to 10,000 subscribers and unlimited emails: $79/month
What we liked
GetResponse comes with a wide range of handy, ready-to-go templates for building out automations for your store, including abandoned cart campaigns, post-purchase emails and sales promotions. GetResponse now offers AI product recommendations. This means that the behavior, preferences, needs, and habits of your website visitors are analyzed and used to make tailored recommendations. These can be directly added to your newsletter or automation without leaving the editor.
Check out our video review:
What could be improved
Opt-in emails get sent to customers by default, which is a little annoying, although this can be disabled in your campaign settings. Contacts and products get imported every 24 hours, which could mean a delay in triggering automations. Support could be better, too – we couldn't find a whole lot of information on the Shopify integration in GetResponse's Help Center.
Who we would recommend GetResponse to
GetResponse is best suited to larger stores – they would benefit the most from advanced marketing automation, segmentation features and CRM. We'd also recommend it if you need extra features such as landing pages and webinars.
> Try GetResponse for free for 30 days
4. Klaviyo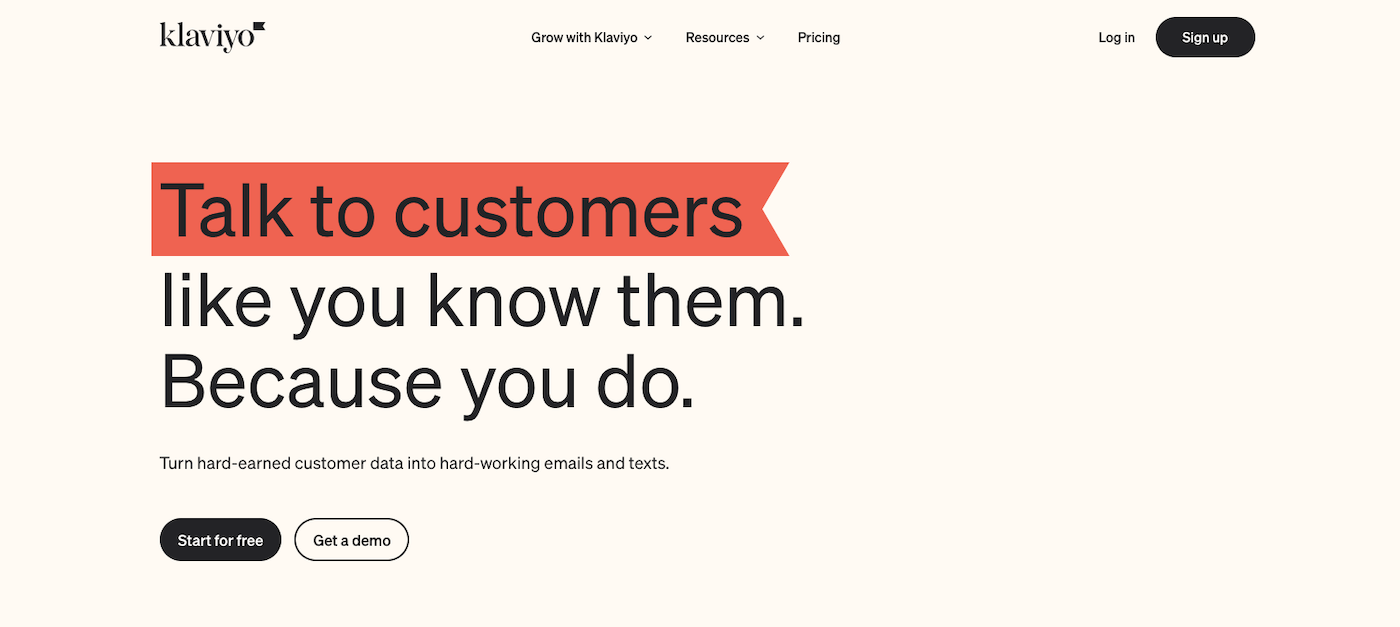 Klaviyo is, specifically, marketing software for ecommerce, which makes it a great match for Shopify shop owners. On their website, Klaviyo state that 'Shopify stores make $85 for every dollar they spend on Klaviyo'. Who knows how this compares to the other tools on this list, but that is a pretty good ROI.
No doubt, this increase in profits is due to their advanced segmentation and marketing automation workflows, which, it turns out, are very easy to set up.
Pricing
Up to 250 subscribers and 500 emails/month: Free
Up to 1,000 subscribers and unlimited emails: $30/month
Up to 5,000 subscribers and unlimited emails: $100/month
Up to 10,000 subscribers and unlimited emails: $150/month
What we liked
So, how does Klaviyo work with Shopify? The integration with Shopify is quick and easy to set up. They have some very attractive, modern-looking email templates that work with dynamic blocks, so you can determine which customers see what based on their data. A/B testing is also possible.
Their selection of pre-built workflows is extensive, covering everything from welcome and abandoned cart emails to post-purchase follow-up and win-back emails. You can also set them up from scratch.
The 'Profiles' section is their CRM, where you can see what your customers have done, how much they've spent and when they'll purchase next gives you a holistic view of your customers and makes personalized marketing simple.
>> Our ecommerce email marketing statistics study found that 2.7% of big retail brands use Klaviyo as their email marketing service.
What could be improved
At $100 for 5,000 contacts, it's one of the more expensive providers on this list, and in light of the cost, the customer support could be better.
Their app has caused frustration among some customers due to issues with sending their campaigns and having their accounts temporarily disabled.
Who we would recommend Klaviyo to
Because of its focus on email marketing for ecommerce, Klaviyo is a great option when it comes to Shopify email marketing apps. The fact that they offer a built-in CRM makes it a great choice for both small and medium-sized businesses with larger client bases and teams.
> Try Klaviyo for free for 14 days
> Check out the differences between Omnisend vs Klaviyo in our full comparison
5. Freshmarketer by Freshworks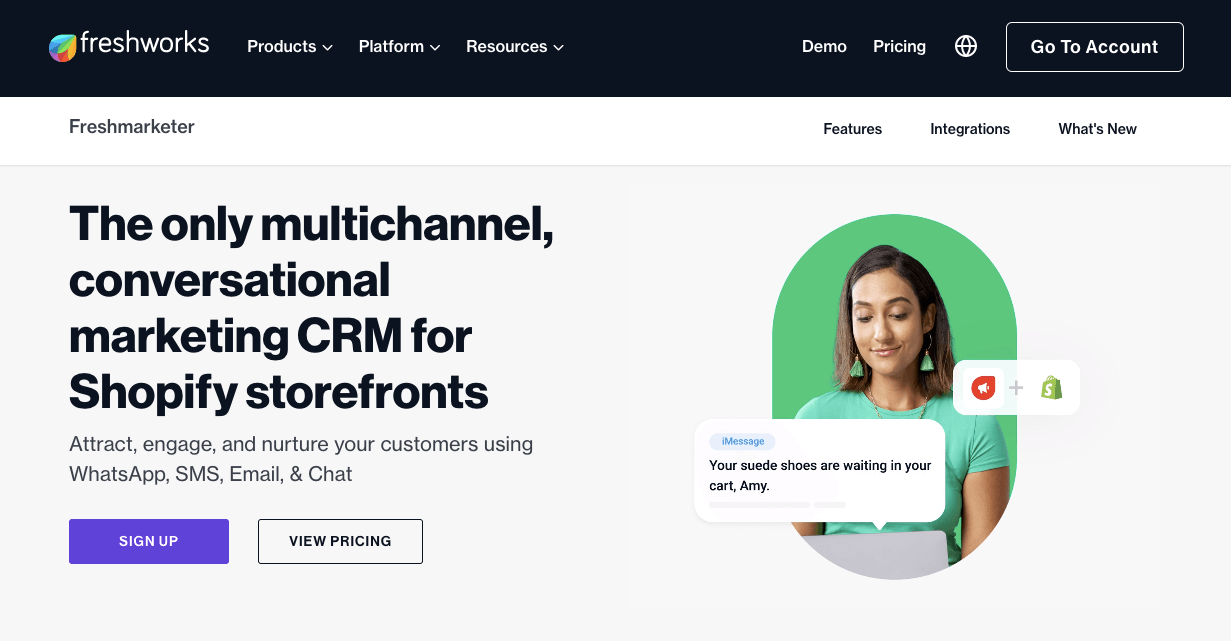 You've probably heard of Freshworks, the customer service software that does a lot more than just that. Freshmarketer is its marketing automation solution, offering an extensive toolkit for Shopify store owners to send not only marketing emails, but also messages across live chat, SMS, WhatsApp, Instagram, and other channels.
What's especially great is its range of Shopify-specific features, including "playbooks": ready-to-use templates for sending out automated emails such as abandoned carts and order confirmations. There's even the ability to send "back in stock" emails when an item becomes available again in your Shopify store, and website tracking to keep tabs on which products your customers have browsed.
And if you happen to be looking for a chatbot solution to put your live chat conversations on autopilot, you'll be pleased to know that Freshmarketer's AI-powered chatbot is included in all its paid plans.
Pricing
Store up to 10,000 contacts. 200 emails/month sending limit: Free
Store up to 12,000 contacts. 60,000 emails/month sending limit: $23/month (Growth plan)
Store up to 17,000 contacts. 85,000 emails/month sending limit: $119/month
Store up to 22,000 contacts. 110,000 emails/month sending limit: $229/month
What we liked
Freshmarketer's offering is more complete than most, with marketing automation, CRM features, multichannel messaging, and chatbots included. Plus, with over 60 ecommerce "playbooks" available, you can automate most of your marketing and transactional messages with minimal effort. The segmentation options are also comprehensive, with the ability to create segments based on whether contacts opened/clicked specific emails, viewed certain products, added a product to their cart, or canceled an order.
Where they could improve
The Free plan is very limited – we could see most Shopify stores quickly outgrowing the limit of 200 emails per month (and only 1 segment). Once you start marketing to more than 12,000 contacts, it starts to get very expensive (around $100 extra per month for every 5,000 contacts). You also need to upgrade to a higher plan to access more email templates, as the Growth plan only provides 20.
Who we would recommend Freshmarketer to
Given Freshworks' customer service focus, Freshmarketer is best suited to Shopify stores that communicate with customers across multiple channels, and want a way to streamline this. If you're fielding a lot of support requests, you'll also benefit from Freshmarketer's AI-powered chatbot.
> Try Freshmarketer for free for 21 days
6. Drip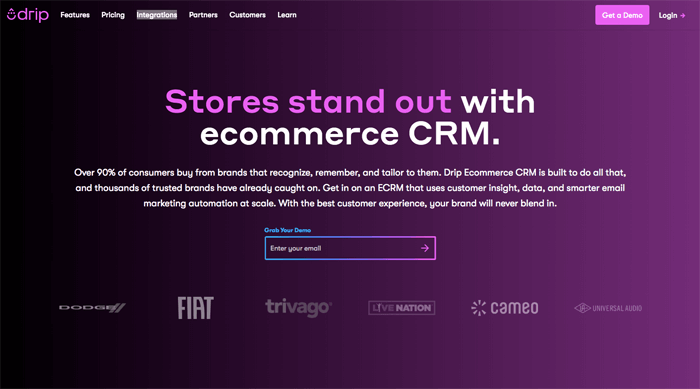 If you want to be able to create automations around even the smallest actions taken by customers on your store (e.g. viewed a product, created/deleted a checkout, placed/cancelled an order), or around very specific data points (e.g. what brand they bought, or how much they spent), Drip is the tool for you. It's for this reason that they call themselves the 'Ecommerce CRM' – they put a strong emphasis on enabling communications at every point of the individual customer's journey.
They also offer an integration with Facebook Customer Audiences, meaning you can combine targeted Facebook ads with your Shopify automated campaigns.
Pricing
Up to 2,500 contacts: $39/month
Up to 5,000 contacts: $89/month
Up to 10,000 emails per month: $154/month
What we liked
The integration process is super easy (you don't even need to insert any tracking code in your store to enable the web tracking). Plus, creating automations in Drip is straightforward (and with their colorful workflow editor, kind of fun, too). You can make automations as simple or as complex as you like, with options to include actions, parallel paths, decisions and more within the workflow. Or you can simply choose from one of their pre-built templates – these include cart abandonment, coupon welcome series and campaigns to win back 'at-risk' customers. You can also send SMS to your customers.
Plus, we really liked that the documentation they offer around how the integration works is more detailed than that of other providers – this was super helpful.
What could be improved
Be sure to keep a close eye on your subscriber numbers, as you'll automatically get bumped up to the next plan if you go over the limit, and remember that customers who get synced over from Shopify will go towards your contact limit. Also, there isn't a huge range of email templates available – there are just 18.
Who we would recommend Drip to
We'd recommend Drip to more established businesses with a significant subscriber count (over 2,500). Their clever segmentation and automation features are very impressive.
> Try Drip for free for 14 days
7. Brevo (formerly Sendinblue)

Another top tool for budget-conscious Shopify ecommerce owners is Brevo, which was formerly known as Sendinblue. Though there are many email marketing apps, this one stands out as a feature-rich service that offers excellent value for money. Originally a transactional email provider, Brevo has expanded into the multichannel space by offering SMS in addition to email. Not to mention, some seriously impressive features including landing pages, automations, Facebook ads, live chat, and lead scoring.
Pricing
Up to 9,000 emails a month: $0 (maximum 300 emails daily)
Up to 20,000 emails a month: $25/month
Up to 40,000 emails a month: $35/month
Up to 60,000 emails a month: $49/month
What we liked
Brevo have built in some very smart ecommerce features. For example, you can display conditional email content based on certain attributes (e.g. a special offer if someone is an existing customer or not). And thanks to their transactional messaging features, you can also send emails and SMS like payment confirmations, order summaries and shipping notifications (via SMTP). Order data also gets exported from Shopify to Brevo, meaning you can view this information on individual contact records, and create segments and automations around this information. you can also integrate store products with email using the drag-and-drop builder.
Check out our video review:
What could be improved
To be able to use advanced features like dynamic content and lists (for example, to add items purchased into an order confirmation email), you need to generate a bit of code, which may take a bit of practice to get used to. Not a huge deal, but the interface is a little dull compared to some of the other more modern-looking email tools.
Who we would recommend Brevo to
Don't let its impressive feature set fool you – Brevo offers some of the cheapest plans for Shopify store owners and is a decent option if you want to run your email marketing on a budget.
8. SmartrMail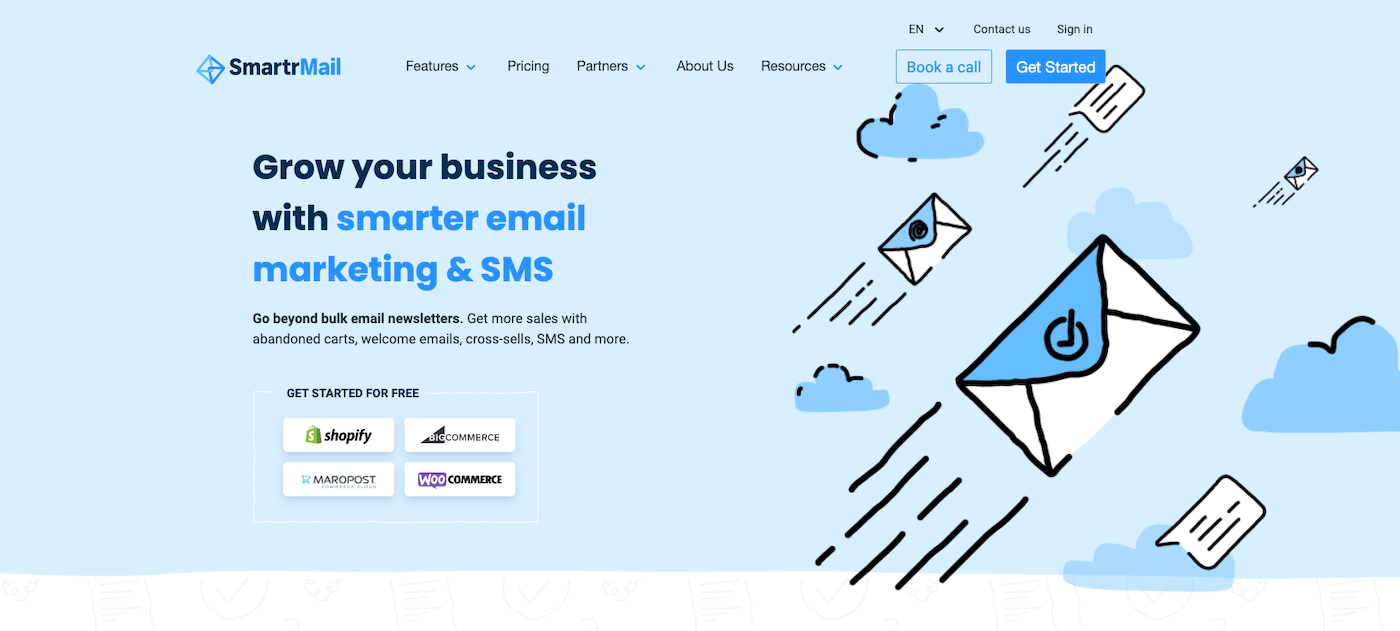 SmartrMail is a solution specifically designed with ecommerce in mind. It exclusively serves customers with an existing online store, and, of course, Shopify is one of the main platforms they work with.
A great thing about SmartrMail is that only active subscribers count towards your monthly allowance, unlike with Mailchimp, which includes inactive subscribers.
SmartrMail claims that its users have collectively generated over $315 million in extra sales by using their services.
Pricing
Free for up to 1,000 subscribers with a monthly sending allowance of 5,000
These numbers are for their Standard plan, which includes 12 emails per subscriber.
Up to 1,000 contacts: $19/month
Up to 2,000 contacts: $26.50/month
Up to 5,000 contacts: $49/month
Up to 10,000 contacts: $86.50/month
What we liked
The fact that they offer a free plan for up to 1,000 active subscribers is a big advantage.
As you sign up directly through Shopify, the integration process is super simple. In fact, SmartrMail is a great tool for beginners because it does a lot of the work for you – they even offer free migration.
Upon sign-up, SmartrMail automatically generates an email design for you based on your existing Shopify store design and branding. This is a nice feature and could save you a fair bit of time. Of course, this can be easily edited and saved to use as a template.
It uses machine learning to automatically create product recommendation emails for your subscribers based on their data, and you can set these to go out at a particular frequency, i.e. once a week. All products automatically populate, complete with links and images.
I particularly liked its smart segments, which are also already set up for you. These group subscribers based on certain criteria, for example, if a subscriber spends more than $150, they will be automatically added to the "loyal customer" segment. There are 6 of these set up already and you can edit them as you wish.
We were happy to see that the automation workflow builder was updated, making it much easier to use. It also includes conditional logic, so you can set up split automations.
Another feature you might be interested in is SMS marketing – this isn't always included in ESPs, so it's nice to see that SmartrMail covers this too. SMS sending prices are slightly more affordable than Omnisend's.
Live chat and phone support are available if you get stuck.
What could be improved
There are a good amount of templates available overall, however, there could be more for specific categories like abandoned cart and thank you messages.
Strangely, there's no dedicated reporting area, though your stats will be featured in the dashboard. Note that SmartrMail is currently developing this feature.
Who we would recommend SmartrMail to
Due to the fact that SmartrMail does a lot of the leg work for you, this is a great tool for small businesses that are just getting started and looking for an easy to use software. It's a real time-saver when it comes to design and segmenting, plus their marketing automation workflow builder is really user-friendly.
9. Mailchimp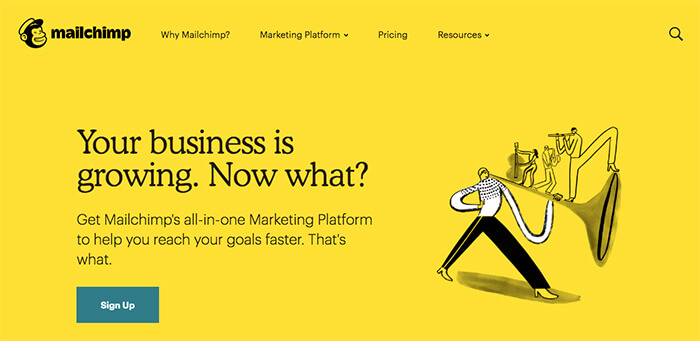 Many have been asking 'Does Mailchimp Offer Email Marketing for Shopify?', and though the answer is yes, this hasn't always been the case. The email marketing service kept Shopify off their list of integrations for a number of years after they were unable to come to an agreement with Shopify regarding terms of use, although some pointed out that the move also coincided with Mailchimp's acquisition of a Shopify competitor.
Thankfully, it seems the two have finally managed to come to an agreement! So let's take a look at Shopify email vs MailChimp and see if this email marketing provider might be the better choice.
Pricing
These numbers are for their Essentials plan, which includes a sending limit of 10 times your maximum contact count, 3 audiences, single-step automations (e.g. abandoned cart), segmentation, built-in CRM and landing pages.
Free for up to 2,000 contacts
Up to 500 contacts: $9.99
Up to 2,500 contacts: $39.50
Up to 5,000 contacts: $69
Up to 10,000 contacts: $100
What we liked
The fact that Mailchimp offer a very generous free plan is pretty attractive to those with less than 2,000 subscribers, as you'll be able to send up to 10,000 emails per month.
Mailchimp have some of the best reporting features for ecommerce, including products sold from a particular campaign, total revenue, click map and geolocation tracker. Those on the Standard plan and up can benefit from Mailchimp's content optimizer, which gives you suggestions to make your emails more engaging.
There are plenty of automation templates available, which include abandoned cart, reorder reminders, lost customer recovery, etc. Transactional email and retargeting ads are also included.
Check out our video review:
What could be improved
I had some issues trying to insert the products from our Shopify store into the Mailchimp email; though you can select items from a list of your products, for some reason they don't get added when you hit 'insert'.
Mailchimp's email templates are very disappointing; the designs look incredibly outdated and there aren't that many to choose from.
Mailchimp's paid plans can get pricey pretty quickly, especially if you manage multiple lists (or audiences, as they're called) or want to set up multistep automations.
Find out more about Mailchimp's pros and cons in this Mailchimp alternatives guide.
Who we would recommend Mailchimp to
Mailchimp is a good option for those with fewer than 2,000 subscribers or for those who would benefit from their landing pages, automations and/or advanced analytics.
>> Our ecommerce email marketing statistics study found that 5.4% of big retail brands use Mailchimp as their email marketing service.
10. MailerLite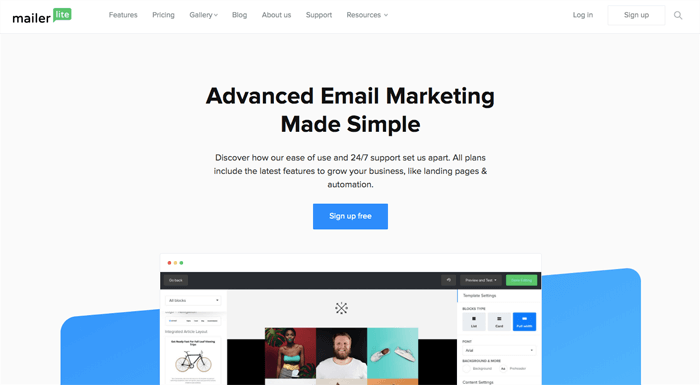 MailerLite is one of our favorite tools here at EmailToolTester. Why? Because we honestly think it's one of the best-value email marketing services out there. Apart from being affordable, it's also easy to use, and loaded with great features such as marketing automation, landing pages, surveys, dynamic content and more. Shopify store owners also benefit from a direct integration, letting you sync customer data and products, and trigger automations.
Pricing
Up to 1,000 subscribers: $0/month
Up to 5,000 subscribers: $39/month
Up to 10,000 subscribers: $73/month
What we liked
One very cool feature is that, once you have all your Shopify contacts synced to MailerLite, MailerLite automatically creates segments based on customers' history (e.g. first-time customers, repeat customers, high spend customers). You can also add MailerLite popup forms to your store with just a click of a button, and easily add store products to your emails. Plus, deliverability rates with MailerLite are (almost) unbeatable, and they have a generous free plan, too.
Check out our video review:
What could be improved
We'd really love to see some more advanced automations added to the mix. Right now, you can only build automations around the different segments available (first-time customers, repeat customers, etc.) and product purchases. It lacks automations for more advanced triggers such as when they visit a page on your website. The integration process is slightly more involved than with other tools, requiring the use of an API key (rather than just simply entering your store URL), although it's not overly complicated.
Who we would recommend MailerLite to
If you want to get the most out of a limited budget, MailerLite is the best email marketing app for Shopify we could recommend. With the exception of more sophisticated automations, it has everything you'd need to effortlessly run email marketing campaigns for your Shopify store. Its ease of use makes it ideal for beginners, too.
11. Privy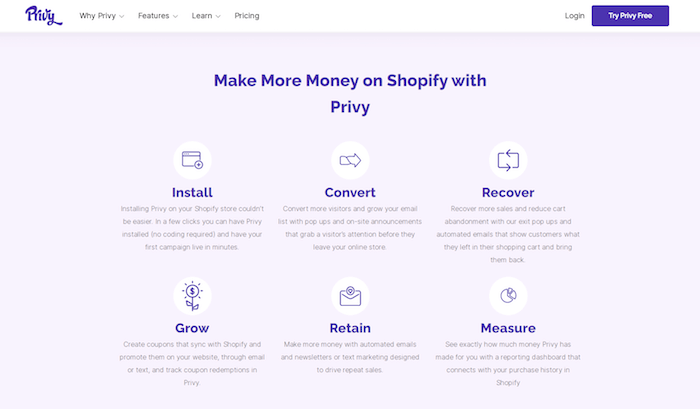 Considering that Privy is rated pretty highly by customers in the Shopify App Store, with 4.6 stars and over 18 thousand 5-star reviews, we decided to take a closer look at this email marketing app for Shopify.
Pricing
Up to 100 subscribers: Free
Up to 250 subscribers: $15/month
Up to 2,000 subscribers: $30/month
Up to 3,000 subscribers: $45/month
Up to 4,000 subscribers: $60/month
Up to 5,000 subscribers: $75/month
SMS Pricing
$10 for up to 100 Contacts. Price scales at $10/month per additional 100 text contacts.
What we liked
All paid plans come with unlimited email sends, so it's a good option for those who want to send a number of emails a month to a handful of contacts.
There are some nice-looking email templates on offer and the tool is pretty easy to use.
Because Privy is an ecommerce focused email marketing app, you'll enjoy features such as pop-ups, coupons, free shipping bars and, of course, automated abandoned cart emails.
Where they could improve
Privy's free plan is quite limited, with just 100 marketable contacts per month. You're also not able to send email newsletters on this plan. Even its paid plans aren't the most affordable, starting at $15/month for just 250 contacts. Omnisend is a much better deal.
You can set up just a couple of autoresponders (win back, abandoned cart and purchase follow-up emails) and it's not possible to design more complex, multi-step automation workflows.
Who we would recommend Privy to
Privy is for those who need a simple, well-designed solution for their ecommerce email marketing needs. It'll get the job done, but it might be lacking in a couple of features, like workflow automation. Omnisend is still cheaper, and offers more in the way of advanced features.
You can test the Privy paid plan for free and see what you think.
Try out Privy free for 15 days
12. Retainful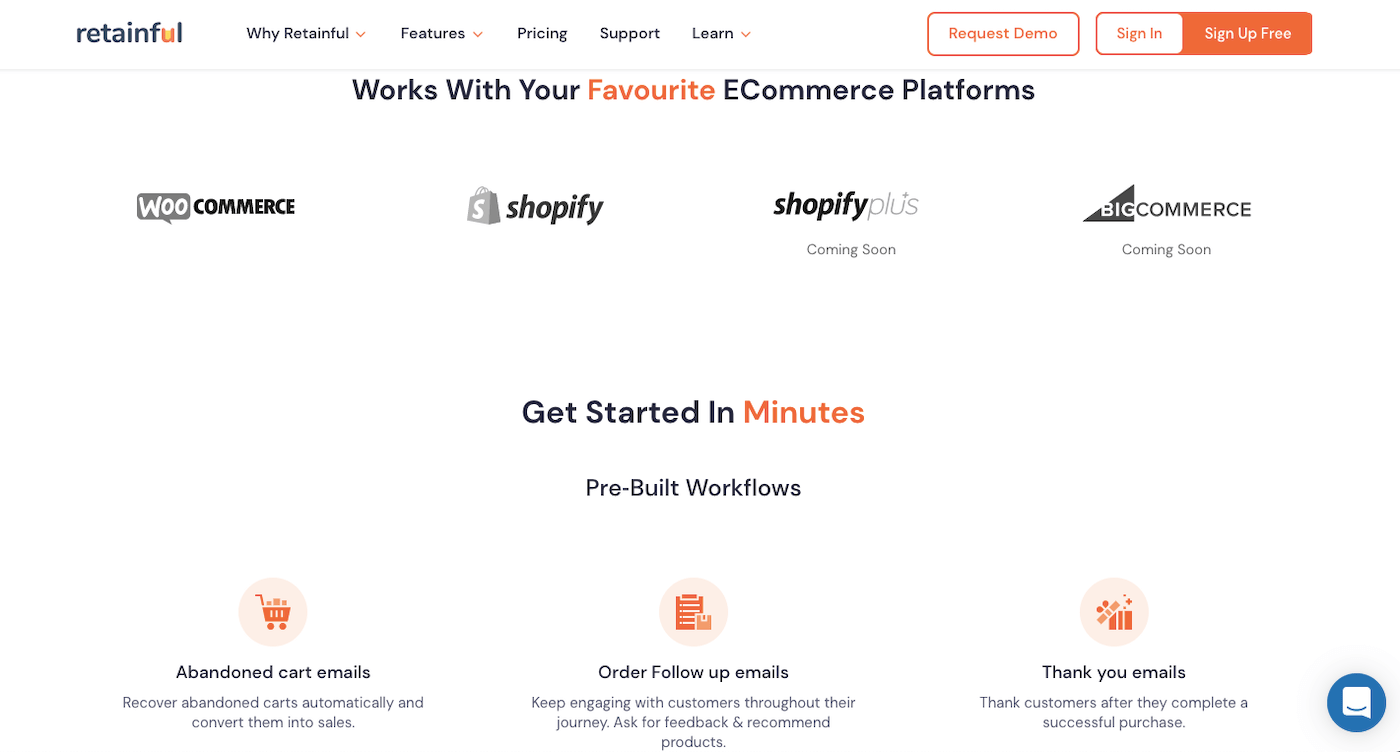 Retainful is an email marketing automation software for ecommerce. It's fairly young, yet it already boasts a portfolio of 11,000 customers.
It currently integrates with two ecommerce platforms: WooCommerce and, of course, Shopify.
Pricing
Up to 300 subscribers: Free
Up to 2,000 subscribers: $19
Up to 5,000 subscribers: $34
Up to 10,000 subscribers: $59
What we liked
It's great that the abandoned cart recovery email automation is included on the free plan, as most email automation tools will charge you for this feature. What's more, you can offer your customers coupons to use on their next order.
Once you move onto a paid plan, you'll have an unlimited sending allowance, so you'll never have to worry about running out!
Integrating Retainful with Shopify is easy to do since there is a direct integration on the Shopify App Store.
Where they could improve
It's very focused on a handful of ecommerce automations, meaning that some other areas aren't quite as developed as they are in other email marketing tools. For example, it's not possible to import contacts you've previously collected by another means – you're only able to exclusively market to Shopify contacts.
What's more, there's no email newsletter builder, so you won't be able to run more content-based email marketing campaigns such as welcome series and blog updates.
Who we would recommend Retainful to
Retainful provides a simple, easy-to-use email marketing solution for Shopify users looking to automate abandoned cart messages and other autoresponders. Those who need a more comprehensive email marketing tool may find it a bit limited.
13. ConvertKit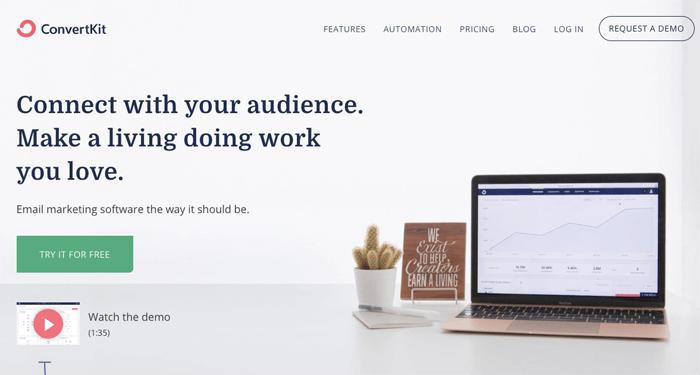 ConvertKit has proven popular with bloggers and content creators, but it also targets online store owners by offering a simple integration with Shopify (amongst other ecommerce platforms). Other features include a landing page editor and a flexible tag management system.
Pricing
Up to 1,000 contacts: $29/mo
Up to 5,000 contacts: $79/mo
Up to 10,000 contacts: $119/mo
What we liked
You can create automations around specific products that customers have purchased, or collections of products. Automations can subscribe customers to an automated email series, add/remove a tag, set a custom field, or add them to a form. Their sophisticated tagging system lets you segment users and effortlessly add/remove them from email sequences.
Check out our video review:
What could be improved
Unfortunately automations can only be triggered by a purchase, so you can't create abandoned cart campaigns or similar (at least not with the direct integration – you'd need to use a Zapier integration for this). In fact, beyond the tagging functionality, the tool itself is pretty limited. No visual email editor is available, meaning you're mostly limited to just text, and reports don't include any ecommerce stats (and are basic to boot). Plus, it's not the most affordable tool out there.
Who we would recommend ConvertKit to
It's not at the top of our list of best email marketing tools for Shopify, but provided you use the direct integration alongside Zapier, you'll be able to get a decent amount of automations going for your online store. So if you have your heart set on using ConvertKit, it's worth a go.
> Try ConvertKit for free for 30 days
14. Constant Contact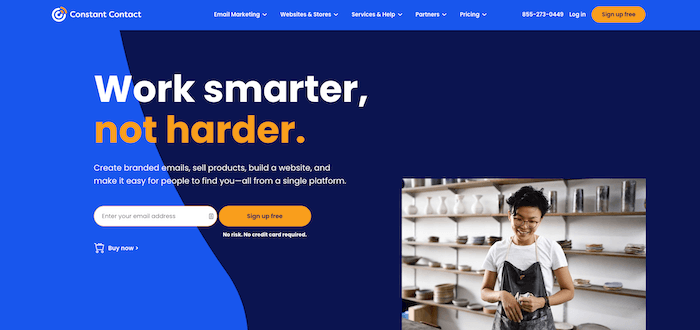 One of the better-known names in email marketing, Constant Contact offers a direct integration with Shopify, along with some unique features such as surveys, and social campaigns.
Pricing
500 contacts: $12/month
5,000 contacts: $80/month
10,000 contacts: $120/month
What we liked
Like MailerLite, Constant Contact also create pre-built segments of first-time customers, repeat customers, lapsed customers and so on. Within the email editor, you can use drag-and-drop blocks to easily insert products from your store and coupon codes.
Check out our video review:
What could be improved
Their automations aren't the most advanced. Sure, you can send abandoned cart campaigns, but not much else, unfortunately. In general, their somewhat limited features don't really match up to the hefty price tag, especially as you need to opt for their more expensive 'Plus' plan to access features such as automations and email product blocks.
Who we would recommend Constant Contact to
Given the price and the fact they recently removed the event management features (e.g. the ability to manage event invitations, registrations, and selling tickets), it's difficult for us to recommend them when compared to the other, better value for money, tools on this list.
> Try Constant Contact for free for 16 days
Should I use Shopify Email Marketing or Another Service?
As I mentioned at the beginning of this article, Shopify email marketing is offered by the website builder. So now that you've seen all that the top email marketing services can do for you and your Shopify store, which option is right for you?
Why Shopify email marketing?
It's convenient to have everything under one roof
No additional costs (until you surpass 10,500 emails/month)
Why use another email marketing service?
You'll have much more flexibility when it comes to design & customization
Advanced automations & workflows
Advanced reporting
Unique conversion-focused features
Tagging & segmentation
Sending time-sensitive emails (e.g. holiday sales) to larger lists
It's clear that those who are serious about email marketing will be looking to integrate with a third-party service, and considering the range of options and flexibility these will give you, I'd say that was a wise decision.
Best Email Marketing for Shopify: Conclusion
As you can see, there is a good range of decent tools to help you run targeted email campaigns to your Shopify customers. Which one you should use depends on what's most important to you.
If you want to be able to run complex automated campaigns triggered by customer actions (multi-step abandoned cart emails, recommended products, etc), your best bet will be a tool like Omnisend, ActiveCampaign, GetResponse, Klaviyo, Freshmarketer or Drip .
If affordability or ease of use are your main priorities, then tools like MailerLite and Brevo can help you run some relatively simple yet effective campaigns.
If you're curious to find out how machine learning technology can streamline your email marketing, then take a look at SmartrMail.
And if you have more niche requirements (e.g. for flexible subscription management), then ConvertKit offer basic Shopify integrations that could very well do the job for you.
One thing's for sure – there's a lot to gain with setting up email marketing for your Shopify store, with a lifetime of loyal customers being top of the list. If you haven't already done so, now's the time to start evaluating the best Shopify email marketing solutions to help you do that.
Note: We recommend you follow these email deliverability best practices and check out our guide to email authentication before you start sending.
Have any questions about the best Shopify email marketing apps? Let us know in the comments below!
We keep our content up to date
22 May 2023 - Added Freshmarketer
27 Apr 2023 - Updated Shopify Email review, added case study
01 Dec 2022 - Added video review of Omnisend
09 Aug 2022 - Added Retainful
12 July 2022 - Drip no longer offers plans to those with fewer than 2,500 subscribers
30 May 2022 - Updated SmartRMail and moved them up
11 Apr 2022 - Moved ActiveCamapign up
08 Nov 2021 - Added Mailchimp
26 Oct 2021 - Moved Sendinblue up
07 Oct 2021 - Video added
20 Sept 2021 - Updated Omnisend profile in light of changes to prices
02 Sept 2021 - Updated prices
22 Jul 2021 - Updated ActiveCampaign section
14 Jul 2021 - Added Privy
4 May 2021 - General update
Dec 3, 2020 - Added 'Should I use Shopify Email Marketing or Another Service?' section and videos
Jun 16, 2020 - Updated Drip profile based on new pricing model
Jun 3 2020 - Added Shopify Email Marketing App section
Dec 10 2019 - SmartrMail addition
Sept 12 2019 - Klaviyo addition
Our Methodology
This article has been written and researched following our EmailTooltester methodology.
Our Methodology