So maybe you've decided your email newsletters are in need of a refresh. Or you're just sick of your newsletters falling apart when viewed on mobile.
Unfortunately, sometimes the templates available in your newsletter tool just don't cut it. And you simply may not have the budget to have new templates designed (which can literally cost thousands!).
Luckily, we've got some great news. We've compiled this list of 1000+ completely free email newsletter templates, which you can download and use with any email service – MailChimp, MailerLite, Constant Contact, you name it. No strings attached!
What's more, all the templates are mobile-responsive, meaning they'll automatically adjust to look great on any device.
So, if you're ready to give your newsletters a makeover, and you love a good freebie (who doesn't?), check out our list of the best free newsletter templates below. Also, don't forget to read our tips on usage at the end.
If you'd like some inspiration, you can also check out these newsletter examples.
Best places to download free responsive email newsletter templates
Stripo  – Best Email Template Builder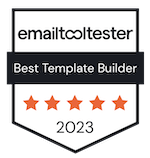 Stripo is our top email template builder! We have awarded Stripo with our badge due to its excellent builder and numerous ready-made template designs.
Stripo offers over 1250 free newsletter templates that are easy to use and easy to export to your preferred email marketing tool.
They have some really good-looking HTML designs, which are all categorized by type, industry, season and feature. You can also preview your emails across 90+ popular environments, including multiple mobile devices, and sync with 70+ popular ESPs. These include the following popular email marketing services: ActiveCampaign, GetResponse, Omnisend and Moosend. You can also integrate seamlessly with CRM software, HubSpot. Find out more about Stripo in this article on dedicated email template builders.
---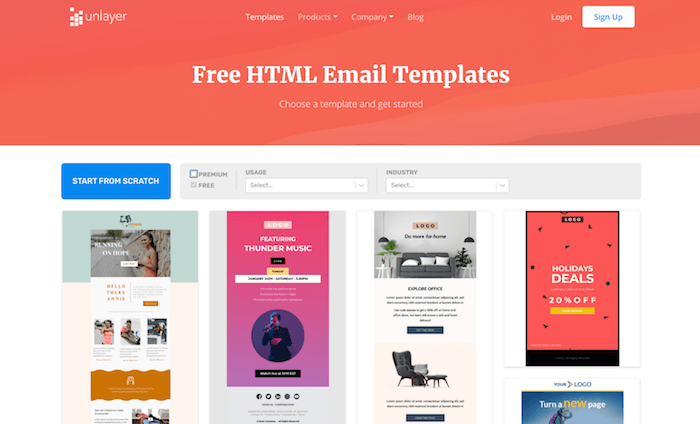 Unlayer has plenty of free HTML templates for newsletter designs. There are loads of well-designed responsive templates to choose from. You can sort by industry, but also usage, which is very helpful. For example, they have a number of transactional email templates.
---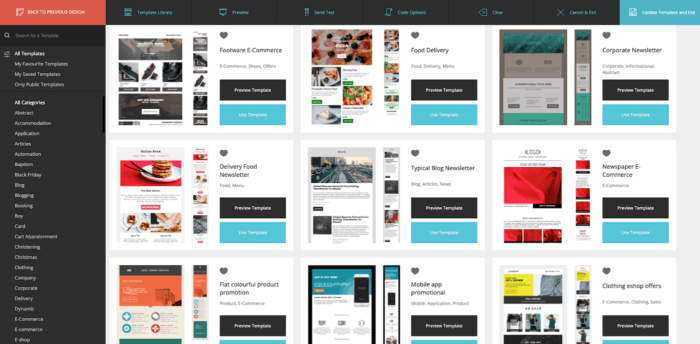 Moosend is an email marketing service that offers a good selection of free HTML templates for email. If you just want the newsletter templates, you can download the JSON file or copy the HTML code. The benefit of using Moosend is that you can use the email marketing platform to send your newsletters, set up automated campaigns and see reports all for free. What's more, you won't have to worry about them adding their logo – all emails are branding-free!
---
TOPOL offer 40 responsive email newsletter templates for free. The designs are colorful and fun, and there's quite a variety. There are various export options, for example, you can download the HTML or export it directly to email marketing platforms, Brevo or Mailchimp.
---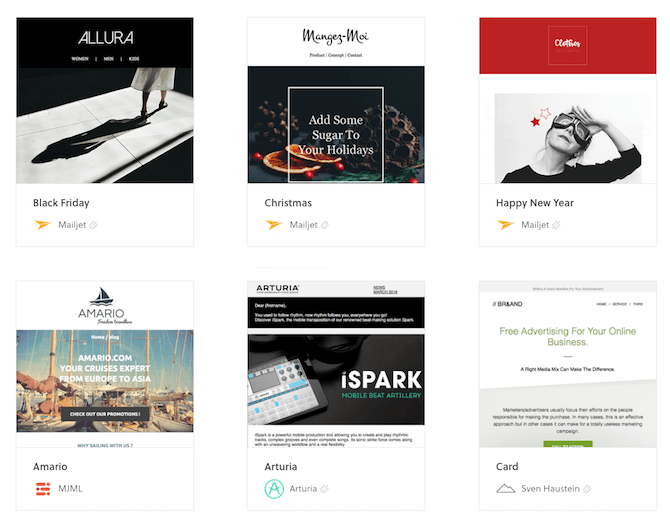 If you're looking for a free HTML newsletter template, MJML use their open-sourced markup language to generate responsive HTML code that can be copied and pasted into your email tool. Over 20 HTML templates for email are available on their site. Check out their free templates for newsletters and see if they have what you're looking for!
---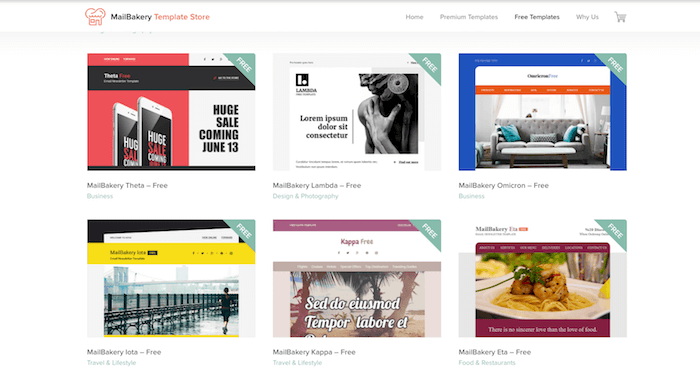 MailBakery has tons of modern free HTML templates for email, fully responsive email templates to choose from. These are organized into categories, for example, ecommerce, food & restaurants, travel, etc.
---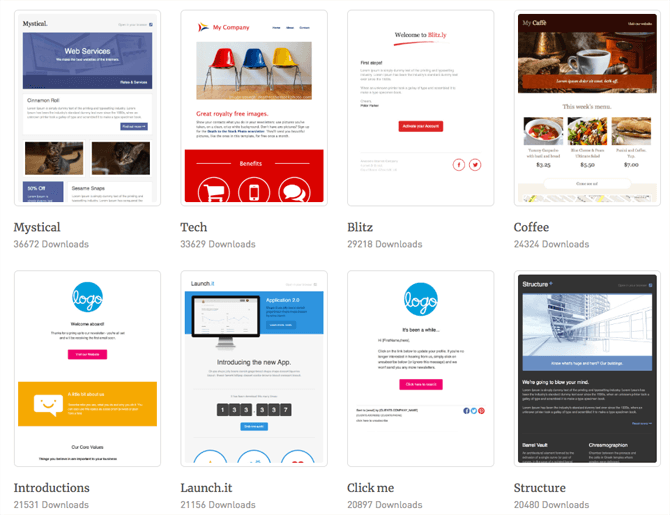 Email marketing service Cakemail have generously made 39 of their templates free to download. The fact that it tells you how many downloads each email template has had, gives you an idea of their popularity. The templates themselves aren't bad, if you're looking for something classic and not too flashy.
---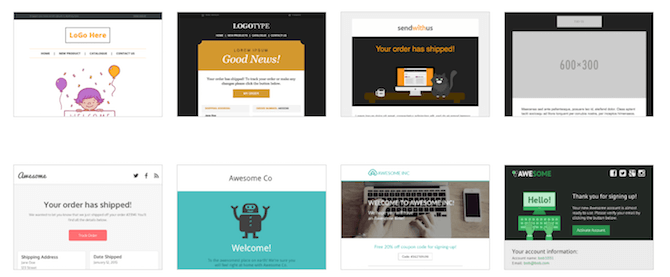 Dyspatch provide 14 open-source free HTML templates for email, including newsletters, welcome and confirmation emails.
---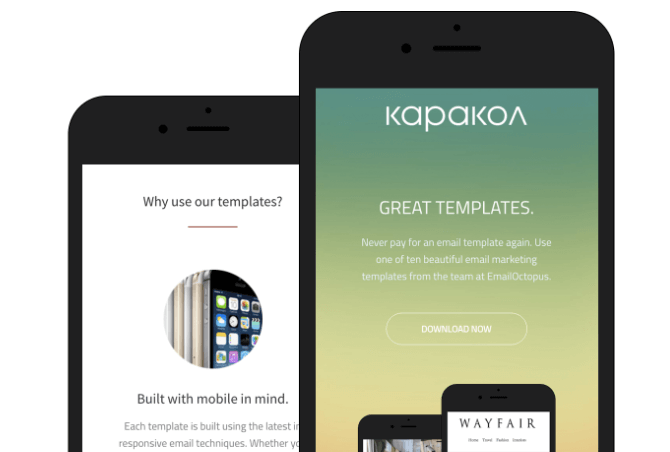 GitHub's repository includes hundreds of responsive email HTML files, which you can browse through and download. Recommended open source email templates include Antwort and EmailOctopus.
---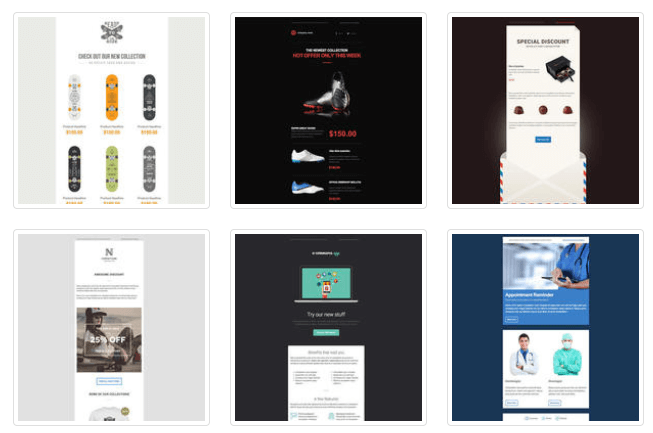 A collection of 16 responsive email templates from around the web.
---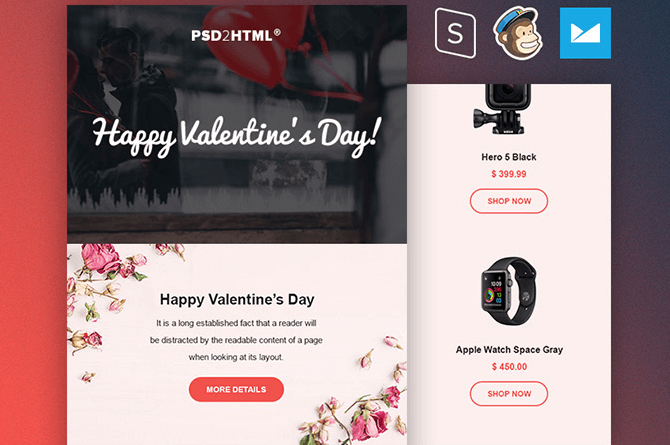 Pixelbuddah gives you 15 different responsive HTML templates, including holiday themes. Their designs are definitely worth checking out.
---

Dribbble is an online community of designers. A quick search through the site will help you find a few modern-looking HTML email templates that you can download.
---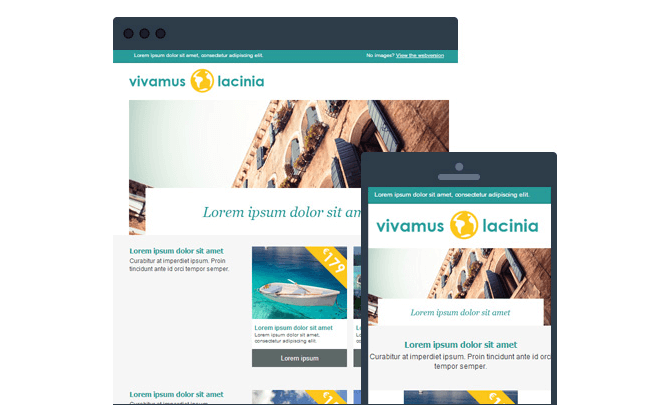 5 mobile-optimized templates are available from this marketing automation provider.
---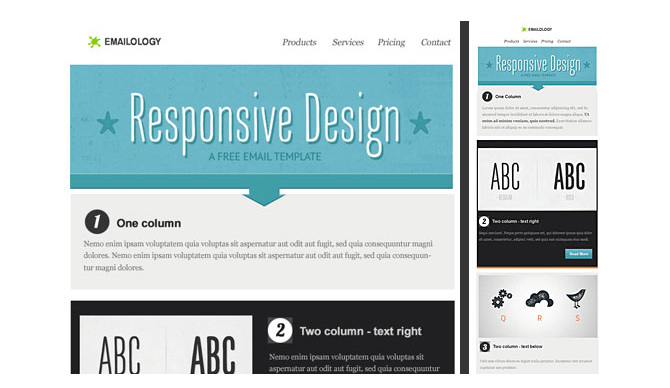 Email testing company Email on Acid have designed a versatile free email newsletter template with various elements/sections that you can mix and match.
---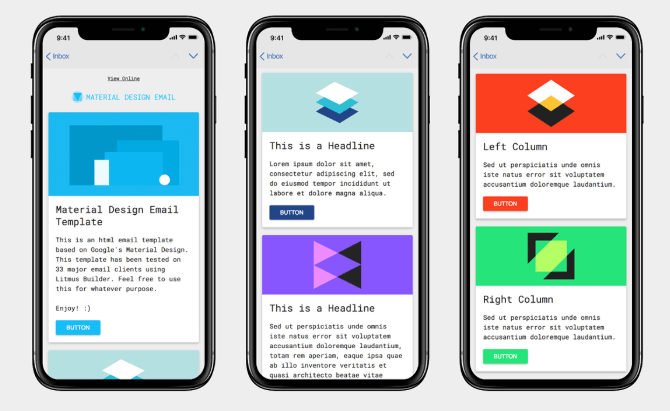 On this design portfolio site, you'll find this fresh-looking template, which has been tested on 33 email clients using Litmus and is based on Google's Material Design.
---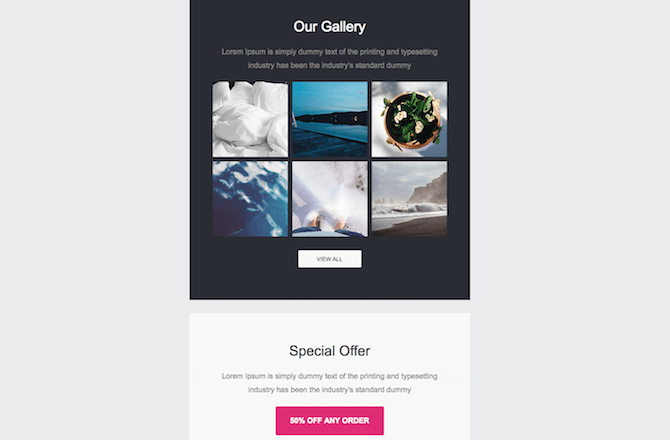 This clean-looking newsletter template includes multiple sections, has been thoroughly tested, and comes with a PSD file.
---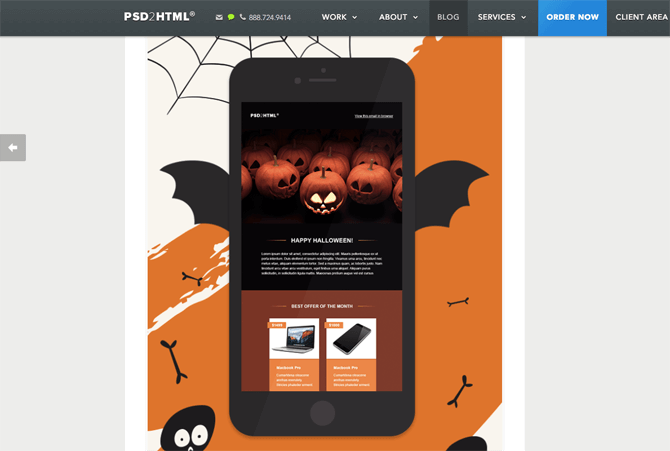 Holiday email templates are in high demand! Browse through the 'freebies' blog posts to find two Halloween and Valentine's Day-themed templates.
---

These 3 simple, flat-design templates look great on mobile and have been tested with all major email clients.
---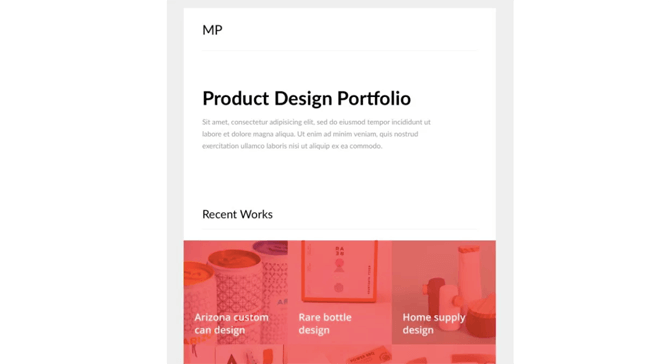 Development agency Slicejack offer a stylish newsletter template that's been tested with Litmus and Email on Acid.
---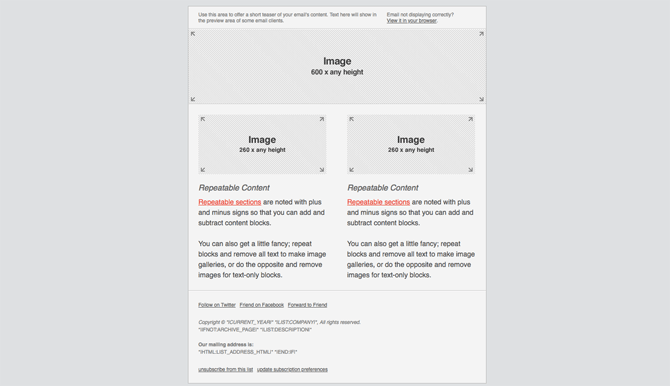 Mailchimp offer about a dozen free HTML templates for email, some of which are simply email layouts, which you'll need to add your own colors and styling to.
In the past, the free plan granted you access to 100+ MailChimp templates to be used within MailChimp. Now, the selection is much smaller (just 8), and the designs could really do with an update. Different categories include ecommerce, newsletters, events and holidays: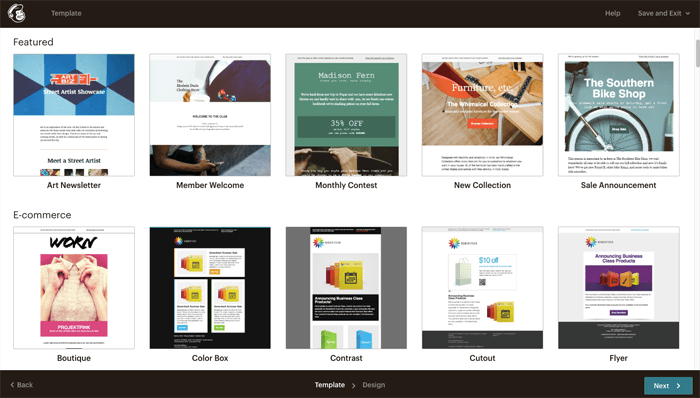 There is a way to export a Mailchimp campaign and use it on another email marketing tool – check out the article link for more information. Note that the Essentials plan has much more in the way of templates.
You can sign up for free and get access to the free MailChimp templates here.
---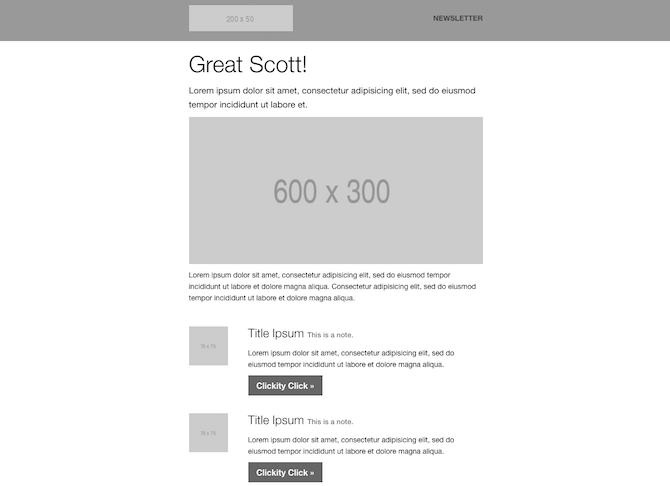 Their 5 free templates are basic, and will probably need some styling/colors applied to them. But they've been optimized for a wide range of mobile and desktop email clients, so they're a safe bet. Note that HTML and CSS files come separately – they'll need to be combined using either your email service (if it does this) or an inline tool like Zurb's own.
---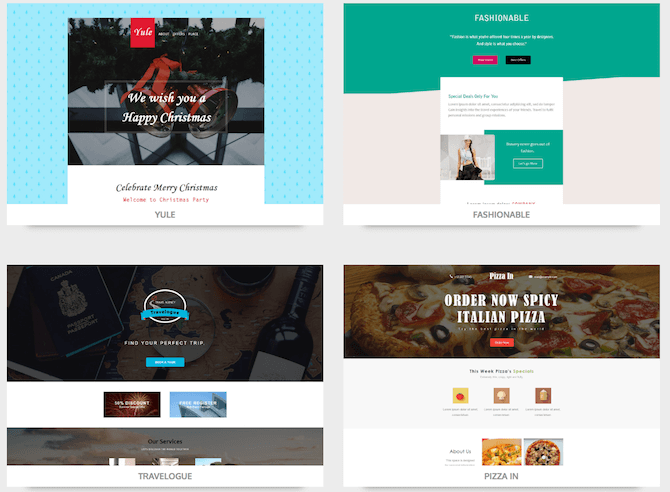 Their 50+ newsletter templates are completely free. The only catch? You have to keep the footer link to their website.
---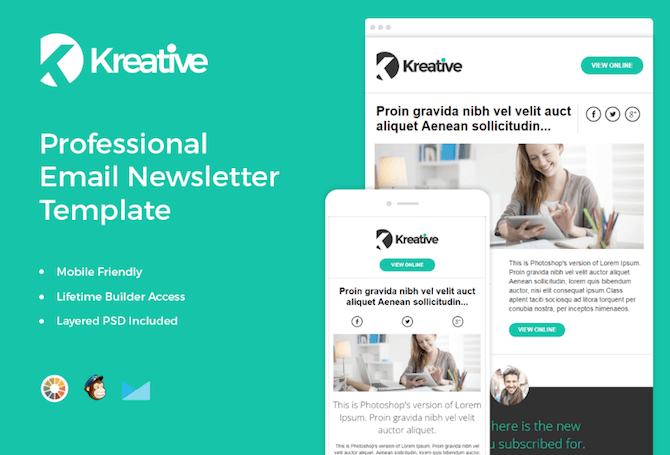 This email newsletter template can be edited using ZippyPixels' online editor, then downloaded. You'll receive a plain HTML version, as well as versions specifically made for CampaignMonitor and MailChimp. Note that it can only be used for non-commercial purposes, and that ZippyPixels must be credited.
---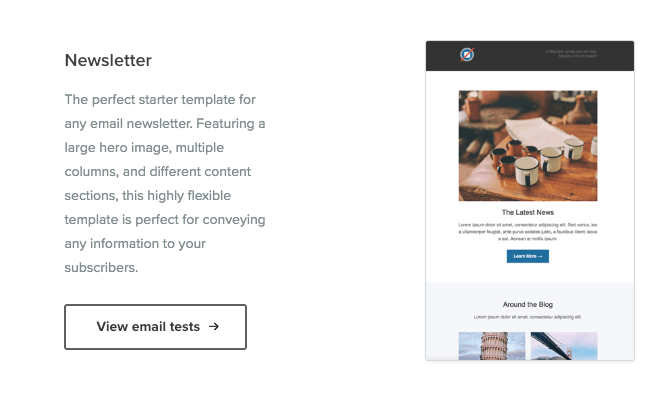 Litmus are the authority on email design and testing, so it's no surprise that they'd offer their own responsive email templates for download. All 5 are free and fully tested, of course. You need to subscribe to their mailing list in order to download them.
---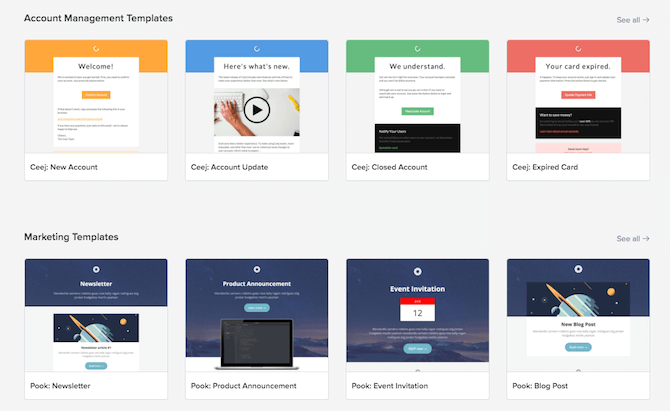 Litmus have also made 25+ email templates available on Litmus Community, including marketing and ecommerce templates.
---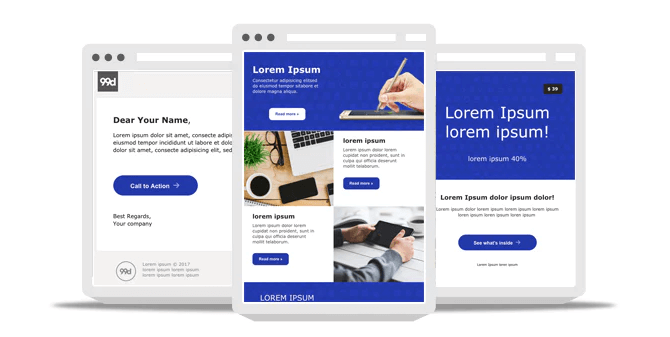 99designs have put together 3 professionally-designed email templates (newsletter, promotional and personal email), in various styles and colors, giving you a total of 45 options. Email signup is required.
---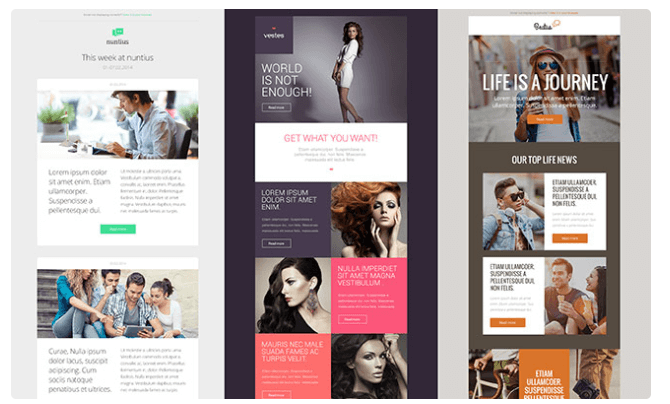 Sign up to Freshmail's mailing list and you'll get 3 stylish HTML templates, along with PSD files.
---

Email template marketplace Stamplia have made 7 templates available on the Litmus site – you just need to signup to receive them.
---
Designmodo's Postcards is an email template builder that will let you create your own ready-to-go email, using drag-and-drop content blocks. There is a free plan (sign-up required) that will let you create and export a HTML newsletter email template using a handful of the modules. It's easy to use, and the designs are decent. However, for access to all the modules you'll need to upgrade to a paid plan. Try it here.
---
Quick tips for using these free email newsletter templates and HTML newsletter design
These templates should be compatible with any email service or newsletter tool that allows you to create emails using your own HTML (e.g. MailChimp, ActiveCampaign). That being said, you'll need some HTML knowledge in order to be able to edit the content of the emails (text, images, links, etc). We'd recommend preparing the code in an HTML editor like Atom or Brackets (or even Notepad++) before uploading it to your newsletter tool.
Instructions for uploading your own templates should be available from your email tool. Some tools (such as MailChimp) allow you to upload zip files, meaning all content (including HTML and image files) will get added to the tool and be ready to use. Others will allow you to upload only the HTML files or to just paste in the code – in this case, you'd need to make sure the images are hosted publicly online, or uploaded to your sending tool. Otherwise, they won't display in your email.
While many of these templates have already been tested, it's important to do your own spam and design testing once you've finalized your email, to make sure there are no problems with deliverability or display. Services such as Glock or Litmus can help with this. Your email tool might also have spam and design testing built-in.
Without getting too technical, it's worth remembering that code used for emails is quite different to that used for web pages. For example, while CSS (the code that defines email and webpage styling) is often inserted in the <head> of a webpage's HTML, or saved in an external file, these methods won't work with a lot email clients. That's why CSS needs to be inlined for emails (most of the templates above already have this). And while you'll often find JavaScript, videos, flash and other media files used on webpages, spam filters will block out any email containing these, so make sure not to include them in your emails.
More tips on HTML email newsletter design and email coding best practices are available from MailChimp and Benchmark.
As you can see, you can access so many newsletter templates for free!
Are there any other free email newsletter templates we've missed? Let us know in the comments below!
Couldn't find the right free template for your newsletter? Check out ThemeForest's range of best-selling newsletter templates.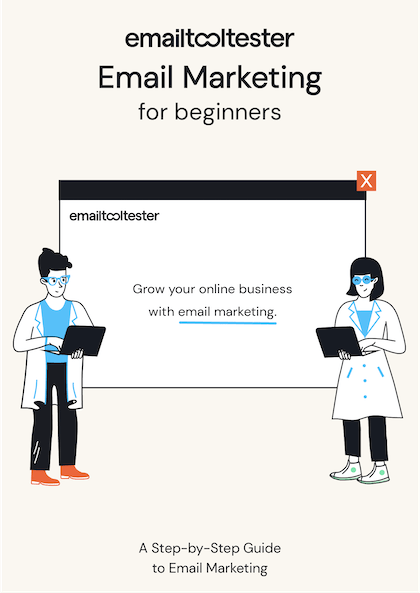 Email Marketing Crash Course: Step-by-Step Guide
Our email marketing course for beginners: ideal for small and medium-sized businesses, online stores and bloggers. It shows you all the steps you need to send your first email campaign. Best of all, it's free!
Sign up to receive your copy immediately!
We keep our content up to date
13 Dec 2022 - Added Moosend YouTube review
29 Nov 2022 - Added badge and updated Stripo profile
18 Jul 2022 - Updated Mailchimp section
05 Apr 2022 - Added Moosend 
27 Oct 2021 - Removed SendX as no longer free
29 Sept 2021 - Stripo added more templates
25 May 2021 - New features image and templates
17 May 2021 - Added TOPOL.io
16 Feb 2021 - Added MailBakery and Unlayer
18 Nov 2020 - General update
23 Apr 2020 - Added Stripo
Our Methodology
This article has been written and researched following our EmailTooltester methodology.
Our Methodology