Holiday emails can be a highly effective form of communication with your audience, taking advantage of popular holidays and occasions to boost sales. Effective holiday emails are typically brief, offer attractive deals, and take advantage of the prime shopping time. To make your life easier during these busy times, we recommend using holiday email templates.
Using an email template can save your team a lot of time and can help to ensure brand consistency. Additionally, using a template can help ensure that you haven't left any important information out when sending an email.
What are the best email template providers?
Email marketing providers offer a wide range of templates that can be customized to suit your needs and branding. Some email marketing services also offer additional features such as automation, A/B testing, and analytics. It's best to research and compare different email providers to find the best one for your marketing needs and budget.
There are many providers that offer email templates, some popular ones include:
There are also dedicated builders. Check our post on the best email template builders.
7 Holiday Email Templates from different providers
There are several main holiday events that take place in the United States, including Christmas, Thanksgiving, Halloween, Easter, Black Friday and Independence Day. We're going to look at the best email templates we've found for these events.
New Year's Eve Email Template
New Year's Eve marks the end of the old year and the beginning of the new one. Around this time of the year, there are usually feelings of hopefulness and warmth, as well as lots of resolutions being made. And the best way to show your customers you care is by sending a simple Happy New Year email, with the sole intention of wishing them the best for the year ahead. Sometimes this kind of email template brings more value by showing your customers that you care about them.
Email Template from Moosend
Moosend offers over 75 stylish and useful templates for all types of campaigns, here is an example of one of their templates:
What we like: The combination of pastel colors and the minimalistic layout work really well together. Everything is clear and concise on the page, making it more appealing for your customers. Both call-to-actions are well highlighted without being too invasive.
Valentine's Day Email Template
Celebrated on February 14th, Valentine's Day is a time to express love and affection to those special to you. Many people give flowers, chocolates, or cards to their loved ones.
Chamaileon Valentine's Day Email Template
During this romantic holiday, it's common for brands to offer plus ones to their services, or send promo codes for discounts, enticing their customers to spend their money on their loved ones. You may even choose to send some freebies or discounts to your customers, appreciating their loyalty by spreading some love, ​​like here, with Chamaileon:

Easter Email Template
Next up, Easter. This holiday is typically celebrated in late March or early April, and due to its predominantly younger audience, businesses use this holiday as an opportunity to sell sweet treats or Easter-themed toys and accessories.
Easter Email Template from Bee
You might want to use this opportunity to share a discount code for your products in the run-up to Easter, or even promote some kind of competition for your products. Bee have more than 1260 Free Email Templates available. Check out this example: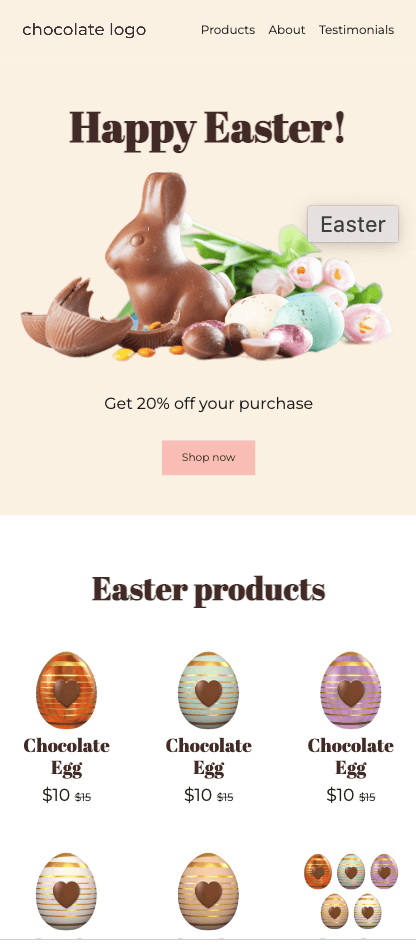 Independence Day Email Template
Celebrated on July 4th, Independence Day is marked by fireworks, parades, and barbecues.
This is a very important holiday in the US, and companies can take great advantage of this by promoting special offers in the run-up to this day.
Stripo Independence Day Email Template
Just like Christmas, it's a holiday that families and friends are often preparing for in advance, so use this lead-up to showcase your special offers and ideas for their celebrations. Check out this template by Stripo:

Halloween Email Template
Celebrated on October 31st, Halloween is a time for costumes, trick-or-treating, and parties. It is also known as All Hallows' Eve and is popular among adults and children. Even if you are not a candy retailer, it still might be worth sending a promotional email to get your audience's attention during this spooky holiday.
Halloween Email Template from ActiveCampaign
Halloween is a great opportunity for some smart copy, a simple pun, or a play on words that can help you to boo-st some sails. (Sorry, couldn't help myself!). ActiveCampaign provides some great templates, check their Halloween email template below:

Thanksgiving Email Template
Thanksgiving is a national holiday in the United States, celebrated on the fourth Thursday of November. This is a time for gatherings with your loved ones and expressing gratitude for one and another.
Thanksgiving Email Template from GetResponse
Thanksgiving is a great opportunity to showcase your business values and reinforce your relationship with your customers by showing that you appreciate their loyalty. You may choose to send them a discount code, just like this simple but elegant GetResponse template: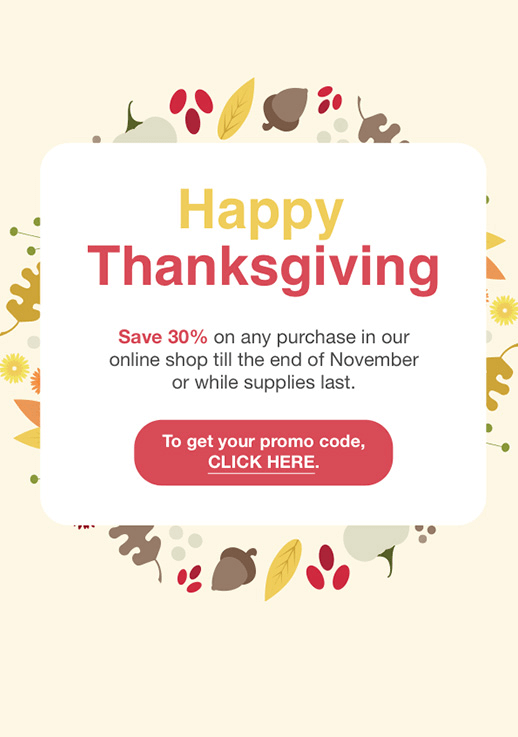 Christmas Email Template
Christmas, falling on December 25th, is a time for family gatherings, gift-giving, and exchanging Christmas cards. It is undoubtedly the biggest shopping event of the year, as a lot of people are searching for gifts for their loved ones.
Christmas Email Template from MailerLite
As a marketer, you should make the most of this opportunity by sending Christmas-themed newsletters that not only showcase your products/services but also spread some festive joy. This should hopefully create a sense of togetherness between your brand and your audience. MailerLite is one of our favorite email templates builders, check their template below:

Holiday email examples you can use for your business
1. Holiday Sale Announcement Email
Subject Line: Deck the Halls with Big Savings!
Dear [Recipient's Name],
The holiday season is upon us, and we want to spread some cheer by offering you some amazing deals! From [start date] to [end date], take [discount percentage or amount] off all of our products. Don't miss out on this opportunity to get your hands on the perfect gifts for your loved ones (or yourself!)
Use the code [promo code] at checkout to redeem your discount.
Happy holidays from [Your Company Name]!
2. Gift Guide Email:
Subject Line: Give the Gift of [Your Product/Service] This Holiday Season
Dear [Recipient's Name],
It's that time of year again! The holiday season is here, and we know it can be hard to find the perfect gift for your loved ones. That's why we've put together a gift guide to help you out.
[Include a list or images of your top products/services with a brief description of each and the pricing]
Don't forget, we offer gift wrapping and can even include a personalized note with your purchase. Order by [date] to ensure delivery before the holiday.
Thanks for choosing [Your Company Name]!
3. New Year's Promotional Email:
Subject Line: Ring in the New Year with [Your Company Name]!
Happy New Year [Recipient's Name]!
We hope you had a wonderful holiday season and are ready to tackle the new year. To help you get a head start, we're offering a special promotion just for you. From [start date] to [end date], take [discount percentage or amount] off [your product/service].
To redeem your discount, use the code [promo code] at checkout.
Thanks for choosing [Your Company Name] and we look forward to helping you achieve your goals in the new year.
4. Holiday Thank-You Email:
Subject Line: Thank you for a Wonderful Holiday Season!
Dear [Recipient's Name],
We wanted to take a moment to express our gratitude for your continued support throughout the holiday season. We couldn't have done it without you!
We hope you had a wonderful holiday, and we wish you all the best in the new year.
Thank you for choosing [Your Company Name].
5. Holiday Shipping Reminder Email:
Subject Line: Last Chance for Holiday Delivery!
Dear [Recipient's Name],
The holiday season is in full swing, and we want to make sure your gifts arrive in time for the big day. Our last day for shipping is [date].
We also offer gift wrapping and can include a personalized note with your purchase.
Don't miss out on the opportunity to make this holiday season one to remember.
Order now and have your gifts delivered in time for the holidays!
Thank you for choosing [Your Company Name]!
Note: Keep in mind that these are just examples, you should tailor them to your business, audience, and goal.
Some Holiday Customer Email Tips
To conclude, here are a few tips for crafting effective holiday customer emails:
Personalize the emails. Address the recipient by name and make the email feel like your email was written specifically for them.
Make the subject line compelling. Use holiday-themed words to grab their attention and entice them to open the email.
Be clear and concise. Get to the point quickly and make it easy for customers to understand what you're offering.
Use a clear call to action. Tell customers exactly what you want them to do, whether it's to buy a product or sign up for a service.
Include a sense of urgency. Let customers know that there is a limited time to take advantage of your offer.
Use festive and attractive images or design elements to make the email look more interesting.
Make sure the email is mobile-friendly and easy to read on different devices.
Test the email before you send it out to ensure that all the links and images work correctly.
Use a clear form name and make sure your unsubscribe link is easy to find.
Always include a "Thank You" message at the end of the email.
Holiday Email Templates: Conclusion
We hope you've found this selection of holiday email templates useful!
If you need more inspiration, check out these newsletter examples. You might also want to check out these free newsletter templates.
And if you're curious about ecommerce email marketing statistics, check out our study, which highlights retail's biggest senders and the email marketing services they use.
If you are struggling to choose your email marketing service, leave us a comment below.
Our Methodology
This article has been written and researched following our EmailTooltester methodology.
Our Methodology