Email marketing has huge potential, but you have to get your strategy right. Aside from selecting the best email marketing service, you'll also need to make sure it comes with professional-looking templates you can adapt to your needs. Or, if not, you'll need to find a dedicated email template builder like Stripo, BEE or Chamaileon.
Why Use An Email Template Builder?
Using an email template builder is a sure way to produce professional and attractive-looking email newsletters and campaigns.
If we compare a plain text email to an email designed using a template builder, we can clearly see why.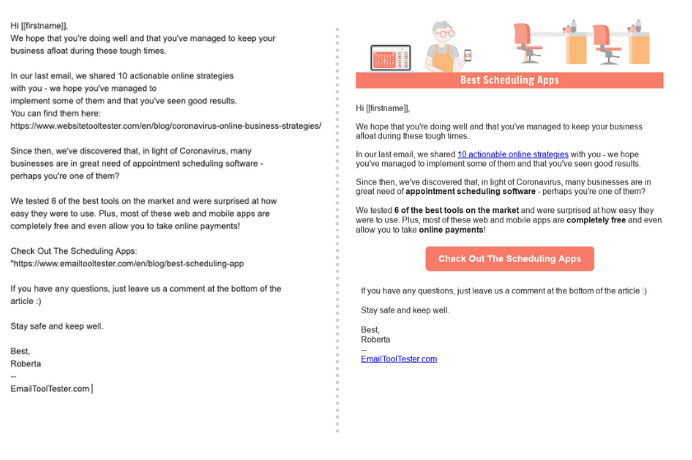 An email template builder will allow you to produce an HTML email template, either by writing the code yourself or by using the drag & drop builder and ready-made templates.
Not only will it allow you to create branded emails that recipients will remember, but using a well-designed template will also lead to more engagement and a higher conversion rate. After all, in the plain text email above, there is no clear call-to-action, whereas the button used in the email on the right clearly indicates what action you need to take.
What's more, coding an HTML email yourself can often produce less than favorable results. To avoid this email marketing mistake, use a pre-made template that has been tried and tested.
Other benefits include:
Save you time: HTML email designers come with a number of ready-made templates and designs that you can easily customize to your needs. All the content options are already there (buttons, images, text, etc.) so it'll take you no time to get the email looking exactly as you want it.
Ease-of-use: Most of the time these will be drag & drop editors, meaning that you won't need any coding experience at all. Some builders are easier to use than others, but in general, they provide you with the means to create something attractive with zero prior experience.
Conveniently stored in the cloud: Being online tools, you don't need to install any software on your computer. This is also a plus for larger teams who want to collaborate on any given email campaign, as most email design tools allow for multiple user accounts. It also makes editing and re-using a template very simple.
Branding: Upload your logo and customize the HTML email template with your brand colors and font. Save certain elements, like your header and footer, ready to be used in future templates.
Boost engagement: Add engaging content such as videos, image carousels, surveys and quizzes. Many email template builders will include these types of content blocks, meaning all you have to do is drag them over into the email you're working on.
What Makes a Good Email Template Creator?
The answer to this question largely lies in your own requirements and preferences. Some might prefer a drag and drop email builder, others might prefer a WYSIWYG (What You See Is What You Get) editor. Those with some coding knowledge will no doubt appreciate additional customization options and the ability to edit the code. However, in general, these are the things to look out for:
A decent email template library
Fully responsive designs
Clean user interface/good UX
Sufficient customization options
Quick preview option
Collaboration features
Built-in image editing
Compatibility with email clients
Integration with email service providers
So, bearing all that in mind, let's see how the top email template builders compare.
The Top 9 Email Template Builders
Stripo – 1,500 responsive templates! 
Tabular – Extremely user-friendly tool
BEE – Over 500,000 stock images, GIFs & stickers
Topol.io – Easy to use email builder
Postcards  – Collaboration features
Chamaileon – Excellent image editing features
Moosend  – ESP with export options
SendPulse – Includes subscription forms and automation
MailerLite – Tons of cool content elements
1. Stripo (Dedicated email template builder)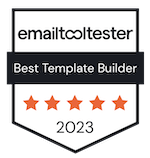 Stripo is our top email template builder! We have awarded Stripo with our badge due to its excellent builder and numerous ready-made template designs.
Stripo claims to have almost 100 geniuses in its team – but is the HTML email creator a product of pure genius?
I must admit that I was quite impressed with it. After all, it integrates with over 70+ ESPs, including our top-rated providers ActiveCampaign and Brevo, and offers a pretty generous free plan. Furthermore, Stripo is always adding new email marketing services and templates to its selection; in the last few years, it's doubled!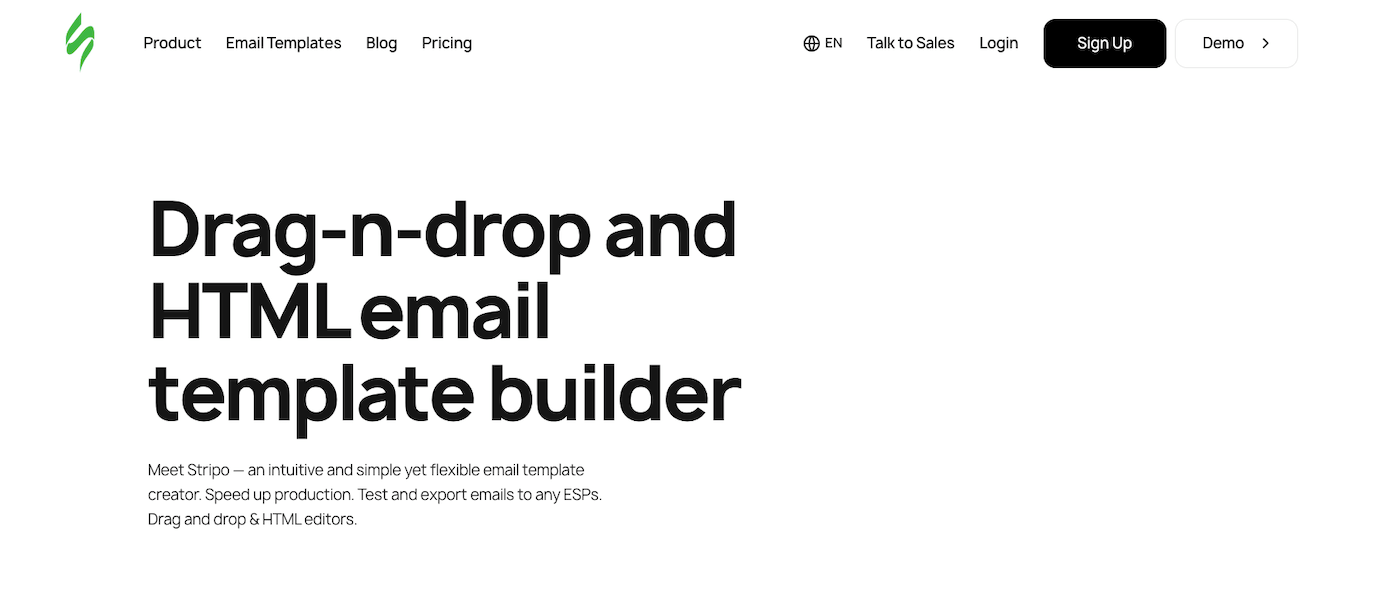 What I liked about Stripo:
Stripo offers around 1,500 prepared HTML email templates, most of which look really good. They are also neatly categorized so it's easy to find something that fits your needs quickly.
In terms of customization options, there are tons. So you should have your template looking just as you want it without too much trouble. For example, you can edit and opt to include or omit certain content depending on if it's being displayed on mobile or desktop. You can also upload custom fonts.
The content blocks available are probably sufficient and you can even use AMP for Email, which allows you to add dynamic content like image carousels and accordions. Stripo also recently launched an AI content improver for subject lines and hidden preheaders.
One very helpful thing about the Stripo email editor is that it tells you if there are any errors, for example, if you forget to add content to a particular block.
In fact, it's one of the best free email template builders – you can try it out anytime without registration.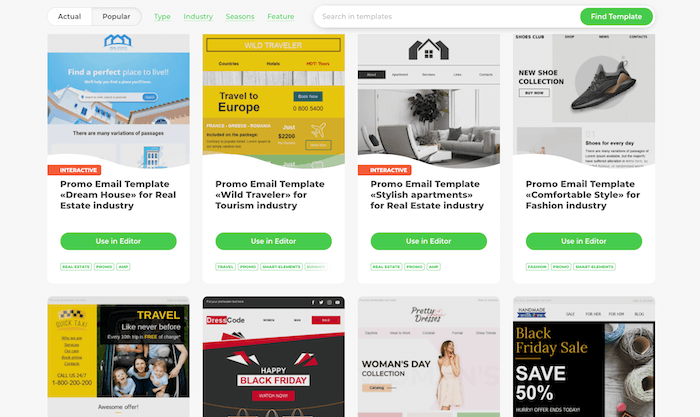 What Stripo could improve:
You need the Medium plan to add multiple users (3 users with the Medium plan. 10 users with the Pro plan and 100 users with the Prime plan). Similarly, you can only create Brand Guidelines on paid plans. It would also be great if they offered real-time commenting features, although it looks like these are coming soon.
Stripo Pricing:
Free for 1 user, 1 project, 10 stored templates, 4 exports per month, full access to the templates library.
The Basic plan will cost you $15/month and gives you 50 stored templates per project, 50 exports to your email service provider per month and the ability to test your template on 2 email clients.
The Medium plan will cost you $45/month and gives you 300 stored templates per project, 300 exports to your email service provider per month and the ability to test your template on 2 email clients. Up to 3 users.
The Pro plan will cost you $95/month and gives you unlimited stored templates per project, unlimited exports to your email service provider and the ability to test your template on 3 email clients. Up to 10 users.
2. Tabular (Dedicated email template builder)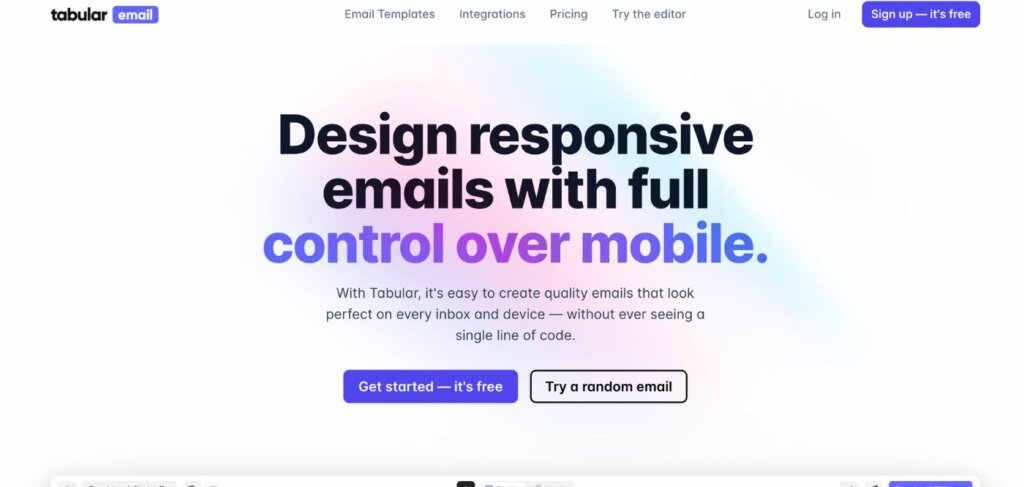 Tabular is an email template builder that allows you to create responsive HTML email templates without any coding experience. It's perfect for anyone who wants to create professional-looking emails quickly and easily.
What I liked about Tabular:
The drag-and-drop email builder is very easy to use and you can choose from a variety of pre-built "blocks" including text, images, buttons, and more. You can also save these as "team blocks" so that your team can easily access them later, helping your brand to stay consistent and save time.
The platform also offers responsive design options, ensuring that your emails will look great on any device.
They offer 37 modern email templates for free, the templates are categorized as transactional, relational, and promotional.
One of the standout features of tabular is its email testing functionality. With the core focus of saving you time, you can test your templates in multiple email clients to make sure they display correctly. This is an extremely helpful feature as different email clients can interpret HTML code differently, and you don't want your email to appear broken and end up looking unprofessional.
Tabular also offers a free version, so you can get started with creating some email templates and see if it's the right tool for you. There's also a paid plan with additional features, including access to more pre-built blocks and the ability to import your own HTML code.
Where Tabular could improve:
Although they integrate with Klaviyo, Brevo, Mailchimp, Hubspot, SendGrid, and a few more, they don't integrate with all of our top email marketing platforms… yet. We'd like to see some more integrations on offer soon.
Tabular Pricing:
Free Forever plan: Create and download 3 custom emails per month, send up to 4 email previews a day, collaborate with others on emails, and gain access to 37 free email templates.
Paid Plan: $14 per month (billed annually) or $19.99 a month – Create unlimited custom emails, download PDFs to share with others, send unlimited email previews to your inbox, automatically upload your emails to 6 platforms, support for Mailchimp and Klaviyo email builders, ability to import emails from other teams, unlimited email collaboration capabilities
Try Tabular for free (use offer code 25FORYOU for a special discount)
3. BEE (Dedicated email template builder)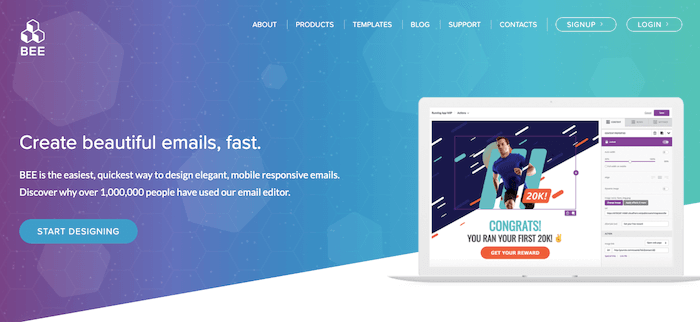 Apparently, over 1,000,000 people have built emails on the BEE platform, and with over 370 responsive templates available, you can imagine why. But how easy is it to use and what options might it be missing?
What I liked about BEE:
BEE has some pretty decent image editing options, plus you'll have over 500,000 stock images and tons of fun GIFs and stickers to choose from.
You can add ESP-specific merge tags in order to add a personal touch to your content. Once your design is ready to go you can export it directly to your ESP (Mailchimp, HubSpot, Brevo, Gmail and ActiveCampaign are just some of those supported).
As well as the option to download the email template in HTML, you can also download your design as a PDF, which could be handy if you need to print it.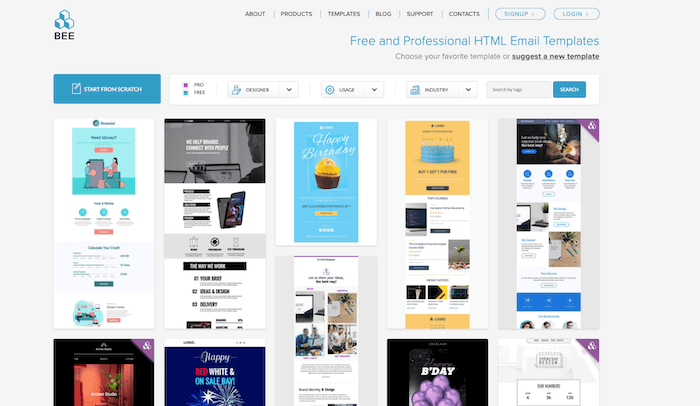 What BEE could improve:
On the free plan, you'll only be able to save and re-use limited content, for example, the header or the footer. It's not possible to export as a PDF and you'll have to put up with the BEE branding.
BEE Pricing:
Free plan comes with a stock image gallery and the ability to export the HTML email template with images.
Paid plans from $30/month for 3 projects and designs. You'll also be able to set user roles and permissions, remove BEE's branding and use custom fonts.
4. Topol (Dedicated email template builder)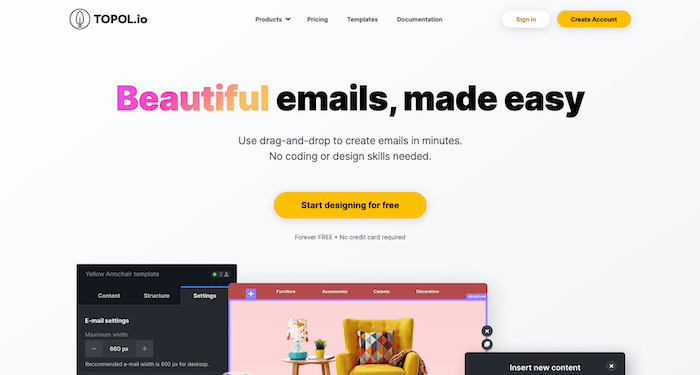 Topol's email template builder is perfect for absolute beginners, as you don't need any coding or design experience to use it.
There are over 150 responsive templates available, though you'll need the Pro plan to access them.
A big advantage is how easy the drag and drop email builder is to use. It's fast and, though there are plenty of customization options, it feels intuitive.
What I liked about Topol:
The download options are extensive; you can download the HTML (including images) or export it directly to email marketing platforms such as Brevo, Mailchimp or Constant Contact (on the Pro plan). You can also create an expirable link to share your email template with a client or colleague.
Editing the email templates is easy to do, plus the integration with Pexels means you have access to professional photos, though this feature is reserved for paying customers.
You can also create folders to keep your templates organized, and create different teams – which works really well if you have multiple clients.
What Topol could improve:
There could be more integration options – also be aware that these are only available on the paid plan. In fact, the free version is extremely limited.
Topol Pricing:
Free: Create unlimited email templates. Inlcudes 5 GB of data traffic. Note that pre-made templates are not included
Pro: $10 per month
Team: $15/month for 3 members. Add additional team members for $10/month
5. Postcards (Dedicated email template builder)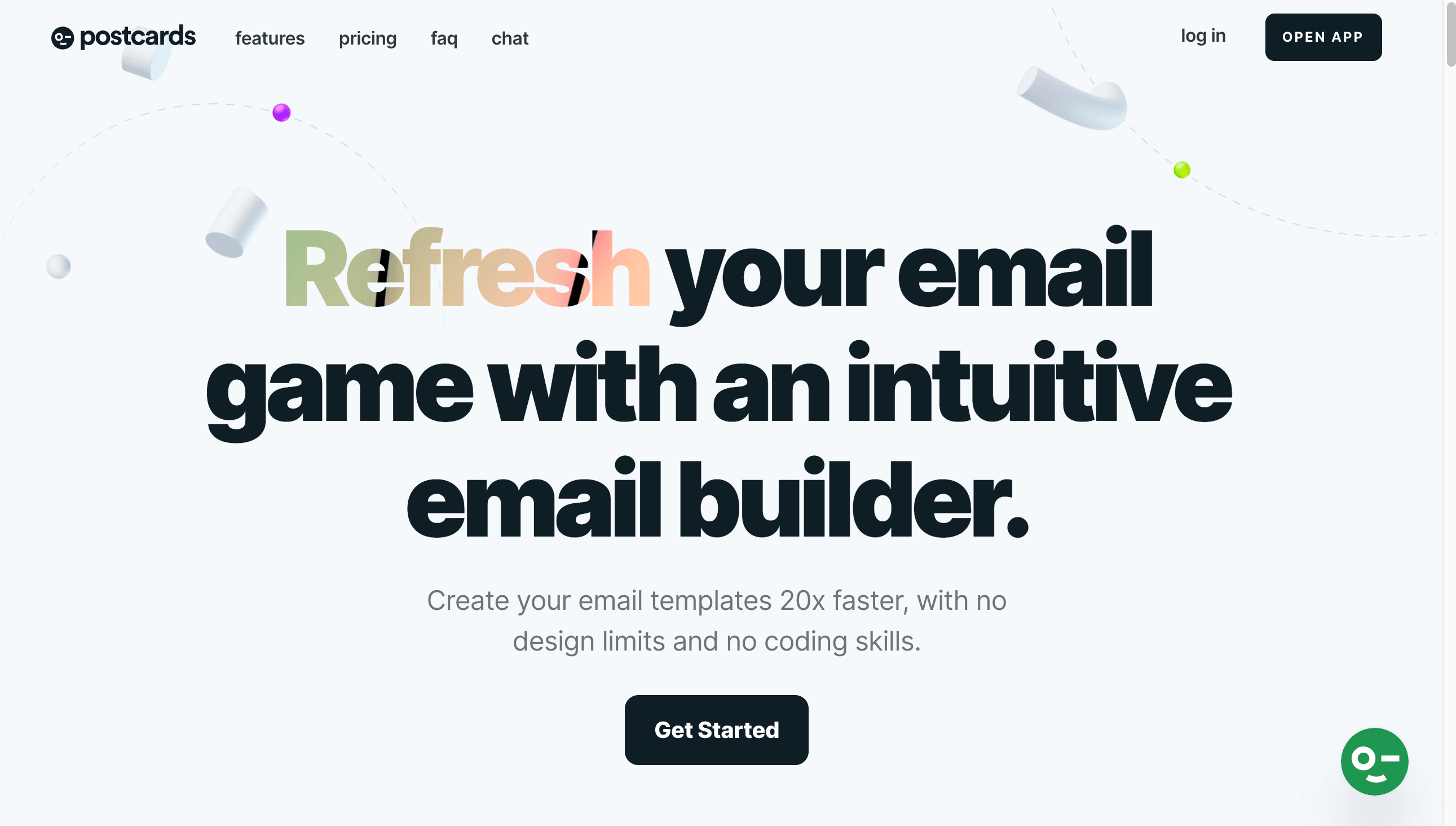 Designmodo helps non-tech users with their website design and presentations, and its product, Postcards, could help you design your email templates. Oh, and the platform also helps design professionals get hired – so quite a mix of things.
What I liked about Postcards:
The HTML email designer has a very simple interface, so there's no chance you'll get overwhelmed when designing your templates. A cool thing about Postcards is it allows you to choose from over 900 Google fonts, which is much more than all the other email design tools on this list.
You can invite other team members to collaborate on a template with you as a viewer or editor. The pro modules are well-designed and there are plenty of them. They also offer a very generous free plan which has integrations with some of our top email marketing providers.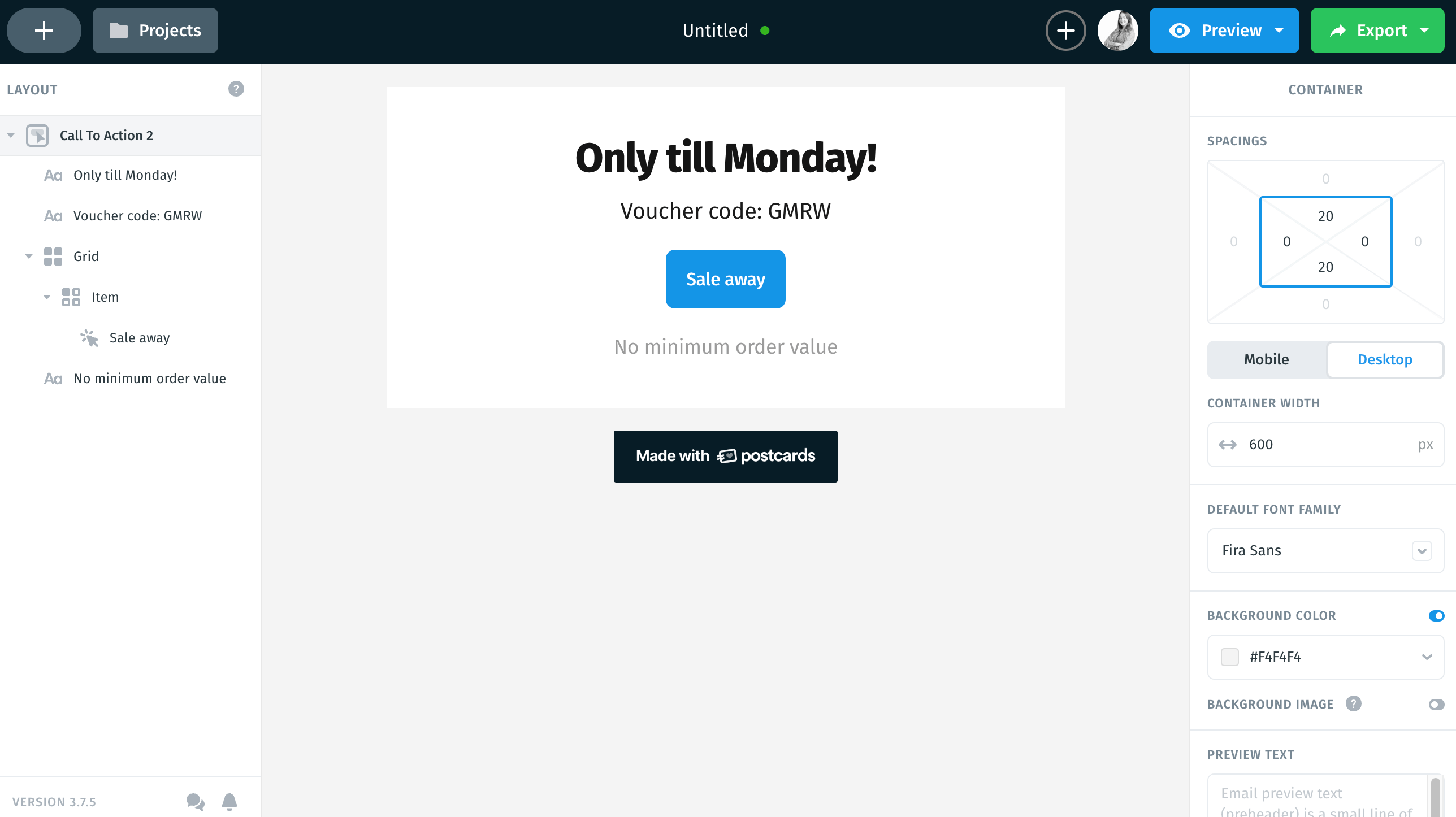 What Postcards could improve:
You are limited to 10 email template projects and only 5 exports on the free plan. So once you've used them up (which we imagine will be quite quickly), you'll have to start paying.
Postcards Pricing:
Free for unlimited editors and viewers – however, project and export limits apply (as mentioned above).
Paid plans start at $16/month for unlimited users, unlimited projects, and unlimited exports.
6. Chamaileon (Dedicated email template builder)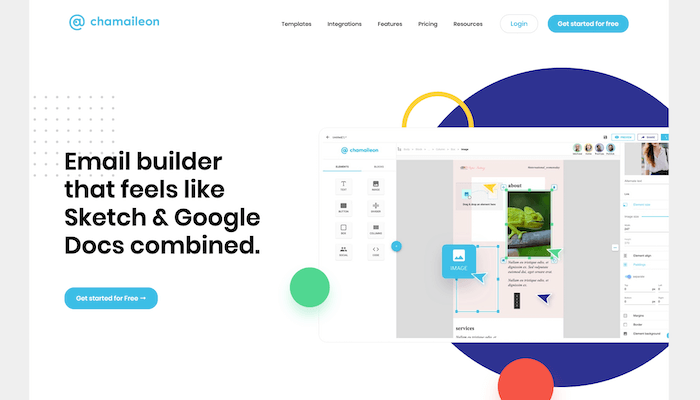 Chamaileon claims that its email builder feels like Sketch & Google Docs combined. Having used both of these tools, to me, that sounds like a great combination of design freedom and ease of use. But how does it actually shape up?
What I liked about Chamaileon:
You'll have access to 100+ email templates – this isn't as many as Stripo and BEE, but the templates are attractive and modern-looking, and they're all responsive.
Though it doesn't provide you with any stock images, editing your own images is made easy with its built-in editor that allows you to add filters, text, adjust the exposure, and much more.
If you want to share your design with a colleague or client, you can simply generate a shareable link (like in Google Docs) – this is really convenient.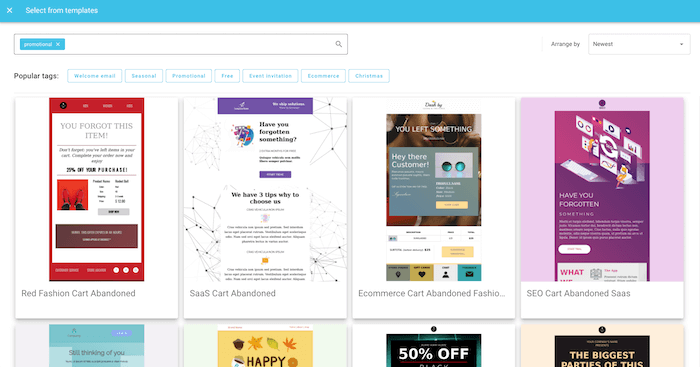 What Chamaileon could improve:
Its list of direct integrations is quite limited, with just a few ESPs and CRMs. This means that when exporting, you'll be given the HTML code to paste into your ESP or you'll need to download it as a .zip file, which some might not find ideal.
Unless you check the Keep me Logged in box, the platform will log you out if there is no activity. This can be a little frustrating as it doesn't wait very long (maybe 30 minutes).
We're quite perplexed as to why this email template builder is so expensive – it's like they didn't do any market research. Its high prices make it difficult to recommend over the rest.
Chamaileon Pricing:
14-day free trial
Paid plans start from $300/month for 3 seats, unlimited exports/month, email and chat support, and a handful of integrations.
Newsletter Services with Built-in Email Template Builders
If you're already signed up to a newsletter service but displeased with the template options, it could be worth migrating to another. There are plenty of providers with easy-to-use email template builders and attractive design options.

7. Moosend (ESP with export options)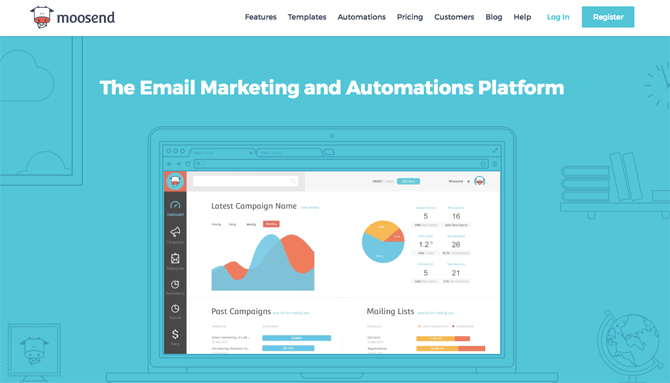 This email marketing tool allows you to use its templates on other platforms by either copying the HTML or downloading the JSON file.
There are plenty of templates to choose from and all can be easily edited in the builder. Once you're done, you can preview how it looks on various devices and send a test email.
If you'd like to use Moosend to send your newsletter, you'll be glad to know that you'll be able to send unlimited emails for as little as $9/month. This also includes sign-up forms, reporting, pop-ups, spam testing and automation.
8. SendPulse (ESP with export options)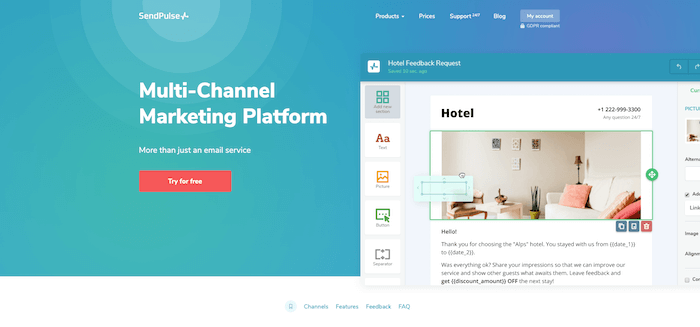 The chances are, if you're looking for an email template builder, you've already got an email service provider. But that isn't to say that you can't benefit from another ESP's template.
SendPulse is a Ukrainian email service provider which launched in 2015. I've included it on this list because aside from offering over 100 modern templates which you can export on the paid plan, it also includes subscription forms and marketing automation.
What I liked about SendPulse:
You can either use one of the pre-designed templates, build your own using its drag and drop editor or code your own in HTML. The editor is easy to use and you can add videos to your templates. You also save particular content blocks like your header, footer, etc. to use in other templates. The designs are organized into different categories, and there is a nice selection of holiday email templates.
Support is also responsive and helpful.
Its paid plans start at $8/month, which isn't much compared to the other tools' paid plans. Also, you might like to try out its autoresponders and other email marketing features.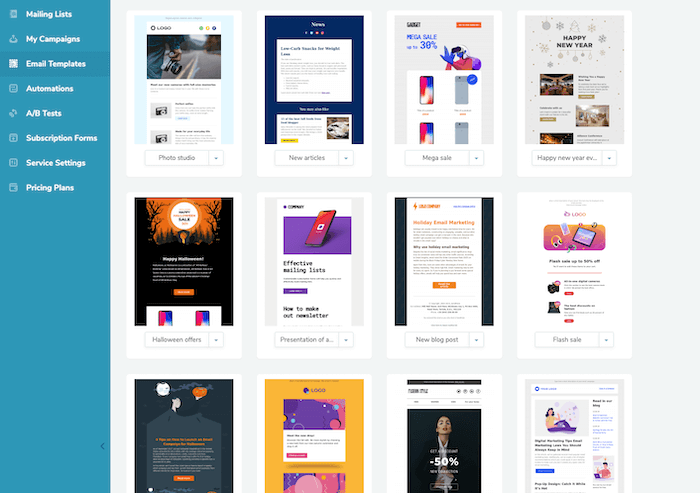 What SendPulse could improve:
It doesn't provide you with any stock images or and the image editing options are slightly limited.
SendPulse Pricing:
Free for 500 subscribers, 15000 emails, A/B testing, automation and subscription forms. *It's not possible to export the templates.  
Paid plans start at $8/month for 500 subscribers, unlimited emails, user access levels and email template export.
9. MailerLite (ESP without export options)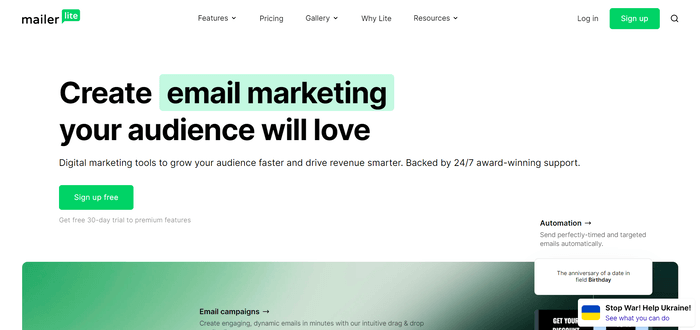 MailerLite is a very affordable email marketing tool, with a generous free plan. Its editor is fast and easy to use. It also comes with many content elements you can use to build your template from scratch, for example, video, carousel images, coupons, countdown timers and event registration.
If you'd like to benefit from its own ready-made templates, you'll need to sign up for the paid plan, which costs $25 monthly for 2,500 subscribers. This comes with 100+ attractive, modern templates, which, of course, are all responsive.
What I liked about MailerLite:
Aside from email templates, MailerLite comes with some additional features such as forms, landing pages, automations, segmentation and reporting.
We find the email builder really easy to use and love the beautiful templates you can create with it.
What MailerLite could improve:
Bear in mind that you won't be able to export the templates since these are made to be sent via your MailerLite account. No pre-made templates are included on the free plan.
Read our full Mailerlite review here.
Email Template Builders: Conclusion
So there you have it, the best email template builders, tried and tested. As you can see, there are plenty of good options, it's just a case of deciding which features are important to you. Overall, I think Stripo is probably going to give you the most flexibility in terms of design and exportation options.
Of course, if you're looking for an email template builder within an email newsletter service (i.e. it will also send your emails for you), then MailerLite or Moosend are good options.
We'd recommend taking a look at different newsletter examples in order to help inspire your own designs.
Also be sure to check out our tips for designing a newsletter that stands out.
Best HTML Email Designer
All the providers on this list are HTML email builders, however, some are better than others.
Stripo is definitely the best HTML email builder as you can see the outcome as you code. Some of the editors, like Postcards, won't actually let you edit the code.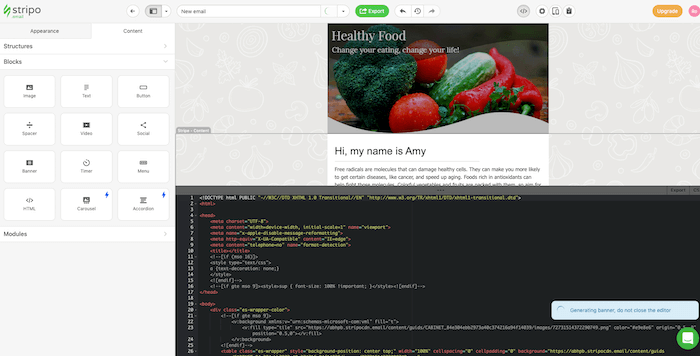 Best Responsive Email Template Builder
All the email template builders on this list come with responsive templates, so it really depends on whether you can find a design that you like within one of their libraries. Stripo and BEE have the largest collection of templates to choose from.
Though the templates offered by these email design tools will have already been tested, it's important to do your own spam and design testing once you've finalized your email to make sure there are no problems with email deliverability or display. Tools such as GlockApps or Litmus can help with this. Or, your email service provider might also have built-in spam and design testing.
We recommend you follow these email deliverability best practices and check out our guide to email authentication before you start sending.
Let me know how you get on in the comments below!
We keep our content up to date
23 Dec 2023 - Updates to Stripo
7 Nov 2023 - Updated Postcard profile
24 April 2023 - Moved Tabular up
31 March 2023 - Added Tabular
28 Feb 2023 - General update 
08 Feb 2023 - Stripo profile updated
29 Nov 2022 - Awarded Stripo with our badge
01 Nov 2022 - Updated Topol profile
05 Sept 2022 - Updated prices and moved Camaileon down
01 Aug 2022 - Moosend removed free plan
01 March 2022 - Updated Stripo's pricing plans
11 Jan 2022 - Added Topol.io
29 Sept 2021 - Stripo added more templates
21 May 2021 - Stripo updated, as more templates and ESPs added 
17 Feb 2021 - Added Moosend and MailerLite 
Our Methodology
This article has been written and researched following our EmailTooltester methodology.
Our Methodology