Marketing channels like local SEO and social media have become go-to strategies for promoting restaurants. While they can help you to generate awareness and drive new customers through the door, they often fall short in nurturing ongoing customer relationships.
This is where email marketing comes into play. Restaurant email marketing can hold the door wide open for a steady stream of returning patrons.
If you want to know more about how to adopt this new marketing strategy, this article will show you how to market your restaurant efficiently, effectively, and affordably with email.
We've gathered the best restaurant email marketing examples and strategies for you to take into account for your own business. We've also identified the best email marketing platforms to help you make the right choice.
But before all that, let's see why now is as good a time as any to implement this strategy.
Benefits of Restaurant Email Marketing
So, how exactly can you use email marketing to get more diners through the door? Check out the following examples to get inspired.
10 Email Marketing Strategies for Restaurants
Entice Customers To Join Your Mailing List
First things first: you need to create a healthy email list and your website is a good place to kick things off.
Let's take this example from Ox and Tiger, a San Francisco-based restaurant. They have chosen to use a popup signup form to catch visitors' attention. They've also provided users with a quick line about the benefits of subscribing. This makes the overall signup process a little bit more appealing: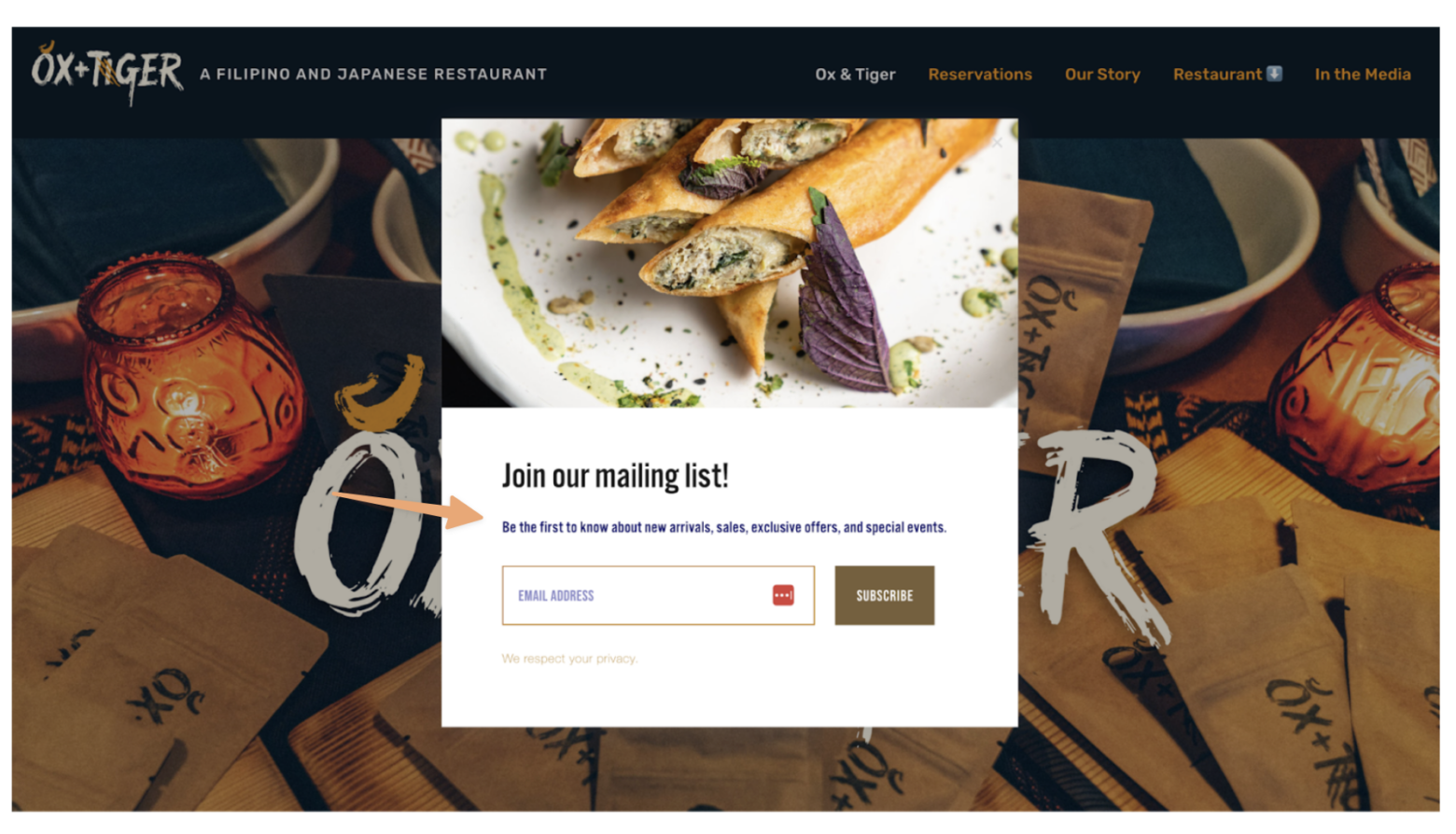 You can also create a dedicated page or add a short form to your homepage to promote newsletter subscriptions.
Besides your website, you can also collect emails from your diners in person. Restaurant WiFi marketing is a marketing technique that requires customers to provide their email addresses in exchange for internet access.
Important note: This type of email list building doesn't automatically give you permission to use these customer email addresses for marketing. Therefore we recommend adding an opt-in box to prompt people to subscribe to email communications.
Offer Restaurant Patrons Incentives to Forward Your Emails
54% of individuals usually ask their family or friends for restaurant recommendations. Therefore, a referral system is a smart way to increase newsletter signups for dining establishments. Getting customers to forward emails in order to encourage their friends to subscribe can also help grow your list. Then hopefully with the help of your top email marketing efforts, you'll be able to convert these new subscribers into passionate customers in no time.
The tricky part here is persuading your current subscribers to forward emails to people in their circle.
You can offer rewards to make newsletter referrals hard to resist. Research shows that incentives work, regardless of size. A good example would be: Forwarding 10 emails gets you a 5% discount.
You can also sweeten the deal and prompt new email subscribers to act by giving incentives to both parties.
For example, you can email your subscribers a unique discount code to pass on to their friends. Should one of their friends use this code when they subscribe, they can both get a free treat or a discount.
Pro Tip:
Aside from incentives, design your call-to-action (CTA) button to stand out. Adding a prominent "Share with Your Network" button can increase email marketing campaign shareability by
13 times
.
Give New Subscribers A Warm Welcome
A welcome email gives email subscribers a feeling of belonging. But the real winner is the sender. These initial emails can lead to 4x more opens and 5x more clicks, according to Invesp.
And yet, the same study shows almost 50% fail to automate or leverage this strategy. In fact, to write this piece I subscribed to numerous restaurant newsletters, and only received one welcome email.
It came from Rosebud. The Chicago-based restaurant group also included a surprise 20% discount: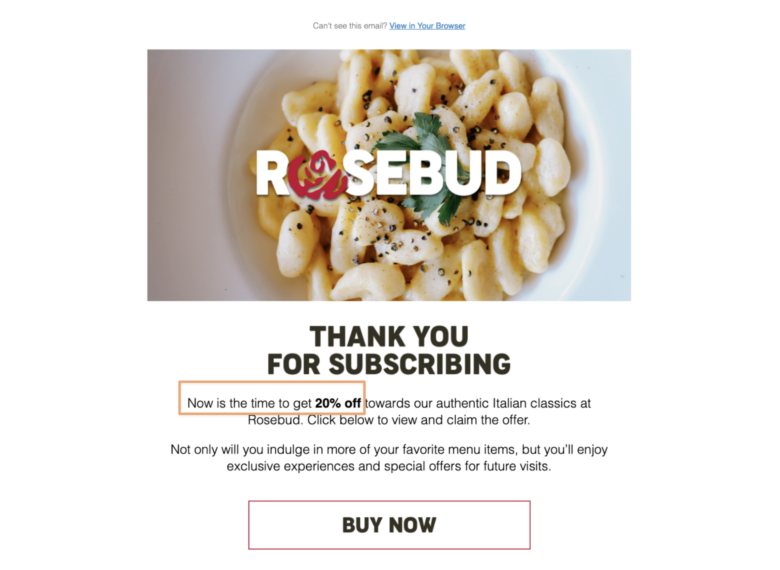 Aside from giving a warm welcome present, you can leverage your welcome message to include useful information, such as your booking process,social media channels, and your business history.
Send Holiday-related Emails to Encourage Bookings
Use email marketing to make your establishment top-of-mind during seasonal holidays – such as Mother's Day lunch to Family Halloween Dinner.
Get inspiration from Cracker Barrel's Halloween campaign. The homestyle-cooking chain restaurant suggested some tasty takeout dishes perfect for a fright night feast at home: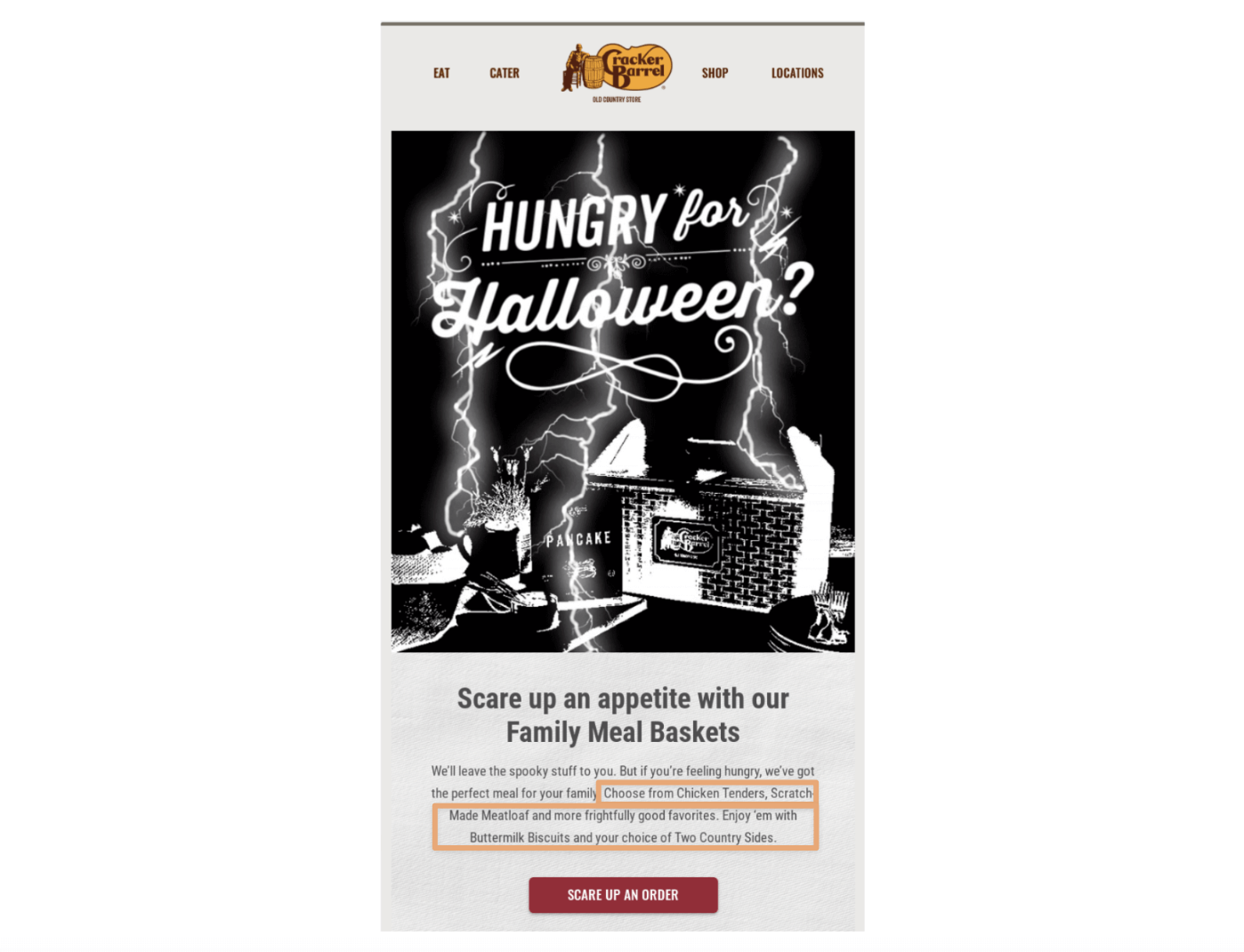 If you're feeling generous, surprises such as a complimentary dessert on Mother's Day can help seal the deal for folks feeling unsure where to book.
Don't feel restricted by secular and traditional holidays though, we have a lot of new and fun holidays to celebrate. Get creative and find ways to incorporate your restaurant into the occasion.
Build Hype Around Seasonal Menus
Seasonal menus can boost sales by 15%. So make sure your subscribers know about it by sending them tempting email updates about your upcoming specials. Check out this example by health-food restaurant SweetGreen – just in time for summer: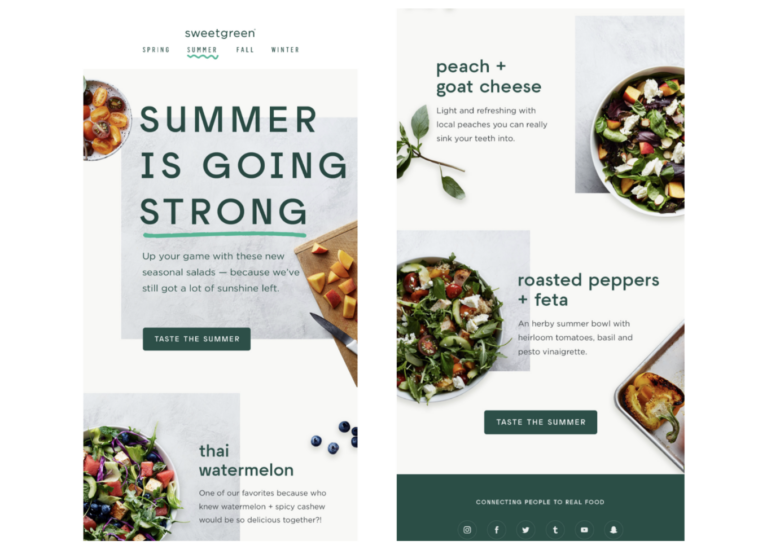 SweetGreen also showcased pictures of its refreshing salads and added short descriptions, making this seasonal menu announcement harder to resist.
Finally, don't forget to add a snappy CTA directing readers to your reservation page. Don't let would-be diners hit the back button empty-handed.
Send Subscribers An Exclusive Birthday "Greet And Treat"
Birthday greetings make subscribers feel seen, so you can use them to foster deeper relationships. But did you know that these once-a-year messages can also ramp up conversation rates by 11.4%?
Do more than send a few thoughtful words. Personalized promotions, such as birthday discounts and freebies, can make customers feel you're celebrating with them.
Fast-casual restaurant Applebees offers a free birthday dessert for a minimum purchase of $15. And the recipient even has the option to enjoy this on-the-go, thanks to Applebees' special code for ordering online.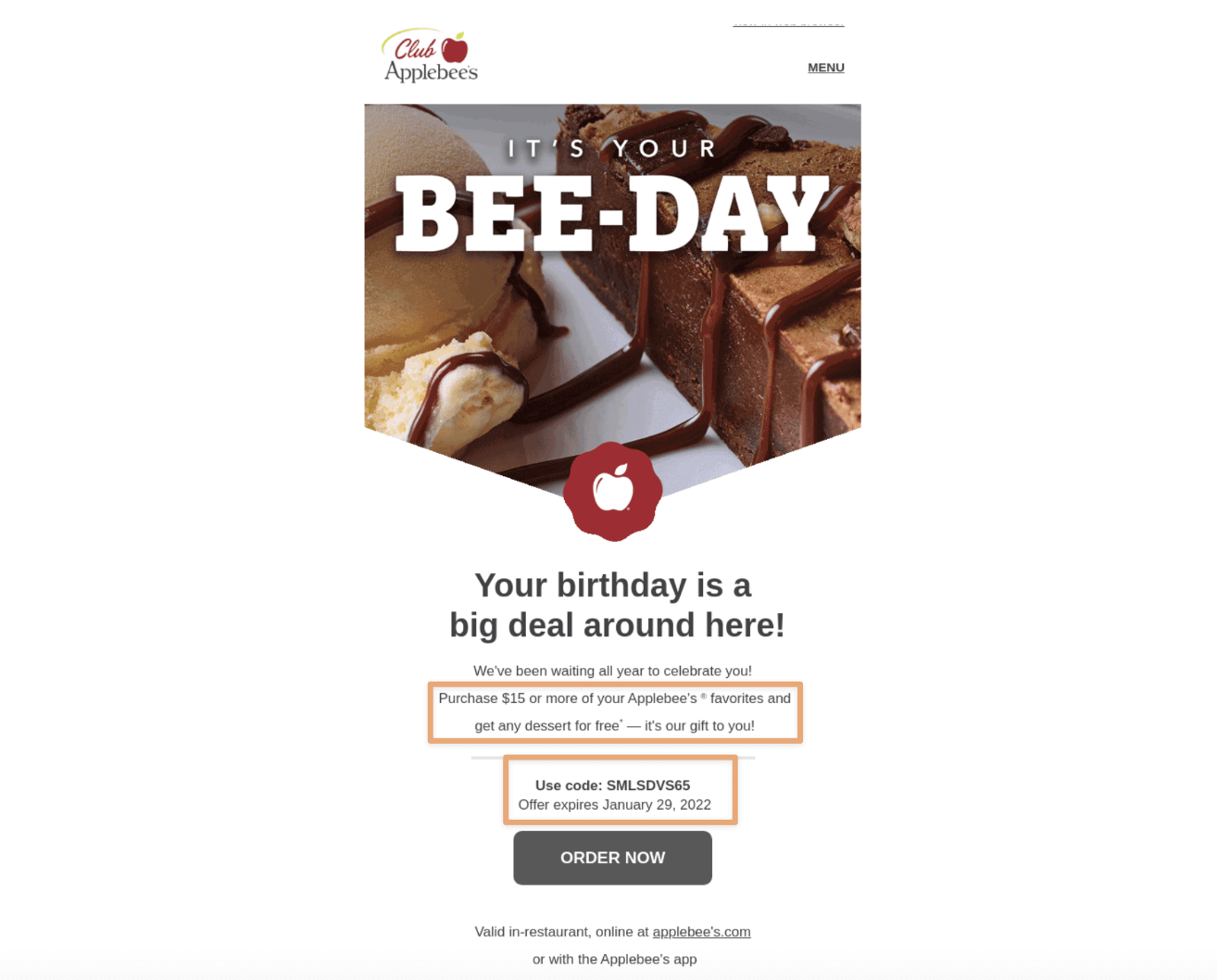 Fast food franchise Subway did away with the discount code and told their subscribers that their birthday cookie is already in their account. All that's needed to do is place an order online or visit a nearby establishment.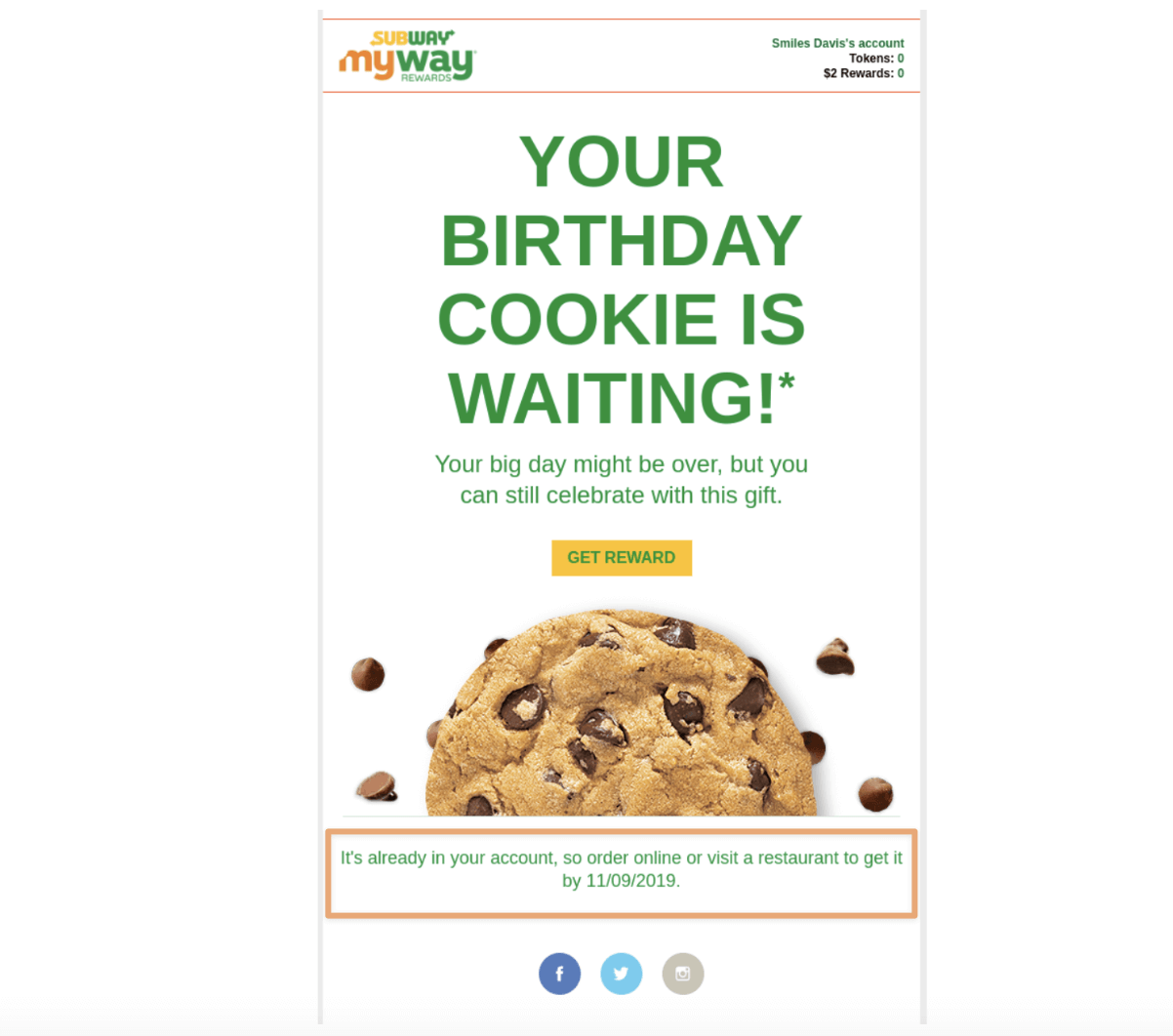 Both restaurants made sure to specify an expiration date for their offers. This is a clever way to get the birthday celebrant to act quickly.
Invite Customers To Exclusive Events
Holding special events highlights your brand's unique personality. For example, Café Kitsuné partnered with the pistachio milk brand Tache to create a limited-edition menu that can transport New Yorkers to charming Paris: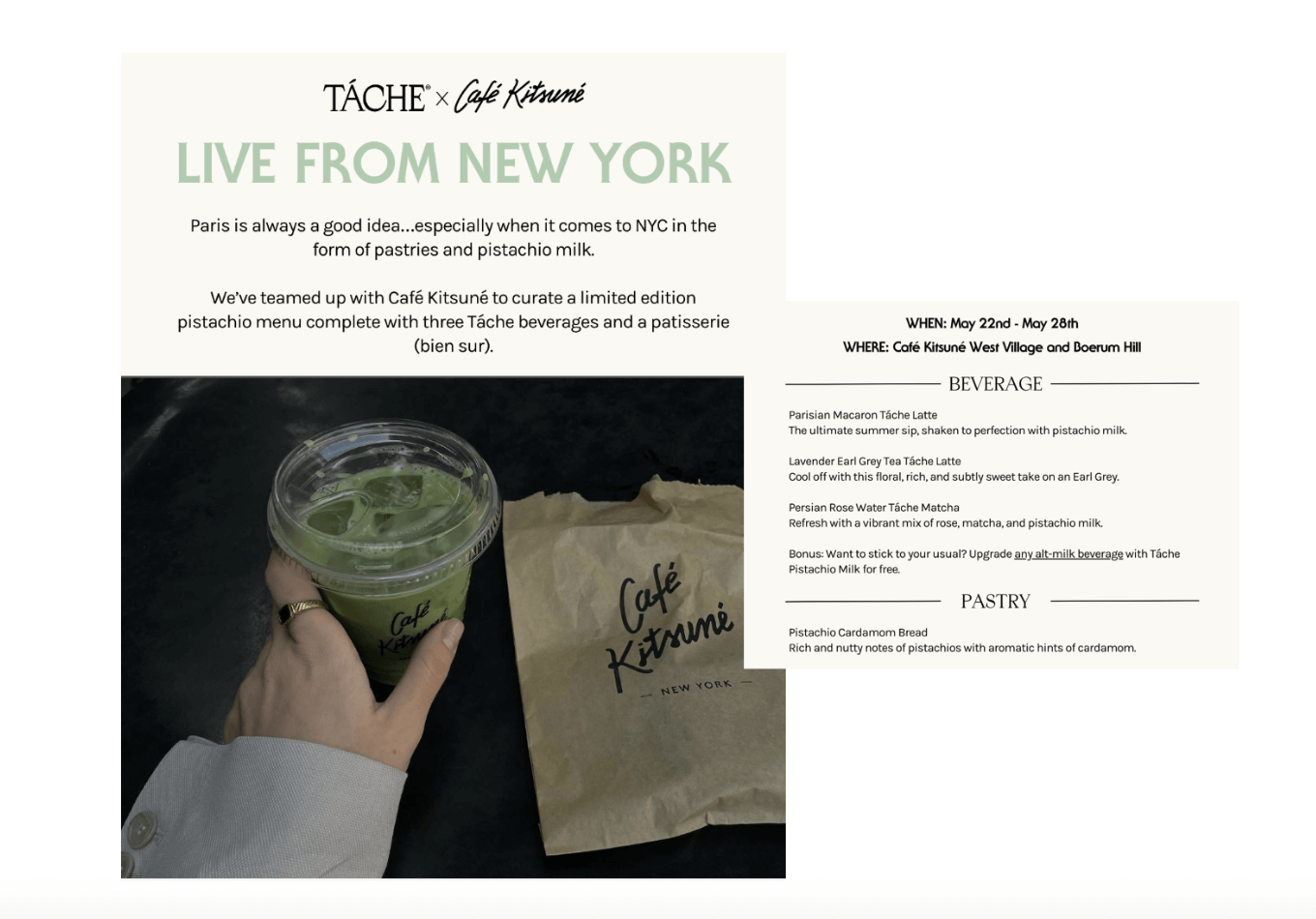 Events, like this tie-up, wine tastings, reading clubs, and live DJ performances, also open your business to a wider target audience.
With email marketing, it's easy to share information about your events and pique the interest of new and old audiences alike. Circle back to tip #4 to get subscribers to forward your invitation to their contacts.
Obtain Feedback and Encourage Online Reviews
Feedback forms and surveys help the hospitality industry respond to guests' needs and wants. Emails are one of the best ways to get them in front of your audience quickly.
And with a long enough email list, you'll have substantial insights to improve your customers' dining experiences.
The famous chicken chain restaurant Nando's asks for feedback with this straightforward yet effective email:
Nando's also encourages recipients to participate with something exciting: a weekly prize draw with a £200 gift card at stake.
Aside from qualitative and quantitative data, you can also lift some positive online reviews (with permission, of course!) and include them in your next restaurant newsletter.
Maintain an eye-catching and clutter-free email design
Emails are viewed for an average of eight seconds or less in almost 40% of cases. If you want your emails to pop, they need to be clear and attractive at the same time.
Here are a few tips to achieve this:
Have a single focus – be it for referral, booking, or a survey.
Keep your marketing email sweet and scannable.
Choose imagery that complements the text.
Leave enough white space.
Stick to a clear layout.
Take a look at the email examples above – aren't they pleasing to the eye? They all follow these simple tips.
Optimize Emails to Target An Increasingly Mobile Audience
53% of people check email on their smartphones, so this one's crucial for your campaigns.
Designing a responsive email requires you to test your emails on various email clients and devices. No matter how small the device, text should be readable, and there should be enough white space and clicking room.
To be absolutely sure that everyone can view your email, a "View in browser" link offers a catch-all solution: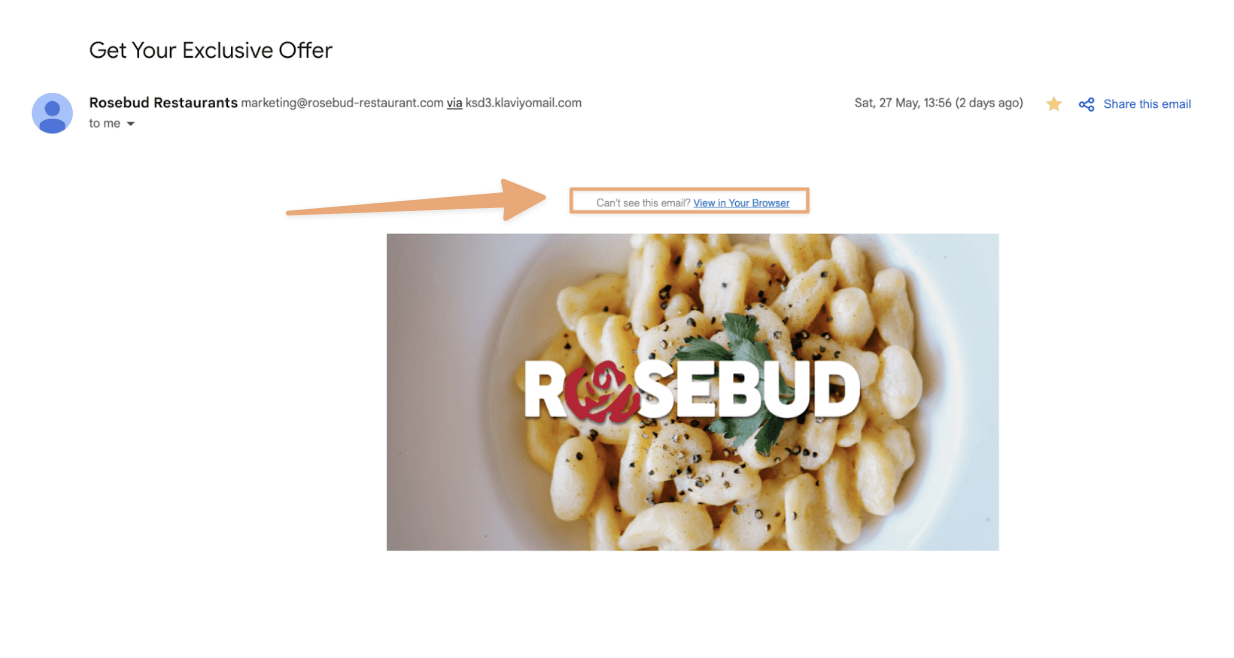 Now that you have some ideas for the kinds of emails you can send, let's see what tools you'll need to do that.
Must-have features for your restaurant email marketing service
What do you need to kick-start your restaurant email marketing strategy? An email marketing service that's fit for the job – and that offers these key email marketing features:
Intuitive interface. A clean dashboard with a clear navigation menu, icons, and layout will serve you well, no matter your level of email marketing experience and technical proficiency.
Drag-and-drop editor. To craft an email quickly without compromising design, you need a beginner-friendly editor that allows you to insert food images, custom text blocks, clickable buttons, and so on.
Templates. Like a drag-and-drop email builder, ready-to-go email templates simplify the design process. Additionally, they make your restaurant branding more recognizable and professional.
Segmentation features. Look for a platform that allows you to send relevant and targeted emails to specific customer segments, based on factors like location, dietary preferences, and spending habits.
Automation capabilities. Many platforms offer automation (basic or advanced) to streamline your email marketing campaigns. They are key to making email marketing work for you while minimizing your efforts.
Integrations. Integrations reduce manual errors and keep information synchronized across platforms. Choose an email service provider that can integrate with tools required to run your restaurant business, such as online ordering or reservation systems like OpenTable or Resy.
Affordable pricing. Email marketing services tend to price based on list size, so look for one that fits your budget (with room to grow). Some even offer free plans, although these usually have sending limits and provider-branded emails.
Mobile optimization. Mobile-friendly features, such as responsive email templates, click-to-call buttons, and QR-friendly promotions, ensure accessibility across all devices.
Advanced analytics. Knowing your open rates, click-through rates, and other metrics can help you understand diners' preferences and tailor your messaging for better engagement.
6 Best Email Marketing Services for Restaurant Marketing
Email marketing services are available in droves. However, some are better than others depending on your industry. For restaurants, these six have stood out in our testing:
1. MailerLite
We're kicking off the list with MailerLite, EmailTooltester's 2023 pick for the most user-friendly email marketing platform.
MailerLite features a clean and well-organized dashboard with intuitive buttons. Its newsletter templates, basic automation, transactional emails (ex: receipts and reservation confirmations) can help jumpstart restaurant email marketing quickly.
To design an email, you can choose between three types of editors: drag-and-drop, rich text, and custom HTML.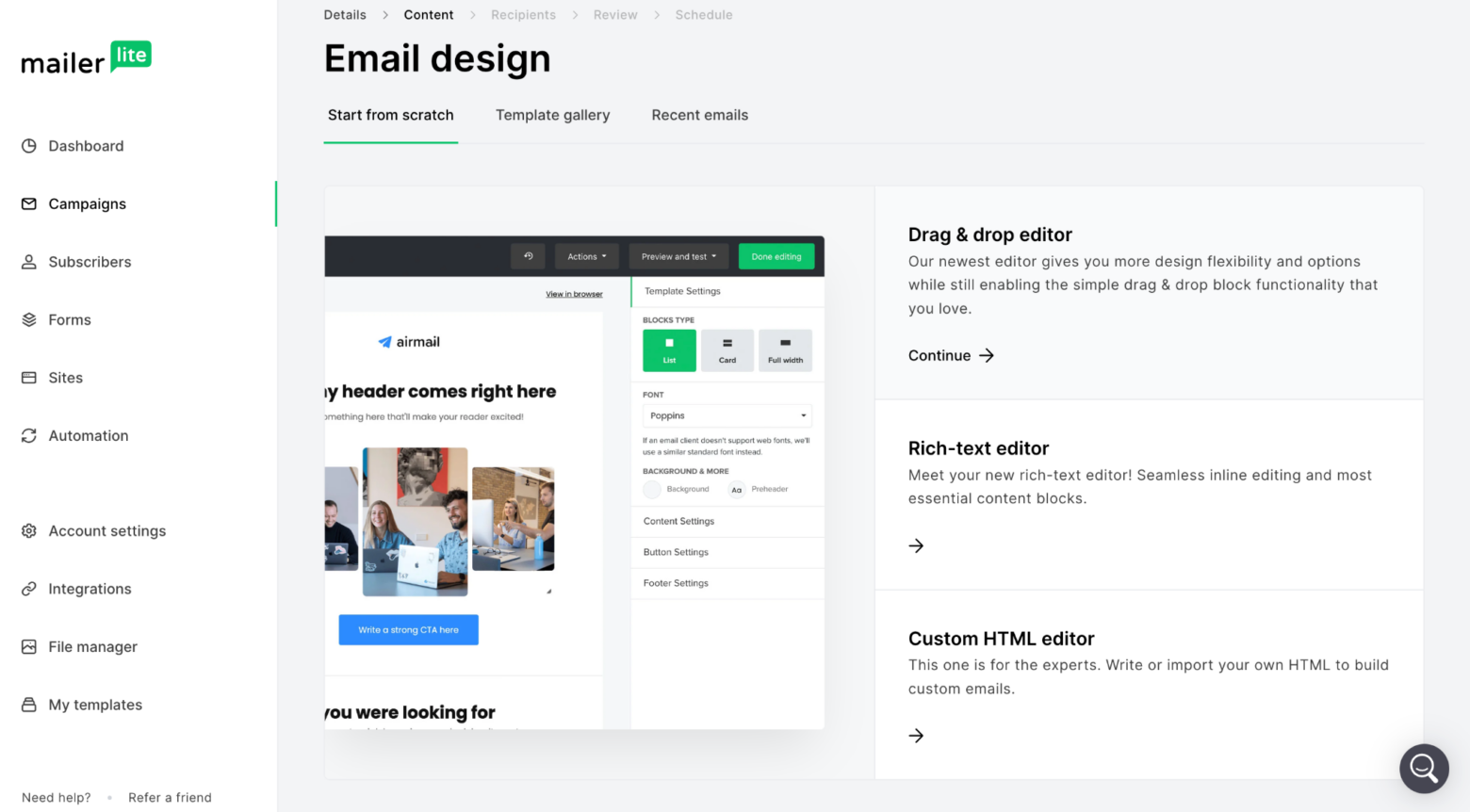 MailerLite also has a built-in image editor. With food photography increasing sales by up to 70%, this feature makes it possible to upload delectable photos of your dishes without the need for additional software.
If you still don't have a website, the email marketing provider includes a website builder and restaurant-specific landing page templates for setting up email signup forms.
MailerLite is beginner-friendly, but it lacks advanced capabilities such as spam/design testing and advanced automation features. Moreover, many of the features, such as transactional emails and landing page templates, are absent in the free plan.
MailerLite Pros
Beginner-friendly dashboard with clear buttons
A built-in image editor that can improve food photos
Free plan available
MailerLite Cons
No advanced features that make it scalable
Upgrading to paid plans is necessary to enjoy its best features.
MailerLite Pricing
Free plan available
Paid plans from $17/mo
More info on MailerLite plans here.
Best suited for: Restaurants seeking to expand online. The easy-to-use features and landing pages allow you to send email messages without having a website.
More information on MailerLite
Take a look at our MailerLite review.
Or get MailerLite for free (up to 1,000 contacts) today.
2. Brevo (formerly SendinBlue)
As far as cost-effectiveness goes, Brevo (formerly Sendinblue) offers the best value. Its free plan gifts users with up to 9000 branded emails monthly, with a daily quota of 300.
Brevo's email features include automated marketing messages such as welcome, special event and birthday emails, as well as transactional emails for product purchases, cart abandonment notifications, and so on.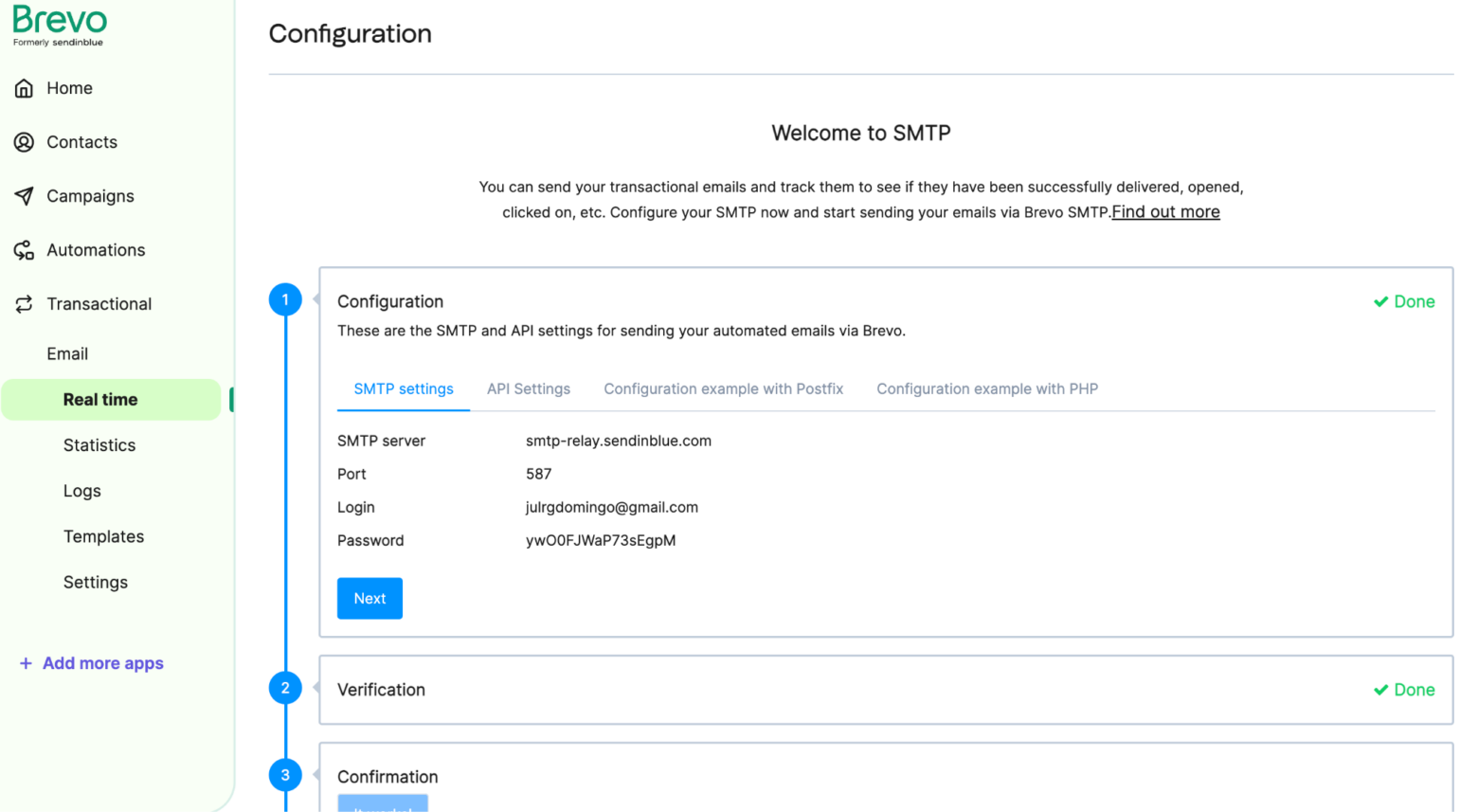 Brevo's segmentation features enable marketers to create targeted campaigns. A segment can contain up to 100 conditions. Each condition can have up to 50 tags. For example, you can specify attributes such as dietary preferences and favorite dishes.
Its live chat tools, SMS and WhatsApp campaigns, and Facebook ads are great add-ons for your restaurant marketing needs.
However, you'll have to opt for the premium plans to set up logins for various members of your marketing team.
A second downside is email deliverability. Brevo's is pretty decent, but it fluctuates. As of writing, it ranks in the bottom half of our semi-annual deliverability test.
Brevo Pros
Feature-rich free plan
Affordable and cost-effective plans
Great automation, segmentation, and extra features
Brevo Cons
300 emails daily cap for the free plan
Multiple user log-ins not available for lower tiers
Inconsistent deliverability performance
Brevo Pricing
Free plan available
Paid plans from $25/mo
More info on Brevo plans here.
Best suited for: Brevo's free plan is great for establishments looking for a simple restaurant email marketing solution. The low-cost paid plans have advanced features scaleable to meet your needs.
More information on Brevo (Formerly Sendinblue):
Check out our detailed Brevo review before signing up.
But if you're ready to take the plunge, join Brevo for free.
3. ActiveCampaign
ActiveCampaign is our current award winner for the best email service (2023). Firstly, it tops our deliverability test.
Secondly, it reigns supreme where advanced features are concerned. It offers over 250+ email marketing templates and a robust complex automation workflow builder.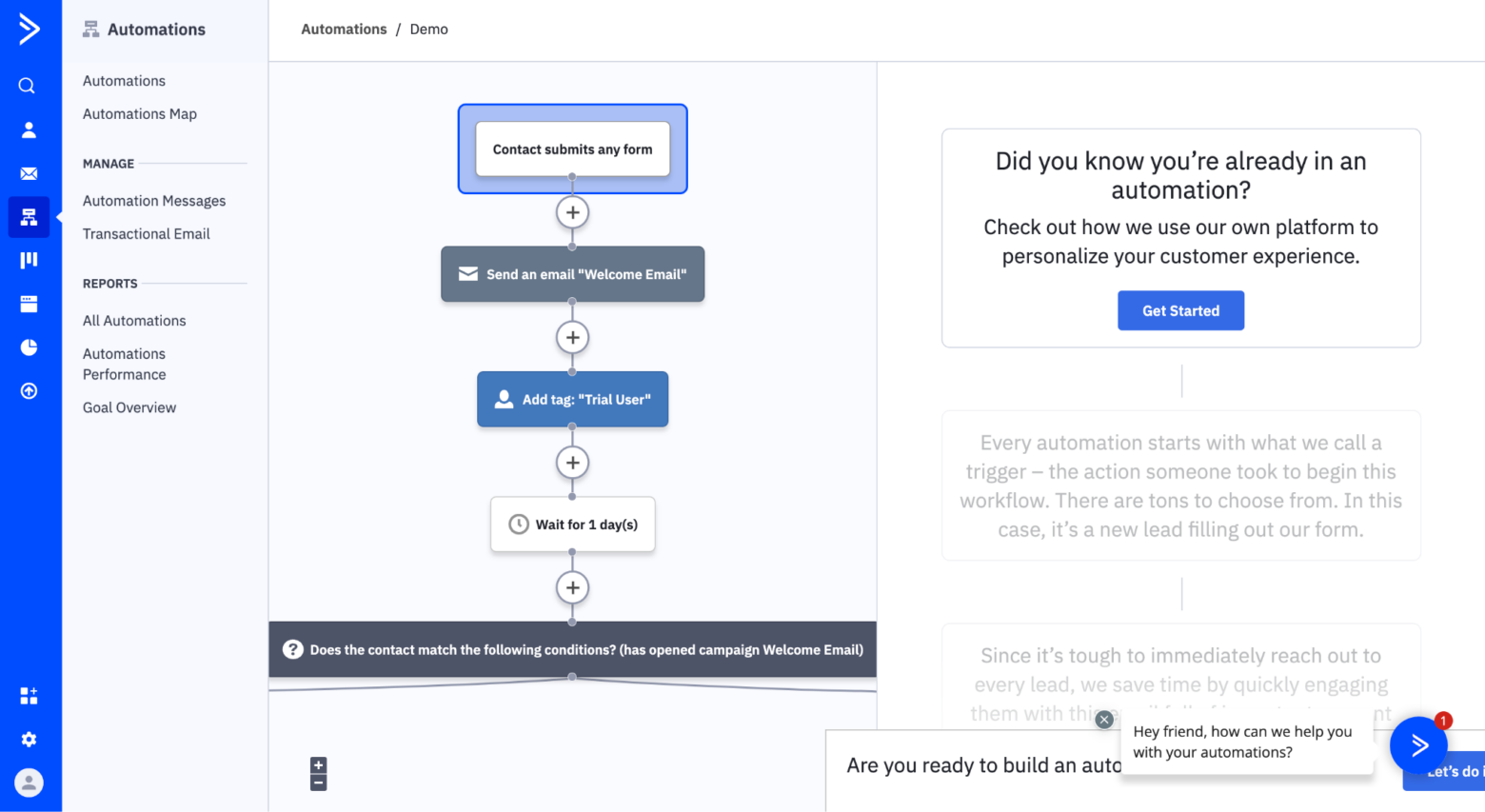 ActiveCampaign's automation tool is poles apart from the other platforms on this list. In fact, it's been proven to draw customers to restaurants. With various automation workflows in place, you can nurture customer experiences online and drive foot traffic offline.
ActiveCampaign pairs this advanced feature with powerful reporting tools. These tools give you a thorough overview of your email marketing campaign performance and highlight interesting data about email client trends and open rates.
That said, ActiveCampaign's sophisticated platform comes with a price. Meaning, there's no free plan. Another drawback is the extensive learning curve required to benefit from its advanced capabilities.
ActiveCampaign Pros
Ability to handle complex automation workflows
Access to comprehensive reporting tools
ActiveCampaign Cons
No free plan
Using the platform requires some practice and patience
On the pricier end of the scale
ActiveCampaign Pricing
More info on ActiveCampaign plans here.
Best suited for: Establishments interested in restaurant email marketing for growth. If you're switching from another tool, ActiveCampaign will migrate your account for free.
More information on ActiveCampaign
Read why we think ActiveCampaign packs a lot of punch.
Or see what it can do for you – grab ActiveCampaign's 14-day free trial today.
4. GetResponse
GetResponse boasts a lot of impressive email marketing features, such as email autoresponders, list import and segmentation, and design and spam testing.
The platform offers a wide selection of visually appealing email templates and leverages the power of AI to help users design their emails: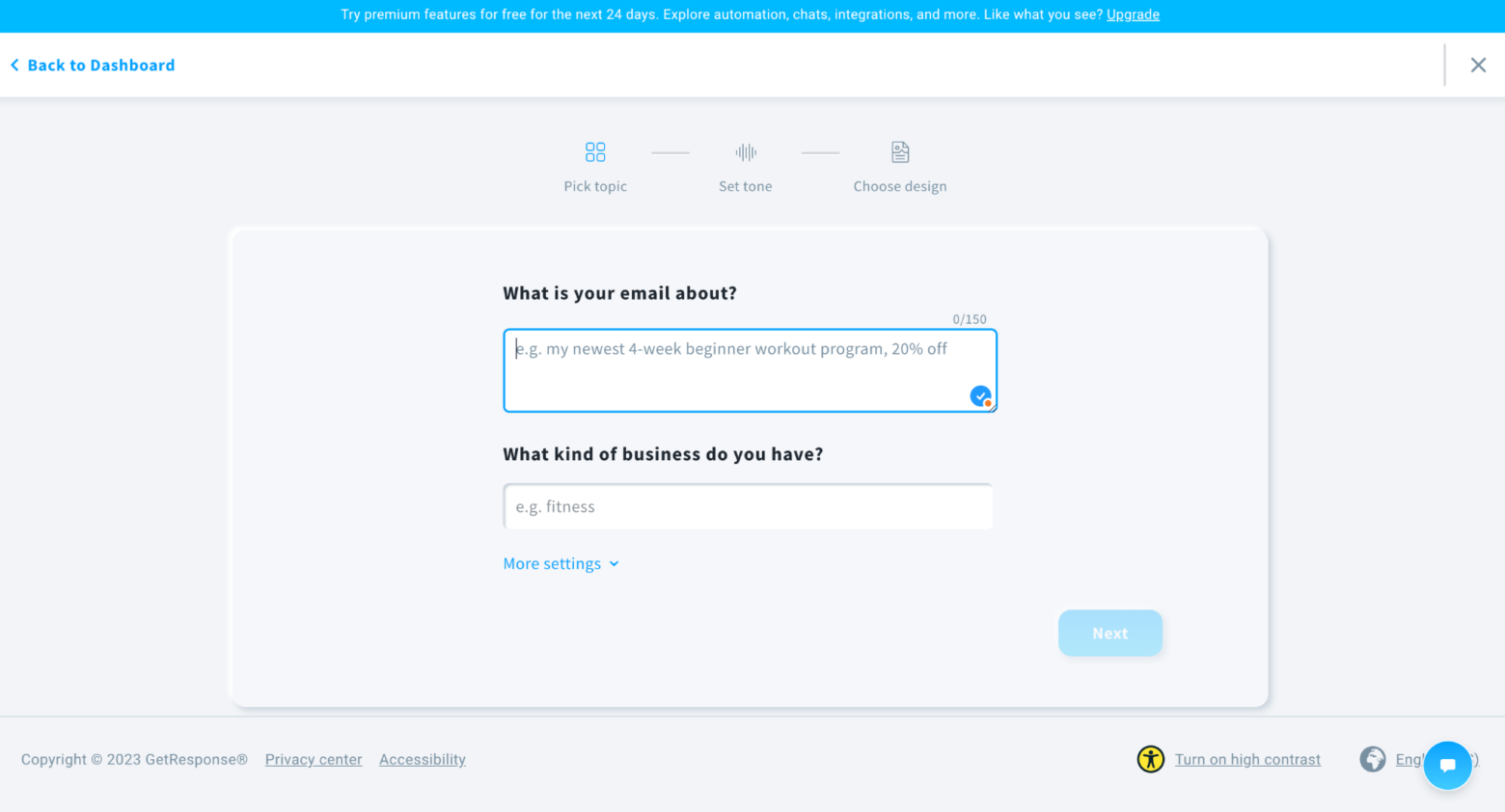 But one thing that separates GetResponse from the pack is that it does more than email marketing. It's an all-in-one marketing solution. It features an AI-powered, code-free builder for quickly launching a restaurant website.
This complete marketing tool also lets you automate sales funnels, customize landing pages and signup forms, analyze reports in-depth, and integrate with over 100 tools (SocialWifi, Zapier, and Freshbooks–to name a few).
But there's a catch: many of GetResponse's features are only available on higher-tier plans. Email automation capabilities, for example, are only available in tier two (Marketing Automation), not tier one (Email Marketing).
Furthermore, if you're just looking for a tool to begin restaurant email marketing, know that this jack-of-all-trades scores fairly low in the deliverability tests we run.
GetResponse Pros
Excellent email marketing features, such as well-designed newsletter templates
AI email generator and website builder
Impressive marketing suite and integration
A 30-day free trial of premium features
GetResponse Cons
Free plan and basic plan aren't feature-rich
Low deliverability scores
GetResponse Pricing
Free plan available
Paid plans from from $19/mo
More info on GetResponse plans here.
Best suited for: Organizations looking to boost their overall restaurant marketing strategy while adding email marketing to the mix.
More information on GetResponse:
Get a deeper look at GetResponse in our review.
Get this comprehensive marketing solution today (with a special 10% lifetime discount).
5. MailChimp
MailChimp is one of the first names that comes to mind when considering email marketing. And for good reason–its free plan provides quite a bit of value. You can use it to send transactional, automatic, RSS, and newsletter emails.
It also lets you access most of its tools, including its survey creator, restaurant website and landing page builders, and excellent reporting tools.
That said, its forever-free plan used to be more generous. Now, it only features bland email templates while scheduling emails is completely off the menu. You'll need a paid plan to enjoy sleeker templates and functionalities, including automation with pre-built journeys.
MailChimp's email builders are easy to navigate. You can use templates and tweak them with a drag-and-drop builder. Or rely on AI-based tools to create your first emails–its new ChatGPT-powered tool makes drafting marketing content a breeze.
However, MailChimp's dashboard is less intuitive. The homepage and navigation bar look clean and simple from the get-go. But some tools are hidden, leaving you to sort through a maze of options.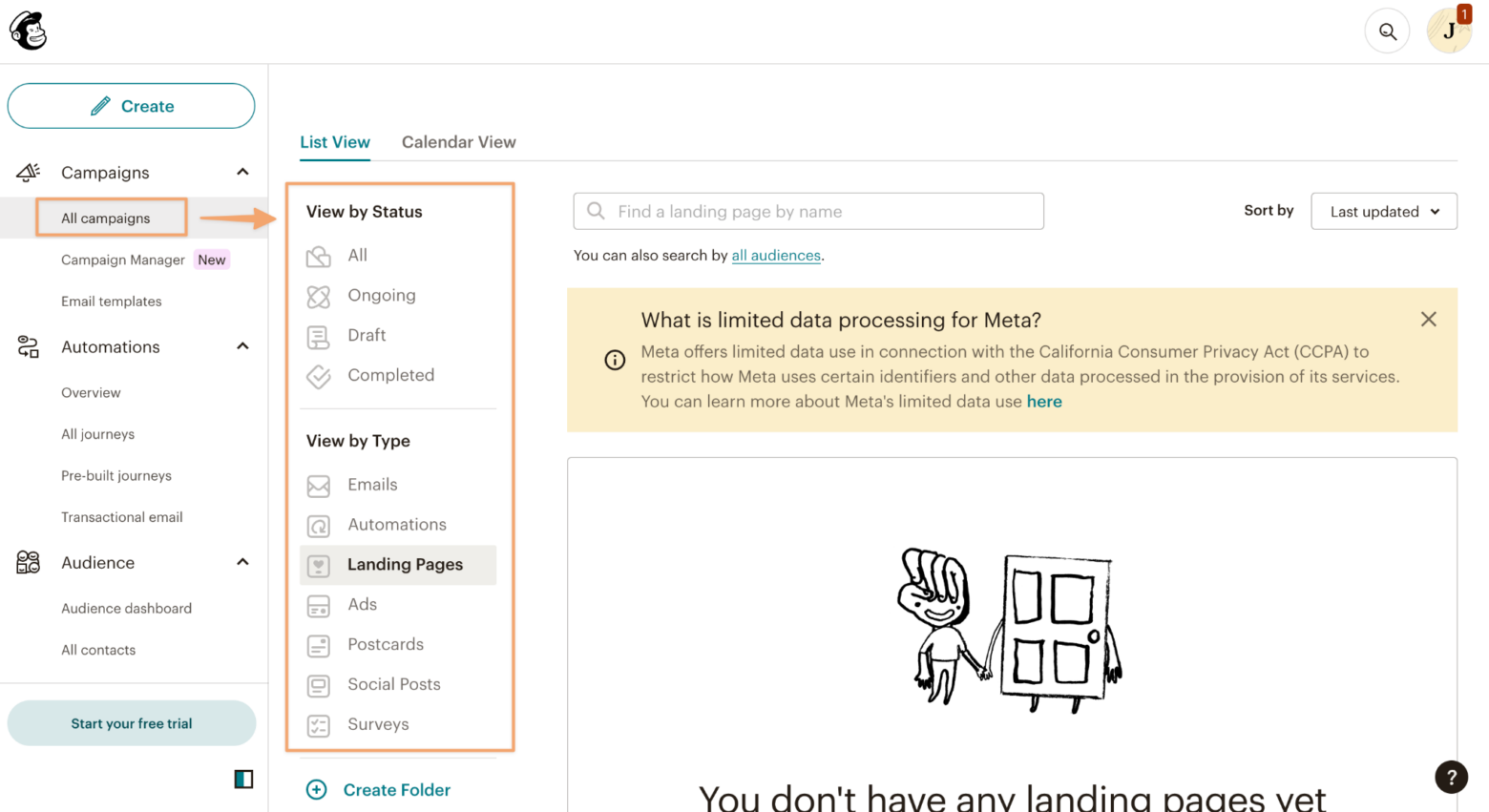 MailChimp Pros
MailChimp offers a generous free plan
Simple email builders, plus AI support
Integrations with a wide range of third-party platforms, including OpenTable, Flex Catering, Yotpo, GiftUp, and Referral Candy
MailChimp Cons
Steep price increase with paid subscriptions
A hard-to-navigate dashboard
MailChimp Pricing
Free plan available
Paid plans from $13/mo
More info on MailChimp plans here.
Best suited for: Small restaurants with a limited budget and short contact list. MailChimp's free plan is promising if you're okay with manually managing your email marketing campaigns.
More information on MailChimp
Find out why MailChimp remains a popular choice.
Or see what MailChimp can do for you today.
6. Omnisend
Omnisend is designed for ecommerce use, so it's a perfect choice for restaurants that sell online.
It offers customizable templates, email automation and segmentation, and detailed analytics – which are available in the free plan. In fact, all Omnisend features are. However, there is a limit of 500 emails per month and 250 contacts.
Omnisend comes with sleek email templates (see example below). Although the options are fairly limited, you can customize your pick using the platform's user-friendly editing tool: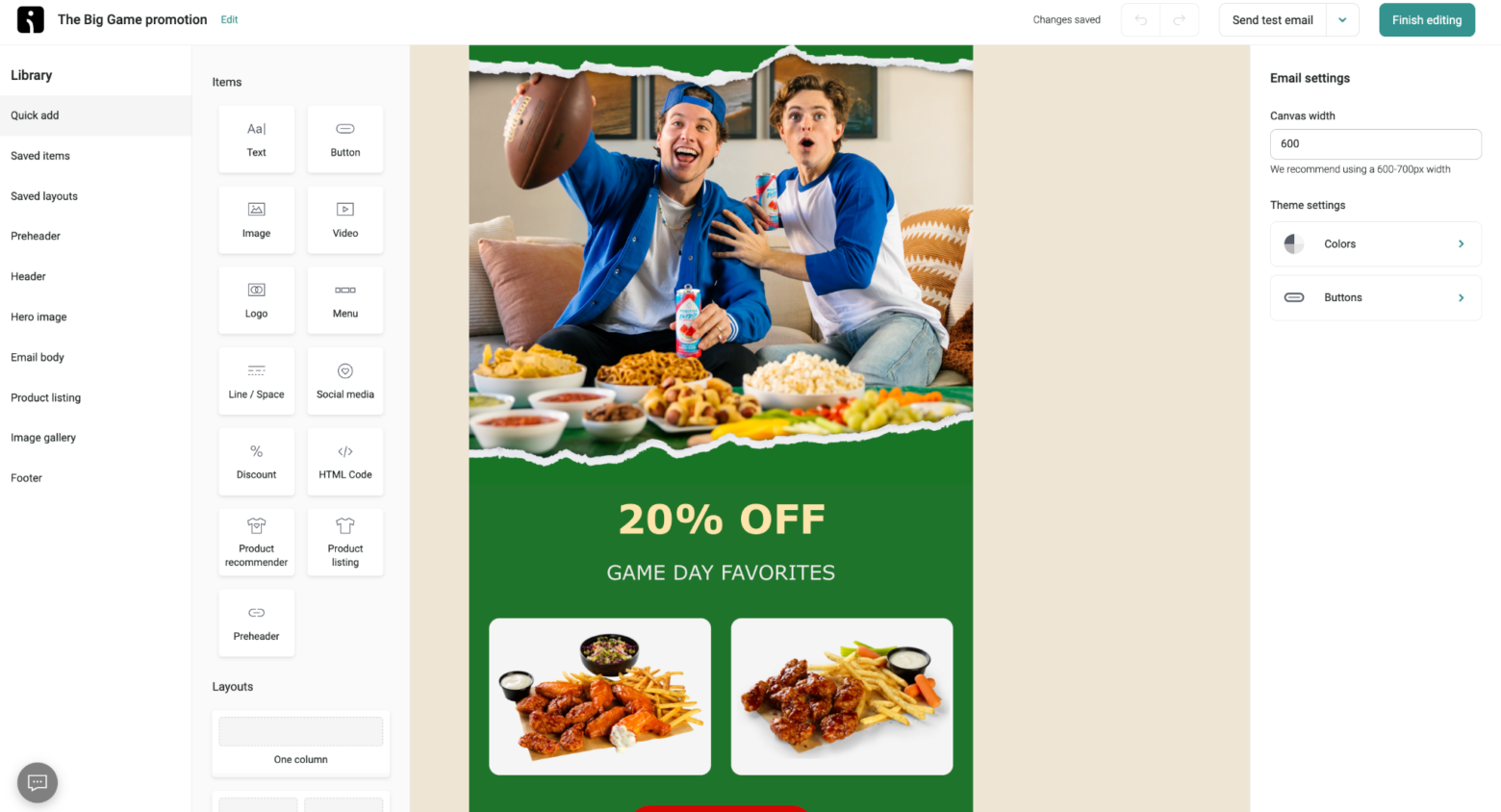 Omnisend's ecommerce automation covers a lot of ground, including abandoned carts, cross-selling, customer reactivation, and order follow-up. It also integrates with various ecommerce platforms, such as Shopify and Magento.
You can even send emails to patrons who order online with personalized product recommendations, and offer coupons customized to their preferences.
Omnisend Pros
The no-cost plan comes with all the bells and whistles
Excellent online ordering and product selling features
Modern email templates
Advanced ecommerce automation features
Omnisend Cons
Few integrations with booking/reservation systems (we could only find one with Wix Bookings)
Email and contact number limit on the free plan will force you to upgrade quickly
Omnisend Pricing
Free plan available
Paid plans from $16/mo
More info on Omnisend plans here.
Best suited for: Restaurants focused on takeout and/or selling products online. Ecommerce-specific functionality and integrations make managing your restaurant's online operations easy and efficient.
More information on Omnisend
Read how Omnisend can help you sell more online.
Or try Omnisend's features for yourself today.
How to Kick-Start Your Restaurant Email Marketing
So now you know the recipe for a successful restaurant email marketing strategy! Now, it's just about getting started. You can follow these six basic steps to do just that:
Figure out your goals: Before you dive in, take a minute to think about what you want your email marketing to do for your restaurant. Do you want to promote special offers? Maybe you want to keep your customers in the loop about your latest culinary creations? Or are you hoping to build a tight-knit community of food lovers around your restaurant? Once you've got your goals down pat, you can start shaping your strategy.
Grow your email list: To kick off your email marketing, you need people to email. There are plenty of ways to make this happen. You could ask customers to sign up for your newsletter when they're booking a table or placing an order. You could even sweeten the deal by offering a discount for joining. Just make sure you're playing by the rules when it comes to data privacy laws and getting permission.
Pick your email marketing service: As you've seen, there's a whole range of services out there to help you manage your email list and send out emails. These platforms provide email templates, automation tools, analytics, and more, so we'd recommend testing out the ones that tick your boxes, and selecting one to move forward with.
Segment your list: Your customers aren't all the same, so why should your emails be? It's smart to split your email list into different groups or segments. You could have one for your regulars, one for the folks who haven't stopped by in a bit, and one for the first-timers. This way, your emails hit the right note every time.
Cook up some content: What you put in your emails depends on what you're aiming for. But whether it's special offers, new menu item announcements, invites to exclusive events, or fun food-related content, it's got to be engaging, relevant, and valuable to your customers. You can learn more about how to write a killer marketing email in our guide.
Automate your emails: With email automation, you can set up emails to go out at the perfect time, and you don't have to lift a finger. For instance, you could have a birthday email ready to roll out with a special treat for your customers on their special day.
Once you've gotten into the swing of things, you can add in these bonus steps to take your restaurant email marketing to the next level:
Test and optimize: A/B test different versions of your emails to see what works best. This could be different subject lines, different content, or different designs. Use the analytics provided by your email marketing platform to track the success of your emails and continually optimize them.
Engage and interact: Remember that email marketing is not just about sending emails, but also about building relationships with your customers. Encourage feedback, respond to queries promptly, and ensure you're providing excellent customer service.
Email Marketing for Restaurants: Conclusion
Email marketing efforts can go a long way for restaurant businesses. It's a flexible and versatile marketing channel that helps you remain connected to your customers, nurture them, and keep them coming back to your establishment.
To sum up, we recommend the following email marketing services for the each of these scenarios:
Best value for money: MailerLite, Brevo
Best for selling online: Omnisend, ActiveCampaign
Best for email marketing + website: MailerLite, GetResponse, MailChimp
Best for restaurant integrations (e.g. booking apps, loyalty programs, referrals): ActiveCampaign, MailChimp, GetResponse
Best for automations: ActiveCampaign, GetResponse
Best for transactional emails (e.g. order confirmations): MailerLite, Brevo
If you're ready to learn more about email marketing, read this step-by-step guide.
If you want to take action today, you can:
read our in-depth tool reviews
test out our recommended platforms
or use our smart finder to choose the right solution for your restaurant business.
Our Methodology
This article has been written and researched following our EmailTooltester methodology.
Our Methodology