If you're on the fence about using newsletters as part of your email marketing strategy, don't be. Newsletters don't have to be boring or annoying. And when done right, newsletters are a super effective way of building an audience and connecting with your existing readers.
But how do you know if you're doing it right? That's where we come in…
We've seen a lot of newsletters, and they range from terrible to amazing. So we've collected some of our favorite newsletter examples to save you from having to hunt the best ones out yourself.
We've also categorized the examples under various industries, so you can find the designs that are more relevant to you.
Ecommerce Newsletter Examples
While newsletters are a great way to communicate new or recommended products, sales, contests, and testimonials, you want to go above and beyond that. You'd want the customer to act on something and to do it fast. How do you do that?
Create a sense of urgency and excitement in your newsletter. Add countdowns to a sale or a product release. If you're offering a promo, make it big to grab your customers' attention.
Add clear calls-to-action (CTA) in your newsletter. Make your CTA stand out visually (buttons and bold colors are a great way to do that.)
Personalize your newsletter to your customer. Recommend items related to what your customer has purchased before. Give them tips on how to use items they've purchased. If they have an abandoned shopping cart, use the newsletter to re-engage them. If you can't offer individual personalization, tailor the newsletter to the season or occasion, so your reader isn't seeing winter products in the middle of summer.
Make your newsletter beautiful. You are showcasing a product, after all. Hire a good product photographer to make your products stand out.
>> Find out what buzzwords big retail brands use in our ecommerce email marketing statistics study.
Here are some examples of newsletter designs by retailers who've added urgency, calls-to-action, and aesthetics to their newsletters:
Fossil

Fossil creates a sense of urgency and excitement to their newsletter by highlighting a sale. They also included messaging that a product is limited ("only 300 made!") They've included buttons, so people can act on this sale quickly. Also, the photos show the product in use in an aspirational setting (a beautiful, outdoor setting with a blue sky and nice flowers.)
Reebok

The color palette here is simple but bold. The calls-to-action ("Shop Spring Favorites" and "Make them yours") are hard to miss because of the white space and contrast in relation to the rest of the design. Also, the photos are big and exciting, showing the product in action.
Goodhood

Mixing it up with a number of different layouts within the same emails keeps your reader interested, and also shows off your products in a neat way. You'll notice there are a number of different call-to-actions, giving the reader various opportunities to shop.
Patagonia

Non-Profit Newsletter Examples
Newsletters are a great way to share your mission and to ask for support. Before you ask for any kind of support, build trust and credibility with your reader first by sending a welcome email and saying what your non-profit does.
Building credibility is especially important for non-profits, since you are asking your audience to support your mission by donating time, money, or other resources; not in exchange for a product, but to further a cause.
Here are some tips to make sure your newsletter is personalized and trustworthy:
Your first email should be a welcome or thank you email. Thank the subscriber for joining and tell them about your organization. You wouldn't be asking for money or support at this point. You want to establish trust first.
Use a real reply-to email instead of a "no-reply" email address. You want your audience to know that they can reach a real person by responding to that email.
Use newsletters to keep your audience up to date on what your non-profit is doing with the funds you've received. Storytelling is an especially important tool here. Highlight individuals that your non-profit has helped, rather than giving abstract numbers.
Thank your reader by including a lovely gift in your newsletter. This doesn't have to cost money. Perhaps include a lovely image that they can use as digital wallpaper. This creates a sense of community, so your reader can feel like she's part of something special.
UNICEF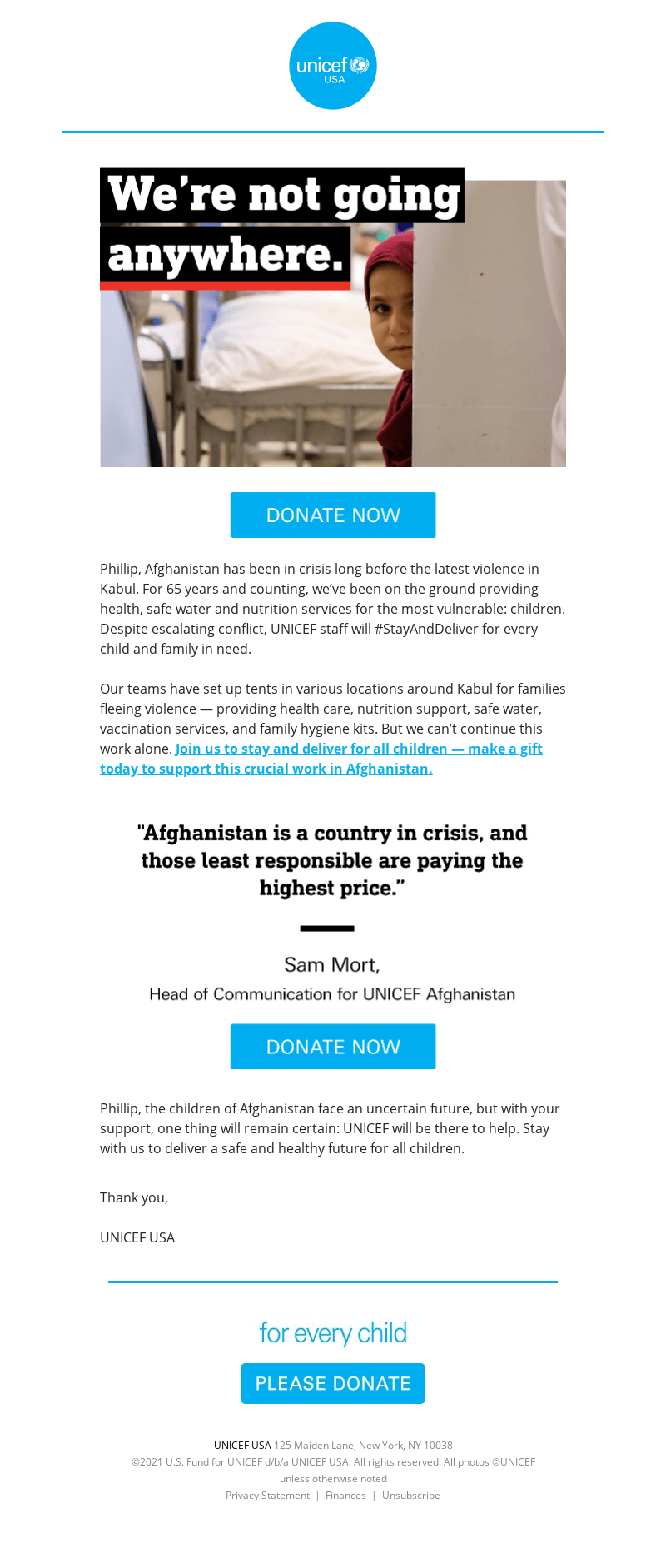 The use of images and personal stories is extremely important in NGO and charity newsletters.
American Red Cross

You won't often see a button in the header. In doing so, American Red Cross makes it clear that this is an urgent appeal for donations. use of the color red really makes their message stand out.
Save the Children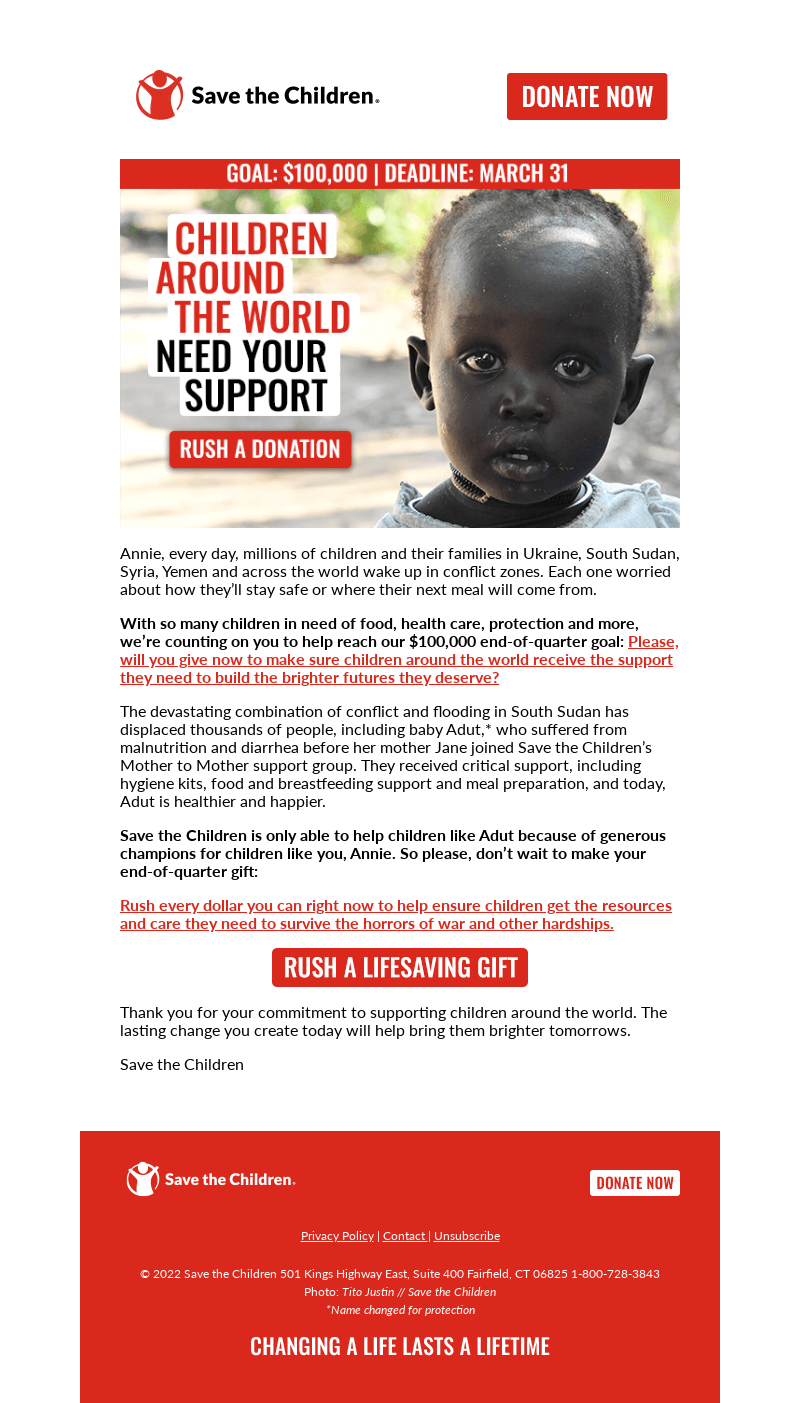 World Wildlife Fund

Food and Drink Industry Newsletters

This coffee brand shows how a black background can really help the content stand out. It also reflects their branding nicely!

Photography Newsletter Examples
Unsplash

Unsplash addresses the reader directly by using their first name. Instead of using a wall of text to communicate news, they used a nice graphic (on brand with what they offer) and a clear call-to-action (a "Learn more" button linking to their announcement.)
Nikon

We love the bold design Nikon uses. The yellow really grabs your attention and engages the reader.
Canon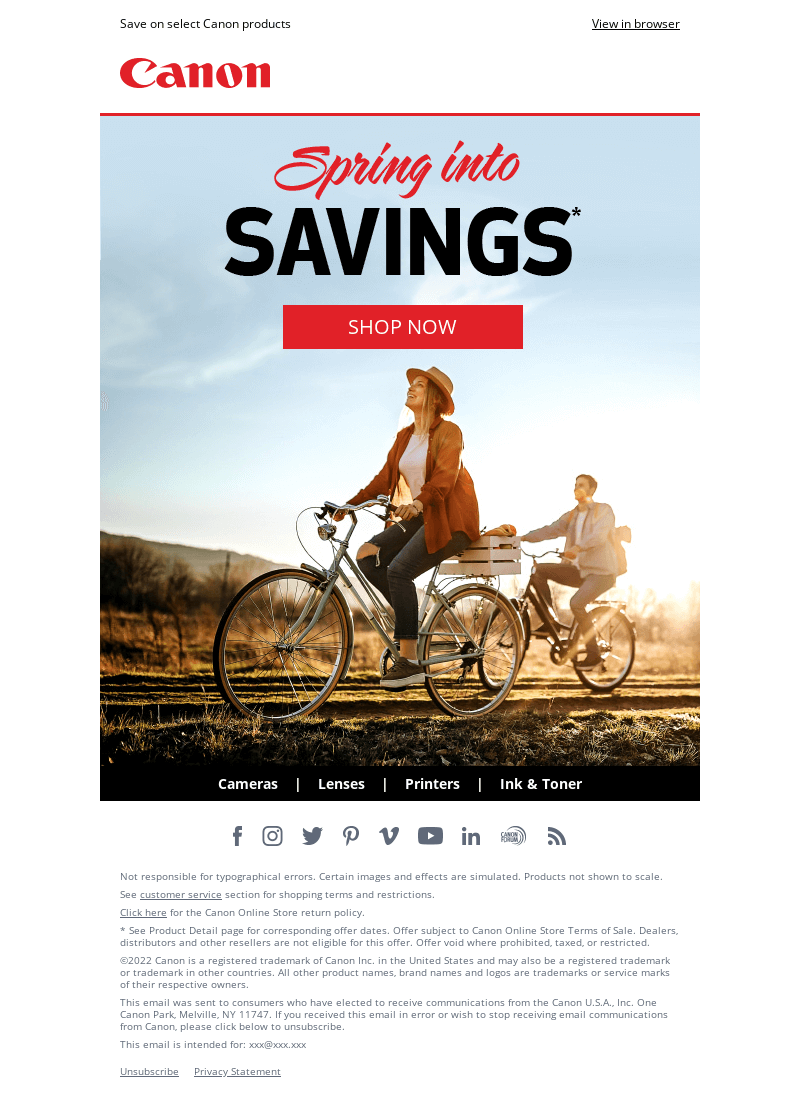 Education/Classroom Newsletter Examples
If you work for a school or university, newsletters are a great way to keep current and prospective students, alumni, and parents posted on the goings-on around campus. This is especially important with the growth of online learning, because the distance has made it difficult to stay in touch. Gone are the days of school bulletin boards.
When crafting your institution's newsletter, make sure your brand identity is clear. Use your school's logo, brand colors, and iconography.
Since your audience includes such a wide range of people (students, faculty, parents, or donors), figure out the purpose of each newsletter: is it to announce campus events for current or prospective students? Is it to remind current students of registration deadlines? Perhaps you'd like to announce new faculty members and the courses they're teaching. The content opportunities for newsletters are endless, so it's important to keep each newsletter focused on a specific intent. Don't muddle your messaging.
Udemy

Udemy manages to get a lot of useful content in whilst still creating a clean, easily readable newsletter.
Stevenson High School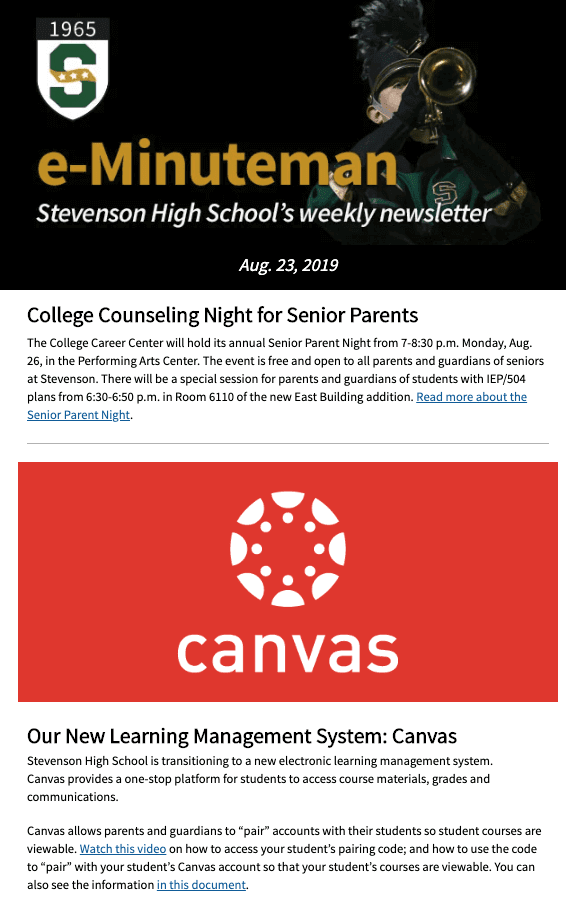 Here is a newsletter example from Stevenson High School, which uses clear branding through its colors and imagery. They section off their messaging into distinct parts to make it easier for the reader to skim.
Arizona State University

ASU creates a sense of community through this brief but warm email. Their brand is clear through their colors and their tone. While there isn't a call-to-action here, it establishes the university's brand as a close-knit and caring university that's interested in wider issues.
Blogger/Influencer/Media Newsletter Examples
How many of us have bookmarked a blog only to forget to check it for new posts? If you're a blogger and influencer, newsletters are an excellent way of getting people back on your blog. You can use your newsletter to share new posts or do a roundup of your past posts.
Your newsletter should include a link to your blog post and give the reader a reason to click on it. The subject line is super important for accomplishing this! Here are a few tactics to keep in mind when crafting a subject line:
Accomplishment: Say how you accomplished a task or fixed a problem (Example: "How I made $5K/mo in passive income!")
Curiosity: Catch your readers' attention with an intriguing subject line. Promise them something they didn't know they needed or give them an "a-ha" or unexpected moment if they click on the article. (Example: "They said she couldn't do it, but guess what?")
Empathy: Think about some common problems your reader is having and frame the subject line that way. (Example: "Does writing make you cry?")
Personalize: Put your reader's name in the subject line to grab their attention. (Example: "Jane, more motivation is not the answer. Try this instead.")
Put the most impactful words first, in case the subject line gets cut off in the preview. (Use our tool to preview how your subject lines will look). Also, with blog newsletters, the visuals don't have to be fancy. Keep your email short. You want them to click on the blog post ASAP, after all.
Webdesigner News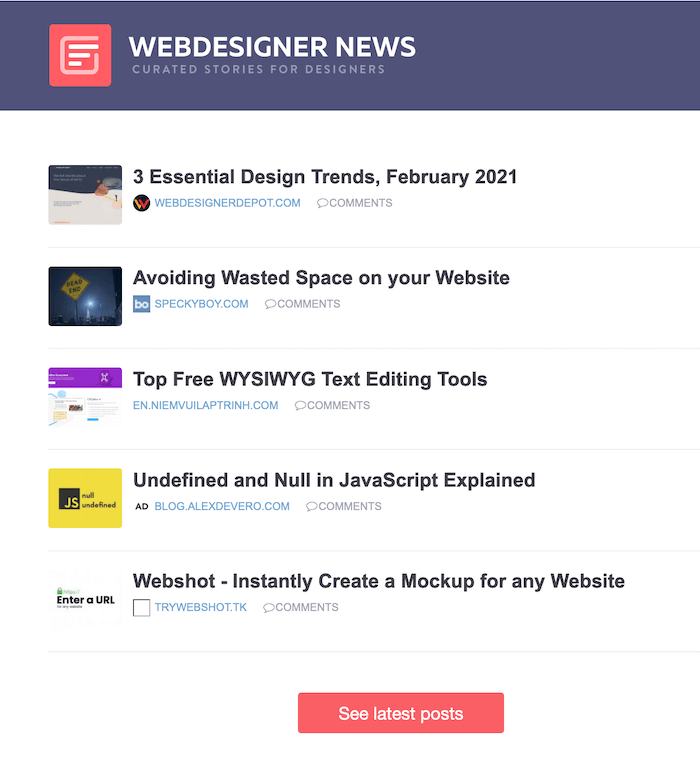 Webdesigner News keeps their newsletter to a simple list to avoid detracting from the actual content of their posts. The newsletter includes links, so the reader can get to the posts fast.
Marie Forleo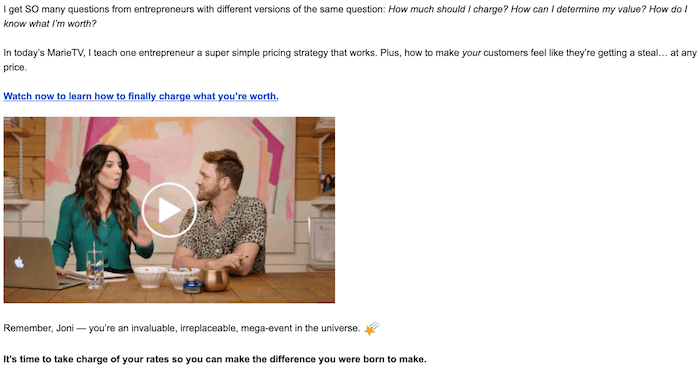 Marie Forleo uses a simple plain-text email and minimal text to highlight the call-to-action (the video). She uses the reader's name in the email to establish trust.
Corporate Newsletter Examples
Corporate newsletters are a great way to keep stakeholders (staff, investors, customers, and partners) updated on the state of your company. You can also use newsletters to communicate internally with staff (for example, holiday closures, Covid-19 guidelines, and strategy updates.) Here are some examples of topics you can use for your newsletters:
Responding to a crisis
Communicating company changes
Sharing financial reports
Sharing industry news or findings
For each newsletter, be sure to determine the audience (internal or external) and message before you send it out. We've heard too many SNAFUs over internal emails accidentally being shared to the public. Don't let that happen to you.
Elite Financial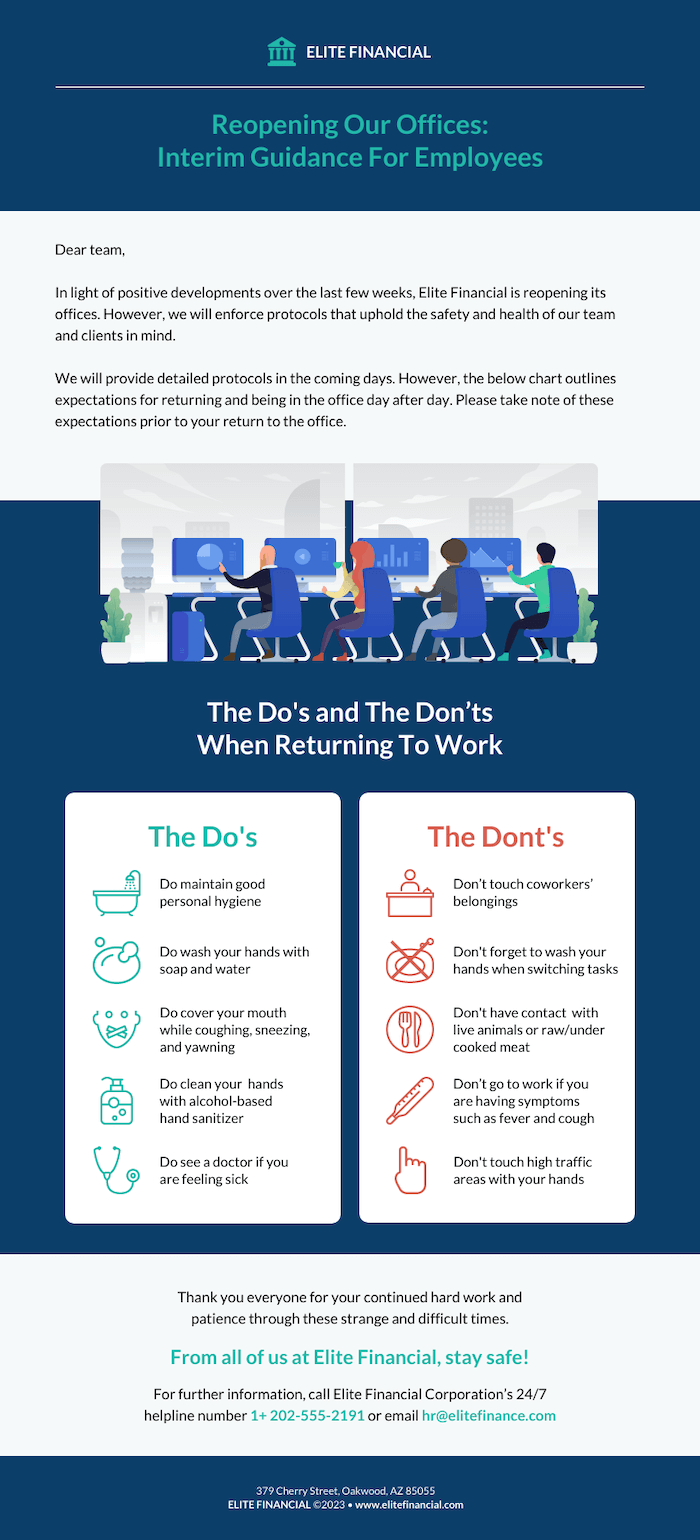 This newsletter by Elite Financial uses a memorable infographic to communicate important safety information to employees. The email is easy to skim over because of its use of both visuals and text.
Where to Get Newsletter Ideas From
First, learn about your audience or customer. What problems are they tackling? What are their goals?
If you're running a finance blog geared towards millennials in the U.S., your audience might be concerned about student loans. If you're running an ecommerce site for fitness products, your audience might also be interested in diet or seasonal trends. If you're creating an internal newsletter, your audience is likely to be interested in company news and upcoming events.
Do a bit of research and figure out what value your newsletter can bring to your customer.
After you've identified your main customer, figure out who your major competitors are. Many people skip this part but learning about your competitors can help you understand your own brand and what unique benefits you offer.
It's a good idea to group your competitors into these major categories:
Direct: Brands that are in the same category as you. When people think about what you offer, they might also think about your direct competitor. These are the competitors you should pay the most attention to. (Example: two competing online bookstores in the same market)
Indirect: Brands that are in the same category and offer a product or service that's different enough from yours, but can still be a substitute for your product. (Example: an online bookstore vs a brick and mortar bookstore)
Replacement: Brands that are in a different category but offer a substitute for your product or service (Example: an online book store vs Netflix)
Knowing where your competitors stand in these groups can help you figure out where to direct your attention and what benefits to focus on when engaging with your audience. How do you know what your competitors are doing? Keep an eye on their newsletters. Their newsletters will tell you what value they're communicating to their audience and how they're communicating it.
Take note of what your competitors' storytelling strategies are. How often do they communicate? Is it weekly, monthly or something more ad hoc? And what do they communicate? The idea isn't to copy what they're doing; you want to anticipate their moves so you can be steps ahead of them.
If you're dreading having to read dozens of competitor emails a day, don't worry. There are tools out there that collect that information for you. For example, Mailcharts distills those insights by industry.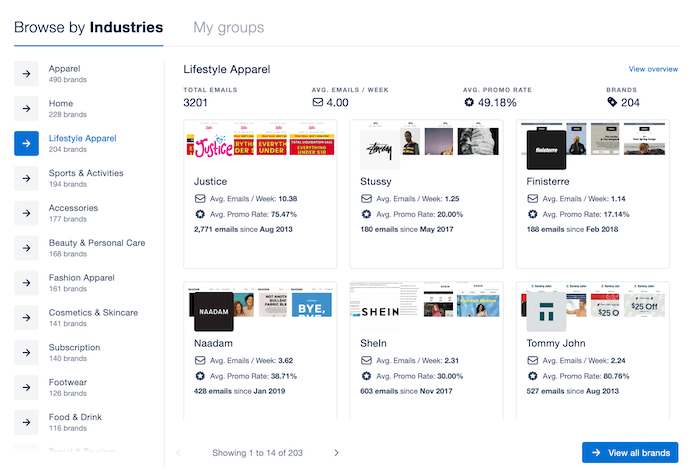 Mailcharts tells you how often your competitors email their subscribers and a preview of their visual and promotional strategies.
Tip
: if you are still struggling to come up with new ideas for your newsletters, try AI! Chat GPT is a free chatbot powered by artificial intelligence. Here you can learn how to use it to
create content ideas for your newsletter
.
Email Newsletter Content
Now that you have some ideas of possible newsletter topics, what do you do next? Plan your content! Before you jump into newsletter writing, here are some tips to crafting excellent content for your audience.
Establish your Voice and Tone
Just like your visual brand, your content should have an identifiable voice. Is your brand playful? Then you can probably use things like emojis and animated GIFs. If your voice is serious, you might avoid emojis, memes or quirky things in your emails. Your voice also determines the rhythm and pacing of your sentences (fast, slow, long, or short).
While your voice remains consistent, the tone of your email will depend on each message. For example, if you have a brand with a funny or casual voice, you might still take an apologetic tone if your email is about a problem with your site. That same brand might take on a quirky tone when communicating good news, like a new product or service. In short, your voice is consistent but your tone is temporary. Both are important.
What to put in your newsletter
Once you've established your voice and tone, you can put together your newsletter! Your newsletter will usually include the following:
Subject line: Make this grab the reader's attention but don't mislead them. Remember to use your voice and the appropriate tone.
Body: Don't be afraid to keep your newsletter brief. Keep the most important information (your CTA) up front. We'll get into this in the next section.
Personalization: Include your recipient's name in the subject or greeting, if possible. If you have an ecommerce brand, personalize your newsletter to categories or products that your reader has shown interest in.
Infographics: Use infographics if presenting statistics or financial reports in your newsletter. This helps your data tell a story, as well as making it more readable.
Social media accounts: Make sure to cross promote your other digital marketing channels
Unsubscribe link: Know the spam laws in every country you are sending emails to. Most countries with anti-spam laws require an easy option for your reader to unsubscribe to your newsletter. As of March 2021, the United States, Canada, European Union and UK have anti-spam legislation:
Your physical business address: Depending on the legislation in your region, you may be required to include your physical mailing address in the footer of your newsletters. For instance, the CAN-SPAM Act mandates this.
Email Newsletter Design
When thinking about your newsletter design, focus on the following important components (you can usually change these in your newsletter template):
Use visual hierarchy in your layout
Visual hierarchy means designing your layout and content to draw the reader's eye to whatever you want them to do. Before you work on the visual hierarchy, you must first establish what you want the reader to do. Do you want them to click on a button to purchase a product? Do you want them to visit your blog or watch a video? Once you've determined that, use the following elements to draw their eye to your call-to-action:
Size: Important things are usually bigger.
Color: Make the most important items stand out using a different color. Make sure it's still harmonious with your color scheme
Shapes: Use these to draw your reader's eye and to also make something beautiful.
Font: Font weight (bold, medium or light) and formatting (underlining or italics) to emphasize importance.
White space: This is also important! Use white space to give your reader's eyes a rest and emphasize different parts of your email.
Choose readable fonts
Choose fonts that read well. There may be pretty fonts out there, but don't use fonts that are so ornate or so small that they're hard to read. People tend to read faster on the screen (they skim, they don't read everything), so don't give them a reason to give up on your email.
Use your brand logo and colors
You want each email you send to be unmistakably yours. Use your logo and brand colors in your email, so readers know before they even read your content that it's from you or your company.
Don't go overboard with graphics and color
It's great to use bold colors in your email as long as it's on brand and draws readers to your call-to-action (see the section about visual hierarchy above). Avoid colors and photos that clash or give people headaches.
Where to Find Free Newsletter Templates
If you're overwhelmed with designing your newsletter, don't be. You don't have to start from scratch, thanks to newsletter templates. There are tons of free newsletter templates that even work on mobile (responsive templates).
Recommended Newsletter Template Builder: Stripo
One of our favorite newsletter template builders is Stripo. Stripo has 1450+ email templates that look great on mobile. The templates are well-categorized, so it's really easy to find what you're looking for. You can find templates by message type, industry, season, or feature. You can also use the search feature if you want to find something specific.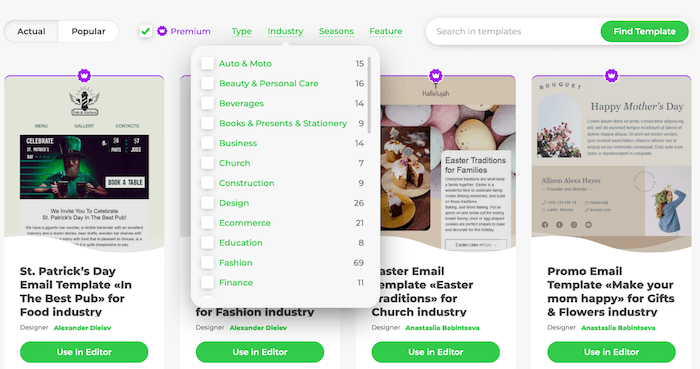 One of our favorite things about Stripo is the customization option. You can use solid content blocks for static content, but it supports dynamic content too, if you want to add carousels or accordions to your newsletters (see AMP for Emails).
If you're comfortable with HTML, you can switch to HTML view and edit your design from there. If you don't know HTML, no worries. The visual editor option is easy to use.
Aside from the 20+ fonts already available in the platform, you can also upload custom fonts to keep in line with your branding.
The Free and Business accounts only include one user, so if you have multiple users, you might want to go for the Agency account. Alternatively, you can each sign up for separate accounts.
Stripo has a free version, so try it out and see what you think.
Final Thoughts
As well as having many other benefits, newsletters are a super effective way of reaching your audience. In this respect, email marketing is 40x more effective than Facebook and Twitter combined and more effective than paid search, TV, radio and conventional forms of marketing.
However, the newsletter landscape has changed, and it's important to update your digital marketing strategy according to your audience's digital habits.
Know your reader and their goals
Before you even write your newsletter content, have your reader in mind. Figure out what they need and how your email can fulfill that need. You can even make them realize they need something they didn't need before. Keep that need in mind when you craft your subject line and call-to-action.
Know your competitor and their email marketing strategies.
Along the same lines, monitor what your competitors are doing. How are they trying to win over your audience? You probably don't have time to subscribe to all of your competitors' emails, but fortunately, Mailcharts will distill those insights for you.
Stay on brand
Keep your voice and tone in mind when you're writing your newsletter. Having a memorable and consistent brand helps you stand out among the competition.
Make your newsletter beautiful and easy to read
Use good quality images and graphics with the purpose of enhancing your brand and making the call-to-action stand out. If you can't hire a good photographer, there are high-quality stock images you can use in popular newsletter templates.
If design isn't your wheelhouse, don't worry. There are lots of templates out there. Stripo has tons on offer, and the majority are free!
If you have any questions about newsletters or email providers, drop us a line in the comments below!
We keep our content up to date
23 Oct 2023 - Small update regarding CAN-SPAM
08 Feb 2023 - Updated Stripo profile
07 Feb 2023 - Tip added about using AI
05 Apr 2022 - Added new sections and examples
08 Sept 2021 - Added more newsletters
Our Methodology
This article has been written and researched following our EmailTooltester methodology.
Our Methodology